Need backyard game ideas to get your family and friends outside for some good old-fashioned fun?
Kids are spending more time indoors than ever before, but that doesn't mean our beloved "backyard games" need to get lost with every passing generation.
As recently as the '90s, kids of all ages played together almost daily. The older kids would teach the games to the next generation.  This was an unspoken rule of the "playground". It was how kids have always played. Even classics like tag and hide and seek have been passed down by the older kids to the younger ones for years.
However, kids are spending less time outdoors and more time playing video games. With no one there to pass on the knowledge, many of these games being lost.
In an attempt to save something for future generations, we have created a MASSIVE collection of over 100 backyards games. Some of these games might seem familiar but there will also be many you have never heard of.
Treat this article like an encyclopedia. You don't have read it all at once. If you find a game you like then stop reading and try it out. You can always come back later.
I hope you find a great backyard game for your next party, reunion, or other events with friends and family!
106 Backyard Games
Giant Yard Games
Sometimes bigger is just more fun! In the first harry potter movie, there's a scene where Harry and his friends are stuck on a giant chess board.
If watching the scene made you want to go out and get a giant board for yourself, you are not alone. Giant yard games have become really popular over the years. This means from  Jenga to connect 4, there are tons of supersized games for us muggles to enjoy.
 Giant Jenga Blocks
Last update on 2023-11-17 / Affiliate links / Images from Amazon Product Advertising API
There's a universal rule in Jenga: The bigger the tower, the more intense the game.
Giant Jenga is a fun twist on the classic game that you can play in your backyard. The game gives you all you would want from a Jenga game – Bigger towers ANNNNDDDD bigger crashes. But be careful you don't want to be in the drop zone as the tower eventually comes crashing down.
You could get a set off amazon for under $50. But if you don't mind the work, you can learn how to build the blocks yourself.
Check Price and Reviews on Amazon
---
Giant Connect 4
Last update on 2023-11-17 / Affiliate links / Images from Amazon Product Advertising API
Who says connect 4 is just for kids? Giant connect 4 a great party game for everyone. If there's a huge waiting list of players. You can set-up a tournament with some real prize money. When not in use, the game makes for some great backyard decoration.
Check Price and Reviews on Amazon
---
Giant Yard Pong
Check Price and Reviews on Amazon
---
Giant Checkers
Last update on 2023-11-17 / Affiliate links / Images from Amazon Product Advertising API
Looking to make a mostly mental game into something much more physical? Play giant checkers. Being on the board and physically moving the pieces makes the game much more interactive. It helps to add a lot of fun to what was otherwise a "sit and play" game.
Even young children are quick to join in when they see the large board in your yard.
Check Price and Reviews on Amazon
---
Giant Chess
Last update on 2023-11-17 / Affiliate links / Images from Amazon Product Advertising API
Ever been to a renaissance fair? you might have caught a performance of a human chess match. The relationship between giant chess and renaissance fairs go back almost 100 years. And that's about all they were used for. But now oversized chess boards are getting popular as an entertaining yard game.
Be the all-powerful mastermind of the army or even step into the board to take the place of the king. There are many fun ways to play giant chess.
You can even replace the pieces with real people. In this version, the board is split into 2 teams. Each person plays a piece and can only move as their piece would. This means a pawn can only move one step forward. The two teams alternate turns until there's just 1 king standing.
Check Price and Reviews on Amazon
---
Giant Tic Tac Toe
Last update on 2023-11-17 / Affiliate links / Images from Amazon Product Advertising API
Giant tic tac toe is a fun twist on an old classic game. You could either purchase a set from Amazon or make one yourself for under $20.  The board can also serve as decoration when paired along with your other giant yard games and give your yard a theme.
Check Price and Reviews on Amazon
---
Giant Foosball
Trust falls and giant foosball games are some of the cliche team retreat activities. But they are popular for a reason. Giant foosball is a great way to get people to loosen up and enjoy themselves. So what exactly is giant foosball?
It's the same thing as regular foosball but much bigger!! Human players replace the players on the board.
The field is specially constructed with rods at set positions. The players must try to score a goal like regular football but must always be holding on to their rod. One downside of human foosball is that you need at least 8 people to properly enjoy the game. But this also makes it a great game for large groups.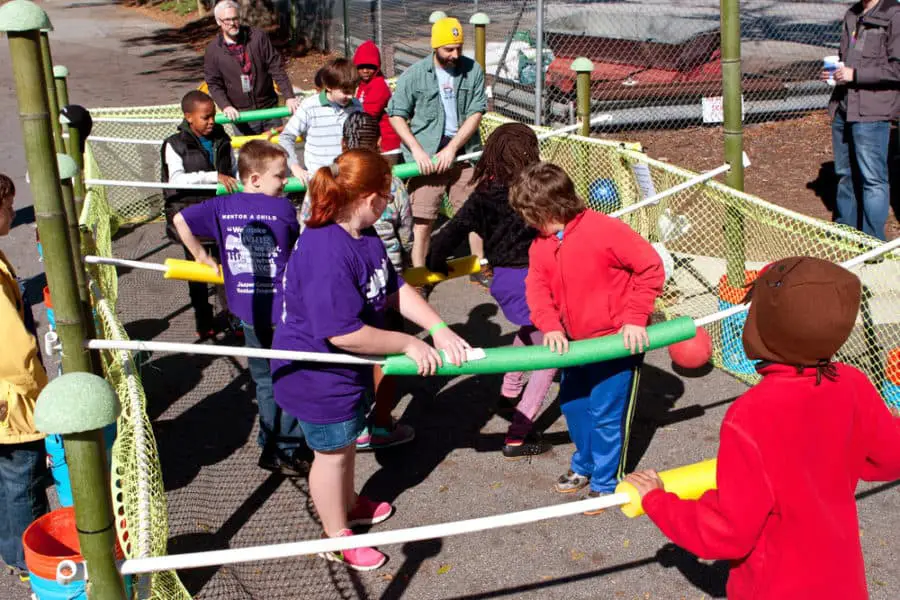 Pool Noodle Toss
If we had to describe pool noodle toss in one sentence, we'd call it ring toss for kids. But this does not mean you cannot enjoy the game as an adult.
Instead of the regular rings, we rolled up pool noodles. These rolled noodles form giant rings that replace the regular rings. We may also use a giant pole or an unrolled noodle with a wooden stick stuffed inside as the target.
This game is really quick to set up and is perfect for both adults and kids alike.
Yard Games for Children and Toddlers
Confining toddlers to the indoors will only limit their imagination. In fact, there are countless studies showing that a child's development is significantly boosted by the time spent outdoors.
Here are some great yard game ideas to encourage your young kids to spend some more time outside the house.
Giant Bubble Wands
It's no secret that kids love bubbles. The bigger the better.
The best way to create human-sized bubbles is using bubble wands.
But don't go around spending too much on a premium wand. The soap solution you pick is 90% of what decides the bubble size. In fact, you can even a make the wand yourself and save a few bucks.
Don't think that bubble wands are just for kids either. Even adults are going to have a great time with them. Just make sure there are no strong winds in your area.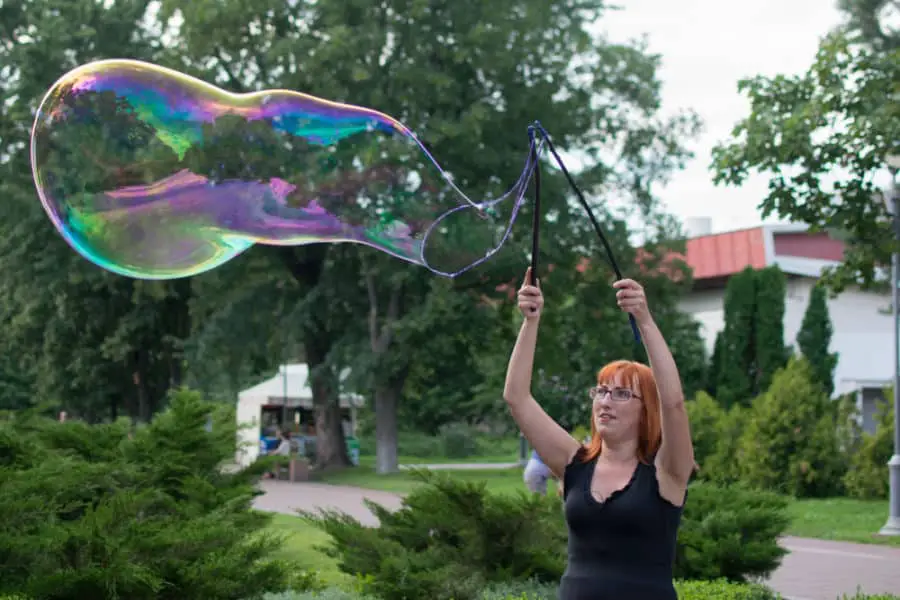 Parachute Games
Last update on 2023-11-17 / Affiliate links / Images from Amazon Product Advertising API
Parachute is a great way to teach your kids collaborative skills. They encourage non-competitive play and cooperation with others.
It's not too hard to learn either. All you need is a play parachute. This video shows some great ways you can play. You can also get more ideas for Parachute Games in our 13 Best Parachute Games article!
Check Price and Reviews on Amazon
Flying Kites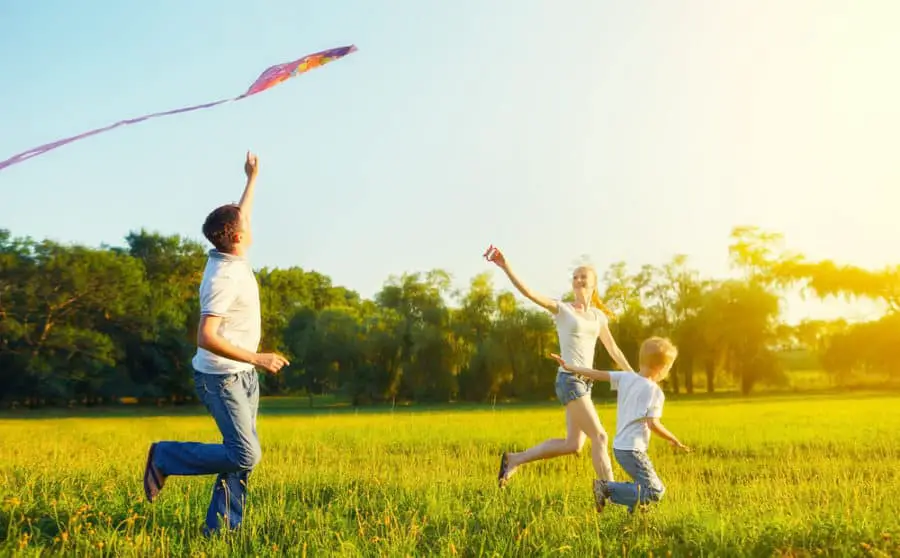 Kites have been a part of human culture for over 3,000 years. It's just recently that we have begun using kites for our entertainment.
Depending on their age you can teach your kids to either fly kites for fun or even as a sport. For example, during a kite-fighting match, each player tries to bring down the other players kite using their own.
The last kite standing is the one that wins, Kite flying requires a lot of focus which makes it a fantastic game for dealing with distractions.
If you want to get more information on kite flying, check out our Best Kites article!
Obstacle Courses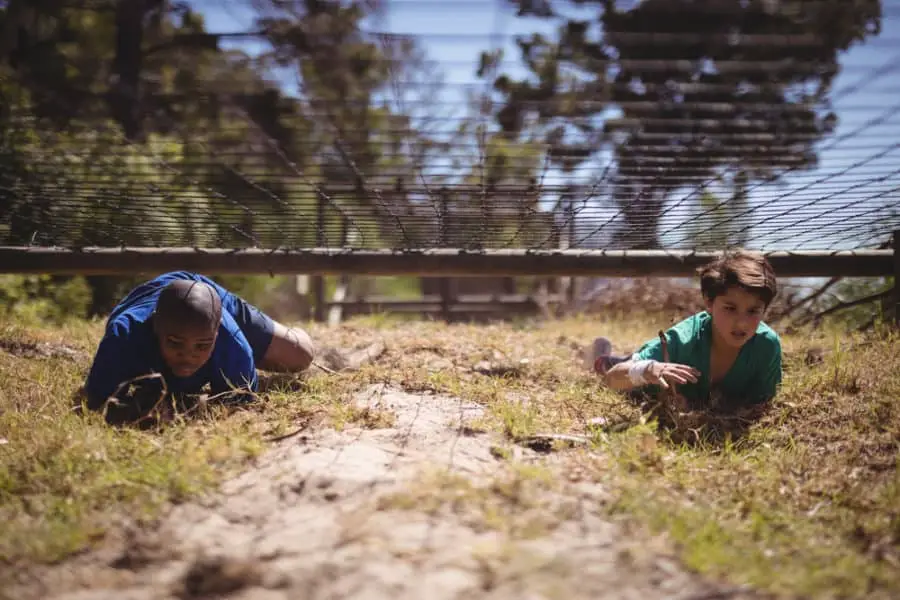 Unstructured play is an important part of early childhood development. There's no better way to simulate the effect of unstructured play in your backyard than through an obstacle course.
The best obstacle courses are challenging and incredibly addictive. Kids can spend all day on them without getting bored if done right.
There's just something about the challenge added by the obstacles that keep them hooked.
Obstacle Course Building Tips
There are no fixed guidelines for building a fun course. You want to use your imagination and try to be as creative as possible.
As an activity, you can even ask your kids to contribute and suggest ideas for the course. This makes them more involved and much more likely to enjoy the course once it's built.
If you are looking for some inspiration check out this awesome post by playtivities.
You may not have all the tools required to build some of these ideas and that's okay. Replace them with some other stuff you have lying around.
Red Light, Green Light
Red light, green light is a game kids can play anywhere as it needs no additional equipment. The game is fun for kids of all ages and even adults.
The game does not rely on any physical skills. This allows kids of all ages to play together.
It also serves as a great bonding exercise between siblings where the parent plays the role of the traffic cop.
How do you play?
One of the players becomes the traffic cop while the others go to the starting line.
All the kids get ready and wait for the signal from the traffic cop. When the cop yells "Green light", the kids must run towards him.
However, they must freeze completely if he yells "Red Light"
Anyone who is caught moving after the red light is called is sent back to the starting line.
The first player to reach the traffic cop wins and becomes the new traffic cop.
Simon Says
Simon Says is not just fun but also helps kids succeed at school.
A recent study has found that kids who regularly play games like Simon Says have higher language and literacy scores.
These kids are also better at regulating their emotions and focusing on a single task.
For Simon Says ideas and more on how to play, check out our Simon Says ideas article!
How do you play?
1 player takes the role of Simon and issues instructions. These instructions are usually simple physical actions such as raising your arms.
Any command which begins with "Simon says" must be obeyed. When a command does not begin with "Simon says", the players must not obey it.
Anyone who does not obey a "Simon says " instruction or obeys an instruction without "Simon says" is eliminated from the game.
Duck Duck Goose
Duck Duck Goose is another classic played all around the world.
How do you play?
You start off by designating one of the kids as "it" while the other kids sit around in a circle.
The standing child must walk around the circle, tapping each kid on the head saying "duck". This repeats until the "it" taps a child and says "goose". The called out child must then chase the "it" around the circle and tag them before he reaches the "goose's" seat.
If the "It" child runs around the circle and manages to sit in the goose's spot before being tagged, the goose becomes the new "IT".
Wobbly Worm
Last update on 2023-11-17 / Affiliate links / Images from Amazon Product Advertising API
You have probably never heard of wobbly worm before. Compared to games like green light red light, wobbly worm is a new game.
Your preschoolers can spend countless hours having ring-flinging fun. It's really easy to set up too and any 5 -year old can it by themselves. This means you won't have to spend any time managing your kids as they play.
How do you play?
Wobbly worm was intended as a ring toss game. Kids try to throw rings (comes with the game) on the worm from far away. But you would be surprised by the number of variations your kids come up with for this game.
Check Price and Reviews on Amazon
---
Playground Sets
Owning a playground set 20 years ago meant you were either rich or built it yourself.
But that's not the case anymore. With the rise of brands like lifetime and gorilla playsets, owning a playground set has never been easier.
In fact, some of the best playground sets cost under $1,200.  Alternatively, you could look for a second-hand model on craigslist. If you do decide to go the craigslist route, ensure that the playset is safe to use – check for any rotting wood or signs of damage.
Just remember that saving $100 is not worth compromising the safety of your child.
Paddle Catch
Last update on 2023-11-17 / Affiliate links / Images from Amazon Product Advertising API
Some of the most enjoyable games don't have too many rules. This makes them easy to pick up and fun to play. Paddle catch is one of them.
How do you play?
The player play catch using a paddle stuck to their hand. The paddle usually has some sort of Velcro which holds the ball on contact.
The velcro makes the game easier to play for younger children as they still haven't developed their ball catching skills. And although the game might seem pretty easy. It is still extremely fun. Even adults can have a great time playing paddle catch.
Check Price and Reviews on Amazon
---
Tree house and Playhouse
Only adults who've had their own treehouse ideas can really understand its importance.
As a kid, it is one of the few places that truly belongs to you. It represents an escape from the world and allows kids to be themselves.
A treehouse is also a place to foster imagination and dreams.
When you build your child a treehouse, you are not just providing a structure of wood. You are giving them a source of endless adventures – a pirate ship, secret hideout, and a castle all baked into one.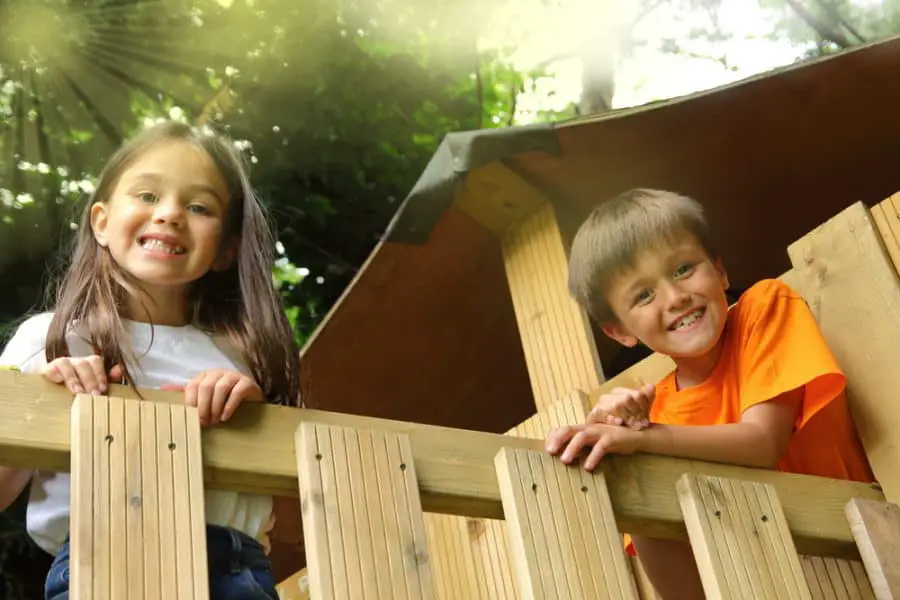 Nature Scavenger hunt
You don't have to travel to some distant mountain or a forest for adventure. There are plenty of natural wonders to explore in your own yard. But they are often overlooked in favor of spending time indoors.
A scavenger hunt is a great way to get your kids to explore the nature in your backyard in  a way that's fun
So how do you play?
Give your child a list of items to find in your yard, and a bag to hold them.
Then let them go about filling the list. You can also make this into a competition between siblings to see who can fill the list first.
Things you can add to your list include:
Flowers
Plants
Things that smell good
Flowers of a particular color
An oddly shaped leaf or flower
Sticks
Alternatively, you can ask your child to bring things they find interesting for extra points. This makes for a great opportunity for them to explore the world on their own.
Going out and interacting with nature is really important for young children. And although your backyard may not be as lush with wildlife as a jungle, it still worth exploring
Teeball
Games like baseball and softball have a lot of rules. This is great, as it makes the game challenging and fun.
Over the years, the number of parents encouraging their kids to play teeball has increased. In fact, many neighborhoods often have official tee-ball tournaments.
Still, think Teeball isn't legit? Here's what the legendary manager Tommy Lasorda had to say:
"In my years with the Dodgers, I have had the opportunity to watch youngsters learn about the game, teamwork, and life. Tee ball is a fabulous way to introduce the game and to develop personal skills and attitudes that can mean success in sports and life" – Tommy Lasorda, Los Angeles Dodgers
Hiding Games
Hiding games have been popular since the ancient Greek times and there are many paintings with greek legends like Hercules playing the game as children.
We've got a huge range of hiding games to test your spy skills. Let's start with the classic…
Hide and Seek
Hide seek is a fun game with a simple premise- Be the last person to get found by the "IT"
In case, you are one of 26 people in the world who hasn't heard about the game.
Here's how you play:
One of the players becomes the IT
The IT counts to 10(slowly) with their eyes closed while the rest of the players hide
Once the "IT" is done counting they yell-"Ready or not, here I come".
The IT then searches for the other players and the game ends when all players are found.
The first player to get found becomes the new IT
Kick the can
Kick the can combines parts of some of our favorite games like tag and Hide & Seek.
There's a classical episode named "kick the can" from the show The Twilight Zone centered around the game. Throughout the episode, the protagonist(a retirement home resident) is longing for his youth.
As he is looking outside the window, he notices some kids playing a game of kick the can. At first, he is jealous of the kids and how carefree they appear. He wants to join in too.
But then he imagines that playing games like "kick the can" must be in a child's blood. He ponders the idea that kids grow old because they stop playing.
This episode embodies the spirit of kick the can. A game to be played by kids. It represents youthfulness and pure unadulterated childlike joy.
So how do you play?
One child is randomly chosen to become the  "IT". He counts to 10 while the other kids hide.
Once the "it" is done counting they begin searching for the others.
Here's the twist:  When the "IT" finds someone, the player has to try and run back to the can and kick it before the "it" can tag them

If they are tagged, they become the new "it" and the game begins all over again
If the player manages to kick the can before IT can tag them. Then the IT has to go, fetch the can and get set it back up. Meanwhile, the caught player has a chance to hide again
As a nice addition, if the IT changes. the old "IT" shouts "OLLIE OLLIE OXEN FREE" followed by the name of the new IT. This makes it easier to inform everyone else of the change and makes the game faster.
Tag and related games
If there was a godfather to backyard games, it would be tag. Almost everyone has a story of a tag game that went on far too long (30 years for these guys).
What makes tag fun is that it is easy to pick up and exciting to play. There's really no age limit and you're always going to have a great time. Whether it is chasing your kids through the house trying to "get" them or playing with your friends, tag is perfect for all occasions.
But if you would like to change things up a bit we have some great variations to a classical game.
Freeze Tag
Freeze tag is a nice variation from the traditional tag games you are used to. So how does it work?
Just like in regular tag, you begin by picking a player to be "IT". The "IT" then has to chase the others and tag(by touching) them.
The tagged player is then frozen and cannot move until another player un-freezes them. The game ends when "IT" manages to freeze all players
The first thing you notice about freeze tag it is the duration. It is a much longer and strategic game. While in the regular tag the fastest player generally has the advantage, in freeze tag, you have to mix in a good bit of strategy too.
A common tactic we use is to lure the "IT" away from the frozen players while a friend unfreezes them.
Shadow Tag
Shadow tag works just like regular tag except there's a catch!! The person who is "it" can tag you even by coming in contact with your shadow. This means even if they are unable to reach you, your shadow might get tagged.
As a pro tip, we recommend you try to keep your body between the "it" player and your shadow.
One of the constraints with playing shadow tag is that it can only be played when there's enough sun to cast a shadow.
Chain Tag
During chain tag when the "it" player tags someone, they become "it" as well.
The "IT"s must hold hands to form a human chain(hence the name) and catch the others. The game ends once all players are caught.
The first player to get caught becomes the new IT. As you play, try to remember that a chain is only as strong as its slowest member. So this means you want to catch the fast guys first.
TV or Movie Tag
TV tag is also called movie tag. It is a fun variation of the regular tag game.
A player can make themselves immune to getting tagged for 15 seconds by saying the name of a TV show/Movie. The IT must is then forced to search for another player to tag.
The catch is that this can only be done once per "IT" (When the IT changes you can use the immune ability again)
Capture the Flag
A fast-paced strategy game that is fun with any number of people. But the more people you have the greater the fun
Each team has a base and a flag. The goal of the game is to steal the opponents' flag without losing your own.
How do you play?
Divide the players into 2 teams, and two territories of equal size. Each team chooses a base where they will keep any "prisoners" and places a flag within their territory.
The first team that manages to capture the opponents' flag and brings it into their territory, wins the game.
Teams can either choose to send their members individually (stealth style) or rush in as a group to collect the flag. If a player is tagged in the enemy territory, they are taken, prisoner.
The prisoners are moved to the enemy base.
A team cannot capture the enemy flag until they have freed all their players by  tagging them again at the enemy base
Usually playing capture the flag is limited to the day as it becomes difficult to spot the flag at night. However, you can use a glow in the dark flag to extend your game long after the sun has set.
Races
People love to run. It does not matter how old or young. As kids, we run around all the time – at the park, and even at home.
As adults, this running becomes more focused. Instead of short sprints every couple of minutes we run longer and less often. We run marathons, play sports like basketball and football.
When you think of running, images of a marathon or a professional track probably come to mind. While those are true, you can also race in your very own backyard.
Let's look at some races we can play in our own backyards.
Relay Race
You don't really need a large yard to have a relay race. A lap around the house and yard works for this kind of race.
You don't be purchase a professional baton either (unless you want to). A rolled up newspaper will do the trick.
Check out our article on relay races for more ideas and tips!
How to play?
Split the players equally across two teams. Each team picks an order in which each of their members will run.
When the race begins the first member from each team, runs around the house carrying a baton. Once he/she completes the lap they pass the baton to the next player who then runs. This repeats till the last player finishes their lap.
The team which has all their players finishing their lap first is declared the winner.
If there are an uneven number of players in a team, then one of the players in the smaller team can run twice.
Egg and Spoon Race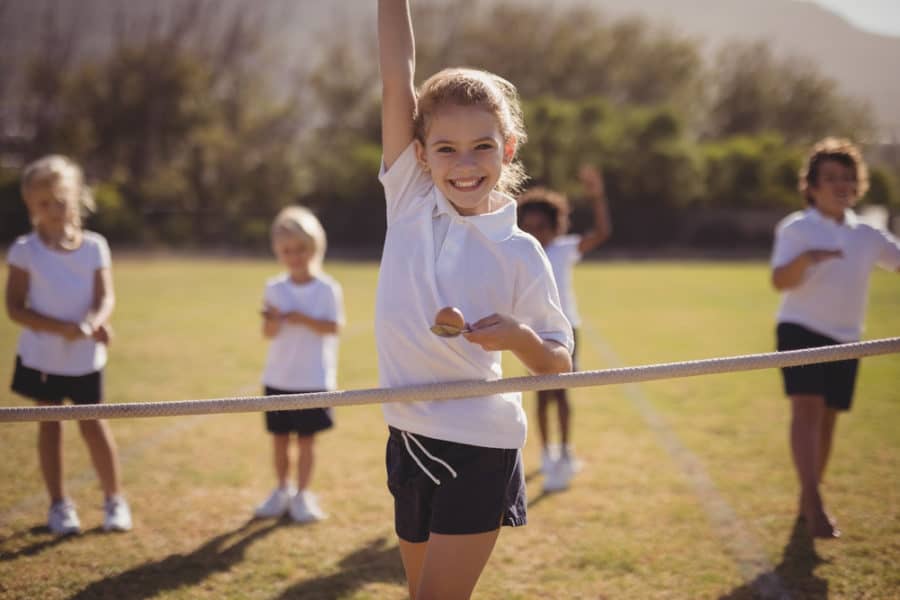 We are sure that the parents around the world have collectively decided that the egg and spoon race is a must for every birthday party.
But the game is really fun even after all the kids have left. The best part is that all you need is a spoon and an egg to play.
Paper Race
The paper race is a unique game usually played in kindergarten. But this does not mean, adults cannot enjoy it.
How do you play?
Each player receives a piece of paper, which they should hold against their stomach or chest. Once they gain some momentum (around the 3rd step by the latest), each player lifts their arms above their heads.
Their momentum will keep the paper stuck to their bodies. The first person to cross the finish line without losing the piece of paper is the winner.
Potato Sack
To play potato sack you would need an old burlap sack or something similar. Each racer gets into a sack and races to the finish line. As your bottom half is in the sack the only way to move is by hopping.
The first player to cross the finish line without losing their sack wins.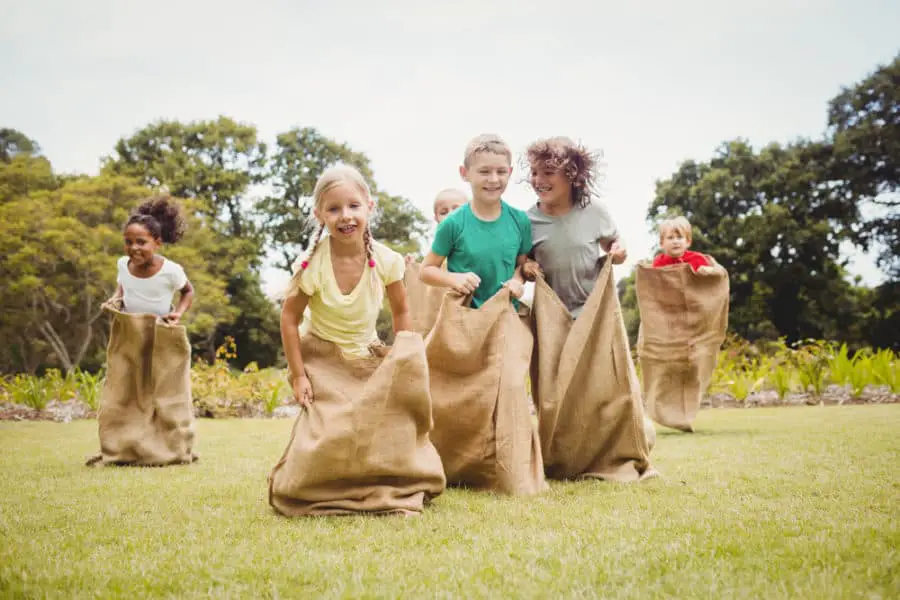 Three legged race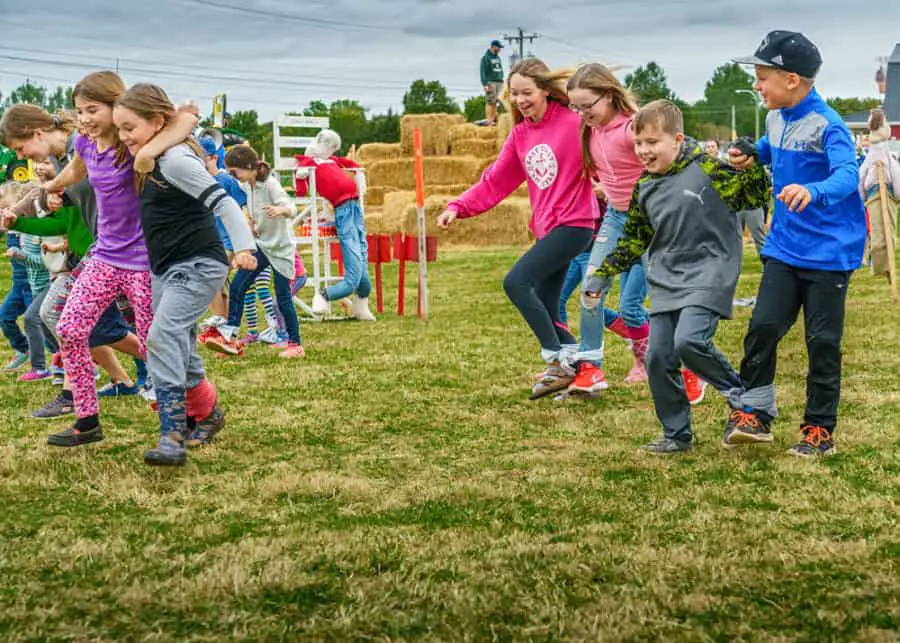 A three-legged race provides a perfect combination of physical activity and cooperation.
Players are split into groups of two. Each pair has their inside legs are tied together. When the race begins the players must co-operate with their partners to get to the finish line as soon as possible.
To add an extra challenge to the game you can even decide to blindfold one of the partners. This way the blindfolded player has to rely on the sighted one for guidance.
Another twist you can add is to make the player race backward.
Games with Frisbees
When you look at it, a frisbee looks like a simple toy; a plastic disk with no moving parts, no complicated machinery. It's cheap and even easy to use.
But it is a lot more than just a chunk of plastic. A frisbee is an extremely versatile tool which can be used in many ways – from a fun casual backyard game to even a competitive sport.
Let's look at some of the ways you can play with a frisbee…
Frisbee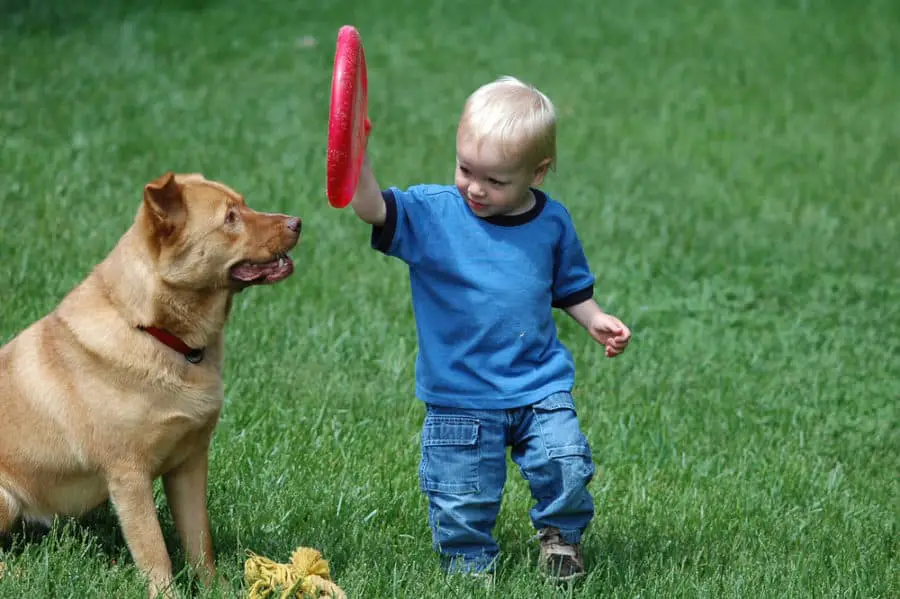 A simple wrist flick sends a frisbee gliding through the air; anyone at any age can enjoy playing with one. Additionally, it's portable and cheap.
Making the frisbee one of our favorite backyard games. Use it to perform a variety of tricks to show off to your friends or just to pass the time.
If you have a dog then you would be glad to know that dogs love them too. You can train your dog to fetch the frisbee or catch one mid-air.
Frisbee Golf
Frisbee golf is also called disk golf. The players try to hit a series of targets with a  frisbee in the fewest attempts possible.
The player who knocks down the targets first is the winner. While it might sound like a casual game, disk golf is anything but that.
From tournaments to even a professional organization, Frisbee golf has got it all. It as legit a sport as football and basketball.
Ultimate Frisbee
For a teenager who loved throwing frisbees as a kid, ultimate frisbee is the perfect sport.
If the name does not already give it away, ultimate is pretty intense.
So how do you play? Ultimate frisbee is played between 2 teams of 7 each. The players of a team toss the disc to one another with the aim of moving it to the other team's end zone.
A player must keep one foot planted to the ground when he is holding the frisbee. This makes the game pretty fun to play as the only way to move the disc is by throwing it to your teammate.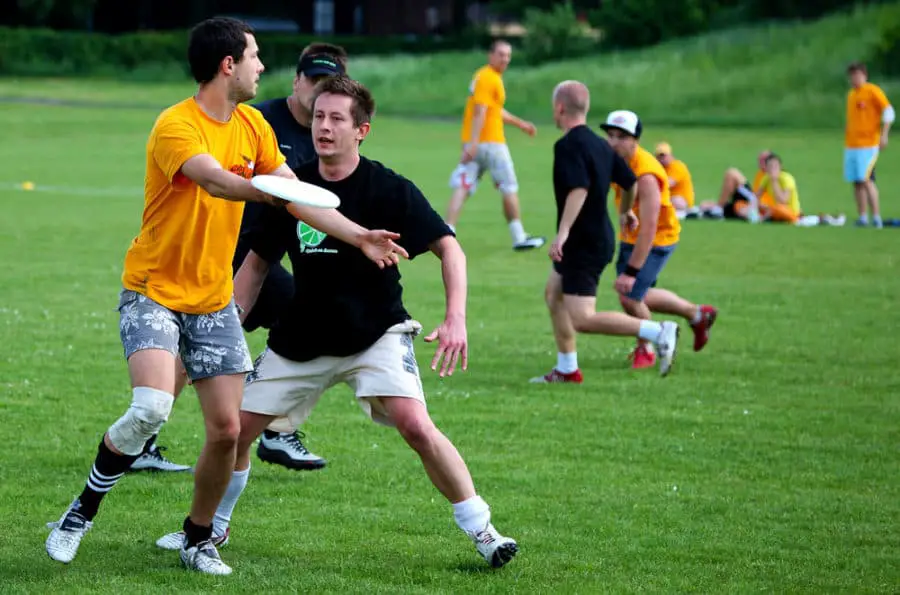 Ding
To play a game of Ding, you need 4 poles, a frisbee, and some friends.
Go to one side of your backyard and set two poles into the ground. Make sure that these poles are about 2 feet from each other. This forms your goal post.
Now repeat this step for the other end as well.
Players take turns throwing the frisbee into the opposite goal post from their side. Each time the frisbee goes through you get 2 points.
If a frisbee hits the pole then a defending player must catch the frisbee before it hits the ground or they lose 1 point.
Kan Jam Ultimate Disc
Last update on 2023-11-17 / Affiliate links / Images from Amazon Product Advertising API
Cornhole is an awesome tailgate game. But the board is just too huge to carry around. So what do you do? Enter Kan Jam!
Kan Jam is a brand new game created right here in the US. It is a fast-paced game the encourages collaboration with your partners.
The basic rules of the game are easy to learn and allows multiple age groups to play together. The company has even recently released a glow-in the dark version which lets you play the game even at night. (plus it looks really cool).
Ball Games
A ball is simple in design but complex in its possibilities and applications. From novices to professional athletes a ball is a core part of our lifestyle.
But what is it about a ball that makes us want to play with it?
Many have tried to find an answer to this question. For now, let's look at some of the most popular ball games and some not-so-popular ones.
Baseball
Pablo Sanchez has forever been eternalized as a backyard baseball legend. But if the game has taught us anything, it's that playing baseball in your backyard is really fun. (Much more than playing MLB on your console).
Wiffleball
Last update on 2023-11-17 / Affiliate links / Images from Amazon Product Advertising API
Everybody knows the game is supposed to be played with that yellow plastic bat and a wiffleball.
In fact, wiffleball is probably one of the most recognizable American toys – you can't walk into a store during the summer without seeing a wiffle on display.
In many ways, it is the quintessential backyard game. Your dad played it, You have played it and odds are your kids and even grandkids will play this game.
Check Price and Reviews on Amazon
---
Football
The sport of football is as American as it gets. Most families meet up every year for an annual football game.
Why not make it more regular? You don't have book a field or go somewhere far away for a game with your loved ones. Why not play a game right at home in your backyard?
Make it a weekly thing. Call your family and friends over for a game of football and barbeque.
Volleyball
Volleyball can be played almost everywhere. You can find it being played in schools, parks, recreations centers, playgrounds and even on the beach.
Men, women, and children of all ages can enjoy a game without feeling left out. In fact, there are men over the age of 60 who still actively play the game. Wilt Chamberlain the legendary basketball player actually started playing professional volleyball after retiring from the game.
A professional volleyball match requires a special type of court and net. However, for a casual game in your backyard, all you need is a net and a ball.
Fun Fact: Volleyball is also one of the few sports where women earn more than men.
Read our reviews on the best outdoor volleyball nets here.
Basketball
Every kid dreams of having a hoop at home.
With an best affordable basketball hoop in your backyard, you can relive the excitement of making a game winner.
Having a hoop in your own home is a great way to get some extra shots, or for some fun family activity.
Horse
H.O.R.S.E is a classic shot-making game. Don't worry, you don't have to be great at basketball to be good at H.O.R.S.E. But being at basketball certainly helps.
How do you play?
Take a shot from anywhere on the court. If you make it, the person next in line has to make the same shot. However, move to step 4 if you miss.
If they miss, they get the letter "H". Move to step 4.
If they make it, the player after them does the same. This continues until either all the players have made the shot or one of them misses.
The next player in line has to pick a shot to make it and the game starts again.
The first player to get all the letters in the word "H-O-R-S-E" is eliminated
Don't have enough time for a full-game of HORSE. Pick a smaller word, something like PIG.
Don't be afraid to be fancy, try a shot from the half-court. A no-look jump shot. A left-handed shot.
Get creative.
Pickleball
Last update on 2023-11-17 / Affiliate links / Images from Amazon Product Advertising API
Despite the name, picklers are neither used nor consumed during a game of pickleball.
Taking elements from tennis, badminton, and ping-pong, pickleball is quickly becoming increasingly popular.
A pickleball court is roughly half the size of a tennis court with a similar layout.
Check out the best pickleball paddle for spin.
How do you play?
The game begins with an underhanded from the right side of the court to the right side on the other end(the ball travels diagonally).
At the start of each play, the ball must bounce once before it can be returned. After the ball has bounced twice(server to receiver and back), the ball can be hit in air or after one bounce.
Tetherball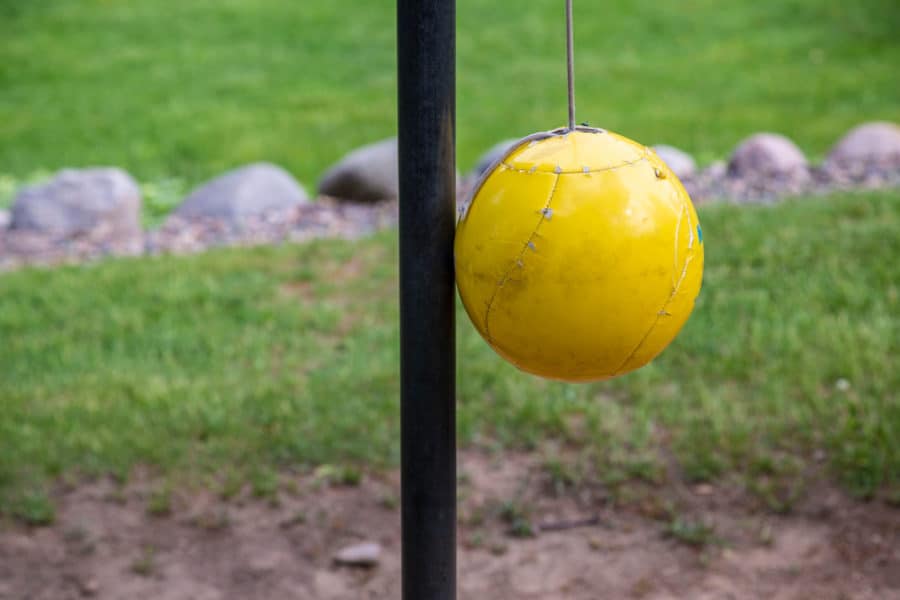 An extremely popular playground sport. Tetherball is a simple but intense game.  Unlike some other ball games, the popularity of tetherball is limited to the playgrounds.
This means there's no governing body that makes the rules. However, over the years, the rules have evolved to make the game fair.
Tetherball is played between two players. To play you need a metal pole with one end stuck into the ground and the other attached to ball and chain. The chalk circle with a 10-feet radius is drawn around the pole.
The players take their positions on opposite sides of the circle. The server begins play by hitting the ball around the pole in one direction. The receiver has to return the serve by hitting the ball in the opposite direction.
The first player to wrap the rope completely around the pole is declared the winner.
Pro Tip: Use a softer ball, as it is easier on the hands
By the way, there's also tetherball that you can play with your dogs! Check out our article on tetherball for dogs.
Soccer
Soccer is widely regarded as one of the most popular sports in the world. This may be because it is very easy to pick up but takes forever to master. Given a ball to kick and a field to run around in, even children as young as 4 years old can play.
But at the same time, the game offers so much maneuverability and complexity that you never truly master it. A 12-year-old may just kick a ball and run after it while a professional athlete has a bag of tricks up his sleeve. But the game remains equally fun and challenging to both.
The same cannot be said for sports like baseball, football or basketball where the skills required and the risks of injury prevent small children from playing the game.
It also requires almost no additional equipment to the extent that you can even play a game in your own backyard. You can easily purchase, a goal post off amazon for as little as $150.
Also, check out our review of the best soccer rebounder here.
Spikeball
Last update on 2023-11-17 / Affiliate links / Images from Amazon Product Advertising API
Commonly known as a popular beach game, spikeball is gaining a lot of popularity in backyard barbeques.
The game does not need a lot of physical skills either(just some quick reflexes) allowing people from all ages to play
A typical spikeball game runs about 30-45 minutes and has a lot of exciting movements. And for a game that's pretty stationary, you are going to find yourself extremely exhausted at the end of a game.
How do you play?
The game offers many variations on how to play it. There is a 2v 2 game and even 1 on 1 on 1 version. You can check out all the different ways to play here
Check Price and Reviews on Amazon
---
Kickball
Ever seen the extremely popular 90's show recess, the show often has the players playing the game of kickball. In fact, every kid born in the 90's has wanted to play the game after watching it on the show. Kickball is a combination of soccer and baseball and is very commonly played in gyms.
It's also a great game to play in your backyard because all you need is some space and a ball large enough to kick. You can check out the rules of the game here.
Quidditch
If I told you that you that you can play your favorite game from the harry potter world would you trust me?
Believe it or not, Quidditch is a real sport, complete with its own set of rules, tournaments and even a governing body to organize events.
No, you cannot use brooms to fly around (not legally anyway) but that does not make the game any less fun.
So pick your house, blow the whistle and remember to make madam hooch proud.
Dodgeball
For some weird reason, dodgeball is a timeless favorite among gym teachers and camp instructors. But the kind of dodgeball you play at the gym requires a ball for every player.
This might work in a school environment where a lot of balls are readily available. But this is not practical in a backyard environment. That's why we have made some changes to the original dodgeball game to create our own backyard version of the game
How do you play?
One of the players is randomly picked to be the "target". The remaining players form a circle around the "target".
One of the players standing in the circle is given the ball. He tries to hit the "target" with the ball while the "target" tries to not get hit.  He the ball misses the target then another player who manages to catch the ball takes a shot at the "target".
This repeats until the target is hit. The player who hits the target takes his place and becomes the new "target" and the game starts all over again.
Keep Away
In many ways, the game of keep away is the opposite of dodgeball. Instead of hitting the player in the middle with the ball, the players must prevent them from touching the ball
How do you play?
One of the players is selected as the "IT" while all the other players stand in a circle around him.
One of the players standing in the circle is randomly chosen to start the game and is given the ball.
The "IT" must try to either touch the ball or tag a person while they are holding the ball.
No player is allowed to move while they are holding the ball.  This way the only way to avoid getting tagged by the IT is to throw the ball to one of the other players. You also have to make sure that the "IT" does not manage to touch the ball while it's in the air.
If the "IT" manages to tag a player holding the ball or touches the ball in air then the player holding the ball or the one throws the ball becomes the new "IT".
The "IT" also joins the other players to start the game
Throwing or Shooting Games
Cornhole
Walk through Cincinnati and you'll notice a people tossing bags at a board. This is cornhole.  The game has been sweeping the country over the last few years.
This is because the game hardly requires and equipment and it's easy to learn. There aren't too many rules either. But most importantly, it's hella fun to play.
Don't believe me. Try it out yourself. The next time you're throwing a party, keep a cornhole board out and see what kind of activity it generates. This could potentially turn your party into one to remember.
See our review of the best cornhole boards and the best cornhole bags.
Ramp shot
Last update on 2023-11-17 / Affiliate links / Images from Amazon Product Advertising API
Rampshot is a brand new game you can play in your backyard. Although the game might look really similar to cornhole, in fact, the manufacturers even pay homage to cornhole as an inspiration. They two games are not very similar.
Ramp shot is much more fast paced and involves a bit more running around. In a game of cornhole, you can take a break when the other player is throwing the bag. However, during a game of ramp shot every single player must be on their toes.
For a relatively new game, you would expect it to be still a work in progress. This is not true for ramp shot. The rules of the game are pretty well thought of.
If the regular rules seem a bit too passive, you can even check out a version of the game with a mechanic called slapback. This forces even the thrower to be ready at all times and adds a degree of complexity to the game.
However, one pain we noticed about this game is that you are only limited to 4 players. This means others have to wait for a chance. A workaround we discovered is to have rolling teams.
If a player misses the ramp completely or misses a catch then they are subbed out.
Check Price and Reviews on Amazon
---
Bulzi Bucket
No products found.
Cornhole is a great game. It's fun and a fantastic way to have some healthy competition. But it's not very portable. The boards are really heavy and difficult to carry around. This made it really difficult for familes with small cars to carry the boards on outings.
The creators of bulzi bucket saw this tried to create a game that had that the same fun and challenge as cornhole without being too heavy to carry around. Additionally, they made many other small changes so that there are many variations of the game. You can choose to play the orignial cornhole style 1v1 or even go 2v2 and play with teams.
Check Price and Reviews on Amazon
---
Lawn Darts
Who among your friends has the best aim?
Although darts are usually played at bars, you can enjoy a good game in the comfort of your own backyard.
You may want to be careful as the sharp edges are pretty dangerous. If you have kids at home, you are better off getting a more "child-proof" option. 
Balloon Darts
Another extremely popular carnival game. Balloon darts is a perfect game to play when you have people over.
The great thing about it is that you don't really need some special equipment. Just some balloons and darts from your garage should do the trick.
Knife Throwing
Knife throwing is fun! Plain and simple. While the game might look boring and plain to outsiders, it is only once you begin to play that you understand the intricacies of the game.
The number of knife throwers has been rapidly increasing over the years. Maybe because at its core the sport is still a backyard game. All you need is a knife and some throwing room.
Warning!  Not safe for children.
Axe Throwing
If you are looking for a variation on throwing knives then you should really give throwing axes a try.
Axe throwing and knife throwing is like pool and snooker. The skill one sport translate over to the other but there are some small nuances between them.
This makes the games pretty different from one another and in most players naturally tend to lean towards either knife throwing or axe after some time. (Check out the best throwing knives).
Horseshoes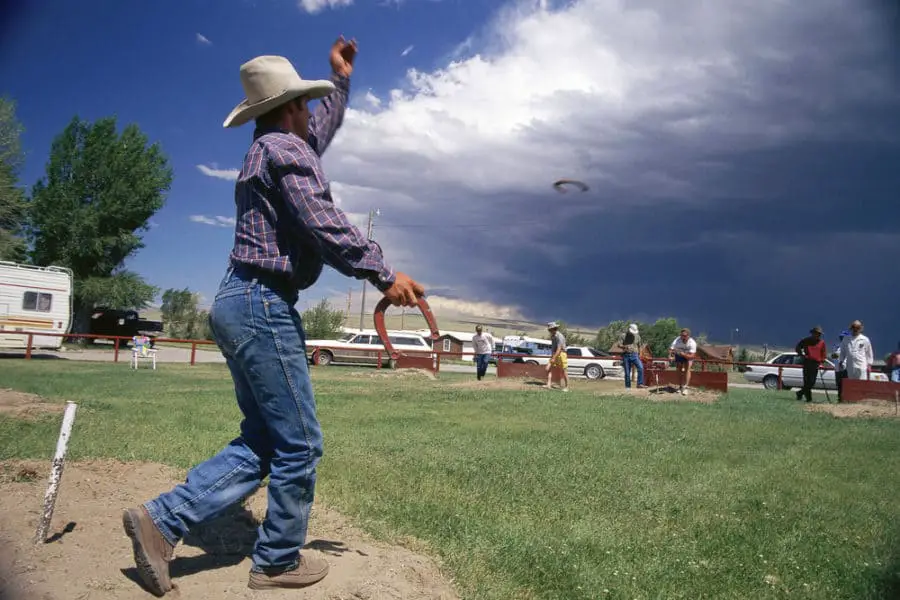 The game of horseshoe is as American as it gets.
Cowboys in the wild west first came up with this game as a way to pass the time. They would throw the horseshoes at a pole and see which ones would stick.
The game has changed a lot since then, but at its core it is still the same game the cowboys of the 19th century played.
Here's more details on how to throw a horseshoe.  And here is a review of the best horsehoe sets.
Washer Toss
Enjoy playing horseshoe, but hate the effort needed to set it up?
If you have recently been to a tailgating event, you might have noticed some adults playing this game. Washer toss has become pretty popular as a common tailgating event.
Hook and ring toss
Bimini Ring Toss, Ring on a String or even Tiki Toss. It doesn't matter what you call it. The game is fun.
Go to the beachside bar in Florida and you're going to find this game being played.  But playing hook and ring toss is just as fun in your own backyard. Plus it is really cheap and can be installed in under $20.
All you need is the tiki toss hook and board.
Ring Toss
Carnival games are picked extremely carefully. Only the most addicting games finally make it on to the carnival floor. Ring toss is one of them. In fact, ring toss is right there as one of the most common carnival games.
That's because this game is really fun to play.  The cool thing is that with a little effort you can even set it up in your own backyard and save some time and money by not going to the carnival.
And just maybe if you practice your moves long enough, you may be able to win that stuffed bear you have always wanted.
Ladder golf
Ladder golf may not have much to do with golf. But it's lots of fun. Stop by a tailgating event near you and you will find fans engaged in a competitive match.
The game involves tossing short bolas made from golf balls at a stand. If the bola wraps around the stand, you get points. A player wins when they get exactly 21 points
Bocce Ball
The game of Bocce is catching on rapidly in this country. It is a fun recreational sport that can be played by almost anyone anywhere.
The game does not require extreme strength, stamina or quickness. You don't need cat-like reflexes or need to be at the peak of human capabilities to enjoy a good game.
Men and woman of all ages can participate and enjoy a nice game of bocce ball. Best of all, you don't need to make any changes to your backyard or purchase some heavy equipment.
Bocce is best played on grass, dirt or any uneven surfaces (even beaches).
Here's the best bocce ball set.
Group Flippin Chicken
Last update on 2023-11-17 / Affiliate links / Images from Amazon Product Advertising API
Imagine a game of cornhole mixed with chickens, that's exactly what group flippin chicken is.
Group flippin chicken is one of the weirdest games we have come across, but even then we have to admit that it is pretty fun.
The typical $20 kit comes with 4 rubber chickens, a target disk and even a scorecard. This is more than enough for the whole family to play and makes for some really fun moments.
You can check out this short 2-minute video to learn everything you need to know about this game.
Check Price and Reviews on Amazon
---
Lawn Bowling
When you play lawn bowling you are joining a community that dates back over 800 years. The game is played in 40 countries professional lawn bowling stadiums all over the world.
But apart from the name, this game has not much to do with bowling. There are no pins to drop and no concept of a strike.
But at its core, this game is meant to be played outdoors and a fresh patch of grass. This makes it a pretty great game to play in your backyard.
Mölkky
Thankfully, the hardest part about this game is its name.  Mölkky is an easy to pick-up game that was created in Finland. Over the years, it has become really popular over Europe as well.
You should be particularly excited if you have a large group who are looking for a game to play. Traditional outdoor games are usually restricted to 2 or 4 players. A game of mölkky can be played with groups of 20 and more.
We hope that reading this article would get excited enough to start playing it in your backyard.
How do you play?
Think of Mölkky as an outdoor version of bowling.
You start off by arranging a series of 12 pins together, just like you would do at a skittles game. The first player then takes a shot stick (which is technically a pin just like the ones you set up) and tries to knock down the other pins.
The next player first sets up the pins at the location they are fallen on and tries to knock down as many as they can. They get 1 point for each pin the player manages to knock down.
This process repeats until you reach the last player.
We then repeat the above in the opposite order. Such that the last player throws first and so on for 21 rounds. The player with the most points at the end of 21 rounds is declared the winner.
The constantly changing structure of the boards adds another dimension to the game. We never know when the how the board will look like when our turn comes up.
Many skilled players often think 2 to 3 turns ahead. They would strike a less optimum pin just to ensure that the player going next does not get an easy setup.
Shooting Games
Laser Tag
Are you kids addicted to playing first-person shooter video games? Laser tag is a great way to turn this addiction into something more positive.
The game is a complex combination of intelligence, speed, and teamwork. And now you can play this game in your own backyard.
The increase in popularity means companies having worked towards making laser tag more accessible. Finally, you purchase a laser tag kit complete with 4 laser blaster and vests for under $150
Paintball
If laser tag is a bit too mild for you then try paintball. Paintball has everything you would want from a shooting game
The bullets sting bad. While this may normally be a bad thing, it adds a sense of realism to the game. You work extra hard to dodge the bullets and stay under cover. It also means a player is less likely to run directly into the enemy line of fire without facing the consequences.
But we feel obligated to warn you though, the game tends to get really messy. If you decided to have a paintball fight in your backyard. You'll find your backyard covered in paint by the end of the game
Airsoft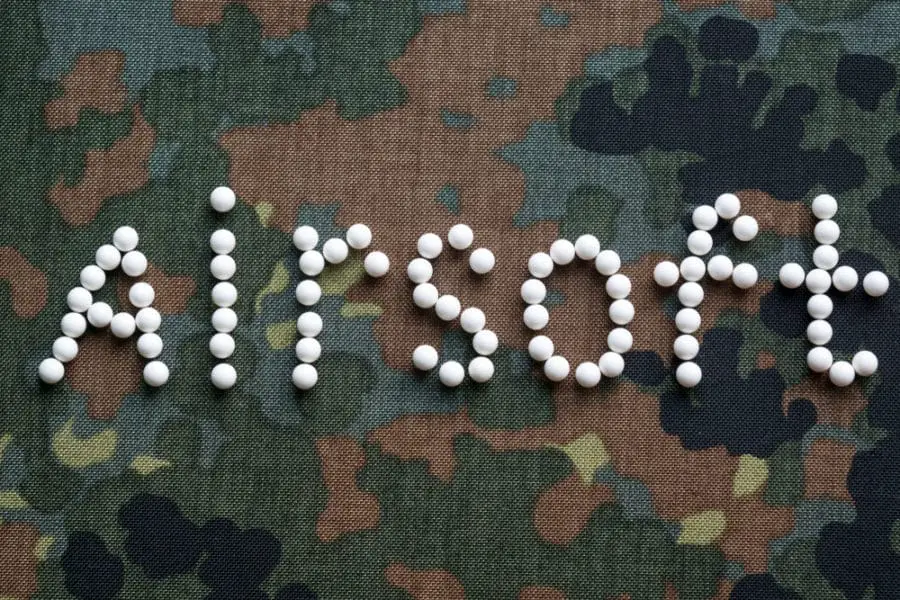 Like paintball the bullets hurt. But unlike paintball, you don't end up with a paint-covered backyard at the end of the game.
As a bonus, the guns and weapons used in airsoft are much cheaper. Ideally, airsoft makes for a much more casual game while paintball is perfect for a serious match played once a month.
Find the best airsoft gun under $100 here.
Nerf Guns
The bullets used in paintball and airsoft is not-reusable. This means you have to keep purchasing more ammunition to play.
While this may not be an issue if you play once a week, the costs can quickly pile if you play regularly. Plus it is not too environmentally friendly either.
Laser tag is a great option for such situations but if you are looking for a game you can play regularly with the effect of real bullets. Give nerf guns a try.
Nerf- guns have become really popular especially on college campuses. One of the most commonly played games is Humans vs Zombies.
In this game, each player (except one) start out as humans. But once tagged by a zombie, they join the horde.
In 2017 Athens, Ohio hosted the largest humans vs Zombies game with over 400 players.
This fast-paced game will keep you on your toes as you scramble to be the last one standing.
Target Shooting
Alternatively, you could practice your shot using some target dummies.
Practice enough and you will have an unnatural advantage against your friends the next time you play.
One advantage of getting a target dummy is that it is an individual activity. You are not dependant on waiting until you have enough player to play with.
Archery
The game of archery dates back almost 20,000 years. Back then if you didn't know how to shoot a bow. You were as good as dead.
Archery today is more of a hobby than a life and death activity.  This does not make it any less important.
Archery has proven to improve the hand-eye coordination of athletes making it a pretty cool sport.
When deciding to get an archery range in your own backyard. You could either pick the more casual plastic bow and board or a more professional and traditional approach.
The traditional point needle arrow is much more professional and allows you to practice archery in its truest sense. Using this kind of arrow and a professional bow also gives you a lot more control over the trajectory of your shot, which makes for a much more interesting game.
However, a pointed arrow is also very dangerous and it's best avoided if you are looking for a more casual game for kids.
Games for Adults
Backyard games aren't just for kids. There's a lot more to running around and throwing things. There are a lot of games adults can enjoy in their own backyard.
This section focuses on backyard games, that adults can enjoy…
Golf With Net
The only way you're going to lower your handicap is through practice. But it's not as easy to practice your shot when you live 2 hours away from the nearest course.
Investing in a golf hitting net is the easiest way to improve your game without actually moving closer to the golf course.
A golf net will let you practice your long shots without the risk of hitting something without your ball.
If you are looking for a great golf net that doesn't cost like one then be sure to check out our article The 5 Best Golf Nets for Your Home or Backyard
Golf Hole
Owning a golf hole in your own backyard is the ultimate luxury for many. But it's not very expensive to install either.
After all, you need to landscape the area, so that you have even well-tended grass around the hole. This takes effort and money.
But if you can are okay with using artificial grass or turn then this becomes really affordable.
Casual/ Non-Competitive Games
Trampoline
Backyards trampolines have become very common. In fact, most families have owned least one trampoline in the last 5 years.
It's not surprising considering how fun they are. If you have ever been on a trampoline, you'd know what I'm talking about.
This rise in demand also means we now have a huge variety of trampolines to pick from. Just make sure that you keep safety as a top priority.
See our recommended overall best trampoline or best trampoline for kids.  Also, see the best trampoline for adults or mini-trampoline for exercising.
Glow in Dark Sword fighting
Who hasn't dreamt of using a plastic sword as a lightsaber and pretending to be a Jedi (or sith  depending on how you roll)
Glow in the dark swords is a great way to let your kids imaginations run wild.
Slacklining
Last update on 2023-11-17 / Affiliate links / Images from Amazon Product Advertising API
Ever looked at guys who can walk on a tightrope and wonder if you could do it too? Maybe you discarded the idea because it seemed to difficult. We are here to tell you that this is not true.
Tight-rope walking is actually much easier to do than it looks. In fact, most people are able to walk on one with about a month. All it takes is practice.
Within a few hours and some rope, you can set up your very own tightrope in you backyard. So the next you have friends over for a backyard barbeque you can impress them with your slacklining skills.
Juggling
Juggling is a great game, hobby and a stimulant all rolled up into one sport. Additionally, it is extremely relaxing to play. What makes the game is that it is only as complex as you want it to be.
Any man, woman or child can pick up juggling enjoy it as soon as they start.
The game can serve as a wonderful hobby, pastime or even a profession depending on how you seriously you take it.
There is hardly any sport that can provide as much recreational pleasure at such a small cost as juggling. You can enjoy it alone or even compete with friends to see who can juggle the most number of items or the juggle the fastest.
Gymnastics
Gymnastics is probably the best activity to use for teaching children overall body management skills. It has shown to improve posture as well as reinforce good posture.
The sport also makes athletes stronger and much more flexible. The same cannot be said for most other sports.
Although sports like football and baseball has shown to improve the strength of kid much faster than gymnastics, they also become much more injury prone. This is because as the muscles get stronger, they also lose a lot of flexibility. Regular gymnastics can help you avoid this.
Even professional athletes like LeBron regularly practice gymnastics to maintain flexibility.
The beauty of this sport is that you don't need any equipment or a lot of space. There's is not any age barrier either. Adults, kids and even the elderly can take in gymnastics to some extent.
In this way, not many sports can match the flexibility it offers.
Double Dutch
Although double dutch is not considered a competitive sport, it is still just as fun without a couple of friends and some music.
The game has a high learning curve and takes some practice to get it right. But once you do, there's nothing quite like it.
If you are finding it difficult to find your rhythm even after a lot of practice then try to start with a simple two-footed jump before skipping on one leg
Jumping Rope

Jumping rope has often been a girl's addiction during their childhood. There's just something about it that felt right.
When jumping rope either alone or with your friends, you find yourself at peace. There are no teachers or homework. The outside world doesn't matter anymore.
Add a couple of jumping rope rhymes and you have a game, kids can play for hours.
Hula Hoop
Every kid from the 60's, 70's, 80's and even the 90's has a lot of memories of a hula hoop. If you are one of them, you probably remember the first time you tried one.
You had seen someone use it successfully use one and envisioned yourself doing it too, only to have it fall right to your ankles.
Although the hype around the game has died down quite a lot since then, it is still really enjoyable to play.
Lasso Roping
Ever wanted to be a cowboy like the ones in the old Clint Eastwood movies (or Aurther Morgan for the younger audience).
If you answered yes, then you need to learn how to lasso like a boss. Fashion an old rope in your house to a lasso to practice your lasso skills.
Lawn twister
Twister does not have to be played indoors. With a little bit of paint and some creativity, you can quickly set up a twister board in your very own backyard.
All you need is some paint – preferably 4 colors of red, yellow, blue and green. Spray paint the grass with the colors you pick. There should be 16 circles with one row for each color.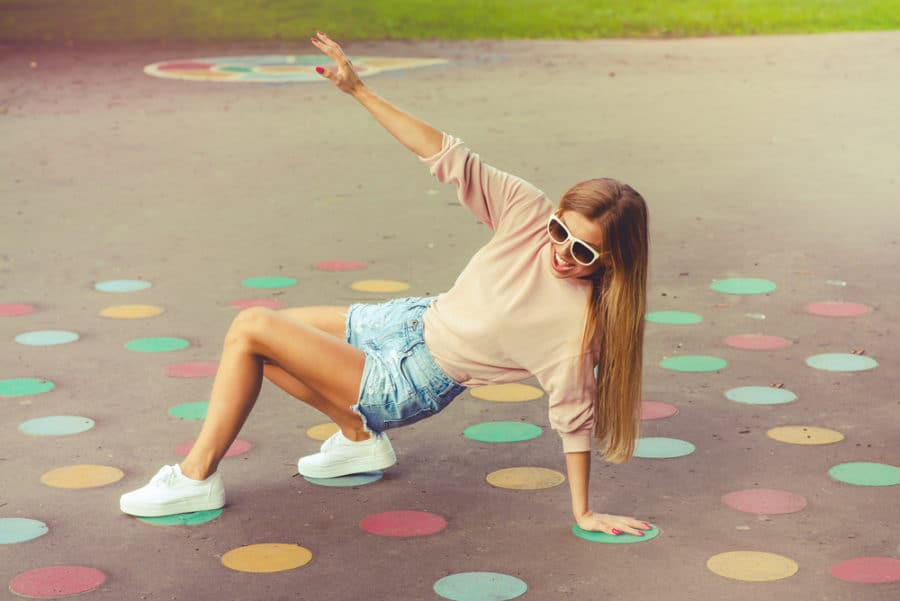 You could use a cardboard cutout as a makeshift stencil to make it easier to paint the circles. The size circles can be as big as you want but we typically keep it the size of a single plate. Once created you can use the board the multiple time.
Hacky Sack
Go to a college campus and you will find a group of students standing around a circle playing hacky sack.
Hacky sack has a simple premise- don't let the bean bag touch the ground. However, you can use any part of your body to keep the sack off the ground EXCEPT your arms and hands.
The game has become extremely popular among high-school kids and college students Players often stand in circles and take turns working together to keep the footbag off the ground.
You can either play the game with friends or just practice at it alone. The only problem with this game is that you are probably going to spend all day playing.
Ziplines
It is unbelievably fun to fly through your yard hanging from a zip line.
A zip line does not have to move at breakneck speeds. They can be slow, gentle, and close enough to the ground to push off and stop yourself with your feet.  They can also be very high and very fast.
As you are building your zip line, you should avoid using the standard pulleys used in a hardware store. Those pulleys are not intended to hold the weight of a fully grown adult. You would just be putting yourself and your family at risk by using those pulleys.
Pogo Sticks
Always a classic, always fun.  See our review of the best pogo sticks right here.
Racquet Sports
Badminton
A game that rewards not just power, reflexes and quickness but also forces you to play smart.
Badminton is a sport that can push your body to its limit – physically and mentally. But at the same time, it is only as competitive as you want it to be.
A casual game of badminton is fun for the whole family and serves are a great activity the entire family can do together.
See our reviews of the best badminton racket and best badminton shoes .
Speedminton
Last update on 2023-11-17 / Affiliate links / Images from Amazon Product Advertising API
Speedminton. Shuttle ball. Speed Badminton. Crossminton. It doesn't matter what you call it. This game is fun.
The casual viewers will not be able to spot the difference between a game of Speedminton and badminton but they couldn't be further from the truth.
The Speedminton a relatively game and is barely 18 years old. Bill Brandes first created this game in Germany as an outdoor variant of badminton.
But a modern shuttle ballplayer would barely be able to recognize the version of the game played in 2001. In fact, the game barely resembles badminton – there's no net and even the pace is faster.
But these factors let you play the game anywhere you want. Crossminton comes with a specially constructed plastic shuttle which lets you play outdoors. The fact that there's no net either means you all you need is a racket and the shuttle and you can start playing.
Jazzminton
If badminton and table tennis had a baby you would you get jazzminton. The game uses a paddle similar to the ones you might see in ping pong to hit a birdie.
How do you play?
You can play jazzminton either alone or with friends.
When playing with friends, the players hit a feather birdie back and forth to one another. The goal is to see how long can the players keep up a volley without dropping the birdie.
You can increase the difficulty either by increasing the distance between the players or by changing the birdie used. A typical jazzminton kit comes with multiple birdies which travel at different speeds.
You can even practice the game alone and try to beat your own record.
Outdoor Ping Pong
Ping pong is an indoor sport and should be played indoors. But that is not always practical. You may not have enough space inside your home and are forced to keep the table outside.
Turns out, it's not too bad and is kinda fun. Setting up a ping pong table in your backyard brings a different vibe to the game. It's a lot more social and can be a source of entertainment for hours on end.
However, depending on your location getting an outdoor ping pong table may not be a possibility for you. We are sorry to break it to you, but if you live someplace like Kansas you are better off going for some other backyard activity.
Other Classic Playground Games
Swing sets
Swing sets are a staple in any good playground.
Enjoyed by both adults and children, it's easy to understand by swing sets are so popular – the adrenaline rush at the top is like no other.
So why not get one in your own home? There are many fantastic swing sets for older kids available on Amazon. Some are even designed especially for small yards
Four Square
Depending on where you stay, the foursquare you play will differ a lot. Almost every group has its own variation of the game.
But some core concepts still remain the same across all playstyles.  We are only going to explain the core concepts of the game and let you come up with other rules as you play along.
How do you play?
The game contains 4 squares – The King, Queen, Jack, and Baby. Players take a spot in each of the squares. With the order of the squares moving from King to Baby.
The king must start the game with an underhanded serve to any of the other squares. The next player must slap the ball and pass it to any of the other players and so on.
When passing the ball there is just one criterion – the ball must bounce once in the square it is getting passed to. If the server cannot get the ball to bounce in another square then they are eliminated or moved down a level of the hierarchy. The player who he replaces will take their place. Then the game begins all over again.
So if a queen plays a bad serve, she moves to the jack square while the player in the jack square becomes the new queen.
On the other hand, if the ball bounces twice in the receivers square before they can return it, the server takes the spot of the receiver(if the receiver has a higher hierarchy).
Hop Scotch
Hopscotch is typically played in crowded cities like new york and Chicago where there's not much room for kids to play.
It is a street game in the truest sense and is often played on the sidewalks. To play the game you need to draw a chalk outline (by the way, take a look at these awesome Outdoor Chalkboards!) of a hopscotch area on the street which looks something like this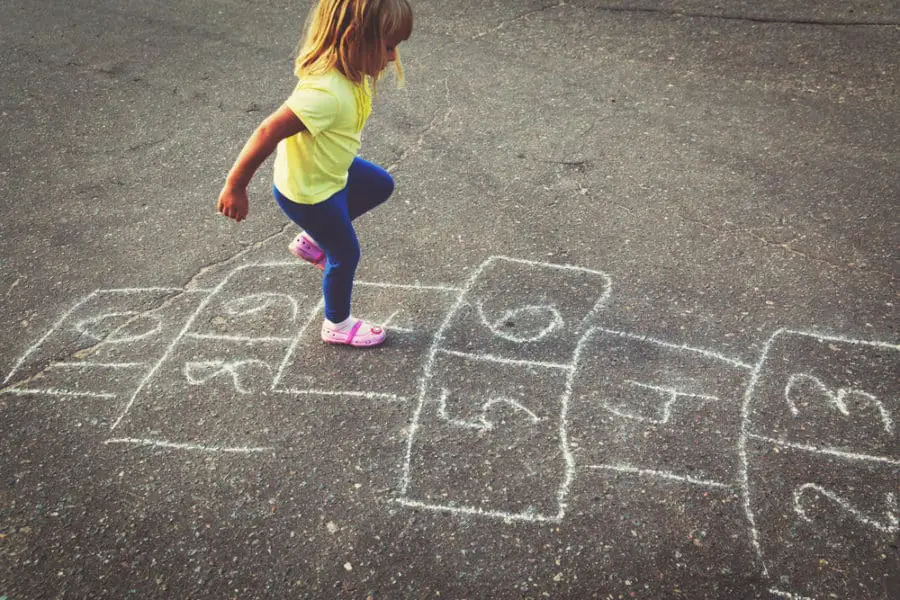 So the next time you pass a similar looking outline, you know what it is for.
British Bulldog
British bulldog is an odd game. Most parents have many fond memories of playing this game as kids. But they dread the day, their own children try to play it.
That's because this game tends to get a bit… rough. This game is best played on grass or even sand.
How to play?
Mark 2 safe zones about 26 feet from each other. One of the players is picked as the catcher. He stands in the "danger" zone which lies in the space between the two safe zones.
All the other players line up on one of the safe zones. The players are forced to move between safe zones every 3 minutes. This means they have to run through the danger zone.
When the player leaves the safe zone, the catcher can grab on to them. The catcher tries to hold down player as the move between zones. Any player held down by the catcher for a count of 10 joins the catcher against the main group
This continues until there is just one player standing. The best way to avoid getting caught is by crossing the danger zone together as a group. This makes it difficult for the catcher to pick off player one by one.
Red Rover
Depending on where you lived, the game red rover either brings back some great memories or sounds like a new game to you.
The game is played between two lines of player who stand about 30 feet apart. Players on each team get ready with their hands linked.
The game starts when the first team calls out "Red rover, red rover, send "Susie" over".
Then the person whose name was called has to run to the other line and try to break the other chain. If the person cannot break through the line, they join the other team.
However, if they do manage to break the chain, then a player gets to pick either of the players on the link to come back to join the other team. Then the other side does the same thing.
This continues until there's just one team remaining.
Misc. Games
Not all backyard games fall into neat little categories. Here are some games we were unable to categorize…
They range from old-school games like croquet to party games like musical chairs.
Croquet
Croquet is probably the original backyard game.  In fact, the game is said to have originated in a small French town in the 1300's.
Over the years some of the most powerful people in the world have played this game. These include figures like Churchill, Tolstoy, and even Bart Simpson.
And although everyone "knows" the game, It is also one of the most misunderstood games of the world. After over 500 years of evolution, the game has become a dominant garden game in England.
One of the best qualities of backyard croquet is its adaptability. It is best played on a lawn that is big, flat, smooth and fast; but it can also be played on one that is small, sloped and lumpy.
Read our reviews on the best croquet sets.
Lacrosse
Ask any lacrosse player, about their favorite sport and you are going to hear them talk about how lacrosse is the best game ever created.
It might sound like a load of crap but a lot of what they say makes sense. Lacrosse is an extremely active game. Things move fast on the field. This means players aren't going to be standing around and watching other players. Every single player is actively moving and running around.
As a novice, playing in your backyard is a great way to get used to the game.
As an expert, you can work on your shot, try different styles of shots. Playing in your backyard is a great way to practice without any pressure.
Musical Chairs
Musical chairs is built on a simple premise – when the music stops, don't be the only person left standing.
All you need is to have as many chairs as the number of players minus one.
Place the chairs in a circle and pick someone to play the music. As long as the music is playing, the players walk around the chairs. At random, the volunteer stops the music and everyone finds a chair as soon as possible.
The last person standing is out of the game. Remove one of the chairs and start the music again. This repeats until there's just one player standing.
Tug of War
Grab your friends to see who's the strongest. To play you need a long rope that's about 25 feet long.
Mark two lines that are about fifteen feet apart and place the rope such that the center of the rope falls at the midpoint between the two lines.
Divide everyone present into two teams(preferably by weight or strength). Each team stands behind the line and holds on to the rope.
At the signal, the teams pull on the rope in an attempt to drag the players from the other team across the marked line.
The team that manages to successfully drag the other team across the marked line is declared the winner.
Shuffleboard
Shuffleboard gets a lot of bad rep for being an old person game. We'd like to change that opinion.
The game goes back almost 500 years, played by the elite in Europe. It is also an extremely popular game on ships.
How do you play?
Shuffleboard is played between two or more player but you can also play it alone to compete against yourself.
The players use cues to push weighted discs to send them sliding down a narrow court with the goal of having it come to rest in a marked scoring area.
You can read the complete list of rules for the game here. One problem with playing shuffleboard in your backyard is that you need a really smooth surface.
See the best shuffleboard table.
Water  Games
Psssst… Wanna know the secret to staying cool during the summer? Especially if you don't have a pool in your backyard?
WATERBALLOON FIGHTS. Let's look at some of the most fun water games you can play.
Balloon Fight
Is there anything more fun than throwing water balloons at each other? A balloon fight is the best way to beat the summer heat. We think both kids and adults can agree with us on this one.
In many ways, a balloon fight is happiness in its purest sense. There are no rules. No competitions. Just the feeling of joy as you smack your best friend in the face with a balloon.
Water Balloon Launcher
Last update on 2023-11-17 / Affiliate links / Images from Amazon Product Advertising API
On the other hand, build a water balloon launcher and wreak havoc on your enemies. Not many other activities provide the same excitement as firing a balloon across the street. You could compete against each other to see who can launch the balloon the furthermost. OR maybe practice your slingshot skills by hitting targets placed far away.
Some launchers even fire multiple balloons at the same time. Use these to bring down a barrage of balloons on your friends.
Getting a launcher you like is a bit tricky. While you can always purchase one off Amazon, we recommend you to build your own. This allows you to customize it as per your requirements and will save you a couple of bucks. Building your own launcher is also a  great way to teach your kids some woodworking skills.
One of the best guidelines on building a water balloon launcher is by the frugal fun for boys. Their launchers can fire balloon almost 50 feet in the air and cost less than $60 to make.
Check Price and Reviews on Amazon
---
Water Balloon Volleyball
Looking for a more competitive water sport ? Give water balloon volleyball as try. It a refreshing spin on the regular volleyball game
All you need are 2 towels and a lot of water balloons. Optionally, you could use a volleyball net however if you don't have one that's okay. We can try to make do without it.
How do you play?
The players are divided into two teams. One of the teams the begins the game by placing the water balloon in the middle of the towel.
The team on offense must try to launch the balloon to the other side using the towel.
If the balloon crosses the net the other team must try to catch the balloon using the towel only and return the serve. however, If a team is unable to catch the balloon using the net then the opposing team gets one point.
If the offensive team fails to get the balloon to the other side, then the serve is given to the other team. The first team to get to 21 is declared the winner.
Conclusion
If you are reading this, you have either:
1. Read through the entire article. If so, then congrats on making it to the end. This was a really long and hopefully interesting post. I'm sure you have found a game or two you liked.
2. Skipped right to the end. That's okay too, you don't need to read through the entire article to get the most out of it.  You just need to find a game or two you like. If you are having a tough time deciding. Here's a great game we love.
Either way, I want you to stop reading, put down your phone(or whatever device you are reading this on) and go out. Try playing one of the games. You don't to be too selective. If the game you picked was not as much fun as you hoped, just pick another.