If you're looking for an excellent way to liven up your backyard or a great portable activity to bring to your next barbeque, croquet is the perfect activity for you! Croquet has a long history and conjures up images of classy garden parties and manicured lawns, but nowadays this backyard game is popular with families worldwide. It's a great way to spend some time outdoors, hang out with friends, and even get in a light workout! Here, we'll be reviewing and choosing the best croquet set to give your backyard a little bit more class and whimsy!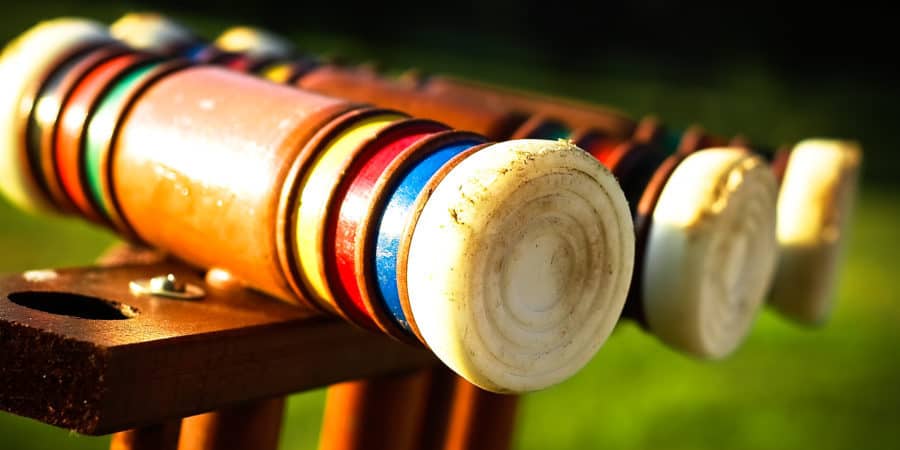 In a Hurry? Here's Our Top Picks…
1. GoSports Premium Croquet Set for Adults and Kids
Sale
GoSports Six Player Croquet Set for Adults & Kids - Modern Wood Design - Choose Deluxe (35") or Standard (28")
COMPLETE CROQUET SET: Includes 6 color mallets, 6 balls, 9 wickets, 2 end posts and rules
KIDS AND ADULTS: Full size 35 inch handles can be used by players of all sizes, not just kids; Handles are wrapped for superior control and comfort; The croquet balls are 3 in diameter and 10 oz each
PREMIUM CONSTRUCTION: Mallets are crafted from premium hardwoods for durability and feature a modern design that will look great on any lawn or backyard
CARRYING CASE: Includes handy storage bag so you can neatly store the set and take it out to the park or parties
Last update on 2023-09-18 / Affiliate links / Images from Amazon Product Advertising API
The first croquet set on our list, this Amazon Bestseller is one of the best mid-range croquet sets on the market. It's much beloved by its users, who give it rave reviews. It comes with everything you need to start hosting your own croquet nights right away: six durable hardwood mallets, six textured polyethylene balls, nine plastic coated wire wickets, two end posts, and a set of rules for play.
It also includes a handy carrying case for you to store your set and easily transport it when you want to take the game from the yard to the park. The vibrant colors are a modern take on the traditional croquet coloring and stand out from other croquet sets on the market.
The GoSports Premium set comes in two different sizes, giving you the option of either a deluxe set or standard. The main difference between the two is the sizing. The deluxe set is better for taller players, so if you're ordering this for mostly adult play, it may be the better option. The deluxe mallet handle is 35" and includes a padded leather grip, versus the standard size of 28" which doesn't have a special grip. The standard balls are also a little bit smaller and lighter, weighing 7.5 oz. with a circumference of 2.5" compared to the 10 oz. and 3" diameter balls of the deluxe set.
Things We Like
Tall mallets are great for players of all sizes
Great customer service and lifetime guarantee
Check Price and Reviews on Amazon
---
2. Oakley Woods Extreme 6-Player Croquet Set
Oakley Woods Extreme 6-Player Croquet Set
6 mallets with 36" handles and 8-1/2" heads
6 polymer balls 3-5/16
9 powdercoated steel wickets & 2 hardwood goal stakes
Rules & instructions
12 month manufacturer's warranty
Last update on 2023-09-18 / Affiliate links / Images from Amazon Product Advertising API
Although the Oakley Woods Extreme set has a higher upfront cost, if you're looking for a croquet set that's going to last for your lifetime, and get passed down to your children, this is the set for you.
The six mallets feature nearly indestructible polyethylene heads connected to shafts made of ash with an octagonal upper grip. The six polymer balls have a 3-5/16" diameter and the wickets are made to last longer than typical recreational sets, with a steel rod core covered in a chip-resistant powder finish and lengthier stakes, making them harder to displace during play.
The goal stakes are also made from a naturally finished ash and come with a steel ground pin to make them easy to stick into the ground. Plus it features a 9 wicket rule book and instructions on getting started and a nylon Cordura carrying bag.
The founder of Oakley Woods is an avid international croquet competitor and knows what goes into making an effective mallet. Every aspect of your purchase can be customized if you order directly through the retailer, so if you're a real croquet enthusiast and a frequent player or a croquet club looking for something to share but not ready to take on the thousand-dollar cost of a pro set, this is an excellent option to consider.
Things We Like
Customizable product
Practically indestructible mallets will last you a lifetime of play
Excellent customer service
Check Price and Reviews on Amazon
---
3. Six-Player Deluxe Croquet Set from Crown Sporting Goods
Six-Player Deluxe Croquet Set with Wooden Mallets, Colored Balls, & Sturdy Carrying Bag - Classic Outdoor Yard Game by Crown Sporting Goods
DELUXE CROQUET SET: The classic backyard Croquet set. Includes everything needed to play 6-player Croquet: 6 wooden mallets, 6 colored balls, 9 wickets, and 2 stakes
VINTAGE HARDWOOD MALLETS: 32" hardwood mallets with rubber caps, each mallet Is colored-coated and matches one of the colored balls
BLACK CARRYING CASE: Features black zip-up carrying case for easy transporting and storage. Has a carrying strap that fits right onto a shoulder
STURDY MATERIALS: 2 high-quality hardwood stakes that are 21" long, 9 vinyl-coated wickets, and 6 polymer balls will last for many backyard fun days to come!
LARGE GROUP GAME: Perfect for large groups of people. Take it on the go to picnics, camping trips, family gatherings, and lawn game tournaments
Last update on 2023-09-18 / Affiliate links / Images from Amazon Product Advertising API
Crown Sporting Goods' Six Player Deluxe Croquet Set features six 32" hardwood mallets with rubber caps, six 3" diameter all-weather polymer balls, two 21" hardwood goal stakes, and nine vinyl-coated steel wickets, not to mention the convenient carrying case it comes with! This affordable croquet set is a great option for the casual weekend player looking for something durable enough to stand up to use by children without breaking the bank.
One downside worth mentioning with this particular brand is that the mallets don't fit into the carrying case when fully assembled, so you'll have to unscrew the mallet heads and reassemble them whenever you want to take your set with you to play somewhere else. It's not a deal-breaker, but if you're planning on bringing your croquet set with you frequently you may be better served by a different and more easily portable set.
Things We Like
Sturdy hardwood stakes and mallets
Rubber capped mallets protect the balls from damage
Check Price and Reviews on Amazon
---
4. Harvil 6-Player Croquet Set for All Ages
ropoda Six-Player Deluxe Croquet Set with Wooden Mallets, Colored Balls, Vintage Style, Sturdy Carrying Bag for Adults &Kids, Perfect for Lawn, Backyard, Park
【EASY & FUN FOR EVERYONE】 - Croquet is quite easy to learn and is a great outdoor game for anyone age 6 or older. Croquet is great for families but can also be played with 2 to 6 players. Grab your set now and enjoy hours of fun, outdoor entertainment!
【COMPLETE, DELUXE CROQUET SET】 - This is ROPODA's deluxe, upgraded croquet set. It includes 6 handles, 6 mallets with protective covers, 6 balls, 2 ending stakes/end posts, 9 steel wickets and a carrying bag. Everything you need to play a game of croquet is included in a more modern version!
【UNBEATABLE QUALITY & EASY SET UP】 - Handles and mallets are made of premium hardwood and are easy to set up. Croquet Balls are made from resin that is crack and damage resistant so they will look new for a long time.
【TAKE IT ANYWHERE]】 - ROPODA Deluxe Croquet Set includes a durable carrying bag for easy storage and transport. Whether you are going to the beach, camping, a barbecue, picnic, or party, it's the perfect game to bring with you.
【ROPODA HELP】 - Customer satisfaction is our top priority. If you have any question, please feel free to contact us. We are always willing to help!
Last update on 2023-09-18 / Affiliate links / Images from Amazon Product Advertising API
Harvil is a company well reputed for its outdoor and indoor game products and this croquet set is a great example of why! This 6-player set includes everything you need to play and a little more. The Harvil set includes six 30" mallets made with hardwood shafts and chip resistant bamboo heads and even gives you the option to choose between three stylish hardwood colors letting you customize your croquet experience.
It comes with nine steel wickets with a white vinyl coating and two durable hardwood end posts, in addition to the six colorful and well-weighted polymer balls. The added carrying case comes in several different colors and has straps inside to keep all of your croquet tools safe while traveling.
This is a good option for a mid-range croquet set, but it has a couple of drawbacks. The balls have a tendency to dent a little easier than some of the others on this list and, much like the set from Crown Sporting Goods, you'll have to disassemble and reassemble your mallets for transportation in the case. If you're a casual player looking for something to keep at home, it shouldn't be too much of an issue for you!
Things We Like
Customizable color scheme
Durable hardwood and bamboo mallets
Carrying case features straps to keep everything organized
Check Price and Reviews on Amazon
---
5. Juegoal Six Player Croquet Set
Juegoal Six Player Croquet Set with Wooden Mallets Colored Balls for Lawn, Backyard and Park, 28 Inch
Includes 6 x 28" Burlywood hardwood handles, 6 x 8" hardwood mallets with caps for added protection, 2 x 18" hardwood ending stakes, 6 x 2.8" weather resistant molded balls, 9 x steel wickets with vinyl coating.
Easy set-up, hardwood handle and hardwood mallet are easy to install, simply screw the handle into the mallet, takes few seconds.
Easy to carry, with a extra drawing bag, all mallets and balls can be easily stored without disassembly. This thoughtful bag let you storage and transport croquet set conveniently.
Durable and long lasting design, suitable for 2-6 players, enjoyed by people of all ages and ability levels.
Leisure sport for your parents, friends. Perfect for family gathering, picnics, parties and more. Manufacturer recommended age: 6 years and up
Last update on 2023-09-18 / Affiliate links / Images from Amazon Product Advertising API
The Juegoal croquet set is a quality buy for its low price! If you're not ready to invest in a fancy croquet set and just want to try out the game or introduce your kids to it, this is a good option for you. At 26", the hardwood handles of the mallets are a little bit shorter than the others on this list, which makes them the most kid-friendly.
The mallets also feature rubber caps on either end of the head to protect both the balls and you from any foul shots. This set also includes six weather-resistant molded balls, two hardwood goal stakes, and nine steel wickets with a vinyl coating. Your Juegoal croquet set also comes with a carrying case and manual, though the carrying case is not of the highest quality and may rip more easily than some of the others.
Overall, this is the best budget buy. It's not the same quality as some of the more expensive picks, but if you're only planning on busting it out for the occasional garden party and don't have a lot of money to spend on your croquet set, it's perfect and will stand up just fine to the occasional use. Plus it comes with a 100% satisfaction guarantee!
Things We Like
The price!
Vibrant colors make the balls easy to spot and distinguish
Rubber tipped mallets protect the balls
Check Price and Reviews on Amazon
---
Why Play Croquet?
Croquet is easy to play, easier to set up, and completely portable, so you can play it anywhere with anyone! It's is a game about skill and strategy, rather than strength, so everyone approaches it with a level playing field.
It allows you to strengthen your brain like you're doing a puzzle and it's also good for you physically! There are many health benefits to playing croquet. You can walk up to two miles during a single game of croquet on a full-length field without really feeling like you've exercised at all. That's not to mention the scientifically proven benefits of simply spending time outdoors!
It's a great way to spend time with friends while doing a fun, lighthearted activity. You can play it in your own yard with friends, or meet new people at your local club. It's a game that builds and strengthens relationships.
In addition to that, anyone can play! Whether you're playing with your elderly neighbors or your young children, croquet is a game that anyone can understand and play!
History
While there is some disagreement about the origins of croquet, which you can read about here if you're interested, the most popular theory claims that the very first version originated amongst French peasants in the 13th century. The game involved hitting wooden balls with wood mallets through a willow branch croquet hoop.
It moved to Ireland, where it was called "crooky" in the 1800s, and then made its way to England where it became a popular recreational activity for the upper class. After the first World War, it made its way to American coastal upper classes until World War II, when it was redesigned and repackaged as a backyard activity and targeted at children.
How To Set Up Your Court
First, make sure you have all the tools you need for your game. If you've ordered any of the sets we've reviewed above, you should be ready to go! Croquet is played with up to six people, so you'll need six mallets and six balls, nine wickets, which are the parts you hit the balls through, and two-goal stakes.
A standard court for croquet is 100' by 50' but don't worry if your yard is smaller. You can scale it down as needed to fit into whatever space you have. You should have nine wickets to set up. Imagine you're setting up two diamonds that touch in the middle. Then add an additional wicket behind each of the diamonds' endpoints, with one of the finishing posts just after. If you like, you can mark the outer edges of the playing field with string. The United States Croquet Association (USCA) has a great guide, here.
How To Play
The ultimate goal of backyard croquet is to use your mallet to hit your ball through the wickets in the correct order and direction with your croquet mallet (using the mallet head). It's a no holds barred race to see who can get the most points and finish first and sabotage isn't only encouraged, it gets you extra shots!
Order of play is indicated by the colors on your finishing stake, but you can decide however you want who gets which color.
You start your ball halfway between the finishing post and the first wicket and then try to be the first one to move your balls through the wickets, both in the correct order and going in the correct direction. You can play with up to six people, and the first to the finish wins, or you can play on teams, where the first team to have all team members finish is the winner. If that sounds a little confusing, this short video should help clear things up!
You get only one shot for each turn, but bonus shots are awarded if your ball goes through a wicket or hits the turning stake (which is the finishing stake where you turn around and start moving back down the field).  You are awarded two bonus shots if you hit one of your opponents' balls! This is called "roquet." These can take several different forms.
Roquet
If you've hit your competitor's ball and earned yourself two extra shots, you have a couple of options for your first shot.
The "mallet-head" is when you place your ball within a mallet head's length from the ball you hit.
The "foot shot" is when your ball is touching the opponents. You place your foot on yours to hold it steady and then hit, knocking the opponent's ball out of position. If their ball goes out of bounds, it gets placed one mallet-length back within the court, and the play continues.
Or you can take your two shots as regular shots and continue on!
If you want to read the specific rules for yourself, the United States Croquet Association has them, here!
Croquet Clubs
If you don't have a lawn or are looking to make some new friends, you can join a croquet club! Croquet clubs typically have a standard sized court somewhere and will host meetups and events where you can play croquet and get to know your local community! If you're curious if there's one near you, look here!
Best Brands
GoSports is an American company that sets itself apart with its high customer service level; they're super responsive if, for some reason, you have an issue with your new set! They offer a 100% satisfaction guarantee and are committed to making sure you have the best experience possible.
Oakley Woods has been manufacturing croquet supplies since 1992 and its staff is well versed in all things croquet. They're a top manufacturer and incredibly responsive and supportive to their customers!
Crown Sporting Goods has been producing sports merchandise since then 1950's. They're dedicated to high performance and high-quality goods – include their croquet sets!
Harvil produces highly-rated gaming products for both backyard and indoor enthusiasts.
Juegoal's goal is to make your backyard and garden as homey and fun a place as possible without spending a fortune.
FAQ
Q: Where can I play croquet?
A: You can play a croquet game anywhere there's a flat, grassy field! You can play in your own backyard or pack up your set and bring it to the park or a friend's house. There are also clubs located around the country that have croquet fields which you can access by joining!
Q: What are croquet balls made of?
A: Traditionally croquet balls and croquet equipment were made of wood, but now you're more likely to find them made from various kinds of plastics, which are more durable and long-lasting so you can keep playing without having to replace your balls.
Q: What if I don't have a lawn?
A: That's okay! If there's a will there's a way and if you have a croquet itch to scratch, you can head to your local park or croquet club!
Wrap Up
Ultimately, I have two recommendations for the best croquet set you can buy and it depends on what you're looking for. If you're looking for a set that will last you a lifetime of building fun summertime memories with your family and friends, you can't go wrong with the Oakley Woods Croquet Set. It's the highest quality set on this list and made by people who really know and love croquet. If you're just looking for something to play on occasion and you're shopping with a budget, your best option is the inexpensive Juegoal croquet set.
Whichever one you decide on, get ready for summer days filled with laughter and the thunk of the mallet as you add croquet to your summer playbook!