The game of basketball is a great source of entertainment. Playing it brings family members, friends, and neighborhoods closer together, creating lasting bonds and rivalrous comradery. And while the competitive aspect of the game is a big part of what makes it fun, it is also fulfilling to see improvements in your game or to simply spend time with the ones you care about.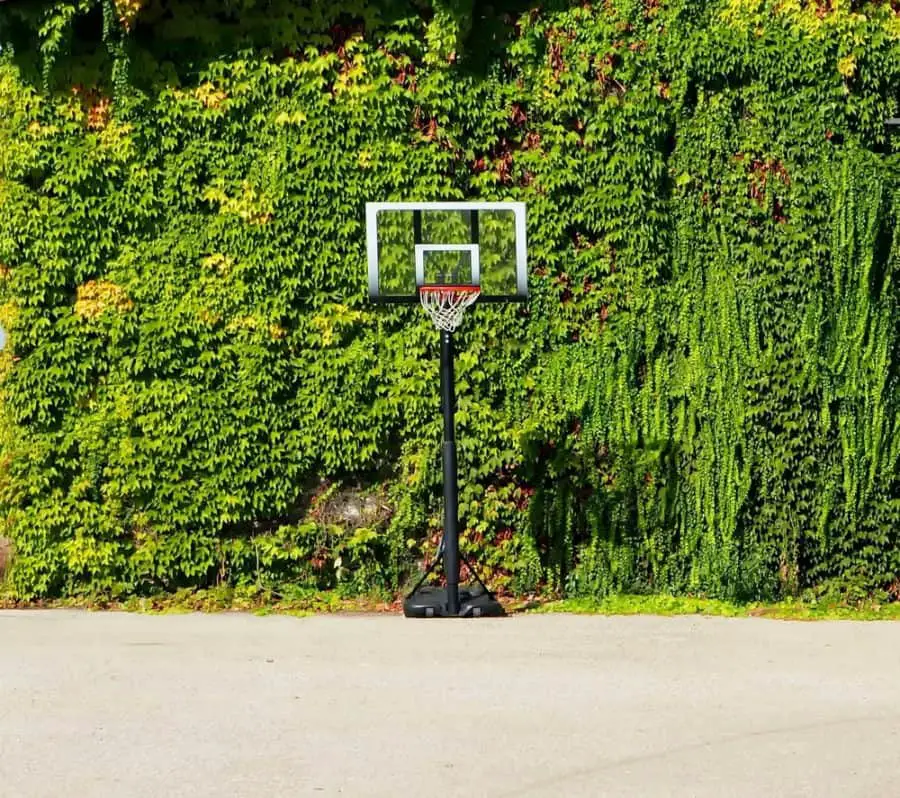 Often times, neighborhood parks, schools, and recreation centers offer basketball courts for public use. However the fees, crowds, noise, and erant balls flying haphazardly overhead can really detract from the experience. Thankfully, there are many cheap and easy options you can incorporate into your backyard or driveway to bring the benefits of a basketball court a little closer to home.
Whether you're practicing to make the A Team, looking to organize a neighborhood league, or searching for a fun way to stay active with your kids, a backyard basketball hoop is a great option. One of the most common types of at-home hoops are above-ground, portable hoops. These types of hoops are perfect for amateurs and professionals alike, coming in a variety of styles and sizes with an equally diverse set of features and attributes.
If you're on the fence and looking for the best portable basketball hoop, keep reading. We're going to discuss our research on portable basketball hoops (even for your toddler, if you're interested), identifying the features we like, as well as a few things that could be improved. Perhaps you'll find that a portable basketball hoop isn't the right fit for your needs… or maybe you'll discover that it's exactly what you're looking for. Either way, it is our hope that by the end of this guide, you have all the information you need to make a confident and well-informed decision.
In a Hurry? Here's Our Top Picks…
Top Portable Basketball Hoops for the Money
Lifetime Portable Basketball System
No products found.
If you're looking for a hoop that complies with regulation standards, you'll find that many of the portable basketball hoops just don't make the cut. Many above ground hoops — especially those meant for young children — don't reach a height of 10 feet, which is problematic for those wanting to practice their shots and improve their game.
The portable basketball system by Lifetime, though, does extend high enough to make it compliant with standardized hoop heights. It's telescoping adjustment mechanism can be set to 10 feet high, or dropped down to 7.5 feet for younger users who lack the strength to throw balls to higher amplitudes. The adjustment system is easy for the most part, but it is twist action and located higher up on the hoop, which could be good or bad depending on if you want your children to be able to adjust it themselves or not. The easiest way to make the height adjustment is to tip the hoop down, unscrew the holding clamp, pull it out or push it in, then lean it back upright.
The hoop features a 44-inch, UV-resistant and shatterproof backboard — balanced by two wing bars that extend from the rim to the upper top corners — a classic rim, and a weatherproof nylon net. The 2.75-inch diameter steel pole that supports the backboard is double powder coated and attached to a heavy duty, 27-gallon base that can be filled with either sand, water, or hydrophilic gel.
In terms of assembly, the instructions are well made and easy to follow. The kit includes all the required hardware, and all you really need is a 3/8″ and a 1/2″ closed end wrench (however if you also have a ratchet set it might go faster) as well as a phillips and flat-head screwdriver.
Things We Like:
Low pricetag
Fade-resistant graphics to help you aim when shooting bank shots
Frame and backboard are reasonably sturdy
5-year limited warranty
Things That Could Improve:
No snap back on rim, so not the best for dunking
A little shaky, especially when making long shots and three-pointers
A bit harder than other brands to adjust the height, but this could be good if you don't want your kids messing around with the height
Check Price and Reviews on Amazon
---
Spalding's "The Beast" | 60-Inch NBA Style Portable Basketball Hoop
Spalding The Beast 60inch Glass Portable Basketball Hoop
60 inch BACKBOARD: The first and only 60 inch tempered glass portable basketball system
PRO IMAGE RIM: Steel pro image rim come with an all-weather net
SCREW JACK: Screw jack list system allows the backboard to be adjusted with infinite heights between 7.5 feet to 10 feet
POWER MOVE BASE: Power Move Base fill with 55 gallons of water or sand and has 4 wheels for easy mobility
STEEL POLE: 5 inch Square Pole
Last update on 2023-09-23 / Affiliate links / Images from Amazon Product Advertising API
The Beast by Spalding is a residential basketball hoop unlike any other. Like many hoops, it can adjust between 7.5 and 10 feet, using an easy-to-operate screw jack to move the backboard up and down.
The 60" backboard is made from tempered glass, with a Pro Image breakaway rim specifically made for above-the-rim gameplay. This backboard, however, is far from lightweight, and that is why the system uses a two-piece, 5-inch angled pole system attached to a four-sturt z-arm base mount. This mount is in turn attached to a the dual chamber, 50-gallon base, making the entire unit quite heavy and super sturdy.
Despite its hefty weight, the hoop can be moved around on flat surfaces with relative ease thanks to its multi-wheel design, castors, and engaging handle. This handle can also be extended outward during gameplay to hold and rebound balls, reducing the need to chace balls after every shot.
Things We Like:
Heavy duty, strong, and sturdy, won't shake or wobble like other above ground hoops
Base cap has a gauge to tell you the water level
Breakaway rim supports dunks
Ball catching handle/cover for convenient rebounding
Things That Could Improve:
Price — substantially more expensive than the other options
Could be difficult to assemble, and because of its weight poles and other parts often get damaged during shipping. Spalding does replace them but it's a hassle contacting them and having to wait
Base may start leaking after a few years if you use water, not super common but known to happen
Check Price and Reviews on Amazon
---
Step2 Shootin' Hoops Pro Basketball Set
Step2 Shootin' Hoops Pro Basketball Set
The Center Pole Fixture Can Be Adjusted To A Height Of 48", 60", Or 72"
Large Backboard With Break-Away Rim And A Real Woven Net
Large Stable Base Can Be Weighted Down With Sand Or Water (Not Included)
Base Has Built In Cup Holders
Last update on 2023-09-23 / Affiliate links / Images from Amazon Product Advertising API
On the opposite side of the above-ground basketball hoop spectrum is the Shootin' Hoops Pro Basketball Set by Step2. This hoop is pretty much the antithesis of Spalding's Beast, super light, inexpensive, and a great option for young children and toddlers.
The unit is pretty much entirely plastic. The center pole fixture is adjustable, and can be easily set at 48", 60", or 72" above ground level via the two easy-to-use locking clamps. The backboard and rim are both plastic as well, and the rim has the same breakaway features as metallic rims, allowing it to bend and flex when under pressure.
Because the backboard, rim, and net are so light, the base — which can be filled with sand or water and has built-in ball/cup holders — doesn't need to be all that heavy to keep things properly secure and upright. Might not hold up to someone hanging on the rim, but it will work just fine for everyday gameplay.
Because this set is made for children, a regular sized basketball is too big to fit through the rim. It comes with a soft and lightweight ball, easy to shoot for toddlers and safe enough not to hurt if it comes back down and hits them in the head. If your children outgrow the included ball, a size 3 soccer ball will also fit through the rim. A bit heavier than the included ball but still not as big as a basketball.
Overall this is a good hoop for children between the ages of two and ten — although it may be too small for a talented six-year-old. It will give them the satisfaction of being able to score a basket, and introduce them to the concept and rules of the game. It probably won't last longer than a half-decade — especially if you leave it outside — but by that time your child will have likely outgrown it anyways. For the price, definitely a steal of a deal and worth every penny.
Things We Like:
Very inexpensive
Lightweight and easy to move/adjust
Built-in cup holders that also work to hold the included ball
Easy to put together
Great for children and toddlers
Things That Could Improve:
Max height is 72" (6') so your child might outgrow it quickly
A bit dodgy when placed at the max height setting
Not built to last for decades, made to be outgrown and the price reflects that
Check Price and Reviews on Amazon
---
Silverback NXT Portable Basketball Hoop
Sale
Silverback NXT 50" Backboard Portable Height-Adjustable Basketball Hoop Assembles in 90 Minutes
ULTIMATE STRENGTH AND STABILITY - Stabili-Frame steel-on-steel connection between steel chassis and main pole
INCREASED REBOUND - Infinity Edge Backboard that folds backward for increased rigidity
EASILY MOVE THE GOAL - ErgoMove wheel-barrow design for an easy lift-and-roll action
ULTRA-FAST ASSEMBLY - Assembles in 90-minutes or less with Quick-Play design and preassembled parts
HEIGHT-ADJUSTABLE - 7.5' to 10' height adjustability (in 6" increments) and 26" overhang under the goal
Last update on 2023-09-23 / Affiliate links / Images from Amazon Product Advertising API
Less expensive than Spalding's Beast and more heavy duty than the Lifietime hoop mentioned above, Silverback's NXT Portable Basketball Hoop uses advanced technology and strategic engineering to make assembly faster, rebounds bouncier, and the stability that is unmatched. Their goal was to create a hoop with superior strength that was still easy to transport, and the NXT is exactly that.
It comes with either a 50" or 54" wide backboard, and the height can be adjusted in 6" increments between 7.5' and 10'. The infinity edge backboard folds backward for added rigidity, and increases the rebound when taking bank shots.
The steel-on-steel connection between the chassis and main pole provide ultimate strength and stability. And because the parts come pre-assembled, the hoop generally takes an hour or two at most to set up.
Another feature of this hoop that is particularly useful is its ErgoMove wheelbarrow design, which makes tilting back and rolling the hoop feasible for those who aren't built like Lebron James. The large wheels on the back and the downward sloping base act as a fulcrum, allowing you to effortlessly tip the hoop back and balance the weight on the wheels.
Things We Like:
Reasonable price
Innovative design features
Continuous wraparound "infinity" backboard
Curved base with unique and easy-to-move weight distribution (as well as a drain to let the water out)
Things That Could Improve:
Made in China and prone to rust, especially in areas where the protective coating has chipped away or has been damaged.
Net attachment welds are sub-par, but good enough so long as you don't hang on the net
Lateral movements after shooting, but a common occurrence in above-ground hoops.
Check Price and Reviews on Amazon
---
Nova Microdermabrasion's Portable Junior Basketball Goal
Kids Portable Height Adjustable Basketball Hoop Stand, 28 Inch Backboard, Basketball Goals Indoor/Outdoor, 5.5-7 Ft for Youth
Make your child feel like their favorite basketball superstar with the Nova portable basketball system. Practice jump shots in spare moments or perform backyard dunking drills. This system offers an authentic basketball experience and guarantees hours of fun for all basketball enthusiasts.
【Solid Structure】Constructed of sturdy steel pole and high density polyethylene backboard help you experience superior strength and durability with our basketball hoop. Perfect for even the most competitive games, the rim boasts a solid steel ring supported by sturdy braces. Plus, the weather-resistant nylon net ensures you can enjoy the game in any type of weather.
【Adjustable Height】 No tools required! Our telescoping mechanism adjusts from 5.5 to 7 feet, allowing kids of different ages and skill levels to enjoy the game on their own terms. Watch as your kids have a blast playing basketball and improving their skills with this versatile and easy-to-use hoop.
【Easy to Move】With its built-in wheels, this basketball stand can be effortlessly rolled to your preferred spot. Also its 9.53-gallon base can be filled with water or sand, providing more stability and safety for kids when they play or make those big rebounds or dunks.
【Indoor and Outdoor Use】 Portable basketball hoops for outside, children can learn basketball without any pressure in anywhere, it can be used on yard, garden, beach, playground and even indoors. Perfect for family activity, sports game and school activity with your family and friends. The recommended Age Grade: 6+
Last update on 2023-09-23 / Affiliate links / Images from Amazon Product Advertising API
This 8-foot hoop is another great one for the youngsters. It's a lot more heavy duty than the one by Step2, and in a similar price range. The hoop weighs in at a little under 18 pounds, with an ultra stable base that can hold 30kg of water — or the equivalent volume of sand/gel.
Like many above-ground youth basketball hoops, it uses a telescoping tubular design for height adjustment, able to move from a low of 6.3 feet to a max height of 8.3 feet with a flick of the wrist. Because it doesn't reach regulation height, the age range for this hoop is between 5 and 14 years old, and probably won't withstand heavy use by adults.
Nonetheless, the unit is strong and durable, with a 27.9" polyethylene backboard, a 16" folding rim, and an all-weather nylon net. All of the metal components are sprayed with corrosion resistant paint, which protects it and prevents oxidation and rust. The entire hoop can be easily moved using two heavy duty wheels at the bottom. Easily tilt the stand forward and guide it to its new destination.
Things We Like:
Good value for the price
Easily moved and adjusted
Perfect starter hoop for beginners and easy to set up
Things That Could Improve:
Rim and height aren't regulation size
Tends to be flimsy when extended to its max height or in some cases unable to extend at all
Not the best for teens or talented youngsters looking to improve their game
Check Price and Reviews on Amazon
---
Things To Consider Before Buying a Portable Hoop
To read about the differences between portable, in-ground, and wall-mounted basketball hoops, read our previous post on in-ground basketball hoops. This post also includes information on what makes a good net, what materials are good for backboards, and the different types of rims as well as their uses.
It's All About That Base
A distinguishing feature between portable basketball hoops and other hoops that are fixed to the ground or on a structure is the base. Without the base, the hoop is liable to wobble, vibrate, and even fall over if struck by a powerful wind gust. That is why the base of portable hoops come hollow with a capable exterior hole so you can fill it up with something heavy.
Liquid Base
Water is typically used as it is prevalent, shapeless, and easy to transport and insert — via a garden hose — into the base. However, if you live in a cold climate, using water takes a bit more effort as you must take care to empty the base if the temperature goes below freezing. This is because water gets bigger when it freezes. Just like if you leave a can of soda pop in the freezer, if you leave your base full of water in the winter, the liquid will expand, bulging the sides, top, and bottom of the base, and eventually cracking or bursting it completely.
Antifreeze is a common liquid used in automobiles to combat this issue. But it is a lot more expensive than water and can be toxic if consumed in high quantities — not a very viable option. You could also empty the base every time it gets cold out, the refill it once the weather warms up. This, however, is time consuming and a hassle to say the least.
One great trick is to mix some salt into the water-filled base. By adding salt, the rate at which molecules enter and leave the ice is disrupted, causing the freezing point to be lower. The water could still become ice, but the temperatures required would be much lower. So this option may not be the best for areas where sub zero temperatures are common.
Sand Base
Weighing in at 13 pounds per gallon — as opposed to water, which weighs only 8 pounds per gallon — sand is a great material to fill your base with. Like water, it can take on any shape or form and is relatively easy to pore into the base. Unlike water, sand is not ubiquitous, and must be either taken from the land, or purchased from a quarry, a hardware store, or a home improvement warehouse.
Alternatively, dirt, gravel, or even small rocks can also be used to weigh down your base. But when it comes to emptying it, getting all of these larger-sized pieces to go through the small exterior hole would be a challenge at best, and impossible at worst.
Gel
The third option is gel, which, unlike water, won't leak if your base is cracked or punctured. A product called Basegel provides the perfect solution. You can add it to your water-filled base to solidify the water into a gel state. This gel has a lower freezing temperature that water and it won't leak. And the best part is, you can turn the substance back into a liquid by adding salt, making it super easy to drain if you move or sell your hoop!
Getting a Better Handle On Hoop Height
A big factor that has made the portable hoop extremely popular is its ability to change heights. You can set them high for regulation gameplay, or drop them down low for children and to practice slam dunks.
There are various ways that manufacturers have come up with to enable users to change the height of their hoops. While some allow for continuous — or "infinity" — adjustments, others can only be placed at discrete, predetermined intervals. While broomstick, trigger handle, and pneumatic adjustments are common for in-ground hoops, most portable basketball hoops use either a telescoping pole mechanism or a crank handle.
Telescoping designs call for one pole to be slightly smaller in diameter than the other, held in place by a screwable pin that inserts into a pre-drilled slot. Once the pin is unscrewed, the pole can move freely in either the up or down direction, allowing you to move it as you see fit. Once it's in the position you want, simply apply inward pressure and move the slidable portion of the hoop slightly up and down until the pin slides into the hole. Screw it down tight and you're good to go!
Best Portable Basketball Hoop Brands
Lifetime
Starting its existence in Riverdale, Utah, Lifetime began in the founder's garage, with only himself as the single employee. His vision was simple, all he wanted to do was make a higher quality basketball hoop for his children to use in their yard. From its simple beginnings, the company has grown substantially. Today, it is a multinational organization that leads the industry in quality and innovation. And like their name suggests, their products are made to last a lifetime.
Spalding
As the official hoop for the NBA — as well as being a dominating player in the production of basketballs — Spalding began in the late 1800s. Their first product was a baseball, but their product line has since evolved to include footballs, volleyballs, soccer balls, and a wide variety of sporting equipment. If you've ever taken a stroll through a sporting goods store or played in a recreational league of some kind, chances are that you've encountered a product by Spalding.
Step2
Step2 started with five employees, with an aim to foster learning, creativity, and development in toddlers and young children through games, structured activities, and open play. They are located in Streetsboro, Ohio, and are now the largest American manufacturer of preschool and toddler toys as well as the largest rotational molder of plastics in the world.
They strive to innovate and constantly improve to help children become more imaginative. They embrace childhood wholeheartedly, and operate under the belief that it should be celebrated. They understand the benefits of thinking like a child, and seek to promote this way of thinking past the age of adolescence into adulthood.
Frequently Asked Questions
Q: Should I fill the base with sand or water?
A: If you live in a cold climate where temperatures reach below freezing, it is highly advised that you fill your hoop base with sand, as water expands when it freezes, which will cause the base to warp, crack, and even fracture completely. Regarding the right sand to choose, dry sand — as opposed to the "play" or "multi-purpose" sand like you'll find at Lowes or Home Depot — is typically much easier to funnel into the base. You can put your sand into a large bucket and let it dry in the sun for a day or two, otherwise it could take hours for the sand to slide down the funnel and through the small hole in the base.
Furthermore, if you do decide to use gel or water to weigh down the hoop, make sure to fill it up periodically, as evaporation will occur and the amount of substance weighing down the base will diminish over time, making the hoop liable to fall over in even moderate winds.
Q: What if I don't have a paved driveway or a hard surface to play on?
A: A common practice among owners of portable hoops — and the reason they decide to invest in a portable hoop in the first place — is to move the hoop into the street during use. While this practice may not be suitable for everyone, it is great for people who live in culdesac and suburban areas where traffic is slow and infrequent.
Dribbling on gravel or dirt roads is not optimal, but you can still shoot without any problems. There are many fun games such as Around The World or Horse that don't require any passing or dribbling. So even if you don't have a hard surface or "court" to play on, you can still enjoy the fun and excitement of a portable basketball hoop.
Q: How do I make my portable basketball hoop level?
A: Many people buy a portable hoop, place it in their desired location, and find out that it isn't level. This will not only change the angle of the rim and backboard, but it will also make the hoop less stable and more apt to vibrate and sway after shots and in the wind.
If the area is concrete, you can place what are known as shims underneath, which are basically wooden wedges that taper at the end. Tap them underneath the hoop with a rubber mallet until the appropriate lift is made. Eyeball the rim or even put a level on it to make sure it is exactly parallel to the ground.
Alternatively, if you are trying to place your hoop on dirt or grass, you can level out the surface beforehand with a shovel, rake, and tamping tool. The steps are pretty simple:
Use a tape measure or yardstick to mark off the area that you want to level.
Dig the area up to loosen the dirt/soil.
If any rocks are turned up, remove them with a rake. You'll also want to remove grass, garbage, and anything else that won't flatten down when tamped.
Using your tamping tool, pound down the area completely. You may need to do this several times, adding dirt here and there to make things flush.
Once it looks good, put a level on it. If the bubble on the top of the level is between the two line indicators, than your ground is level and good to go.
Make sure that you fill your hoop's base with sand or water only after it is in place, as the heavy weight on the wheels could misshape the ground, making it unlevel again.
Q: Can you convert a portable basketball hoop into an in-ground hoop?
A: While it is theoretically possible to cement your portable hoop into the ground, it is significantly more difficult than the process for in-ground hoops and defeats the reason for buying a portable hoop in the first place.
If you cut the base off and cement the pole into the ground, it won't be as stable as it was before because most in-ground hoops come with extended poles that go multiple feet into the ground. You could simply bury your base, which wouldn't be too hard, but this would shorten the hoop, so it might not be tall enough to meet the standard 10 feet.
A common way to increase stability is to simply stack things on top of the base to increase its weight. Sandbags, rocks, bricks, and cinder blocks are commonly used to weigh down the base. Not only can you take them off if you want to move the hoop in the future, but they don't require much work to place or move compared to digging a hole and mixing cement.
Wrapping up
There is no one-size-fits-all solution when it comes to portable basketball hoops. The age and skill level of the user are important factors when making a determination, and so is the land space available as well as the cost.
In terms of versatility, affordability, and overall bang for your buck, we have chosen the Silverback NXT as the best hoop you can get for the money. It's quality is blatantly apparent, and one glance at the Silverback NXT reveals its distinct qualities. Not only does it look professional, with a modern design that fits both indoor and outdoor areas, but it is also easy to assemble.
The steel-on-steel connection of its "Stabili-Frame" is really sturdy, making it perform in a similar way to hoops that you'll find in stadiums and gyms. The backboard is large enough for bank shots and layups, but not too big to weigh the unit down. Additionally, the wheelbarrow base design makes it really easy to move. You can store it in the garage when not in use, then easily bring it out for a quick game of Horse.
This hoop might be a little unnecessary for toddlers and youth players, but they will never outgrow it like the smaller hoops mentioned above. It is also much cheaper than the Spalding hoop, despite being comparable in terms of stability and longevity. The Silverback NXT will provide endless enjoyment for years to come, becoming a permanent and frequently-used fixture in your yard, driveway, or patio.