If you want to practice your jump shot, help your kids make the A team, or simply have a safe and convenient place to play basketball with your friends and family, an in-ground basketball hoop is definitely worth your consideration. But with so many types of hoops out there, you might be asking yourself, "which one should I choose?".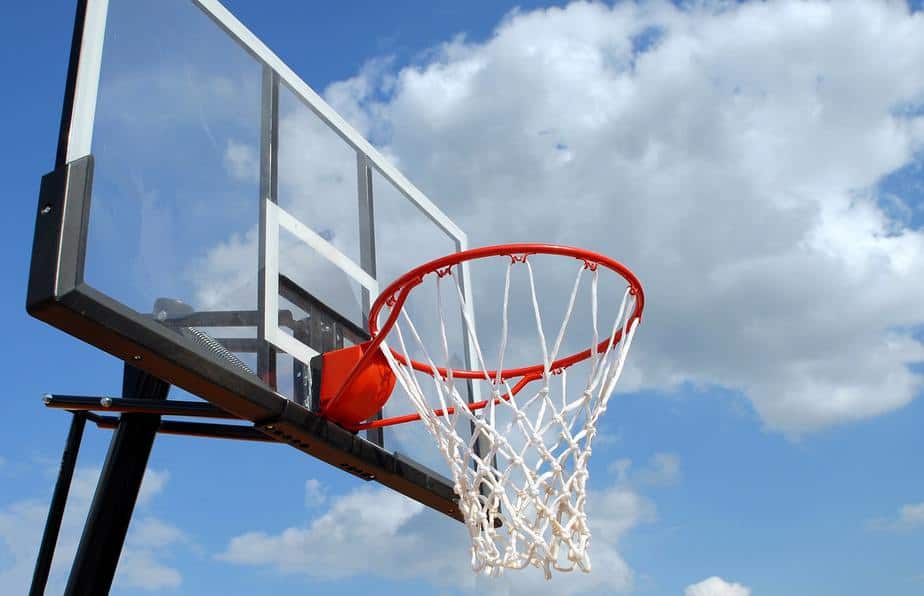 And while narrowing down and making a choice can be difficult, don't fret, because we're about to break down the anatomy of a solid hoop, starting with our top five picks for best in-ground basketball hoops.
In a Hurry? Here's Our Top Picks…
Top In Ground Basketball Hoops for the Money
Silverback
Silverback 60" In-Ground Basketball System with Adjustable-Height Tempered Glass Backboard and Pro-Style Breakaway Rim
PRO-STYLE LOOK AND PERFORMANCE — Premier in-ground basketball goal offers the performance of gymnasium-style goal
OPTION TO UNBOLT AND MOVE GOAL — Anchor mounting offers the strength of concrete and the option to unbolt and move goal. Anchor Kit included.
RIM FLEXES UNDER PRESSURE — Tempered glass backboard and pro-style breakaway rim that flexes under pressure
POWDER-COATED PROTECTION — Powder-coated steel pole height adjusts from 7.5' to 10' with all-steel actuator
LIMITED WARRANTY — Product is backed by a 5-year limited warranty and includes backboard pad and pole pad
Last update on 2023-11-20 / Affiliate links / Images from Amazon Product Advertising API
Taking its name from the Silverback Gorilla, the Silverback basketball hoop brand by Escalade Sports is strong, sturdy, and built to last. It has built-in height adjust-ability, allowing you to crank it up to 10 feet for official games and drills, or drop it down to 7.5 feet for younger players that are still improving their game.
The hoop is anchored to the ground using a bolt-down mounting system, providing both flexibility and portability. And although the instructions say to make the mounting platform flush with your court, there is a bit of wiggle room. Even if you aren't perfect during installation, the hoop can still reach a height of 10 feet if you accidently mount it a few inches too low.
It comes with a tempered glass background — which won't shatter or fragment under stress or after hard impacts — and a pro-style rim that flexes and springs back into place when pressure is applied. We wouldn't suggest hanging on the rim, but if you have a rambunctious teen that likes showing off his monkey skills, the hoop should remain intact and functional.
The base pole and metal elements supporting the backboard are all powder coated, making the hoop weatherproof and rust resistant. So regardless of your area's climate conditions, be they bitterly cold, wet and rainy, or dry and windy, the Silverback hoop withstands it all. It also comes with a five-year warranty, so should anything break or become damaged, you can return the hoop or receive replacement parts free-of-charge.
Things We Like:
Solid and well-built materials and components
Great adjustability and portability
Durable and built to last
Functional and can facilitate all ages and skill levels
Things That Could Improve:
Installation process — requires multiple strong people to put up
Can't tighten down all nuts while still maintaining height adjustability — making it a bit shaky
Heavy backboard and lightish pole makes hoop wobble slightly — not optimal for practicing rapid shots (such as free throws).
Lifetime
Lifetime 71525 Height Adjustable In Ground Basketball System, 54 Inch Shatterproof Backboard
Steel-Framed Shatterproof Backboard | Heavy-Duty Portable Base | All-Weather Net | Polycarbonate backboard surface
Base dimensions – 49" L x 32.7" W x 9" H | Extension – 22" | Pole size – 3.5" | Adjustment range – 7.5 ft. to 10 ft. | Surface thickness – 0.11" | Backboard size – 54" | Base size – 35 gallon
Shatter Guard backboard gives you the look and feel of the professional game | All-weather net and pole with fade resistant graphics
Assembly required | Orange Slam-It Pro Rim features an arena-style wraparound brace supporting a 5/8 inch ring of solid steel and is built to take a slam
Designed to withstand the harshest elements | 35-Gallon Heavy Duty portable base provides stability and portability; Can be filled with water or sand | Backed by a 5-year limited manufacturer warranty
Last update on 2023-11-20 / Affiliate links / Images from Amazon Product Advertising API
Like the Silverback hoop mentioned above, hoops by Lifetime are also adjustable to between 7.5 and 10 feet. They come with a five-year limited warranty and incorporate a pro-style flexible rim as well. However, the height adjusting mechanism uses a pull-down action, while Silverback hoops adjust using a twist mechanism. This pull-down adjuster is easy and intuitive, so even young kids can make height adjustments without the help of adults. The rim is supported with double compression springs for dunking, as opposed to the Silverback hoop which contains only one spring.
With regards to the backboard, Lifetime uses a shatter-proof plastic called Makrolon polycarbonate instead of tempered glass. And although this material is light and cheaper than tempered glass, it is less bouncy, which slightly affects bank shots and ball trajectories when rebounding.
Lifetime hoops also incorporate high density polyethylene into many of their components, which reduces weight and makes the final product cheaper to produce — and hence less expensive for you, the consumer. The materials are also weather resistant, and the installation process requires a few hours minimum and a buddy or two to help. But because the hoop cements directly into the ground (as opposed to bolting onto a grounded anchor) it is very important to make sure the unit is exactly vertical and perpendicular to the playing field both front-to-back and side-to-side.
Things We Like:
Water and sun resistant
Easy-to-operate height adjustment lever — great for all ages
Inexpensive
Double spring rim support for dunks and above-the-rim gameplay
Lightweight backboard
Things That Could Improve:
Time consuming and technical to put together — requiring multiple people
Set-and-stay placement that can't be moved after installation
Directions are a bit hard to follow and isn't the best for cold climates — must remain outside year round.
Ryval Hoops
Silverback 60" In-Ground Basketball System with Adjustable-Height Tempered Glass Backboard and Pro-Style Breakaway Rim
PRO-STYLE LOOK AND PERFORMANCE — Premier in-ground basketball goal offers the performance of gymnasium-style goal
OPTION TO UNBOLT AND MOVE GOAL — Anchor mounting offers the strength of concrete and the option to unbolt and move goal. Anchor Kit included.
RIM FLEXES UNDER PRESSURE — Tempered glass backboard and pro-style breakaway rim that flexes under pressure
POWDER-COATED PROTECTION — Powder-coated steel pole height adjusts from 7.5' to 10' with all-steel actuator
LIMITED WARRANTY — Product is backed by a 5-year limited warranty and includes backboard pad and pole pad
Last update on 2023-11-20 / Affiliate links / Images from Amazon Product Advertising API
As is the case with most things in life, if you want quality, you'll have to pony up. At a price of $1.6k for a complete unit, the in-ground basketball goal by Ryval Hoops is top of the line. Its thick, seven gauge steel base with eight support gussets and an adjustable slotted base plate makes the hoop as sturdy as they come. Extending upward with the same 6×6-inch steel post used at the base, even the oversized 60″ backboard — with its rigid steel frame, aluminum trim, and high-density edge padding — is seemingly weightless in comparison.
Unlike the previous two units, the hoops by Ryval can be adjusted downward to a minimum height of 5 feet, making them the perfect choice for even the youngest of aspiring b-ballers. Its heavy duty, flexible rim attaches using an XXL stainless steel hardware set, and the protube slots around its perimeter replace the old-fashion ring net ties found on older rims — which are notorious for snagging fingers and jewelry.
Included with the hoop is padding for the pole and gussets, because according to Ryval "you shouldn't have to pay for safety". And the company is so confident in the quality of their hoops that they offer lifetime warranties! So slam it down and dunk with all your might, because this hoop can take whatever pounding you can throw at it.
Things We Like:
Super strong and sturdy
Moveable
Low minimum height — 5 feet — and continuous adjustability (no pre-set slots or holes)
Removable height adjuster crank
Large 60″ backboard
Things That Could Improve:
Heavy — 501 pounds — requiring strength and multiple people to install
Price — more expensive than other products
No built-in measuring device to know exactly what height the hoop is set to
Spalding NBA Arena View
Spalding NBA In-Ground Basketball System - 52" Acrylic Backboard
52" x 32" steel framed acrylic backboard. 3.5MM thick acrylic backboard for superior rebound.
Pro-Glide lift system adjust rim height from 7.5' to 10' in 6" increments.
Three Piece, 3.5" round steel pole allows for maximum stability. Ground sleeve anchor system allows for easy installation.
Backboard has 16" offset from pole.
Pro-Slam Breakaway rim and authentic style blow-molded backboard pad included for recreational level of performance.
Last update on 2023-11-20 / Affiliate links / Images from Amazon Product Advertising API
Spalding is a well-known name in the sporting world, famous for their wide variety of sports balls (basketballs in particular). Their in-ground hoop has one of the biggest backboards available — at 72 inches wide and 42 inches high — perfect for beginners or in areas where retrieving errant balls may be difficult. Because the backboard is made of acrylic glass, it is resilient, lightweight, and more bouncy than polycarbonate backboards (but less bouncy than glass).
Unlike the last three hoop options, the Spalding Arena View hoop has a fixed height of 10 feet — the standard regulation height — with a 4-corner Z-Arm mount attaching the backboard to the 6″ vertical base pole. The rim has similar features to the aforementioned spring suspended rims, with the ability to breakaway along 180 degrees of the rim's diameter to protect the backboard and provide a better feel when dunking — that is, if you can jump that high.
This hoop is designed for outdoor residential play, and built to the size specifications of hoops used in the NBA. It's 6" square steel pole is strong as can be, which, when coupled with its solid design, makes it one of the least shaky hoops on the market.
Things We Like:
No moving parts — very solid and resistant to wobbles and vibrations
Can be moved
Lightweight plexiglass backboard for improved bounce-back compared to polycarbonate
Huge 72″ by 42″ backboard
Things That Could Improve:
Non-adjustable height
High price
Requires several strong individuals to stand upright
Goalrilla GS54
Goalrilla GS54 In Ground Basketball Hoop with Adjustable Height Backboard and Pro-Style, Breakaway Rim
BACKED BY LIMITED LIFETIME WARRANTY - Adjustable height in-ground basketball hoop offering a limited lifetime warranty
MOVE YOUR HOOP WITH YOU - Strength of concrete anchor system with option to unbolt and move goal
TEMPERED GLASS BACKBOARD - 54"-wide tempered glass backboard for ultimate performance and strength
ADJUSTABLE, IN-GROUND HOOP - Adjust height of pro-style, breakaway rim from 7.5' to 10' using crank actuator
ARENA-STYLE LOOK - Powder-coated steel pole construction is durable and rust resistant
Last update on 2023-11-20 / Affiliate links / Images from Amazon Product Advertising API
With its limited lifetime warranty, the Goalrilla GS54 is burly and built to last. It is moveable, adjustable between 7.5 and 10 feet, and the tempered glass backboard is reinforced with metal for extra protection and strength. It is quite similar to the Silverback hoop series — as it is also a subsidiary brand of Escalade Sports — with a pro-style breakaway rim and crank actuated height adjuster.
It is also powder coated to protect it from rust and corrosion, and incorporates UV resistant polymers to protect against the damaging radiation emitted by the sun. Assembly and installation of the product is relatively straightforward, and similar to other moveable in-ground basketball hoops.
Unlike other hoops, however, the Goalrilla GS54 uses a one-piece main pole, which adds to the overall stability of the hoop. Although you still might see a slight wobble after shots, this has little effect on gameplay and is a common occurrence for most in-ground hoops.
Another great selling point of the Goalrilla GS54 is its lifetime warranty, which indicates that the hoop is quality and built to withstand decades of use and abuse. This is definitely a mid-range hoop that is both affordable and functional.
Things We Like:
High-quality glass backboard
Height adjusts and can be uninstalled and transported
Limited lifetime warranty
Things That Could Improve:
Requires at least two people to put up
Slight side-to-side shake
Small 54" backboard
Choosing the Right Hoop
Depending on your needs, budget, and available space, there are three basic basketball hoop styles to choose from. In addition to in-ground hoops, there are also portable hoops and wall-mounted hoops, each with their respective pros and cons. Cost may be the key decision making criterion, or you might be constrained by space. Whatever the case may be, there are many sub-styles within each category that cater to your specific needs.
Wall-Mounted Basketball Hoops
Arguably the sturdiest option of the three, wall-mounted hoops or even rim-only goals are great if you have a house, garage, high fence, or workshop adjacent to a concrete lot or patio. Simple wall-mounted hoops are relatively cheap, and are meant to be attached to a fixed position on a wall — generally 10 feet above the ground. Some units come with adjustable mounts, allowing users to raise and lower the hoop position as needed.
Wall-mounted hoops are perfect for areas with limited space, and are useful for beginners who often miss the backboard when they shoot. They can be a bit tricky to install, requiring at least two people — one to hold the hoop and one to bolt it into place. Some don't come with the mounting hardware included, so make sure you check before buying.
Portable, Above Ground Basketball Hoops
If you're strapped for cash and not too concerned about rattling or shakiness, above ground hoops may be your best bet. These are a great option for youth and amateur players, and are typically weighted down with a sand, water, or both — but they are less sturdy than in-ground hoops and even prone to blow over in high winds.
Like their wall-mounted and in-ground counterparts, portable hoops come in a variety of sizes and use the same materials and components for the backboard, rim, and net. They don't require any fixed mounting, and can be assembled and ready to go in a matter of hours — or less if you're mechanically inclined. Many can be folded and come with wheels for convenient storage, and most are made with adjustable heights as well.
In-Ground Basketball Hoops
All in-ground hoops require a bit of set-up before they can be used. First, a hole must be dug in which the hoop — or its anchor kit — will be placed. Typically, a post-hole digger is used to make the hole deep enough to hold the weight of the hoop, yet thin enough to avoid excessive backfilling and cementing. Concrete is then used to lock the hoop or its anchor kit in place.
This can prove problematic if you don't get everything just right during the installation process. The last thing you want is for your brand new hoop to be crooked or off-kilter. If you aren't confident in your abilities, it may be wise to hire a professional to install your in-ground basketball hoop — or at least the base portion for moveable units. If you do decide to tackle the installation process yourself, it is suggested that you backup a pickup truck to the site to elevate and stabilize yourself. This is a lot safer than using ladders and step-stools and provides a sturdy, wide platform to stand on.
Many of the leading brands produce all three hoop types, so if you want to stick with the one that you're familiar with, chances are they manufacture the hoop you're looking for. Many components can be swapped out and changed as well, from backboards to rims and nets.
Choosing the Right Backboard
Regardless of the hoop you choose, it is also important to know the difference between backboard materials and how they affect gameplay. In the NBA, glass backboards are used at a standardized size of 72 inches wide by 42 inches high. This is because glass provides the most bounce — with plexiglass (aka acrylic glass) being the second most bouncy and polycarbonate being the least bouncy. As you might expect, the more bouncy the backboard, the more expensive it is. So if you're planning on investing in a hoop for fun, the difference probably won't have much effect on your overall enjoyability of the hoop. Some backboards are even made from metal or wood, but the industry standard has moved away from such materials due to their prohibitive weight and cost.
Another thing to consider is the backboard's shape. While rectangular backboards provide more opportunities for bank shots, they are typically more expensive than the rounded options. However, in the NBA, they use rectangular backboards.
Rigid or Breakaway Rim?
When it comes to basketball, the basket — or rim — is a strategic focal point. There are two types of rims; ones that are rigid and inflexible, and ones that bend and flex under pressure. The 180 degree breakaway rim that comes on the Spalding hoop mentioned above is a specific example of a breakaway rim. Where standard breakaway rims bend only downwards, the 180 degree breakaway rim bends both downwards and laterally, depending on which side of the rim is under pressure.
Rigid rims are good for outdoors as they don't have any moving parts — although many breakaway rims made for the outdoors are built to be waterproof and corrosion resistant.
Nailing the Net
Although not as important to the game as the backboard or rim, the net isn't completely useless. It slows the ball down after a basket is made and directs its motion downward so it is easy to recover and doesn't go flying every which way after a shot. The net also indicates if a basket was made in the first place, and makes that swish sound that we all love so much.
Metal chains are often used as nets in public parks and outdoor areas because they resist the weather, withstand people hanging on them, and are difficult to cut off. Nylon is another good option for outdoor hoops as it can stand up to rain, snow, and sunshine.
Best Basketball Hoop Brands
Escalade Sports
Headquartered in Evansville, IN, Escalade Sports is a multinational manufacturer and distributor of sports and recreational equipment. Through their line of sporting brands, they advocate active lifestyles and promote the fun, competitive, and person-to-person bonding that occurs when playing games and partaking in physical activities. They operate under several brands, including both Silverback and Goalirilla. With their gear and equiptment in sporting goods stores throughout the US, you've probably seen and have even used a few of their products without even knowing it.
Lifetime
From its humble beginnings as a one-man-shop based out of a garage in Riverdale, Utah, Lifetime's founder started out with a simple mission to make a better basketball hoop for his children. The company has since grown to be a trusted global brand, leading in innovation and embodying their name with products that last a lifetime.
Ryval Hoops
Since the mid 1990s, Rival Hoops has operated in the basketball goal business with multiple stores throughout the state of Texas. After years of selling other brands and taking in customer feedback, they found that the only way to provide people with exactly what they wanted was to build it themselves. So they began manufacturing hoops under their own brand have never looked back since.
Spalding
With their tagline "True to the game", Spalding has a storied history that begins in 1876 when they created their first product — a baseball. Today, they specialize in high-grade sporting balls of every kind, from basketballs and footballs to volleyballs and soccer balls. And while they do dabble in other products — like basketball hoops — their bread and butter is still the sporting ball industry.
Frequently Asked Questions
Q: How do you install an in-ground basketball hoop?
A: as mentioned above, there are two different types of in-ground basketball hoops; ones that cement straight into the ground, and ones that bolt onto a grounded anchor. Most hoops these days use anchors, making them portable and easy to move or store during the winter months. Your hoop should come with step-by-step instructions on how to install each part, but here is a great instructional video for your reference about how to install a basketball hoop anchor.
Q: What type of hoop do they use in the NBA?
A: The official ball of the NBA is Spalding, and although there is no standard brand for hoops across the league, many teams use Spalding for their hoops as well — and especially for their nets. NBA-standard backboards are rectangular and made from tempered glass, and the league uses breakaway rims exclusively set to a height of 10 feet.
Q: Can you mount a basketball hoop on a utility pole?
A: Technically speaking it is possible to mount basketball hoops on vertical poles. So if you have one on your property that you own yourself, by all means do it. However, utility, lamp, and traffic poles are privately owned by either the city or your local electric company. Therefore, you cannot hang anything on them without appropriate consent — which they probably won't give you. So unless you own and installed the pole yourself, you probably shouldn't mount a basketball hoop on it.
Q: How do you adjust the height of a basketball goal?
A: How you adjust your hoop's height would depend on its specific height-adjustment system. Some use crank-operated mechanisms (either on the front or back). Typically, you turn the crank in a clockwise motion to move the hoop up, and in a counterclockwise motion to move it down. Note, however, that some hoops have removable cranks that must be inserted into the loop of the adjustment cylinder before cranking.
Quick pin mechanisms are also common, in which you pull the pin from the post to release it, then insert it again when the holes align at your desired height. Squeeze triggers are also common, and quite intuitive. Simply squeeze the handle to disengage the stopping mechanism, adjust the height, then release the handle to engage the stopping mechanism which locks the hoop in place.
A few hoops use a system called InstaJust, also known as "stick adjust. This mechanism reminds me of drawing the blinds on a window, where you pull down on the drawstring which releases the lock, then let up on the string to bring the shades down. In a similar manner, by pushing up on an InstaJust system, you release the lock and can then lower the hoop. The only caveat is that you need to use a ladder or broom stick to reach the bottom of the hoop to lift it up, hence where the name "stick adjust" comes from.
Wrapping Up
At the end of the day, you get what you pay for when looking for the best in ground basketball hoop. If you don't really care about shakes and wobbles or are on a fixed, limited budget, the in-ground hoop by Lifetime offers a good blend of quality and value.
However, unless you are confident in your construction abilities, the cost of hiring someone to properly install the hoop could outweigh the benefits of its lower price. And because it cements directly into the ground, you cannot transport the hoop if you decide to move some time down the line.
If, however, you want the best of the best, the Ryval Hoop brand is the option for you. They are sturdy, burly, and seemingly built to withstand a series of nuclear blasts. Although the price tag for these hoops are a bit higher than the cheaper brands, in return for your initial investment, you'll receive a lifetime of satisfaction and joy from a Ryval basketball hoop. If you use it only once per week, for say, 20 years, it will only cost $1.5 per session — a fraction of the cost of a gym membership or rec center day pass.
And when you factor in the exclusivity and convenience of having a basketball hoop in your own yard, the benefits easily justify the cost. Do yourself and your family a favor and go for quality, which, in the long run, actually turns out to be the cheaper option.