Whether you are tailgating or having a backyard barbecue, no party is complete without a cornhole board. But the thing about cornhole is that if you play it on a board that isn't well made, too slick, chintzy, etc.. you don't fully get what the game can be, FUN!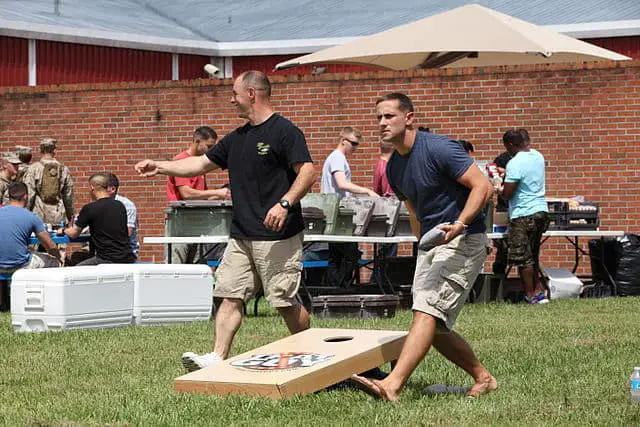 If you are looking for the best cornhole boards for the money, you have come to the right place.
In a Hurry?  Here's Our Top Picks…
The Top Cornhole Boards for the money
When it comes to choosing the cornhole board that might be best for your backyard or next big event, there are a few things to consider.  Below you will find a list of cornhole boards that range in price and quality.  The higher priced boards can be found on top and then a couple of more inexpensive options (and lower quality) can be found as you scroll down.
1.Slick Woody's Rustic Grey- My Top Pick
Last update on 2023-09-22 / Affiliate links / Images from Amazon Product Advertising API
Costing around $250ish this is one of the pricier boards on the list, but slicks woody's are one of the best creators in the market. They know the industry well and are endorsed by professional cornhole players.
They use only the best quality wood which means your board is going to last for a really long time. Plus when you order a slick woody's cornhole board you also get a set of 8 cornhole bags you can use to play right away.
The best part is that these boards are made right here in America and I'm all for supporting local businesses.
What I like:
Regulation size board
Very well built
Very durable
What I don't like
Very heavy and not too portable especially if you have a small vehicle
Expensive compared to the other boards on the list
Crappy customer service
Check Price and Reviews on Amazon
2.Viva Sol Premium All-Wood – B-E-A -U-TIFUL
Last update on 2023-09-23 / Affiliate links / Images from Amazon Product Advertising API
When you buy a Viva Sol board, you might wonder if it's a work of art of game you should play. The craftsmanship really is just soooo beautiful.
This is one of those boards you are going to show off to your friends, and the walnut finish adds to its appeal giving it a sort of premium vibe.
What I like:
Innovative Storage which allows you to store the legs and bean bags inside the frame
Regulation size board
Well designed with very high-quality materials
What I don't like:
The veneer can bubble up with a little bit of moisture (just be sure to store it in your garage).
While the side handles make it easier to move, they are still kinda heavy
If you're looking for quality, slick woody's provides a better bang for your buck
Check Price and Reviews on Amazon
---
3.Driveway Games All-Weather – The best NON-wood board
Driveway Games All Weather Cornhole Set. Regulation Corn Toss Boards & Bean Bags. Family Outdoor Lawn Yard Game
ALL WEATHER CORNHOLE GAME SET – This cornhole game set includes 2 weatherproof regulation-size cornhole boards (2x4 feet), 8 all-weather regulation bean bags, and cornhole rules. An outdoor game for lawn, patio, or backyard
WEATHERPROOF – Waterproof cornhole boards won't warp in humidity or rain, unlike wooden corn hole boards. Use on any surface, in damp weather, at the beach or poolside. No worrying about rain showers
ALL-WEATHER CORNHOLE BAGS - Includes 8 regulation-size (6 x 6 inch), official weight (14 oz) cornhole bean bags. Waterproof bean bags are made of heavy all-weather canvas, filled with moisture/pest-proof plastic pellets, and double-stitched
HEAVY DUTY, YET PORTABLE - Heavy duty plastic cornhole boards provide solid play quality. Yet at 18 lbs. per board, this is a fairly portable cornhole game set that's light enough to take with you to picnics and parties
BEAN BAG STORAGE - Built-in locking bean bag storage in bottom makes for easy clean up and no lost bean bags
Last update on 2023-09-23 / Affiliate links / Images from Amazon Product Advertising API
Unlike other cornhole boards, this one won't be easily damaged in the rain. Why? Because it doesn't use any wood at all.  This board will also save you some money as it's about half the price of some of the more premium wooden boards mentioned before.
The All-weather set is made from some premium high-quality plastic, so you won't have to worry about any quality issues. The plastic also helps make it pretty to easy to carry around.
These are the same boards you will find at your local church, and I can tell you, it is super durable. However, If you're not someone who is used to playing on a wooden board, this might be not the one for you. All in all this is a pretty impressive board if you're looking for a portable cornhole board you can take camping or to the beach.
What I like:
High-quality plastic used
No wood used, means you won't be having any storage issues with black mold growing on your board when you take it out after a couple of months
Pretty easy to carry
What I don't like:
It's not wood
Only a 3-day return window
Did I mention it's not wood?
If you're someone who is looking for a non-wood cornhole board, this is the board for you. NO QUESTIONS ASKED.
Check Price and Reviews on Amazon
---
4.GoSports Original- For the Casual Cornholer
Sale
GoSports Tailgate Size 3 ft x 2 ft Cornhole Set - Portable Set Includes 8 Bean Bags & Game Rules
TAILGATE SIZE: Full cornhole set includes 2 tailgate size (3 feet x 2 feet) cornhole boards, 8 all-weather regulation bean bags, premium carrying case, and rules
EVENT DAY FAVORITE: Hours of fun with friends and family at tailgates, holiday weekends, cookouts, campsites, and more!
STURDY DESIGN: Features composite MDF surface with high-strength aluminum frame that is durable for play yet lightweight for portability
ALL-WEATHER BEAN BAGS: Complete set of 8 regulation size (6 inch x 6 inch) bean bags (4 red + 4 blue)
COMPACT CARRYING CASE: Boards easily fold flat into the premium carrying case for portability or neat storage
Last update on 2023-09-23 / Affiliate links / Images from Amazon Product Advertising API
Okay, this might not be the prettiest looking board in the world. But you should never judge a cornhole board by its cover.
Like crocs, these guys are ugly but functional. You might be turned off by the fact that they are not made from wood or that they are not regulation size. But if you're just a casual player looking to chill with his friends this board is perfect for you.  Again, this is a very affordable option.
The Go Sports Original Comes in 2 sizes- regulation and tailgate
But if you're looking for a regulation size board, you're better off getting a slick woody or a viva sol.
What I like:
Light and portable, perfect for tailgate events
Most cost effective cornhole board you can buy
Folds up into an easy to carry case
What I don't like:
Not regulation size, although if you're looking to play cornhole seriously. You shouldn't even be looking at this board.
Rattles and moves a bit when playing especially on concrete surfaces
Very smooth and glossy, expect your bags to slide more than usual
Check Price and Reviews on Amazon
---
5. Go Sports Portable PVC
GoSports Portable PVC Framed Cornhole Toss Game Set with 8 Bean Bags and Travel Carrying Case - Choose Your Style
FULL CORNHOLE SET: Includes two 3 ft x 2 ft cornhole targets, 8 bean bags, carrying case, and rules
ULTRA PORTABLE: Set folds up and stores in the compact carrying case and weighs only 15 pounds
QUICK ASSEMBLY: Assemble both targets in under a minute
FUN DESIGN: Vibrant red and blue cornhole boards will have players of all ages wanting to join in on the fun
EVENT DAY FAVORITE: Perfect for birthday parties, tailgating, holiday celebrations, social gatherings, and more
Last update on 2023-09-23 / Affiliate links / Images from Amazon Product Advertising API
The Go Sports Portable PVC is like the little brother to your cornhole board. It's made from nylon, so you don't have to worry about the rain. It is incredibly light and weighs just 1 pound.
If you are looking for some recreational cornhole fun with kids or on the go without worrying about playing in some competition, this board might be for you.
Warning: Your friends might mock you for using this board.
What I like:
Completely waterproof
Extremely light and easy to carry
Very easy to set up. You can take it out of the bag and be playing within 5 minutes.
What I don't like:
Bean bags bounce off the board (It has a bit more spring that a wooden board)
The boards are super flimsy
Not regulation.
Check Price and Reviews on Amazon
---
Things You Should Consider When Buying a Cornhole Board
What Kind of Bags Do They Come With?
It's incredibly frustrating to buy a board, wait a week for it to arrive only to find out that you don't get any bags with it. Although most boards come with bean bags, you want to be sure if the board you're buying has bean bags or not.
You also want to look at the kind of bags come with your board. If you are looking for some really high-quality cornhole bags, you should really check out this article: The 5 Best Cornhole Bags: Complete Buying Guide and Reviews
What kind of filling is used?
The kind of filling in your bag can be either corn-filled or pellet filled. While a corn-filled bag must be broken into (which is really fun), they decay quickly if not properly taken care of.
What is the stitching like?
Is it a single stitch, double stitch or even a triple stitch? There are many options, but an easy way to remember is that the more stitches it has, the better your bag is going to be.
How much does it weigh?
Official regulation bags use 160z of corn kennel and 10Oz of duck cloth. This is SUPER important as if you're looking to take part in any cornhole tournaments in the future you want your bags to weigh the same.
You can read more about the kind of cornhole bags you should buy in my post here: The essential guide To purchasing cornhole bags.
How often will you be playing?
Are you going to be playing every day or just on weekends. Or is this going to be one of those things you're going to regret purchasing? Think hard about this.
This will allow you to decide how much you want to spend on a board.
Who will be playing?
If you're buying a cornhole board to practice for your local tournament, then you should focus on the purchasing a regulation-sized board with a wood finish.
The way you play changes a lot depending on the size and the materials used and just like you don't practice for a basketball game on an 8-foot ring you don't play professional cornhole on a plastic board.
But if you're just looking for a casual backyard game with your family on the weekends or a camping trip, you should avoid buying a wooden board as they are heavier and tougher to store.
Should you buy custom cornhole boards or mass manufactured one?
Buying a custom-made board is usually a gamble unless you know the guy who's making your board. With that said a custom-made board will usually give you better quality than any other cheap cornhole boards.
But they also cost a lot more, and you run the risk of getting ripped off.
Best Cornhole Board Brands
Slick woody's are famous for producing premium high-quality cornhole boards. They have been in the business of producing cornhole boards for over ten years now and are even endorsed by Matt Guy, the No.1 cornhole player in the world.
Every slick woody's is made right here in America at their warehouse in Ohio.
If slick woody's is the Nordstrom of the cornhole market, then Go sports is the Walmart of Yard games. They are the largest producers of Cornholes boards in America, and you can also buy all sorts of other yard games from these guys, including other bean bag toss games. They are the biggest brand in Yard games and have been in the industry for almost 20 years now.
AJJ Cornhole has carved a niche in creating cornhole board sets with custom cornhole decals and logos. They allow you to completely customize your board by adding all kinds of crazy decals and effects. This means you can even order a cornhole set with your face on it.
You're Probably Wondering
What are regulation Cornhole boards?
These are cornhole boards that can be used for tournament gameplay as specified by the American cornhole association. This helps standardize play for everyone and making sure no player or team has an unfair advantage when you play a cornhole game. Some rules are:
Cornholes boards are made out of wood
The surface of the board is constructed from half-inch plywood
The surface of the board must be totally smooth
Cornhole boards must be painted with high-gloss, latex paint.
You can find the official cornhole rules here.
What Kind of Material is perfect for me?
You have two choices when selecting a cornhole board:
1.Wood
When someone thinks of corn hole boards, they think wood. It is used in american cornhole association tournaments and timber provides the kind of control plastic corn hole players would never have heard of. But on the downside wood boards are a little heavier and require a lot of care.
2.Plastic
Plastic boards are far more convenient to transport and care for. You can leave your board for months at a time in your garage and expect the see them as good as new. The same is not true for wooden boards.
But playing on the plastic board gets frustrating especially for experienced players. They require different strategies to win.
The decision to choose a wood or a plastic board is a personal one and ultimately you have to pick one that is right for you,
How should I take care of my Cornhole boards?
The Short Answer? It Depends.
The long answer. The way you take care of your boards will vary a lot depending on the type of material used.
But the most important step you can take to extend the life of your custom cornhole board is storage. Choose a place that is special from the elements and animals. Somewhere that is cool and dry.
I usually keep them in my rec room but almost anywhere that is dry will do. Just make sure that it isn't exposed to water or humidity.
One of the best ways to protect your boards is the use a sealant finish.
Conclusion
Slick Woody's is hands down my personal favorite cornhole board. In fact, it's quality is better than most custom built cornhole boards available on the market.
But if you're not going to be playing cornhole every weekend, then you're better off buying something much easier to store like the Driveway All-weather board. Even though it is not regulation, it is perfect for someone looking to have a good time.