This guide will help you find the best mini trampoline for all of your rebounding workouts. If you are interested in a form of exercise that is fun, easy, and appropriate for any fitness level (including adults, kids, and toddlers), jumping on a mini trampoline is the perfect choice for you.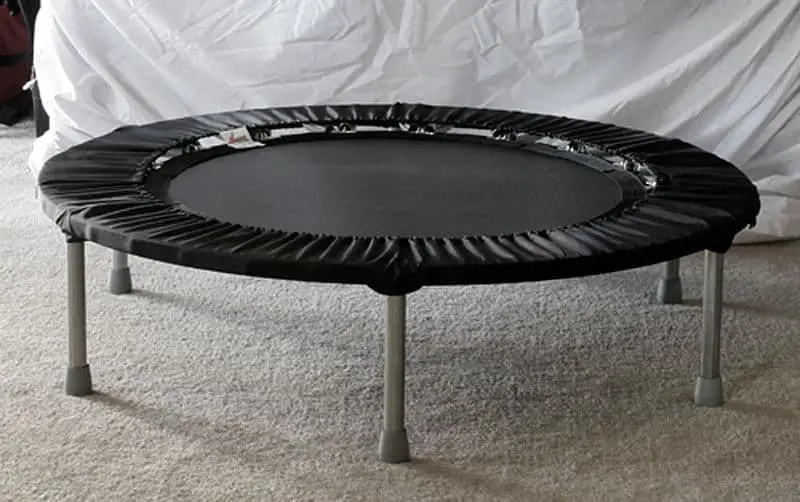 Mini trampolines have come a long way since the 1980's. A mini trampoline is the preferred exercise tool of celebrities, fitness gurus, and people involved in personal development.
Some famous people who use rebounders or mini trampolines include Tony Robbins, Britney Spears, and Cher. Rebounding even helped Jack LaLanne stay vibrant for 96 years.
We all know that the best way to stay fit or regain lost fitness is by moving our bodies. Exercise not only helps with weight loss, cardiovascular health, and building strength, it even helps improve our sleep, our ability to relax, brain health, and memory.
In a Hurry?  Here's Our Top Picks

Best Exercise Trampoline and Best Rebounder Trampolines for Adults
In spite of this knowledge, exercise often gets pushed down to the bottom of the to-do list and put off for another day. We know exercise is good for us but often lack the motivation to do it.
A big benefit of bouncing on a mini trampoline is that it is fun. We don't have to be motivated to do fun activities, right? We just do them. This guide will help you find the best choice to fit your budget and lifestyle.
Review the options below for mini trampolines under $500, $300, and close to $100.
Bellicon Classic 44" Exercise Trampoline with Screw-in Legs and 60 Day Online Workout Program
No products found.
When it comes to rebounders, Bellicon is really the gold standard. This German company focuses on high-quality materials, craftsmanship, and German engineering to create an extremely high-end product. (Everyone knows that Germans make good stuff, right?) Bellicon is known as the premier maker of rebounders.
They were the first to come out with the quiet, soft bounce bungee system. This is the rebounder that will give you the smoothest and softest bounce. The custom formulated polyisoprene bungees are strong, quiet, and offer an extremely smooth bounce.
The Classic 44″ has a black glossy powder coated frame and is German engineered and assembled in the US. The Bellicon classic features a precision welded high-gauge steel frame which makes it strong and durable, yet lightweight. It can accommodate users weighing up to 440 lbs if the Ultra-Strong Bungees are used.
The Bellicon classic comes in three sizes 39″, 44″, and 49″. The more jumping surface the better. The 44″ is a great compromise between a large jumping surface and storability.
The screw-in legs are designed for rebounders with a permanent home. The legs also feature pressure dampening feet for a secure grip and quiet low-impact bounce. There is also a folding leg option for easier storage.
Years of research, testing, high quality materials, and precise workmanship go into every Bellicon product, and it shows. This rebounder is popular with celebrities and fitness enthusiasts. You can have years of fun and fitness with this popular rebounder.
Bellicon Classic 44″ Features We Like
Soft Bounce Bungee System
Strong and Durable
Weather and UV Resistance
Large 44" Jumping Area
Lightweight Frame
Weight Capacity of 140 to 440 Lbs Depending on Bungee Strength Selection
Included 60 Day Online Workout Program
JumpSport 370 PRO Fitness Trampoline with No-Tip Arched Legs and Adjustable Bungees 4 Music Workout Videos Included
Sale
Last update on 2023-09-20 / Affiliate links / Images from Amazon Product Advertising API
JumpSport is a US-based family-owned company that has been revolutionizing the safety and quality of trampolines for 20 years. The owner of this company even invented the trampoline safety net.
The JumpSport 370 PRO features 36 EnduroLast cords. Like the Bellicon, this creates a smooth and silent bounce that is easy on the knees and back. These cords are also adjustable to four different firmness levels. The silent bounce is perfect for use anytime.
These are popular in many gyms that feature rebounding workouts. The jumping surface is enlarged by the padded petal mat design. The jumping surface diameter is 35.5 inches, but it is increased by 5.5 inches on all sides because of the mat covering the bungees.
The legs are arched for added stability and won't tip over. You can work out feeling safe and secure with a quiet soft bounce and safe landing that won't tip or slide. This fitness trampoline provides a great total body workout or cardio workout.
Having a fun mini trampoline that you want to use is great for weight loss. It's also a wonderful way to relax and de-stress. It even releases endorphins that help you sleep. The weight limit on this model is 300 pounds. There are also three lower end models and a higher end model to choose from.
JumpSport 370 PRO Features We Like
Quiet Bungee Cord System
Soft Bounce
Adjustable Bounce Tension
No-Tip Arched Legs
Padded Petals Increase Safety and Jumping Surface
Family Owned and US Based
Includes Music Workout Videos
Professional Quality
Needak Soft-Bounce Non-Folding Rebounder
Needak Rebounder - R20 Non-Folding Soft Bounce Platinum Blue Edition
Frame skirt sold separately.
Soft-Bounce spring absorbs as much as 85% of the impact of each bounce.
Easy to learn, easy to use, and provides incredibly efficient low impact exercise
All weather exercise for people off all ages and fitness levels
ifetime manufacturer warranty.on Frame, 5 year on cleats & Springs, 2 year on matt
Last update on 2023-09-20 / Affiliate links / Images from Amazon Product Advertising API
Needak is really the pioneer in spring rebounders that also feature a soft bounce. In the past, rebounder choices where either an expensive imported bungee rebounder or an inexpensive spring rebounder which was jarring and hard on the joints.
Needak solved the problem by creating a high-end spring rebounder that also has a soft bounce. Their springs absorb 85% of the impact making a Needak spring rebounder a comfortable soft bounce experience.
This rebounder features a 40" frame with a lifetime warranty. The skirt that covers the springs is an additional purchase, but not required for use. The legs fold for optimal storage. If you don't have a permanent home for your rebounder, it can always slide under a bed or lean against a closet wall.
Even though, this has soft bounce springs, there are also more firm springs available for heavier users or people who are more athletic and want a harder bounce. For people who are older or just starting out, there is an optional stability bar that can really increase fun and safety.
Needak rebounders are manufactured in the US, and they have a reputation for excellent customer service and creating quality products. If you have ever tried a cheap spring rebounder, you will be surprised at the difference a high-quality Needak spring rebounder can make.
Needak Soft-Bounce Rebounder Features We Like
Soft Bounce Springs Absorb 85% of Impact
Made in the USA
Premier Manufacturer
Industrial Quality
Lifetime Frame Warranty
Strong Durable Woven Mat
Legs Fold for Easy Storage
Needak Soft Bounce Black Trampoline Folding Rebounder with Stabilizing Bar
Last update on 2023-09-20 / Affiliate links / Images from Amazon Product Advertising API
When it comes to rebounding for health, the Needak soft bounce with stabilizer bar is a great choice. Rebounding is a wonderful exercise for people of all fitness levels, but especially for people who have health issues and limited mobility.
The non-jarring soft bounce combined with the added safety of a stability bar make this the perfect solution for people who are elderly, recovering from injuries, or have balance issues. This rebounder has the same Needak soft bounce spring set, but with the added bar anyone can go from a gentle health bounce to creating their own g-force.
This quality Needak rebounder comes with a matching black skirt to cover the springs and has the added stability bar. This rebounder also comes with information on rebounding for your autoimmune system and jumping for health.
This model also folds to make storage more convenient. Although, it is easier just to leave it set up. Spring mini trampolines aren't as quiet as the bungee trampolines, but the springs usually last longer and they can be oiled if needed. This is a great value because you get the quality Needak model, plus the skirt and stability bar.
Features We Like
Needak Soft Bounce
Made in the USA
Long Lasting Springs
Folding for Easy Storage
Added Stability Bar for Safety
Included Skirt to Cover Springs
Health and Immune System Information Included
MXL MaXimus Life Bounce & Burn Mini Trampoline Rebounder Includes DVD and 3 Months Free Video Membership
Maximus Life Bounce & Burn Foldable Indoor Mini Trampoline Rebounder USA for Adults | Fun Way to Lose Weight and get FIT! Plus Rebounding Exercise DVD | Optional Handle Bar | Already Assembled
✅ NO ASSEMBLY REQUIRED. Unlike most offshore companies - Our Foldable rebounder takes just seconds to set up and fold away with it's neat quarter folding hinge design and spring loaded folding legs take seconds to set up and fold down. 32 large springs make it strong, and very low impact, so it is very kind on the joints. Includes FREE BOUNCE COUNTER!
✅ BOUNCE & BURN TO GET INTO SHAPE, & FREE VIDEO MEMBERSHIP - TONE UP AND LOSE WEIGHT. Package also comes with rebound DVD workouts aimed at beginners to intermediate fitness level that will keep you motivated and ensure you use all the correct techniques whilst you are having fun bouncing and burning the calories away! A whole-body workout can be achieved whilst toning and strengthening your muscles at the same time.
✅ CAN TAKE 140 KG PERSON. A special handle bar can be purchased separately for those needing a little extra stability. Just type B01N41DRYB or ''Handle bar for Bounce & Burn Mini Trampoline'' in to the Amazon search bar. Advance spring system uses bolt connectors to the frame unlike cheap trampolines where the springs insert straight in to the frame and buckle easily.
✅ INCREDIBLE HEALTH BENEFITS include burning fat and hundreds of calories, increasing cardiovascular and aerobic fitness, strengthening joints, muscles and tightening the skin, lymphatic drainage and detoxifying the body when using a well sprung rebounder like the bounce and burn model. Making you feel good and getting you in to great shape FAST!
✅ FRIENDLY AND HELPFUL CUSTOMER SUPPORT & FULL WARRANTY. Stay motivated with our new Bounce & Burn ONLINE VIDEO membership which offers a huge variety of rebound workouts. Contact us through your Amazon account for fast response. BUY NOW AND CHANGE THE WAY YOU LOOK AND FEEL 😊
Last update on 2023-09-20 / Affiliate links / Images from Amazon Product Advertising API
MXL MaXimus is a UK based fitness company that also makes quality equipment. This exercise trampoline is a value based option, if the other choices don't fit your budget. It has strong springs and won't be as soft as the bungee based rebounders, but it is a popular choice with many consumers.
This folds for easy storage, comes with a skirt to cover the springs, and a DVD and 3 month video workout membership. Bounce & Burn is a popular choice for burning calories, strengthening joints, and toning your core.
You can also order the stability bar or get the Maximus Pro model which comes with the stability bar and 4 new workouts. There is also an available package with additional resistance bands and sand weights. The Maximus is a great brand to test the waters and see if rebounding is for you.
MXL Maximum Life Bounce Features We Like
Supports up to 265 Lbs.
Sturdy Metal Frames and Springs
Foldable With Foldable Legs for Easy Storage
Spring Skirt Is Included
Optional Stability Bar Available
Comes With DVD and 3 Month Video Membership
Helpful Customer Service
Who Is Rebounding for and What Are the Benefits?

In 1938, the first mini trampoline was developed and people have been jumping for health ever since. It is even rumored that NASA used rebounders to train astronauts. The American Council of Exercise ACE published a scientific study on the benefits of jumping. The study found that participants were able to easily raise their heart rate, expend calories, and even improve balance.
Rebounding is for everyone. Jogging on a mini trampoline is similar to running on sand. Even the most fit athletes will get winded on a rebounder. There are also several exercise variations from high knee jumps to ab workouts that will challenge the most fit athlete.
Jumping up and down is also fun and great way to let the kids burn off energy. Parents or grandparents who babysit would appreciate a way to tire the kids and grandkids out, while being praised for the fun activities you let them do.
Anyone who wants to improve their fitness or lose weight will love rebounding. It's a fun way to get in 20 minutes of cardio while watching the news or listening to a podcast. Elderly people can workout and improve their balance. Using a stability bar and starting with a slow health bounce can benefit people who aren't at optimal fitness levels.
What to Look for in a Rebounder
When choosing a rebounder, the most important thing is that you want a rebounder that is safe and non-jarring to the body. This is why quality soft bounce systems are so popular. You can choose a bungee cord option or a spring option. There are quality spring options that are soft bounce and relatively quiet, but the bungee cord rebounders will be the most quiet.
You also want to look at the overall construction. You want a strong sturdy mat that won't tear, rip, or degrade if you plan on putting it outside. You also need to make sure the rebounder you choose can accommodate the highest weight of anyone using it. You also want to make sure that the size is big enough to bounce comfortably without creating a storage issue.
Best Mini Trampoline Brands
Needak
Needak is one of the oldest manufacturers and created the first soft bounce spring trampoline. They focus on creating quality heavy duty equipment and their brand focuses on fitness and health.
Bellicon
Bellicon is the first creator of the bungee rebounders and still one of the hottest brands around. Their focus is on quality, fun, and getting in great shape in a safe low impact way.
JumpSport
JumpSport is a pioneer in the trampoline business and put safety at the forefront of their business. This is a US-based family-owned business that has been in the JumpSport fitness trampoline business for 20 years.
MXL MaXimus Life
British owned Rebound Fitness brings us the best sellers from MXL MaXimus Life. They offer quality equipment and instructor training and videos of trampoline workouts.
Cellerciser
Cellerciser is a brand promoted by Dave Hall who is dedicated to teaching his Cellology Technology and ten-minute Cellercise Program. He started this after daily rebounding changed his life and appearance.
Frequently Asked Questions
Q: Are mini trampolines good for bad knees?
A: Yes, a soft non-jarring bounce should enable people with bad knees to get much needed exercise. Just make sure the movement isn't causing any pain.
Q: Can a mini trampoline help you lose weight?
A: Yes. With a mini trampoline you can burn calories and build endurance. You may also be more motivated to workout, because it is more fun.
Q: Can you use a mini trampoline upstairs?
A: If you have a quiet bounce trampoline and your floor doesn't squeak, it shouldn't bother any neighbors below.
Q: Which mini trampoline is the best?
A: This depends on your needs and budget. You want to get something that is safe and doesn't hurt your knees or back when using it.
Q: What muscles does a mini trampoline work?
A: It is said that mini trampolines work every cell and every muscle in the body. Emphasis is usually on the core and the legs, but rebounding has a lot of benefits for the whole body.
Final Thoughts
The best mini trampoline for you depends on your budget and specific needs. You really can't go wrong with any of the offerings above. If a quiet workout is your most important requirement opt for one of the bungee options. If safety or injury recovery is your main concern, be sure to get a quality rebounder and order the optional stability handle bar.
There are also budget models available, so that anyone can get started enjoying all of the benefits of rebounding. Benefits like increased fitness, weight loss, better mood, better sleep, increased fun, and more. If rebounding isn't something you have considered in the past, this may be a good time to give it a try.
Looking for more?  Read our complete list of backyard games here.