When the good weather finally hits everyone suddenly decides they want a trampoline, but no now actually knows where to find the best backyard trampolines. Where can you find quality trampolines for what you need? A fun plaything for the kids? A solid workout? Or a small bouncer for your younger children? There are dozens of trampolines to choose from and they all have different sizes, purposes, and additions. Do you want to play basketball while jumping? Do you want to get sprayed with sprinklers? These are things you should take into account when looking for a great trampoline for your backyard. So we compiled a list of the best bouncers we could so you could minimize your time shopping and maximize your time bouncing.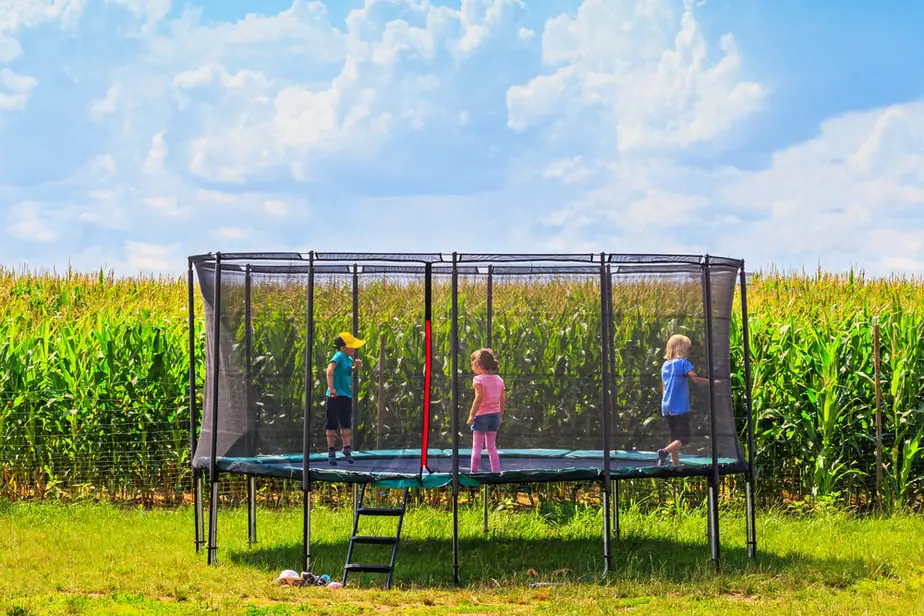 In a Hurry? Here's Our Top Picks…
1. This Awesome 12 Foot Trampoline
Skywalker Trampolines 12-Feet Round Trampoline and Enclosure with Spring Pad
Reinforced T-sockets stabilize the upper enclosure frame to the trampoline frame and prevents structural twisting
Stay-put enclosure net interlocks to the jumping mat by using a patented button-hole feature attaching the enclosure netting to the jumping surface at each V-ring eliminating gaps
Frame constructed of heavy gauge galvanized rust resistant steel with total of 6 W-shaped legs for added stability
Assembled Dimensions: 12 ft. X 12 ft. X 9 ft.
Recommended for ages 6 and above with a 200 lb. weight capacity
Last update on 2023-09-19 / Affiliate links / Images from Amazon Product Advertising API
This sturdy bounder is a great addition to any backyard, making it one of the best backyard trampolines. The impact absorbing enclosure system keeps you safe while you jump and the sure lock safety pad keeps you away from the springs. T bracket technology is what makes this trampoline so sturdy and the control this trampoline maintains is all based on the 72 total springs around its edge. It's designed to handle weight up to two hundred and fifty pounds and meets all ASTM safety standards. Making this an incredibly safe, sturdy, 12-foot trampoline that can help spruce up any backyard. With a trampoline like this, any event, such as a bar-b-que, picnic, or birthday party better for the whole family.
What We Like:
Impact absorption
T bracket technology
What We Dislike:
Some people didn't get the second box
Check Price and Reviews on Amazon
---
2. This Massive Rectangular Bouncer
No products found.
This trampoline is not only sturdy but it's rectangular giving you more room to bounce on with more surface area. This bouncer can be purchased with or without a basketball hoop though the more fun the better and comes with an enclosure that goes over the whole trampoline. The sturdy design and safety net make it easier than ever to have fun bouncing around this summer. Built with a standard capacity of about 250 pounds this bouncer is great for kids, making this a wonderful trampoline to have for any outdoor events such as birthday parties, bar-b-ques, and so much more. You can also adjust the size of the trampoline before purchasing, leaving you with boundless amounts of fun outside this year. Just get the trampoline size that would be best for your yard, and make sure you have the flat space to put it on.
What We Like:
Optional basketball hoop
Rectangular
What We Dislike:
Check Price and Reviews on Amazon
---
3. This Indoor Outdoor Trampoline
Fashionsport OUTFITTERS Trampoline-38 Portable Trampoline for Kids-38 Blue
SOLID FITNESS TRAMPOLINE: This trampoline combines simple design with durable construction, features high quality steel material and high-elastic & wear-resistant mat can support up to 330 pounds.
PROTECTIVE COVER: High-quality safety pad covers the springs tightly to prevent your feet from being scratched and give you a more stable and safe training experience.
EXCELLENT BOUNCE EXPERIENCE: Thanks to the ultra-thick springs and jumping mat made by PP material, you can enjoy seamless elasticity as long as you jump gently. Suitable for adults and kids jumping long time.
FITNESS & EXERCISE: Compact and portable, the mini trampoline can be used anywhere you want. Fashionsport 38 inch trampoline is your best choice for jumping fitness exercises indoor.
EASY ASSEMBLY: Quick and easy to assemble within hours, no additional tools required. Our consumer friendly lifetime warranty, please feel free to email us if you need any assistance.
Last update on 2023-09-08 / Affiliate links / Images from Amazon Product Advertising API
Sometimes you're just looking for a trampoline you can jump on all year, and this one is the one for you. As long as you have the space this indoor-outdoor trampoline is a great choice. It's, of course, one of the best backyard trampolines and is better used outside, but it's been designed to be an indoor trampoline as well. This trampoline has a five-foot safety diameter, making it the right size for young kids to play on. The steel in the legs is all rust-resistant and makes for a sturdy trampoline that keeps on giving year after year. It's also lightweight enough for an adult to move easily, pair that with an easy setup and you can't go wrong with this bouncer. You can bring it outside for regular summer play and then move it inside all on your own for your little one to bounce on when the cold weather hits. Making this a versatile bouncer that your young children can use year-round.
What We Like:
Rust-resistant
indoor and outdoor
What We Dislike:
Requires space to use indoors
Check Price and Reviews on Amazon
---
4. A Heavy Duty Trampoline
JUPA 425LBS Weight Capacity Kids Trampoline,15FT 14FT 12FT 10FT 8FT Outdoor Trampoline with Safety Enclosure Net All Accessories for Kids and Adults,Complies with ASTM Standards
【JUPA Kids Trampoline】This round kids trampoline is a great addation for you backyard. Kids love trampolines. We all know that! And for parents, trampolines hit the mark on all points - they are safe, you will be easily able to keep your eye on your kids because all the kids in the neighborhood will be in your backyard!
【Heavy Duty Trampoline】Jupa outdoor trampolines approved safe Certification, safe and reliable for children. Rust resistant galvanized steel Frame, much thicker and stronger, provide better stability and safety.
【Safe Outdoor Trampoline】Blue PE+PVC 20mm foam pad fully covers spring and frame, protect the kids from hurt. 6.0ft higher safety enclosure net creates a safe space for your kids while playing. You can be rest assured when the trampoline take care of the kids.
【Super Bounce Trampoline】108 pcs 7 inch galvanized springs for better elasticity. Each spring is made of steel with a rust-resistant coating for a longer life. Over 1000,000 test, UV protection polypropylene Jumping mat provide safe, longer service life and much more weight capacity (375LBS).
【Easy to Assemble】Include all accessories. Heavy-duty galvanized steel ladder, safety enclosure net, Spring Pull Tool, U-shaped Wind Stake. 2 people can assemble this outdoor trampoline easily.
Last update on 2023-09-08 / Affiliate links / Images from Amazon Product Advertising API
This JUPA kids trampoline is a little bit bigger than our previous bouncer but it's just as sturdy, making it one of the best backyard trampolines available. With TUV approval this bouncer is certified safe and useable for kids for years to come.  The netting on this trampoline encompasses the whole jumping area, with a safety pad in place to prevent injury from the springs and even padding on the poles that hold the netting up, to make sure that no one knocks their head as they're bouncing around. This trampoline is very easy to assemble and is an excellent gift for kids of all ages.  It may even be a good obstacle course addition if you're looking to entertain the kids long term.
What We Like:
Safety certified
Great for all ages
What We Dislike:
Can be difficult to get the net on
Check Price and Reviews on Amazon
---
5. A Strong and Simple Design
No products found.
This solid steel structure is an excellent addition to your backyard. Sturdy durable, and ready for wear and tear this trampoline is truly one of the best backyard trampolines you can find.
This trampoline is built for maximum safety, meeting all safety standards to ensure that any children can bounce without fear. Super easy installment makes this bouncer easy as pie to set up. It has a staggering 442-pound capacity, ensuring that even light to mid-weight adults can have fun. Designed with a net and ladder this bouncer is a wonderful addition to any backyard and it's one of the few on our list that can handle adults on a regular basis.
What We Like:
Great for kids and adults
easy setup
What We Dislike:
The instruction manual is difficult to read
Check Price and Reviews on Amazon
---
6. This One with a Basketball Hoop
Last update on 2023-09-19 / Affiliate links / Images from Amazon Product Advertising API
If you're looking for a trampoline with a basketball hoop this trampoline is perfect for you. A great way to have fun, you can play a round of horse or other basketball-related games. Safety is this company's top priority. They provide a net, a safety pad for the springs, and a super safe design to ensure no one gets hurt while they're jumping. The only downside to this trampoline is that it ships in two boxes instead of one. So you will have to wait to have both boxes to be able to assemble. With a weight capacity of 200 pounds, this trampoline is designed for younger kids and isn't really a great option for an adult that wants to bounce around. So try to keep in mind that this trampoline is best designed for kids and lightweight adults. You should never bounce on a trampoline when you're over the weight limit.
What We Like:
Basketball hoop included
Incredibly safe
What We Dislike:
Check Price and Reviews on Amazon
---
7. This Trampoline with a Flashlight
No products found.
If you have kids who refuse the idea of curfew. This trampoline comes with a light built-in, so you can always tell, and keep an eye on, any kids who decide that they want to jump on the trampoline in the middle of the night. The light on this trampoline though is bright enough to be seen during the day as well. This frame is incredibly strong with a well-designed net and spring cover system that ensures no one gets hurt. The best part about this trampoline, and what makes it one of the best backyard trampolines is the fact that it is UV resistant and water-resistant, making it last for years to come. The flashlight feature on this trampoline is an excellent feature that allows you to ensure you and your kids are safe when they're bouncing around, even at night.
What We Like:
flashlight feature
sturdy design
What We Dislike:
Some parts are occasionally missing
Check Price and Reviews on Amazon
---
8. This Jumper is Built to Last
No products found.
This trampoline is one of the best backyard trampolines because it's built to last. It's crafted with an interesting design that is specifically made to make sure the trampoline doesn't break easily. This bouncer is regularly rated as one of the safest trampolines on the market, making it a great addition to your backyard. Rest resistant and with the ability to withstand over 1000 pounds there is almost nothing you cant throw at this trampoline. It's lab-tested, safety certified and backed by a Sky Bound industry-leading 10-year frame to boot. With this bouncer, you'll know that no matter what, you and your kids are safe on this trampoline. Along with their safety, you'll also be able to rest assured that you've safely invested in a trampoline they can use for years to come.
What We Like:
Lab-tested
Safety Certified
Very high weight limit
What We Dislike:
Check Price and Reviews on Amazon
---
9. This Exercise Trampoline
38/40 Inch Mini Exercise Trampoline for Adults or Kids - Indoor Fitness Rebounder Trampoline with Safety Pad | Max. Load 220LBS (Black, 38inch - Folding Twice)
HEAVY DUTY CONSTRUCTION -- The fitness trampoline is constructed with 32 enhanced springs and 6 durable & firm stainless steel legs, rugged frame and durable rebounding surface bear the maxi weight at 220LBS.
NON SLIP DESIGN -- Anti slippery rubber guards effectively stop any unwanted movement while in use. And the pad surrounding ensures a more safety trampolining. Suitable for kids age 10+ and adults to do cardio and have fun (kid should play under adult supervision).
EXERCISE YOUR BODY -- The trampoline trainer uses your body weight and inertia to enable a unique cardiovascular workout without subjecting your body to the stress of high-impact exercise. Also, it trains a wide range of muscle groups, help build muscle mass and strengthen the shoulder, hip, and leg muscles.
SUITABLE FOR INDOOR & OUTDOOR -- The mini trampoline with the strong spring design makes it safe to have fun in your garden. It is super strong bearing and it can hold different people who weigh different.
EASY TO ASSEMBLE -- Each rebounding fitness trampoline comes with re-assembled springs, you just need assemble the pad and leg tubes. Even one person could finished the assembly in a real short time.
Last update on 2023-09-19 / Affiliate links / Images from Amazon Product Advertising API
If you're looking more for a workout trampoline than this is going to an excellent trampoline for you. This trampoline is less for kids and more for working out outside. You get a safety pad with this bouncer and you can tone your whole body, just from juping on this high tension workout machine. Naturally its small enough to bring inside for the colder months, but it's an excellent choice to leave outdoors, helping you exercise your body when you're watching kids or just enjoying the fresh air. Either way, if you're looking for a trampoline to work out on, this is your best bet. You can easily use this trampoline to cut weight, build muscle and get yourself into shape, all while being outside in the fresh air.
What We Like:
Safety bad
Indoor and outdoor
What We Dislike:
Check Price and Reviews on Amazon
---
10. An Excellent Workout Trampoline
No products found.
Another excellent workout trampoline is one of the best backyard trampolines because of the built-in handle it comes with, helping you keep complete control over your workout. The rugged elastic system gives you a massive amount of space all while bouncing. With whisper-silent technology, you could work out in your backyard at night and no one would hear you regardless of how much you bounced. It's easy to assemble and use the trampoline, which has a lifetime guarantee with a full refund available for the first 90 days. So make sure you take it out of the box to use it soon after you get it! Regardless of that downside, this is an excellent trampoline to work out on, and with it you'll be able to cut weight quickly.
What We Like:
Built-in handle
lifetime guarantee
What We Dislike:
Only refundable for 90 days if damaged
Check Price and Reviews on Amazon
---
11. This Green Kids Jumper
Sale
60" Trampoline for Kids with Net - 5 FT Indoor & Outdoor Toddler Baby Trampoline with Safety Enclosure, Mini Basketball Hoop, Small Trampoline Birthday Gifts for Kids, Gifts for Boy and Girl, Age 1-8
【STURDY FRAMES】Rust-proof steel structure with a total of 3 U-shaped legs for added stability excellent bouncing. Each U-shaped foot is setting with two large suction cups, which improves stability and will not damage the floor. No shaking when the baby jumping. It is very simple to move from indoor to outdoor, only takes 10 minutes to remove the safety net and poles. It is a recreational toddler trampoline.
【SAFETY】Wear-resistant, UV-resistant jump pad (made of PP) can take high pressure and has good elasticity. The completely visible mesh creates a safe and interesting jumping environment, because you can observe the children around the net when jumping outdoors. Double fun with jumping and playing actions with the built-in entertainment basketball hoop.
【HEAVY LOAD】The 60" inch kids trampoline with enclosure for toddlers can carry 220lbs. Safety net is inside the circle between the jumping mat and springs pad in order to well protect kids feet out of stuck, don't worry about getting hands or feet trapped in the gap. Mini trampoline enclosure net ensures kids safety when jumping. A happy childhood starts here with this great indoor trampoline for kids and toddlers.
【APPLICATION】The newly upgraded mini trampoline in 2021 is the best gift for children. It is very suitable for toddler, children, baby to keep fit, fitness, exercise, gymnastics and do jumping. It's a perfect gymnastics bar, workout bar. Can be installed indoors, outdoors, garden or backyard. It can keep toddler away from electronic products, good for physical growth.
【PACKAGE CONTAINS】One trampoline, seine, spring cover pad, jump pad, rust-proof steel pipe, Trampoline Springs Pull Tool (T-Hook), trampoline basketball hoop, 6 pcs large suction cups, 10 pcs pit ball, trampoline accessories and all the installation tools you need. Please feel free to contact us if you need help.
Last update on 2023-09-19 / Affiliate links / Images from Amazon Product Advertising API
If the kid's trampolines we've already talked about look a little small, this trampoline is a bit bigger. Built with five feet in diameter it's designed for very small children. Your child would be unable to come into contact with the springs thanks to the specially designed padding. You can easily move this trampoline inside and outside. Just keep an eye on the weight limit of two hundred and twenty pounds and ensure you're properly watching your child and the two of you will have nothing but unrelenting fun. Add a basketball hoop to this endless game and you'll quickly be able to entertain even the wildest child. This green jumper is an excellent addition to any backyard, and a wonderful way to safely entertain your little ones.
What We Like:
Large kids trampoline
Special padding
What We Dislike:
Small limit of 220 pounds
Check Price and Reviews on Amazon
---
12. Merax 14-Foot Bouncer
Merax 14FT Trampoline with Slide, with Ladder and Wind Stakes, Outdoor Trampoline with Safety Enclosure Net, ASTM Approval - Recreational Trampoline for Kids and Adult
Trampoline with Slide for More Fun -- Playing in Merax trampoline is more fun by adding a slide,which will keep your kids busy all day. and all Merax trampolines have approved by ASTM F381, F2225 Standard Safety Specification. Premium outdoor trampoline provides a safe and enjoyable place for kids and adults to play.
Trampoline with Wind Stakes for more Sturdy -- 12' trampoline and 14' trampolines come with 8 Wind Stakes, and the 16' trampoline has 12 Wind Stakes, Thickened T-shaped connectors, reinforce U-shaped leg tubes and protective poles to create the force point of trampoline frame, Insert wind stakes into the ground over each U-shaped leg base to ensure each leg tube of the trampoline evenly stressed and stabilize, to help stabilize the trampoline during strong winds.
Sturdy Galvanized Spring Offer Provide a Comfortable Jumping Force -- Merax trampoline springs are made of durable galvanized steel that resists rust and corrosion. This makes it able to withstand exposure to outdoor elements and ensures longevity. The sturdy galvanized spring safely connects the tightly woven jump pad and frame together, Sure to give you peace of mind while the kids bounce and play on the trampoline.
Large Load Capacity&Safety System -- The jumping surface of the trampoline is made of durable materials, weight limit up to 1200lbs. that can withstand frequent use and prolonged use. This outdoor trampoline with enclosures feature a 360-degree safety net that is securely attached to the jumping mat all the way around, preventing children from falling off the trampoline and getting injured. The rust-resistant steel step ladder helps you get onto your trampoline quickly and safely.
Easy To Install &100% Satisfying After-sales Service -- Merax provide graphic installation manual and video installation guide, will easy installation with step-by-step instructions. This set comes in 3 boxes and packages may arrive at different times. Please wait patiently!If you encounter any problems related to the trampoline, please contact us in time, we will solve it quickly to achieve your pleasant shopping experience.
Last update on 2023-09-19 / Affiliate links / Images from Amazon Product Advertising API
This trampoline is made with galvanized rust-resistant steel  With a complete total of six W shaped legs that make this trampoline incredibly sturdy and stable. The poles that hold the netting up also have a solid amount of padding ensuring no one gets hurt while jumping. Add in the spring safe padding and tightly woven mat makes for a great bouncing experience. It's a double dose of fun and jumping with the basketball hoop. The only real downside to this hoop is that it's shipped in three boxes instead of one so you'll need to be sure you have all the parts before you start putting the trampoline together. This fourteen-foot trampoline is an excellent way to keep people entertained all season while ensuring they're safe.
What We Like:
Rust resistant
Sturdy and stable
What We Dislike:
THree boxes instead of one or two
Check Price and Reviews on Amazon
---
13. This Trampoline by ORCC
Giantex Trampoline, 10Ft 12Ft 14Ft 15Ft 16Ft Enclosed Trampoline w/Basketball Hoop, Ladder, Safety Enclosure Net, Spring Pad, Outdoor Big Trampoline Basketball Hoop for Kids, Adults (16 Ft)
🏀 [Sturdy Galvanized Steel 16 Ft Trampoline] This 16 Ft trampoline is made of galvanized rust-proof steel frame, which has a longer service life and provides a load-bearing capacity of up to 375 lbs. 6 W-shaped support legs are evenly distributed at the bottom of the big trampoline, providing greater stability for your jumping.
🏀 [Maximum Safety Protection] The enclosed trampoline with enclosure net provides you with a safe and visible jumping environment. It is covered with safety mats all around, eliminating the danger of kids' limbs being caught in gaps. In addition, all standing poles are wrapped with EPE foam to effectively prevent kids from being injured.
🏀 [Superior Bounce] With 108 heavy-duty galvanized springs firmly attached to the jumping pad and steel frame, our 16 ft trampoline is not only resistant to deformation, but also ensures long-term use. In addition, breathable PP jump pads provide superior bounce performance and a more comfortable experience.
🏀 [Weather-resistant Surface & Easy Access] Our weather-resistant outdoor trampoline has the characteristics of sun protection and waterproof, which is very suitable for long-term outdoor use. The heavy-duty 3-level galvanized steel ladder and double-sided zipper are designed to help you quickly enter the enclosed trampoline.
🏀 [Large Outdoor Sports Center] This large adult recreational trampoline allows kids with friends or family to jump together, which can not only exercise their bodies, but also enrich social life. In addition, the large trampoline with baskets bring kids a lot of fun to dunk, providing more entertainment options. Notice: we will send the item in 3 boxes. It is possible for different boxes to arrive on different days. Please wait for them patiently.
Last update on 2023-09-19 / Affiliate links / Images from Amazon Product Advertising API
This is one impressive trampoline, it survived a giant tree falling on it! It's a sturdy, stable, durable trampoline that has a heavy gauge 7-inch spring set which is also galvanized to ensure you stay safe while jumping. The stability of this bouncer is unrivaled, making it an easy pick for our best backyard trampolines list. This like many other trampolines come in three boxes instead of one, but that's the only real downside. This model of trampoline is incredibly safe, sturdy, and has a life elongated by the galvanization of the steel. Preventing rust, and further damage so you and your kids can bounce from year to year. ORCC does a wonderful job of providing a safe, durable, sturdy trampoline that will last you for years to come.
What We Like:
Super safe
Incredibly stable
What We Dislike:
Three boxes instead of one
Check Price and Reviews on Amazon
---
14. The 15-Foot Jumpking
Last update on 2023-09-19 / Affiliate links / Images from Amazon Product Advertising API
If the trampoline you're looking for has a sturdy and stable space to play basketball on you've finally found the right one. This trampoline has a patented enclosure design that is made to keep people safe. The metal is made of heavy-duty, rust-resistant steel, ensuring a longer life for your trampoline. The welded T socket is sure to keep the trampoline upright and safety hook springs keep you bouncing without getting hurt by the springs. This trampoline, unfortunately, doesn't come with a ladder, so if you'd prefer one you would need to get it separately. Overall though this trampoline stands at 15 feet, making this one of the best backyard trampolines we could find.
What We Like:
Heavy duty
patented enclosure design
What We Dislike:
Does not come with a ladder
Check Price and Reviews on Amazon
---
15. Can You Say, "Pumpkin Trampoline"?
Lejump Pumpkin Trampolines 10ft for Kids with Safety Pad, Free Ladder, Free Storage Bag, Free Socks, Free Leaf Cover
𝗪𝗛𝗬 𝗕𝗨𝗬 𝗟𝗘𝗝𝗨𝗠𝗣: LeJump trampoline has been designed and manufactured safe outdoor trampoline for more than 20 years. Trampolines are all designed with the guidance of experienced designers and experts. Customers love our fashionable design.
𝗦𝗔𝗙𝗘 𝗧𝗥𝗔𝗠𝗣𝗢𝗟𝗜𝗡𝗘 𝗜𝗡 𝟐𝟎𝟐𝟏&𝟐𝟎𝟐𝟐: Every LeJump trampoline has top-rated safety certifications such as ASTM F381-16, TUV, and CE. We use anti-rust materials for the frame, durable materials for the enclosure net, and jumping mat. So make it sturdy and robust all the time. It's a perfect outdoor trampoline for adults & kids.
𝗪𝗢𝗥𝗥𝗬-𝗙𝗥𝗘𝗘 𝗦𝗛𝗢𝗣𝗣𝗜𝗡𝗚: We reply to your messages within 24 hours and provide quick solutions to make you relief. We have spare parts warehouses all over the US, and you can either buy or receive the spare parts quickly. Trampoline parts are all packed into one single high-quality master carton. We pay attention to your shopping experience and try our best to provide better services.
𝗘𝗔𝗦𝗬 𝗧𝗢 𝗔𝗦𝗦𝗘𝗠𝗕𝗟𝗘: We provide gloves, spring tools to make the trampoline installation easy, fast, and injury-free. You can find the step to step directions video on our website. The installation manual will also give you detailed and clear guidance.
𝐌𝐀𝐗𝐈𝐌𝐔𝐌 𝐔𝐒𝐄𝐑 𝐖𝐄𝐈𝐆𝐇𝐓: All LeJump Trampolines products are rigorously tested according to ASTM safety standards. 300-330 pounds is the maximum user weight recommended for this trampoline. However, according to ASTM standards, our trampolines are tested to four times the maximum recommended user weight.
Last update on 2023-09-19 / Affiliate links / Images from Amazon Product Advertising API
This trampoline looks like a pumpkin! That's right where some trampolines bow inward for protection this one bow out. The individual arms keeping the net in place make this trampoline look like a familiar gourd. This design though makes it incredibly safe. The safety pad addition is an excellent safety option as well, and this trampoline comes with a ladder to get in and out with ease. The springs are incredibly sturdy as well, ensuring that year after year there is little to no wear and tear on them. YOu'll be able to know with absolute certainty that anyone using your trampoline will be safe, so long as they always jump with the net on, making this one of the best backyard trampolines we could find.
What We Like:
Pumpkin design!
Incredibly sturdy
What We Dislike:
Check Price and Reviews on Amazon
---
16. Skywalker Rectangular Bouncer
Skywalker Trampolines 14-Foot Rectangle Trampoline with Enclosure Net - Green
Your purchase includes 1 Skywalker Jump-N-Dunk Rectangular 14' Trampoline with enclosure
Trampoline dimensions: 14' x 9' x 9'. Frame height from ground: 37.4". Jumping surface: 92 square feet; Weight limit: 250 pounds
This trampoline uses two different (80-7" & 4-5.5") springs. These are 25 millimeter
Made of soft, safe play materials with a hook-and-loop breakaway rim to minimize damage to enclosure net and poles
Patented enclosure eliminates gaps between the enclosure net and the jumping surface, protecting children from pinch points & openings. All of our products are tested for safety and durability to meet or exceed ASTM standards
Last update on 2023-09-19 / Affiliate links / Images from Amazon Product Advertising API
This trampoline is exceptionally square, which overall gives you more jumping space! It can be customized to come with or without a basketball hoop depending on your needs and has a net that spans around the trampoline while also going up and over the trampoline, at a slight angle This makes it easier to ensure the safety of those who jump because even if they jump too high, they can't get out of the net regardless. With four stable sturdy legs with trampoline also comes with a spring liner pad to ensure no one gets caught in the springs while they're jumping. Making this one of our favorite best backyard trampolines.
What We Like:
Basketball hoop
Safety padding
What We Dislike:
Occasionally missing parts
Check Price and Reviews on Amazon
---
17. The Acon Air Trampoline
No products found.
This trampoline is a little bit more intense than the others on this list of best backyard trampolines. This one is designed differently, but it is still incredibly safe. It measures in at ten by seventeen feet and is a great trampoline for advanced users. Made with an all-black design it goes with any backyard effortlessly. It overall measures about 40 inches for just the trampoline, with the netting measuring an additional 126 inches in total. This trampoline also comes with ground anchors and a spring puller tool to ensure no one gets hurt while setting up or using the trampoline in any way shape or form. Acon does a great job of making a trampoline that can easily star rooted while being heavily used and not breaking.
What We Like:
Ground anchors
Easy setup
What We Dislike:
Not a good trampoline for new jumpers
Check Price and Reviews on Amazon
---
18. Giantex Kids Trampoline
Giantex 7 Ft Trampoline for Kids, Max Load 220 Lbs, Heavy Duty Steel Frame Small Mini Toddler Trampoline, Great Gifts for Boys Girls, Outdoor Indoor Kids Trampoline with Net, for Age 3-8
🎅 Safe Enclosed Trampoline: Seamless design between the enclosure net and the mat allows that your kids will not get stuck in the gap. And EPE foam protective sleeve prevents your kids from unexpected knock while jumping freely. And the large round jumping mat with 83" diameter provides an exciting activity center for kids.
🎅 Excellent Bounce Performance: The kids trampoline attached rust-resistant and thick spring features the premium elasticity and non-deformation, promising the long-time use. And the jumping mat of the trampoline is made of PP material with premium elasticity-back property allows kids to jump higher, happier.
🎅 Heavy Duty Construction: Constructed of galvanized steel frame with reinforced triangular base, this 7 FT kids trampoline effectively prevent slipping while slam jumping. L-shaped zipper with a hook-and-loop breakaway rim minimizes damage to enclosure net and poles and is convenient to enter.
🎅 Break the Rules of Gravity: 360 degree enclosure protection net comprehensively safeguard your kids and isolate from the danger zone. Frequent jumping will revitalize your growth plate to promote children's bone growth and enhance the effects of constitution.
🎅 Year-round Family Fun Time: This small trampoline will be eye-catching addition to your backyard and served as the outdoor activity center for your weekly family fun time, assuring the roaring laughter for your kids and friends every day. Perfect gift for kids.
Last update on 2023-09-19 / Affiliate links / Images from Amazon Product Advertising API
Kids like trampolines as much as adults and this 7 foot in diameter trampoline is a wonderful addition to any backyard. It keeps the kids safe from keeping them from being able to bounce too high, but it still incredibly fun regardless of the safety features. The padding on the arms of this trampoline is incredibly thick and the netting is sturdy. The little ones can even wear your shoes on this bouncer, which you normally cannot do on trampolines. Made with heavy-duty and durable materials this is an excellent trampoline for children. With the ability to handle up to two hundred and seventy-five pounds in total it can even withstand several small children on it at the same time.
What We Like:
Sturdy but fun design
Shoe safe
What We Dislike:
Less than 300-pound capacity
Check Price and Reviews on Amazon
---
What to Know About Backyard Trampolines
Trampolines are a great addition to a backyard due to the boundless fun that ensues around them. Finding the best trampoline though can be a headache, overall you're looking for a few different things when you want to find the best backyard trampolines.
Safety and Steel
Safety features on trampolines are essential especially a net. A ladder is also a great addition and a safety pad to cover the springs. Galvanized steel is steel specifically made to avoid rusting from rainwater.
FAQ
Q: Does putting water on a trampoline ruin it?
A: Not immediately, but water and high humidity over time can damage it.
Q: Does water on the trampoline make you bounce higher?
A: Yes, but you should be careful when you land and note the water does gradually damage the trampoline. You should also use caution and practice trampoline safety no matter if it's wet or dry.
Q: Will grass die under a trampoline?
A: Not all of it. Water and light can easily get through the black bounce pad, however, grass directly underneath the legs will definitely die and some areas underneath the trampoline may wilt despite the sun being able to get through the pad. This article gives a few general tips for how to combat dead grass under the trampoline.
Final Thoughts
When you're wondering where you can find the best backyard trampolines you may not have a lot of time to trudge through the hundreds of trampolines on the market. Each of them is unique, from sprinklers to basketball hoops, for all ages from children to adults. You can work out on them, or just play for hours, but you need to get the right trampoline for what you want to do. So take a moment to look back through this list one more time, and be sure that the trampoline you want is really the one that's perfect for your needs. The right trampoline can make or break an event, a work out, and a summer, so choose wisely.