Like any good parent, when buying a trampoline, safety is at the forefront of your mind. You may have come across springfree trampoline vs regular and wondered how it differs from a regular trampoline. Is a springfree trampoline safer than a regular trampoline? We will explore the answers to this question and more.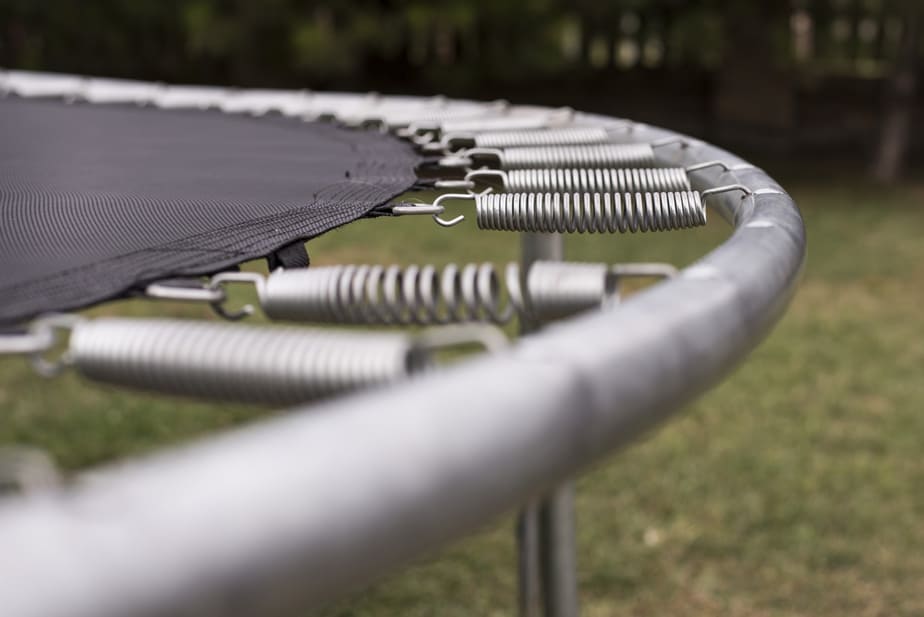 If you grew up with the traditional trampoline, then when you hear of a springfree trampoline you may wonder how that is possible. In 1992, Dr. Keith Vivian Alexander performed a careful analysis of worldwide trampoline data to find the three major impact zones of a trampoline. These are the springs, steel frame, and the ground. From here he was able to release a prototype of the first "spring-free" trampoline in 1999, that reduced or eliminated these impact zones. The first commercial versions began selling in 2004 and won an Australian Design Award in 2009. Today, springfree trampolines are marketed as the safest trampolines available.
What is a Springfree Trampoline?
A springfree trampoline is designed using glass-reinforced plastic rods instead of the traditional steel coil springs. The rods form a flexible soft edge and the rigid frame is lowered below the jumping surface. This is how Dr. Keith Vivian Alexander was able to create a safer trampoline by removing the hazards of the rigid perimeter frame and the steel coil springs. You will also find that the base of the trampoline is more rigid on a springfree trampoline vs regular.
Springfree trampolines tout that they are the safest trampoline in the world. According to the US Consumer Product Safety Commission, there were an estimated 91,870 emergency room-treated injuries resulting from trampolines in 2001.
Between 2002 and 2011, more than 1 million people went to emergency departments for injuries related to trampolines. For these reasons, many trampolines use padding over springs and enclosures. The Springfree trampolines have a soft edge mat, a flexible net, no springs, and a hidden frame.
We will take a closer look at four differences between the springfree vs. regular trampoline. These major differences are the enclosure net, frame, springs, and cost.
The Four Main Differences
Springfree Trampoline Vs. Regular Enclosure Net
Almost all trampolines these days come with an enclosure net. These nets are an important safety feature as they help to prevent falls from the trampoline that may result in broken bones. Both the springfree and regular trampolines come with tightly woven safety nets.
You will want to make sure it is a no-climb net, meaning fingers cannot fit inside the holes of the net. Regular trampolines typically use steel poles that are wrapped in foam to hold up the net. The folks at Springfree trampolines decided this was not safe enough and created a flexible net. There are no steel poles for the jumper to land on or jump into.
Springfree Trampoline Vs. Regular Frame
The frame on a traditional or regular trampoline is outside of the springs, but still visible to the jumper. The frame on a springfree trampoline is completely hidden far below the jumping mat. Both frames are made of sturdy steel. Springfree trampolines are double-powder coated galvanized steel.
Springfree Trampoline Vs. Regular Springs
To achieve bounce, a springfree trampoline uses glass-reinforced plastic rods underneath the jumping mat perimeter. A regular trampoline uses steel coil springs. Springs contribute a lot to the bounce o a trampoline. According to consumers the bounce on a springfree trampoline and regular trampoline are comparable.
Springfree Trampoline Vs. Regular Cost
If you have researched the cost of a springfree trampoline vs. regular, you will have noticed the significant price difference. Expect a springfree trampoline to cost around triple the amount of a similar-sized regular trampoline. Part of the reason for this is the durability of the springfree trampoline.
Overall Pros and Cons of Springfree Trampolines
Springfree Pros
Flexible net enclosure with no steel poles
No springs
Frame hidden below springs
Springfree Cons
Cost
Assembly is a little different and can be difficult
You can also check out this in-depth Springfree trampoline review to give you a better idea of how they differ from regular trampolines and just how safe these guys really are:
Springfree Trampoline Buying Guide
Here, we'll be taking a look at some of the best springfree trampolines on the market today.
1. Springfree 13-Foot Jumbo Trampoline
No products found.
Springfree is the original makers and designers of the springfree trampoline. Springfree takes Dr. Keith Alexander's trampoline research and puts it into their trampoline product. The springfree trampolines can be purchased in round, square, or oval shapes. They do not currently have any rectangular models. You can purchase any size from 8 ft to 13 ft.  The largest trampoline available is the Jumbo square trampoline, 13 ft. x 13 ft. This will give the jumper 155 square feet of jumping room.
The price will start around fifteen hundred and go up from there. The jumper weight rating is 220 lbs. with structural capacity of 1100 lbs. Springfree trampolines are built to last with durable materials. They have a 10-year warranty of all parts including the net, frame, and mat!
This trampoline has a flexible net, hidden frame, no springs, and soft edges. Flexible composite rods are used instead of steel coil springs. Expect to look up a youtube video on how to install a springfree trampoline. The installation will likely take around 3 hours if you have a partner to help.
What We Like:
Springfree design using glass-reinforced plastic rods away from the mat
Flexible net with no steel poles
Soft edges-no hard edges on the jumping mat
Different shapes available: round, square, oval
10-year warranty on all parts
Original springfree trampoline and winner of Australian Design Award in 2009
What We Don't Like:
Cost-most expensive than a regular trampoline of the same size
Installation can be tricky, read and follow directions carefully
Check Price and Reviews on Amazon
---
2. Reliant Sports Free Jump Trampoline
No products found.
Reliant Sports has built its own version of a springfree trampoline that is slightly different than the official and original Springfree company's trampoline. The structural design is basically the same with a few minor changes. They call their trampoline the Free Jump trampoline.
Reliant Sports builds their jumping rods from aviation-grade aluminum instead of the glass-reinforced plastic rods. Just like other brands, the jumping mat does not have any hard edges.
One of the bigger differences that you are going to find with the Reliant Sports springfree trampoline is the rod fastening buckle locking system. Whew! That is a mouthful! This system supposedly will be a game-changer for assembly of the trampoline. The company claims you will be able to assemble the trampoline in half the amount of time it would have taken to assembly another similar product.
The trampoline still has a lowered frame and a flexible net. If you are looking for a larger trampoline diameter than is offered by the Springfree brand, this may be your ticket. The Reliant Sports springfree trampoline has a 15 ft. jumping mat diameter! This is the largest springfree trampoline available on the market. Although it is a larger trampoline, the Reliant Sports springfree trampoline is cheaper than the 13 ft. Springfree trampoline.
Upon research, we found that this company did not have a company website under Reliant Sports, but did have one called Free Jump Trampoline. No reviews have been posted for their product. This can be that they are a relatively new company. Customer service may be difficult for this product. Proceed with some caution if you choose to go this route.
What We Like:
Springfree design very similar to the original
Easier set-up with a buckle system
15 ft. size, largest springfree trampoline available
No hard edges on the jumping surface
Flexible enclosure net, no steel poles
What We Don't Like:
Cost is more expensive than comparable regular spring trampoline but cheaper than the original Springfree trampoline
Check Price and Reviews on Amazon
---
3. Zupapa Regular Trampoline Review
Zupapa No-Gap Design 16 15 14 12 10 8FT Trampoline for Kids with Safety Enclosure Net 425LBS Weight Capacity Outdoor Backyards Trampolines for Children,12FT,Blue
❤️【Security Certification&No-gap Design】Zupapa trampolines are tested for safety and durability to exceed all ASTM and TUV standards. The 2023 upgraded no gap design greatly reduce hazards of getting your hands or feet caught into the gaps cause the jumping mat and spring cover are tightly sewn together, which even expandes the jumping area . What's more, the springs are all covered with thick and durable pad. Jump without hazards on Zupapa trampolines!
❤️【Outward Sloping Legs & Full-area Touchdown Design】To further improve the stability of the trampoline , Zupapa 2023 newly upgraded trampolines adopt outward sloping legs according to the principle of mechanics. And each leg adopts a full-area touchdown design, which is more stable than the two-point touchdown design.All frames are made of steel tubes with a diameter of 42mm and a wall thickness of 1.5mm (the highest standard in the market), making the whole trampoline extremely sturdy.
❤️【Hot-dip Galvanizing Technology & Heavy-duty Frame】Zupapa 2023 trampolines use the latest hot-dip galvanizing technology to make the frame rust-proof (rust-proof time is 5 times that of ordinary galvanizing methods), more stable and durable. What's more our 1.5mm steel frame tubes comparing with 1.0mm ordinary frame make the trampoline more sturdy,plus wind stakes,the trampoline stands stably even in storm. Max weight capacity up to 425 lbs(12,14,15,16ft)& 375lbs(8,10ft).
❤️【Double Quantity & Curved Net Poles】The outwardly curved net poles are far away from the enclosure net. No afraid of any collision cause there is no risk of hitting to the hard net poles. Each leg is connected to a net pole, and the number of our net poles is twice that of a traditional trampoline! Let the little jumpers jump as much as they want without worrying about safety!
❤️【More Springs & Impressive bounce】 As we all know springs are the core of the trampoline, we have 12 more hot-dip galvanizing springs to offer impressive bounce.(7inch for 12&14&15&16ft, 5.5inch for 8&10ft)
Last update on 2023-11-18 / Affiliate links / Images from Amazon Product Advertising API
Zupapa Trampolines are a popular brand for good reason. Zupapa trampolines come with some of the highest safety ratings. They are also TUV third-party certified. So, if you are looking for a safe trampoline that is more budget-friendly, then check out the Zupapa brand.
Zupapa has a wide selection of sizes in their trampolines from 10 ft. to 15 ft. The upgraded trampoline has a no-gap design that prevents the hazardous spring landing. The net enclosure helps to prevent falls from the trampoline and keep the jumpers safely on the trampoline. The trampoline is manufactured well using hot-dip galvanized steel to create a durable frame.
Zupapa has a 10-year warranty on its frame only. The jumping mat, safety pad, net, and springs only have a 2-year warranty. This means you may need to buy replacement parts after two years.
What We Like:
TUV certified for safety
No-gap design: springs are outside the safety enclosure
Cost: significantly cheaper than a springfree trampoline
Size availability: sizes available from 10 ft. to 15 ft.
Weight limit up to 375 lbs.
What We Don't Like:
Only 2-year warranty on most parts, 10-year on the frame only
Foam covered steel poles in enclosure net
Check Price and Reviews on Amazon
---
4. ORCC Regular Trampoline Review
ORCC Trampoline-ASTM and CPSIA Approved-16ft 15ft 14ft 12ft 10ft 8ft Kids Recreational Trampolines with Enclosure Net Ladder Safe Bounce Outdoor Backyard Trampoline for Kids Family Happy Time(14,Out)
【Safety is Top Priority】The core tenet of ORCC trampolines is safety, and all ORCC trampolines have passed both CPSIA and ASTM F381-16 tests. CPSIA test mainly detects the content of heavy metals such as lead and phthalate in products; ASTM F381-16 mainly conducts normative inspection on the physical properties of products, components, assembly and use, labels, etc. Our trampoline materials are the safest and best backyard trampolines on the market.
【Safe Enclosure Net for ORCC】ORCC outdoor trampolines have 6FT high Enclosure netting which is made of high-quality polyethylene material for increased durability and UV protection. Pole-sleeves, the enclosure poles are padded with 10mm foam, can protect your kids from banging against the steel pole, absolutely safe and reliable for children.
【Heavy-duty Steel Frame】ORCC trampoline frames are made of 43mm (Diameter) X 1.5mm (Thickness) heavy-duty steel, which is thicker than ASTM certified standards. Meanwhile ORCC trampolines use the latest technology hot-dip galvanizing process to make all the frames anti-rust and last for decades.
【Better Bounce Trampoline】ORCC trampolines have a better bounce and much more superior weight capacity. Waterproof Surface, UV-Resistant and Fade-Resistant of ORCC Jumping Mat uses heavy-duty stitching technology to provide longer service life and better bounce. ORCC 16ft trampoline has been tested to 100,000 jumps. Mats are tested up to 10,000 hrs and can hold up to 450lbs.
【Easy to assemble】One Order Get all Accessories. Safety enclosure net, new upgraded anti-skid ladder, rain cover, U-shaped wind stakes and so on. We offer detailed instructions and assembly videos, 2 pairs of gloves and 2 T-Hooks for quick assembly of two adults at the same time.
Last update on 2023-11-18 / Affiliate links / Images from Amazon Product Advertising API
The ORCC brand trampolines are another popular brand. They are a TUV certificated safe trampoline. Read more about certifications for trampolines here. The product is manufactured using hot-dip galvanization. The trampoline comes with everything you need to assemble the trampoline including a spring pull tool, wind stakes, and a ladder. This product does include a safety enclosure net, but the net is currently situated on the outside of the springs. The price for an ORCC regular trampoline is significantly less than a free jump or springfree trampoline. This brand is also more budget-friendly than the Zupapa brand.
What We Like:
TUV Certified
Hot-dip galvanized steel frame
All equipment needed to set up is included
Cost-cheapest of the trampolines reviewed
What We Don't Like:
Springs are located inside the safety enclosure
Foam covered steel poles in enclosure net
Check Price and Reviews on Amazon
---
Tips to Create A Safe Spot For Your Trampoline
Doing a few simple things as you prepare to install your trampoline will ensure a safer experience. Here are a few tips to create a safe spot for your trampoline.
Find an area in the yard that is free from potentially hazardous objects including fences, hedges, washing lines, and trees.
Rather than placing the trampoline on concrete or another hard surface, place it on an energy-absorbing ground. Good energy-absorbing materials are wood chips, sand, or rubber matting.
Use wind stakes to hold the trampoline in place during jumping and storms.
Safety Tips For Trampoline Use
There are many safety tips and common sense ideas when it comes to trampolines. We have rounded up a few to keep in mind whether you decide on a springfree trampoline vs. regular.
Only have one person bouncing at a time. The decision to have more than one person bouncing at a time will significantly increase the potential of injury from collisions.
Use the safety net enclosure. Safety net enclosures come with trampolines for a reason. Some of the most common injuries on a trampoline result from falls off of the trampoline. Help prevent broken bones and other potentially life-threatening injuries by using the safety net!
No flipping. Inexperienced jumpers and those not trained on the trampoline should refrain from flips. Neck injuries from failed flip attempts are just not worth the risk!
Adult supervision. Always supervise children on the trampoline. Jumpers should never be left unattended on a trampoline.
Inspect regularly. Before jumping on the trampoline, always inspect it for defects, flaws, and weaknesses. Be proactive on checking the condition of the trampoline. This will prevent injuries of potential equipment failure.
Keep it clear. Never store anything under the trampoline. Children and jumpers may not know it is there! Always keep underneath the trampoline free of objects that may obstruct the bounce. Instruct young children and pets to not run underneath the trampoline.
Conclusion
If you are risk-averse and want the safest trampoline on the market no matter the cost, then the springfree trampoline for you! Many regular trampolines have stepped up to make their product safer such as using a "no gap" design. Regular trampolines are safer than they have been in years past and many go through safety testing and certification.
However, the springfree trampolines were designed to be the safest trampoline product on the market. Springfree trampolines have a flexible net, soft edge mat, a lowered frame, and no springs (glass-reinforced plastic rods are used instead). Expect to pay a significantly higher price for a springfree trampoline vs. regular.
If peace of mind and safety are on the top of your list for a trampoline, then you need to decide if the price is worth paying. Many buyers of a springfree trampoline are very happy they made the purchase and avoided the traditional trampoline.