Do you remember growing up performing all kinds of tricks on a trampoline? Now you want to pass on this fun recreational and athletic activity to your kids, but you can't decide which shape of a trampoline is best. We will look at the rectangular vs. round trampoline to help you choose the best shape for your backyard trampoline.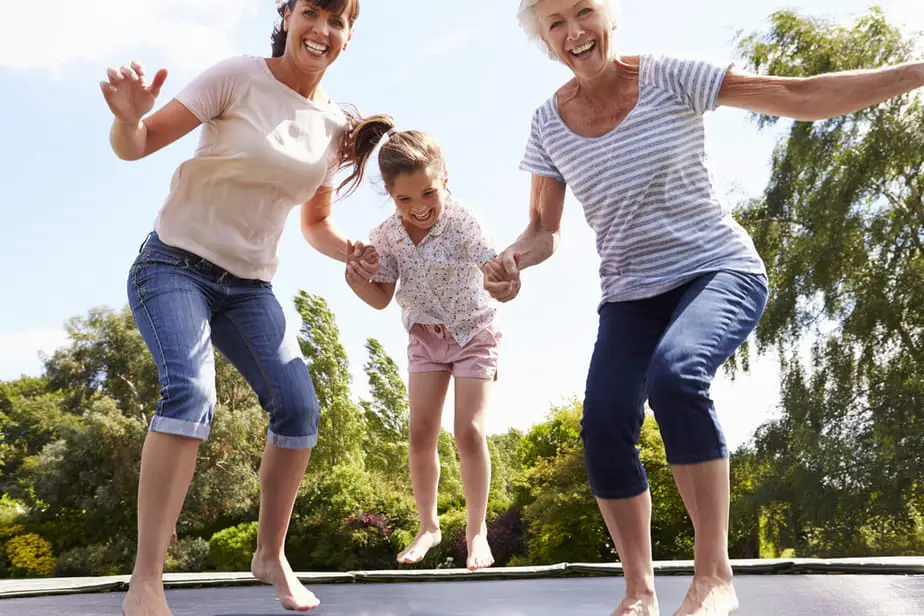 When purchasing a trampoline there are several things to consider including safety, bounce performance, weight limitations, usage, location and price. As you may have noticed there are also a variety of shapes available in trampolines. The most popular are rectangular and round. Let us help you pick which shape will best suit your needs for a trampoline that will last a decade or more. If you are thinking about buying a trampoline for toddlers, then you may want to head to this article on trampolines for toddlers.
In a Hurry? Here's Our Top Picks…
Brief History of Trampolines
Did you know that trampolines were originally used to train astronauts? Although trampolines had their start training astronauts and serious athletes, they soon become popular for their sheer fun. Trampolines are great training tools for divers, gymnasts, cheerleaders, and freestyle skiers.
Many Olympians cannot imagine training without them! Trampolines have become so popular over the years that they made their debut in the 2000 Sydney Olympic games! Both men and women can compete in the Olympic sport of trampoline today! So, although you may be buying a recreational trampoline today, you may be sparking the fire of a future Olympian!
6 Things To Consider In Rectangular Vs. Round Trampolines
1. Rectangular Vs. Round Safety
Safety should be at the forefront of anybody's mind when considering buying a trampoline. According to statistics, trampolines cause more than 100,000 injuries per year. We always recommend that no matter if you have a round vs. rectangular trampoline, you should supervise jumpers at all times.
Round trampolines will not produce a bounce quite as high as a rectangular trampoline. The design of a round trampoline also means you are going to get less height on a jump on the edge of the trampoline than you will in the middle. In addition, round trampolines direct the bouncer back to the center of the trampoline, to create a less of a probability of landing on the springs after a jump. However, if you have multiple kids on the trampoline at once, this may result in collisions in the center of the trampoline.
Rectangular trampolines will produce higher bounces. This is great for athletes and gymnasts who need the extra height to complete the trick and land safely. However, extra height in a bounce can also present a higher possibility of injury. Rectangular trampolines do have more length for tricks to be performed safely on. Also, since bounces are not directed back to the center of the trampoline there is less chance of the bouncers being directed into colliding with each other.
 2. Rectangular Vs. Round Bounce Performance
Round trampolines are designed to have one focal point or "sweet spot" for a bounce. This is right in the center of the trampoline. Bounces near the edges of a round trampoline will not be as powerful as a bounce directed in the center. Rectangular trampolines have much more surface area that will give you a high bounce. In general, you will be able to bounce higher more easily with a rectangular trampoline.
3. Rectangular Vs. Round Weight limitations
The size of a trampoline can greatly affect the weight limitations of a trampoline, but the shape does as well. A round trampoline engages all the springs during a jump. Rectangular trampolines only engage the springs near the jump. Rectangular trampolines are also made with athletes in mind. Because of this, rectangular trampolines will have a higher weight limit than round trampolines.
4. Rectangular Vs. Round Usage
As you may have gathered from previous paragraphs rectangular trampolines are geared towards doing "tricks" and "stunts". Round trampolines are created with recreational fun in mind. Consider how your trampoline will most likely be used to pick which shape is best for you.
5. Rectangular Vs. Round Location
Where do you plan to put your new trampoline? Round trampolines come in a variety of sizes. Round trampolines can range from 8 feet to 15 feet in diameter. Rectangular trampolines usually range from 15ft x 7 ft to 17ft by 10 ft
6. Round Vs. Rectangular Price
You will find that round trampolines will run cheaper than rectangular trampolines with many different options available. Round trampolines start smaller than rectangular trampolines. We have even reviewed a few great options of round and rectangular trampolines. If you will mainly have young children jumping on the trampoline, then consider these toddler trampolines.
Top Round Vs. Rectangular Trampolines
Round 1: Zupapa Round Trampoline
Sale
Zupapa No-Gap Design 16 15 14 12 10 8FT Trampoline for Kids with Safety Enclosure Net 425LBS Weight Capacity Outdoor Backyards Trampolines with Non-Slip Ladder for Children Adults Family,15FT
❤️【Security Certification&No-gap Design】Zupapa trampolines are tested for safety and durability to exceed all ASTM and TUV standards. The 2023 upgrade no gap design greatly reduce hazards of getting your hands or feet caught in the gaps cause the jumping mat and spring cover are tightly sewn together. Also the springs are all covered with thick and durable pad. What's more, our new design expanded the jumping area.
❤️【Hot-dip Galvanizing Technology & Heavy-duty Frame】Zupapa 2023 trampolines use the latest hot-dip galvanizing technology to make the frame rust-proof, more stable and durable(rust-proof time is 5 times longer). And our unique two steel joints design along with W-shaped legs provide a solid base for the whole trampoline. Max weight capacity up to 425 lbs(12,14,15,16ft)& 375lbs(8,10ft). Comes with wind stakes, make the trampoline stands stably even in storm.
❤️【More Springs & Impressive bounce】 As we all know springs are the core of the trampoline, we have 12 more springs to offer impressive bounce.
❤️【Higher Quality Materials for Max Safety】Galvanized rust resistant springs(7 inch) offer impressive bounce. Anti-UV jumping mat (made of PP) provides more weight capacity. 6ft higher enclosure net (made of environmental PE) ensures absolute safety and fastness when jumping. And the poles are padded with 10mm foam, can protect your kids from banging against the steel pole.
❤️【Much Longer Net Poles】Zupapa extends all the net poles which reach the ground to make the net more stable and safer. What's more our 1.5mm steel frame tubes comparing with 1.0mm ordinary frame make the trampoline more sturdy.
Last update on 2023-09-22 / Affiliate links / Images from Amazon Product Advertising API
Like most parents, trampoline safety is probably high in your mind when purchasing a trampoline. In your research, you have probably noticed the Zupapa brand pop up. The Zupapa trampolines have some of the highest safety ratings for recreational round trampolines. The most recent upgraded Zupapa trampoline has a no-gap jumping mat design which gets rid of dangerous gaps between the jump mat and spring pad. I still remember the days of my childhood falling between the gap of the mat and springs. Ouch!
The frame is also constructed of hot-dip galvanized steel. This helps the frame to withstand corrosion and lasts for decades. The UV absorber uv-9 was also added to the materials including the mat and pad, extending the life of the materials saving you on replacement costs. The trampoline kit comes with a trampoline, ladder, enclosure net, rain cover, T-hooks, gloves for installation, wind stakes, and spring tool for easy installation.
The Zupapa trampoline comes in 10 ft., 12 ft., 14 ft., and 15ft sizes. The maximum weight of the 10 ft., 12 ft. and 14 ft. is 330 pounds, and the 15 ft. is 375 pounds. Assembly upon arrival of your new Zupapa trampoline will take about 2-3 hours including the net enclosure. Zupapa is a sturdy set with solid manufacturing and construction.
Things We Like
No gap in jumping mat design
Hot-dip processed galvanized steel for better weather protection
Sturdy construction
Great for recreational jumping
Kit includes everything: trampoline, ladder, net, rain tarp, T-hooks, gloves, wind stakes, and spring tool
Things That Could Improve
On the more pricey end for round trampolines
The weight limit is at 375 lbs
Tarp material doesn't last
Zipper on the enclosure is difficult
Check Price and Reviews on Amazon
---
Round 2: ORCC Kids Round Trampoline
ORCC Trampoline 400 LBS Weight Capacity for Kids Adults, 15 14 12 10ft Outdoor Trampoline, Safe Backyard Trampoline with Enclosure Net Ladder and Rain Cover, Including All Accessories (15ft)
【Safety is Top Priority】The core tenet of ORCC trampolines is safety, and all ORCC trampolines have passed both CPSIA and ASTM F381-16 tests. CPSIA test mainly detects the content of heavy metals such as lead and phthalate in products; ASTM F381-16 mainly conducts normative inspection on the physical properties of products, components, assembly and use, labels, etc. Our trampoline materials are the safest and best backyard trampolines on the market.
【Safe Enclosure Net for ORCC】ORCC outdoor trampolines have 6FT high Enclosure netting which is made of high-quality polyethylene material for increased durability and UV protection. Pole-sleeves, the enclosure poles are padded with 10mm foam, can protect your kids from banging against the steel pole, absolutely safe and reliable for children.
【Heavy-duty Steel Frame】ORCC trampoline frames are made of 43mm (Diameter) X 1.5mm (Thickness) heavy-duty steel, which is thicker than ASTM certified standards. Meanwhile ORCC trampolines use the latest technology hot-dip galvanizing process to make all the frames anti-rust and last for decades.
【Better Bounce Trampoline】ORCC trampolines have a better bounce and much more superior weight capacity. Waterproof Surface, UV-Resistant and Fade-Resistant of ORCC Jumping Mat uses heavy-duty stitching technology to provide longer service life and better bounce. ORCC 16ft trampoline has been tested to 100,000 jumps. Mats are tested up to 10,000 hrs and can hold up to 450lbs.
【Easy to assemble】One Order Get all Accessories. Safety enclosure net, new upgraded anti-skid ladder, rain cover, U-shaped wind stakes and so on. We offer detailed instructions and assembly videos, 2 pairs of gloves and 2 T-Hooks for quick assembly of two adults at the same time.
Last update on 2023-09-22 / Affiliate links / Images from Amazon Product Advertising API
The ORCC brand is another highly ranked safe trampoline that is TUV certified. This means these trampolines are safety certified by a third party. Materials are tested for their chemical composition and the structure is designed to ensure safety. The trampoline must pass stringent qualifications in safety to be TUV certified.
This trampoline comes with 108 Galvanized springs (15 ft. only), as opposes to the 96 of many other trampoline companies. Kits come with everything you need including the trampoline, safety pad, no-skid ladder, enclosure net, rain cover, gloves for installation, spring pull tool, U-shaped wind stakes, and instruction manual.
Sizes are available from 10 ft. to 15 ft. The weight limit is 330 lbs. on the 10 ft. and 375 lbs. on all larger models. The installation will take you about 2-3 hours. The ORCC trampolines are great quality trampolines for backyard recreation.
Things We Like
More springs (108) on the 15 ft. trampoline
No-skid ladder
Great recreational backyard trampoline
Kit includes everything: trampoline, ladder, enclosure, rain tarp, gloves, spring pull tool, wind stakes, and instruction manual
Things That Could Improve
Again on the more expensive side for a round trampoline
375 lbs weight limit
Check Price and Reviews on Amazon
---
Round 3: Skywalker Jump N' Dunk Round Trampoline
Sale
Skywalker Trampolines 12-Foot Jump N' Dunk Trampoline with Enclosure Net - Basketball Trampoline, Blue
All our trampolines are tested for safety and durability to meet or exceed all American Society of Testing Materials (ASTM) standards, creating a safe trampoline where children can thrive.
PATENTED DESIGN: Our patented no-gap enclosure eliminates dangerous gaps between the enclosure net and the jumping surface, protecting children from pinch points and openings (Patent RE45, 182).
DURABILITY: Enjoy endless family fun on your trampoline with the support of a galvanized steel frame that is weather and rust resistant. All our trampolines feature reinforced T-sockets at each leg and enclosure joint, increasing frame stability.
MAXIMUM USER WEIGHT: We thoroughly test our products according to ASTM standards. The maximum recommended user weight for this trampoline is 200 lbs. Per ASTM standards, our trampolines are tested to four times the maximum recommended user weight.
WARRANTY: Skywalker Trampolines stands behind our quality guarantee with our 3-year limited warranty on the frame and our 1-year limited warranty on all other materials.
Last update on 2023-09-22 / Affiliate links / Images from Amazon Product Advertising API
The Skywalker Jump N' Dunk Trampoline is a great recreational trampoline. It comes with a patented no-gap safety enclosure, basketball hoop, and ball. It is the perfect starter set to unlimited fun in the backyard. The Skywalker trampoline uses reinforced T-sockets that increase the stability and prevent structural twisting.
For added safety, the tightly-coiled spring system is located outside the net enclosure. This means there is no gap between the bouncing mat and the net, preventing painful falls and landings in this gap. The springs are coated in rust-resistant material for longer life. The spring pad is made of an extra-thick vinyl-coating that is fade resistant.
The Skywalker brand has round trampolines from 8 feet to 15 feet. The Skywalker brand also offers square, oval, and rectangular trampolines. This particular style includes a slam dunk basketball hoop and a foam basketball. A basketball hoop provides more fun and entertainment options. If you have a budding basketball star, this is a perfect way to practice all of the Harlem Globetrotter moves!
Unfortunately, the basketball and hoop will probably need to be replaced after the first season. The setup is relatively easy with the included clear instructions. Although set up is easy, the trampoline does not come with a ladder, wind stakes, or any spring pull tools. If you want these things they will have to be purchased separately.
Things We Like
No gap enclosure
T-Sockets that increase stability
Set up is easy
Things That Could Improve
Basketball hoop and ball will not last past the season
Set doesn't include a ladder, wind stake, or spring-pull tools
Check Price and Reviews on Amazon
---
Rectangular 1: Acon Air 16 Sport HD Rectangular Trampoline
No products found.
Acon Air 16 Sport HD is our first pic for a rectangular trampoline. This trampoline is 10 feet by 17 feet. The frame is made of strong and durable steel. At 104 springs, you have enough springs to get a decent bounce. Ground anchors, enclosure, and a spring puller tool are included in the kit. Keep in mind that this rectangular trampoline is geared towards more advanced trampoline users. You are sure to get a great bounce with the synergistic design of the springs. This trampoline will also look smooth and sleek in your space with its all-black design with blue accents. The Acon Air 16 Sport HD comes with a great warranty.
The frame has a warranty of 10 years! The mat is guaranteed for 5 years and the other mat components are for 2 years. This warranty is much better than you will find for any components on a round trampoline. So, although this will cost you more money upfront, the components will last much longer than the typical round recreational trampoline parts. The mat and frame are made of high-quality material that you would expect at this price and will outlast the cheaper options.
Things We Like
The size gives ample room for all of your tumbling tricks
Great precision bounce
Overall look and design of the product
Outstanding warranty time limits on important components
High-quality frame, springs, and mat
Things That Could Improve
Pricey-But in the range of most rectangular trampolines
Maybe too bouncy for the beginner trampoline jumper
Check Price and Reviews on Amazon
---
Rectangular 2-Happy Trampoline
Happy Trampoline Rectangle Trampoline 10x17 - Gymnastics Trampoline with Net Enclosure-Large Trampoline for Backyard Heavy Duty 750lbs Jumping Capacity-Commercial Grade Outdoor Trampoline
DIMENSION & WEIGHT LIMIT: Our 10X17 FT long trampoline for kids and adults have 750 lbs weight capacity that delivers your kids safe and best bounce. Our best trampoline has the longest spring of 9 inches. 172 fully galvanized, rust resistant and heavy duty springs can withstand extreme weight and give you a safety guarantee
MASSIVE JUMPING MAT: Largest jumping mat on the planet. Great for gymnastics, flips, exercises or just goofing around. Perfect for the entire family and neighborhood friends
SAFETY NET ENCLOSURE: Outdoor trampoline with net enclosure keeps the jumping environment safe and enjoyable even for the beginners. The Patented Stay-put enclosure net is made of tough, high grade polyester mesh. The steel frame interconnects to the trampoline frame, securely locking the trampoline frame and enclosure frame together. The shock-absorbing steel frame padded cushion flexes on impact
COMMERCIAL GRADE STEEL FRAME: We pride ourselves with the strongest frame in the trampoline industry. 3.0 mm thick, double dipped galvanized inside and out to fight against rust and corrosion. The steel frame will not bend or break therefore will not lose inertia on jumps. Ideal rectangular trampoline for gymnastics, cheer training and for competitive jumpers
BEST VALUE FOR YOUR INVESTMENT: The Galactic Xtreme by Happy Trampoline comes with a life-time warranty on our heavy duty steel frames and springs with our guaranteed best prices at all times. To top that off, we offer Outstanding Customer Service (before and after the sale) along with On-time Delivery. You can count on it!
Last update on 2023-09-22 / Affiliate links / Images from Amazon Product Advertising API
The name says it all for this trampoline. You will be happy by going with the family owned and operated business. Happy rectangular trampolines range from 14-foot length all the way to 23 feet! They stand behind their frames and springs with a surprising lifetime warranty. Your trampoline frame will not be going anywhere with 3.0 mm galvanized commercial grade steel tubing. Want a bouncy trampoline? This trampoline produces a great bounce by utilizing 9-inch springs.
Each trampoline, depending on size, has 96-156 springs to engage the bouncer and create a soft landing. While this is a fun and safe recreational trampoline, it has the durability, strength, and bounce required by elite gymnasts. Feel safe having multiple jumpers on the trampoline with a 550 lb limit. The trampoline comes with the frame, springs, mat, ladder, and enclosure for one price. Plan on getting some help with the installation of this trampoline. Because it has a unique design, the installation of the rectangular Happy Trampoline will take you longer than a typical round trampoline.
Things We Like
Extremely bouncy
High weight limit
Lifetime warranty on the frame and springs
Large sizes available
Things That Could Improve
Pricey
Installation can be a bit tricky
Heavy frame makes it difficult to move
Check Price and Reviews on Amazon
---
Verdict
In conclusion, there are many things to consider when purchasing your first trampoline. Which shape will sue your needs the best? In the debate of round vs. rectangular, we looked at safety, bounce performance, weight limitations, usage, location, and price. Round trampolines will typically be cheaper and are great for recreational uses. Rectangular trampolines provide more room and bounce for trick and stunts, even for adult users.
Although rectangular trampolines come with a higher price tag, they have some of the best warranties around. Don't forget to measure the area in your backyard to determine which shape will fit best. Still, undecided which trampoline is best? Check out our article on the Best Trampolines.  Perhaps this article got you thinking of taking up the trampoline. If so, cross-reference your choice with our best trampolines for adults. Which did you choose in the round vs. rectangular trampoline debate?