Toddlers love to run and jump around and finding the best toddler trampoline can be a great way to tire them out so they sleep through the whole night peacefully. We have reviewed and made our 5 top picks and have made a comprehensive buyer's guide so you know what to look for and which options are the greatest to pick for the toddlers in your life.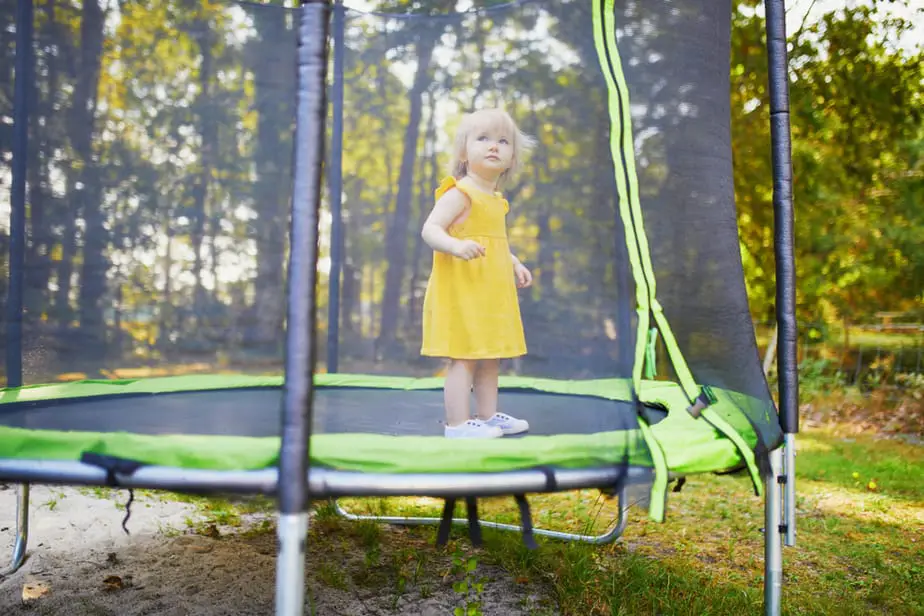 In a Hurry? Here's Our Top Picks…
1. Skywalker Trampolines Mini Trampoline with Enclosure Net
Sale
Skywalker Trampolines Mini Trampoline with Enclosure Net, 60 - Inch, Blue
SAFETY IS OUR #1 PRIORITY: All of our products are tested for safety and durability to meet or exceed all American Society of Testing Materials (ASTM) standards, so your children can play worry-free
DESIGN: This mini trampoline features 36 bungees instead of steel springs for a design with safety in mind. A 360-degree padded handlebar offers stability for your little jumper, and the enclosure net is sewn directly to the jump mat, eliminating gaps
PROMOTES HEALTHY KIDS: Introduces young kids to a fun, active lifestyle. This mini trampoline provides a great way for your little ones to burn off energy, improve coordination and develop gross motor skills
EDUCATIONAL PLAY: This mini trampoline features a fun, ocean animal-themed jump mat to encourage learning while playing! Your little ones can learn animal recognition while envisioning themselves on a seaside adventure with starfish, whales, and dolphins
Last update on 2023-11-07 / Affiliate links / Images from Amazon Product Advertising API
This Skywalker trampoline is an option that takes safety for toddlers seriously. With a complete enclosure around the product, you can feel confident that your kids won't fall off and hurt themselves when using this model. The netting is sewn to the trampoline itself and comes with a zipper opening for entering and exiting. Once the zipper is closed, the netting will wrap around the whole unit and keep your toddler safe from falling off. This option can hold anywhere from 2 to 7-year-olds.
The midsection of the netting also features a padded safety bar that they can hold onto when needed and adds extra protection if they bump up against the bar. Although this trampoline is made from polyethylene fabric, it is not meant for outdoor use and should not be subjected to outdoor conditions. This option has the option of choosing different color options that each come with a unique jumping mat that kids will enjoy.
Pros:
Completely enclosed netting for added safety
Closed netting door with zipper for easy entering and exiting
Padded handlebar for added protection against injury
Multiple color options to choose from
Made from durable fabric that will last a long time
A mid-range price that won't break your budget
Cons:
Not intended for outdoor use
Older toddlers may not like the full netting and zipper door
Check Price and Reviews on Amazon
---
2. Galt Nursery Trampoline, Toddler Trampoline for Ages 1+
Galt Toys, Nursery Trampoline - Turtle, Trampolines for Kids, Ages 1 Year Plus
Ideal first trampoline for toddlers with it's fun tortoise design, kids will love bouncing on this cute toddler trampoline
Helps children develop balance, coordination and confidence. Plus a fun way to improve your child's health & Fitness.
Padded cover, easy grip handle and non slip rubber feet ensures safe, stable and comfortable bouncing fun.
Springfree: Our springless design and sturdy, durable frame is capable of sustaining bouncing up to a maximum weight capacity of 44 pounds (20 kg). Two person assembly required.
Children develop their muscles, their balance and their confidence while having fun jumping on the green Nursery Trampoline from Galt Toys
Last update on 2023-11-07 / Affiliate links / Images from Amazon Product Advertising API
This Galt nursery trampoline is a great option for the youngest of the bunch, with toddlers as young as one-year-old being able to safely use this product. This trampoline is the best-looking choice for kids because the turtle design will attract them to it and the safety bar allows them to hold on to something while they jump. Not only will this product give them something fun to do, but it will also help to improve their balance and hand-eye coordination.
The trampoline is built from a rugged frame that can hold up to 44 pounds of weight at a time and the feet come with rubber bottoms that will keep it from moving around and sliding on the floor. The handlebar is adjustable and can fit the exact height of your toddler so they are not reaching too high to hold onto it. Just twist the knobs at the base of the handlebar where it meets the trampoline and loosen it to be able to slide the bar up and down to adjust it.
Pros:
Fun design that kids will enjoy playing on
Handle bar is adjustable for child's height for proper safety
Can handle up too 44 pounds of weight for longer use
Has rubber feet to prevent sliding on floor
Can help improve coordination and balance in children that use it regularly
Lower end of the price range that is very budget-friendly
Cons:
Not intended for outdoor use and won't withstand different weather conditions
Does not have netting or full circle safety bar for added protection
Check Price and Reviews on Amazon
---
3. The Original Toy Company Fold & Go Trampoline (TM)
The Original Toy Company Fold & Go Trampoline (TM)
FROM BOX TO BOUNCE IN LESS THAN 5 MINUTES: Unfold your trampoline - Screw on the legs - Attach the handle - Bounce - Repeat
EASY DISASSEMBLY: Disassembles just as easily and its ready for travel or storage
GREAT FOR SPECIAL NEEDS KIDS: Can help ADHD children and kids with autism expend their natural abundance of energy
MEETS AND EXCEEDS ALL CURRENT UNITED STATES SAFETY STANDARDS: ASTM Safety Certifications 1, 2 and 3, plus HR4040. Circular safety pad attaches with ease for extra safety
SIZE AND RATING: 36 inch diameter, Rated for 150 pounds
Last update on 2023-11-07 / Affiliate links / Images from Amazon Product Advertising API
The Original Toy Company has designed this easily portable fold and go option that allows you to fold the trampoline in half and take it with you anywhere you need to go. This model also comes with a simple assembly that just requires you to screw on the legs and safety bar, then you are ready to go. The safety bar is perfect for younger toddlers who need a little help in keeping themselves balanced and is a great way to help them develop better coordination.
The trampoline is 36-inches in diameter and can hold up to 150 pounds. The safety bar is not adjustable, however, it does come with padding around the top portion of the handle so that kids are not grabbing onto the metal itself. With the safety features of this option, it is safe for use with special needs children so they are able to have fun jumping on this trampoline as well. This option meets all U.S. safety standards and is also certified with the ASTM.
Pros:
Folds in half for easy transportation and storage
Assembly is simple and easy for quick installation
Trampoline can hold up to 150 pounds
Meets all safety standards in U.S. and is safe for special needs children
Mid-range price that's great for families on a budget
Cons:
Not suitable for children under 3 years old
Use of the handle by older children may cause the leg to slightly lift off the ground
Check Price and Reviews on Amazon
---
4. SereneLife 36″ Inch Portable Fitness Trampoline
Sale
SereneLife 36" Inch Portable Fitness Trampoline – Sports Trampoline for Indoor and Outdoor Use – Professional Round Jumping Cardio Trampoline – Safe for Kid w/Padded Frame Cover and Handlebar
SAFE AND FUN: Serenelife round jump mat is made of heavy duty polypropylene to ensure sustained bouncing and elasticity with safety measure at 36'' in diameter. Assemble size at 36'' x 32'' from ground to top for super safe zone happy jumping
PADDED HANDLEBAR AND FRAME COVER: The padded handlebar is 24'' inch high that fit to user's height. Kids can use the handle bar for easy grip to control their bounce. The frame cover is also padded and springfree that provides safer jump pad surface
FOLDABLE AND SPACE SAVER: Serenelife elastic trampoline is both portable and foldable. Easy folding and designed to fit small spaces in the playground, gym or at home. Its convenient size lets you carry it from one spot to another without any hassle
UNIQUE AND DURABLE: An ultimate rebounder sport and workout trainer to increase their strength and stamina. This heavy duty trampoline has a durable construction and can support up to 150 lbs. Perfect fitness goal exercise for your child
EASY TO ASSEMBLE: We have detailed assembly instruction manual included. We listed each specific assembly step and all parts and show the steps in picture form. It also comes with free kit bag. Get your little kid a personal trampoline now
Last update on 2023-11-07 / Affiliate links / Images from Amazon Product Advertising API
The SereneLife fitness trampoline is a good choice for toddlers that will make setup and tear-down much easier. The assembly is simple and easy and only requires you to attach the handlebar and six legs for a complete setup. This model has rubber feet on the bottom of each leg that keeps them from sliding on slick floors and keeps the trampoline steady as the kids jump. The model also comes with padding around the top section of the handlebar for added safety.
This model's diameter is 36-inch around and is 32-inches off the ground, which is a great height for younger children so they won't need help getting into it themselves. This trampoline can fold in half and easily stored or transported to a different location so you can take it with you on vacation or move it around the house with ease. This model also has an included carrying bag that can fit the entire trampoline inside of it so transporting it is even easier, plus it can be used indoors and outdoors.
Pros:
Fast and easy assembly for almost immediate use after purchase
Has rubber feet on legs to prevent sliding on slick floors
Handlebar has padding for more comfort when holding onto it
Folds in half and fits into carrying bag for easy transportation and storage
Can withstand outdoor conditions for safe use outside
Lower price than other options and is budget-friendly option
Cons:
Doesn't have netting protection to prevent kids from falling off
The padded cover around the trampoline is prone to ripping
Check Price and Reviews on Amazon
---
5. Fashionsport OUTFITTERS Trampoline with Safety Enclosure
FASHIONSPORT OUTFITTERS 5ft 60'' Mini Trampoline for Kids Rebounder Jumps for Kids toddles with Safety Enclosure net -Indoor & Outdoor Trampoline Birthday Gifts for Kids Toddlers -Yellow & Green
【Safety Structure】5FT diameter trampoline with rust resistant steel 3 legs for stability and has safety enclosure net, making sure your kids enjoy the happy safety jumping time, and making parents feel more at ease.
【Multi-Functional】You can use this trampoline both indoor and outdoor. Indoor our trampoline is space-saved while outdoor is rust-proofed.
【High Quality】Our trampoline is made with reliable alloy steel and which is stainless and hard to bend.
【Great Gift For Kids】Jumping on the trampoline is really fun for toddlers, also our trampoline has a basketaball hoop, adding more fun to children. Happy kids, happy parents!
【Easy To Assemble】This trampoline is extremely easy to put together just following the instruction that comes with pakage. And all needed tools will be packed too.
Last update on 2023-11-07 / Affiliate links / Images from Amazon Product Advertising API
This Fashionsport Outfitters toddler trampoline is a large option that allows for 2 or 3 kids to jump at the same time. Great for bigger families or playdates with neighbors and friends. The trampoline is completely surrounded by a full netting that is around 4 feet high, you can feel comfortable with young kids playing on this model without fearing they will fall off. The netting is held up by six safety poles that all have padding over them and keeps the netting up and out of the way when they're jumping.
This large size option is 5 feet in diameter and comes with three horseshoe-shaped legs that offer better stability for its size and attach directly to the safety bars for extra sturdiness. The metal of the legs is resistant to rust and can be used both indoors and outdoors. With a weight limit of up to 220 pounds in total, you can have up to three kids play on this model at the same time so you won't have to worry about them having to take turns.
Pros:
5-foot diameter for larger jumping surface that holds more kids
Weight limit of up to 220 pounds which accommodates taller kids
Netting and safety bars add more protection against falling and injury
This model can be used indoors and outdoors
Horseshoe-shaped legs offer more stability and cover more floor surface for steadiness
Cons:
Padding is foam and may come apart easily is kids pick at it while jumping
The netting is not as durable and may fray fairly easily
Premium price option that is not great for families with a tight budget
Check Price and Reviews on Amazon
---
Trampoline Education
Buying a new toddle trampoline can be a bit scary when you think about how many ways your child could get hurt, but with these products being made with young kids in mind, they offer safety features and measurements that help ensure that your child won't deal with major injuries. However, when deciding which option to purchase, you must make sure that you are getting the best toddler trampoline for you and your kid's needs.
If you need a model that will only fit one child at a time, then looking for a sturdy but the compact model will likely save you some money. If you would like a larger option that can hold your youngest child and their older sibling, then a bigger and sturdier model would work better. When making your final decision, you should consider a few things before spending your money.
Safety Features
The number one thing that you should look at when thinking about purchasing a toddler trampoline is the safety features it comes with. Although there is no way to ensure that absolutely no accidents will occur, knowing that all the precautions that could be taken were, you can help keep them safe by buying a trampoline with the proper safety features.
Padding
Having padding around the metal parts of the trampoline will drastically limit the chance of your child bumping into the metal bar, or stepping on the metal springs while climbing onto it. Trampoline covers that hide the springs are included on all the choices on our list and are an important feature that helps keep kids safe when using it.
Netting
If there is netting surrounding the trampoline, this feature will prevent your toddler from accidentally falling off the side. Some of the most common injuries that occur on trampolines include the legs and feet, which often stems from landing on the ground after falling or jumping off the trampoline and onto hard ground. Netting will prevent both of these occurrences and offer better safety for your child.
Safety Bar
Toddlers all develop their motor skills and hand-eye coordination at different rates, and with the increased use of their hands to grab onto the safety bar, they are able to hold on and keep themselves from falling. As children get better wrist stability, which allows them to have more control over the use of their fingers, they can hold tightly to the bar and will keep ahold of it better.
Having a safety bar will also keep them from moving around the trampoline without holding onto anything, which could increase their risk of falling down, and will help them to develop their motor skills even more as they develop the muscle memory to hold onto the bar more precisely.
Rubber Feet
The legs of trampolines are made from steel or another type of metal. This makes them susceptible to sliding if placed on a tile, laminate, or wood flooring. However, with the addition of rubber feet to stop the legs from moving around, you can decrease the chances of movement while the trampoline is in use. This will reduce the risk of accidents by keeping the unit in its place and stopping it from bumping into walls or other furniture nearby while sliding.
Price
Whenever there is a product being bought, the price is always a major factor in the final decision of which choice to get. Determining if the premium option with extra features is worth the price, or if getting the cheaper option will save you money and offer the basics of what you need, is a big decision. Plus, if you are on a strict budget, then more expensive options may not be without your reach.
Quality of Frame
However, knowing what you are purchasing for the price of the product is key. You want to be able to decide whether a cheaper product is of good quality and if a premium option is simply a good-looking one that is not built to last. So, ensuring that the frame is built from galvanized steel bars lets you know that the frame is sturdy and will hold up over time as this is the industry standard for high-quality.
Quality of Material
The material of the mat, or jumping area of the trampoline, is also something that you should look at. Most models are made from polypropylene because of its strength and ability to handle consistent flexing. If a cheaper material is used, then even if the model looks sturdy, the material may not hold up as well.
Weight Limit
Although your toddler may still seem like a baby in your head, they can grow quickly, and outgrow things just as fast. Most trampoline models that are designed for young children can hold up to 150 pounds. This gives you a lot of leeway for growth, especially with the average 21-month old weighing only about 25 pounds.
There are some options that have a much lower limit, like some options that only allows for up to around 30-35 pounds. These will not last you very long, as your child may grow out of that weight stage quickly. So, getting the most for your money means buying an option that they will be able to use for a much longer time. Searching for a trampoline that offers a 150-pound weight limit would be ideal.
Best Brands
Skywalker Trampolines
Skywalker Trampolines is a Utah-based business has been accredited by the BBB since 2014 and has been committed to ensuring the quality and safety needed for children to play. A big supporter of the community, this company focuses on making products that are accessible for all differently-abled children and builds trampolines that you can trust in.
Galt Toys
Since 1961, the Galt Toys company has been making toys of all kinds in Manchester, England. In 2013, they began opening up to the U.S. market and developed toys and trampolines that help children develop motor skills and while having fun.
The Original Toy Company
This company has been in the toy business since 1997, and The Original Toy Company was originally known as Galt America. However, they have grown themselves to be one of the major toy distributors in America and provide safe, non-toxic toys and trampolines for children of all ages and abilities.
SereneLife
SereneLife is a company that makes and sells products through online retailers with a number of different products that are designed for household use and décor. From toddler trampolines to treadmills, they make all products with the highest quality materials with safety in mind.
Fashionsport Outfitters
Fashionsport Outfitters is a business that makes and sells its trampolines through online retailers and focuses on fitness and health. With toddler trampolines with safety features and durable materials, their items are made to last.
Little Tikes
The Little Tikes brand has been around since 1969 and has manufactured and sold toys of all kinds for children of different ages and stages of development. With the goal of encouraging kids to live an active lifestyle, their trampoline gets them moving and keeps them safe while doing it.
Frequently Asked Questions
Q: Is jumping on a trampoline good for a toddler?
A: Yes. Toddlers are developing new skills every day, and with the ability to hold onto a safety bar and jump around and be active, they will develop their motor skills, balance, and coordination while doing it. This will also keep them active and living a healthy lifestyle from a young age, as well as improve their heart and bone health.
Q: Is allowing a kid less than 6 years old to use a trampoline safe?
A: The average age for children to use a trampoline is often said to be 6 years old, but this is meant for trampolines that are full size – 10 feet or larger. Toddler trampolines are designed to be safe for younger users come with extra safety features that protect them. With safety bars, netting, and closer proximity to the floor means that you don't need to worry as long as you keep an eye on them.
Q: Does the shape of the trampoline really do anything, or is it just for looks?
A: Yes, the shape matters because round models offer less of a bounce height. Square or rectangular models are made to lift the bouncer higher into the air, which is not safe for toddlers. Most toddler trampolines take this into account and you would be hard-pressed to find one that isn't round due to the safety issues involved.
Conclusion
With all this information given to you, it is best to remember the most important parts. With our top pick being the Skywalker Mini Trampoline because of its enclosed safety netting with zipper door, padded enclosed safety bar, and high-quality build, this option will work for any toddler. And, with a mid-range price point, this is very affordable for families on a tight budget.
However, even if you choose to go with another option, any on this list will make a great choice. Also, now that you know what to look for, if you decide to buy another option that isn't listed here, you will know what to look for to get the best quality option. If you are interested in purchasing our top choice, then check out Skywalker Trampolines using the button below to find out more information and to make your final purchase and get the best toddler trampoline.