Soccer (called football in most of the rest of the world) is the most popular sport on earth, having over 4 billion fans and played across both hemispheres and dozens of countries. Essentially, about half of everyone on earth consider themselves to be soccer fans. If you have the space in your backyard to play this fantastic game, you can see for yourself how much fun it is. You also might consider joining a league, or signing up your kids so they can get started on a sport while they're young.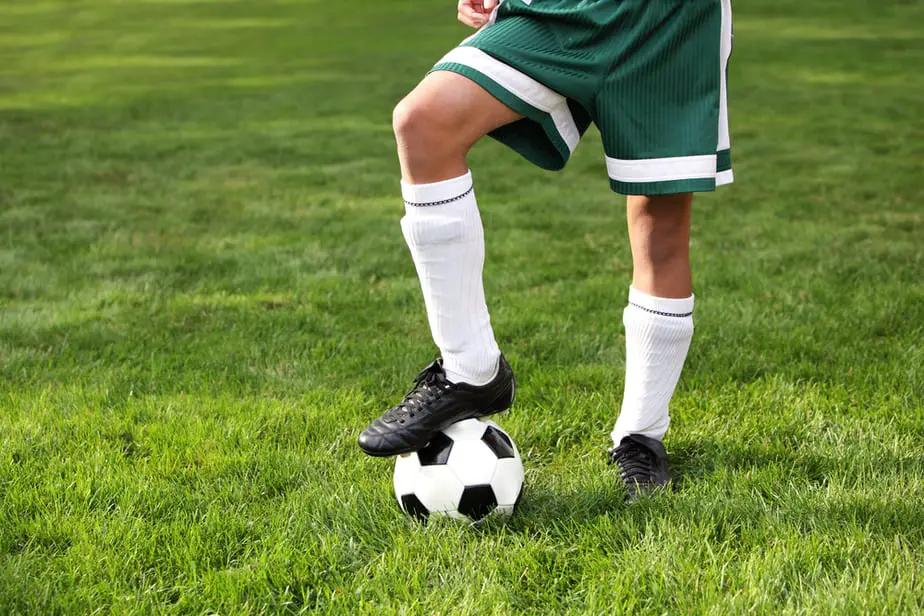 Either way, you need several pieces of gear to enjoy soccer the way it was meant to be played and run about with injury. Perhaps the most important part of a soccer player's kit is his or her shin guards, which protect your legs from injury as you fight over the ball with your feet.
Finding the right soccer shin guards for your backyard or official game can be tricky without the right research, but we've already found the best soccer shin guards and can't wait to share them with you. Let's get started!
In a Hurry? Here's Our Top Picks…
1. Nike Mercurial Lite Shin Guard
Nike Mercurial Lite Soccer Shin Guards (Large, Black)
Flexible shell wraps around your shin for a natural fit.
Durable shell is bonded to dense foam for impact diffusion.
Stretchy sleeve provides a soft, snug fit.
79% K RESIN 21% EVA
Adult XS 4'7"-4'11" Adult S 4'11"-5'3" Adult M 5'3"-5'7" Adult L 5'7"-5'11" Adult XL 5'11-6'7"
Last update on 2023-09-24 / Affiliate links / Images from Amazon Product Advertising API
These phenomenal shin guards are also some of the most affordable you can find, particularly if you choose them in a common color that doesn't require extra design work. They come in two pieces for each leg: one defensive plate and one sleeve to ensure a secure and strapless fit. The shin guards themselves go beneath the sleeves, which are in turn secured by your soccer socks.
Each plate is designed with a lightweight and tough shell made of durable plastic and EVA foam. The plastic does a great job of defending against blunt force trauma while the foam absorbs impact energy and protects your leg even further. These are also fairly comfortable since you don't need to rely on straps to keep everything in place.
The sleeves that go on top of the plates are made from polyester, rubber, and spandex, affording them an excellent waterproofing and flexibility without causing them to lose their shape over time. They're very breathable and won't make your shins too sweaty.
In addition, each shin guard is specifically designed for a particular leg, so added comfort is a given. Cleaning these shin guards after your game is also easy, as the plates can be hand washed and the sleeves can be machine washed with the rest of your clothes. These shin guards are NOCSAE-approved, so they're perfect for actual league games.
Finally, these guards come with a carrying case that goes perfectly with any other bags you take to your games or to the practice yard. All in all, these are some great shin guards that will work well for adults and children that want to take soccer seriously and be comfortable at the same time.
If you do decide to go with these shin guards, be sure to visit the Nike website to get your sizes perfect.
Things We Like
Perfect for league games
Lightweight and breathable
Come in a variety of sizes and colors
Affordable
Things We Don't Like
Sleeve is a bit short compared to socks
Fitting is odd compared to other common size charts
Check Price and Reviews on Amazon
---
2. Franklin Sports Superlight Soccer Shin Guards
Franklin Sports Soccer Shin Guards for Youth + Adults - Superlight Shin Guards for Men, Women + Kids - (2) Shin Guard Set for Boys + Girls - Large
ADULT SIZE: The large size is intended for high school and adult players up to 5' 11" in height
LIGHTWEIGHT: These shin guards are designed to be sleek and lightweight to provide protection without the bulkiness of other shin guards
PREMIUM PROTECTION: Constructed with a high-density, abrasion-resistant outer shell to protect your shins from impact
SECURE FIT: Shin guards are locked into place with double self-stick straps to ensure a tight comfortable fit in the field
EXTRA CUSHION: Made with an extra layer of high-density foam to provide added protection with a soft, cushioned feel
Last update on 2023-09-24 / Affiliate links / Images from Amazon Product Advertising API
These shin guards span a wide variety of sizes and are each made with a lightweight material that affords fantastic durability all the same. These shin guards benefit aesthetically from a distinctive chrome-accented design, which makes them look heavy-duty and stylish all at once.
Each plate is designed as a high-density abrasion-resistant shield, and each plate is designed perfectly symmetrically to work well with everyone's anatomy. Both plates also use self-sticking straps to secure them into place on your leg, and the straps can be adjusted for comfort and secure fitting.
The plates are further bolstered by high-density foam that provides fantastic energy absorption even compared to other soccer shin guards on the market. Altogether, these are one of the most durable soccer shin guard pairs we've ever seen. The only real downside is the lack of a sleeve and the fact that they might wiggle during a game.
The adjustable straps do a great job of keeping things comfortable but oftentimes allow a little too much slipping for security. Still, these are a good choice for heavy-duty yet casual soccer games.
Things We Like
Very durable plates
Absorb lots of kinetic energy
Comfortable for most
Have straps that can be adjusted
Things We Don't Like
Straps aren't the most secure on the market
Check Price and Reviews on Amazon
---
3. Vizari Malaga Soccer Shin Guards for Kids
Last update on 2023-09-24 / Affiliate links / Images from Amazon Product Advertising API
These shin guards are specifically designed for young boys and girls, making them an excellent choice if your kids want to join a little league soccer association or just play the game in the backyard. They come in a wide variety of sizes in a huge plethora of colors, ranging from black to green to pink. No matter what your kids' aesthetic tastes are, there's probably something they'll love within this selection.
Each pair of shin guards is made with a lightweight polypropylene shell, which is designed as a durable but cost-effective plastic. As a result, these shin guards deliver decent protection for a very reasonable asking price. They aren't the most durable on the market, but they are more than enough for most kids given that they can't kick very hard anyway.
These shin guards are also equipped with foam padding on the back, increasing comfort and absorbing kinetic energy from any kicks your kids may receive. To make things even better, this foam padding extends all the way down to the ankle to cushion the sides of the foot. For kids, who aren't very well balanced anyway, this will reduce instances of spraining their ankles and protect those vulnerable parts of their legs.
The shin guards can be further secured with an adjustable strap that goes around the middle of the plate. All in all, it's a great set of shin guards with the only downside being for serious kid players, who may lament the lack of ankle agility.
Things We Like
Very lightweight but reasonably durable plate design
Has an additional strap for added security
Protects and cushions the ankle and shin from impacts
Affordable
Comes in a wide array of colors
Things We Don't Like
Not very good for serious players
Limited sizes as kids grow
Check Price and Reviews on Amazon
---
4. Sportout Adult Youth Kids Soccer Shin Guards
Sportout Adult Youth Kids Soccer Shin Guards,Comprehensive Protection for Your Leg, with Cushioned Ankle Protection to Prevent Injuries (Black-1, L)
COMPREHENSIVE SHIN PROTECTION:- These shin guards have the highly protective hard PP front plates which are lightweight, durable and can offer the shin & calf comprehensive protection to against violent impacts.
LIGHTWEIGHT AND COMFORTABLE:- The light pp shell EVA padded backing and Low-profile construction give these shin guards light weight, high breathability, great fitting your leg shape and super comfort.
DRI-FIT HIGH ELASTIC SLEEVES:- The Seamless, breathable and Dri-FIT sleeves offer comfortable and secure fit, the double-tube construction design helps the shin guards stay in place during play without sliding.
ERGONOMIC DESIGN:- The anatomical design fits your calf contours very well and the chocolate-shaped EVA foam can offer excellent cushioning which helps disperse energy from impacts to prevent violent injury.
AFTER SALE SERVICE: If there is any problem with the product, please don't hesitate to contact us.
Last update on 2023-09-24 / Affiliate links / Images from Amazon Product Advertising API
These soccer shin guards are also great for kids, but they come in a wider array of sizes and styles to make them appropriate for teenagers and young adults. They are constructed with hard polypropylene front plates that are lightweight and reasonably durable to protect your shins and calves from violence in packs.
These shin guards also have a relatively low-profile construction that makes them appear less bulky than many other shin guards on the market. This is reinforced thanks to the high elastic "dri-fit" sleeves that come with the purchase. These go over the shin guards to keep them in place without causing them to slide around. These are designed with two "tubes" that do a great job of keeping the sleeves in place and stopping them from slipping around while keeping your calves fairly dry at the same time.
Each plate is made with the ergonomic design to fit your calves and allow the EVA foam integrated into the back of the plates to cushion to its maximum extent. Altogether, you'll find that your main shin areas are reasonably protected from harm on the soccer field. Your ankles are left alone, however, which may be an advantage or disadvantage depending on your needs.
Things We Like
Designed to be lightweight yet durable
Prevents shins and calves from sweating
Fits onto shins very well
Very affordable overall
Things We Don't Like
Can make calves feel a bit hot regardless
Check Price and Reviews on Amazon
---
5. G-Form Pro-S Elite Shin Guards
G-Form Pro-S Elite Soccer Shin Guards - Soccer Pads for Adults - Athletic Gear - Black/Yellow, Medium
Soccer Shin Guards: This form-fitting protective gear uses body-mapped SmartFlex technology that stays flexible when playing but hardens on impact
Protective Soccer Gear: This soccer athletic gear for men and women uses a 2-panel design that provides a second-skin fit
Adult Shin Guards for Protection: These low-profile soccer and football shin guards are CE certified for Outdoor/Association Soccer (CE EN 13061:2009)
Low-Profile Shin Guards: These soccer shin sleeves help you stay cool and dry with moisture-wicking, UPF 50+ compression fabric; machine washable
Protective Gear for Athletes: G-Form provides the best protection for athletes using materials that protect the fields they play on
Last update on 2023-09-24 / Affiliate links / Images from Amazon Product Advertising API
These shin guards are revolutionary. They're the first soft and flexible shin guards that are more like sleeves, disregarding separate plates entirely. Despite this, they still meet NOCSAE standards for safety and comfort.
They are built with a specialized flexible shell that hardens automatically on impact. This special foam material has molecules that slightly repel one another, then bind together when outside force impresses on their surface. They'll return to a flexible state as soon as the energy has passed.
This enables you to slip them on like regular soccer sleeves without having to worry about an additional plate. It's incredibly lightweight and breathable that can reduce your heat and your sweat at the same time. You won't need tape or any other straps to keep these in place, as they fit perfectly onto most shins and calves.
It's also extremely easy to take care of these shin guards. Just throw them in a machine-washing cycle and you're good to go. These shin guards are also waterproof during regular use, so they won't become heavier as you sweat. They are even fairly ventilating thanks to their mesh backs and UPF 50+ design.
Ultimately, these are a great choice for serious soccer players that want something high tech and durable for their next game.
Things We Like
Made with high tech material
NOCSAE-approved
Doesn't use plates, still protects your shin
Flexible for just about everyone
Doesn't make you sweat
Waterproof
Things We Don't Like
Check Price and Reviews on Amazon
---
What to Look for in a Soccer Shin Guard
As you browse our favorite soccer shin guard choices, keep these major aspects in mind and you'll be able to more accurately pick out the best shin guards for your needs.
Shin Guard Type
Broadly speaking, there are four main types of shin guards you can find on the market, although any given set of shin guards may vary dramatically from its closest competitors.
The first shin guard type is "slip-in". These shin guards are usually light and are typically flexible to let you slide them into place beneath your socks. These shin guards will be constructed with a compression sleeve made of mesh or a similar fabric to effectively hold them in place. It doesn't use straps or stirrups, making these shin guards and some of the easiest to use and a great choice for beginners.
To keep them in place throughout the game, just use a tight soccer sock or some tape if necessary. These shin guards are well known and well enjoyed by many because they provide you with lots of mobility and don't restrict your range of motion. For this reason, advanced players will also really appreciate slip-in shin guards.
Another major type is ankle shin guards. These come with a heavy your major plate for your shins and additional soft padding that slips onto either side of your foot and ankle. Not only does this provide additional structural support for your ankle as you run on the field, but it will also protect it from blunt force damage. This shin guard is more protective but necessarily restricts your range of motion a little bit.
You can always remove the ankle protection fabric if necessary. These shin guards are usually favored by beginners more than experienced players because of the range of motion restriction. Beginners will like these because they afford even better protection and durability against common soccer injuries
Strap shin guards are a third major type. These usually have a heavier plate that defends your shin against kicks or other types of blunt force trauma without restricting your range of motion around the ankle. They come with straps that wrap around the back of your leg beneath your sock, so they don't protect the ankle whatsoever. Still, these shin guards are arguably the simplest type and they defend the shin most durable out of all the types.
The fourth major type is sleeve shin guards. These are very similar to the first slip-in type of shin guard, as you have to slide your foot into the shin guard like you would a sock. These go beneath your socks and typically come with no ankle protection but they provide better sitting and comfort for traditional shin guards. Those who don't like to wear shin guards regularly might find these to be to their enjoyment since they tend to be fairly snug and comfortable and don't slip around very often.
Material
Naturally, different shin guards can be made of different materials. But you have to remember that the entire purpose of a shin guard is to protect your leg from damage as you play soccer, so it won't do to purchase a week shin guard that doesn't do this primary job.
You should always look for shin guards that are made with either hard plastic or carbon fiber. The former material will be more affordable most of the time and also come in brighter colors and more varied designs. These are also a little heavier than carbon fiber shin guards. We recommend hard plastic shin guards for beginners or kids that can't kick or hurt themselves as hard as adults.
Carbon fiber shin guards are more expensive but provide even better durability with a lighter overall weight in many cases. Carbon fiber is extremely tough and won't break or bend under pressure, so experienced players or adults playing against other adults may want to invest in a set of these.
Some shin guards are made of foam rubber. This is a very affordable material, so it's great if you're looking for a budget set of shin guards, but it doesn't do a great job of affording excellent protection. Only get these if you're buying shin guards for kids that can't kick very hard.
Finally, polyurethane shin guards are a reasonable alternative if you want something as durable as carbon fiber without paying as much upfront. These are a little heavier than the lightweight yet durable carbon fiber material, but they can arguably defend your shin just as effectively. Adults will likely be able to handle these more effectively as their legs will be able to move just as quickly even with a little extra weight.
Ankle Protection
We already mentioned above that some of the types of shin guards come with ankle protection. Consider whether you need one of those types before you head into a game. Beginners who don't mind losing some of their range of motion will probably benefit from having ankle protection, especially since they aren't practiced at the footwork necessary to avoid straining their feet. Experienced players can often do without ankle protection.
Cushioning/Lining
The best shin guards for soccer games will probably be comfortable; otherwise, you won't want to wear them for the entirety of your soccer sessions. Many top shin guards will have cushioning foam at their front to protect your shin bone from the actual durable material of the shin guard plate itself.
The plate may or may not be comfortable enough on its own. Good cushioning will both add to the protection your shin bone receives and provide other benefits like wick sweat from your leg or help to keep the shin guard in place. It'll also absorb the kinetic power of impact, protecting your shinbone even further and preventing it from bruising.
Look for EVA foam when you can, as this material does a phenomenal job of absorbing impact energy when your shin guard receives a kick while keeping your leg comfortable at the same time.
NOCSAE-Approved
The National Operating Committee on Standards for Athletic Equipment is the major organization in charge of determining what standards of material in construction are necessary for sports gear to be used in official competitions. Some shin guards are NOCSAE-approved, while others are not. You'll definitely want an approved set if you are looking for some shin guards to use in an official game or a sports league.
You can always determine if a set of shin guards are approved by looking for the stamp on the guard plate or on its tags.
The Best Soccer Shin Guard Brands
Nike
Nike is one of the most famous sports companies in the world, and a multinational corporation that makes not only shin guards but other types of footwear, apparel, and accessories for sports of all types.
Franklin Sports
This company was founded in 1946 and originally center its products around the athlete Joe Namath. Over time, it grew to include sports gear not just for baseball but for basketball and soccer as well.
Vizari
Vizari is a soccer gear company based in Paramount, California. They provide high-quality soccer gear for players of all skill levels and ages, and their designers are based in the United States, where is most other soccer gear companies are in Europe or South America.
Sportout
Sportout is a general sports gear brand that focuses on football, table tennis, and work out accessories and equipment. Many of their products are designed by experts in the industry or the sports they are intended to be used with.
G-Form
G-Form is newer than many other sports equipment companies and uses advanced technology and 3-D design techniques to provide high-tech sports equipment solutions for athletes across games and industries.
FAQs
Q: What Size Shin Guards Should I Get?
A: The exact sizing metrics used for a pair of shin guards sometimes depends on the manufacturer and the material used. That being said, you can use the following guidelines as general rules when selecting shin guards for you or your kids. Remember to double-check whatever the shin guard's manufacturer says about sizing before finalizing a purchase.
Any shin guards sized "extra small" should be used for kids below 10 years of age or kids who are less than 4'6" in height.
Shin guards that are sized "small" are ideal for kids above 10 years of age but before they start growing with puberty. 10-13 or so is likely fine. They'll also be ideal for kids that are less than 5'3" in height in most cases.
Medium-sized shin guards are the most variable for kids and smaller adults. They are usually appropriate for kids below 18 years of age but after they're too big for "small" shin guards. You can alternatively use these shin guards for kids or adults that are below 5'9" in height.
Large-sized shin guards are typically only worn by adults. They are usually intended only for players that are above 5'9" in height all the way up to 6'8" or so. Extra-large shin guards are even beyond this level and are better for even taller players.
Q: Do Shin Guards Reduce Pain from Injury?
A: Some shin guards do a great job of cushioning your leg to the extent that receiving a nasty kick from a fellow player doesn't sting quite as much as it otherwise would. But don't expect your shin guard to magically make all of your soccer pains go away. The primary purpose of shin guards is to protect your shin from actual damage, not negate all of the discomfort or pain. Think of shin guards as a way to preserve your ability to play the game even if you get kicked by accident.
Q: What Are the Best Shin Guards for Certain Players?
A: You can always select the type of shin guard you need by considering the position you'll fill. Defenders, as an example, will be running interference against forwarders, so they need shin guards that are heavier and provide lots of protection, and even possibly ankle coverage.
Midfielders and forwarders will probably want more agile shin guards that don't restrict their range of motion and don't usually use ankle protection. Lighter and smaller shin guards are ideal.
Finally, goalkeepers barely need any shin protection whatsoever, so get them a lightweight and agile set of shin guards so they can be light on their feet and turn on a dime.
Q: How Many People Do You Need to Play Soccer?
A: The official rules of soccer state that you need 11 players on each team to proceed with an official game. But the truth is that soccer really only requires 4 to 6 people in total if you are in the mood for a casual backyard match. You need one goalie for each team, plus some attackers on each team to try to kick the ball into the opposing net.
You can also play with just two or three people if you don't have that many by taking turns and working with a single goal.
Conclusion
In the end, you might still be wondering which soccer shin guards that you should choose. The Nike Mercurial Lite Shin Guard is an ideal choice if you need something affordable but reliable for kids or young adults of all ages. They offer a wide variety of sizes and colors to choose from.
The G-Form Pro-S Elite Shin Guards are a great alternative if you want something more advanced for a serious soccer player, either yourself or someone in the family. These shin guards are extremely comfortable and don't require an additional plate to effectively protect you from injury during a soccer match.
Whatever you choose, we're confident one of the above choices will be perfect for your backyard when you're practicing with a rebounder or serious soccer game, whichever comes first. Have fun on the field and thanks for reading!