They say that a pass is only good if the player receiving it is skilled, and this concept applies to every sport — hockey, soccer, basketball, you name it. This might not apply to bowling and golf, but how many people play these sports anyway? The point here is that a talented player can receive the worst pass, and still create something magical out of it.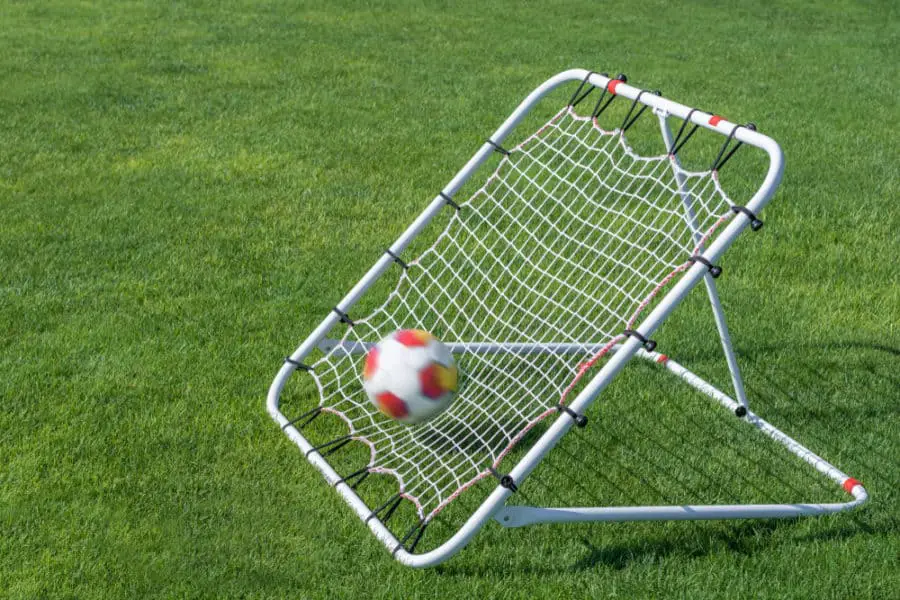 Now if you want to train yourself to receive passes, then you need a partner to practice this with. Whether this player is good or is as bad as you are in this area doesn't really matter. Why? Well, a bad player will train you on how to receive a bad pass while a skilled one will help you learn how to receive a good pass.
The problem comes in when you have to practice all by yourself. Sure, you can kick the ball towards the wall of your home. But if you do that, you will only be damaging your ball. Instead of hitting the ball towards a set of steps or wall, you should invest in the best soccer rebounder you can find.
This is a soft elastic netting that is tied to a frame, and it's designed to receive and return the ball. Not sure of how to go about buying a soccer rebounder? This overview highlights everything you need to know about soccer rebounders.
In a Hurry? Here's Our Top Picks…
Reviews of the Best Soccer Rebounders
1. Tekk Trainer Rebounder Goal
Tekk Trainer Rebounder Goal (Soccer, Basketball, Lacrosse, Baseball)
Soccer – perfect for field players and goalkeepers - practice passing, shooting, trapping and heading; improve your weaker foot and increase leg strength
Basketball – practice game situation passing, catching, shooting and dribbling
Angle adjusts to seven positions for all around training
Strongest and largest portable trainer on the market, built to last for years
Sets up in two minutes
Last update on 2023-09-19 / Affiliate links / Images from Amazon Product Advertising API
Tekk is known for making high-quality soccer training equipment, and this rebounder is no exception. It comes with aluminum tubing, a 6mm thick net, and steel brackets, all of which contribute to its sturdiness.
If you're looking for a rebounder that can help you develop your skill, look no further than the Tekk Trainer that allows you to change angle through 7 positions.
Another thing you'll love about this rebounder is that its net sits very firmly once you assemble it. This gives the ball a stunning game-speed rebound. Setting it up will take you two to five minutes, and once you've assembled it, you never have to take it apart again.
With all these exceptional features, it is no wonder that the Tekk Trainer is on the higher end of the spectrum in terms of price. On the plus side, this is the kind of rebounder that can be used by professional soccer teams. Its durability will allow you to use it for years to come; hence justifying its high price tag.
What We Like:
Ideal for training yourself but it can accommodate more than one person due to its big size
The net is adjustable through 7 angles
The frame is made of aluminum, making it sturdy yet lightweight
A versatile rebounder that can be used for a range of sports
What We Don't Like:
The height of the net cannot be adjusted as high up as other rebounders
Despite its easy assembly, the instructions can be somewhat difficult to follow
Check Price and Reviews on Amazon
---
2. QuickPlay PRO Rebounder
Sale
QuickPlay PRO Rebounder Adjustable Angle Multi-Sport Trainer | Soccer Rebounder or Baseball & Softball Pitch Back | Ideal for Team and Solo Training (5x5')
PROFESSIONAL TRAINING TOOL - The Pro Rebounder features a high tension rebound net and is available in 2 sizes 3x3' - flat paneled, 5x5' - dual-angle panels. Designed for players training together or solo, to improve both precision and skill across all aspects of the game.
INNOVATIVE MULTI-ANGLE ADJUSTABLE PANEL - Create a practice environment that's more realistic than any other rebounder on the market.
NEGATIVE ANGLE SETTING - One of the only rebounders on the market that can lean forward past vertical. For baseball, this allows you to bounce the ball downwards, replicating a ground ball. For soccer, this replicates a ground pass, keeping the ball rolling along the ground.
TRAIN ON ALL SURFACES - Rubber pads are located on the base of the rebounder frame making it suitable for all surfaces, indoor or out. Strong enough to be used by both adults and youth teams the Pro Rebounder features an ultra heavy-duty net and sturdy steel frame.
Register your purchase with us for a free extended warranty.
Last update on 2023-09-19 / Affiliate links / Images from Amazon Product Advertising API
This rebounder comes in two sizes: the 5' by 5' and 7' by 7' models. This makes it ideal for both solo practicing and training with a partner. However, the main feature that makes it outstanding is that its net can be fully adjusted. The beauty of adjustable angles is that you'll be able to simulate different scenarios; thus, enabling you to practice in a relatively-realistic setting.
Furthermore, the Quickplay Pro rebounder is equipped with rubber feet at the base. This means that you can use it on a variety of surfaces whether it's indoors or outdoors. Regardless of where you set it up, this rebounder is strong enough to withstand all external elements. This is made possible by its galvanized steel frame and high-tension rebound net.
There's just one drawback though- the sturdiness and strength of its materials make it quite heavy. It weighs about 47 pounds, rendering it less portable. This is not the kind of rebounder you can move around on demand.
What We Like:
Fully adjustable
Backed by a 2-year warranty
Very sturdy
Can be used on any surface
What We Don't Like:
It's too heavy to carry around
Check Price and Reviews on Amazon
---
3. SKLZ Quickster Soccer Trainer
Sale
Last update on 2023-09-19 / Affiliate links / Images from Amazon Product Advertising API
Despite the amazing qualities of these high-end rebounders, not everyone may be willing to spend nearly $200 to buy a soccer rebounder. So if you are on a shoestring budget, the SKLZ Quickster is a more affordable alternative.
In addition to its decent pricing, this rebounder has several admirable features. One of these is its versatility. Thanks to its patented design, you will be able to practice volleys and half-volleys. Plus, you can also improve your skills through repetition training. This patented design consists of a dual rebounder net with the large net measuring 6' by 4' and the small net measuring 6' by 20".
Like the Tekk Trainer, this rebounder can be set up pretty quickly. And it weighs a meager 13.2 pounds, making it pretty portable. Assembling it won't take you more than 8 minutes and dismantling it is equally easy.
Another feature that sets the SKLZ Quickster apart is the fact that it's made of premium quality materials. Thanks to this sturdy construction, you can take hard shots without worrying that the net is going to rip or trip the rebounder over.
What We Like:
It's cheap
Can be used to train ball control, passing and more
Can be assembled quickly and is easy to transport
Perfect rebounder for solo practicing
What We Don't Like:
The stakes fail to anchor to the ground effectively
Check Price and Reviews on Amazon
---
4. SoccerWave Jr. 2 in 1 Soccer Rebounder
No products found.
SoccerWave Jr. is slightly similar to the SKLZ Quickster in that it's also a dual rebounder net. It has a rebounder net on one section and a curved net on the other. This design makes the rebounder suitable for players of different skill levels.
With the curved net, it won't be easy to predict the direction of the ball; and this takes your training up a notch. The curved net is ideal for practicing football techniques like volleying, heading, trapping, and pass accuracy. The angled rebounder net, on the other hand, is great for practicing passing and ground balls.
The SoccerWave Jr. constitutes an anti-rust thick gauge steel frame as well as UV-protected nets. These materials contribute to its durability, especially if the rebounder is being used outdoors. And in case you want to move this rebounder around, it has a two-piece design that makes this process easy. Essentially, the rebounder can be dismantled into two main parts.
Unfortunately, this rebounder is bulky, so if you want a very portable option, it might not be the best fit. Also important to note is that its assembly is not easy. It's time-consuming and requires the expertise of an adult.
What We Like:
The net is a thick weave and is coated with an all-weather UV
The curved design of the rebounder gives your ball an unpredictable return. This keeps you on your toes as it forces you to think fast and be quick on your feet
Can be used for individual and team settings
Designed for players of all skill levels
What We Don't Like:
Setting up the rebounder is not easy. If you're struggling to assemble the SoccerWave Jr. rebounder, watch the tutorials on their site.
Check Price and Reviews on Amazon
---
5. Trigon Sports Soccer Rebounder
No products found.
Measuring 6' by 12', the Trigon Sports Rebounder is one of the largest in our review. Its large surface area makes it the perfect rebounder for novice players who are still practicing their aim.
On the flip side, the frame is very tall, a factor that makes it susceptible to toppling over. So to enhance its sturdiness, the net has 3' legs on either side. The four ground-anchoring stakes also add to its stability.
One thing you'll notice about this rebounder is that it looks very simple. But don't let this fool you as it's made from high-quality materials. The frame tubing is constructed using galvanized steel and the net is UV-treated. What's more, this rebounder comes with a push-button set button, guaranteeing a quick and effortless assembly.
What We Like:
Capable of withstanding powerful shots
It's a multipurpose rebounder
Both sides are usable
What We Don't Like:
Cannot be set up at different angles
Check Price and Reviews on Amazon
---
Types of Soccer Rebounders
Soccer rebounders can be differentiated based on their uses. Some are good for practicing shooting, others passing or control, and others goalkeeping. Of course, we also have rebounders that can be used for multiple functions. Here is a breakdown of the different kinds of rebounders.
Multi-purpose Rebounders
The name is self-explanatory. These are rebounders that can be used in a variety of sports.
Although you can use rebounders for different applications, the majority of them are designed only for football. Thus, they would not work well for other sports. For instance, you might find a net design that doesn't fit a baseball or golf ball.
So if you intend to use the rebounder for sports other than soccer, we recommend looking for those described as multipurpose. With such rebounders, you'll be able to switch from soccer to basketball with ease.
Surprisingly, multipurpose rebounders are actually cheaper than other models. Perhaps this is because they have no definitive purpose; hence, giving manufacturers the freedom to use inexpensive materials. On the plus side, these multi-purpose rebounders can be used in a variety of settings.
Passing and Control Rebounders
Passing is a key part of playing soccer. If this is not your strong suit, you can learn the top five ways to pass a ball here. In addition, you'll need to look for rebounders that are designed with this particular skill in mind.
For beginners, the taller and wider rebounders are a better option because they give players a larger target to hit. But for advanced players, smaller, shorter rebounders are the best because they take up very little room.
The most essential aspect to focus on when choosing a passing rebounder is that you're able to kick along the ground and get the ball back. Some rebounders are fitted with small bars at the bottom, which make it almost impossible to get the ball back. Other designs have nets, which return the ball.
Shooting Rebounder
In case you're purchasing a rebounder specifically so you can practice your shooting, then we recommend going for a large one. Bigger rebounders are the most suited for shooting, which is a skill with a high degree of variance to it. If you use a small rebounder instead, you will only be increasing your likelihood of missing your target, in which case you'll end up chasing the ball. This beats the idea of having a rebounder in the first place.
Sizing aside, you should also pay attention to how the rebounder returns the ball. If you'd like a net that causes the ball to bounce back hard, then a design consisting of coils is the best. And if you want one that hits the ball back at a reasonable pace, then buy a rebounder that can fit into an already-existing goal.
Essential Features to Look for When Buying a Soccer Rebounder
To ensure that you're purchasing the right soccer rebounder for your needs, there are a couple of things you should focus on. These are:
Size
Soccer rebounders are available in a variety of sizes so as to meet the needs of different players. When deciding what size to pick, keep two things in mind- your age and the specific area of the game that you want to perfect.
For instance, if you want to improve your accuracy, a small rebounder is the best. However, if you're an older player who wants to improve your kicking power, then a bigger rebounder might be a better option.
Another point you'll want to consider is the portability of the rebounder. Although some rebounders are designed with quick breakdown mechanisms, small-sized nets tend to be more portable.
Framing
Apart from size, another factor to consider is the frame. Essentially, this should be sturdy enough that it withstands kick after kick.
Materials like plastic and fiberglass have incredible benefits such as their lightweight and portability. Unfortunately, because they are too light, they are more likely to tip over. Still, plastic and fiberglass rebounders are an excellent choice for kids as well as for low-impact kicks.
That said, the majority of soccer rebounders that you'll come across will be made of metal- the most common being aluminum and steel. The greatest benefit of metallic framing is that it creates a strong base, capable of withstanding an array of kick strengths. This means that you can test and train your kicking power as often as you want without worrying about its structural integrity.
When shopping for rebounders, you'll want to look for ones that have circular tubing for the frame. These circular frames are gentler on your soccer ball; thus preventing potential ruptures. With the all-weather coating, it ensures the frame materials withstand any extreme weather. It also helps to prevent degrading and rusting.
The last point concerning the frame is that you don't always have to go for the T-shaped one. This particularly applies to players who'd like to mix up the return paths of their kicked balls. For such instances, you should pick rebounders with varying angles and ones that have adjustable parts. Creating a range of angles ensures that you are well-prepared for real action on the pitch considering that not every kick will come directly back to you.
Netting
The netting of the rebounder is another aspect worth considering. You'll want to choose a net that's described as all-weather. It should also have a small, tight knit. Just like the frame, an all-weather netting is important because it's able to weather the occasional extreme climatic conditions. As for the tight-knit, it creates a better reaction and is easy to work with when you have small soccer balls.
Best Soccer Rebounder Brands
Tekk
Tekk was established back in 1999, with the sole aim of manufacturing innovative soccer-training equipment. One thing that sets this brand apart is that all its products are made through the input of expert coaches and athletes.
Quickplay
Quickplay is a leading sports brand that provides the consumer and retail markets with products like soccer rebounders and match goals. This company is dedicated to making high-end sports equipment by using research and innovative development.
SKLZ
This company was established to provide top-of-the-line sporting equipment to athletes and players. SKLZ has its headquarters in Carlsbad, California, which is the sports hub for manufacturing and testing its products.
Soccer Wave
This brand specializes in making unique and effective soccer rebounders. Most of their products have varying curvature, a design that offers unpredictable ball returns.
Trigon Sports
This is yet another leading brand of sporting equipment. Boasting more than 4-decades of experience, this company aims to meet the needs of different consumers ranging from high school and college students to professional soccer players.
FAQs
What is the best soccer rebounder size for kids?
For kids, a 6.2' by 12' soccer goal is the best. This then requires a 6.5' by 12' soccer net to be used with.
How thick should the roping be?
The conventional thickness of a soccer net is 2 mm. But if you want a net that can withstand powerful kicks, we recommend using one with a rope that ranges between 3 and 3.5mm.
Can I make my own rebounder?
Yes. You can create a homemade rebounder using just plywood and utility lumber. This article provides a step-by-step guide for making a DIY rebounder.
Wrap Up
When it comes to honing your skills on the football field, few training tools can rival the rebounder. A rebounder is designed exactly like a football goal, but instead of only receiving the kicked ball, its bungee-loaded netting also returns the ball. With the best soccer rebounders, you can sharpen your accuracy, kick power, placement, and speed within a short amount of time.