Played by over 7 million people worldwide and pushing for inclusion in the Olympics, Ultimate Frisbee is one of the fastest-growing team sports in the country. This disc sport is an exciting, fast-paced game that you'll love! If you're ready to get started, here's your complete buying guide to choosing the best Ultimate Frisbee disc for you, plus everything you need to know to play your first game and find your first team!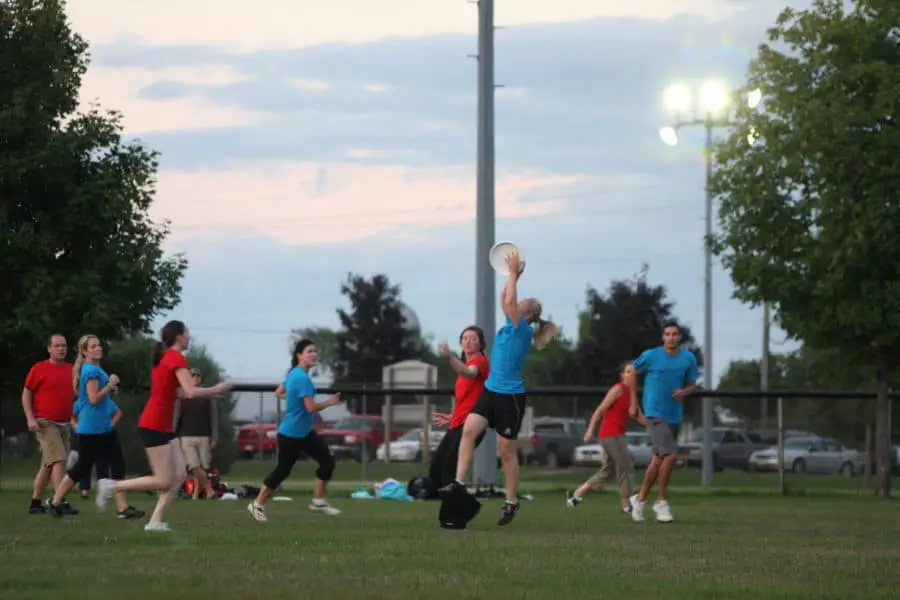 In a Hurry? Here's Our Top Picks…
1. Wham-O Ultimate Flying Disc Frisbee 175g
Wham-O Ultimate Frisbee 175g (Assorted colors)
The Ultimate Wham-O Frisbee is the American iconic must have Frisbee for Ultimate Frisbee or just for fun; it performs well in all conditions
The Wham-O Ultimate Frisbee is specifically designed to balance distance—great for layout outs, speed and the ability to float based on your throws for all your Ultimate Frisbee plays
The Ultimate Frisbee Disc 175g is an idea weight for Ultimate Frisbee and performs very well under windy conditions; plus, flicks and hammers can now be mastered with incredible control
The Wham-O Ultimate Frisbee Disc is also a great Frisbee for fun; although super rugged, everyone will enjoy using it for the beach, park or in the yard making it the ultimate Frisbee
The Ultimate Frisbee comes in 3 different colors and designs; you only receive 1 Frisbee from the assortment; color shipped is random
Last update on 2023-11-19 / Affiliate links / Images from Amazon Product Advertising API
Weighing in, as it says in the name, at the USA Ultimate regulation weight of 175 grams, the Wham-O Ultimate Flying Disc Frisbee makes our list of best Ultimate Frisbee discs. Esquire Magazine lists a flying disc on its list of "31 Things Every Man Should Own" and the Wham-O disc is the one they've chosen.
This disc is ruggedly designed to stand up to rough play and take some hits, in addition to being carefully crafted to fly great distances and float on the air, even on windy days. It comes in three colors and when you purchase it, you get one at random. It's the kind of disc you can take to the park, the beach, or anywhere you want to round up a group of friends and play some Ultimate Frisbee!
Things We Like
Perfectly weighted at the standard 175 grams for Ultimate Frisbee
Made from durable plastic to last for years of hard play
Check Price and Reviews on Amazon
---
2. Innova Big Kahuna Heavyweight Ultimate Throw and Catch Disc
Last update on 2023-11-19 / Affiliate links / Images from Amazon Product Advertising API
The Innova Big Kahuna Heavyweight Ultimate Throw and Catch Disc weighs in at 200 grams, so while it's not sanctioned for play in any official Ultimate tournaments, it stands up better to wind and flies further and faster than a lighter disc. It's great for a rousing game of Ultimate with friends if you want to play in a larger space, considering this disc won't falter over longer distances.
This disc is great for more inexperienced players. It's easier to throw and easier to catch. The extra weight gives the edges a bit of added thickness that makes it easier to successfully catch one-handed and adds to the discs lauded durability; and it holds up to rough play much better than thinner, lighter weight discs. The Innova Big Kahuna Heavyweight also comes in a variety of stylish designs and colors, so you can choose the one that fits your personality best.
Things We Like
Heavy weight allows this disc to fly smoothly over long distances
Stylish colors and designs let you customize your disc
Thick and durable plastic stands up to long term play and is great for inexperienced players
Check Price and Reviews on Amazon
---
3. Nite IZE Flashlight LED Light Up Flying Disc
Nite Ize Flashflight LED Light Up Flying Disc, Glow in The Dark for Night Games
LED FLYING DISC - With its innovative design and super-bright illumination, this floating water-resistant disc is suitable for serious sport or super friendly fun
DESIGNED BY A PRO - Designed by a professional player, this disc is 185 grams and truly balanced for long, straight flight
PATENTED LED TECHNOLOGY - With a patented fiber-optic array that extends all the way to its rim, this entire disc is illuminated from every angle with a simple push button on/off switch
BOLD AND BRIGHT - Measures 10.60" x 10.60" x 1.18" and weighs 185g- Comes with long-life (20 hour), replaceable 2 x 2016 3V lithium batteries
GREAT FOR NIGHT OR DAY - Don't cut your game short because of the dark- Whether playing with friends or family or serious sport, you can play late into the night
Last update on 2023-11-19 / Affiliate links / Images from Amazon Product Advertising API
This popular disc is a bit different from the others on this list. The Nite IZE Flashlight LED Light Up Flying Disc weighs a little bit more than your usual regulation disc, clocking in at 185 grams, and may not have a place on the USA Ultimate Championship Series prestigious list of approved discs, but that hasn't stopped it from becoming one of the most popular discs of the year, with rave reviews from players.
What sets this disc apart from the others is its fiber-optic LED array, which transforms Ultimate from a daytime only activity to a game you can play no matter the time or weather. The lights shine brightly and from every angle, cycling through the colors as you play so that you never lose sight of it. And, while pretty much every flying disc on the market is waterproof, this disc distinguishes itself as an LED disc that is waterproof, floats, and is super durable. It was designed by an Ultimate player to fly as far and as fast as a regular, non-LED disc.
Its players rave about its brightness and durability. The Nite IZE Flashlight LED Flying Disc is a hit! If for some reason you have an issue with it, it comes with a Worry-Free guarantee, so you can buy it without beating yourself up about what-if situations.
Things We Like
Flexible and aerodynamic design that flies well
Color changing LED array makes disc both visible and beautiful on the darkest nights
Excellent customer service keeps us coming back
Check Price and Reviews on Amazon
---
4. Discraft 175 Gram Ultra Star Sport Disc
Ultra-Star 175G Ultimate Disc - White
The world standard for the sport of Ultimate
Official and exclusive disc of the USA Ultimate Championship Series since 1991.
Listed among the 31 things all men should own by Esquire magazine
175 grams
Foil color on the disc will vary
Last update on 2023-11-19 / Affiliate links / Images from Amazon Product Advertising API
If you're looking for the very best Ultimate Frisbee disc on the market, there's no argument. The Discraft 175 gram Ultra-Star Sport Disc is what you're looking for. It's USA Ultimate approved and the only official disc of the USA Ultimate Championship Series, a prestigious title it's held since 1991. All around the globe, this is the most popular disc for Ultimate players, having passed (and even surpassed) the rigorous standards of USA Ultimate approval.
This heavy-duty plastic flying disc is made in the USA and features flight rings on the edges for added grip and precision in flight. There's a reason this is the most popular and highest rated flying disc you can get; it's aerodynamically designed to fly straighter and further than the competition. People all around the world play with the Discraft Ultra-Star.
It's available in many different colors, so you can choose what will stand out best against your surroundings, whether you're playing in a field, at the beach, or in the snow. Discraft also offers a glow-in-the-dark option and the Chameleon disc changes color in the sunlight, so you can play no matter the weather conditions.
Not to mention the affordability; the Ultra-Star Sport Disc is easily within even the most casual player's budget. Whether you're playing with friends, in a club, or in a championship, you can't go wrong with this disc. It's the highest quality Ultimate Frisbee disc on the market.
Things We Like
Tried and tested design means this disc has surpassed the USA Ultimate standards
Durable plastic stands up to scuffs and warping with repeated play
Flight rings on the edges allow for easy grip and catching
Check Price and Reviews on Amazon
---
What is Ultimate Frisbee?
Ultimate Frisbee, commonly referred to as simply "Ultimate," is a popular no-contact field sport. It's a fast-paced and exciting game that combines elements from games like football, basketball, and soccer into an entirely new kind of team sport: one that uses a flying disc (or Frisbee) instead of a ball. It's played in teams and its popularity is growing all around the world as Ultimate clubs, leagues, and teams popping up everywhere.
The Court
A regulation Ultimate court is 40 yards by 120 yards, with 25 of those marked out on either side as the endzone. Of course, the game can be played on a smaller (or larger) scale, so long as both sides of the field are of equal size.
Does your local park have a field? Perfect, you can set up a court there! Heading to the beach? No problem! You can play a casual game of Ultimate with friends anywhere. Ultimate Frisbee HQ has some more tips for setting up your court.
How You Play
A game of Ultimate is played by two teams. Each team can have seven people on the field at any given time but, like in many other competitive team sports, you can substitute players during pauses in the game.
The game begins with a "pull," during which the defensive team throws the disc as far back as they can, towards the offensive team. Once the catch is made the game begins in earnest.
A point in Ultimate is scored similarly to a point in football, the Frisbee has to make it to the end zone. Unlike football, the only way to get it there is to throw it and have one of your teammates catch it in the end zone because once you've caught the disc, you have to stop moving.
After catching the disc, you can pivot and throw it to a teammate in any direction, but you can't take steps anymore and you only have ten seconds from the moment you catch the disc to throw it again.
Typically in a game of Ultimate, the defending team assigns one player per offensive player. The defender, known as a "marker," is in charge of counting down the seconds from when you've made the catch.
If it's confusing to you, this video might help!
Turnovers
Lots of situations can trigger a turnover, where the defending team takes possession of the disc and becomes offensive. Some of the most common ones are:
Down: offensive team fails to catch the disc and it lands on the ground
Interception: defensive team catches the disc
Out-of-Bounds: the disc goes outside the boundary of the field
Dropped Pull: offensive team touches the disc but fails to catch it during the pull
Foul: uncontested foul occurs
There are additional situations, and some are more complicated, but if you're going to play you should familiarize yourself with all of the things that cause turnovers. The World Flying Disc Federation (WFDF) has an in-depth list of all of the turnovers here. They also have a list of all the fouls, which you need to know as well because you're the referee – and so is everyone else on the field.
The Spirit of the Game
One of the most charming aspects of Ultimate is its self-governing commitment to maintaining what they call "the spirit of the game." In fact, in the very first section of the official rules for play, put out by WFDF, rule 1.4 reads, "Highly competitive play is encouraged, but should never sacrifice the mutual respect between players, adherence to the agreed-upon rules of the game, or the basic joy of play."
Ultimate Frisbee has no official referees. Instead, that responsibility falls to the players, who work to maintain an atmosphere of respect and good sportsmanship, so that everyone remains honest and forthright about mistakes and fouls. WFDF released a video about self-officiating that might help you get in the right headspace.
Since the players are the referees, Ultimate is a great game for teaching children responsibility for their actions and good sportsmanship. Players report their own fouls and really take ownership of both the game and the values of the community they're building together.
Throws
There are many different ways to throw a disc, depending on how far and how fast you need it to go. A lot of this can be learned by practicing with other more experienced players, but you can get a bit of a head start here!
There are a whole lot of different ways to throw a disc, ranging from the classic throws we've all used when playing a game of catch at the park to more advanced and trickier throws. Here's a great video that shows you all of the throws.
Don't be intimidated! For all of the most popular throws, there's a tutorial to help you learn how to throw like a pro! Here's a playlist with specific tutorials for over 30 different kinds of Ultimate throws.
Join a Group
Ultimate is played in more than 80 countries worldwide, with 56 nation members of the World Flying Disc Federation. Wherever you are, you'll be able to find a group playing near you. Ultimate is played in high schools, universities, and clubs. You can check out USA Ultimate's list of affiliated clubs around the country here!
Things to Consider When Buying Your Ultimate Disc
Weight
The USA Ultimate regulation weight is 175 grams. If you're planning on using your disc for competitive play in any official capacity, you don't want to exceed that weight. It's not a problem; there are tons of discs out there that have had a lot of design and love put into making sure they're 175-gram aerodynamic works of art.
If you're playing with new players, just warming up, or want something that can stand up to stronger weather conditions, then you might want to invest in a slightly heavier disc. Sure, you can't use it in an official competition, but you can still use it in a casual setting and it will fly further and faster than a regulation weight disc, which can mean a lot of fun!
Durability
An Ultimate disc gets a lot of wear, tear, and scuffs if it's in use regularly. If you get a less durable disc, like many of the small plastic ones you can win at giveaways, it will be more prone to cracking or chipping. This can alter the way that the disc flies, disrupting its flight and making it less predictable. Higher quality discs, like the Discraft Ultra-Star, have been carefully crafted to maintain consistency in flight, even with minor imperfections.
USA Ultimate Approval
If you're looking for a disc to play casual Ultimate with friends, you can skip this section. This is important only if you want to use your disc for competitive play. Whether you're playing in a high school, college, or club league, you'll need a disc that meets with USA Ultimate approval. Their standards are high and all of the approved discs on their list have been put through rigorous testing by advanced players around the country. You can read more about their process here.
Best Brands
Discraft is one of the best manufacturers of discs, for both Ultimate Frisbee and Disc Golf, in the world. Their discs are the standard for play and have been the only disc of choice for the USA Ultimate Championship Series since 1991.
Wham-O has been making toys for over 70 years and is actually the mastermind behind the original Frisbee! It's a company dedicated to fun and outdoor sports with a passion that is apparent in its products and customer service.
Nite IZE may not be known for its discs in comparison to its other services, but fun is at the heart of their company and their LED discs set the bar for light-up discs.
Innova is a European disc golf company, but their passion for well-crafted, high-quality discs is well known around the world and their discs have a growing presence in the Ultimate Frisbee world.
FAQ
Q: Is Ultimate Frisbee a sport?
A: Oh yeah! Ultimate has a national governing body and official rules, leagues… the whole shebang. It's played in PE classes and at universities. It is just as fast-paced and physically grueling as many more mainstream sports, but it can be played with minimal equipment by people of any age. The most convincing argument for Ultimate being a "real sport" is that USA Ultimate, the governing body of the sport within the USA, has been officially recognized by the Olympic Committee as a "sports organization."
Q: How long is a game of Ultimate Frisbee?
A: Typically the game is played to 15 points, but the winning team must be two points ahead of their competitors. Otherwise, it's the first team to 17 points. Now, if this is taking a long time and the game is dragging on, the game can be ended after 60 minutes – if there's a team that's two points ahead. If not, the game continues to 70 minutes, at which point the team with the most points is declared the winner.
Q: Who invented Ultimate Frisbee?
A: Ultimate originated in a New Jersey high school in 1968. It was proposed by Joel Silver and over the next few years rules were written, the first games were played against other schools, and four years after the idea, the first game was played at the collegiate level. It spread like wildfire from there!
Other Equipment to Consider Before You Play
Before you jump in and play Ultimate Frisbee, you'll want to be sure that you have the best disc AND the best equipment to keep you protected and comfortable. Here are a few other equipment items that we recommend you consider before playing:
Cleats. Ultimate frisbee can be played either indoors or outdoors, however, it's most commonly played outdoors in a field. Because of the location, you should consider purchasing a good pair of soccer cleats to play in.
Ultimate frisbee bag. Having a bag is a great way to keep all of your gear together so you don't lose anything during travel.
Gloves. You'll want to protect your hands. Find a pair of sports gloves that are thin enough to easily grip the frisbee.
Athletic clothing. To keep you cool and comfortable while playing.
Protection from the sun. This includes sunscreen, hats, and sunglasses
Wrap Up
Now you're ready to play! Whether you're ready to go all-in and become an Ultimate junkie, or you're ready to ease into it and give it a shot, you can't go wrong with the Discraft Ultra-Star. It's regulation-sized for those who want to play professionally, lightweight, and durable for those who want to play rough, and incredibly affordable. It's the most popular and best Ultimate frisbee disc on the market. Pick one up and get out and play!
Interested in learning more about Ultimate Frisbee? Check out our Best Ultimate Frisbee Gloves and Best Ultimate Frisbee Cleats articles!