If you're looking to step your Ultimate game up to the next level, getting yourself a quality pair of cleats (and Discs, as we discuss in our Best Ultimate Frisbee Discs article) will help you improve your agility and stability on the field. With so many cleats out there, and so few designed specifically for an Ultimate player's specific needs, it can be hard to find the right pair for you. Fortunately, we've done all the hard work!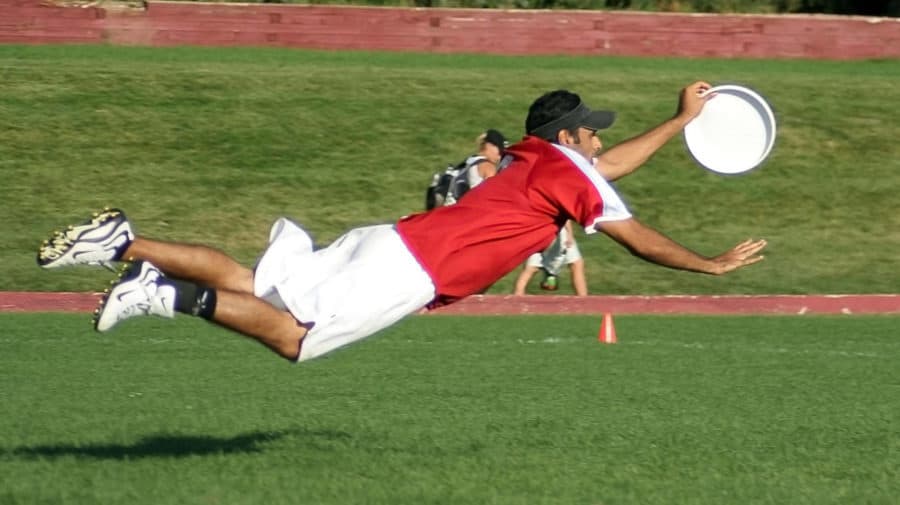 Here are our reviews of the best Ultimate Frisbee cleats on the market!
In a Hurry? Here's Our Top Picks…
Adidas Performance Men's Copa Mundial Soccer Shoe
adidas Men's Copa Mundial Firm Ground Soccer Cleats
Legendary soccer cleats for stability on firm natural ground
Leather upper with premium K-leather in the forefoot for comfort and flexibility
Move with explosive speed and traction on dry natural grass with the Firm Ground outsole
Die-cut EVA midsole for lightweight comfort
Soft, durable synthetic lining. Lace closure
Last update on 2023-11-18 / Affiliate links / Images from Amazon Product Advertising API
The Adidas Copa Mundial is one of the most popular cleats out there, and not just for soccer. These versatile cleats are made from high-quality materials and have been known to last for many years of hard use. Users give them rave reviews for their durability and quality, and these shoes have been said to last for over a decade of regular use.
The forefoot is made from premium kangaroo leather which molds to your feet. A die-cut EVA mid-sole cushions your steps and helps distribute the pressure of the studs evenly across the sole. The rubberized out-sole has molded studs to help increase your stability and the low-cut, lightweight cleats are highly maneuverable and great for cutting.
They're constructed from high-end materials and with sturdy adhesives that give them the durability they're famous for. The price tag definitely denotes the quality, but it's worth spending a little more on a pair of cleats that will last you many seasons.
Things We Like
Quality kangaroo leather forefoot is extremely comfortable and shapes to your foot
Die-cut EVA mid-sole disperses pressure comfortably along your sole and protects you from the studs
Molded studs are durable and well placed for quick direction changes and high speeds
Check Price and Reviews on Amazon
---
Nike Mercurial Victory VI FG Soccer Cleat
NIKE Jr. Mercurial Victory VI FG Soccer Cleat (Sz. 6Y) Laser Orange, Black
Made with a synthetic leather upper with embossed horizontal ridges, the Youth Mercurial Victory VI is engineered to help a player maintain control of the ball while running passed the defense.
This lightweight cleat has a low-profile toe box, perfect for getting under the ball and allowing a player to put their shots and passes where they want them to go.
With a contoured, perforated sockliner to ensure comfort through the underfoot and an in-your-face orange, black, white, and volt colorway that every kid will fall in love with, the Youth Mercurial Victory VI is the perfect cleat to allow a kid to capitalize on his or her natural speed.
Last update on 2023-11-18 / Affiliate links / Images from Amazon Product Advertising API
The Nike Mercurial Victory Soccer Cleats are incredibly lightweight and made from a minimal microfiber material that conforms to the shape of your foot with a compression fit. It feels like you're barefoot. The synthetic leather upper is highly durable and you have the option of including a contoured sock liner for added cushioning to reduce cleat pressure.
The studs themselves are made with a lightweight, durable chevron pattern, specifically designed to help with quick starts and sudden stops, that will drastically increase your traction and help with your speed and cuts.
The Nike Mercurial Victory is also available in a stylish selection of colors, so you can choose your look or wear your favorite color, with or without the sock liner. They're a great choice if you're looking for a cleat that will improve your game without feeling like you're carrying something heavy around on your feet. I highly recommend these, plus they come in a women's version so they're great for Ultimate players of both genders.
Things We Like
Super lightweight design feels like there's nothing on your feet
Synthetic material molds to the foot with a compression fit so there's no room for slippage
Chevron patterned stubs grip the ground for noticeably increased traction and maneuverability
Check Price and Reviews on Amazon
---
Under Armour Nitro Mid MC Men's Football Cleats
Under Armour Men's Nitro Mid MC Football Shoe, Black (001)/White, 16
Combination of coated textile with strategically placed synthetic creates a support cage that provides superior stability, ventilation & comfort
Soft, padded foam collar for a secure & comfortable fit around your ankle
Open holed mesh tongue construction for enhanced breathability
Molded toe cap for increased protection & durability
TPU heel clip offers additional support & stability
Last update on 2023-11-19 / Affiliate links / Images from Amazon Product Advertising API
These cleats are a little different than the others on our list since they're designed for football instead of soccer, but they're just as good as their competitors and have an edge on artificial turf. If you tend to play on an artificial field, they're a great choice. If you play in more natural settings, don't worry – they perform well everywhere!
The molded TPU plate has skinnier studs than normal cleats, including a second set of studs which gives you added stability on cuts and acceleration. These specializations allow them to perform better on artificial surfaces.
They're also super comfortable. The UA Clutchfit has a "second skin" design to give your foot extra support and a tight fit, plus a molded 4D foam sole to prevent your foot from slipping within the shoe. Not to mention, as a mid-cut cleat, the Nitro offers increased ankle support compared to its soccer cleat competitors.
Things We Like
UA Clutchfit means the fit is tight, comfortable, and keeps your toes safe from slipping even with aggressive cuts and play
Molded TPU plate features skinny studs for added stability and grip on artificial surfaces
The sleek and simple design is stylish no matter who you are
Check Price and Reviews on Amazon
---
Universe Point Ultimate Frisbee Cleat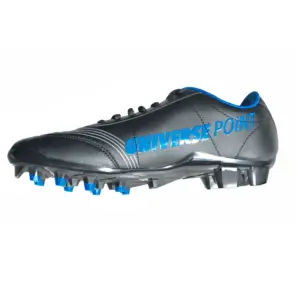 The best cleat you can get isn't available on Amazon. It's a cleat specifically designed by Ultimate lovers, for Ultimate players, keeping in mind the need for quick movements and multi-directional cuts that is unique to the sport. The Universe Point Ultimate Frisbee Cleat is one of a kind and, compared to the costs of most other sport cleats, is super affordable. You can check out their promo video here.
These cleats are designed to be both durable and comfortable, constructed from a dense TPU that has added flexibility near the forefoot and flexes easily without losing its shape. This both allows for easier movement when pivoting, jumping, and sprinting, and gets rid of the need to break in the shoes. The material is also antibacterial, anti-fungal, and water resistant.
The cleat layout is designed specifically for Ultimate, so there are distinct and unique stud arrangements for each part of the foot, in an omni-directional pattern. The spikes are thicker than many other cleats, so there's less give, which lets you accelerate faster. The Universal Point Cleats also feature a toe-spike, similar to a football cleat, which helps with forwards acceleration in addition to being a great tool for pivoting.
This is the best cleat on the market if you're looking for something specifically designed for Ultimate. Every detail of its construction was created with the needs of Ultimate players in mind and the feedback it has received has been overwhelmingly positive.
Things We Like
Extra flexible design reduces muscle tension when moving and means that the cleats arrive essentially already broken in
Durable and water resistant material is also antibacterial and anti-fungal to keep your shoes cleaner longer
Specifically designed stud layout for Ultimate means that this shoe is designed to cut forward and backward, side to side, and pivot comfortably and with maximum traction and stability
---
Why Ultimate?
Everyone who plays Ultimate has their own reasons for loving the sport. Maybe it's the community, maybe it's the rush of competition. But there are plenty of reasons that Ultimate is a sport that everyone will enjoy.
Meet New People
Ultimate is a hugely social sport. It's a team sport, but many players grow to feel that their team is more than that; it's a family. Through hours spent playing together, getting to know each other, and hanging out with a big group of people with a common passion and a ton of other interests, you can expand your network and have a great time doing it.
The Spirit of the Game
Ultimate is unique among team sports in that there is no referee. Instead, the players are self-officiating and there's a lot of emphasis on taking responsibility for your actions and in preserving the "Spirit of the Game." This means that even though it's competitive, and maybe you're playing in leagues, there's a focus on making sure that at the core of the game is that essential joy you get from playing a fair game, where competition doesn't breed animosity. As one player puts it, "Play hard, play fair."
Get in Shape
Ultimate is a great way to get in better shape. It combines a whole bunch of different kinds of exercises and works out your whole body, from sprinting to jumping to throwing, you're always moving in different ways. This makes Ultimate a great work out, but more importantly, it's fun. You don't feel like you're working out because you're enjoying the game, enjoying the outdoors, and enjoying spending time with your friends.
No Dress Code
Unlike many other sports that require you to wear uniforms or use certain equipment, all you really need to play a game of Ultimate is a disc and some friends. In fact, the sport encourages individuality. Players wear sports clothes, costumes, onesies, whatever they feel like wearing. The crazier, the better!
Things to Consider When Buying Cleats
Type of Cleat
Because Ultimate is still an emerging sport, with specific cleats only just now emerging on the market, there's a good chance you'll want to pick up a pair of tried and tested cleats that weren't designed with Ultimate in mind. In order to choose your cleats well, you need to know the differences between the cleats made for different sports. We've gone into the basics of the most popular cleat styles here, but you can find a comprehensive guide on the differences between different sports cleats here.
Football
These cleats are typically designed with forward movement in mind. To help with this, they typically have a front toe stud for traction, which soccer and lacrosse cleats don't have. Football cleats are also typically heavier and tend to be high or mid-cut, meaning the shoe comes up higher around the ankle which provides added support at the cost of some maneuverability. Their studs are typically able to be screwed in and bladed, which gives you added traction and speed, especially in poor conditions, but isn't necessarily ideal for an Ultimate player.
Soccer
Soccer cleats are the most versatile and probably your best bet. They tend to be lower cut and lighter weight, designed for agile movement and quick changes in direction. Their studs are typically conical and more widely spaced, which is great for increasing your stability and preventing too much dirt and grass from getting caught in the studs. The rounded studs let you pivot more easily – which is essential for Ultimate!
Material
Typically, your cleats' studs will come in one of three materials: plastic, rubber, and metal. Rubber and plastic studs are what you're looking for here. They're more lightweight than their metal counterparts and, this is important, metal studs are not allowed in Ultimate.
Injuries
While generally a low-rise soccer cleat is the best option for any Ultimate player, if you have injured or weak ankles, the low-cut cleat won't offer you enough support. You can often find cleats in mid or high-cut, which, while you sacrifice some maneuverability because they're typically heavier and slightly more constraining, will provide additional support to your ankles and help keep them safe and healthy.
You can see some tips for preventing injuries in Ultimate here.
Best Brands
Adidas has one goal: to be the best sports company in the world. Their efforts to achieve that mission are obvious in the quality of their products and their recognition all over the world.
Nike is another famous athletics company which produces high-quality sports equipment and strives to do so in a way that is sustainable. They're renown for their effective (and stylish!) products.
Under Armour is a global company devoted to improving the world through their athletic products, helping people achieve their highest physical potential.
Universe Point is a company made of Ultimate enthusiasts who work with athletes to produce cleats that will change the game and keep Ultimate moving forward, elevating the competition.
Wrap Up
If you want to take your Ultimate game to the next level by investing in some cleats, the Universe Point cleats are really your best bet. They're incredibly well designed with the movement of Ultimate in mind and also durable and long lasting. For the relatively low price you can pick up a pair for, they're an unbelievable steal.
Plus, when you buy one from Ultimate Point, you're supporting the Ultimate community and that money goes back into designing better products and funding teams. It's a great investment, for you and for the community.
So what are you waiting for? Find your best Ultimate frisbee cleats and go play!
Interested in all things sports? Check out our Best Soccer Rebounder and Basketball Court Ideas articles.