If you're looking for the best soccer cleats, you've made it to the right place! When it comes to finding soccer cleats, it may seem like a daunting task with all of the options available on the world wide web.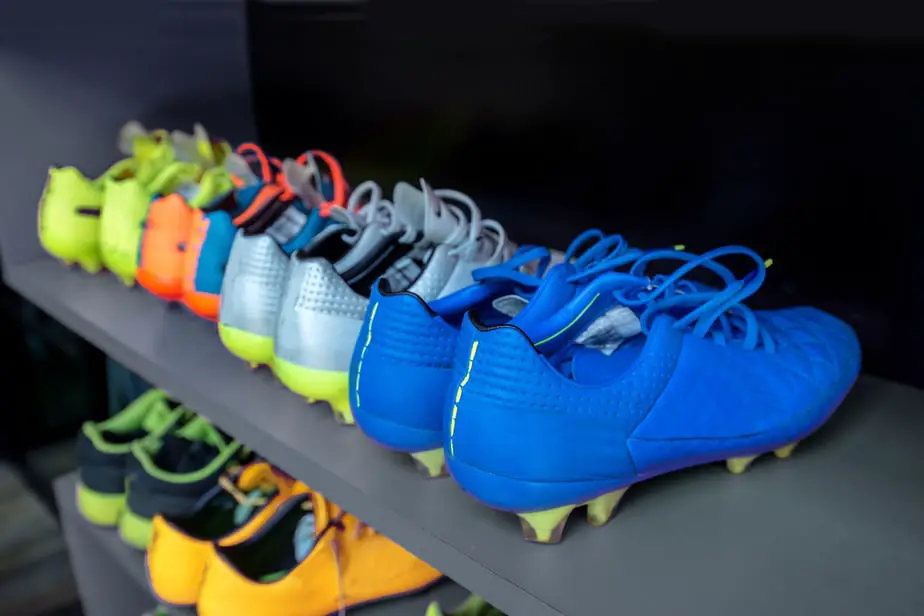 Luckily for you, in this article, we cover the most popular soccer cleats on the market today; along with an informative buying guide to help you pick the right cleats for your needs.
Let's get started!
In a Hurry? Here's Our Top Picks…
| Image | Title | Price | Buy |
| --- | --- | --- | --- |
| | DREAM PAIRS Men's 160860-M Grey Orange Black Cleats Football Soccer Shoes - 10.5 M US | | CHECK ON AMAZON |
| | adidas Men's Predator 19.3 Firm Ground Soccer Shoe, Black/Black/Gold Metallic, 10 M US | | CHECK ON AMAZON |
| Top | adidas Performance Men's Copa Mundial Soccer Shoe,Black/White/Black,10 M US | | CHECK ON AMAZON |
| | adidas Performance Men's Nemeziz Messi 17.3 FG, Black/White/Solar Yellow, 9.5 Medium US | | CHECK ON AMAZON |
| | Nike Vapor Untouchable Pro 3 Mens Football Cleats (9, Black/Red) | | CHECK ON AMAZON |
Product prices and availability are accurate as of the date/time indicated and are subject to change. Any price and availability information displayed on [relevant Amazon Site(s), as applicable] at the time of purchase will apply to the purchase of this product.
Prices pulled from the Amazon Product Advertising API on:
1. Adidas Performance Copa Mundial
Last update on 2023-09-23 / Affiliate links / Images from Amazon Product Advertising API
The Adidas Performance Copa Mundial is constructed using Kangaroo leather with extra leather supports starting at the heel for added support and durability as you run up and down the field. The K-leather will mold to the user's feet, giving you a glove-like fit resulting in a great feel and touch for optimal control of the ball.
Adidas Performance Copa Mundial's synthetic lining is quick-drying ensuring your feet stay dry and cool throughout the game. These cleats also have a long tongue that allows you to wear the shoes in various manners, depending on your preferences.
When it comes to the insole, this soccer cleat uses a Die-cut EVA insole. This type of insole offers you optimal comfort and is incredibly lightweight. Outsoles on these cleats are directly injected, dual-density. They ensure you experience the best comfort, a great fit, and good traction on firm surfaces.
Take note that you need to be careful when sizing this soccer cleat. We recommend that you look at half a size lower than your normal size when purchasing these cleats.
Things we liked
Durable and light insole
Great traction
No break-in period required
Quick-drying synthetic lining
Things we didn't like
Check Price and Reviews on Amazon
---
2.
DREAM PAIRS Men's Cleats
No products found.
With nearly 20 different colors to choose from, the DREAM PAIRS Men's Cleats is one of the most universal options on the market today. They're also great for getting a grip on a damp or soft grass field and are an incredibly lightweight shoe. The synthetic lightweight upper keeps your feet comfortable and flat for a clean striking surface.
The long tongue on these cleats holds secures the laces so that there is no chance of them coming loose or untying during your games or practices. And, if you get a little yellow when it comes to using animal products, you can rest assured that there are none here! These cleats are made entirely out of man-made, synthetic material but still have the comfort and durability that you'd find in leather soccer cleats.
Things we liked
Made with synthetic materials – great for those who don't like using animal products
Lightweight and perfect for soft ground
Conforms to the feet without being uncomfortable
The long tongue holds the laces down tightly so they don't move
Comes in a large variety of colors
Padded collar to keep your ankles from becoming rubbed or blistered
Things we didn't like
May need to size down or wear thick socks with these cleats; shoes run a little big
Check Price and Reviews on Amazon
---
3.
adidas Men's Predator
Last update on 2023-09-23 / Affiliate links / Images from Amazon Product Advertising API
With 11 colors to choose from, the adidas Men's Predator soccer cleats are an offer you don't want to pass up! These cleats are made up of 100% synthetic material and made with both men and women in mind. For women, they should size down 1 to 1 and a half sizes for the best fit.
These cleats are lightweight and made perfect for firm ground (though they may sink into softer or damp fields). The soles are very stable and keep the feet steady inside the shoe whether you're running from goal-to-goal or walking to get a drink after the game. They have great traction and won't break the bank, so these cleats are a great budget buy!
What we liked
Available in a variety of colors
Good budget buy
Sturdy sole
100 percent synthetic material
Great traction to keep you from slipping on the field
Works for both men and women, though women will need to size down 1 to 1 and a half sizes to get the right fit
What we didn't like
Not much information given on the ins and outs of the design
Check Price and Reviews on Amazon
---
4. Adidas Performance Nemeziz Messi 17.3 FG
Last update on 2023-09-23 / Affiliate links / Images from Amazon Product Advertising API
Adidas Performance Nemeziz Messi 17.3 FG is both supportive and breathable due to the agility mesh upper of this soccer cleat. An added advantage of the upper mesh is increased durability.
This soccer cleat offers good ball control and a great touch. You will experience good lockdown and your foot will be kept securely in the shoe as a result of the dual lock collar. Furthermore, you will have good ankle stability which helps minimize the chances of injury.
Textile and synthetic lining of the insole is designed to ensure your foot is dry and comfortable all through the game. It uses a well-constructed and well-cushioned EVA insole footbed to provide great support.
Studs on the Adidas Performance Nemeziz Messi 17.3 FG have been designed to perform well on firm ground. This means it will ensure you get the best grip possible. It will also allow you to change direction effectively. You will be able to firmly plant your foot on the ground to get the perfect shot at the goal.
When it comes to the fit, this soccer cleat fits like a glove. The shoe molds to the shape of your foot and needs little or no break-in time. Movement of your foot will not be constricted. As a result, you will have excellent control and great agility.
Things we liked
Good traction
Great touch and feel
Lightweight EVA insole
Superb stud configuration
Things we didn't like
It is only effective on firm ground
Check Price and Reviews on Amazon
---
5. Nike Vapor IX
No products found.
Uppers on the Nike Vapor IX are engineered to offer excellent formidable ball control and excellent support. The speed and touch of the cleat are phenomenal. It is perfect if you have the pace and skill to leave defenders in the dust. To offer great touch and extreme response, the Speed Control textured uppers combine a molded fit with friction.
Construction on this soccer cleat includes a great lockdown to ensure the foot does not move inside the cleat. ACC (All Conditions Control) technology used on this cleat ensures the shoe is capable of performing in dry and wet conditions.
The insole offers shock absorption because it is well-cushioned. It offers a soft heel that adds to the comfort of the soccer cleat.  Agility and speed are crucial for any player in the field, especially for strikers. The Nike Vapor IX has twin studs at the rear of the cleat to provide a fast release from the surface. Each stud has blades that make sure you can pivot or change direction and has an asymmetric design that offers the ability to make explosive push-offs while remaining stable.
Glass fiber is used to construct the lightweight plate on the outsole. This allows for superb energy return and makes it extremely flexible. These Nike cleats provide you with the boost you need when you need it.
The fit of this cleat is tight and snug making it extremely responsive. At the same time, you get the soft touch required to control a soccer ball with precision.
Things we liked
Soft-touch
Good for all weather conditions
Lightweight
Twin studs at the rear providing good release
Inclusion of blades allows for quick pivots or change in direction
Things we didn't like
Cannot be used by amateurs
Check Price and Reviews on Amazon
---
Soccer Cleat Education
When it comes to soccer cleats, there are a variety of options with a variety of uses. Some are better for softer ground, others for firmer ground; some are better for grass and others are better for indoor turf — so which type of cleat is best for you?
In the next few sections, we'll be going over everything you need to know about soccer cleats to make an informed decision!
Types of Cleats
Several factors determine the right soccer cleat. They are your budget, types of field you will play on, and the level of your game. An explanation of different cleats is provided below:
FG (firm ground) Molded Cleats
Required by the majority of youth programs for safety reasons
Suited for play in all weather conditions and on the majority of field types.
Ideal for amateur and intermediate level players
Hard plastic or non-removable rubber formed on the bottom of the soccer cleat is used to help provide control and traction.
Use the basic cleat design
SG (soft ground) or Replaceable Cleats
Suitable for use on soft grass fields, well-groomed grass fields, and soggy, wet fields.
Recommended for experienced players who can tailor the cleats to weather conditions and their playing field.
The length and type of studs can be changed depending on the field and weather conditions of the day's practice or game.
Cleats are usually made of plastic with metal tips or hard plastic and they vary in length.
They feature studs that can be screwed off and on to make the replacement process easy.
HG/MG (hard ground or multi-ground)
Provide a good option on frozen fields.
Make a good backup pair for the majority of players.
These cleats have a large number of short cleats evenly distributed across the sole.
Designed for hard natural or artificial surfaces such as sun-baked, solid or turf ground.
Turf Cleats
Usually, a good training cleat that may serve as a back-up pair for hard-surface conditions.
Have various raised patterns on the bottom instead of studs so they can be used on artificial turf or harder outdoor surfaces.
Indoor Cleats
Are mandatory in many indoor facilities when training or playing on artificial turf. The reason behind this is to ensure the turf does not get torn up.
Feature a rubbery-type, flat bottom for better traction on indoor fields and courts.
Engineered for playing indoor soccer in a recreational facility or gym.
Resemble lightweight, low-cut sneakers.
Sandals
The majority of sandals have added comfort thanks to the special massage-type features on the bottom of the foot.
Let you immediately remove your playing shoes during breaks or after a game to rest your feet.
You can easily slip them off and on when shin guards and soccer socks are on.
Worn before a game to minimize wear on your soccer cleats.
A crucial footwear add-on for soccer players.
Materials Used on a Soccer Cleat
Soccer cleats use two basic materials: synthetic and leather. The pair you select will largely depend on how serious you are about the game and your skill level.
Leather
They are not recommended for constant use on wet fields because they absorb more water than their synthetic counterparts. However, there are water treatment options available.
Softer leather leads to an increase in the feel of the ball. However, this means durability is negatively affected.
Full-grain leather cleats are durable and strong. Variations such as Kangaroo leather offer an even better feel and are more flexible.
Provide the best fit and feel of any soccer cleat, but they usually cost more.
Major Types of Leather Uppers
Kangaroo
This type of leather is a soft leather that molds to the foot due to its stretching capability. Kangaroo leather is the most expensive which means cleats made using it are pricier. The good news is the quality is high and the shoe is lightweight.
Cleats made from Kangaroo leather are the most comfortable in the market. The downside is that these soccer cleats do not last long.
Full-Grain/Calfskin
Full-grain/calfskin is not as supple as Kangaroo leather, but it is more durable. Additionally, it does not stretch as Kangaroo and it is heavier. The upside is it is less costly and tough.
Pittards Leather
Puma is the only soccer cleat making company that uses Pittards leather. You can describe it as calfskin that has been taken through a patented treatment process. The process ensures the leather has water-resistant features while ensuring the shoe dries faster.
Pittards leather stretches less. Cleats made using this leather normally fall in between Calfskin and Kangaroo when it comes to price.
Synthetic
Easier to clean and dry when compared to leather cleats.
Usually use some kind of water treatment meaning they last better under poor playing conditions.
Less pricey than leather shoes.
Do not last long and do not offer as good a feel.
Ideal for most mid-level and entry-level players.
Premium Synthetic
Many times leather is combined with these synthetics to create a cleat with comfort on natural and/or firm surfaces and an optimal fit.
These synthetics are generally lightweight and are made using water-repellant microfibers.
The advances in modern technology have led to an increase in the development of premium synthetics and they are used on many high-quality soccer cleats.
Determining Your Soccer Cleat Size
Fit Tips
One of the major causes of foot pain is soccer shoes that are too small.
It is common for high-quality leather cleats to stretch a bit when worn. They mold to the shape of your foot when worn meaning they should fit snugly when new.
Sizing in soccer cleats is the same as regular shoes. Take note that most are designed with a narrower upper than typical shoes or sneakers to allow for better control of the ball and better feel.
Soccer Cleat FAQ
Q: What Does Size K Mean?
A: In simple terms, it means "kids" or youth sizes. Any soccer cleat with a K in it is smaller than a size 1 and normally goes down up to 10K. Nike offers a size "C" that refers to youth and toddler sizes.
Q: Can Indoor Soccer Cleats Be Worn as Regular Shoes?
A: Yes! Indoor soccer cleats can be used in various ways including running. What you may not know is they are designed to run.
Keep in mind that using them as running shoes will not give you the best results. Their design is specifically for soccer, but you can use them once in a while as jogging shoes.
Q: What Do AG and FG mean?
A: These are acronyms used when dealing with soccer cleats. The AG is used to refer to artificial grass.
As for FG, it means firm ground. They are acronyms used to show the type of surface you can play on when you purchase a specific cleat.
Q: What Does FxG mean?
A: It is a shorthand that is specifically used by Adidas meaning flexible ground. FxG means the cleat is ideal to play on artificial ground, hard ground, and firm ground. For instance, the Adidas Predito FxG J is a junior version of the adult cleat engineered to be played by a boy.
Q: Should Soccer Cleats be Loose or Tight?
A: Your cleats need to be tight. Take note the tightness should not be to the point you hurt your feet. However, they should also be close-fitting.
If your cleats are loose-fitting, you will find it a challenge to kick the ball properly. Try to find the best balance between loose and tight that works best for you.
Q: Can I use Sambas for Indoor Soccer?
A: Of course, you can! Sambas were designed for only one reason, indoor soccer.
They have cushioned lining and soft rubber sole. The result is you feel you can play any number of games due to the comfort and traction of these cleats.
Q: How Long Should My Cleats Last?
A: If you are an active player who players about 7 times a week, and you only have one pair of cleats, the approximate duration is 3 – 4 months (one full season). However, this will be determined by the quality of the soccer cleat. Very high-quality cleats can last two seasons, but light cleats are usually less durable.
Q: Can Cleats be Worn Casually?
A: Yes! Keep in mind we are talking about indoor cleats and not their outdoor counterparts. Going with them to the mall or to hang out with friends will not affect their performance.
Q: What Does TF Mean?
A: TF is an acronym for "turf".
Wrap Up
Choosing the right soccer cleat is not a challenge as long as you have the right information to guide you.
From our top picks above, the best soccer cleat is the Adidas Performance Copa Mundial. It has the best features to suit beginners and professionals. The only downside is it is not recommended for beginners as it is quite pricey.
The next best option would be Nike Vapor IX. One of the main reasons to go with this cleat is that it is used in any type of weather. Additionally, the twin studs at the rear offer good release. The main disadvantage is it is a professional cleat that can only be effective when used by pros.
The above guide should be sufficient to help you make a good decision. We have done extensive research to ensure you have a list of the best products and a guide on how to choose the best soccer cleats for your needs!