If you're a fan of a yard game, you're in good company. These activities are excellent ways to get the most out of your space while getting some welcome exercise. If you're looking for a sport for everyone, then you'll find learning how to build a backyard pickleball court an easy means to connect groups of all ages.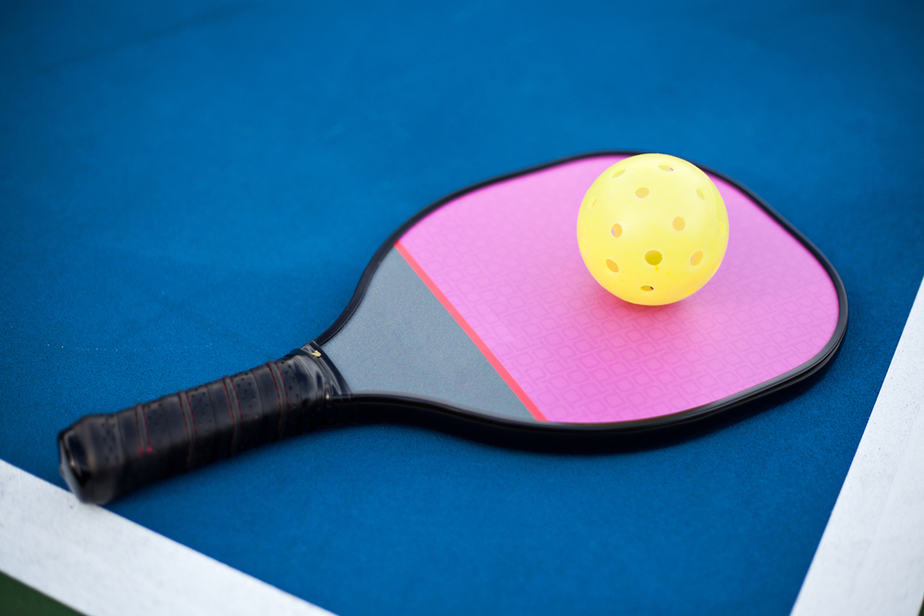 You needn't look any further than the origin of the game to understand its appeal. It started out as a family activity to deal with that perennial parent conundrum—how to keep the kids occupied and entertained…
Find something competitive to keep them involved in the game. Make it easy to understand but with enough challenges to make it fun. That describes pickleball perfectly! The next question is how to make a court that sticks with the rules and the challenges.
Requirements for Your Pickleball Court
A level space is essential as it is with any sport of this nature such as croquet. The lay of the land is secondary to the skill of the players. That is why you're playing the game, after all.
There are two ways to approach this requirement.
If you just want to play for fun, the dimensions are a suggestion at best. However, if you want a pickleball court to improve your game, you should build one that fits the regs. You'll learn a lot of essential skills like muscle and visual memory of the court size.
You'd be surprised at how much your brain learns about these seemingly obscure figures.
Size is one thing, but you should also consider other factors that could affect gameplay such as overhead power lines and trees. One could also make arguments about optimal lighting and anything else that could play a role.
The goal with how to build a backyard pickleball court is to create the ideal training setting. The dimensions are 44 feet long by 22 feet wide for both single and double-player play.
Flat terrain is ideal, but you can certainly make adjustments as necessary. The difference is cost. The more sand you have to haul into your yard, the more it will up the bottom line of your project. We'd recommend working with the terrain of your yard to pick the spot that includes the least amount of modification.
Sale
Amazin' Aces Pickleball Paddles - Pickleball Set - USAPA-Approved Pickleball Rackets for All Levels and Ages
Unbeatable Value. Amazin' Aces Graphite Pickleball Set includes 2 graphite pickleball paddles, 4 balls, and 1 mesh bag. This premium pickleball set gives you an edge to play better and faster!
Superior Quality and Performance. Our graphite pickleball paddles set weighs 8.3 oz and features a polymer core paired with a graphite face. It has a hand-stitched contour grip for power and control.
Convenience Meets Style. Simple and classic, this premium graphite pickleball paddle comes with a high-quality box for gifting and a mesh bag for convenient carry and easy storage of your pickleballs.
Perfect Paddles for Players of All Levels. Hit the court with our pickleball paddles, have some fun, and make new friends! These pickleball rackets are perfect for beginners to intermediate players.
1-Year Warranty. We back up our premium pickleball set with a 1-year warranty. If you find any issue with one of our graphite paddles, you can get it fixed or replaced with no questions asked.
Last update on 2023-09-21 / Affiliate links / Images from Amazon Product Advertising API
---
Step 1: Consider Your Options
There are several things you'll need to decide before you start. Think about the orientation of the pickleball court. Let's face it. Some balls will go out of bounds.
Don't lie! Consider where you'll need to go to get them.
Also, don't forget to keep the noise factor in the decision. It's a vital consideration given the fact that seniors and their settings are a significant part of the game.
You should also give some thought about the work. There is some digging involved with the process which can push the project in the deal-breaker category.
Another point to mull over is the substrate. Originally, asphalt played a role because of the bounce factor for the original Wiffle ball.
That's not your only option…
You can also opt for concrete or even snap-together products or recycled tire tiles. Each one has different gameplay. There is also another way of learning how to build a backyard pickleball court that is the easiest yet. Our guide will offer several ways to tackle this project.
Champion Sports 9" Hollow Plastic Baseball Set - Athletic Baseball Equipment - Practice Baseballs Plastic Hollow - Regulation Size Balls - Fun for All Ages - Lightweight/Durable - Set of 12
ATHLETIC BASEBALL EQUIPMENT: Spend time outdoors with Champion Sports' Plastic Baseballs; perfect for practicing your pitch, batting skills, or for some leisure time playing catch with friends
REGULATION SIZE BALLS: Each plastic hollow ball has a 9.00 inch circumference so you can use them for pitching, batting, throwing, and catching practice to improve your baseball game every time
FUN FOR ALL AGES: Little kids and adults alike will love these highly durable baseballs thanks to their hollow design that allows nonstop fun whether playing baseball, ball, or fetch with a pet
LIGHTWEIGHT AND DURABLE: The innovative hollow design makes each ball lightweight enough to carry anywhere and the plastic make them highly durable so they can take hit after hit without breaking
A DOZEN BASEBALLS IN A PACK: Each pack contains 12 hollow white plastic balls for endless fun; they are easy to see in a large field so you never have to worry about losing them
Last update on 2023-09-21 / Affiliate links / Images from Amazon Product Advertising API
---
Step 2: Think About Its Orientation With Your Gameplay
The orientation of your pickleball court is a vital consideration considering how it impacts gameplay. Who wants to play pickleball or any court sport if you're facing the sun?
Duh!
We'd suggest using a north-south orientation, if possible. Going east-west puts one side at a disadvantage, depending on when you play. Again, we have to go back to the fact that a backyard court helps your league play.
Step 3: Temporary Solution (Optional)
If you have someplace that fits the criteria for orientation and dimensions, you're well on your way to your first dink. Your main task is to delineate the court. After all, it's essentially how the game first began back in 1965. If it isn't an option for you, skip to Step 4.
You'll need the following supplies:
Tape measure
Pickleball net
Weights for the net
Spray paint
Length of rope at least 15–20 feet
You'll also need a couple of friends to help you.
Task A: Set Up the Net
We suggest that you begin with the placement of the net. It'll make it easier to measure out both sides of the court because, of course, you want it to be the regulation size for both sets of players. It'll also provide your baseline for the width.
Anchor down the net with sand or water-filled weights. Use whatever comes with the pickleball set includes.
Sale
Boulder Badminton Pickleball Net - Adjustable Portable Net for Junior Tennis, Kids Volleyball & Soccer, and Backyard Games - Easy Setup Nylon Sports Net with Poles 10 ft/14ft/17ft/22ft Wide
GAME ON - More than just a badminton net, our versatile portable net is ready to play pickleball, tennis, soccer tennis and recreational volleyball. With an adjustable height (from 34 to 60 inches high) you can instantly transform the net from high to low.
VERSATILE - Our portable net packs down to just 3ft long, or smaller than a standard camping chair. With a convenient carry case and shoulder strap, you can bring the fun anywhere. It's the perfect net for driveway, backyard, beach, or any other flat area!
QUICK AND EASY - Set up in 5 minutes or less. No stakes or tools required, even the kids can pitch in! All parts are connected with a flexible bungee cord, so there's no risk of losing pieces.
DURABLE MATERIALS - Our nets are made of superior nylon mesh and rust-resistant coasted steel that is 50% thicker than other brands., making them perfect for indoor or outdoor use. They're built to last!
GIFT THE FUN - These portable net sets are the perfect gift for families and athletes of all ages and skill levels. Beloved by both the kids and kids at heart.
Last update on 2023-09-21 / Affiliate links / Images from Amazon Product Advertising API
---
Task B: Measure Out the Non-Volley Zone
Then, start measuring either simultaneously or one side at a time. The first line is the 7-foot boundary of the non-volley zone or kitchen.
We recommend measuring it at a few places along its length and spraying a dot at each spot. That will make it easier to ensure as straight a line as possible.
Task C: Mark Out the Rest of the Court
The next step is to define the rest of the court. This line will pick up from the end of the kitchen and back 15 feet. Repeat the process of spraying several dots along the width. You should also include the 10-foot center line with this step.
Task D: Rinse and Repeat
Follow the same process on the other side of the court, using the same measurements.
Task E: Spray the Lines
Have one person on each side of the lines hold the rope taut as a guide to spray the lines. Then, do the same thing on the other side. Give the paint the appropriate time to dry as per the directions on the can. Then, it's time to play pickleball!
Step 4: Start From Scratch
If you don't have an appropriate space for the temporary solution, the alternative is to build one from scratch. As we mentioned earlier, you have several choices for a substrate.
Concrete is the most expensive. Asphalt is cheaper, but both projects mean a lot of work with digging out the 44 by the 20-foot court.
Alternatively, you can job it out to professional service that specializes in building courts. We'd suggest this route because of the other factors involved with this job, such as drainage, the stability of the structure, and familiarity with the laws and regulations governing impervious surfaces like a pickleball court.
Whether you make it a DIY project or hire someone, there are several things you must do before work begins. They include:
Contacting your city hall for permission or a building permit
Getting in touch with your homeowner's association (HOA)
Calling 811 to check for utility lines
These preliminary steps are imperative even for pickleball courts. If you live along a county or state road, you should also check with the appropriate transportation department. If you want to take on this project yourself, skip to Step 7.
Sale
Sun Joe TJ603E 16-Inch 12-Amp Electric Tiller and Cultivator , Green
[DURABLE]: 6 Steel angled tines for maximum durability and performance.Voltage (V) : 120. Maximum Extension Cord Length (ft.) : 100..Start Type : Switch. Rust Resistant : Yes.
[EASY STORAGE]: Handle folds for convenient storage and easy transport
[WHEEL-ADJUSTMENT]: 3-position wheel adjustment. Maintenance free
Last update on 2023-09-20 / Affiliate links / Images from Amazon Product Advertising API
---
Step 5: Get an Estimate or Two for Contracting the Job
Assuming you've gone the pro route, we'd suggest checking the details of the project carefully to avoid any nasty surprises. Things specific to a pickleball court include:
Cost of line paint and if it's included
Surfacing material such as PicklePave
Sealer
Warranty
You can play pickleball on asphalt or concrete. However, laying a down a surface coating will provide a non-skid, safer site on which to play.
Step 6: Cut Costs by Delineating the Court Yourself
Painting the lines on a pickleball court is easy compared to the heavy lifting of pouring a concrete slab. As our temporary solution showed, it's not a difficult thing to do and can save you some cash if you have it done professionally.
Step 7: Making it a DIY Project
If you're ready for some hard work, this step is for you. There are several parts to it which include:
Choosing a site
Marking the space
Removing the sod
Digging out the court
Adding a fill layer with sand or gravel
Pouring the foundation
Applying a surface coating
Delineating the lines
Sealing the court
As you may surmise, it is not a weekend project. Several tasks simply take time such as allowing the concrete or asphalt to set. We strongly urge you to do your own cost estimate and compare that with what it'll run to hire a contractor for some things such as the foundation, especially if you've never poured a concrete surface before.
You'll definitely save money by doing as much as you can, such as digging out the site or doing the final prep with the lines and sealing. You can rent a sod cutter from your local hardware store to make the task easier.
Be realistic about what you can reasonably do and leave the heavy lifting for the pros.
Last update on 2023-09-21 / Affiliate links / Images from Amazon Product Advertising API
---
Final Thoughts
With its start as a kids game, pickleball has taken off with leagues of its own, making it even to the professional level. Whether you have space for an ad hoc site or want a permanent one built, finding out how to build a backyard pickleball court is a worthwhile endeavor. It will offer years of enjoyment with a fun way to stay active for both young and old.