Finding the best pickleball paddle for beginners is important because even the best pickleball player has to start somewhere. Pickleball is very similar to other tennis-type games, like tennis itself or badminton. Because it's easy to learn but difficult to master, it's one of the few games that has the potential to provide lasting enjoyment for many years to come. Maybe one of your family will even decide to go pro! Finding the right paddle would normally mean some significant research and testing. But with this guide, you already have everything you need.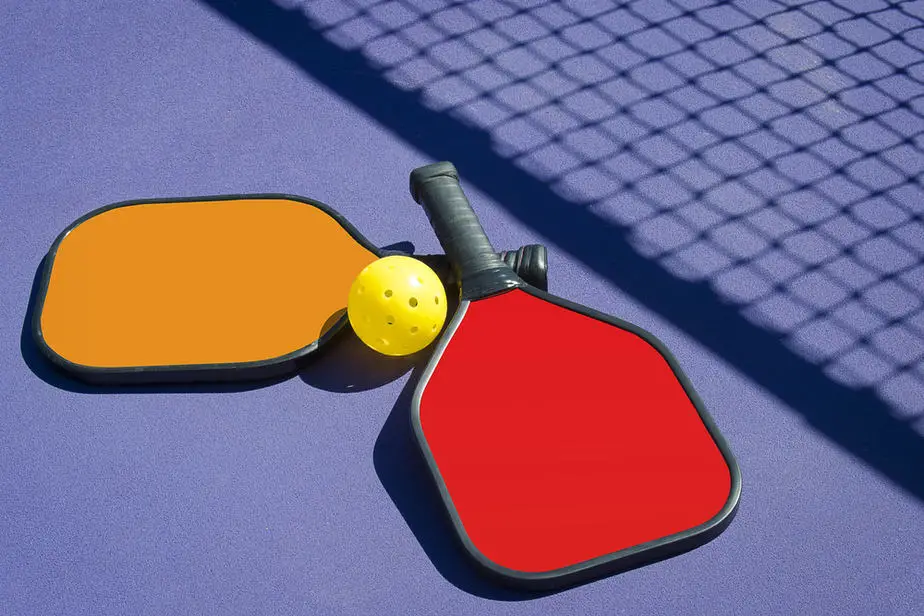 Below, you'll find a selection of the best pickleball paddles that are designed to be great for beginners to the sport. We'll also give you some pointers about what to look for when you're browsing. Let's get started.
In a Hurry? Here's Our Top Picks…
1. Amazin' Aces Pickleball Paddle Set
Sale
Amazin' Aces Pickleball Paddles - Pickleball Set - USAPA-Approved Pickleball Rackets for All Levels and Ages
Unbeatable Value. Amazin' Aces Graphite Pickleball Set includes 2 graphite pickleball paddles, 4 balls, and 1 mesh bag. This premium pickleball set gives you an edge to play better and faster!
Superior Quality and Performance. Our graphite pickleball paddles set weighs 8.3 oz and features a polymer core paired with a graphite face. It has a hand-stitched contour grip for power and control.
Convenience Meets Style. Simple and classic, this premium graphite pickleball paddle comes with a high-quality box for gifting and a mesh bag for convenient carry and easy storage of your pickleballs.
Perfect Paddles for Players of All Levels. Hit the court with our pickleball paddles, have some fun, and make new friends! These pickleball rackets are perfect for beginners to intermediate players.
1-Year Warranty. We back up our premium pickleball set with a 1-year warranty. If you find any issue with one of our graphite paddles, you can get it fixed or replaced with no questions asked.
Last update on 2023-11-02 / Affiliate links / Images from Amazon Product Advertising API
This is a pickleball paddle set that has two paddles and four balls, plus a mesh carrying bag, meaning it has everything you need to begin playing pickleball right away. The pickleball paddles are made with graphite faces, which affords them significant durability without making too heavy. The paddles feature guarded edges to keep them sturdy over time and protect their integrity.
Each paddle has a polymer core and weighs 8.3 ounces. The weight distribution is particularly excellent, and each paddle features a handstitched contoured grip. This makes each paddle comfortable use and a great choice for beginners getting used to the sport.
That's not all. There's also a free e-book included with the purchase that teaches you some tricks to become better at pickleball plus an overview of the major rules and regulations. The mesh bag that comes with the purchase has a drawstring to let you easily collect the balls and keep things contained, rather than spilling out over your back yard.
All in all, this set is a great choice for families just getting into this fantastic recreational game.
Things We Like
Comes with balls and a bag
Comfortable, anti-slip handle
Balanced weight and design
Good guard edges
Things We Don't Like
Handles are a bit wide for some
Check Price and Reviews on Amazon
---
2. Gamma Sports 2.0 Pickleball Paddles
Last update on 2023-11-02 / Affiliate links / Images from Amazon Product Advertising API
From Gamma, you can choose a pickleball paddle of up to five different colors: red, green, orange, blue, or yellow. Each paddle weighs 8 ounces and has a textured fiberglass face. This is an excellent paddle face for facilitating great ball power and distance each time you slap it over the net.
They're also bolstered by a durable edge guard and a honeycomb core. This type of core can benefit experienced and beginner players alike by providing exceptional balance and decent power with each hit. The grip is a honeycomb cushion variety measuring 4 inches in length. The soft, sweat absorbing grip will be a favorite for anyone whose palms tend to get overly sweaty when they compete.
To make things even better, these paddles comply with the official USAPA specifications. So you can get used to using this paddle and progress into more official competitions if you find that pickleball is one of your favorite sports. With its enhanced control and excellent design, it sure to be a favorite for consistent pickleball players and for beginners who want to know what an official paddle really feels and plays like.
Things We Like
Feels great to hold
Has a sweat absorbing grip
Can be purchased in several colors
Is ideal for USAPA competition practice
Things We Don't Like
Only one paddle in the purchase
Check Price and Reviews on Amazon
---
3. Niupipo Pickleball Paddle
Sale
niupipo Pickleball Paddle, USAPA Approved Pickleball Paddle with Fiberglass Surface, Protective Cover, Ultra Cushion, Polypropylene Honeycomb Core, 4.5-Inch Grip, 8.2 Ounces, Purple
Polypropylene Honeycomb Core for More Durable Hit: Our pickleball paddle comes with a durable and extremely responsive polypropylene honeycomb core for maximum performance and controlled hits with great power and lesser efforts; It was extremely responsive and strong which enables better energy transfer; This pickleball racket will add progressive power to your strike
Reliable Fiberglass Face for Decent Shot Power: Composite pickleball paddles are usually lighter than timber or polymer pickleball paddles; The polypropylene honeycomb core and the fiberglass face are a very good combination that allows for excellent power and control; An 8.1-ounce lightweight pickleball paddle which can give more spin and pop at the same time to help you to beat the opponents like a pro; Our pickleball racket is an excellent composite pickleball racket choice for all players
Discover Supreme Comfort with Ultra Cushion Grip: Our pickleball racket fits sufficiently for most of the players; The grip circumference of this pickleball paddle is 4.25 inches (about the medium size) and the length is 4.5 inches; You can play easily with great control and easy handling of this pickleball paddle and the ball without putting as much stress on your joints; The proprietary and thin edge guard of this pickleball racquet protect the paddle from damage if it is dropped
Comes with Pickleball Paddle Cover Making for Easy Carrying: Protect the pickleball racquet with zippered neoprene cover when toting around and when not in play; Our pickleball paddle weighs around 8.1 ounces and which is quite manageable for beginners; Also, this pickleball racquet can be used indoors as well as outdoors
Help You Maneuver The Game Easily: Our pickleball racquet is approved by USAPA and is qualified for the players who want to take part in the tournament; When you choose our pickleball paddle, you are one step closer to being a pro; The pickleball racquet will help you nail the games and enjoy your pickleball time on the court; Having a high-quality composite pickleball paddle can completely transform your game
Last update on 2023-11-02 / Affiliate links / Images from Amazon Product Advertising API
This pickleball paddle uses a polypropylene honeycomb core to ensure durability with each hit. It also provides an amount of "pop" each time you get a pickleball with its reinforced fiberglass service. Both of these aspects combined, along with a durable edge guard that runs the length of the paddle face, means that you'll never have to worry about this pickleball paddle suffering extensive damage during a game.
The paddle weighs 8.1 ounces to provide exceptional control without becoming too light to reduce your hitting power. The grip circumference for the paddle is 4 ¼ inches, which is great for men and women and provides enough heft for serious hits. But it's also small enough to increase your control and allow you to flick your wrist to some degree.
Furthermore, this pickleball paddle comes with a zippered neoprene cover. This will protect the fiberglass surface when you're not using the paddle, increasing its lifespan even further. This paddle is also approved by the USAPA, so it's a great practice paddle if you want to take the sport more seriously and see how you can compete in upper-tier games.
Things We Like
Comes with a great cover
Very durable overall
The handle is a balanced size
The handle is decently contoured for grip control
Things We Don't Like
Only comes with a single paddle
Check Price and Reviews on Amazon
---
4. XS XSPAK Graphite Pickleball Paddle Set
Last update on 2023-11-02 / Affiliate links / Images from Amazon Product Advertising API
This is a graphite pickleball paddle set of 2, which also comes with four balls and a carrying case for you to keep everything contained and organized in your backyard or on a trip to a game. That's right; these paddles are USAPA approved, so feel free to take these two official competitions or practice with them to get good using official gear.
Each paddle is made with a polymer honeycomb core. They're also constructed with a graphite face; this provides enhanced accuracy and each ball hit will result in a satisfying "popping" sound that beginners and experts will both love. These are ultimately durable pickleball paddles, especially thanks to the low-profile edge guard that prevents the paddle faces from hitting the surface of the court, while still being small enough to reduce any ball mishits.
The paddles come in red or blue colors to easily distinguish which paddle belongs to which team. There's also a moneyback guarantee included with the purchase, so this is a great pickleball paddle set if you aren't 100% sure if you want to commit to practicing this backyard sport. Money-back guarantees are always good for beginners just trying things out, no matter what they're regarding.
Things We Like
Comes with a money-back guarantee
Durable design
Low-profile edge guard
Comes with balls and bag
Things We Don't Like
Relatively long grip length
Check Price and Reviews on Amazon
---
5. GoSports Pickleball Beginner Set Bundle
GoSports Wood Pickle Ball Starter Set - Includes 2 Wooden Paddles, 4 Official Pickleballs & Backpack Tote
FULL STARTER SET: Includes 2 sturdy all-wood pickleball paddles, 4 high-visibility regulation pickleballs, and 1 durable backpack tote bag for neat storage and portability
PREMIUM CONSTRUCTION: Paddles meet official size regulations and feature leather bound comfort grip for handling and a strong nylon wrist strap for safety
PICKLEBALL BEGINNERS: Get out and play the fastest growing sport in America with this premium value pickleball set - quality lives up for enthusiasts too!
STAY ACTIVE: Invite friends and family for some quality outdoor time to enjoy the exciting game of Pickleball; a guaranteed hit with both kids and adults!
RULES INCLUDED: Serve your first pickleball in no time at all, simplified rules are featured on the box and expanded rules are included inside; complete set makes for a great gift
Last update on 2023-11-02 / Affiliate links / Images from Amazon Product Advertising API
This is a very affordable set of two wooden pickleball paddles that also includes four Official-sized pickleball and a carrying tote bag. The all-wood pickleball paddles are well-made despite their very low weight and lack of extra durability compared to more expensive paddles. They're not too wide or long compared to more "professional paddles", making them easy to get used to, particularly if you're a newbie.
Still, their low price makes them a great choice for beginners, as does their simplistic construction that doesn't feature any extra advantages or design innovations. The paddles do meet official size regulations and are constructed using a leather-bound comfortable grip plus a nylon wrist strap you can use to secure the paddles as you're getting the hang of the sport.
The included balls are high visibility and the tote bag is perfectly sized to include all four of them. All in all, this is arguably the best set for any family on the fence about pickleball, as its low asking price only requires a low monetary commitment. Even if you don't like the sport in the long term, you'll likely have fun with this pickleball set for at least a little while.
Things We Like
Everything is regulation size
Balls are easy to see
Very affordable
Paddles are lightweight
Come with nylon wrist straps
Things We Don't Like
Not very durable
No edge guards
Check Price and Reviews on Amazon
---
What to Look for in a Pickleball Paddle
Keeping these major factors in mind as you search for the ideal pickleball paddle will help you find the right tool for your next (or first!) game.
Material
Pickleball paddles usually come in one of three materials: wood, graphite or composite material. Wood paddles are generally cheaper and are oftentimes lighter than other paddles, but they aren't nearly as durable or long-lasting as other paddle materials.
Thus, they make good casual or beginner paddles but aren't usually used by experts or experienced players. Even if you're a beginner, you might want something sturdier, so you don't have to pick up a new paddle sometime soon.
Graphite paddles are a fantastic choice, though they are a bit more expensive than wooden ones. These are usually very lightweight, though there are some heavier paddles, and they're easy to swing in wide arcs thanks to their heft and comfort. They are decently durable.
By far the most durable pickleball paddle material is composite. Composite paddles are usually made with a mixture of artificial materials, like graphite, mixed with other minerals to enhance its durability. These paddles can be either lightweight or heavy depending on the manufacturer's priorities.
In any case, any of the above paddle materials can be a good choice for a beginner pickleball player.
Weight
Pickleball experts agree that buying a pickleball paddle based on weight is a smart idea. The weight of a paddle will dramatically impact its usability and how well you'll be able to get used to the game. This is also an important factor if you're already an experienced pickleball player.
Pickleball paddles can range from lightweight tools that weigh about 6 ounces to heavier paddles that weigh closer to 14 ounces. While this difference may not seem like much at first glance, it all adds up when you're swinging the paddle around for hours at a time. All those extra ounces will end up feeling quite different to your arm muscles!
Lightweight paddles are usually classified as paddles beneath 7.3 ounces. Mid-weight paddles weigh between 7.3 and 8.4 ounces. Then heavier paddles are anything heavier than that. These values will let you roughly estimate how "heavy" a particular paddle is compared to its competition.
So what paddle weight is ideal for beginners? That depends on your arm strength and what type of paddle feel prefer. There isn't a single weight that is perfect for every player. But consider that heavier paddles will probably put a greater strain on your arm if you suffer from tennis elbow or arthritis.
We'd recommend a lighter paddle if you have any doubts about endurance or arm comfort. At the same time, beginner players who want to hit their balls as hard as possible will prefer a heavier paddle, as it delivers more power with each swing.
Grip Size
Next, consider the grip size of a particular pickleball paddle. This is arguably the most important element when it comes to matching a pickleball paddle to your hand!
Grip size doesn't have to be perfectly matched with your hand size, of course, although you can use your hand size (after measuring) as a general guideline. But consider that thinner, smaller handles allow you to swish and snap your wrist more dramatically during a game. This improves your control of the ball and lets you add additional spin to each hit.
Larger grips offer a much more stable experience. Larger grips also reduce the strain you might feel on your wrist, elbow, and shoulder joints, so these grips might be a good choice if you have arthritis or tennis elbow issues.
However, having a paddle that's too large will make playing pickleball much more uncomfortable and can lead to accidental injuries. Therefore, it's a good idea to err on the side of caution and find a paddle grip that's smaller rather than larger if you have to pick between the two.
Related to grip, don't forget to think about any additional design features on a grip before purchasing. As an example, some pickleball paddles will have textured grips that make them easier to hold even if your hand sweats excessively. Others might be really comfortable and let you use the paddle for hours on end without causing chafing across your palm.
Paddle Enhancements
Even though we're looking at pickleball paddles for beginners, you should still consider whether a given paddle has any additional benefits or enhancements that make it a better pick over the competition. As an example, some high-tech paddles will have textured faces to allow for better hitting consistency; this is a good choice if you hate misfired shots.
Alternatively, some top pickleball paddles will feature vibration-canceling cores. These have special construction elements that reduce the vibration you can expect to feel after each hit of the paddle. This might be a great choice if you have a sensitive arm or suffer from arthritis, as it'll make each hit more comfortable by reducing general impact sensation.
Beginner players should always look for paddle additions that increase comfort and stability over anything else. Trick shots and additions that improve your "topspin" are only really necessary once you've learned the ins and outs of the game and want to improve your skills by leaps and bounds. But you have to master the basics, first.
Edge Guard
The best pickleball paddles for beginners will have decent edge guards. These don't protect you but instead, stop the paddle from suffering extensive wear and tear from regular use. Think about dropping your paddle to the ground or the edge striking a ball; without a guard, the edge can wear down or crack over time, which will eventually compromise the entire paddle.
So you'll definitely want to find some edge guard in place with any paddle you choose. Some experts forgo the guard in order to do certain trick moves, but that's not something you need to worry about if you're a beginner.
USAPA Approved?
The USA Pickleball Association (USAPA) has a rating system that allows only certain types of pickleball gear and paddles to be used in official tournaments. We don't recommend that you participate in tournaments right away if you're actually a beginner, but it might do you some good to play with USAPA-approved gear if that's your goal.
The fact is, there are lots of paddles out there with additional improvements or gimmicks to change the flow of a game but that isn't approved by the USAPA, so you won't be able to rely on those paddles in a real competition. Instead, you can use a USAPA-approved paddle from the start and always know what an "official" paddle feels like when a big game comes up.
On the other hand, you don't need to worry about this if you'll only be playing pickleball as a fun side hobby or backyard game.
The Best Pickleball Paddle Brands
GoSports is the sports and game equipment company located in Southern California. They produce not only stuff for family games but also backyard and recreational equipment of all types; they're a great one-stop-shop for all kinds of backyard needs.
Gamma Sports is a tennis and pickleball oriented company that produces equipment and tools for those two sports in particular. As such, their rackets, balls, netting, and other items are great for beginners and experts alike. Professionals often turn to them to pick up new gear, so they're a great place to start if you want to get into pickleball seriously.
Amazin' Aces is a manufacturer dedicated to producing high-quality and reasonably priced pickleball paddles. They produce equipment for beginners and experienced players, but their primary value is in the sheer variety of paddles and other accessories they offer. There's something for everyone in their catalog.
FAQs
Q: What Distinguishes a Beginner Pickleball Paddle from an Expert Paddle?
A: Beginner pickleball paddles are usually simpler, without as many additional improvements to the netting or grip. They tend to be more affordable and will often have better edge guards to make them better in terms of value for money.
Additionally, many pickleball paddles for beginners will be lighter in weight, as many manufacturers assume that beginners don't know how to hold any paddle, let alone a heavier one. However, there are exceptions to every rule, and you can find many "beginner" paddles with many of the same design features or additions as expert ones.
Q: What Paddles Should You Avoid as a Beginner?
A: Long-board paddles should be avoided. You can distinguish these paddles because they'll have longer and skinnier shapes. While these can be excellent and accurate in the hands of a master, beginners won't be able to wield them properly.
You should also try to avoid any aluminum or Nomex core paddles, as these are easier to break and are meant to be used by professional players. Polymer core paddles are a better bet since they offer consistent performance and good durability.
Q: How Do You Play Pickleball?
A: Pickleball is typically played on a court-sized for badminton and other similar games: these are usually around 20' x 44'. The basic pickleball game cycle has the ball served diagonally, with a player starting on the right-hand service square. Additionally, points can only be scored in pickleball by the side currently serving the ball.
The ball must be balanced once before volleys are allowed between either player. But there's also a 7 foot no volleys down on either side of the net. This prevents the typical volleyball and badminton "spiking" technique than many players love to take advantage of.
The serving player continues to serve until he or she messes up or "faults". At this time, the serving player is switched, allowing the other player an opportunity to score points.
Victories achieved by scoring 11 points and leading by an additional two points, requiring 13 points minimum for victory. You can play either with one other player or have two teams of two depending on your preferences.
Other rules:
Pickleball serving squares must alternate every time. This means you have to move to the opposite side of your court each time you serve.
All pickleball serves must be done underhanded with the paddle in a position below your waist. Additionally, a server must keep both of their feet behind the backline of the court when serving.
Remember, the pickleball must be hit after bouncing first in most scenarios. However, a player can "volley" the pickleball without letting it bounce if the player's feet are behind the 7-foot line mentioned earlier.
A serve "fault" is committed any time the ball touches a part of the non-volley zone (the 7-foot line), is hit out of bounds, doesn't clear the net, is volleyed before a bounce has occurred or is volleyed within the 7-foot line
Q: How High is a Pickleball Net?
A: All regulation pickleball nets must be 36 inches high at the sides and 34 inches high in the middle. You may use a central support post to keep the net at this height if necessary. However, backyard pickleball games do not necessarily need to follow regulation sizes; play with what you are most comfortable with or what your backyard space allows.
Regulation nets also have a 2-inch wide white finding over the top of the net cord. This protects the net from skimming damage from either the ball or paddles.
Q: Where Does Pickleball Get Its Name?
A: No one truly knows where pickleball got its name originally, but there is a main theory. It's that pickleball originated when several sports (namely ping-pong, badminton, and tennis) were combined and the creators thought of a "pickle boat". A pickle boat is a boat with crew members that are made up of leftover crewmen from other boats. This reflected the ramshackle, haphazard nature of pickleball compared to other traditional tennis court games.
Q: Who Invented Pickleball?
A: Pickleball was first invented in 1965 on Bainbridge Island by Congressman Joel Pritchard and his friends Bill Bell and Barney McCallum. It was originally invented by combining the above tennis-style games from which the name was derived. It was also originally created because the men's children were bored with regular games.
Since its invention, pickleball has steadily risen in popularity to the point where it has its own official organization that organizes real tournaments that compete for bragging rights, cash prizes, and more.
Conclusion
Overall, the right pickleball paddles for you will be the right size, material, and price. Consider all of these aspects carefully before finalizing a purchase and you'll be satisfied. Budget-minded families will probably want to stick with the GoSports Pickleball Beginner Set Bundle, but those with a little extra cash to spend will likely enjoy the extra durability and efficacy of the Amazin' Aces Pickleball Paddle Set.
Whichever set you end up deciding to go with, we hope this guide has been helpful and that your next backyard game is a success. Have fun!