Pickleball is more than a fun recreational game. It is a sport that demands strategy, good aim, and a competitive spirit. Of course, the more people taking up the sport, the more exciting it becomes. That's what makes the best pickleball paddle for spin a must-have to give you a competitive edge and improve your accuracy.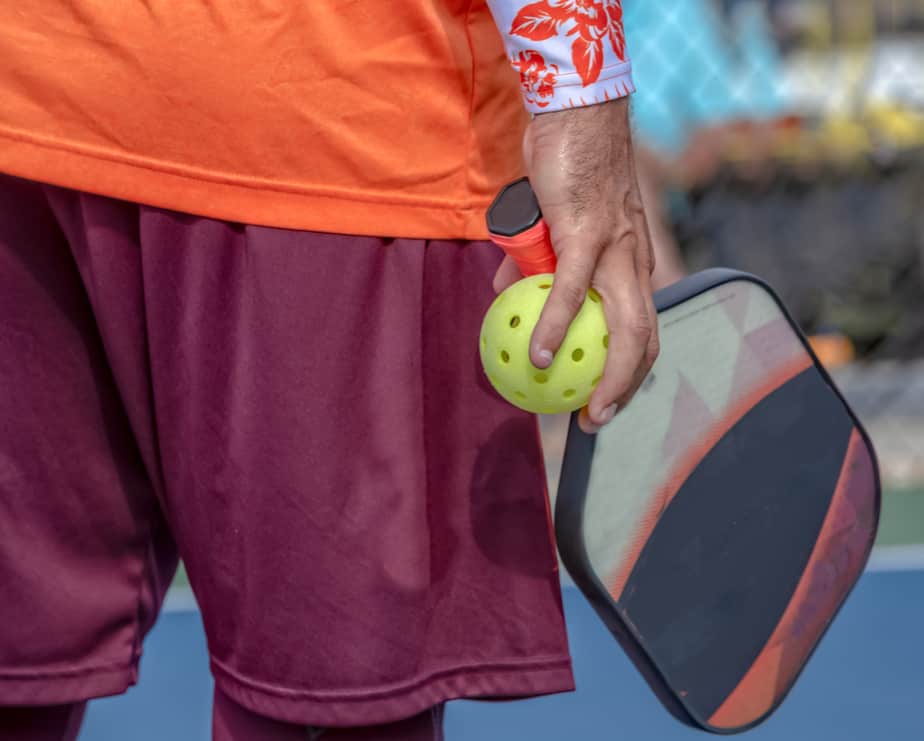 We have you covered whether it's a way to spend a lazy summer afternoon or it's a serious game of one-on-one. Our guide will point out the features to consider, along with some recommendations of some of our favorites.
Let's head out to the court!
In a Hurry? Here's Our Top Picks…
1. The Selkirk AMPED Epic Pickleball Paddle
Last update on 2022-08-02 / Affiliate links / Images from Amazon Product Advertising API
The Selkirk AMPED Epic Pickleball Paddle is a solid offering by the manufacturer as proof of its high-quality standards. You have your choice of 39 styles in either light or midweight options. The core is X5 polypropylene polymer, giving it a hefty dose of power in a thicker face. The surface material is the company's proprietary FiberFlex fiberglass for added control.
The handle measures 5.25 inches with a 4.25-inch grip. The lightweight version weighs between 7.3 and 7.7 ounces, depending on the model. The midweight is between 7.9 and 8.3 ounces. The paddle is 8 inches wide.
Pros:
The manufacturer backs up their product with a limited lifetime warranty.
The paddle is well-made throughout its construction.
The product has excellent balance.
Cons:
The paddle is a bit pricey.
---
2. Engage Encore Pro Pickleball Paddle
Engage Encore Pro Pickleball Paddle & Onix 3-Pack Fuse G2 Pickleball Balls & Pickle Ball Tips Sheet - Premier Pickleball Set - Racket and Balls for Beginner and Pro Players (Red Fade)
PICKLEBALL PADDLE WITH SPECIALIZED CORE: Take your game to the next level with the polymer honeycomb core and proprietary fiberglass skin of the Encore Pro featuring ControlPro Technology
PICKLEBALL BALLS WITH SUPERIOR TECHNOLOGY: Exceptionally durable and split resistant, the Fuse G2 Pickleballs are designed to deliver optimal rebound and resist wind interference
PERFECT EQUIPMENT SET FOR ALL LEVELS: Whether professional or beginner, the Encore Pro paddle, best-selling Fuse G2 balls, and FREE Top Ten Pickleball Tips Sheet will have you playing like a champion
TRUSTED PICKLEBALL BRAND: USAPA approved, the Encore Pro is used by the best players in the world due to its design optimized for power, control, and ball placement
BACKED BY THE AMAZON A to Z GUARANTEE: Receive a full refund on this pickleball game set (includes one racket ,one 3-pack of pickleballs, and Top Ten Tips Sheet) if you are unsatisfied for any reason
Last update on 2022-08-02 / Affiliate links / Images from Amazon Product Advertising API
The Engage Encore Pro Pickleball Paddle brings several decent features to the table. It has a polymer core that gives it plenty of bounce. The fiberglass surface with the large sweet spot provides the spin action. It's also quiet if that's a consideration for you. The 4.25-inch grip has a comfortable hand feel to it. It weighs 8.8 ounces with a 4.75-inch handle, which provides power to the paddle.
The product has some serious backing in the pickleball community, such as Phil Bagley, which gives the paddle some cred. It is likewise well-balanced and well-made to last.
Pros:
The large sweet spot makes it a wise choice for players of all skill levels.
The grip is comfortable with plenty of cushioning.
The paddle provides ample spin potential.
Cons:
The paddle is slightly heavier than comparable products.
---
3. Gamma Sports 2.0 Pickleball Paddle
GAMMA Sports 2.0 Neutron Pickleball Paddles: Mens and Womens Textured Graphite Face Pickle-Ball Racquet - Indoor and Outdoor Racket: Yellow, ~7 oz
NEUTRON 2.0 PADDLE: A lightweight ~7.0 oz paddle with a textured fiberglass face offering over-the-top speed and maneuverability, with great feedback and longer, livelier play without dead spots
IMPROVE YOUR GAME: Pick a paddle suited to your skill level to boost your play on the court
ARAMID HONEYCOMB CORE: A blend of power and control benefits beginners and experienced players alike
4" HONEYCOMB CUSHION GRIP: Our paddles feature a soft, sweat absorbing grip to help you hit with confidence
MEETS USAPA SPECIFICATIONS: GAMMA 2. 0 pickleball paddles comply with official USAPA specifications
Last update on 2022-08-02 / Affiliate links / Images from Amazon Product Advertising API
The Gamma Sports 2.0 Pickleball Paddle has a smaller and lighter profile for those who prefer optimal control. The core is aramid honeycomb fibers, which offer decent abrasion-resistance. The surface is fiberglass for decent spin action. It measures 16.2 inches long by 8.5 inches wide. It weighs in at 7 ounces. The paddle also has a 4-inch grip.
Overall, it's a quality product that is well-suited for the beginner. The lighter weight makes it an excellent choice for individuals with arthritis or tennis elbow. While there is a slight compromise on power, better control makes up for the difference.
Pros:
The control is excellent.
The paddle is affordably priced.
The grip wicks moisture for a more secure handhold.
Cons:
Individuals with large hands may find that the grip is too small.
---
4. Pro-Lite Prolite Supernova Black Diamond Pickleball Paddle
Prolite Cypher Pro Pickleball Paddle (Black - Orange Grip)
Length: 16 5/8"; Width: 7 5/16", Weight range: 7.6-7.9 oz.
Handle circumference 4 1/4"; length 4 3/4"
Core: QuadCore polymer honeycomb; Surface: Carbon Fiber Facing
Edge Guard: Black poly MicroEdge guard
Teardrop Shape - Handcrafted in Wisconsin, USA
Last update on 2022-08-02 / Affiliate links / Images from Amazon Product Advertising API
The name of the Pro-Lite Prolite Supernova Black Diamond Pickleball Paddle tells the story. It is a fast-action paddle. The core material is QuadCore polymer, which provides the power and the bounce. It also makes it quiet to use. The carbon fiber surface adds the spin. The handle measures 5.25 inches with a 4.13-inch grip. The total length is about 15.55 inches with a width of 8.13 inches. It weighs 8 ounces.
The shape gives the paddle a larger sweet spot for optimal control. With its surface material, the product qualifies as a candidate for the best pickleball paddle for spin. The design is attractive too. The grip is comfortable with a no-slip surface. We also liked the fact that it is USA-made.
Pros:
The manufacturer backs up its product with a limited lifetime and a five-year no dead spot warranty.
The spin action is excellent.
The balance and grip are superb.
Cons:
The product description gives a weight range between 7.7 and 8 ounces.
---
5. Amazin' Aces 'Cambria' Pickleball Paddle
Sale
Amazin' Aces Signature Pickleball Paddle Set in Blue and Pink - 2 USAPA-Approved Pickleball Rackets with Graphite Face & Polymer Honeycomb Core, 4 Outdoor Pickleballs, 2 Paddle Covers, & 1 Carry Bag
High Performance Paddles with Personality. Amazin' Aces Signature Paddle Set includes 2 USAPA-approved rackets in blue and green, 4 outdoor pickleballs, 2 paddle covers, and 1 carry bag.
Premium Construction and Design. Our pickleball paddle set weighs between 7.8 to 8.2 oz; an optimal weight that balances power and control. Our rackets have a large sweet-spot and a classic shape.
USAPA Approved for Tournament Play. Made for enthusiasts, our pickleball paddles feature a polymer honeycomb core, a responsive graphite face, and an edge guard that offers protection on ground hits.
Comfort Meets Convenience. Our Signature Pickleball Set comes with paddle covers and a carry bag for easy storage of your sports gear, and a hand-stitched contour grip for a comfortable in-hand feel.
1-Year Warranty. Our pickleball paddle set of 2 comes with a 1-year warranty. If you find any issue with our Signature pickleball rackets, you can get it fixed or replaced with no questions asked.
Last update on 2022-08-02 / Affiliate links / Images from Amazon Product Advertising API
The Amazin' Aces 'Cambria' Pickleball Paddle is an excellent choice for the casual player. The product has many features of paddles costing twice as much. It has a 2-inch, polymer core with a vinyl face. Its length measures about 15.9 inches with an 8-inch width. The handle is 5 inches with a 4.35-inch grip. Overall, it's a lightweight model at only 7.2 ounces.
While the grip is larger, it is well-cushioned for comfortable play. It has a decent balance and a good-sized sweet spot for control. The spin action is respectable too. The features and the affordable price make it a good value.
Pros:
The paddle is affordably priced.
It has a comfortable feel to it.
The product is well-constructed.
Cons:
There is some noticeable loss of power due to the lighter weight.
---
Buying Guide for the Best Pickleball Paddle for Spin
What started as a kids' game is now firmly planted in the adult world of serious gameplay and tournaments. It only makes sense that you'd want the best pickleball paddle for spin to give you more weapons to take your game to the next level. However, there are several things you need to know upfront to make the right choice for you.
Features to consider include:
USA Pickleball Association Approval
Core
Face or Surface Material
Paddle Shape
Grip
USA Pickleball Association Approval
This one probably is a no-brainer, but it's worth mentioning, nevertheless. The USA Pickleball Association (USAPA) has well-defined rules about the equipment, including the paddle. If you're going to join a league or club, do yourself a favor and make sure the product you buy is compliant. Most manufacturers will state this information upfront.
While there aren't any rules about weight per se, they are specific ones about the size and degree of roughness on the paddle's surface. That's where the spin comes into play. The reason for the concern is that if your paddle has more grip, it'll give you too much of a competitive advantage over your opponent. Even if you're not a so-called "core player," it shows good sportsmanship to play by the rules.
You never know. You may end up on the circuit.
Core
Core materials walk the tightrope between control and power. The balance is also a function of weight. If your paddle is heavier, it'll deliver a more forceful swing with less effort. A lighter model, on the other hand, gives up some oomph for better control. Cost is also a part of the equation too, especially if you opt for high-tech materials. The main choices you'll see include:
Polymer will give you some kick to your swings with a cushier feel. They're also quiet if that is a consideration for you. As the term implies, aluminum swings the balance toward control with less weight. Finally, Nomex is tops for controlling your game. You'll also see variations on these themes.
Face Material
A textured surface is the ideal one for the best pickleball paddle for spin. It will have enough pull on the ball versus a model that is smooth. They are a wide variety of materials from vinyl to composite to graphite. This feature is one area where you will see proprietary technologies among the different brands. The spin factor is popular with pickleball players. That means you'll often see this featured touted by the manufacturers.
Paddle Shape
The one figure you need to know is 24 inches. That's the maximum combined length and width of the paddle. The best shape depends on your gameplay and the amount of control or reach that you want. Bear in mind that the narrower the paddle is, the greater the challenge for striking the ball.
Grip
The typical grip size runs between 4 and 5 inches. The primary consideration is how it feels in your hand. You want a rougher surface as opposed to something slick that could interfere with your control over your spins. You should also stick with one that's comfortable with an ergonomic handle to reduce fatigue. The grip shouldn't create any pressure points that can cause pain or blisters.
Weight
The question of the heft of the paddle goes back to the control and power that we discussed earlier. It's not a choice of one over the other. Instead, it's about matching the balance with your gameplay and strategy. A decent weight is around 8 ounces, especially if you have occasional shoulder or elbow pain. Pickleball, after all, is a series of repetitive movements that can aggravate an existing condition.
Top 3 Brands
ProLite
ProLIte is one of the many manufacturers that specialize in everything pickleball. The family-owned business has a long history in the sport, going back to 1984. It is truly an ambassador of pickleball, not unlike the USAPA and its outreach.
Engage Pickleball
Engage Pickleball is another specialty manufacturer. Its claim to fame is its signature "liquid graphite," which puts a new spin on the sport. It improved the surface of its paddles for better performance. The company is USA-based with USA-sourced materials too.
Selkirk
Selkirk takes its name from the mountain range in its backyard. They are another pickleball-focused manufacturer. The family-based company is active in the sports community and produces gear for all skill levels.
Frequently Asked Questions
Q: What is the advantage of putting a spin on the ball?
A: Adding this shot to your skillset gives you another way to put some unpredictability in your gameplay and strategy. However, it is most effective if you use it sparingly. The more time your opponent can observe the spin, the easier it is for them to spot it and respond accordingly.
Q: How long does a pickleball paddle last?
A: The lifespan of your pickleball paddle depends on how often you play, how hard you play, and its material. The more you use, the sooner it will start to show its age. Even the best graphite models will wear out over time. If your control is suffering, it might be time to part ways. Likewise, less responsiveness to a spin move indicates a worn surface.
Q: What is the sweet spot on a pickleball paddle?
A: The sweet spot is the place on the paddle where everything comes together to make an ideal shot. It is usually the center, going toward the top. It'll depend on its length and how you hit the ball. You'll probably see it as the place that is getting the most wear.
Final Thoughts
Adding to your repertoire of shots is an excellent way to improve your game and mix things up to give you the advantage. The best pickleball paddle for spin allows you to gain more control over where the ball goes. Whether it's a topspin or a backspin, you have another card to play to keep your opponent guessing.