The popularity of pickleball has soared in recent years. It is no longer just a backyard game. The sport has entered the tournament ranks for professional gameplay. Manufacturers of the gear have responded with better technology for creating the best pickleball paddle grips. You don't have to settle one that doesn't match your playing style.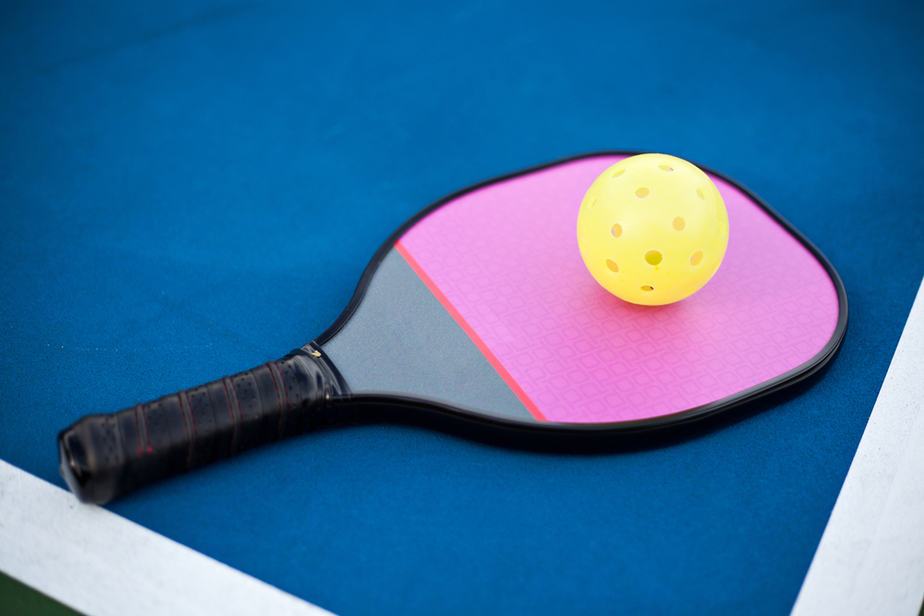 The entire construction of pickleball paddles has advanced from its early days using makeshift ping-pong paddles. You'll find a broad range of tech materials from composite to graphite to carbon fiber. Likewise, other components have evolved, including the grips. Part of the reason is that many professional players partner with the manufacturers to tweak their designs. Many business owners also play pickleball too.
Our guide includes some of our favorites, along with some tips and advice about choosing the right product for you. As you'll learn, you have plenty of options.
Ready to start? Zero! Zero! Two! Game on!
In a Hurry? Here's Our Top Picks…
1. Gamma Sports Pickleball Hi-Tech Gel Replacement Grip
Sale
GAMMA APHGL10 Pickleball Ht Gel Black
Replacement grip for pickleball Paddle
Extra tacky, firm surface with a zorbican gel fill for exceptional comfort
Grip is sized for pickleball - 31"
Grips one pickleball Paddle
Last update on 2023-05-27 / Affiliate links / Images from Amazon Product Advertising API
The Gamma Sports Pickleball Hi-Tech Gel Replacement Grip is a comfortable and well-cushioned product if you want to start from scratch with a new one. The product includes both the grips and the tape. It is well-made and looks attractive. It'll give your pickleball paddle a well-needed makeover. Putting them on is a bit challenging, but it does speak to how well they will stay in place once you're finished.
The construction and materials are high-quality, which we'd expect from this manufacturer. The cushioning was well-placed, making it both comfortable and tacky enough for a secure grip. While it adds some thickness, it also relieves any pressure points. The gel adds a bit of cooling action too, which we liked.
Pros:
The contouring provides a secure handhold.
Gel cushioning is very comfortable for reducing hand fatigue.
The grip is an excellent choice for those who want a thicker one.
Cons:
It is challenging to put in place without seeing how it's done first.
Check Price and Reviews on Amazon
---
2. Tourna Grip XL Original Dry Feel Tennis Grip
Tourna Grip XL Original Dry Feel Tennis Grip TG-1-XL Blue, 3 grips on roll, (99 cm x 29 mm)
THE CHOICE OF PROFESSIONALS. Tourna Grip is the only grip that gets tacky the more you sweat. Tourna Grip starts with a Dry Feel but once you start sweating, the grip becomes more tacky and gives you a better grip. This is why it's so popular among pro's, college players, and amateurs alike. When match is on the line, use a grip that won't slip – Tourna Grip.
The proprietary technology of Tourna Grip enables moisture to wick moisture through the grip instead of back onto your hand which creates slippage. Most other tacky grips slip as soon as the grip gets wet with sweat.
Used by HUNDREDS of Touring Pros! Endorsed and used by top American player John Isner, top Canadian Genie Bouchard, the #1 most winning Doubles Team in the World - The Bryan Brothers, Hall of Famer Pete Sampras, World #5 Dominika Cibulkova, top 20 players Richard Gasquet, David Ferrer, Sam Querrey, Christina McHale, Kevin Anderson, and many more.
3 XL GRIPS PER PACK. Includes Finishing Tape. The Tourna-Grip Light Blue Color is a Federally Registered Trademark. You can identify Tourna Grip by its famous blue color on TV, magazines, or on the court next to you! Tourna Grip is also the only tennis overgrip MADE IN THE USA!!!
HIGH PERFORMANCE GRIPS BY TOURNA are ideal for tennis but also great for Pickleball paddles, Baseball bats, Badminton racquets, Squash Racquets, Racquetball Racquets, Ping Pong Paddles, Golf Grips, Bike Handlebars, Archery, Rowing, Dumbbells, Fishing poles, you name it.
Last update on 2023-05-27 / Affiliate links / Images from Amazon Product Advertising API
Don't let the name of the Tourna Grip XL Original Dry Feel Tennis Grip fool you. This product works just as well on pickleball paddles as it does on rackets. You can get it in two, three, 10, 30, or even 50 packs. The tape responds with the sweat coming off your hands. As you perspire, it gets sticky to give you a better handhold. It's the choice of many pro tennis players, including John Isner.
This version of the product is for high-intensity situations where it's hot outside and you're in a fierce match. The durability is decent for what it is. It is thin and won't affect the balance of your pickleball paddle. It's an easy way to improve your paddle without paying a lot.
Pros:
The tape does an outstanding job of keeping your hands dry.
The tackiness increases as you sweat when you need it most.
It's affordable to replace it to match your gameplay.
Cons:
The tape comes in only one color.
Check Price and Reviews on Amazon
---
3. ProLite No-Sweat Diamond Grip
Last update on 2023-05-27 / Affiliate links / Images from Amazon Product Advertising API
The name of the ProLite No-Sweat Diamond Grip addresses one of our main concerns when choosing these products. The term, diamond, refers to the shape of the holes that provide excellent circulation and breathability to these grips. We also like the classy look they give to our paddles. You have your choice of five colors that you'll see in the openings.
You can use the grip on its own or over your existing one. It is sufficiently sticky to adhere firmly in place. The tackiness is also superb, especially with the wicking feature. Overall, it has a good hand feel to it. The product is well-made to last hours of pickleball play. Overall, it is a high-quality product.
Pros:
The breathability of the grips is excellent.
The cushioning is comfortable.
The texture of the wrap is pleasing.
Cons:
It is a bit difficult to get the roll started.
Check Price and Reviews on Amazon
---
4. Gamma Supreme Overgrip
GAMMA Sports Supreme Overgrip for Tennis, Pickleball, Squash, Badminton, and Racquetball Racquets, 15-Pack, White
EXCELLENT PERFORMANCE: Gamma Supreme Overgrip helps you rule the court and provides maximum durability for hours of play
ABSORBENT MATERIAL: Helps keep your hands dry by absorbing sweat during intense matches and allows you be more comfortable and play with greater precision
EASY TO APPLY: These tacky grips allow for a easy quick no-fuss applications and also fit extra long rackets so you can spend less time preparing and more time on the court
DURABLE: These wraps are made to last and feature a soft feel combined with outstanding durability designed to keep up with your game
COMPATIBILITY: Great for tennis and also a variety of other racket types including pickleball squash, badminton, or racquetball
Last update on 2023-05-27 / Affiliate links / Images from Amazon Product Advertising API
The Gamma Supreme Overgrip is a fine choice if you don't want to deal with the hassle of replacing your existing grips. It comes in six colors or an assortment pack to mix things up occasionally. You can get in three, 15, 30, or 60-count packages. It's a sound option if you want to have brand new grips. Each one lasts for a decent amount of game time, too.
The durability and quality are top-notch, given the nature of the product. You can also use them on other items where you need to have a secure handhold, such as a door handle. They strike an excellent balance between thickness and comfort that won't interfere with your gameplay.
Pros:
The product provides an excellent handhold with no pressure points.
The overgrip has just the right amount of tackiness.
Using them doesn't throw off the balance of the paddle.
Cons:
The moisture absorbency is so-so.
Check Price and Reviews on Amazon
---
5. Senston Anti-Slip Perforated Overgrip
Senston Overgrips Pack of 5 Racquet Overgrips Tennis Badminton Squash Racket Overgrip Anti Slip Racquet
🎾 SUITABLE FOR - tennis / badminton / squash / pickleball racket / fishing poles/ walking sticks.
🎾 MATERIAL - High-quality soft PU material and thin thickness provide a better sense of racket. Sweat absorption and water resistance are strong, and no peculiar smell.
🎾 ANTI-SLIP GRIP TAPE- Enhance sweat absorption, with a great anti-slip effect to ensure lossless batting strength, and protect and prolong the life of your racket handles.
🎾 SIZE & WEIGHT - Size: 43.3" x 1" x 0.03" (Lengthx width x thickness); Weight: 0.3 oz; Packing including: 5pcs racket over grip tape, each color 1 piece.
🎾 CUSTOMER SERVICE - If you have any problems after the purchase, you can feel free to contact us at any time.
Last update on 2023-05-27 / Affiliate links / Images from Amazon Product Advertising API
The Senston Anti-Slip Overgrip is the second of the two products that we reviewed that has found homes in other sports and uses. You can get it with both ridges or for the standard grip. The manufacturer recommends the latter for pickleball. You can get it in four, five, or 10 packs. The product is thin and flexible. It is also lightweight with ample moisture-wicking to keep your hands dry.
The overgrip provides plenty of stickiness for a secure grip on your paddle. It adds just the right amount of extra cushioning for a comfortable handhold. You can an assortment of colors with each pack, which some may not like if it clashes with your pickleball paddle's design. Overall, it's a decent option for those who want to keep their original grip.
Pros:
The overgrip has a comfortable hand feel to it.
The tackiness is superb.
It is easy to apply.
Cons:
They wear down quickly with heavy use.
Check Price and Reviews on Amazon
---
Buying Guide for the Best Pickleball Paddle Grips
It may seem like a minor point, but the grip on your paddle makes a big difference in your game. Think about how a poorly made one could affect your gameplay. You'll likely feel numbness in your hand if it creates pressure points. And you'll probably find yourself shaking it a lot to get some feeling back in it. A bad grip could also give you blisters. Enough said.
Why You Should Consider Your Grip
Many players focus on the technical aspects of choosing a pickleball paddle without considering the most important thing—the grip. After all, it's the one part that gets the most use. You're holding it the entire time you're playing the game. The face gets some wear with each shot, but it's not constant like your hands on the grip.
A cheap one may wear unevenly. It may even start to unravel. That fact remains that your grip may give up before the paddle's head. You might like how it performs and feel reluctant to replace it. News flash: you're not stuck with the OEM version. You can replace it or modify it. You don't have to stick with something you don't like.
Suffice to say that these distractions will take the edge off of your game. Features to consider for the best pickleball grips include:
Type
Cushioning
Breathability
Tackiness
Let's discuss each one in detail with some tips about making the right choice.
Type
You have three options for dealing with your grip. You can replace it outright. That's an excellent choice if it's past its prime. You can also get an overgrip which you can slip over the existing one. Finally, you can go the tape route and cover it up with something else.
The contour and thickness of the resulting product will drive your decision. Fortunately, these products are affordable, so it's not a big deal if the first option you try doesn't work for you. Just make sure that if you use an overgrip or tape that you're covering the entire existing grip.
Cushioning
We touched on this topic before, but it warrants some additional discussion. The type of grip replacement you choose will have a direct impact on this feature. Most grips run around 4 inches. Adding tape or an overgrip will change what you're used to having on your paddle. That can affect how you hold it and, in turn, affect your gameplay.
Breathability
Pickleball games can get competitive and fast-moving. Your hands will sweat with all that action. We recommend looking for a product that mentions wicking or breathability in the description so that you're more comfortable playing. Higher quality paddles usually have grips that address this need. If you're getting a replacement, make sure to make note of it with the new one.
Tackiness
This feature goes hand in hand with the previous one. You need a bit of stickiness on your grip to keep a secure handle on your paddle. We don't mean like your hands will get coated with something. Instead, think of it like the gloves that football players wear to grab a pass. The purpose for you is to give you a better handhold for more accurate and powerful shots.
A Word About Tournament Play
The rules of the USA Pickleball Association (USAPA) cover what they call "paddle grip adjustments" as we're talking about here. You can make changes to the grip size or wrap on commercially made products. Bear in mind that USAPA-approved paddles are based on what comes out of the factory. Check with the game officials or your local league if you participate in tournament play and need clarification.
Top 3 Brands
Gamma Sports
Gamma Sports got its start with tennis before expanding into the pickleball industry. The USA-based company invests heavily in R&D of all its products, including grips.
ProLite
ProLite is a family-owned company, based in Wisconsin. It produces a full line of pickleball gear from paddles to grips to apparel. The owner is a 5.0 player, which helps to explain the focus on the sport.
Tourna
Tourna also began producing tennis products with a primary focus on grip solutions. It also makes a full line of pickleball gear and accessories, along with items for a broad range of other sports.
Frequently Asked Questions
Q: How do you hold a pickleball paddle?
A: The correct way to hold your paddle is to begin with your outstretched hand as if you're going to shake hands. Grasp the handle firmly but comfortably, keeping the V-shape with the point toward you. It is the continental or neutral grip. Pointing the V toward your right is the strong grip for those kill shots.
Q: How long should a pickleball paddle last?
A: How long you get out of a pickleball paddle depends on how you use and take care of it. If you're a core player who is on the court eight or more times a year, you're going to blow through one quicker than the casual user. The materials also make a difference. As we mentioned earlier, your grip will likely show its wear first. That makes upgrading it an excellent way to extend the life of your paddle.
Q: What is a good beginner pickleball paddle?
A: You'll find many affordable pickleball paddles that are ideal for the beginner. We suggest considering products made by companies that specialize in this sport. They are more likely to have the features that will improve your performance as you learn to play the game. Manufacturers such as Franklin Sports, Selkirk Sport, and ProLite are excellent places to start.
Final Thoughts
Getting a secure handle on your game begins with the best pickleball paddle grips. The right product is breathable with just enough tackiness to improve your shots and accuracy. You don't have to stick with an inferior option when there are so many solutions available at affordable prices. Switching out your factory-made grip can improve your performance dramatically.