Pickleball is a fun sport that combines different elements of tennis, badminton and ping pong into one; and like these three sports (or any sport for that matter), a good Pickleball game requires the use of good equipment. Whether you're a beginner just starting to learn the game, or a pro playing it professionally, you'll need a good paddle to go along with your game.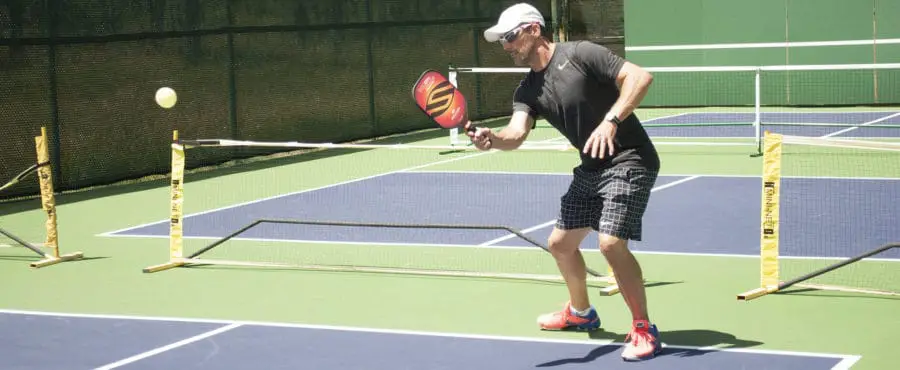 In this article, we'll be discussing how to purchase the right pickleball paddle (and shoes, in this article) for you, and what the best pickleball paddle options are available on the market today.
In a Hurry? Here's Our Top Picks…
Our 5 Favorite Pickleball Paddles
1. Onix Composite Z5
Onix Composite Z5 Pickleball Paddle, Black
MORE POP – Offers More Pop From the Base Line
BALL CONTROL – Excellent Power for Players with Good Ball Control
PADDLE SPECS – Nomex, Paper Honeycomb Core and Fiberglass Face
WIDEBODY SHAPE – Widebody Paddle Shape with 4-1/4" Grip Size
PADDLE DIMENSIONS – 15.5" L x 8.3" W x 1.5" H; Heavy-Weight 8.4-9.2 oz
Last update on 2023-11-16 / Affiliate links / Images from Amazon Product Advertising API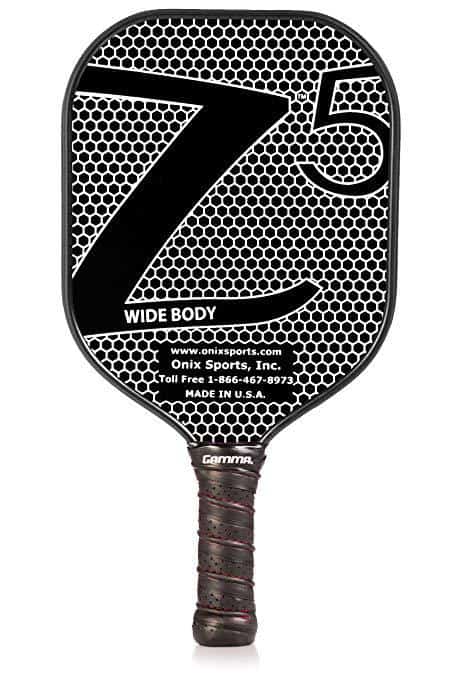 The Onix Composite Z5 is a pickleball paddle with a timeless design. It's a Nomex honeycomb paddle with a graphite face and a wide, 8-inch body. This makes it ideal for beginners since there is less of a chance of missing the ball. However, this paddle isn't just for new players. It's been proven to serve players of all experience levels and is indeed a very common favorite among pickleball players. Advanced players will find that it has a hard face and is very lightweight, making it suitable at the professional level, as well.
Thanks to a large surface area, the paddle can deliver powerful hits with a great amount of spin that can be consistently delivered across each shot. There's a 4.25-inch grip size, providing enough traction for increased ball control, compared to other paddles.
The Onix Composite Z5 is available online, and you can also find it in retail stores around the world.
Pros

 

Suitable for all experience levels
Large body providing maximum power
Cost-effective
Large grip size for increased ball control

Cons

 

Can be heavy for beginners
---
2. Engage Encore Pro
Engage Encore Pro Pickleball Paddle (Black Fade)
UNMATCHED PERFORMANCE! Provides players with all the advanced characteristics desired by top ranked champions. Optimized for power, control, ball placement, and spin balance.
YOU'RE IN CONTROL! The Encore line is all about smooth control and ball placement, whether you hit hard or soft. The solid, feel-good grip provides unmatched control of the ball.
EXCELLENT SPIN! The textured surface provides a great spin on the ball, throwing your opponents off track. Surprise everybody with your exceptional spin skills, while winning the game for your team!
ALL LEVELS! The Encore Pro Pickleball Paddle is used by National Champions such as Brian Staub and Marcin Rozpedski, yet can also be used by beginners with ease.
NO NOISE! Pickleball matches can be noisy and bothersome to neighborhood residents- but it all comes down to the paddle. The Encore Pro is optimized to meet stringent community noise requirements and makes no sound on impact.
Last update on 2023-11-16 / Affiliate links / Images from Amazon Product Advertising API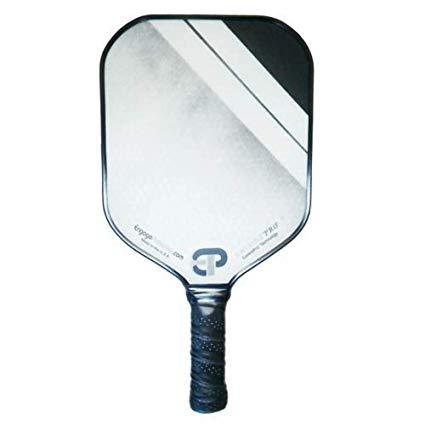 The Engage Encore Pro is another excellent pickleball paddle that offers various unique characteristics. This paddle is designed by Engage Pickleball, a very well-known brand in the United States that designs paddles specifically for this sport, along with other pickleball equipment. Their products cater to the needs of players in all experience groups, from beginners all the way up to the most advanced players.
The Engage Encore Pro is one of the best pickleball paddles money can buy. It's made out of a polymer honeycomb, with a fiberglass skin material, and is designed in a way that allows the ball's contact time against the paddle to be maximized. This provides for excellent ball control that no other paddle can provide. The rough skin also maximizes the spin placed on the ball, making it ideal for professional level play.
The paddle weighs 7.8-8.3 ounces, placing it in the mid-weight category. The grip is medium sized as well at 4.25 inches. The Engage Encore Pro is available in black, red, purple and green colors.
Pros

 

Premium build quality
Durable and long-lasting
Maximum ball control and shot power
Comfortable grip
Suitable for all players

Cons

 

Leans towards the higher end of the cost spectrum
---
3. ProLite CRUSH Powerspin
Last update on 2023-11-16 / Affiliate links / Images from Amazon Product Advertising API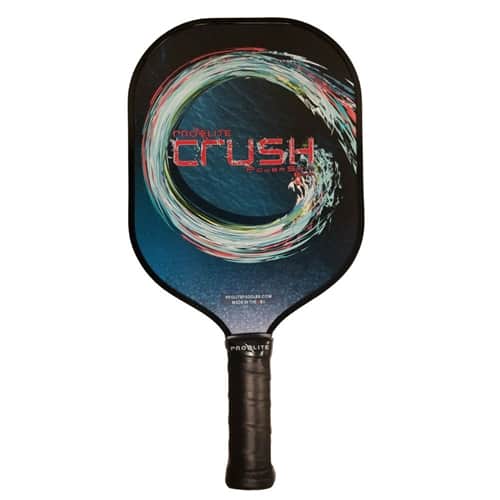 The name of this paddle can be quite a handful, but it serves as an accurate enough description. It's a powerful racket that can be used to crush opponents easily, thanks to a great level of grip and ball spin. The CRUSH PowerSpin is also a great-looking paddle, with splashes of blue in its design to give it a vibrant look.
This paddle looks good but it performs even better. Standing out of the crowd thanks to its light head weight, the CRUSH PowerSpin is designed for fast-paced games. The durable SPINtac hitting surface is designed to enhance spin control, whereas the 7.4-7.8 ounce weight makes it one of the lightest paddles on the market for professional players. The grip size is small, which means that beginners may find it harder to handle. However, professionals can make the most out of this paddle and knock out their competition with relative ease.
The paddle is also very durable and can take a heavy beating thanks to its polymer honeycomb. Using this paddle is all about speed, making it ideal for experts. However, beginners can also use this paddle to up their pickleball game.
Pros

 

Extreme durability
Designed for fast-paced games
Lifetime warranty
Does not make much noise
Good aesthetic looks
Large face for maximum ball control

Cons

 

Expensive
Small-sized grip can make it difficult for beginners
---
4. ProLite Rebel PowerSpin Composite
No products found.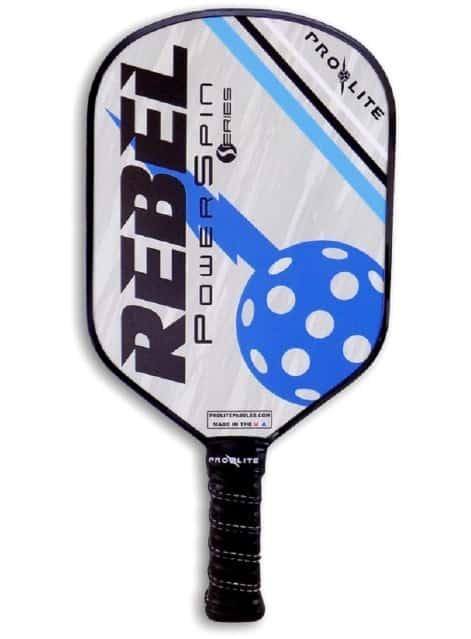 ProLite has a knack for using wordy names for their paddles, but these paddles also have a knack for being feature-rich, as their names suggest. The Rebel PowerSpin Composite is another high-performance paddle designed for beginner and experienced players alike. This paddle has been specially designed to keep noise levels down, ideal for playing in communities with quiet zones.
With an overall length of 16 inches, the Rebel weighs 7.8-8.2 ounces with a medium-sized grip, making it ideal not just for expert, fast-paced play but also for spin-base tactics. It's ideal for difficult shots thanks to its large face.
The paddle comprises of a polymer honeycomb and a textured fiberglass hitting surface. The handle is wrapped with ProLite's signature contour grip that feels quite comfortable in the hand. Available in blue, gold, red and purple colors, this paddle sports a design that stands out from the rest.
Pros

 

Very durable
Very comfortable contour grip
Designed for players of all skill levels
Designed to keep playing noise levels to a minimum
Texture designed to create extra spin
Large face for maximum ball control

Cons

 

Can be expensive
Relatively heavier, making it difficult to use for prolonged play
---
5. Onix Graphite Z5
ONIX Graphite Z5 Pickleball Paddle (Graphite Carbon Fiber Face with Rough Texture Surface, Cushion Comfort Grip and Nomex Honeycomb Core for Touch, Control, and Power),Blue
LEADING PICKLEBALL MANUFACTURER – ONIX is the leading manufacturer of performance pickleball paddles; balls; and accessories that enable players to compete at their highest level.
MOST POPULAR PADDLE – The Graphite Z5 Pickleball Paddle is the most popular paddle coming from ONIX. With its spectacular touch and control; it is the ultimate pickleball racket for every stage of pickleball player from beginner through advanced.
TENNIS HANDLE SHAPE – Mimics the handle shape of a tennis racket, making it comfortable to us; as well as providing great spin and control during play to ensure your game is at its best. Each Z5 pickleball paddle is protected with an edge guard.
NOMEX HONEYCOMB CORE – The ONIX Z5 paddle is perfect for any player that is striving for amazing ball control of a nomex paddle in a medium-weight graphite paddle. With the racquet being a perfect medium-weight of 7.5-8.2 lbs
USAPA/USA PICKLEBALL APPROVED – The Z5 ONIX pickleball paddle meets and is approved by USAPA and USA Pickleball requirements deeming it acceptable for all official tournament play.
Last update on 2023-11-16 / Affiliate links / Images from Amazon Product Advertising API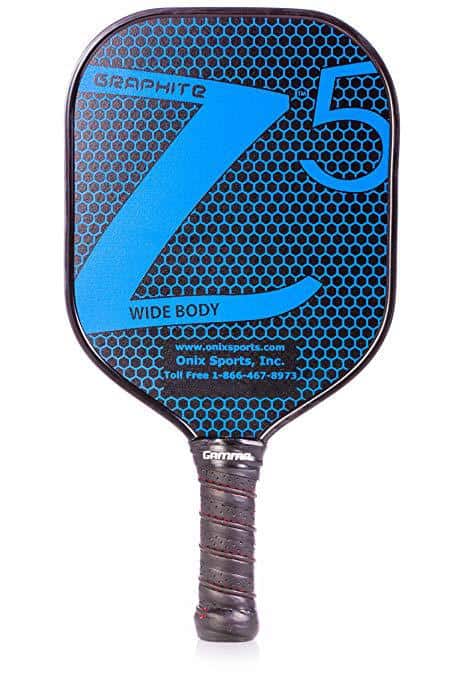 Another excellent edition by Onix, the Graphite Z5 is a low-cost alternative to the Composite Z5. As you might have guessed, the difference lies in the type of materials used for its construction. The Graphite Z5 has a sturdy construction and is very popular among players of all skill levels. Part of the reason for its fame is its low cost, which makes it ideal for beginners starting out new in the game.
However, by no means is this limited to a beginner paddle. The large hitting area coupled with a lightweight design weighing just 7.5-8.2 ounces makes it ideal for catching any type of shot and returning it in turn. The handle is large-sized at 5 inches, offering the most amount of grip on the paddle. This makes it one of the best-selling pickleball paddles of all time.
The design is stunning, featuring a honeycomb graphic background with a giant Z on the face of the paddle. It's available in many colors, including yellow, pink, blue, orange, red, purple, green, and white.
Pros

 

Suitable for all experience levels
Great balance of speed and power
Very cost effective
Large grip size for increased ball control
Available in a variety of colors

Cons

 

Not as durable as some other options
---
Things to Consider Before Buying a Pickleball Paddle
Choosing the right pickleball paddle can be challenging and often confusing. Not only are there different materials available, but there are also different shapes and sizes to choose from. You need a paddle that provides a good balance of power and ball control. Too much power will increase game speed but reduce ball control. Too much ball control will result in a slower game.
Here are some things to consider before buying a paddle:
Weight
Weight is the most important factor in determining ball control and speed. Paddles can range anywhere from 6 ounces all the way up to 12 ounces. However, you will find most paddles within a range of 7 to 8.5 ounces.
Heavy weighted paddles offer great power and increased durability. This can be especially useful for beginners who need a little bit of extra help driving the ball. However, a heavy paddle will limit mobility and may cause stress on the arms, resulting in strain injuries for people who are not particularly athletic, to begin with.
Light paddles offer greater ball control as they're easier to swing. Professional players use this liberty to create a large amount of spin. Light paddles, however, are not recommended for beginners, since they require more effort and strategy to drive the ball around.
Grip size
Different pickleball paddles vary in their grip size. Grip size is measured by the circumference of the handle and can range from 4 to 5 inches with increments of 1/8th of an inch.
Small grip sizes are ideal for players with small hands. People with large hands will not be able to grip properly, resulting in the paddle slipping. Larger grip sizes, on the other hand, are also cumbersome to handle and add on extra weight. Both of these factors can combine to cause injuries.
It's a good idea to measure your grip size before deciding on the right paddle. Most manufacturers provide guidelines based on a person's height:
4-inch grip for people 5'2" or less
4 1/8-inch to 4 1/4-inch grip for heights between 5'3" and 5'8"
4 ½-inch grip for people 5'9" and over
Generally speaking, it's better to have a smaller grip. Most paddle grips come padded with foam or other materials to make them comfortable.
Materials
The material a paddle is made out of is also very important. Generally speaking, wood is no longer used in making most paddles, although exceptions do exist. Different materials are used for the surface and the inner core.
Surface materials
The material on the surface will influence the amount of spin produced on the ball and the speed with which the ball can be hit. There are three different types of materials typically available.
Graphite: A thin layer of graphite provides strength and keeps the paddle lightweight and quick.
Composite: Composite material is created out of fiberglass that is tough and creates a popping sound when hit. This is the most common surface material used in paddles today.
Carbon fiber: Carbon fiber is much harder than graphite, and also more expensive. It's ideally suited for professional players since it increases the speed of the ball and requires more skill considering it makes the paddle lose some level of responsiveness.
Core materials
The core materials affect the overall strength of the paddles. Again, there are three different materials to choose from:
Aluminum: Aluminum cores are strong and heavy, providing great ball control. However, the honeycomb structure can dent out easily.
Nomex: Nomex is much denser and lighter than aluminum. It provides the best overall control.
Polymer: Polymer cores offer the most durability, which is why they are widely used in paddles today. They are not as good with ball control as Nomex however.
Best Pickleball Paddle Brands
There are many pickleball equipment manufacturers all around the world, especially in the United States. You can buy any good paddle from your local market. However, you can't go wrong by buying a product from the best pickleball brands in the world. Some of these brands are as follows:
Engage Pickleball: Engage Pickleball is a US-based manufacturer that specializes in the Pickleball sport and takes it to the next level. They employ a team of creative and innovative engineers who design, develop and test their products thoroughly. The manufacturing process is highly detailed and involves rigorous designing and testing with players of all skill levels. Engage Pickleball creates equipment tailored to the needs of players from all experience groups, from beginners all the way up to the most advanced players.
ProLite: ProLite was established in 1984 by Neil Friedenberg, a top pickleball player. It's a family-owned business that specializes in manufacturing pickleball paddles and equipment. Strongly dedicated to this sport, the company builds innovative products made out of the finest materials in the USA. ProLite manufactures pickleball paddles of all shapes and sizes, not only catering to the needs of players from all skill groups but also catering to the needs of players having varying budget ranges. They make some of the cheapest (and the most expensive) pickleball paddles on the market.
Onix Pickleball: Onix Pickleball was founded in 2005 with a mission to deliver top-quality pickleball equipment using advanced technology. Their paddles are designed "by players, for players". A team of engineers that are constantly researching develop new products and improve existing ones. Onix Pickleball products are often best sellers, thanks to reasonable pricing combined with superior build quality.
Frequently Asked Questions
What materials are ideal for players of all skill levels?
The performance of each material varies, and there are many combinations out there. The most popular combination is polymer honeycomb structure as the core and composite material as the surface. This combination offers an excellent balance of power and ball control, suitable for players of all skill levels.
Should I get an indoor paddle or outdoor paddle?
It's true that pickleball paddles are sometimes either sold as indoor or outdoor paddles. However, there is no significant difference between them, and it doesn't matter which you choose.
Where can I buy a pickleball paddle?
Thanks to the popularization of this sport all around the world, pickleball paddles are available in most parts of the world. Most manufacturers have online stores where you can buy these paddles and other equipment from. You find them at online retailers such as Amazon as well. Most retailers now stock them as well, such as Walmart and Target. It goes without saying that any good sports equipment shop worth its salt should have pickleball paddles available.
Do pickleball paddles come in different shapes?
Fortunately (or unfortunately depending on your standpoint), pickleball paddles come not just in different sizes, but also different shapes. Some have a thin face while others have wider surfaces. A wider surface means that there's more area for the ball to land on, making it easier for beginners to control the ball. However, these paddles are also comparatively heavier. Narrower paddles are designed for professionals; they're lightweight and provide greater precision at the cost of requiring much more skill to play with.
Final thoughts
Buying a new pickleball paddle can be confusing. Do you go for a fast-paced pro paddle, or stick with a wide face multi-purpose paddle? What materials do you want in a paddle? These questions can't be easily answered since the right paddle for one player is wrong for another. However, here is a summary of things you need to consider so that you can buy the best pickleball paddle for your needs.
Decide on the weight. Go for heavy paddles for maximum surface area and large grip. Otherwise, opt for medium-sized.
Large grip sizes are cumbersome. Choose the smallest that fits well.
Prefer construction and surface quality over design and looks.
Avoid wooden paddles if possible.
Good luck!
Interested in all things sports? Check out our Best Soccer Rebounders, Best Badminton Rackets, Best Outdoor Ping Pong Tables, Basketball Court Ideas, and Best Indoor Basketballs articles!