Ping pong is a fun indoor sport that you can take outside as well. It provides a great way of killing some time while bonding with family, friends or colleagues, and shedding a few pounds of weight in the process.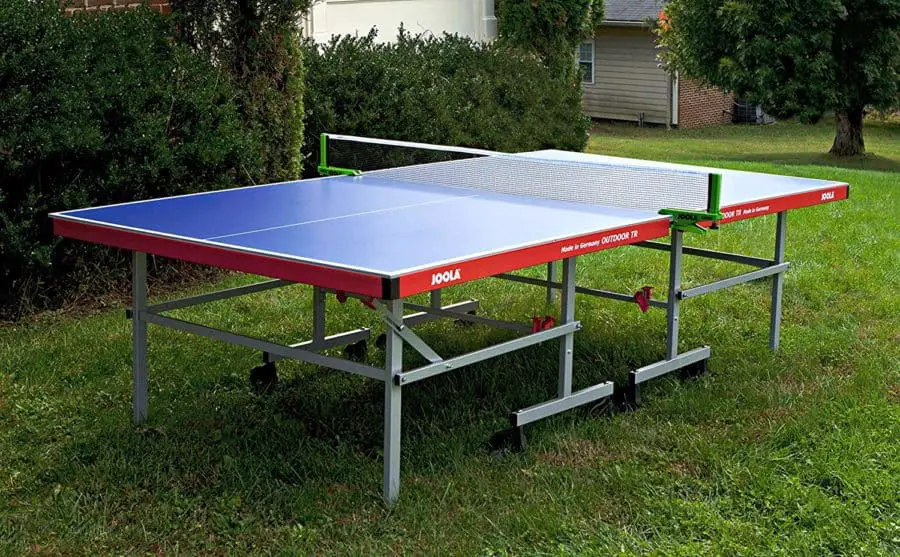 Whether you're reminiscing about your ping pong-playing college days, or looking to add some extra entertainment at your home, office or educational institute, a ping pong table might be the perfect solution.
In this article, we will walk you through the process of buying the best outdoor ping pong table. We will discuss some of the best options available on the market right now, and then talk about what things you should consider when making a choice. We will talk about some of the major features to look at, and then we will round off the discussion with a recommendation.
In a Hurry? Here's Our Top Picks…
Why an outdoor ping pong table?
While ping pong is primarily an indoor game, you can also play it outside under the right weather conditions, and as such there are special outdoor ping pong tables available for this purpose.
Outdoor ping pong tables are sturdy, reliable and often easy to transport. They are designed with rough, outdoor usage in mind, making them suitable for "combat" against weather conditions. While it is inadvisable for most furniture items to be placed outdoors, an outdoor ping pong table can be a welcome addition to your lawn or backyard.
These tables can also be placed in an office environment, or anywhere on campus in a school/college. The amount of continuous, rough usage that the table will endure in such cases with children/adults bumping into it or sitting on it, can only be withstood by a sturdy outdoor table. Tables built for the indoors just can't take that punishment without getting ruined and potentially becoming unplayable in the process.
Our 6 favorite outdoor ping pong tables
1. Cornilleau 500M Crossover
Last update on 2023-09-21 / Affiliate links / Images from Amazon Product Advertising API
The Cornilleau 500M Crossover is one of the premium, and consequently one of the most expensive, tables on our list. The 500M features a durable, laminated surface, for extra durability. It comprises of a single unit, with foldable table-top, all of which can be transported on the large, 8-inch wheels. The table has protected edges and rounded off legs to prevent accidental injuries, making it a great all-round table. It will make you feel as close to being a pro as possible, without having to spend thousands of dollars. Definitely worth the investment in the long run.
Pros

Premium build quality
Easy portability
Durable and long-lasting
Adjustable legs
Anti-glare surface
Built-in ball dispenser

Cons

High cost
Difficult to maneuver around stairs
2. Joola Nova
JOOLA NOVA DX Indoor/Outdoor Table Tennis Table with Weatherproof Net Set
TOURNAMENT QUALITY OUTDOORS: Competition-grade 9x5 foot regulation size outdoor table tennis table and net set perfect for your deck, backyard or playground. Made by the official table brand of US Open and US Nationals Championships. USATT Approved
ALLWEATHER TABLE AND NET: Tabletop is a durable 6mm thick aluminum plastic composite surface, resistant to warping and chipping. The table sits on a 30mm x 30mm rust-resistant, powder-coated undercarriage. Comes with a matching weatherproof net set
NO HASSLE, QUICK SET-UP: Comes 95% pre-assembled. Assembly time: 15 minutes and you're ready to play! Simply attach the legs with only 8 bolts TOTAL. Tournament grade net is a classic screw clamp design for easy attachment
STURDY/LEVEL PLAY: Table sits on heavy-duty 3-inch wheels and adjustable leveling feet make this table compatible with almost any terrain
SEPARATE HALVES FOR PLAYBACK MODE & COMPACT STORAGE: Folding halves sit on separate 4-wheel trolley systems for mobility when alone or nested together. Utilizing the automatic anti-tilting locks, easily unfold one table half for solo playback mode
Last update on 2023-09-21 / Affiliate links / Images from Amazon Product Advertising API
The JOOLA Nova is one of the best all-round tables when it comes to portability and multi-purpose function. It is built for the outside, but its design makes it easily portable to be taken inside when needed. It is also one of the lowest-priced tables on this list, but by no means does that mean huge compromises were made. The 6mm surface is made out of plastic and aluminum, providing extra protection against the sun and other weather elements.
Pros

Very cost effective
Easy to set up
Separated in two halves, easy to store
Durable against weather elements
Anti-fade surface
Simplistic design

Cons

Undercarriage not very durable
Net could be improved
3. Killerspin BlackStorm
Killerspin Table Tennis Table MyT7 Pocket, Black
TOURNAMENT QUALITY TABLE: This ping pong table is tournament ready and features 18mm MDF board for exceptional ball bounce, repeat roller coating surface, and adjustable feet for a level playing surface
FOLDING TABLE: Fold up one side of this table tennis table to engage solo playback mode to practice shots and new techniques by yourself
INNOVATIVE STORAGE: Store up to 8 ping pong balls and 2 ping pong paddles in the storage pockets located on each end of the table
SUPERIOR DESIGN: This revolutionary ping pong table is designed to look great and perform even better, with a matte black top and offsetting perimeter with gloss black lines
DIMENSIONS: Indoor table tennis table measures 9' long x 5' wide
Last update on 2023-09-21 / Affiliate links / Images from Amazon Product Advertising API
The Killerspin BlackStorm is a great-looking, all-black ping pong table that is designed to last. It has a special UV coating to protect it from sunlight. The table is relevant to any occasion, from a casual get-together with your buddies to a serious competitive face-off.
Pros

Premium build quality
Extra UV protection
Built-in ball storage
Pockets for paddles
Comes with cover
Surface resistant to warping

Cons
4. Kettler Champ 5.0
Last update on 2023-09-21 / Affiliate links / Images from Amazon Product Advertising API
The Kettler Champ 5.0 is a very competitive, all-round ping pong table that is built to last while looking good at your home or office. It has a built-in storage for balls and rackets, and has one of the most appealing designs. The components are made using an advanced powder coating process, making it extra tough and resistant to corrosion/chipping.
Pros

Extremely resistant to corrosion
Comes with heavy-duty cover
Floor levelers
High-strength locking casters

Cons
5. Stiga Vapor
Last update on 2023-09-21 / Affiliate links / Images from Amazon Product Advertising API
Very similar to the JOOLA Nova, and at a very close price point, the Stiga Vapor is designed for people who want to go competitive without spending too much money.
Pros

Extra stability and anti-tilt mechanism
Leg levers for support on uneven surface
Easy to transport
Very cost effective

Cons

Not very durable. Sidelines scratch easily
Undercarriage prone to rust
6. Butterfly Easifold 19 Rollaway table
Sale
Butterfly Easifold 19 Ping Pong Table - Ping Pong Table Regulation Size with Easy Net Set - 10 Minute Quick Assembly - Folding with Wheels for Easy Storage
DURABLE TABLE TENNIS TABLE - Regulation size 9x5 indoor table tennis table with easy clip net set is more durable than the average table with a strong steel frame making it a great addition for your home
10 MINUTE ASSEMBLY AND GREAT - 3 year on this foldable table tennis table ensures high quality. The Easifold ping pong table assembles within 10 minutes by attaching the wheels.
19MM THICK TOP - The thicker the table, the better the bounce. Unlike other low quality tables, this has a 19mm thick top that makes competition play great.
COMPACT PING PONG TABLE - Each half folds for compact storage, both halves together is 25 inches of space. Double locking mechanisms holds the table safely in the storage position, while rotating wheels easily allows transportation to your storage area.
PLAYBACK MODE - Play table tennis without a partner by unfolding one half in play mode and leaving the other half vertical.
Last update on 2023-09-21 / Affiliate links / Images from Amazon Product Advertising API
The Butterfly Easifold is a regulation-size table designed to get you up and running with your games within minutes. It is easy to fold and unfold, and comes with a durable yet easy clip net that can be set up quickly. The frame is made out of steel. As the name suggests, the top is 19mm thick which is reasonable and offers a very good playing surface at its price point. Since this table comes as a single unit with both sides folding upwards, it can be used for solo play as well by putting one side vertically up.
Pros

Very quick to assemble and set up
Comes with a 3 year warranty
Can be used for solo practice

Cons

Not easily transportable
Undercarriage prone to rust
Things to consider before buying a ping pong table
Ping pong tables can be a big investment, but one that should set you up for many many years to come. It is important to get the right table for the right conditions you want to use it for. Here, we will discuss some of the things that you need to consider before buying a ping pong table.
Indoor vs Outdoor tables
Indoor and outdoor tables are often identical in length, width and height, and there's usually no visible difference between them. The major distinction, however, is the material they're made out of.
Indoor tables are designed for fast-paced games. Competitive ping pong is almost exclusively played on indoor tables. They are often made out of solid wood to provide a lush outlook while also ensuring that the ball preserves most of its energy on the bounce, thus allowing for fast-paced matches.
Outdoor tables, on the other hand, have to withstand the elements, and as such are designed to be sturdier. Solid wood gets ruined by excessive sunlight, heat and moisture. Iron legs can get rusty when exposed to moisture over extended periods of time. This is why outdoor tables are built from a mixture of metal and wood, often with some sort of coating on the surface. The underside is usually made out of galvanized steel to prevent rusting.
If you plan on keeping the table outside for extended periods, then an outdoor table is an absolute must. Outdoor table surfaces made out of mixed metal and wood usually tend to absorb the energy of the ball, offering a slower gameplay. But unless you want to play on a competitive level, you will hardly notice any difference in speed.
Who will play on the table?
This factor is often overlooked by many, yet it is one of the most important things you need to take into consideration. Who will be playing on the table? What is their experience level? If you're a pro, or plan on hosting competitive matches, buying a high-end table would make sense. However, if you're a beginner, or if the table will be used by novices, then maybe spending a lot of money isn't justified.
You also have to consider the environment this table will be used in. Although all outdoor ping pong tables are built for durability one way or another, certain situations require sacrificing construction quality for extra durability, such as at a school where it will go through a lot of wear and tear. Conversely, if you want to install a ping pong table at home, construction quality and aesthetic appeal are perhaps more important.
Portability
If you want to set up your table in a game room, then a fixed table will do just fine. However, portability is a requirement for many, as they need to fold up the table for storage when not in use, or transportation. You can get foldable tables with wheels (usually more expensive), as well as fixed tables.
Affordability
As with anything, affordability is a key factor for purchase. Ping pong tables range from just a couple hundred dollars, all the way up to several thousand dollars. Select a budget table according to your needs. Unless you're a professional playing competitive tournament matches, a high-end table will not be much better than a cheap table, except for its visual appeal and construction quality. You won't feel much of a difference in gameplay itself – nothing you can't get used to anyway.
There is no need to go overboard when buying a ping pong table. Spend whatever feels comfortable to you, and perhaps invest more money if you're looking for long-term durability, or need to take your game to the next level.
Table features to look out for
Now that we have discussed some factors that go into a purchase decision, let's look at what specific features you get when buying a table.
Table top
Table tops come in different colors, sizes and types. The top's color is important with respect to providing enough contrast against other features of a room, such as wall and floor color, furniture color and so on. But more important are the type and thickness of a top.
Tops are usually made out of plywood, plastic, particle-board, metal, fiberglass and even concrete. They can vary in thickness, from 12mm all the way up to 30mm or more. The thicker the top, the better the playing experience will be.
Ping pong table tops typically have a matte finish.
Note: Instead of buying a full table, you can just buy a stand-alone top with a conversion kit to turn your pool table (or any other large table) into a ping pong table.
Undercarriage
The undercarriage will not impact gameplay, but does influence the way you can set up the table (or move it around). Some tables come as a single unit, with wheels that can be used for easy transportation along plain surfaces. Some tables come in two separate halves, usually foldable, which is more convenient if you have to navigate stairways.
A table's undercarriage has a great say in its durability. Typically, these structures are made out of thick aluminum, zinc or steel alloys. The thicker the legs, the more durable the table will be. But it will also be heavier and hence difficult to move around.
Another feature to look out for when looking at undercarriages is whether they have an adjustable height. Ping pong tables are typically 2.5 feet high, but that's not set in stone and you may be more comfortable at more than 2.5 feet.
When setting up a ping pong table outdoors, especially in a lawn or on soft ground, leveling a table perfectly can be a challenge. Since the ground outdoors can be uneven, the table surface will be uneven as well, and that is no good. Look out for undercarriages that have leg levelers for adjusting the height of individual legs, allowing you to level the playing field on uneven ground.
Net
The net assembly consists of the net along with its suspension and the supporting posts with clamps that attach them to the table. Nets need to be 6 feet long, and 6 inches high. A net is supposed to be an obstacle, so its top must not be slack. If you want to play competitive matches, or want to take your game to the next level, consider buying a net with a suspension cord that will keep the top of the net taut.
Nets come in different types too. You can have fixed or removable assemblies for portability. For assemblies that can be taken off, you have the option of hand-tightened screw clamps or spring loaded clips. Spring-loaded clips are far more convenient to use, especially for home or school environments.
Screw clamps, however, can be set up more precisely with adjustable height, making them ideal for use in competitive environments.
Table cover
Ping pong tables lose their adhesive texture over time, giving way to shiny undercoating which makes the ball skid rather than bounce. The surface of the table is also prone to warping due to heat or humidity, and even sudden changes in the temperature. It is recommended for a table to be set up or stored in a cool location, and covered when not in use.
Table covers are often applied when the table is folded. They offer protection for the surface against temperature changes and humidity, thus extending the life of your table by a few years. Some tables come with a cover already, but you can buy aftermarket covers as well.
Best table brands
When it comes to ping pong tables, there are a few established brand names you can trust. Of course, these brands charge a premium for their name. But if our recommendations are out of budget, you can browse their catalogs to find another option that might suit your needs and budget better.
Kettler: Kettler is a German sports equipment company that is very well known in competitive sports. Founded in 1949, the company produces a range of products, from leisure gear to patio furniture, but they specialize in exercise and sports equipment, including gym machines, sports tables and so on. The company exclusively supplied table tennis gear for the Atlanta Olympics 1996 summer games. The same table is still manufactured and sold under the name of "Atlanta".
Killerspin: Killerspin is a dedicated table tennis equipment and clothing manufacturer that not only produces tables, rackets and balls, but also hosts and sponsors tournament events. The company has hosted some of the largest table tennis tournaments in the US, such as the Spinvitational Table Tennis Championship and the Arnold Classic Table Tennis Challenge.
JOOLA: JOOLA is a German table tennis equipment manufacturer operating since 1952. It produces tables, rackets, coatings, nets and even balls. Like Killerspin, JOOLA also hosts and/or sponsors competitive ping pong tournaments.
Cornilleau: Cornilleau is a high-end luxury table tennis equipment manufacturer that has some of the best ping pong tables in the world. The company is well known in competitive circles, and has been the official sponsor for many prestigious international-level tournaments such as the 2007 Team World in Magdeburg, Germany.
Stiga: Established in 1944, Swedish manufacturer Stiga is one of the oldest in the business. They build table tennis and table hockey products, from tables all the way down to rackets and balls.
Frequently asked questions
Q. What are the standard dimensions of a ping pong table?
A. A standard table is 9 feet long, 5 feet wide and 2.5 feet high. The net is supposed to be 6 inch high, and extends 6 inches on each side of the table. Most tables will be close to this size, but you can find other sizes as well to fit into smaller spaces.
Q. How much space is ideal for ping pong tables?
A. An ideal ping pong setup should leave 5 feet of empty space behind each end, and 3 feet of empty space on either sides. For an optimal ping pong experience, you need an empty space of 19×11 feet (209 square feet). However, you can work with smaller spaces as well.
Q. How to judge the quality of a table?
A. Accurately judging a table's quality comes with experience. However, there is a quick test you can perform. A tournament-level table should be able to bounce a ball up to 9 inches if the ball is dropped from a height of 1 foot. All tables might not achieve this, especially outdoor tables. You can still use the bounce height as a measure of quality, and see how close to 9 inches can a table get. Bounce the ball on multiple areas of the table to see if the construction is uniform.
Q. What is the most common table-related problem people face?
Ping pong table tops are designed to last. Often times, the undercarriage will get damaged long before the surface if you move the table around a lot or fold it out after each game. Structural integrity is a key aspect, and you should always keep that in mind first when buying a table. From wheels falling off to the under-frame getting bent, there are many things that can happen. If the legs get damaged, the table will become uneven, making the table almost unplayable.
Q. What to do if you don't have room for a ping pong table?
A regulation-size table takes a lot of space. If you don't have that kind of space around the house, you can consider buying a smaller table. However, that is not usually recommended, since it won't give you the practice to play on regular-sized tables. Instead, you should look into conversion tops. You can get ping pong table tops alone (without the undercarriage), and fit them onto existing tables that are adequately large and can support the weight.
Final thoughts
Buying the ping pong table that is right for you is not an easy decision. Hopefully, you now understand a ping pong table better and can make a much more informed decision when buying your next one. Just remember: for a ping pong table, stability and durability are absolute key features you can not compromise on.
Some of these tables can be expensive, and while you might be able to improve your game on a table with low bounce, you cannot play at all on a broken or uneven table. And considering you paid so much money for it, it will be a waste. You don't necessarily have to invest in the best table, you can instead opt for the most durable and solid table and make your investment worth its while for years to come.