You don't need to spend a ton to get the best badminton racket in the world. In fact, you can get a half-decent one for under $15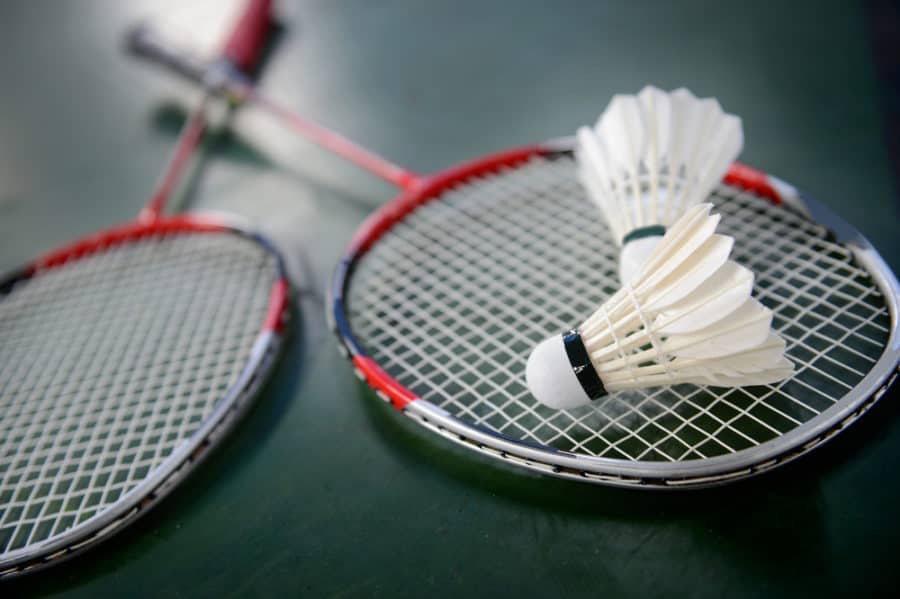 Similarly playing with a $500 racket is not going to transform you into Roger Federer (Yes, we know he doesn't play badminton however not many people would know Lin Dan). This is why recommend you to stick to any durable well-balanced racket as you are getting started (The Arcsaber Lite is a fantastic choice)
But if you have been playing for some time. You have probably formed nuances in your game. There are certain types of shots you prefer and some you avoid like the plague. You want your racket that suits your play style and augment your strengths while minimizing your weaknesses
This is why we have collected some of the best badminton rackets in the world for every kind of player. We even have a fantastic choice for beginners to use. So without any further ado, let's get started…
In a Hurry? Here's Our Top Picks…
Top 6 Badminton Rackets
Before every game, Roger Federer spends around 4 hours restringing each of his rackets (he has 10). This shows the amount of importance he places on the quality of his racket.
Your racket can help give you that extra edge you need to beat your opponent. It should feel like an extension of your arm. This also means there is no "best racket." Each player is different, and the perfect racket should be tailored specifically to their playstyle and experience.
Yonex Arcsaber 11Review – The Balanced Racket
No products found.
Many people write off the Arcsaber 11 because of its age. But there is a reason it was used by many athletes in the 2018 All England Open. It can still compete with some of the best rackets in the world.
The Arcsaber features an extremely stiff shaft, which allows for a higher degree of precision and control. However, more rigid shafts also require better technique. This is why we recommend beginners to stay away from this racket.
It also features the traditional Isometric design that has become quite popular amongst Yonex rackets and is exceptionally balanced. This makes it perfect for those who love playing fast rallies. In fact, the nimbleness of this racket lets you beat your opponents on pace alone.
The high balance also makes it perfect for players who love using the head weight of the racket. The frame is slightly larger which allows you to drive harder but it lacks some power compared to some other rackets on this list
A major concern, we've had with this rackets is that its recommend string tension is between 19-24 pounds.  Most advanced players know that this amount of tension does not give you the precision you need at a professional level. Now we're not saying that high tension is always better, but it is possibly the only reason we may pick another racket instead.
The Arcsaber is a 3U weight which means it weighs around 84-89g. Most 3U rackets are better suited for singles, but the Arcsaber's balance makes it perfect for a doubles matchups as well. The Grip used is a G4
Doubles v Singles
Most 3U weight rackets are usually suited for doubles matchup. However, the Archsabers defense and balance make it a fantastic choice for both formats. This is very rare to see in most high-end rackets which are specifically designed to suit one format or another.
If you frequently play both singles and doubles and are looking for one go-to racket, then the Archsaber has to be your only choice.
Materials and Construction
Most high-end Yonex rackets spare no expense on the materials used. The Arcsaber is no different. The shaft and the frame feature a lot of H.M graphite(High Modulus Graphite).  The extra strength of H.M graphite makes your racket much more durable. You can read more about how H.M graphite and other materials affect the quality of your racket in the before you buy section.
Frame
The frame of the arch saber uses a unique combination of H.M graphite, sonic metal, and nanotubes. This sonic metal core removes the excess vibrations created when the shuttle comes into contact with the racket. The frame is designed to get rid of any interference from vibrations, leaving you with a precise and very very accurate shot. This way when you hit the shuttle, you know where it is going.
Most racquet sports players know that the longer the ball/shuttle stays in contact with the racket, the more control they have. This is why manufacturers are spending millions in R&D on optimizing the contact time between the racket and shuttle.
The frame of the Arcsaber 11 uses neo-CS carbon and normal CS carbon on its sides. These materials help the frame flex on impact, causing the strings to flex as well.
How does that help you?
The string flex means that when the shuttle makes contact with the racket, it is held in place on the string bed for a microsecond longer. This allows you a lot more control and finesse on your shot.
Shaft
Just like the frame, the shaft of the Arcsaber uses H.M Graphite and Ultra PEF. The Ultra PEF(Poly Ethylene Fibre) is supposed to be light enough to float on water but extremely durable at the same time. This allows for maximum shock absorption allowing you to play for longer without getting exhausted.
Strings
Most Arcsaber players are likely to change the strings once they get their racket but the factory strings provided are surprisingly great. They have a pretty high tension(which might scare someone who's never used a high-end racket like the Arcsaber before), but they are pretty durable.
The racket also uses the new grommet pattern which helps keep the string tension for longer.
Joint
The Arcsbaer uses Yonex's latest T-Joint technology which has been proven to help the stability of the racket. The new T-joint design also reduces the torque on the racket.
Pros:
It is best suited for pacy players who prefer playing rallies. However, the balanced design allows it to suit most playstyles
The Archsaber can be used for both singles and doubles matches which is very rare to see in high-end rackets
It is a fantastic backhand racket. Shots like the backhand clear and backhand smash become really easy
 Cons:
The maximum recommended stringing tension for the Arcsaber is 24 pounds which can be an issue for advanced players.
Shots with this rely a lot on your technique making it not suitable for beginners
This racket is great at many things, but it does not have a special attribute,
Professional Athlete Using This Racket: Taufik Hidayat
The Arcsaber 11 was also famously used by Victor Axelsen before he moved to the Yonex Duora Z strike. Which brings me to my next point…
Check Price and Reviews on Amazon
---
Yonex Duora Z Strike Review – For aggressive players
No products found.
The number 4 player in the world (as I was writing this article), Victor Axelsen uses the Duora Z-strike and for good reason. It is a very very good racket.
It is perfect for those players who like a head heavy racket but find the Voltric a bit too much. The Duora Z-strike feels like a cross between the powerful Voltric Z Force II and the nimble Duora 10. While the power in the Z Force II felt a bit like wrecking ball, this felt a lot more… focused; kinda like a whip.
This could be attributed to the super thin shaft. It makes the racket bend just a bit on smashes. When you begin to use this racket, this whip-like effect can feel a bit weird, but once you get used to it, smashes with this racket are absolutely amazing.
Many users have also reported that the soft string bed of this racket does not respond well with plastic shuttles. So if you plan to play with plastic shuttles, we recommend you pick another option. We are not saying that this racket is unusable with plastics, but there are better options available for much cheaper. When you play with a plastic shuttle, you don't have much control of your shot which can get annoying quickly
The recommended string tension for the 3U version of this racket is around 20-28 lbs which pretty great for even professional tournaments.
Materials
The Duora Z strike takes a lot of the style inspiration from its predecessor the Duora 10. This means it has the iconic Duora style design with either side of the racket having different colors. But this time around you get a matt finish. Matt finish is a lot more resistant to chipping than glossy finish rackets, which is great if you are looking for a racket that will look great even after a lot of use.
Frame
The frame for the Z-strike uses HM graphite instead of regular graphite. This helps increase the overall durability of the racket. Additionally, the frame also contains Nanometric DR and Hyper-MG.
Just like in the Duora 10, the Duora Z-strike uses a dual optimum frame albeit improved. This means it has two frames technologies on either side of the frame: one for backhand shots and the other for forehand shots. The backhand side has an increased repulsion(~9%). This helps increase a lot as you are defending your opponents smashes.
The forehand side is made from nanometric DR and has an increased shuttle hold by  ~3%. This means you get more power and control on your shots when hitting from this side. But getting used to this dual frame setup takes some time. We recommend you get in a few practice games before trying out this racket in a real game
Shaft
Just like in the frame, the shaft of the Duora Z-strike contains HM Graphite, Nanometric DR and EX HMG.
The shaft is extremely thin and stiff. Yonex claims that this helps with aerodynamics and making it easy to swing around. The shaft also tends to bend just a bit on smashes, giving the racket a semi-whip like feeling on when you swing it fast.
Pros
Once you get over  the slight learning curve, this is easily the best racket for offensive players
Smashes feel amazing
This racket is perfect for aggressive players who incorporate a lot of smashes into their game
Cons
Does not perform too well with plastic shuttles
The stock grip of the racket is white which means it is going to get dirty really quickly
This racket takes some time getting used to as the two sides react very differently from each other.
Professional Athlete Using This Racket: Victor Axelsen
The Duora Z-Strike has a tremendous amount of speed and power making it a perfect pair for any aggressive player. If you like to play aggressively, you can dominate your opponent with this racket. We personally prefer this racket over the duora 10 because even though the duora is pretty powerful, it cannot compete with the Z-strike.
Check Price and Reviews on Amazon
---
Yonex Astrox 99 Review – For Control Style Players
Yonex Astrox 99-Weight/Grip: 4U/G5
Balance: Head Heavy / Flex: Stiff
Frame: H.M. GRAPHITE/Namd/NANOMETRIC/Tungsten
Shaft: H.M. Graphite/Namd
Colour: Sunshine Orange
Made In Japan, CD Coded
Last update on 2023-09-18 / Affiliate links / Images from Amazon Product Advertising API
The Astrox 99 is the latest creation by Yonex, launching just last month. Being its newest flagship racket, the Astrox 99 is crammed with almost every cutting edge tech Yonex could get their hands on. But the racket is made particularly for players who prefer precision and placement over strength.
Compared to its predecessors the 99 has adopted a full frame NAMD( discussed below), allowing greater placement and shot precision than anything the world has ever seen.
Like many of the other high-end advanced rackets, the Astrox 99 uses a stiff shaft. Another thing you might notice about the shaft is its length. The Astrox 99 features a very slim long shaft, which is longer than your typical racket. This added length provides a bit more leverage as you swing your shot giving you that much more power.
The slim length also helps the racket aerodynamically allowing the Astrox to slice through the air with grace.
Currently, this racket is available in two version 3U and 4U. However, if you prefer a faster racket you should go for the 4U version as 3U is a bit heavier. The recommended string tension for 3U is between 21 to 29 pounds which fantastic even for professional tournaments.
Rotational Generator System
Despite the new innovations, the main selling point of the Astrox series has always been its rotational generator system. It gives this racket a head heavy feel when you are taking a shot while feeling extremely light and balanced as you are moving.
We have explained the working of the rotational generator system in detail in the FAQ's, so be sure to check that out.
Materials
The 99 is the first variant of the Astrox product line to feature a full frame NAMD. It is a technology Yonex has been putting into their rackets for some time now. However, before the Astrox 99, the use of NAMD was only limited to the shaft of the racket.
Lab testing has shown that NAMD doubles the contact time of the racket with the shuttle. But if that was not enough, the frame regains also its original position faster than any racket in the world.
Frame
The frame of the Astrox is made from H.M Graphite, NAMD, tungsten and nanometric tubes. Nanometrix tubes are inserted into the frame of the racket to help increase the repulsion power, toughness and impact strength.
It also uses the Aero box frame technology. This combines a sharper, faster frame with a blunter and more powerful frame into a single solid frame. Allowing your racket to be quick and powerful at the same time. The Aero box design is a slight variation from the dual frame technology used in the Duora series.
Joint
Just like the Arcsaber, you get to use yonex's latest T-Joint technology to provide stability for the racket. The T-joints also minimizes the torque on your rackets as you swing it throughout the game.
Shaft
The shaft of the racket is made from High Modulus Graphite and NAMD.
How does a Full-Frame NAMD Feel?
When we first heard about new Astrox using a full-frame NAMD, we were pretty skeptical.
NAMD helps the shuttle hold on to the racket for longer. We were unsure about how this would work and expected that extending the NAMD to the entire frame would cause some loss in control.
However, that is not true. It actually quite the opposite.
Using the shuttle hold gives you more control than ever before. But it is going to take you some time before you can truly take advantages of the racket's shuttle hold ability to it's fullest. We have also observed that the shuttle hold makes the power and speed of the shuttle feel considerably less – making this racket pretty unfit for doubles matches
Pros
The best racket available for players who like to play with control
The full frame NAMD allows for fantastic control on shots
The rotational generator system allows you to have the best of both worlds – power and speed
Cons
Defensive shots aren't too great
Struggles in awkward backhand shots compared to other Yonex rackets
The racket feels a bit sluggish a doubles matches
Professional Athletes Using This Racket:
Since the racket was just launched, we haven't seen it being used in any major tournament. However, as most badminton fans know Lee Chong Wei and Kento Momota are the main ambassadors for this racket.
This is an advanced racket best suited for singles oriented players who love to play with control.
Check Price and Reviews on Amazon
---
Yonex Duora 10 Reviews – Best For Doubles Matchups
Last update on 2023-09-18 / Affiliate links / Images from Amazon Product Advertising API
The Duora 10 is an odd piece. It was launched almost 2 years ago and since then it has aged pretty well. Over the years, more powerful and faster rackets have launched.  But somehow the duora 10 has always stuck around as one of the top rackets.
In fact, the best player in the world, Lee Chong Wei actually used this racket for the last 2 years before switching to the Astrox 99.  Even today it is still a favorite amongst many players and has quite the fan following.
Because of this popularity, Yonex has made this racket available in tons of different colorways. The black-orange-blue variant is our favorite and is also the colorway used by Lee Chong Wei.
Being a reasonably balanced racket, the duora 10 is perfect for doubles matchups. It also has one of the best defenses out of all the rackets on this list.
The 3U edition of this racket comes with a 4G grip and has a recommended string tension of 19-26 pounds. This is pretty great for intermediate players but could be a problem for more advanced players
Materials
Many materials used in the duora 10 have aged pretty well. In most cases, these material have been improved upon in the current generation of rackets but that's not a knock against the quality of the Duora 10. It is still an amazing racket.
Frame
The frame of the Duora 10 is made from H.M graphite, Nanometric, and NI-TI alloy fiber. Like all other high-end Yonex rackets, it is manufactured in Japan
The Duora 10 is also one of the first rackets to feature the dual optimum system which we've discussed earlier(in the duora Z-strike review). Although the frame is better utilized in the Z-strike it is still pretty impressive in the Duora 10 as well.
Shaft
The shaft for the duora 10 is made from H.M graphite and Nanometric.
Pros
Best racket for doubles matches
Playing defensive shots becomes effortless, there's a good chance that you will start defending shots you could never before.
Available in tons of different colorways
Cons
Better racket rackets exist in terms of power and pace
Many users have complained that the tension is a lot below expected
The strings that come with this rackets aren't too great and you might consider replacing them.
Professional Athletes Using This Racket: Lee Chong Wei(Before switching to the Astrox 99)
Overall the Duora 10 is not the most powerful or the fastest but it is still one of the best rackets overall. This racket is perfect for doubles matchups or players who love counterattacking opponents shots.
Check Price and Reviews on Amazon
---
Yonex Voltric Z-Force II Review – Our Top Choice
Last update on 2023-09-18 / Affiliate links / Images from Amazon Product Advertising API
Another oldie on this list is the Voltric Z-force II. This racket was first launched in 2015 and ever since then, it has been considered one of the top rackets in the world. Nothing changes this year either.
The voltric Z-Force is pretty head heavy which means you can hit absolutely powerful shots with ease. Combined with its stiff shaft(detailed below) you have a racket that has the potential to dominate every kind of opponent.
However all this offensive power comes at the price, the racket is kinda head heavy, this means the defense can feel a bit sluggish at times.
Although it's actually lighter than the duora 10, you would not believe it when you compare the rackets in your hand. This is because of the duora 10 is a balanced racket while this Voltric is head heavy.
Voltric Z-force also has an absolutely gorgeous design. It has become one of the most iconic designs in badminton rackets. So much so that it already has many low-end imitations.
Materials
When it launched, Yonex advertized this racket as having the thinnest shaft ever. While this is no longer the case, it is still a pretty aerodynamically powerful racket.
Frame
The frame is made from HM Graphite and Nanometric tubes just like all other high-end rackets by Yonex.
Shaft
Many rackets ensure that their shaft can bend a bit on smashes and other powerful shots. The Z-force II takes the opposite approach.  It provides an extremely stiff shaft that will not bend even a bit.
Yonex claims that while this whip-like effect is fantastic in adding more power to your shots but you also give up some control. By providing an extremely stiff shaft, the Z-force II can maintain is extreme control. So every shot goes exactly where you want it to go.
Pros
It is a very powerful racket, smashes and other shots go across the court with ease
Shots go exactly where you want and how fast you want them to go.
It has a very huge sweet spot so even if you hit the edge, you still get a lot of power on your shots.
Cons
The racket feels a bit sluggish on defense
Playing an entire game with this racket can get exhausting as it puts a lot of strain on your body
Feels a little heavy to play with
Professional Athletes Using This Racket: Lin Dan
Check Price and Reviews on Amazon
---
Franklin
Sports Badminton Racket Review – For Beginners
Sale
Franklin Sports Badminton Racket + Birdie Set - Replacement Badminton Equipment for Kids + Adults - 2 Player Badminton Racket Set, Red/ White/ Blue
RACKET AND BIRDIE SET: This badminton equipment set comes with (2) player rackets and (2) birdies so you have all the components you need to play
STEEL RACKETS: These steel frame rackets are lightweight and easy to play with, but they're also built to last so you can keep playing year after year
A-GRADE BIRDIES: These high-grade nylon shuttlecocks are designed for precision play
REPLACEMENT RACKETS: This set is perfect for replacing old or broken badminton equipment. Or add two more players to your games with ease.
EVERYTHING YOU NEED: This set has everything you need for you and your family to get outside this summer for some badminton fun.
Last update on 2023-09-18 / Affiliate links / Images from Amazon Product Advertising API
If you are just getting started with badminton then you don't need to spend a ton of money on a new racket.
This is because you will not be able to notice the small intricacies of each racket. What you need is a durable racket to practice your techniques and discover you playstyle
The Franklin sports racket is a great beginner racket to start with.  Most beginner rackets tend to be really light. While this may sound like a good thing, it actually means you need to put more effort in your shot which can hinder your technique.
Luckily the franklin racket does not fall into this trap Overall this is a great racket for beginners to get started with and practice their techniques
Pros
All around racket which is perfect for beginners who are still figuring out their play style
Lightweight and durable
Cheap
Cons
The Franklin Sports racket is clearly not meant for an advanced player. It is something you can use for a casual game of badminton or as you are learning the game
The gripping on this racket leaves a lot to be desired. Many users have complained about the grip getting slippery from the sweat.
It does not provide much control
Check Price and Reviews on Amazon
---
Looking for badminton shoes too? Check out our article on the best badminton shoes
Things You Should Consider Before Buying A Badminton Racket
Picking a racket is a very personal choice. You want to go for something that suits your playstyle and where you currently are in terms of experience and skill. You don't to make a choice based on what others say i or what your favorite player uses. What works great for someone may be a horrible choice for you.
Following are some of the main criteria to look at as you are picking a racket.
 Balance
The balance of a racket is measured in "mm", it describes the distance between the bottom and the balance point of the racket.
Depending on this distance your racket can fall under 3 categories
Normal Range/ Balanced(280-300mm)
Head Heavy(Greater than 300mm)
Head Light(Less than 280)
1. Head Heavy
Players who like playing a powerful brand of badminton absolutely love head heavy rackets. Hitting shots deep becomes effortless.
If you like fast smashes and annihilating your opponents with pure destructive power then go for a head heavy racket. However this power comes at a cost, head heavy rackets tend to put a lot more strain on your arm.
2. Head Light
The biggest problem with using head heavy rackets is that you tend to put a lot of strain on your arms. This becomes a bigger issue if you are not strong enough and may even lead to injuries.
Head light rackets provide a much faster reaction time(as the racket balances itself much faster) however you sacrifice some strength for this added quickness. Head light rackets are a great choice for a player who likes to play with control and finesse.
Tension
As your skills level increases, you should also increase the string tension. This is because at higher string tensions you get much more power and control however you also have a really small sweet spot while lower tension offers a much larger sweet spot but at the cost of control and power.
We can categorize the string tension into 3 groups:
Lower Tension(17-22lbs)

This results in a really soft string bed  which means you get less feedback from the racket as it hits the shuttle
The largest possible sweet spot which requires less accurate strokes to generate more power
Your strings are also going to last a lot longer because of less strain
Best suited for beginners and intermediate players

Medium Tension(23-28lbs)

The string bed is much harder here and you begin to get a slight feeling of the shuttle allowing you better control of your shots.
You also need to be careful about where the shuttle hits the rackets as the sweet spot is no longer covering the entire string bed.
Best suited for intermediate and advanced players

High Tension(29lbs+)

Above 29lbs of tension, you have an extremely centered sweet point. this means your technique must be absolutely perfect to hit the shuttle with the sweet spot every single time
Best suited for professional athletes and international players
Most rackets you buy will lie in one of the 3 categories. You can additionally adjust the tension in your strings to suit your game. However, always make sure that it is within the recommended tension levels or your racket may snap
Also if you like to play with plastic shuttles, it is recommended to lower your string tension by 1-2 lbs. This is because plastic shuttles are heavier and fly differently than feather shuttles. You also need a lot more power to hit a plastic shuttle the same distance as a feather one.
Shaft Type
Beginners prefer a more flexible shaft. Which allows you to simply swing the racket and it will generate power for the user automatically. A stiff shaft provides much more control and precision but it is also a lot more reliant on your technique. This is why beginners should stay away from it
A stiff shaft usually needs you to swing it the correct way to hit it right. Most rackets in the high-end Yonex range tend to be stiff shafts
Price
You might be tempted to buy the most expensive or the best racket in the world. Not only is this a bad idea, but it will also ruin your game. You see, the pricer high-end rackets are specially designed for players who know their craft.
This means they have smaller sweet spots and require a lot of skill to control. If a beginner were to play with an Archsaber 11, they would not be able to return most shots.
Following are some recommendations for each level of experience
Played for less than 1 year or just getting started

Get a cheap racket that feels comfortable to work with.(<$50)
At this stage in your progression, you are mostly going to be working on your skillset and techniques. The kind of racket you pick does not matter

Played for over a year(properly)

At this level, you are able to hit almost all kinds of shots at least to some degree of skill
Intermediate players are just beginning to discover their playstyle, in this case you might want to look for a balanced racket that's not too expensive($100-$200)

Advanced Players

By now, you know exactly the kind of racket you need
Pick the post possible racket with high levels of string tension and control($200+)
Weight
Many coaches recommend parents with younger kids to get them extra light rackets.
Their reasoning? Small kids are weaker and playing with a light racket is an easy way to counter their weakness.
THAT IS WRONG
Firstly, heavier rackets may be tougher to carry around but they also need less energy to use. This is because as you swing your racket, its momentum builds up much faster. When the shuttle comes into contact with the racket this energy is transferred to the shuttle, resulting in powerful returns.
However, if you are playing with a lighter racket, you would have to exert a lot more energy to generate the same amount of momentum. This is why we recommend beginners to start off with heavier rackets.
Secondly, you want your kids to get better at badminton. So instead of lowering the weight of the racket to adjust your kids, provide them with heavier rackets so they grow stronger.
Grommet Pattern Used
Although most new rackets use the New Grommet Pattern, we felt like it was necessary to help you understand exactly what's going on and why it's good for you. For those who don't know, a grommet is that piece of plastic that holds the string to the frame.
About 5 years ago, Yonex decided to change the grommet pattern for all their rackets.This newer design allows the strings to retain their tension for much longer without having to be constantly restrung. Whenever possible try to look for a racket with the newer grommet design. If it's not specified it's safe to assume that it does.
Materials
A racket is not just a chunk of metal anymore. You'd be surprised at the amount of R&D that goes into the development of each new racket.
Innovation has kept Yonex as one of the leaders in the industry. Many of these metals aim to maximize the skills of the racket. But the sheer number of them can get a bit confusing.
We have aimed to provide a detailed explanation for all of Yonex's tech and how it would affect your game.
Sonic Metal
Sonic metal is a special kind of alloy used to control any excessive vibrations produced when the shuttle hits the racket. This reduces external interference and lets you fire your shot with laser sharp precision.
Sonic metal also creates an awesome booming sound on smashes. It the same kind you see on TV. You cannot recreate this sound on a low-end racket.
T-Joint
The Joint is the part of the racket where the frame meets the shaft(aka where the round thingy meets the stick part).
Believe it or not, this joint is extremely crucial to the stability of your racket. The new Yonex T-joint design has shown to improve the overall stability of the racket
Additionally, there is a T-anchor embedded into the shaft to reduce any excess torque. So even if you hit the shuttle a bit off center, you can get a pretty powerful shot.
Ultra-PEF(Ultra Poly Ethylene Fibre)
Badminton rackets need to be strong enough to withstand the tremendous force exerted during games but at the same time they need to be light enough to be swung around all game long.That's exactly what Yonex hopes to achieve with Ultra-PEF. It is touted as being lighter than water but yet strong enough to handle even the  most powerful smashes.
The archsaber line is just one of the many high-end product lines by Yonex that uses Ultra-PEF. This material is embedded into the shaft of the racket. It helps maximize the shock absorption so that there is less stress on your b ody.
NAMD
NAMD is the biggest selling point for the astrox line. However, it has been used in badminton rackets for almost 10 years now. NAMD helps give you a lot more power in your racket. But while the power in the  Duora Z strike feels really destructive, the NAMD power feels a lot more controlled.
NAMD is usually limited to the shaft of the racket. However, Yonex's latest racket comes with a NAMD frame. This helps double the contact time with the shuttle as compared to a non NAMD racket. The frame also regains it's original position much quicker.
Using a racket with NAMD has a unique feel to it. The racket will flex a bit more on contact and gives slight bouncy feeling
Frequently Asked Questions
Difference between neo cs carbon and normal cs carbon
NEO-Cs carbon is much stronger(~20%) and slightly more durable than normal CS, however, the two measure equally in stiffness. Neo CS carbon also absorbs the shock slightly better than regular cs carbon.
Why not build a racket with just neo-CS carbon?
After reading about neo-CS carbon in the previous question, it might seem like making a racket from only neo-CS carbon is always the right choice. However, a racket is not just a chunk of metal. The guys at Yonex also have to focus on optimizing the aerodynamics of the racket while keeping it cost effective.
Most of the time you need a good mix of both normal CS carbon and neo-CS carbon. However, it is not out of the question that Yonex might come up with an all neo-cs carbon racket like they did with  the Astrox 99's full-frame NAMD
How does the racket differ between doubles and singles
Just as the playstyles between doubles and singles matches differ a lot, so will the racket you choose. Doubles matches are typically fast-paced and rely a lot on your reflexes. So accordingly, you would want a nimble racket which lets you easily switch between defense and attack. Control does not play a huge factor here
However, for singles matches which are a lot more slower, the positioning of your shots matters a lot more.
Why are high-end rackets cheaper in Japan?
All high-end Yonex rackets are actually made in Japan and this is why you won't have to pay any import tax when you purchase it there. Similarly, all other Yonex rackets are manufactured in Taiwan and China. So if you or anyone you know if going to Japan, it is your best chance to get a good racket for cheap.
What is the Isometric Design?
Some shots just sound great. They also tend to go exactly where you want and with great power. Overall they "feel good". This is called the sweet spot. Your shuttle has the maximum return power when it hits the sweet spot of your racket.
Naturally, you want to design rackets to have larger sweet spots. This led to Yonex coming up with their now patented Isometric design.
The isometric design makes the rackets look kinda boxy and helps maximize their sweet spot. In fact, this design is one of the main reasons you see the top athletes stick to Yonex rackets and has made Yonex the global leader in badminton rackets.
What is the rotational generator system
The rotational generator system is one of the unique features of the Astrox series. It helps the racket achieve a head heavy feel on swings. So your shots much more powerful without the disadvantages that come with a typical head heavy racket.
So how does it work?
A racket with a rotational generator system like the Astrox 99 typically has three weight points
The head
The t-joint
The bottom
The weight at the bottom acts as a counterweight to the ones at the top. So when you are moving laterally or defending, the weight at the bottom and head cancel out each other making the racket act like a balanced one. However, when you swing the racket to take a shot, you will still get the head heavy feeling and power that comes with it.
Conclusion
We understand if you are a bit reluctant to spend over $200+ on a good badminton racket. But think of picking a racket as a long-term investment. If you find a racket that suits your playstyle you can use it for a really long time without any issues. So don't let your racket hold you back.
Want other outdoor game review?  Read our backyard games ideas here.