Good badminton shoes are crucial for superior performances on the badminton court. Tennis players wear tennis shoes, while soccer players wear cleats. The main purposes is to add traction on the ground as they run and prevent injury to the feet. The legs and back undergo a lot of stress on the court, but the ankles and feet undergo additional stress as you run, jump or turn. In this guide, know the right information to find the best badminton shoes for your athletic performances.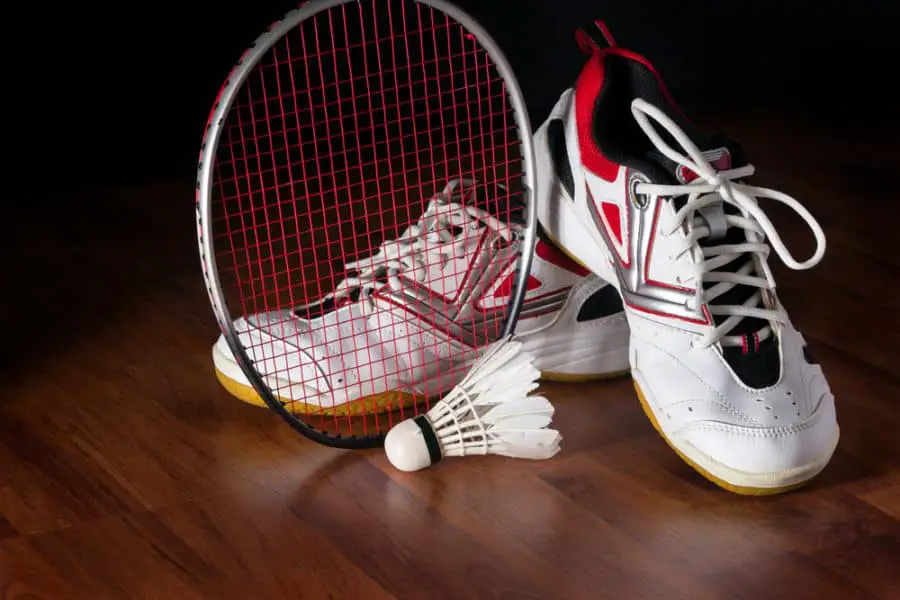 In a Hurry? Here's Our Top Picks…
ASICS Womens Gel-Rocket 8 Volleyball Shoe
Last update on 2023-09-18 / Affiliate links / Images from Amazon Product Advertising API
Things We Like:
Rubber sole
Works on tennis and badminton courts too
Most buyers say the pair fits as expected
Available for men and women
Things We Don't Like:
The ASICS Volleyball Shoe has a silicone-based Forefoot GEL Cushioning System that works as a shock absorbent. The sole is at least an inch thick to absorb the force of impact upon landing on the ground. This reduces the risk of foot injury that commonly affects fast-moving badminton players.
The ASICS Trusstic System Technology ensures that you remain stable and balanced on the court. The shoes are manufactured to be lightweight and flexible, but not too light so that the shoes fall apart. The rubber sole means that the pair is ideal for indoor playing on waxed floors.
The lack of a strong arch support is a problem for those who want more flexibility. However, the inserts are removable if you want to insert padding. The non-marking soles ensure that you move back and forth without leaving streaks on the court. You can buy different pairs of shoes to use for badminton or for walking.
ASICS shoes compare favorably to Nike and Adidas. For the high level of detail added to the shoe, the price is reasonable and affordable for most people.
Check Price and Reviews on Amazon
---
Fashiontown Badminton Non Slip Training Shoes
Last update on 2023-09-18 / Affiliate links / Images from Amazon Product Advertising API
Things We Like:
Breathable mesh covering
Unique color combinations
Rubber sole
Designed for any indoor court
Things We Don't Like:
The heel is too high for some wearers
Currently, no similar pairs for women
Fashiontown badminton shoes are made for style just as much as stability and resistance. Like most shoes of its kind, the pair has a rubber sole that provides stability for the toe and forefoot.
The shoes are specially designed to guard and cushion the ankle. The ankle height is an advantage for some people, but for others, it's an obstacle that prevents movement. Another benefit is the width that gives plenty of space and comfort for the feet. The soft cushioning inside provides additional support.
As you sweat, the breathable mesh holes allow in air to reduce moisture and increase the shoes' lifespan. Most buyers do not wear the sneakers for long periods of time, so there are few complaints about moisture or odor.
At first, the pair does not seem suitable for badminton, but upon wearing it, most critics see that they're wrong. Even if the shoes don't provide the best fit, the designs will stand out among all of the other ones on the court.
Check Price and Reviews on Amazon
---
ZOCAVIA Women's Breathable Mesh Sport Running Shoes
No products found.
Things We Like:
Rubber sole
Lightweight
Mesh fabric
Various color combinations
Zocavia running shoes for men and women
ZOCAVIA running shoes come in basic designs that are easy to slip on and wear everywhere. The feather light weight makes running and turning corners easy. The pair also allows for comfortable walking for many hours and days at a time.
Zocavia shoes appear on badminton courts along with parks, sidewalks and everywhere in between. The skid-resistant rubber soles make them easy to wear on any indoor or outdoor surface. The mesh fabric keeps the inside of your shoes dry, even if it's rainy or humid outdoors, which makes the pair last longer.
For the high level of comfort and quality design, the price is fair and affordable. Wearers should expect this pair to last for several years with occasional use.
Some people complain about the lack of design, but care more about the function than the style. There is plenty of solid support that appears on the sole and ankle. Overall, this pair of running sneakers does its job at supporting and protecting the feet during all kinds of movements.
Zocavia shoes last during any season of the year. The brand provides 100% satisfaction guarantees and free returns on some purchases.
Check Price and Reviews on Amazon
---
LI-NING Men Saga Lightweight Badminton Shoes Breathable Professional Sport Shoes AYTM085
No products found.
Things We Like:
Natural contour design
Partial rubber sole
Bright, vibrant color choices
Same model for women in pink/purple colors
Things We Don't Like:
Lack of protection in the soles
LI-NING Saga Badminton Shoes have a synthetic leather covering that's decorated in bright neon colors like orange, green or pink. The exterior gets a lot of attention on the court, while the interior keeps the badminton player comfortable.
The rubber sole blends with leather to create a distinctive design at the bottom. This ensures that you glide on the court without slipping. The streamlined design is flexible, making it easier for feet to move around inside. This increases your speed on the court, improves running and allows for higher jumps and leaps.
On the outside is a breathable mesh, and on the inside, find some reinforced material that protects the toes and forefoot. The X-structure technology allows you to tighten the heel and adjust the comfort in this area.
Some people worry about the minimal support in the soles. Strong, thick soles absorb the impact upon hard landings and prevent foot injury. On the other hand, the flexibility of thin soles means that you bounce around on the court and make up for this disadvantage.
The Saga model is pricier than other types of badminton shoes, but only because of its exceptional style and athletic design. The company provides 100% satisfaction guarantees.
Check Price and Reviews on Amazon
---
ASICS Womens Upcourt 2 Volleyball Shoe
Last update on 2023-09-18 / Affiliate links / Images from Amazon Product Advertising API
Things We Like:
Made by the reliable ASICS sports brand
Designed for tennis, badminton or volleyball courts
Full-length gum rubber sole
Rearfoot GEL technology for enhanced stability on the ground
Upcourt design available for men and women
Things We Don't Like:
Not all sizes fit properly
Lack of color choices
ASICS Womens Upcourt 2 Volleyball Shoes provide plenty of comfort, balance and stability on the ground. The design is a classic look for tennis shoes that are suited for all types of indoor and outdoor courts. A thick layer of gum rubber on the bottom provides more than enough protection from slipping and skidding.
The mesh and synthetic parts make the shoes waterproof, damage resistant and long lasting. Like all athletic shoes, the pair wears down based on how often they are used and on which surfaces.
Inside, the shoes are cushioned and provide sufficient space to prevent cramping. Due to the high level of comfort, people can buy several pairs for physical exercise and for regular walking. Some find it helpful to buy one pair for indoor courts and another for the outdoors.
The Upcourt 2 shoes do not stand out in style, but they protect the feet from the inside out and receive few complaints from their buyers.
Check Price and Reviews on Amazon
---
Qualities of Good Shoes
Before you buy badminton shoes, know the ideal qualities to look for in a good pair of shoes in general. A lot of people forget about these qualities when they shop for shoes; instead, they focus on buying the least expensive or the most stylish pair.
Sole Structure
Among all shoes, there are flappy shoes with soles that fall apart and turn into loose flaps. The sole disintegrates only because of its weak material. Even shoes that are used every day do not disintegrate with the soles coming off.
This problem is not acceptable when you are playing sports. To prevent it, know the materials that your shoe, particularly the sole, is made of. Rubber is commonly used to create the sole because it's elastic and stretches a long distance without tearing. It's the ideal material to use for tires that encounter sharp objects on the road.
Comfortable Fitting
It's important not to compromise comfort and safety for style or price. Everyone is encouraged to try on shoes before they buy them; however, more people are buying pairs online. In that case, review the measurements carefully.
You cannot run well on a badminton court if you're not wearing comfortable shoes. Even if the running is not affected, your feet could appear reddened or bruised after you remove the shoes. Wear shoes that do not place too much pressure on the foot, ankle or toes. Shoes that are too small will squeeze the toes together or dig into the ankle. Inside, you need some extra space for the foot to move around.
Quality Design
Style is an important factor of buying shoes. People prefer intricate designs that include details and suggest high-quality craftsmanship. Badminton shoes are not all plain and have the same creative designs as shoes made for running and other sports.
Why Are Special Shoes Needed for Badminton?
People who do not play badminton will not understand why rubber-soled shoes are needed. They think that regular shoes work just as well on smooth, newly waxed floors. It's not until they slip and fall or twist an ankle do they realize that badminton shoes are necessary.
Streaking is another problem that occurs when regular shoes collide with hard floors. When you slide quickly across the floor, the bottoms of your shoes leave streaks like a car that leaves tire marks after skidding. Rubber outsoles prevent all forms of skidding
Natural or synthetic rubber is the ideal material used to make rain boots. Rubber is non permeable to prevent water and moisture from seeping into the interior. Soldiers wear rubber in their shoes to avoid trench foot and farmers wear it to keep their feet dry as they work in muddy fields. In the snow, the feet are protected from frostbite. Rubber is designed to resist all of the natural elements during all seasons.
Some badminton players perform outdoors, and if they're wearing regular tennis shoes, they would have problems with the presence of rain puddles or deposits of ice. They don't have to wear shoes that are entirely made of rubber like farmers do. At the minimum, their outsoles should be made of or covered with the elastic material to prevent slips and falls on the court.
Differences Between Regular and Badminton Shoes
To non badminton players, the best badminton shoes appear to be the same as regular sneakers. In reality, there are certain features that are only present on athletic shoes. So, wearers find it easier to perform on an indoor court or an outdoor field.
Slip Resistance
Most shoes that are designed for tennis and badminton courts have soles made of gum or rubber. This material resists the slippage that may occur when you play on smooth ground surfaces. It's easy to slip on a waxed hardwood floor when you're wearing smooth wooden soles, but not when the soles are soft and dry like rubber.
Lightweight
Badminton shoes tend to be lightweight and flexible, making them adjust easily to the movements of the wearer's feet. Tennis and badminton players frequently have to move back and forth on the court. To move quickly, they need to be light on their feet, and that's not possible if they're wearing bulky shoes.
Streamlined Design
Badminton shoes look streamlined and contour to the natural shape of feet. Not all athletic shoes have contouring designs, but some athletes prefer the ones that do. They find it easier to perform jumps and leaps when the shoes are less bulky.
Cushion Support
In addition to the formfitting shape, there should be cushioned support for the shoes. The cushion protects the soles of the feet as the athletes jump at high speeds and land on the hard ground. Without cushioning, the feet accept most of the stress and force from this landing. A soft bottom creates a gentle landing that reduces the load on the feet, ankles, knees and legs.
Air Intake
Modern athletic shoes can be made with holes to allow ventilation. It's common for the feet to sweat in these enclosed spaces. When holes are built into the sneakers, air flows in and prevents dampness from forming inside. The shoes feel more airy and comfortable to wear.
Common Problems With Athletic Shoes
Short Lifespan
You want shoes that last longer than a few months. Compared to non-athletic shoes that are worn to the store or park, athletic shoes are needed for more intense activities like running and jumping. Do not expect athletic shoes to last more than a few years if you use them at least once a week. Buying a new pair becomes more necessary the more times that you use them.
In-Shoe Injury: Bruising
People often complain about bruising on their toes or other parts of feet. Most in-shoe injuries can be prevented if you buy the right size of shoes and ensure that they fit comfortably. However, not all shoes are guaranteed to have no problems.
You want the shoes to fit snugly, but if you move around in them a lot, there could be slight bruising. This usually occurs in the beginning when your feet are getting accustomed to the shoes. It takes a few wearings for the feet to feel more comfortable in the shoes.
Excessive Moisture and Odors
Excessive moisture causes discomfort to wearers and may cause odors to form. Preventing the shoes from getting too moist is not possible for people who play outdoors. Indoors, the same problem occurs when people sweat profusely. Athlete's foot is caused by fungi and molds that grow in moist areas.
Most times, it's possible to avoid walking in puddles and moist grass. Soccer Keep the feet and shoes dry is one way to prevent and get rid of it. Most athletes don't want to dry out their sneakers every time they wear them. They are more likely to wear socks that absorb most of the moisture. In addition to wearing socks, replacing the shoes often is another solution.
Plantar Fasciitis
Plantar fasciitis is a foot disorder that causes pain and discomfort in the arch of the foot. It's caused when the arch is bent too far and for too long, which occurs in people who wear shoes with too much arch support.
The natural arch flattens when the foot hits the ground. The arch support that's common in athletic shoes interferes with this movement. Keeping the arch up for hours at a time is not beneficial in physical exercise. Plantar fasciitis occurs when the arch loses its natural form and function.
Lack of Balance
No athletic shoes are designed perfectly, and tightness is the most obvious sign. When you're not wearing shoes, the toes spread out naturally. Even in some of the best shoe designs, the toe box does not have enough space to move around without overlapping.
When feet take steps, the toes spread out to create balance and stability. When the toes are constricted, the feet take awkward steps and the body has to adjust itself more to remain balanced. As you look for shoes, look for those that are not too small, but consider the other important features, as well.
Bunions
Foot binding may also cause bunions to form. This condition affects people who wear shoes but is nonexistent in those who don't wear them. The joint that connects the big toe to the remaining foot is bent out of place. To improve balance and remove the risk of bunions, wear shoes that keep the toes spaced out evenly.
Long-Term Problems
Leg, Knee and Back Pain
A lot of people don't see how sneakers cause long-term health problems. In reality, the feet are connected to the legs, thighs, back and spine. The pain and stress that appears in the feet can move upward to the ankles and legs. If walking becomes too difficult, the body may hunch over and curve the spine, which affects the posture negatively. Some experts even say that poor breathing and vocal cord damage could be the result of wearing the wrong pair.
Joint pain occurs in people who wear shoes with raised heels. It's important to buy sneakers that are not too thick in the soles and allow more natural movements. The less natural the foot movements are, the more the knees and joints have to work just to walk normally.
Solutions to Common Problems
Alternate Pairs
Athletes should have several pairs of shoes that they keep on standby. If one pair breaks down, the other is available on short notice. It's recommended that they alternate the pairs regularly instead of wearing one pair all the time.
Plenty of Rest
Overall, most footwear is designed to be comfortable, but most shoes could have the opposite effects. Shoes with high arches could result in plantar fasciitis that bends the arch too much. Shoes with soft insoles could absorb moisture and create odors.
Although manufacturers study the form of feet and try to imitate it in their designs, their shoes are not perfect. People who are physically active cannot avoid wearing shoes for long periods of time. However, they can still developed foot injuries that are caused when they wear shoes for too long.
Provide plenty of rest for the feet as the best solution to reduce foot pain and discomfort. Runners, which include soccer and football players, should rest the most because they put the most stress on their feet. For every day of activity, they should allow one day of rest in between. In one day, if they work for several hours, they should allow at least one hour of rest.
Best Badmitton Shoe brands
ASICS
ASICS is a Japanese sports gear and footwear company that is well known in America and beyond. In the average price range of $50-$200, ASICS sneakers are reasonably priced and high in quality. The brand now has some of the highest rated shoes in the athletic footwear industry.
Fashiontown
Fashiontown is a brand that blends the latest fashions into shoes and apparel that are used everyday. They sell shoes made for the indoors and outdoors, such as snow boots, athletic sneakers, water shoes and hiking boots. Their products are colorful and stylish along with being efficient and highly ranked on Amazon.com and other sites.
Zocavia
Zocavia may not be one of the top selling brands for athletic sportswear, but it maintains a strong, loyal fan base. Their shoes are made in unique slip-on designs that are lightweight, fashionable and fit for casual settings. Many have rubber soles that promote walking, running and physical exercise.
Li-Ning
Li-Ning has fashionable, lightweight footwear for players of badminton and other professional sports. In addition to being light, their shoes are described as "breathable" and "wearable" with mesh components. The Chinese-based company began in 1989 and now makes professional quality shoes that are sponsored by various teams and athletes around the world.
Yonex
For nearly 70 years, Yonex has sold sporting equipment, shoes and apparel in Japan and the rest of the world. The company sponsors a number of professional badminton teams, athletes and championship events.
Adidas
Like Nike and Reebok, Adidas is one of the most recognizable and highest selling brands for athletic sportswear. Nearly a century ago, it was founded in Germany and is now the largest manufacturer of sports apparel and footwear in Europe and the second largest in the world. Adidas makes rubber-soled shoes for all types of indoor sports, including badminton, tennis, volleyball and basketball.
Frequently Asked Questions About Badminton Shoes
What is the most important quality of badminton shoes?
Badminton shoes are defined by their levels of slip resistance. This resistance is determined by the amount of gum or rubber built into the outsole. Slipping is the number one hazard when playing badminton. When the feet slip, the ankle could twist, break or cause some other bodily injury.
What is the least important quality of these shoes?
Pricing is the least important quality to consider. Consumers tend to look for shoes that they can afford, but if you want quality and durability, look at higher prices. Low quality shoes are made with flimsy materials that break down easily under stress. Pricing is still important, but it's not the first one to consider.
Are some shoes unisex?
Yes, some shoes are unisex in size and design, so both men and women can wear the same pairs on the court. However, most companies describe whether their shoes are designed for men or women.
Are badminton courts different from volleyball or tennis ones?
Tennis and volleyball courts are larger than badminton courts. There are just as many similarities as differences. For all three sports, the games are played on hardwood floors. Some games are played on carpet mats but rarely. This wooden surface is slippery and unsafe for players who are not wearing the right shoes.
Regardless of how big the court is or how the nets are set up, all players should wear protective shoes as they perform. Volleyball, racquetball, tennis and badminton players usually wear the same types of shoes.
Why is flexibility important?
People who do not play sports regularly are not familiar with the importance of flexibility. There are many shoes that are difficult to walk or run in for the long term. Similarly, some shoes are not suitable for jumping or leaping across the court.
Thick, heavy shoes do not allow easy movement of the foot and reduce the impact of jumping. That's why athletic sneakers are made because any pair of covered shoes does not work on the court. The top and bottom parts of the shoe must bend at the right angles. To promote the highest jumps, the best badminton shoes should be lightweight and flexible.
Is the high ankle design necessary?
Badminton requires a lot of jumping and bending of the ankles, so the ankle height is recommended. The cushioned material covers the ankle and prevents it from breaking as the foot lands on the ground. On the other hand, some people feel that this feature is a burden to their comfort. In the end, the decision is a matter of personal preference.
When should I buy a new pair of badminton shoes?
Badminton players often make the mistake of buying new shoes at the wrong moments. Do not wait until parts of the shoes are falling off, but don't buy a new pair because you find one small hole in the toe. If you constantly have to check the shoe and make adjustments for comfort, you know that you need a new pair. Compare the ways that your shoes feel and affect your performances to the ways they did when you first bought them.
The Best Badminton Shoes in Summary
Badminton shoes are not that much different from other types of athletic shoes. The most important feature that a pair needs is a rubber outsole. The badminton player has to glide across a floor without slipping or leaving behind streaks.
Our favorite pick for best badminton shoes is the ASICS Gel-Rocket 8 Volleyball Shoe. There are pairs for both men and women that are built with the most important feature, which is the rubber sole. This ASICS pair is the highest featured item for badminton shoes with the most customer reviews. The brand is known for selling high-quality products in affordable price ranges.
Check Price and Reviews on Amazon
Another ideal pick is the Li-Ning Saga Badminton Shoe that combines damage-resistant leather and rubber with bright, vibrant colors. The shoes are light as air and flexible in design, making them ideal for jumping. The breathable mesh is another top advantage.
Although badminton players should have a strong sense of fashion and style, they should consider comfort and durability first. Fashionable shoes fall apart in only a few months if they are not made of strong, durable materials. In addition, the most expensive shoes could fall apart once the wearer steps onto an outdoor court.
Badminton players should use special shoes to do well on the court. Whether you like ASICS, Li-Ning or Adidas, make sure that all of your playing needs are met.