It's the shoes you wear, not the disc you throw that matters most when you play disc golf. Disc golfers walk more than they throw. In fact, an average player covers roughly 3 to 5 miles per round. Today we're going to walk you through some of the best disc golf shoes we could find on the market.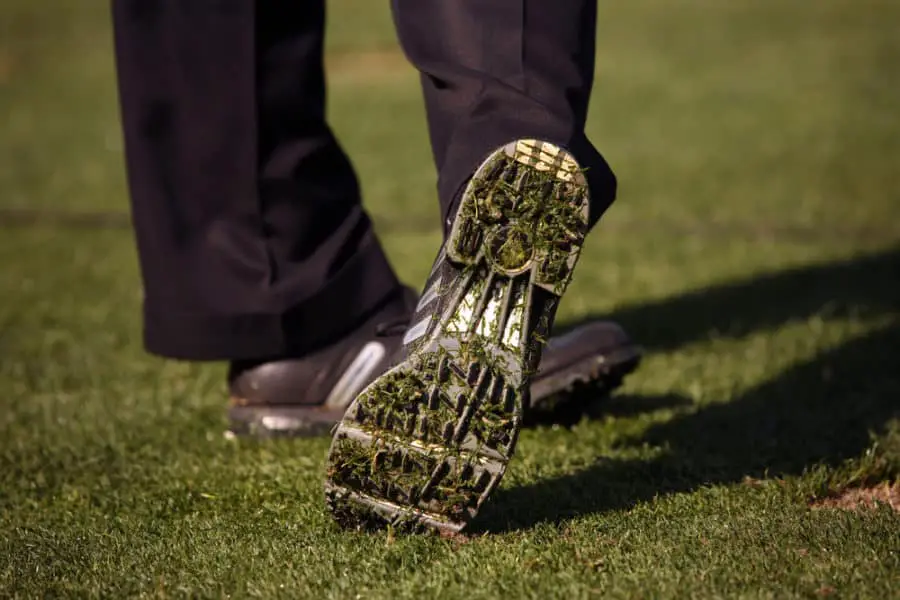 Like most beginners, you probably started off with a nice pair of running shoes, but then noticed how quickly they wear off and realized the need for something more durable. Not only do most generic sports shoes wear down quickly, but they're also not waterproof. Actually, some even absorb water. This leaves you with soggy and uncomfortable feet for the rest of the game, and nobody likes that.
In this article, we're going to walk you through some of the best disc golf shoes to keep your feet comfortable and dry during your games.
If you're interested in all things Disc Golf, take a look at our articles on the Best Disc Golf Bags and Best Disc Golf Discs.
In a Hurry? Here's Our Top Picks…
Top 5 Disc Golf Shoes
Many players get frustrated with how quickly they run through their shoes playing disc golf. However, your shoes are bound to tear and get damaged, considering you're taking rubber and brushing it against the ground 50-60 times during a game (thus making wear and tear are inevitable). However, there is hope! We're going to be focusing on minimizing the damage by picking the right kind of shoe that's designed to last longer than your everyday sports shoe.
Nike Hypervenom Phelon IC – Our Unconventional Pick
Last update on 2023-11-24 / Affiliate links / Images from Amazon Product Advertising API
Surprised? So were we. The Nike Hypervenom is unlike any other shoe on this list. After all, it's meant for soccer – but that's what makes this shoe great for disc golf.
The synthetic upper mesh on top makes for a stiff, waterproof material to keep the water out and your feet dry. Being a soccer shoe, the soles come with an extremely sturdy, thick rubber. You can easily expect to play as many as 50 rounds or more with little-to-no damage (as long as you're not an extreme toe-dragger).
The boot features flywire cables which work to keep your mid-foot secure during shots. However, one of the main concerns with this shoe is that it has a narrow design, especially around the toes. So, those with wider feet should take this into consideration.
What We Like:
Extremely waterproof and perfect for players who like to play on dew.
Really durable shoes that can handle some degree of toe-dragging.
Budget-friendly: A single pair would cost you somewhere between $35-$70.
What We Don't Like:
You're going to be the only person wearing a soccer shoe to a disc golf game.
It's a very narrow shoe, which may be a problem for people with wider feet.
This shoe takes some time to break in.
Overall, the Hypervenom is a great shoe to go for if you don't mind wearing soccer shoes to a Disc Golf game.
Check Price and Reviews on Amazon
---
Adidas Terrax AX2R – Our Most Popular Choice
Last update on 2023-11-24 / Affiliate links / Images from Amazon Product Advertising API
These days, you'd be hard pressed to find a player who hasn't heard of the Terrax. While a typical person sees them as good-looking hiking shoes, disc golf players look at them as the perfect shoe for disc golf.
The Terrax offers fantastic comfort from the moment you take it out of the box, with no need to break them in. You can play for hours at a time without feeling even the slightest hint of exhaustion or pain in your feet. This isn't something you get with any other shoe. In fact, the Terrax is probably the most comfortable disc golf shoe you can pick.
A disc golf player's grip is extremely important during shots, and the last thing you want is for your shoes to slip just as you're about to hurl that deadly distance driver of yours. The Adidas-patented Traxion outsole will help you maintain great performance on all kinds of surfaces and keep you steady.
What We Like:
Beautiful design with many players receiving compliments when wearing this shoe.
Fantastic grip on all kinds of surfaces.
Extremely comfortable right out of the box.
What We Don't Like:
Some users have reported water seeping into the shoes on wet grass.
The upper mesh material and toe-seam are not very durable and are more likely to tear.
Not as durable as some of the other shoes on this list.
The Adidas Terrax is comfortable, flexible and offers fantastic grip. No wonder it's one of the most popular disc golf shoes available right now! Not to mention, it's also one of the most bang-for-your-buck shoes you can get, making it a great choice for most players.
Check Price and Reviews on Amazon
---
Adidas Terrex Swift R2 GTX
Last update on 2023-11-24 / Affiliate links / Images from Amazon Product Advertising API
It's easy to look at the Swift R2 as just another pretty shoe, but when you look past its sleek design and actually wear this shoe, you'll be blown away.
First-time users and even hardcore Adidas fans will immediately notice how comfortable the shoe fits. This is partly due to the EVA midsole which offers some additional bouncy cushioning to your foot.
This kind of cushion comes in really handy when you're trying to maintain your grip on uneven surfaces. Adidas has also applied their Traxion technology for additional grip on wet surfaces. Making this shoe even more steady than the AX2R.
Here's where it gets interesting: AX2R had a ton of negative reviews regarding its durability. To fix this problem Adidas partnered with Continental Tires to create a durable rubber sole. In fact, the sole used in this shoe is the same rubber that's used in all continental tires.
The upper part of the shoe now comes with a Gore-Tex liner which makes it waterproof. This liner works with the materials on the top of the shoe to prevent water from entering inside.
What We Like:
A fantastic grip that's on par with the A2RX.
The Gore-Tex liner protects this shoe from water intrusions.
Very durable sole which should last you for a really long time.
What We Don't Like:
You may take some time getting used to the unconventional laces.
One of the priciest shoes on this list.
Check Price and Reviews on Amazon
---
Merrell Moab 2 Waterproof Hiking Shoe – Perfect For Wider Feet
Sale
Last update on 2023-11-24 / Affiliate links / Images from Amazon Product Advertising API
The Merrell Moab is around 4.5 inches at its widest. This makes it the most comfortable disc golf shoe for those with wider feet. In fact, many users have commented that the shoe fits as if it was custom made for them. The wide base also serves another purpose, it helps keep this shoe extremely stable during shots. As a disc golf player, stability is key and you don't want your shoes slipping from under you as you go for a powerful Anhyzer.
The traction of this shoe is simply icing on the cake. Merrell has used a Vibram sole which is widely regarded as one of the most durable and stable soles for disc golf. Most buyers are blown away by just how durable these shoes are and you can realistically expect to use them for at least 2 seasons of daily disc golf.
The wide base and sole combine to create a shoe that remarkably maintains grip even on wet, uneven grounds. Overall, the Moab is a great shoe that won't compromise your support. Despite being a hiking shoe, they work perfectly for just about any sport.
Even with all these pros, the Moab is not perfect. For some reason, the ventilation on the mid is really bad, this means your feet will quickly become toasty on a hot summer day. It also takes some time to break into. Buyers with delicate feet should be especially careful, as some users report getting blisters on wearing this shoe the first few times.
We recommend that you wear this shoe with two socks on each foot for the first 2-3 days.
What We Like:
Fantastic support despite being really lightweight.
A very stable base which works great for shots.
One of the most comfortable shoes for disc golf.
What We Don't Like:
The shoe tends to get very warm on hot days.
It takes some time to break in.
Many users were not impressed with the waterproofing.
Overall, the Moab offers affordable prices at a quality that are not often seen in many pricier shoes. It's amazingly lightweight and provides fantastic support. Most users were impressed with just how well it fit and its durability. However, the shoes' extended break-in period, poor waterproofing and lack of ventilation was a disappointment to many customers.
Keen Saltzman
Sale
KEEN Men's-Targhee 3 Low Height Waterproof Hiking Shoes, Bungee Cord/Black, 11
WATERPROOF & PROTECTION: KEEN.DRY breathable membrane keeps feet dry and comfortable by allowing vapor out without letting water in; Bruise plate for protection on uneven surfaces; High abrasion rubber toe guard for added durability
MATERIAL & CONSCIOUSLY CREATED: Durable premium leather and breathable performance mesh; Quick dry lining for active use; KEEN sources hides from Leather Working Group certified tanneries; Environmentally friendly DWR helps keep leather from drying out
TRACTION: KEEN ALL-TERRAIN rubber provides high traction grip in muddy environments and on rocky surfaces; 4mm multi direction lugs provide optimal traction for sure footing; Non marking rubber outsoles leaves no imprints when walking indoors
SUPPORT & COMFORT: External Support Shank and mid cut height adds balance and ankle support; Heel cradle for stability; Removable footbed with arch support cradles to the foot's shape; Resilient cushioning doesn't compress quickly after extended use
FIT & CARE: KEEN Original Fit gives generous space for toes to spread out; Gently brush leather with a soft bristle brush or hand towel to remove loose dirt and debris; Tough stains may require a leather cleaner
Last update on 2023-11-24 / Affiliate links / Images from Amazon Product Advertising API
The keens are one of the most talked about shoes in disc golf. After all, they are the only shoes made specifically for the game. This explains why the brand has such a loyal following in the disc golf community. They also regularly support the sport and often sponsor tournaments, as well as athletes related to the game.
With that said, the Saltzman on its own is a great shoe. It grips the ground well, even on slippery courses, partly due to the solid rubber sole. The way the lugs aggressively hold on to the ridges in the ground is also really impressive.
The sole of the Saltzman fares pretty well in terms of durability. It may not be as durable as the Vibram sole on the Merrell (considered the most durable sole in the world) but it will still last for a long time. The Keen protection near the toes is a nice addition that was created specifically for toe-draggers and helps protect your toes from accidental bumps and bruises. The overlays on the bases of the upper sole also help amplify the protections with abrasion resistance.
This shoe uses a nylon shank for support and underfoot rigidity while a dual density EVA footbed provides arch support. The EVA footbed follows the contours of the foot to provide a natural and comfortable feel as you're walking. In fact, many users have raved about the comfort levels when wearing this shoe.
Additionally, the Saltzman comes with a contoured heel lock. This lock is connected to the lacing system to help prevent heel slippage, making this shoe really stable. The polyurethane midsoles only add balance with their durable cushioning and compressions resistance.
However, all this extra stability comes at a cost, the Saltzman weighs a bit more than your typical disc golf shoe. If you don't mind a little bit of extra weight, then it's nothing to be concerned about. Although, it's worth noting that many users did not like the extra weight.
The proprietary keen dry used in the mesh upper helps keep the shoe waterproof without letting things get too stuffy. The mesh upper provides a decent waterproof barrier which also helps with the breathability of this shoe.
What We Like:
Specifically designed for disc golf.
Fantastic waterproofing that will keep your feet dry at all times.
Great durability.
What We Don't like:
Many users have reported they were not comfortable with the weight of the shoe.
Slightly more expensive.
It takes some time to get used to the added weight.
There are cheaper shoes available, however, we feel like the higher cost for this shoe is justified – considering the fantastic waterproofing to keep your feet dry, and amazing ventilation keeping your feet from getting too stuffy on warmer days. Purchasing a keen is also a great way to give back to an organization that supports the growing community of Disc Golf players.
Things To Consider
A pair of disc golf shoes that meet your specific needs is one of the most important investments in Disc Golf. Without the right pair of shoes, your toes may become pruned from being drenched, or your body may hurt from walking in unsuitable footwear. Here are a few things to consider when looking to purchase Disc Golf shoes:
Cost and Budget
Beginners often balk at the cost of getting new shoes for disc golf, but they shouldn't skimp on this. On average, people spend $200 on 2 pairs of disc golf shoes a year. How much do you spend on discs? How about entry fees? What about that sweet backpack you carry around with you?
Compared to other equipment, shoes aren't really that big of an investment – but they're an important one. There's no doubt that without a good pair of shoes, your golf game will definitely suffer. Ruggero and his team recently tested a pair of cheap shoes to see if you can get a good quality pair of running shoes without having to spend a large amount of money.
During a typical review, the reviewer runs a total of 50 miles with a cheap pair of shoes. As expected, they didn't hold up very well. In fact, he ended up with some serious blisters after only two miles. You definitely want to walk the fine line between affordability and quality. Usually, the cheaper the shoe, the worse off you'll be.
The Importance of Waterproof Shoes
Most Disc Golf courses get really muddy, and if you're one of those players that don't mind wet feet (or you play only when the weather is perfect) then picking a waterproof shoe may not be as high of a priority.
However, for those who are serious about the game and willing to play in wind, rain, or snow, a waterproof shoe is extremely important to protect your feet from the external elements.
Brands
Most people favor only one or two brands over all others. It's important to pick a brand you're comfortable with, and that you know will meet your sports needs. Keens is a great brand to purchase from if you're looking to support a company that stands by the Disc Golf community. Alternatively, if you trust more established brands, you may prefer purchasing shoes from Adidas or Nike.
It's also important to note that trail-style shoes are preferable when it comes to Disc Golf shoes. There are a few brands that make great trail-style disc golf shoes:
Frequently Asked Questions
Q: When should I get a new pair of shoes?
A: Once one of your shoes begin to wear out, it's a good idea to buy a new pair so that you're always comfortable and your feet are protected anytime you're on the field.
Q: What do you mean by cycling shoes?
A: Just like cycling discs, some players are also known for cycling shoes. This means that a player would get a new pair of shoes when their old ones are still in okay shape; about 2-3 months from wearing out. That way they can break into the new pair by the time the old ones get too damaged to use.
Additionally, you could also use the old pair of shoes when the ground is really bad, thus keeping your new shoes fresh for longer.
Q: I'm a toe-dragger, what shoes do you recommend?
A: Toe-draggers put a lot of pressure on the sole at the top of their shoes. If you're one of them, we recommend you pick a shoe with a thick piece of rubber across the toe. Keens are a great choice for any toe-dragger, as they have a wide and durable sole that's extra thick near the toes made specifically for Disc Golf.
Conclusion
Every foot and shoe is different. It's important that you research and pick a shoe that meets your specific needs. However, our favorite pick is the Adidas Terrax AX2R. The comfortability, price, and durability are unmatched and we feel it's the perfect shoe for any determined Disc Golf player. We hope our article has helped you find the best disc golf shoes for you!