We love our pets, and we want them to live long, happy, and fun-filled lives. For dogs that are very active and lively, finding toys that keep them entertained can be a difficult task. Tetherball toys are a great way to keep your pets occupied and moving. Not to mention they're wonderful options for a durable, lasting dog toy that'll save you money in the long run.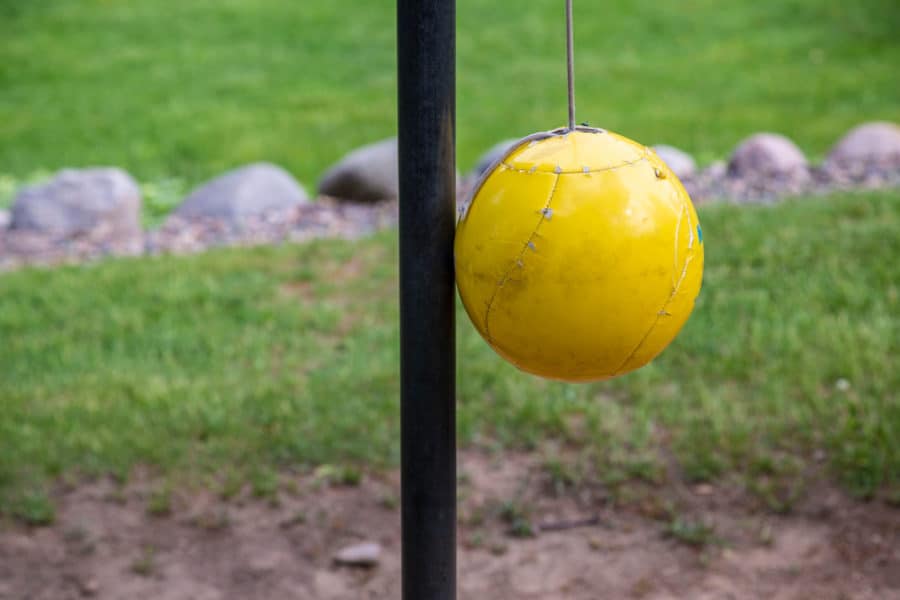 Whether you have a big dog or a small dog, we've made it our mission to find the best tetherball for dogs (and doghouses, if you're interested) available on the market today!
In a Hurry? Here's Our Top Picks…
Our Pick
Tumbo Tugger Outdoor Hanging Doggie Bungee Rope Toy
Tumbo Tugger - Dog Tree Hanging Bungee Tug Toy for Exercise - Outdoor Play Cord & Tether Tug - Tree Tugger Spring Pole Rope Dog Toy - Dog Playground for Backyard - Tugger Chew Rope Toy
ENTERTAINS YOUR DOGS - The Tumbo Tugger is your doggies new best friend when it comes to solo interactive play. This dog toy uses a strong and safe bungee cord to create a fun stretching force for your puppy to pull against in your outside yard. Medium and large dogs can play tug-of-war with the strength of the outside layer, and when they let go, the ball toy launches off for them to chase down like a game of fetch.
EASY TO HANG - Our easy "no knot" design help you hang this sturdy toy easily by yourself in minutes. You simply toss the bungee cord over the strong tree limb, loop it and pull it snug. Then easily attach the rope and ball toy at the desired height for your size of dog. The Tugger is great for aggressive chewers because you can adjust the height so your furry friend can't sit and chew on the toy constantly. Just make sure you have an attachment point like a tree limb 8 to 13 feet up.
IT'S TUMBO TOUGH - We strive to make our pet products tough to withstand the use of the active and aggressive dogs, big or small. The Tugger has an inner bungee cord that is the action part of this toy and creates the force, this bungee of course is not indestructible. So we protected this from over pulling and breaking by covering it with a tough outer layer that your dog can pull to their hearts desire without breaking. This bungee is protected from your dogs teeth by keeping it up in the air
SAFETY FIRST - Rest assured safety is our top concern. We love our pets! After testing and testing we have the best design for our outdoor tree hanging dog toy. We do not use ANY metal in this toy (like a spring or clip) to keep your dog's teeth safe. The bungee has enough force to be fun, but the outer covering keeps it from over-stretching, breaking or shooting off too fast. The Tugger has a nice fetching force that is safe for your dog or people around them.
WON'T GET DIRTY OR LOST - Our dogs have a way to run off with their new super fun toys and lose them in the yard. If they can be found, they are often so dirty you might not want them in your dog's mouth. Our Tugger hangs nicely in a tree so it stays clean off the ground and always in the same location for your dog to find it and play. Our REPLACEABLE ROPE BALLS make it easy for you to change them out once your dog has finally finished them off. No need to replace the entire toy!
Last update on 2023-11-17 / Affiliate links / Images from Amazon Product Advertising API
Out of the tetherball dog toys we reviewed, the Tumbo Tugger Rope Toy was our favorite. This tetherball toy is one of the most highly-rated and praised dog toys that we could find. It was designed to hang from trees or other sturdy, off-the-ground objects, to keep the 10-foot long cord from getting scattered around your backyard or lost. The bungee cord build keeps the ball bouncing up and down, keeping your pet focused on trying to catch it.
Though this toy was designed for larger dog breeds, the ball is small enough to be usable by most medium-sized dogs, as well. Another great aspect of this toy is the price which is quite affordable, even for those who may be on a budget. For the quality and lifespan of this toy, its price really isn't too bad.
What we like:
The long, 10-foot rope, which can be adjusted to various heights.
Universally-sized rope ball for both large and medium dog breeds.
Great quality and a long-lasting dog toy.
Affordable, even for those who may be on a tight budget.
What we don't like:
Unfortunately, this tetherball toy isn't small enough to be used by small or toy dog breeds.
Check Price and Reviews on Amazon
---
Other Great Tetherball Dog Toys
Tether Tug Interactive Dog Rope Toy
No products found.
Though this toy seems to have mixed reviews, the Tether Tug Interactive Dog Rope is still a decent choice. The base of the pole is meant to be buried compactly underground so that no amount of tugging or rough play can uproot it. The pole is extremely flexible and moves with the tugging of your dog. It's available in two "small" sizes ( for dogs under 15 lbs, under 35 lbs), two "medium" sizes ( for dogs 15-34 lbs, 35-75 lbs), and two "large/big" sizes (for dogs 35-59 lbs, 75-175 lbs).
Some users have warned against the aforementioned weight limits, and suggest that you get a size up from your dog's weight. For example, if you have a small dog less than 35 pounds, we recommend getting the medium-sized, 35-75 pound toy. We think this is the best thing to do, just as a precautionary step.
What we like:
Base is meant to be buried, which makes for a stable, (hopefully) immovable dog toy.
Pole is extremely flexible and able to bend whichever way your dog tugs.
This product comes in various sizes for all breeds of dogs.
What we don't like:
This toy seems to break easily if you have an overly rambunctious dog.
The weight limits don't seem to be too accurate. It's best to get a size up from your dog's weight category.
Check Price and Reviews on Amazon
---
Squishy Face Studio Flirt Pole V2 with Braided Fleece Lure
Last update on 2023-11-17 / Affiliate links / Images from Amazon Product Advertising API
The Squish Face Flirt 36″ Pole is yet another highly-praised dog toy. However, unlike the others we've mentioned, this toy isn't meant to be hanged from a tree, post, or put into the ground. This toy is for the active pet and owner. It comes with a wrist strap for safety as the dog owner holds the bendable pole, comfortable handle grip, and is overall a lightweight product to keep from tiring the owner out.
The dog toy is built with a durable, braided fleece lure at the end of the pole's 52″ cord for the dog to tug on, which comes in two color options: blue and aqua, and orange and yellow. Not only is this toy durable and well-made, but it's specifically designed for dogs of all sizes, coming in small and large options.
What we like:
Allows pet and owner to interact with one another during playtime.
Made with a wrist strap for safety.
Extremely durable and long lasting, even with rough-playing pets.
Two color options to choose from.
Two size options able to withstand virtually every breed of dog.
What we don't like:
This product isn't suitable for less active dog owners.
Check Price and Reviews on Amazon
---
Park & Sun Sports Permanent Outdoor Tetherball Set
Park & Sun Sports Permanent Outdoor Tetherball Set with Accessories (3-Piece Pole) yellow/silver
3-piece galvanized steel poles measure 1-1/2" in diameter; Push-button pole locking system allows for quick and easy setup
Galvanized steel provides exceptional stability and resists rusting; When assembled, the tetherball set stands 10' 6" in height
Soft Touch tetherball that features a nylon-wound bladder, an inset valve stem and an internal steel swivel hook attachment which secures the ball to the cord
Durable and soft synthetic material of the padded tetherball cover lessens the impact to hands, wrists, and arms when hit
Includes a 12" in-ground pole sleeve, a heavy-duty nylon cord which measures 7' in length and 6 mm in diameter, and a compact hand pump with 2 inflation needles
Last update on 2023-11-17 / Affiliate links / Images from Amazon Product Advertising API
Though this tetherball set wasn't made specifically for dogs, it could still be a great choice for large (and extra large) dogs who enjoy playing with bigger-sized toys. The Park & Sun Permanent Tetherball Set comes in a 2-piece or 3-piece, 10′ 6″ pole-locking set of your choice. The poles are made of rust-resistant, durable steel and include a 12-inch in-ground pole sleeve.
The tetherball itself is made of a soft, padded material for added safety and injury prevention. The ball is securely attached by a sturdy swivel-hook, allowing for rough play without the possibility of easy breaking. The cord fastened to the tip of the pole and ball measures 7′ long and is made of a reliable nylon material. Not to mention, this great set comes with two inflation needles for when the tetherball begins to go flat.
This tetherball set with its durability and long-lasting materials is sure to give big dogs hours of fun!
What we like:
Durable steel pole with rust-resistant qualities.
Padded tetherball for comfortability and added safety.
Secure ball-attaching swivel hook to keep from breaking easily.
Strong, nylon cord to keep from easy snapping.
Two inflation needles included for when the tetherball goes flat.
What we don't like:
This tetherball is limited to – likely very large – dogs who are prone to playing with big toys.
A tad on the expensive side, which may not be good for those on a tight budget.
Check Price and Reviews on Amazon
---
Indoor Tether Tug – Ultimate Inside Rope Toy for Small Dogs
Last update on 2023-11-17 / Affiliate links / Images from Amazon Product Advertising API
For those who have small dogs who love to play with tether tug toys, the Indoor Tether Tug is a perfect choice. This toy was designed with small dogs (under 30 pounds) specifically in mind and comes with a durable, braided rope made to last the constant pulling of your pet. The metal base of the toy was made to slide easily under furniture to keep the toy in place and impossible for your little pup to drag around the house. The fiberglass pole is extremely flexible, able to bend with the tugging of your dog without breaking.
Because this is an indoor toy, the only wear and tear it will be enduring is by your pets. Though the price isn't the most ideal, this item is sure to last for quite some time compared to cheaper toys, saving you money in the long run.
What we like:
This toy is made specifically for small dogs, unlike some of our other choices.
Outdoor fun can be brought indoors with the Indoor Tether Tug.
Installation is quick and easy: simply slide the base underneath a heavy piece of furniture.
Made with a durable, lasting braided rope.
Fiberglass pole is extremely flexible, making it less prone to breaking.
What we don't like:
Though many seem to have been purchased, there are no reviews available.
The price may be way out of budget for some and is the second most expensive toy on our list.
Not suitable for pets larger than 30 pounds.
Check Price and Reviews on Amazon
---
Consider This Before You Buy
Price
It's no question that the price plays a huge role in deciding which tetherball dog toy is best for your pet. While cheaper toys may be more convenient for the pocketbook, they often won't last as long when faced with an energetic, playful pet. On the other hand, some dog toys are outrageously expensive, and often not worth the money. It's important to pick a dog toy that's worth the money, and we believe the choices we listed above (ranging from more budget-friendly prices to more expensive prices) is a good variety of decent-quality, long-lasting dog toys sure to meet the needs of your pet – while not breaking the bank in the process.
Durability
The durability when considering a tetherball toy for your dog is another important aspect, considering everyone wants a product that is sure to hold up to the rambunctious playing of their pets. Finding a toy that has a pole made of sturdy metals or flexible fiberglass is the ideal route to go down. Not to mention you'll want a rope or ball that isn't easily torn apart. Braided ropes and thick rubber balls are best suited for dogs that are prone to shredding their toys, and nylon cords are perfect for a tetherball toy that doesn't easily snap.
The majority of the toys we listed have hundreds of positive Amazon reviews praising the long-lasting quality of the various toy options, so be sure to look at those for yourself if you don't trust our judgment.
The Size and Capabilities of Your Dog
It goes without saying that all dogs are different in size, shape, age, and color. Different-sized dogs have different needs when it comes to playtime, so it's vital that you consider their abilities and build of their body before you purchase a tetherball toy for them. Older dogs, for example, may have a difficult time playing with tetherball toys made with harder, rubber balls (since their teeth often become more sensitive and brittle with age). For them, a rope tether toy may be better.
Small dogs will need a toy that's designed for their strength level and height. Toys that are made for large dogs may be too resistant to the pull of a small or toy dog, and the height of the tether tug rope or ball may be unreachable for shorter pets.
As for large dogs, it's important that you buy a tetherball toy that's strong enough to keep your pet from snapping the pole or shredding the toy within the first 5 minutes of playtime. Their bite force is also way stronger than that of a small dog or elderly dog, so the thickness and durability of the rope or ball is an important consideration for large dogs as well.
Indoor or Outdoor?
The last thing we feel you should decide on is whether an indoor or outdoor tetherball toy best suits your family pet. In this buying guide, we've compiled indoor, outdoor, stationary and portable tether tug dog toys for you to read up on and (perhaps) choose between. To sum up what we've previously mentioned, indoor toys are best for small dogs, outdoor toys are best for large and powerful dogs, and portable toys can usually be used both indoors and outdoors. Whichever type you choose solely depends on whether you want your dogs playing inside the house or not.
Best Tetherball Dog Toy Brands
Now that we've covered all that you need to know about tetherball and tether tug chew toys for your pet, let's go over a few of the brands providing these toys:
Tether Tug: Tether Tug is a small company located in Missouri. Their team is dedicated to giving pet owners a toy, first designed by a father and son (Roger and Adam), that will keep their dogs happy, healthy, and playing as often as possible. After all, exercise is vital for a healthy pet.
Squishy Face Studio: Squishy Face Studio is a family-owned business located in Florida, founded in 2009. Their mission is to provide pet owners of strong, active dogs with durable toys and other accessories. They're also advocates for defending the "bully" dog breeds, encouraging the education of those who they believe misunderstands these breeds.
Park & Sun Sports: Mainly known for their outstandingly designed volleyball nets, the Park & Sun Sports company is dedicated to providing the highest quality outdoor sports materials. Though they're not specifically a company specializing in dog toys, their tetherball set was just too good of an option for us to leave out.
FAQ
Q: Can I  leave my dog's toys outside?
A: Most of the toys we mentioned above can be safely kept outdoors most of the time because they're made specifically for outdoor use. However, the Squishy Face flirt pole and the Indoor Tether Tug should be brought or stay inside to avoid getting damaged by the outdoor elements. As with everything, harsh weather will eventually cause items to become weaker or even damaged, so if you want your pet's outdoor toys to last a while, it's best to try covering or storing them when the weather permits it.
Q: How much exercise should my dog get every day?
A: There are many factors that play into how long your dog should play or get exercise. Depending on your dog's age, health, and breed, they should get anywhere between approximately 30 minutes to 2 hours of exercise every day. Larger, very active, young dogs would lean more towards a couple of hours, while lap dogs should get around 30 minutes to an hour of exercise. Be very careful with elderly dogs or those who may have health problems. Exercising too much could be dangerous or even fatal for these dogs. Ask your veterinarian for more information on your pet and exercise. Here is some additional information covering pets and exercise.
Q: My dog isn't interested in the toy I purchased. What should I do about this?
A: If your dog doesn't immediately start playing with the toy you bought for them, don't worry. Dogs eventually will become more comfortable. One thing that you can do when faced with a stubborn pup is to try interacting with the toy yourself. This may be helpful in getting your dog to understand that it's okay to play with, and how to interact with it. You can also reward your dog with a treat whenever they interact with the toy. This encourages your dog to continue to show interest in the toy, and help your dog further realize that the toy is something to tug on. Getting involved in playtime is one of the best ways to bond with your dog and make them comfortable with new toys. If you'd like to learn more, here's an article that may be useful to you.
In Conclusion
We believe that all of our choices would make interactive dog toys that are sure to create hours of fun for your pet. Though the toy you purchase will vary based on the size of your dog, we were sure to include a variety of choices for every range of dog breed.
After researching and taking the time to find the best tetherball dog toys available on the market, we decided that our favorite was the Tumbo Tugger Outdoor Hanging Doggie Bungee Rope Toy. Most active outdoor dogs are medium-to-large sized, and the quality, strength, and easy installation of the Tumbo Tugger Bungee Rope seems to us to be the perfect tether toy for dogs.
We hope you enjoyed our article over the best tetherball for dogs! Happy playing!