If your kid's toys are anything like mine, they completely take over my yard, garage, and house! I decided it was time to get organized once and for all, so I went on a hunt to find the best outdoor toy storage ideas. There are so many wonderful and easy ideas out there, and I wanted them compiled in a straightforward list. If you are tired of having toys everywhere you turn, you should consider getting organized, too! Check out these helpful outdoor toy storage ideas for your next project.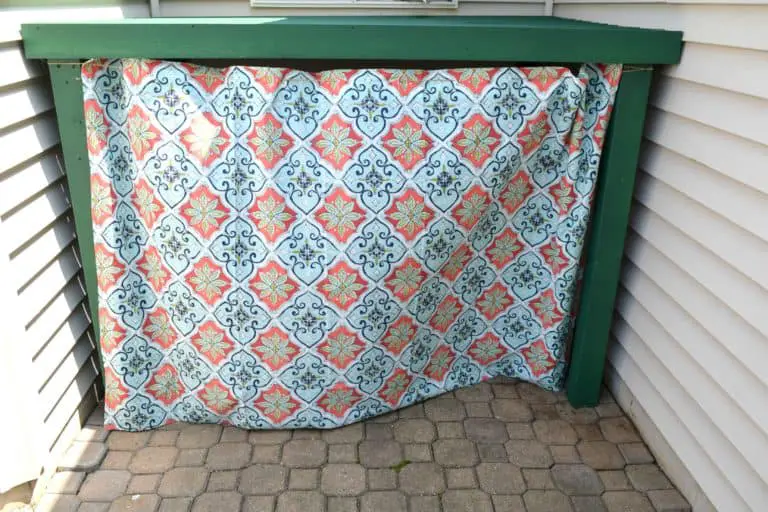 1. Toy Car Parking Garage
Sara at Mom Endeavours didn't have a place for all her kid's outside toys, so she developed a fantastic parking garage to store those outdoor toys. It turned out fantastic and was surprisingly easy to make. Try it yourself!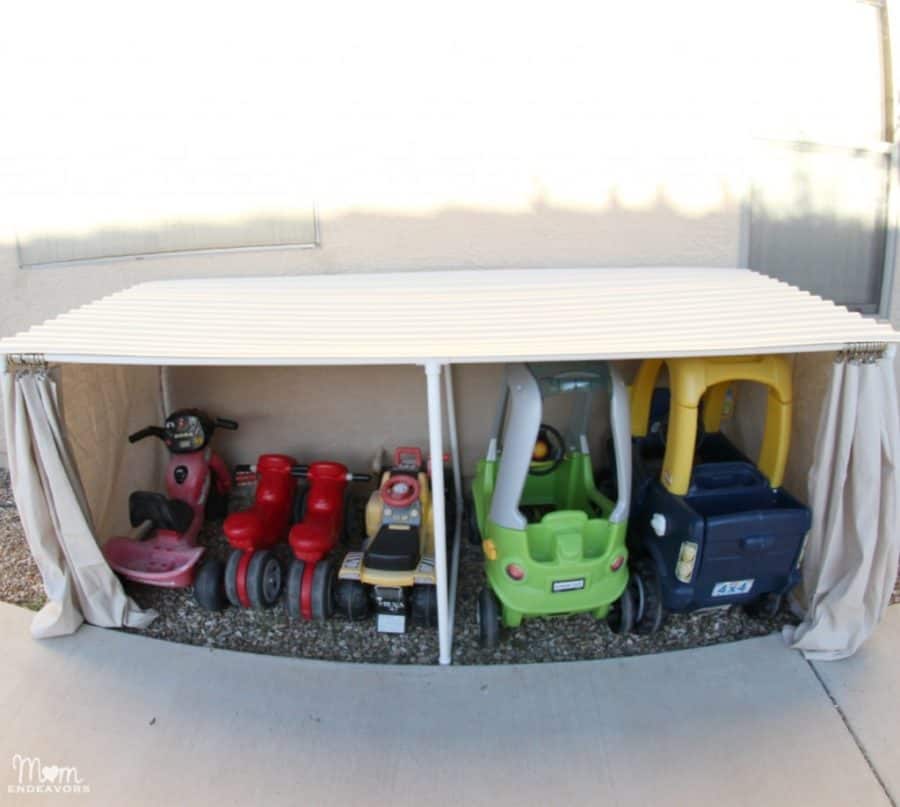 2. Outside Toy Organizer
Domestic Charm decided it was time to buckle down and organize her kid's toys. She used some vinyl labels and some buckets and went crazy! It looks so fresh, clean, and organized now. See how she did it.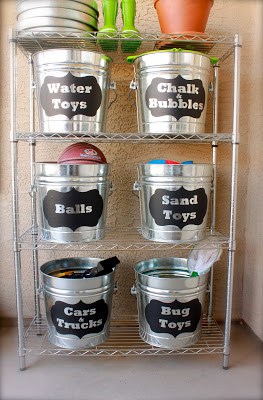 3. Organizing Outdoor Toys
Mandi at Life Your Way shares several ideas on how to get more organized with your kid's outdoor toys. It is incredible how much better it feels once everything is finally organized. Get some inspiration here.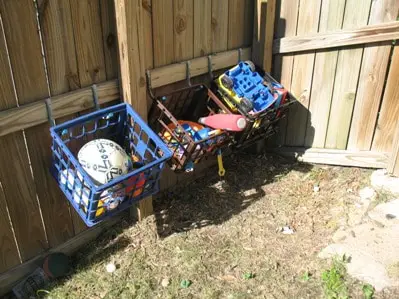 4. DIY Rolling Storage
Shanty 2 Chic provides printable plans and a tutorial video so you can create your very own rolling storage cart. This storage unit is so awesome, and you can fit a ton of stuff in it. Everyone needs one of these. Take a look.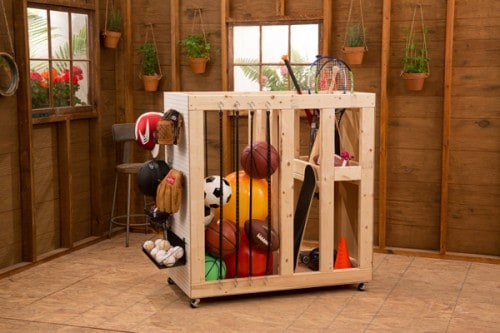 5. Ball Storage
100 Things 2 Do share how they made a marvelous storage unit for holding all of their soccer balls, volleyballs, and basketballs. The rack takes no time at all to put together, and you need minimal materials. Click here to see how they did it!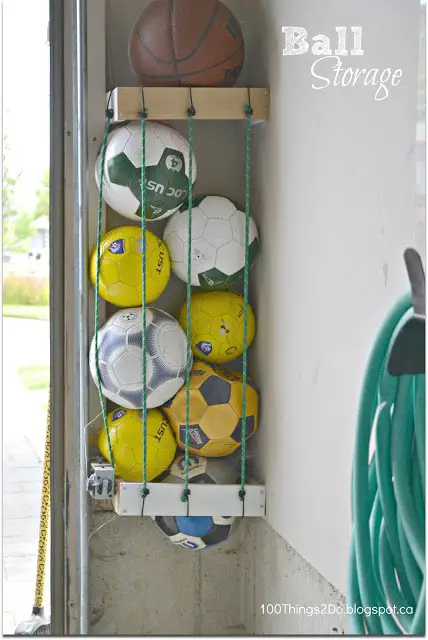 6. DIY Pegboard Organizer
The Creativity Exchange explains how they added a nice pegboard to give the garage an organized look for storing outdoor toys and other kids toys. Everything is orderly and in its place. Check it out.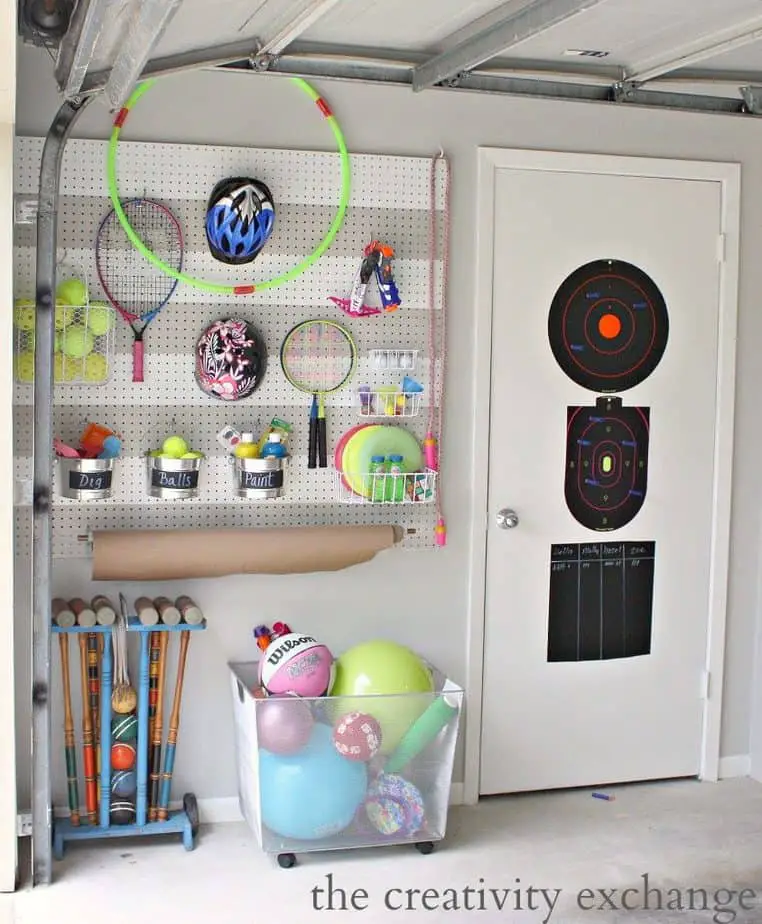 7. DIY Storage Bench
The Handyman's Daughter share instructions on how to make a nice sized storage bench for all your outdoor toys and other items. This storage box looks fantastic, and you can fit a lot of things there. See how they made it.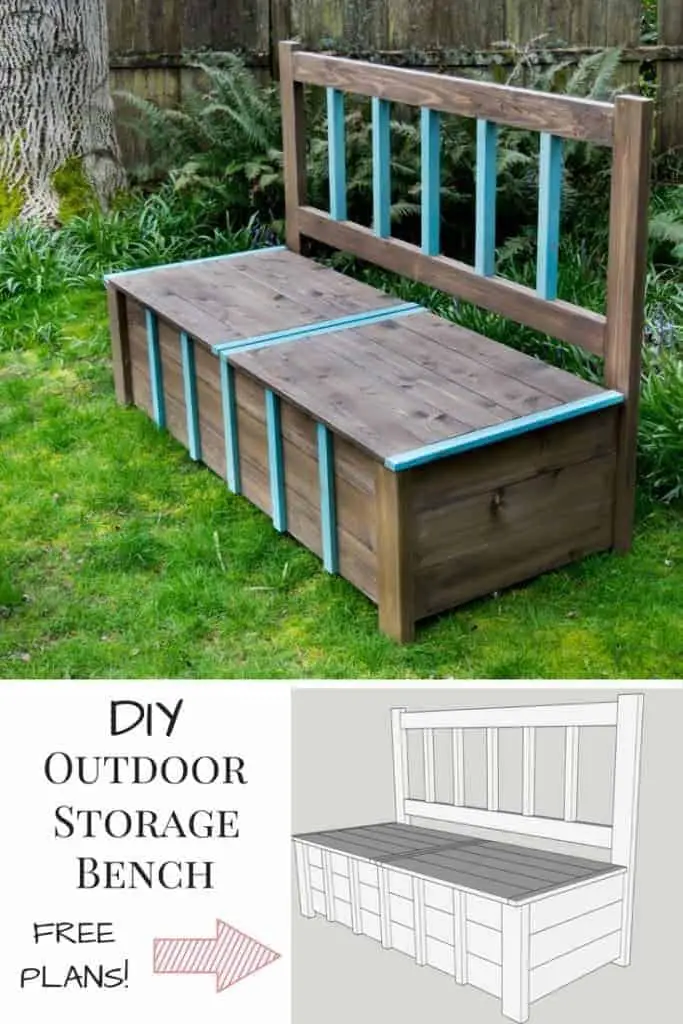 8. DIY Outdoor Toy Storage
Our House Now A Home got tired of having a messy outside that was full of toys and other kid stuff. So, they decided it was time to get organized and came up with the perfect solution — this unique toy storage idea. See how they did it.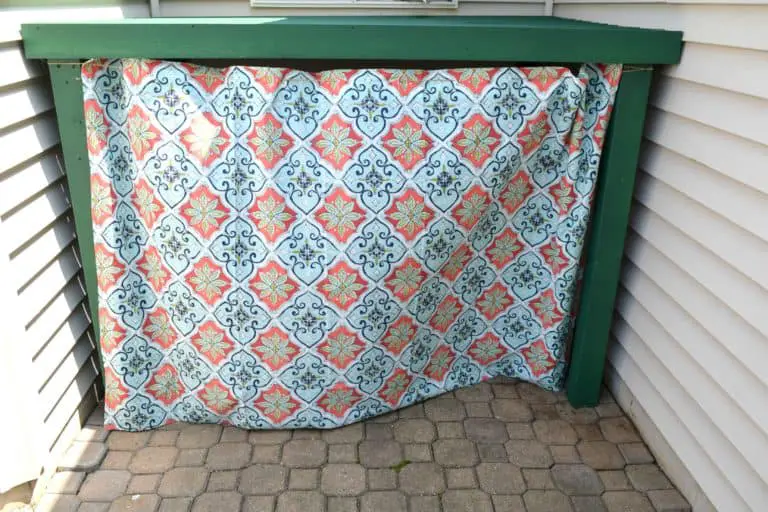 9. DIY Toy Storage
Family Handyman shares a fantastic tutorial on how to make your DIY toy storage system that will work for you! It looks pleasant and organized. See what they did.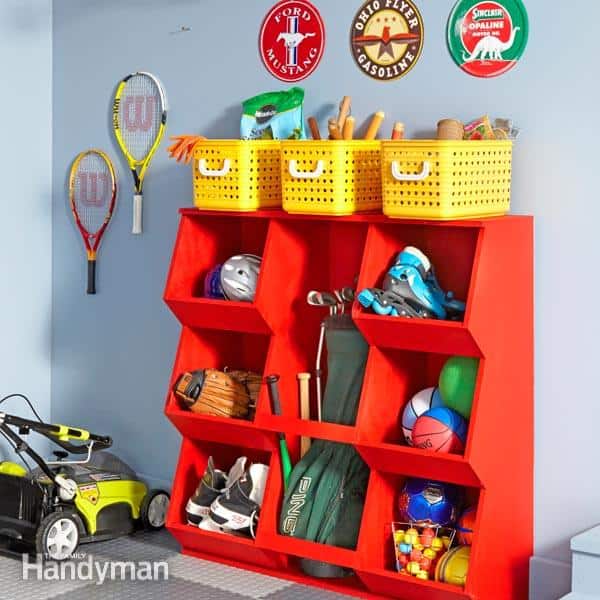 10. Organizing Toys
I'm An Organizing Junkie wanted to a simple solution for her children's toys so that the child could independently put all the toys right where they belong after usage. This outdoor storage box turned out wonderfully! Check it out.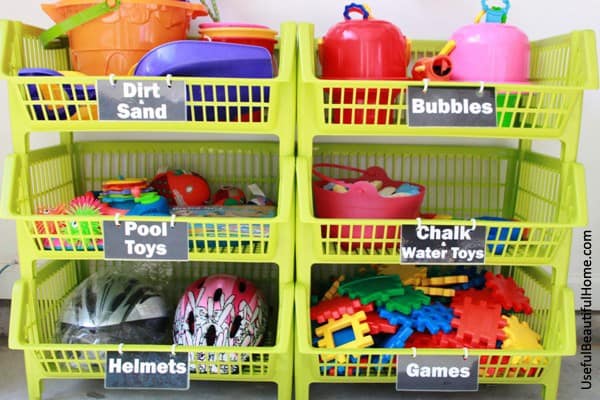 11. DIY Outdoor Toy Storage
Leslie at Plays To Parties provides five tips on how she got their outdoor toys organized and stored correctly. She has some great tips and ideas for outdoor storage. See her thoughts here.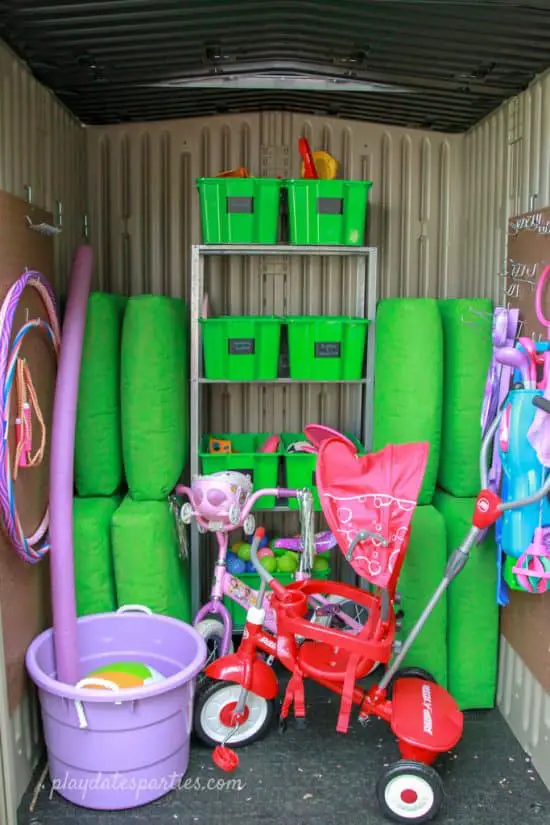 12. Toy Storage Solutions
Take Them Outside was tired of seeing discarded and unused toys in her yard. So she came up with a solution for storing toys as well as rotating them out. See her bright idea here.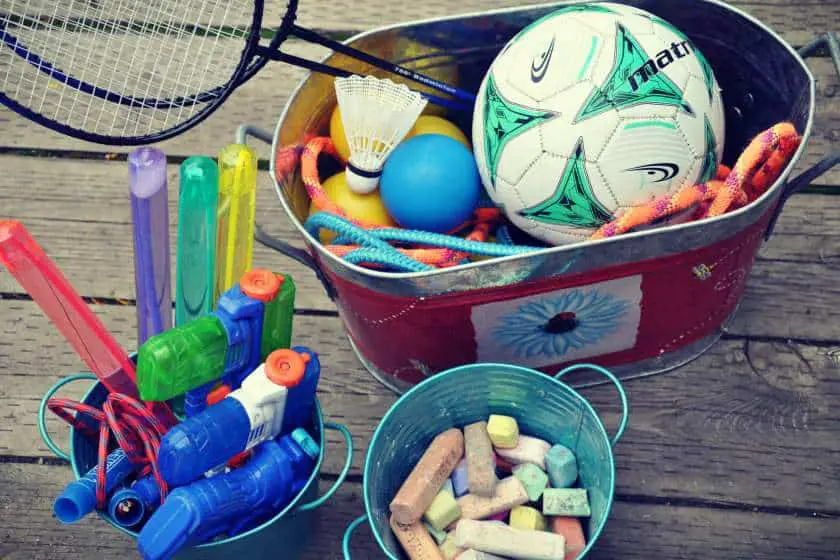 13. Toy Storage Bin
DIY Done Right gives you a detailed look at how they made a large toy storage bin that can hold all kinds of toys. It turned out amazing! Check it out.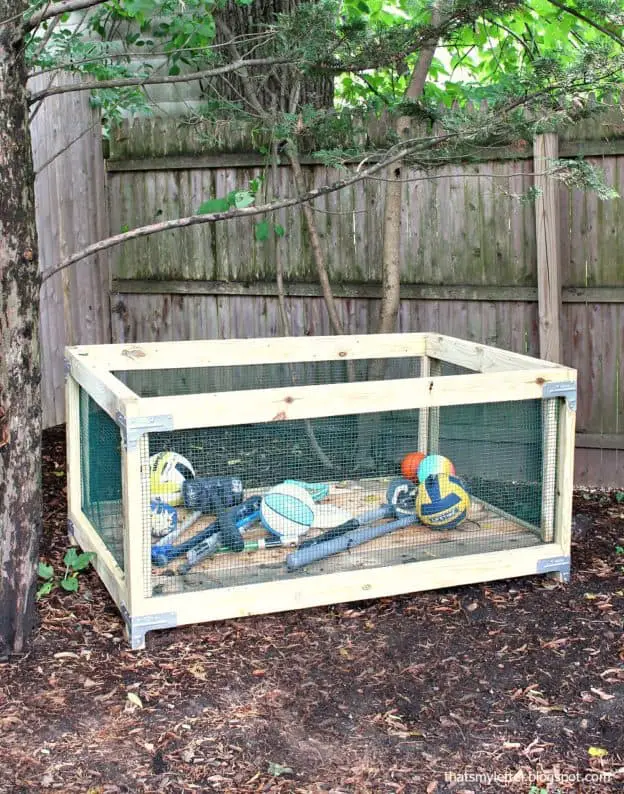 14. Toy Storage Shed
We're Parents turned their DIY toy shed into a family project. It even has a roof on it and can hold a lot of outdoor toys. They also figured out that they can have many uses from this shed in the future, too. See what they made.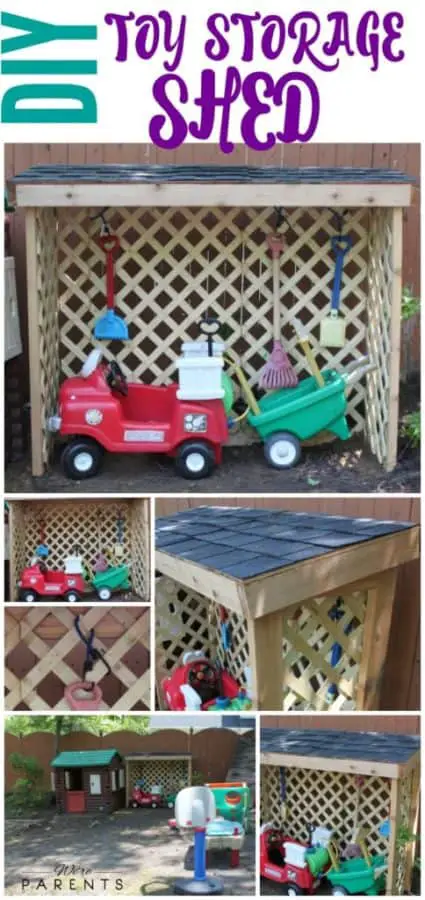 15. Sand Toy Solutions
Our Wonderfilled Life shows us how to get your kid's sandbox toys in order with their organizing solution. The bright colors keep this storage space fun and playful while being functional. Take a peek.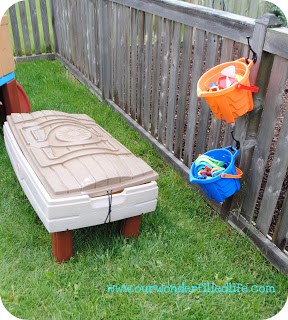 16. Backyard Toy Pantry
Apartment Therapy shows us how to make your backyard toy pantry. They even added chalkboards to it for even more entertainment. Such a creative idea.  Check it out.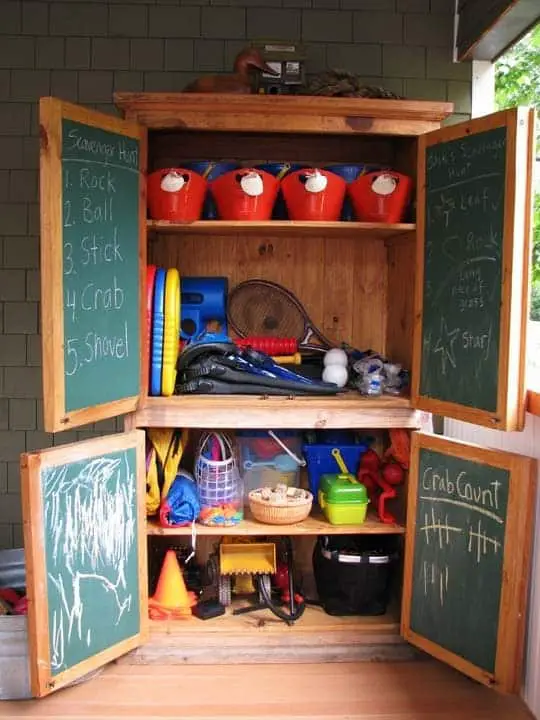 17. Outdoor Toy Organization
I Heart Organizing did a fantastic job organizing their outdoor toys. They didn't use a lot of materials and made a considerable improvement. It looks fresh and clean. Take a look.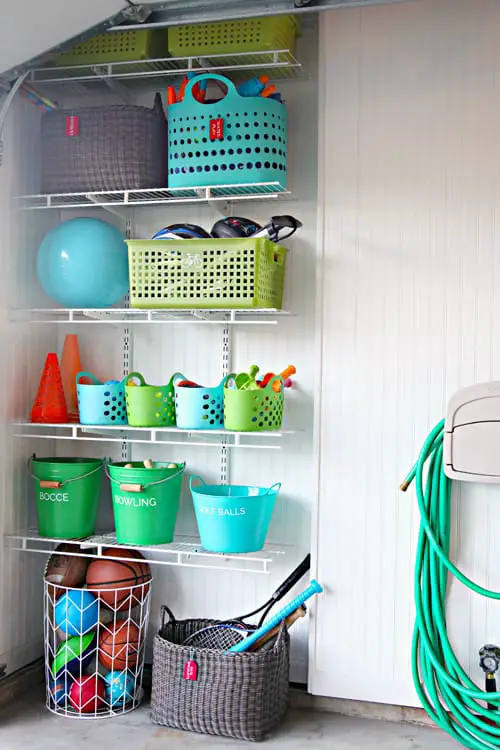 18. DIY Backyard Bike Storage
If you are looking to organize all of your kid's bikes and other rideable toys you have to take a look at the tutorial by Refresh Living. Believe it or not, installing a roof on it was simple! You have to see this.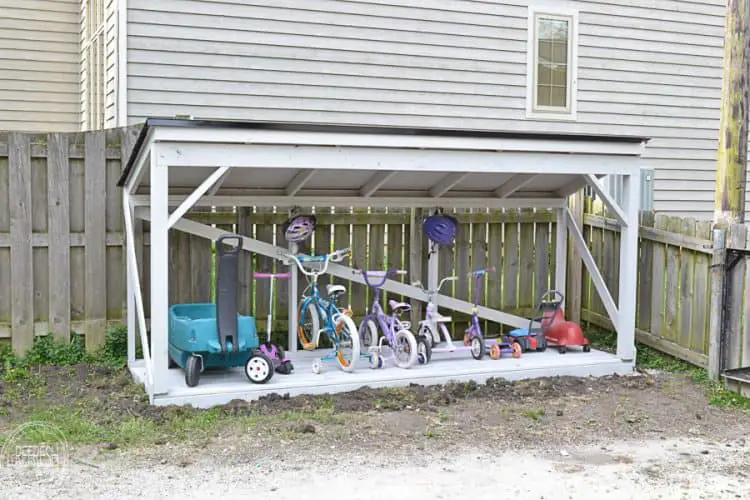 19. Outdoor Toy Organizing
The Organized Mama shows you how you can transform milk crates and zip ties into an excellent solution for toy organization. It is great because you can see exactly where everything belongs. See how she did it.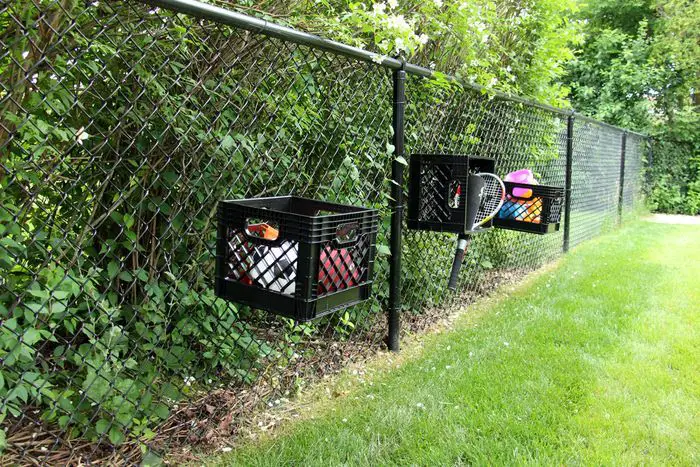 20. Bike Storage Shack
ICreativeD has found a way to make a truly unique bicycle storage shack. The door is on sliders, and it opens so you can access all your items quickly. It is a perfect size if you don't have a big yard. See it here.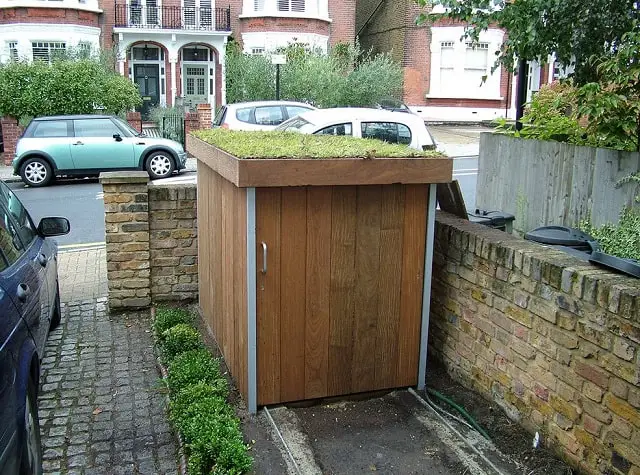 21. Outdoor Toy Organization
Andrea Dekker shares how she got all of their outdoor toys and tools organized once and for all. Everything is straightened out and orderly now. How she did it.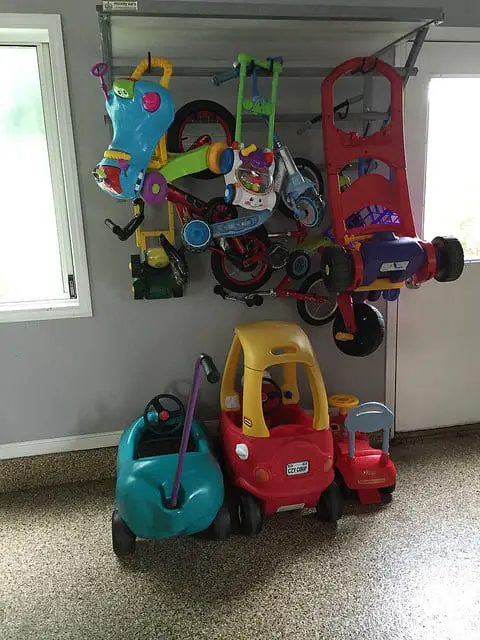 22. DIY Sandbox Organizer
Shanty 2 Chic offers a tutorial explaining how to make a sandbox with a shelf for organizing those pesky sandbox toys. The kids will love it, and you will like how everything is in one place. Make your own.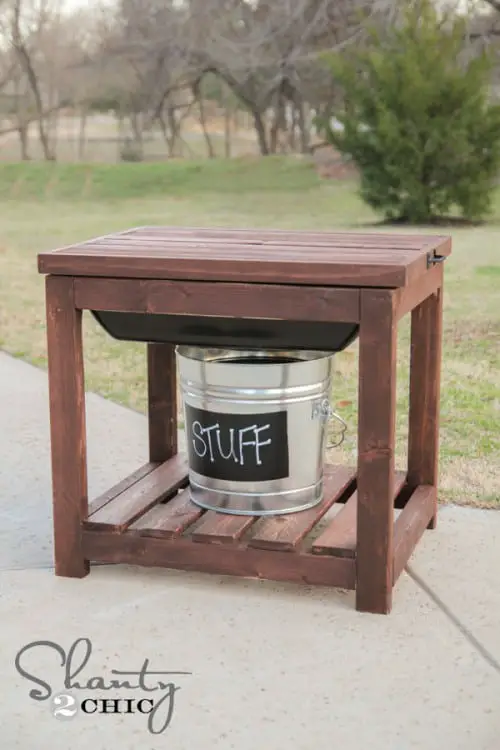 23. Outdoor Toy Tubs
I Heart Organizing found a great way to organize skates, trucks, pool toys and more. She used tubs and labeled them and conveniently organized them on a shelf in the garage. It looks wonderful! See for yourself.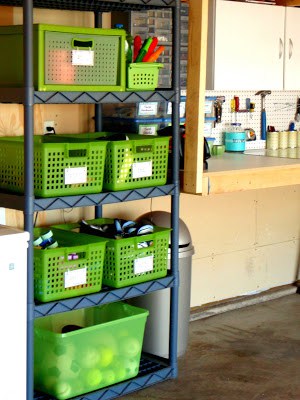 24. Toy Storage
Happy Hooligans shares several tips and ideas for sandbox toy ideas, as well as organizing. It is a fun and helpful post that can inspire you to find a storage solution. Check it out.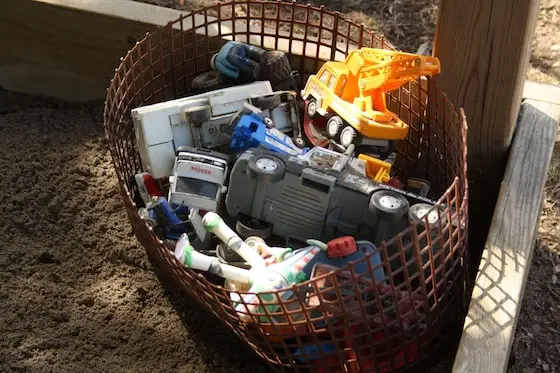 25. DIY Nerf Gun Storage
If your kids have a ton of nerf guns that need to be organized, take a look at this article by Inspiration Made Simple. She made a pegboard organizer that works great! See how here.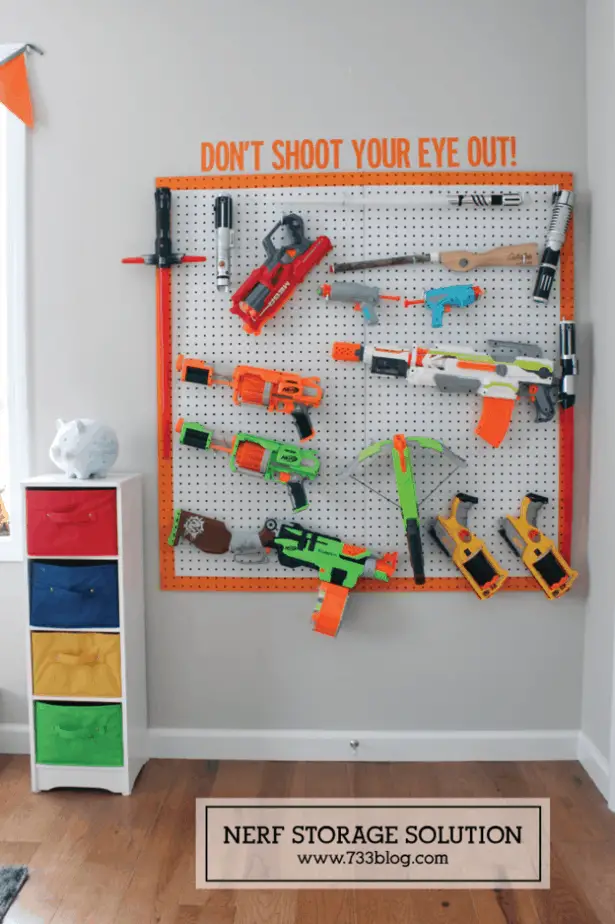 Store-Bought Outdoor Toy Storage Ideas
If you don't have the time or the will to make your own outdoor toy storage, these products are great for keeping toys organized and put up out of the way!
1.
Keter Eden 70 Gallon Storage Bench
Keter Eden
Lockable lid to ensure extra security & safety
Its durable resin construction with built-in ventilation and moisture resistance ensures that your stored items are safe and dry
It keeps its good looks in spite of harsh weather, sun exposure and abuse from kids and animals
Beautiful, comfortable, and practical, this All Weather Garden Patio Outdoor Storage Bench Seat Box is a gorgeous addition to any yard, patio, or porch; Perfect year around
Last update on 2023-11-16 / Affiliate links / Images from Amazon Product Advertising API
Similar to The Handyman's Daughter's DIY Storage Bench listed above, the Keter Storage Bench doubles as extra seating space and toy storage. It has nearly 6,000 positive user reviews, which only backed our excellent experience with this storage bench.
It has a total capacity of 70 gallons, providing enough room for all of your child's outdoor toys, and has dimensions of 50.4″ L X 19.7″ W X 15.0″ H (Interior) and  54.6″ L X 23.4″ W X 32.8″ H (Exterior). The exterior of this storage bench is made of dark brown resin that is both weather-resistant to keep toys nice and dry, as well as UV-protected to prevent fading from the sun over time.
This seat acts as a loveseat and will accommodate two adults at a time. The lid of the seat can also be locked, however, you'll need to purchase a separate padlock in order to secure the lid. Though this seated storage bench doesn't come assembled, it's very easy to put together and shouldn't be too much of a hassle.
What We Like:
Thousands of happy customers
70-gallon capacity
Plenty of room for all of your child's outdoor toys
Locking lid
Weatherproof
UV protected to prevent fading
Can seat up to two adults at a time
---
2. Keter Marvel Plus 71 Gallon Resin Outdoor Storage Box for Patio
Sale
Keter Marvel Plus 71 Gallon Resin Outdoor Box for Patio Furniture Cushion Storage, Brown
DIMENSIONS: Exterior: 45. 9 in. W x 17. 4 in. D x 22. 2 in. H / Interior: 44. 6 in. W x 15. 6 in. D x 20 in. H
IDEAL STORAGE: Large storage capacity can hold up to 71 gallons
RESIN CONSTRUCTION: It's made out of all weather-resistant resin with an appealing wood-look texture
DURABLE AND STRONG: Weather-resistant polypropylene construction prevents rusting, peeling and denting - unlike real wood
EXTRA SEATING: Provides comfortable bench seating with a weight capacity of 485 lbs
Last update on 2023-11-16 / Affiliate links / Images from Amazon Product Advertising API
Providing a bench seating area and an ultimate toy storage solution, the Keter Storage Box for Patios comes in two different colors, dark brown, and dark gray. Like the previous Keter product, the Outdoor Storage Box is made of weather and fade-resistant resin.
It has a total capacity of 71 gallons, which is more than enough for all of your child's outdoor toys to be stored safely. The bench can hold up to 2 adults at a time and has a capacity to hold up to 485 pounds without issue.
It has dimensions of 45. 9 in. W x 17. 4 in. D x 22. 2 in. H (Exterior) and 44. 6 in. W x 15. 6 in. D x 20 in. H (Interior).
What We Like:
Comes in two colors, dark brown and dark gray
Weather-resistant
Resistant to fading from the sun
The total capacity of 71 gallons
Acts as a bench for additional seating space
Can hold two adults or up to 485 pounds
---
3.
Rubbermaid Double-Door Storage Cabinet
Sale
Last update on 2023-11-16 / Affiliate links / Images from Amazon Product Advertising API
If your child only has a few outdoor toys that need to be stored, this Rubbermaid Double-Door Storage Cabinet is an excellent alternative to the two large-capacity storage ideas reviewed above. This storage cabinet is quick and easy to assemble and features snap-together parts so that you don't have to spend time screwing parts together.
It features two doors with a locking ability so that you can prevent strangers (or even your children) from getting to the items inside. However, a lock isn't included, so you'll need to purchase one separately if you decide to lock the cabinet.
The resin construction of this storage cabinet is surprisingly durable, and won't peel, rust, or dent. This storage cabinet is weather-resistant, but it isn't water-proof, so you should take care not to place anything inside that may be damaged by water. Though it can be placed outside, it's not exceptionally sturdy and may blow over during high winds or storms. This storage cabinet is best kept in a garage or under a porch.
This toy storage cabinet features two shelves and 13.5 cubic feet of storage space. It can also hold up to a whopping 336 pounds, making it a great choice for all kinds of toys.
What We Like:
Great toy storage solution for water guns, jump rope, and other outdoor toys
13.5 cubic feet of storage space
Can hold up to 336 pounds
Durable resin construction
Won't peel, rust, or dent
Weather-resistant
Doors can be locked
Quick and easy to assemble
---
4. Mythinglogic Rolling Sports Ball Storage Cart
Sale
Mythinglogic Rolling Sports Ball Storage Cart, Sports Lockable Ball Storage Locker with Elastic Straps, Stackable Ball Cage for Garage Storage Garage Organizer (1 Set)
SMOOTH ROLLING BALL RACK: The Rolling Sports Ball rack features in 4 heavy-duty wheels, Indoor & Outdoor Design, which is easy to move the cage anywhere and fits in a specific position. Great for basketballs, volleyballs, soccer balls and footballs.
PERFECT SIZE FOR STACKABLE BALL LOCKER: Designed to clean up clutter around the yard or house, this ball locker can be stacked and placed in an orderly manner, saving space, which will be a game-changer for sports equipment or gym organizer.
ELASTIC STRAPS: Unlike other racks, this ball rack gets 5 elastic straps. This unique design maximizes storage space and allows easier access to the items at the bottom.
EASY TO ASSEMBLE: Simple structure makes it easy to install. With the help of instruction, the assembly is enjoyable and easy. (ATTENTION: WE HAVE INSTALLED THE SCREWS IN ADVANCE TO ENSURE ALL PARTS ARE IN THE CORRECT POSITION).
STORAGE VARIOUS ITEMS: This garage storage is not only used for storage balls,Roller skates, helmet Sports equipment, but also for pool supplies and children's toys.
Last update on 2023-11-16 / Affiliate links / Images from Amazon Product Advertising API
For the sporty kid with lots of basketballs, volleyballs, soccer balls, tennis balls, baseballs… (you get it); this rolling sports ball storage cart is the perfect solution to all of your ball storage needs. It's relatively affordable and made of durable metal materials for use both indoors and outdoors. It's weather-resistant, though is best when kept in a covered area.
It has durable, 360-degree wheels for easy maneuverability across the grass, concrete, dirt, and other surfaces. Assembly is required, but isn't too difficult and should only take a few minutes. This ball storage cart has quite a large capacity, and definitely enough room for home use. Its dimensions are as follows: 19.69″L x 18.89″W x 21.26″H.
The elastic straps on the front of the cart keep the balls in place but allow kids to easily grab a ball from the cart without having to reach over the top.
What We Like:
Great for storage of sports equipment
Decent capacity
Easy to assemble
Elastic straps hold balls in place without having to reach over the top of the cart
Heavy-duty metal construction
360-degree wheels that can go over practically any surface
Weather-resistant, but best for indoors (like in a garage or on a covered porch)
---
5.
YardStash Outdoor Storage Deck Box
Sale
YardStash Outdoor Storage (Waterproof) - Heavy Duty, Portable, All Weather Tarpaulin Deck Box - Protects from Rain, Wind, Sun & Snow - Perfect for the Boat, Yard, Patio, or Camping – M Green
Our robust outside storage container means business! A weatherproof tarp sanctuary with sealed seams & strong metal poles for all your yard storage needs.
Crafted from UV protected, industrial-grade, vinyl tarpaulin that won't crack, warp, or leak - our outside storage bin can really weather the elements!
With a quick and easy 15 min assembly, our lightweight and portable outdoor storage bin is a conveniently versatile alternative to bulky plastic boxes.
At a large W31" x D25" x H28", these outdoor deck boxes offer space-saving salvation! Ideal for patio furniture, cushions, garden tools, and more!
With a water shedding lid, splash-proof mesh vent, adjustable straps, and easy-open buckles, our outside storage box has the competition contained.
Last update on 2023-11-16 / Affiliate links / Images from Amazon Product Advertising API
The final store-bought toy storage solution, the YardStach Outdoor Storage Deck Box is a heavy-duty storage box that's weatherproof and perfect for outdoor use. It's built from heavy-duty tarpaulin, welded seams, and an internal metal pole frame for optimal durability to hold up to outdoor conditions. This storage deck box also won't warp, crack, or leak, making it a great option for uncovered patios or other areas exposed to the elements.
At only 11 pounds when fully assembled, this storage deck box is incredibly lightweight and easy to move. It's also a breeze to assemble and takedown, and should only take about 15 minutes. Plus, no tools are required! The YardStash also has ample room for all of your child's outdoor toys with dimensions of 31 inches wide x 25 inches deep x 28 inches high.
Compared to bulky resin deck boxes, the YardStash is super lightweight and easy to move around. It also can be folded flat as to not take up too much storage space when you no longer need it or are moving it to another location.
What We Like:
Relatively affordable
Ample space for outdoor toys
Weatherproof
Won't warp, crack, or leak
Lightweight
Assembly is easy and quick
Simple to store
---
Final Thoughts
I hope you found some great ideas for your next organizing project. Which one do you think your kids would like the best? Whichever you choose, happy organizing!