Outdoor chalkboards are not just for a kid's entertainment these days. Though many of us buy them for fun and games, they can be used for much more, like as signboards, or to make a checklist of things that need to be done. You can also use them for writing recipes, creating menus, making announcements or even to flex your artistic muscles by drawing on them.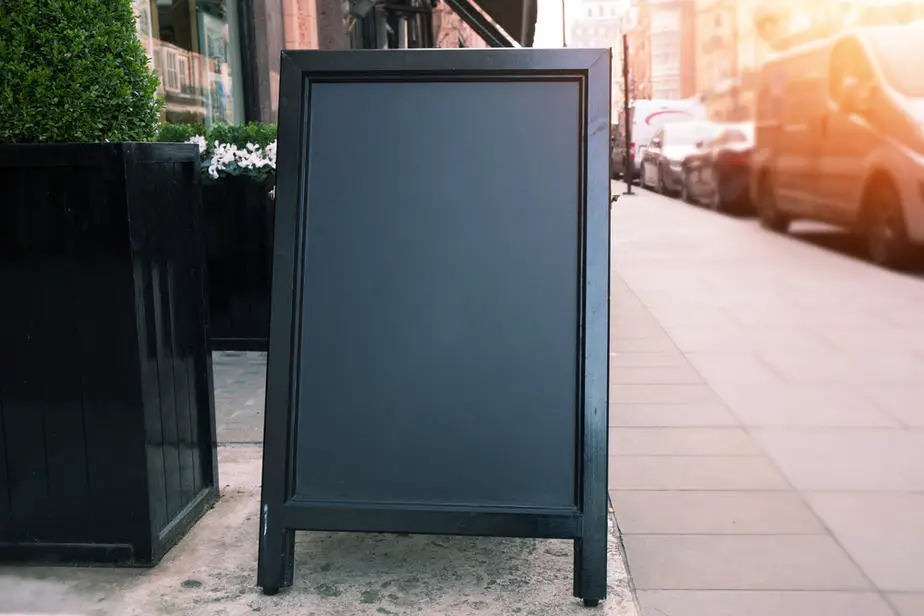 If you're inspired by all the awesome uses of an outdoor chalkboard and you want to buy the best one on the market for yourself then just keep scrolling. In this buying guide, we'll be covering the best outdoor chalkboard options, the brands who make them and answering some of the biggest questions you might have when looking for a chalkboard.
In a Hurry? Here's Our Top Picks…
Best Outdoor Chalkboards
Though there are numerous outdoor chalkboard choices available online and offline, we've tried to make the buying decision easier by providing the best outdoor chalkboard options in one place. As this guide is meant to be unbiased, we have listed the pros and cons of every option to help you make a smarter buying decision.
U Brands Chalkboard
U Brands Chalkboard, 17 x 23 Inches, Birch Wood Frame (310U00-01)
The premium chalk board surface is highly durable, erases easily, resists staining and ghosting
The bold, black chalkboard background creates high contrast with white or colored chalk
The sturdy oak wood decor frame will add a chic look that is perfect for home, office, classroom or commercial use
Board works well with all liquid chalk markers, but U Brands dry erase markers provide the ultimate board performance (sold separately)
Easily mount your 17" x 23" board with the included hassle-free mounting hardware and instructions
Last update on 2023-05-22 / Affiliate links / Images from Amazon Product Advertising API
If you're after a simple and stylish chalkboard option, this one could definitely do the trick. It can be used anywhere: from an office or school classroom to the outer or inside area of a home, it's truly a great option. It works well with different types of chalk markers, also. For brilliant results, we suggest trying the U Brands liquid chalk markers, as they're brightly-colored and erase effortlessly off the board.
The oak wood finish gives this board a really sleek and modern look. The wood also helps give the product a more premium feel to this product, making it appear much more expensive than it really is.
What We Liked Most:
The oak wood finish gives this chalkboard a modern look and adds to the style factor.
It can be used vertically or horizontally, based on your needs.
The installation instructions are provided with the product to make DIY installation easy.
All products by this brand are created while keeping customers in mind.
It's packaged in extra supportive corrugate material which ensures no damage during transit.
What We Didn't Like:
Many users have reported that the chalkboard is not magnetic which is a feature some people prefer.
The quality of the product is somewhat cheap.
Check Price and Reviews on Amazon
---
Handcrafted 40″ x 20″ Wooden A-Frame Chalkboard
Large Sturdy Handcrafted 40" x 20" Wooden A-Frame Chalkboard Display / 4 Liquid Chalk Markers & Stencil Set/Sidewalk Chalkboard Sign Sandwich Board/Chalk Board Standing Sign (Black)
NEW & IMPROVED AS OF JANUARY 24, 2018. We are now using heavier grade wood and 3 top hinges. SATISFACTION GUARANTEED OR YOUR MONEY BACK - NO QUESTIONS ASKED!
GET MORE VALUE - Our double-sided A Frame Sandwich Board includes 4 LIQUID CHALK MARKERS & RESTAURANT STENCIL SET which includes over 60 words & pictures (a $30 value).
DOUBLE SIDED - THICK STURDY WOOD - REINFORCED STRONG HINGES - WIND RESISTANT - HEAVY DUTY - PERFECT INDOOR & OUTDOOR USE
HANDCRAFTED RUSTIC LOOK - Shabby Chic & Modern Menu Board Appearance for use with Liquid Chalk Markers or Regular Chalk. This Chalk Board Standing Sign is perfect for menu or promotional messages for restaurants, bars, cafes, stores, wedding or weddings & special events.
GUARANTEED QUALITY: High quality heavy-duty and BUILT TO LAST! Made by Excello Global Products. We are a family owned USA company and we have been making quality products for over 50 years
Last update on 2023-05-22 / Affiliate links / Images from Amazon Product Advertising API
If you're looking for a well-made, high-quality chalkboard, then you should definitely consider this one. This appealing handcrafted chalkboard is made by using a heavy grade wood that ensures great quality and durability. It's made proudly in the USA (for the American patriots out there), which means you can trust that you're supporting fellow American workers when you purchase this chalkboard. Another great thing about this chalkboard is that it's pretty weather resistant, making it wonderful for outdoor use.
What We Liked Most:
The manufacturer provides a no-questions-asked money back guarantee.
You get a restaurant stencil set and 4 liquid chalk markers with the board.
The chalkboard is double sided which means you can use it on both sides and add more content to it.
It not only works well with liquid chalk markers but also works fine with regular chalk.
The board has a handcrafted rustic look that appeals to the eye.
What We Didn't Like:
Cleaning liquid chalk form this board could turn out to be a bit hard.
Some people have reported that the item was broken and was probably damaged during transit.
Isn't heavy enough to withstand harsh winds.
Check Price and Reviews on Amazon
---
Porcelain Steel Wall Mounted Magnetic Chalkboard
Large Chalk Boards with Frame by VersaChalk (11x17" Industrial, Porcelain) Framed Chalkboard Sign for Business, Bistro Bar, Sandwich Menu, Sidewalk, Signage Classroom, Wedding
CLASSROOM QUALITY: Incredibly durable and built with teacher-approved quality to last for years of constant use. The thin, natural wood chalkboard frame maximizes usable space for lettering, menus, to-do lists, chore charts, reminders, and more!
RUSTIC PINE WOODEN FRAME: Sturdy, solid wood frame (not veneer) is stained to a beautiful, vintage golden oak color to perfectly match farmhouse decor. Ideal small chalkboard signs for your kitchen, wall, kids' rooms, living room, café menu, or business.
HANG IT IN SECONDS: Our hanging chalkboard sign is quick and easy to install on your wall- vertically or horizontally, without any additional effort using the pre-installed wall mounts. No screwdriver necessary!
MAGNETIC CHALKBOARD: Stick magnet on the porcelain chalkboard surface to hang pictures, reminders, notes, and travel souvenirs. Fun and functional – this chalkboard with frame is the perfect choice!
NO CHALK STAINS: For use with chalk ink markers or regular chalk, the commercial quality, nonporous porcelain steel chalk board surface resists scratches, stains, and damage. Guaranteed never to ghost when used with VersaChalk liquid chalk markers.
Last update on 2023-05-22 / Affiliate links / Images from Amazon Product Advertising API
If you want to make a lasting impression by investing in an outdoor chalkboard that intensifies the look of chalk markers, then this could be a good option for you. This chalkboard is super durable and can be used daily without the fear of ruining its aesthetic appeal. Even kids who are a bit rough can use it extensively.
What We Liked Most:
It can serve as a dramatic magnetic bulletin board for your memos, photos, and other visual aids.
The wood used in this product is of high quality. It provides strength without adding any extra weight.
It arrives with free clip hangers.
You can mount it vertically or horizontally and change its position whenever you wish.
The cleaning process is easy, and there's often no ghosting from the chalk markers.
What We Didn't Like:
This board is not double-sided so you can write only on the front.
The product is not magnetic.
The frame might splint and give you a splinter if you are not careful enough.
Check Price and Reviews on Amazon
---
XBoard Magnetic Chalkboard Blackboard
XBoard Magnetic Chalkboard Blackboard 36 x 24, Chalk Board/Black Board with 2 Magnets
The Chalk Board is 36" x 24" , the black contrasting surface for easy visibility
Blackboard doubles as a bulletin board by using the 2 attached magnets to pin notes, messages, pictures, memos, calendars and more
Comes with mounting hardware to make hanging on wall conveniently
Crafted from sturdy aluminum frame with tough Nylon plastic corners for durability without the dangerous sharp pointy edges, perfect for kids room, home, office or dorm.
Customer satisfaction is guaranteed with a 2 year warranty against manufacturer's defects
Last update on 2023-05-22 / Affiliate links / Images from Amazon Product Advertising API
The XBoard Magnetic Chalkboard Blackboard combo is a wonderful option for easy visibility and plenty of room for writing. This board doubles as a blackboard and has an easy installation process with two attached magnets.
What We Liked Most:
You can pin memos, notes, pictures, messages, calendars and much more on the board.
It doesn't have sharp edges that could lead to accidents or cuts.
The aluminum frame and nylon plastic corners enhance the overall quality.
You get a 2-year warranty against manufacturer defects.
It can be hanged on a wall, as well.
What We Didn't Like:
The size is slightly off. Some people reported it's 47″ by 34″ rather than 48″ by 36″.
Buying wall anchors is better than drilling holes while mounting this chalkboard on a wall.
A few users reported that the packaging was not good and the board bent during the transit process.
Check Price and Reviews on Amazon
---
Sidewalk A-Frame Mahogany Sandwich Board Sign
No products found.
This is an excellent-quality outdoor chalkboard. It has a gorgeous frame made from New Zealand pine wood with an attached frame leg for balance. You can get a variety of add-ons with this product, and it's ideal for both indoor and outdoor use.
What We Liked Most:
This product is double sided so you can use both sides to maximize its efficiency.
The writing surface is quite glossy which ensures writing and removing markings is easy.
Every chalkboard comes with four colorful markers: blue, yellow, red and white, as well as an easy-wipe eraser.
The frame is a beautiful mahogany color with an 8-inch leg for balance.
The compact size means you can carry it anywhere, even to picnics or family trips.
What We Didn't Like:
The refund process is quite tedious and costly.
The wood can warp when the product is exposed to the sun for too long.
It works only with chalkboard markers, not regular chalk.
Check Price and Reviews on Amazon
---
Things to Consider When Choosing an Outdoor Chalkboard
Most people understand that buying the most reliable outdoor chalkboard the first time they shop is a smart idea. It saves a lot of time, and effort while making the purchase a worthy investment. Below we've gathered a few steps to help guide you in finding the best outdoor chalkboard that meets your need perfectly.
Decide on the Size
Most brands provide various size options to customers. You should pick a size that meets your needs. The size should be decided after considering various factors like how much storage space you have, where you intend to keep the board when in use and when not in use, etc. If you're buying an outdoor chalkboard for kids education at school, you'll probably need a big one. In contrast, if you want one as a way to entertain your small kid, a more conveniently-sized, compact chalkboard may work just fine.
Focus on Quality
The quality of the chalkboard, as well as the frame, matters a lot when it comes to choosing the best outdoor chalkboard. It's advised that you pick a product that doesn't break easily and allows people to read the content or see the images added to it from a reasonable distance. The board should also last even after repeated use over a few months and should not scuff up easily due to excessive use.
Buy According to Usage
If you intend to use the chalkboard only on special occasions, like family gatherings, holidays, or birthdays, then you probably won't need to buy an expensive one. However, if you intend to use your chalkboard daily, you might want to consider the purchase as an investment and pay a higher price for a lasting-quality board.
Remember Installation
It's best to find a chalkboard that you know is made with easy installation in mind, whether it be indoors or outdoors. Most chalkboards come with an installation manual to guide you on how to assemble it, but if you're like us, the simpler the better.
Consider Weather-Proofing
It is also smart to choose a product that has been weather-proofed. The harsh sunlight in the summer, the heavy rains during the rainy season and winds or snow during winters can damage even the best outdoor chalkboard. In case you have invested in a product that's not weather-proofed, you can make things easier by covering the board when not in use or keeping it in a sheltered place, like a garage, after every use. You can also make use of exterior paint and tile grout to make the board weather-proofed: get a cup of exterior paint and add 2 tablespoons of tile grout.
Know About the Cleaning Needs
When choosing the best outdoor chalkboard, it is essential that you choose one that is easy to clean. If you want the cleaning to be super easy, the best outdoor chalkboard for you would be the board that works well with regular chalk. Cleaning regular chalk needs nothing but a wet paper towel, but removing chalk paint or dustless chalk can be quite a bit harder. So, with that said, you may want to look for cleaning instructions before placing your order. If you plan to try any chalk techniques, make sure that you know how to get rid of a new chalk design you are trying.
Brands You Can Trust
U Brands
U Brands is a California based company that brings design, productivity, and innovation together. U Brands is a stationery company that employs trendsetters, designers, and innovators who create unique, and well-designed products to inspire people.
Excello Global Products
Excello Global Products has been providing quality products like outdoor chalkboards for more than 50 years. The collection of products it offers is suitable for home, office, and school. All the products offer high value and are rightly priced.
Versachalk
This company hopes to be a premier place for chalk artists and believes that art shouldn't be expensive. Versachalk wants to help people enhance the self-expression process. The product range is not limited to providing outdoor chalkboards, as they also provide consumers with vinyl products, mason jar lids and much more.
XBoard
XBoard is a renowned manufacturer of chalkboards as it produces different types of boards: fabric boards, cork boards, dry erase boards, magnetic whiteboards, blackboards, melamine whiteboards… and the list goes on. Each product aims to offer the best durability and writing experience.
Winco
Winco is another brand you can trust when seeking the best outdoor chalkboard for your home. One of the products by this company has the highest number of customer reviews, and most of them are positive. It offers 5 varieties of exceptional chalkboards to tempt the user to buy more than one.
Frequently Asked Questions
Should I buy a chalkboard that comes with markers?
Yes, it is highly recommended that you buy a chalkboard that comes with markers to ensure that you get the highest possible quality of output. The manufacturers who create markers on their own test the products extensively to ensure perfect compatibility.
Do writing area dimensions matter?
Yes, many people complain that they didn't get enough space to write on even though they opted for the best outdoor chalkboard. To avoid such a situation, you better read the entire product description or ask the seller about exact writing dimensions.
Should I buy a chalkboard that's already assembled?
It depends. Already-assembled chalkboards can be a bit expensive. If you can spare a few extra bucks because you are bad at DIY projects or don't have the time for one, you can pay the extra cost.
But if you like DIY and the manufacturer is offering assembling instructions, you can save a few bucks and install the outdoor chalkboard yourself.
What do I need to know about chalkboard markers?
No matter whether you have selected an outdoor chalkboard with or without markers, you should make sure that the markers are easily available in the market. Always remember that even if the manufacturer provides markers, the time of their use may be short.
Should the best outdoor chalkboard be customizable?
It doesn't have to be. Although, it is a great idea to buy a chalkboard that can be painted or has the provision of adding a custom frame. This will ensure that you can change the look of the board if you ever wish to.
Should I pick a chalkboard that can be hanged?
Yes, it is recommended that you buy a product that can be hung vertically and horizontally. It will ensure that you hang it anywhere you wish rather than keeping it standing in one place.
Is it essential for a chalkboard to have a magnet?
No, it's not essential, but a nice add-on. It allows you to add notes or memos with the help of a magnet.
Does brand matter while picking the best outdoor chalkboard?
Yes, you should only buy from a reputable brand to ensure good quality products. In most cases, these guys are the direct manufacturers of the product with no middle man. Well-known brands also have a reputation to uphold and will help you if you receive a defective product.
The same cannot be said for small brands or unbranded products who may suddenly disappear after you buy from them.
Unbranded boards and many small brands simply re-sell generic products from China at a marked-up price.
Do manufacturers offer a warranty on outdoor chalkboards?
Yes, most manufacturers offer a warranty on outdoor chalkboards. Although, it's best to make sure that the cost of the refund process isn't too high or too difficult to get a refund before you purchase a chalkboard (just in case you end up dissatisfied).
Also, you may want to seek the maximum possible warranty tenure. Some manufacturers of best outdoor chalkboard provide up to 2 years of warranty!
Conclusion
A great outdoor chalkboard relies heavily on great quality, an affordable price, and a pleasing appearance. We feel the options we chose above are all wonderful choices that meet those requirements and are sure to last! We hope that after reading this article you're confident that you have sufficient information to help you pick the best outdoor chalkboard for your home and backyard! Have fun decorating!