Soccer is a fun hobby for people of all ages to enjoy. For some it's how they get their daily workout in and for others it's their career. In order to play the game, a soccer ball is a must-have piece of equipment. But not just any old soccer ball will do the trick. You'll want one that's high-quality and durable enough to last through several games, if not several seasons. Let's take a look at five of the best soccer balls available today!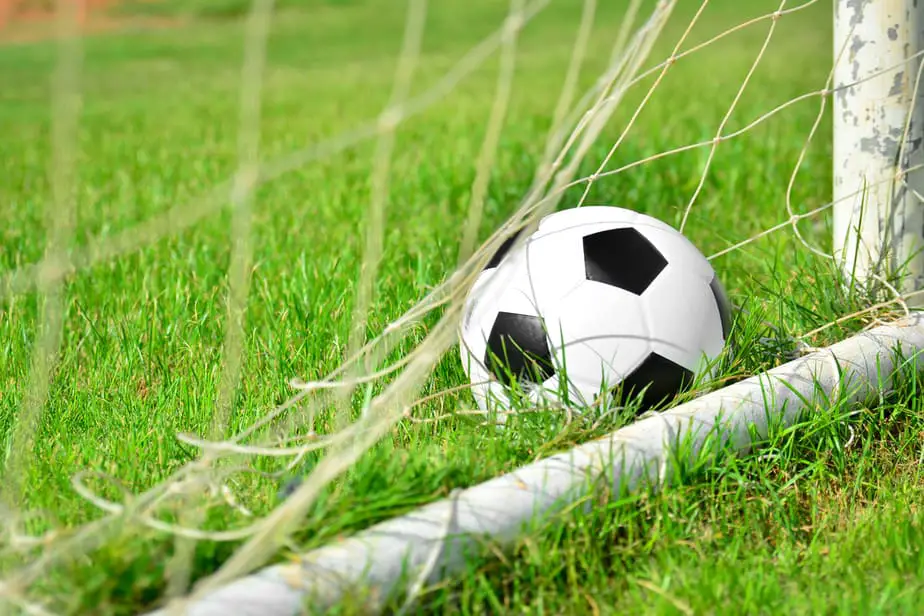 In a Hurry? Here's Our Top Picks…
1. Wilson Traditional Soccer Ball
Sale
WILSON Traditional Soccer Ball - Size 3, Black/White
WILSON Traditional Soccer Ball - Size 3, Black/White
Synthetic leather cover for increased durability
Butyl rubber bladder for excellent air and shape retention
Traditional panel graphics with silver accents
Recreational use
Last update on 2023-11-01 / Affiliate links / Images from Amazon Product Advertising API
Available in three different sizes, and two different styles, the Wilson traditional soccer ball is a classic ball that everyone should own. The sizes are based off of the age of the soccer player. For example, if someone over the age of 13 years old is needing one of these balls, they'd opt for a size five. Size four is designed for kids between the ages of eight and 12 and size three is for all players under the age of eight.
It is designed with a durable synthetic leather cover that increases the longevity of the ball. There is also a Butyl rubber bladder built-in that makes for amazing air and helps the ball to hold it's shape even when kicked around for hours on end. As you can see, it has the classic panel graphics with black and white coloring.
This is the perfect soccer ball for family games in the backyard or for a neighborhood youth soccer team. Due to its sturdy design, this Wilson traditional soccer ball can be used on concrete, asphalt, and the pitch. It comes fully inflated and ready to use! It doesn't matter what type of soccer your playing or the skill level you have, this Wilson ball is a great addition to your sports gear collection!
Pros:
Affordable
Has a classic look
Designed with a synthetic leather cover
Already is inflated for you
Cons:
For recreational use only
Check Price and Reviews on Amazon
---
2. adidas Glider Soccer Ball
Last update on 2023-11-01 / Affiliate links / Images from Amazon Product Advertising API
Adidas is a well-known and trusted company when it comes to sports in the United States. Their Glider soccer ball is high-quality and is the perfect soccer ball for the pitch. Shockingly, it is available in 20 different color combinations, so you're bound to find something that you like! There are also different designs such as stars, etching, camouflage, and traditional. Because this ball comes in a size five, it's best for players that are 13 years of age and older.
It has a durable synthetic cover that will keep the ball intact no matter how many corner kicks there are per game. To give you the best air retention possible, it has a rubber bladder. The Adidas Glider as incredible bounce and is machine stitched to help give the ball the longest life possible.
It may be important for some to know that this soccer ball does require inflation once it arrives. Once there is air in this adidas soccer ball, it will hold for extended periods of time. Something cool that adidas did with their Glider soccer ball is make it glow in the dark! This is a fun feature that kids can enjoy while playing a game in the backyard during a warm summer evening!
Pros:
Comes from a well-known company
Is available in 20 colors
There are multiple design options
Has a rubber bladder
Glows in the dark
Cons:
Check Price and Reviews on Amazon
---
3. Champion Sports Extreme Series Composite Soccer Ball
Champion Sports Extreme Series Soccer Ball, Size 3 - Youth League, All Weather, Soft Touch, Maximum Air Retention - Kick Balls for Kids Under 8 - Competitive and Recreational Futbol Games, Pink
ALL PURPOSE, ALL WEATHER, ALL FUN: This soccer ball is perfect for beginner to mid-level athletes. Built for high-retention activity, these balls will not lose composition and will provide optimal surface coverage and handling, rain or shine.
SOFT TOUCH COMPOSITE: Unlike many kids soccer balls that have no give, the Champion Sports dribble balls are comprised of TPU (a hybrid of soft and hard silicone) that offers smoother handling, juggling, kicking, passing, and less chance of injury.
QUALITY YOU CAN SEE AND FEEL: When you use our premium, youth-regulated soccer ball, you will notice quality that supersedes any equipment like it. Our rec balls are made with a butyl bladder that promises exceptional air retention and precision.
STURDY BUILD: Each 3 premier JV and junior league ball is ideal for kids between the ages of 8 and under. With our patented, machine-stitched panels, they are reinforced for extra strength and rough handling.
A BALL FOR EVERY OCCASION: Whether your child is playing on a school team, a recreational league, training in the backyard or using it to play kickball, volleyball or some other sport, the Champion Sports ball will meet all their sporting needs.
Last update on 2023-11-01 / Affiliate links / Images from Amazon Product Advertising API
Available in nine different colors and all three sizes, Champion Sports has an amazing soccer ball that both adults and kids will love. The pink ball even supports breast cancer awareness! Due to its design, it can be
used during rain
, snow, or shine. It is best used by a beginner to mid-level soccer players.
Champion Sports created their soccer balls to properly hold retention and they get plenty of air while in use. This is thanks to the butyl bladder that provides precision as well as air retention. Using both soft and hard silicone, the exterior of the soccer ball is easier for kids to handle. It reduces the chance of injury and makes the ball itself easier to kick and throw.
The panels on the outside of this Champion Sports ball are machine-stitched and reinforced to make it through several intense games and plenty of handling without getting damaged. You can use this soccer ball for a casual game at home with your siblings or on a school soccer team! A great thing about Champion Sports is that their products are made without the use of child labor. If that is something you're passionate about, this company is a great one to support!
Pros:
Several color options available
Can be used during any weather
Has a butyl bladder
The exterior is made with both hard and soft silicone
Cons:
Doesn't come inflated
No design options available, just colors
Check Price and Reviews on Amazon
---
4. adidas Capitano Soccer Ball
Last update on 2023-11-01 / Affiliate links / Images from Amazon Product Advertising API
If the way a soccer ball looks means a lot to you, the Adidas Capitano soccer ball is right up your alley. Available in 20 different color combinations and several different patterns, any one of the Capitano soccer balls from adidas is bound to turn heads. It is designed to increase the bounce this ball has to improve your skill.
There is a butyl bladder that provides the ball with more air retention that allows you to kick and throw even further. The outside patched are machine-stitched and designed for incredibly high durability. Unlike some other soccer balls on the market, the adidas Capitano does not come inflated and is only designed in a size five ball.
Another great feature of this soccer ball is that it holds air for long periods of time between inflations. The Capitano won't blend in with the grass and the shiny details make it easy to keep track of where it's being kicked during a game. It's a bit heavier than a standard soccer ball, making it perfect for older players that are a bit more experienced. Wherever you're practicing or playing a game, this is a solid choice when it comes to high-quality soccer balls.
Pros:
Tons of different color and design options
Has machine-stitched patches
The ball will stand out on the pitch
It has a butyl bladder
Cons:
Requires inflation before use
Check Price and Reviews on Amazon
---
5. American Challenge Brasilia Soccer Ball
American Challenge Brasilia Soccer Ball (Lime, 2)
OUTER CASING MATERIAL: 3.25mm TPU material -BACKING MATERIAL: 2 layers of poly/cotton lining
STITCHING: Machine stitched - BLADDER: Hybrid SR bladder
This ball was designed for grass fields
PLEASE NOTE: The balls do not come inflated - The Brasilia ball is a medium level ball meant for youth players
American Challenge: A Brand You Can Trust. Since 1973 This is a great youth ball
Last update on 2023-11-01 / Affiliate links / Images from Amazon Product Advertising API
Speaking of soccer balls that are easy to keep track of on the pitch, the American Challenge Brasilia soccer ball is designed with neon colors to make it incredibly easy for players to keep their eyes on the ball. Available in yellow, lime green, orange, pink, and blue, you're bound to find a color your child loves.
The finish is glossy and is water-resistant thanks to both hard and soft silicone. On the outside, you will find 32 machine-stitched panels that are incredibly durable. The exterior is also soft, which is perfect for throwing and handling during youth soccer games.
Designed with a hybrid SR-bladder, the American Challenge Brasilia soccer ball can hold air for up to a month between inflation! When inflation is required, this soccer ball tends to fill up in just seconds, saving you plenty of time! It is important to note that this soccer ball should only be used on grass fields, not on paved streets or dirt. If you do have any issues with the ball, American Challenge customer service is top-notch and will help find a solution.
Pros:
Several different bright colors
Hybrid SR-bladder
The soft and shiny exterior
Panels are machine-stitched
Cons:
Doesn't come inflated
Can be used on grass surfaces only
Check Price and Reviews on Amazon
---
Soccer Ball Education
When it comes to buying the best soccer ball for your needs, it's important to know what goes into a ball and what features make one product different than another. Below is an extensive educational buying guide that you can use when shopping around for your next soccer ball.
Sizing
As you've read in the reviews above, soccer balls come in a variety of different sizes. Soccer ball sizes changed based upon the age of the player. Though this can vary from league to league, the following size guide is standard for the majority of soccer players:
Size One
Size one soccer balls are not designed for use during an actual game. They are much smaller than an average soccer ball. Size one balls are also called mini or skill balls and are designed to improve footwork and agility.
Size Three
Size three soccer balls are smaller than average but can be used on the field. For adults, these balls can be used to improve footwork, but they are designed for players under the age of eight to use during matches.
Size Four
Size four soccer balls are standard to use during games and practice for players that are between the ages of eight and 12 years old.
Size Five
Lastly, size five soccer balls are the largest soccer balls available. This is likely the size you're most familiar with as it is used by players that are over the age of 12. Size five soccer balls are used professionally on the field during a match and during practice.
Material
Something else that needs to be considered is the type of material that the soccer ball is made out of. There are two main parts to a soccer ball including the casing and the bladder. The bladder is a part that you can't visually see because it's inside of the ball. It holds the air and gets help the ball keep air retention high.
The casing is just what you think it is: the exterior of the ball. It is often designed with bright patterns and colors. There are several different panels that make up the casing of a soccer ball. Let's take a look at what materials different parts of a soccer ball can be made out of.
Panels
You'll recognize panels as the octagon-shaped quilts that cover the outside of the soccer ball. Normally, these are white and black but do come in a variety of different colors and designs. The panels are quilted and there are usually 32 panels per professional soccer ball. The smaller balls have either 18 or 26 panels in total.
Casings
Casings are made of one of four materials. There is poly-vinyl carbonate casings, polyurethane casings, a combination of both, and synthetic leather. The material used on casings can be a determining factor for many things, including the price of the ball. PVC soccer balls are often more cost-efficient, incredibly durable, and hard on the exterior.
On the other hand, polyurethane soccer balls are much softer, more responsive when it comes to kicks and throws, but they're still incredible quality to work with. Lastly, the soccer balls with synthetic casings are normally made of leather.
These are usually used by professional FIFA players and are the highest quality available. The synthetic leather gives players more control. You will occasionally see soccer balls that have a shiny gloss finish. This is designed to prevent wear and tear while remaining water-resistant as well.
Bladders
Bladders will always be made out of butyl or latex. The type of material you want the soccer bladder made out of will on if you're playing just for fun or for actual matches. If you're playing a real soccer game, you may want to opt for a soccer ball that has a latex bladder. They are softer and require inflation more often.
On the opposite ends of things, Butyl bladders are known for holding air for a longer period of time, often several weeks on end. Whichever material you go with, make sure that the soccer ball can hold at least nine pounds of air.
Types of Soccer Balls
Now that you know a bit about the different sizes and the material used, it's time to look at the different types of soccer balls. The type of soccer ball you need often coincides with the type of surface you're playing on. Not all soccer balls can be used on an outdoor pitch or gravel. Let's take a look at the six different types below.
Premium Match Balls
Premium match balls are used by professionals and are the highest quality soccer balls in existence. These soccer balls have been approved by FIFA and go through extensive testing to get there. This testing includes the shape of the ball, how well it holds air if it's water-resistant, performance, and more. These premium match balls are used during professional matches such as The World Cup and are used throughout all teams like the English Premier League, Major League Soccer, and more.
Match Balls
Similarly to premium match balls, match balls are made with a slightly different construction. These balls are still high-quality and can be used during a professional match, hence the name. Match balls are most often used during high school and college soccer games. It is crucial when buying a match ball that it has the NCAA or NFHS stamp of approval, otherwise, it's counterfeit.
In order to get this stamp of approval, the balls must go through testing. This testing includes checking the size of the ball, making sure the pressure is accurate, the ball must be spherical, the outer casing must be approved, it must fit within a certain color bracket, and more.
Turf Soccer Balls
Simply put, a turf soccer ball is designed to be used for play on artificial fields. This is because they're built to withstand rough use and won't get beat up as easily as other types of soccer balls. If you're looking for a ball for your child to use during practice or a youth match, a turf soccer ball is a great choice.
Indoor Soccer Balls
As you can tell by the name, indoor soccer balls are meant for indoor use. They have less rebound than an average soccer ball which works well on the hard indoor surface. They're also built to be heavy-duty enough to withstand being thrown indoors, even if they slam against concrete walls.
Beach Soccer Balls
Even though beach soccer balls are all size five, they are lighter than a size five soccer ball that you'd use on a pitch. Not only are they lighter, but they're also designed with softer materials. No one wants to hit a rough ball with their bare feet. Beach soccer balls often come in neon colors and gloss finishes to keep them safe if the ball lands in the water.
Futsal Soccer Balls
Futsal soccer balls are quite interesting. They have the weight of a size five ball, but they come in a size four. The bladder of a futsal soccer ball is different than the others, as they hold less air. With less air, these soccer balls bounce less. They are designed for indoor use or hard outdoor surfaces such as concrete or asphalt. Often times futsal balls have a felt casing to prevent slipping.
Best Soccer Ball Brands
Wilson is a sporting goods company that was established in the late 1980s. The headquarters are located in Chicago, Illinois. Wilson makes equipment for soccer, baseball, tennis, football, and more.
Adidas was founded by Adolph Dassler in 1949. Though it is a German company, adidas can be found worldwide and is one of the most popular companies that make professional soccer gear. Adidas even has popular subsidiaries including Reebok.
With headquarters just outside of Portland, Oregon, Nike is one of the most well-known sporting goods companies in history. Not only do they make equipment like soccer balls, but Nike also designs apparel and fitness equipment for several other sports and activities.
Similarly to adidas, Puma is a German company that was established in 1948. It was created by Rudolph Dassler, who is the older brother of Adolph, the designer of adidas. Puma is the third most popular sportswear company in the world.
Easily one of the longest-running companies in the world, Mitre was established in England all the way back in 1817. It is now owned by the famous British family, the Pentland Group.
Another long-running company, Voit has been around for nearly 100 years. It was established in Los Angeles, California. In the late 1950s Voit opened up a factory in Mexico City and quickly rose to fame.
In the spring of 1924, Umbro was created in Wilmslow, England. Umbro designs soccer gear for over 90 countries and has headquarters that are based outside of Manchester, England.
FAQ
Q: How heavy is a soccer ball?
A: Though it depends on which size soccer ball you have and what material they're made out of, most soccer balls are between 14 and 16 ounces. Before each match starts, the weight of the soccer ball is measured.
Q: Why is a soccer ball used for soccer only?
A: Soccer balls are designed specifically for the sport, much like many other balls. You wouldn't use a basketball during a baseball game, now would you? Soccer balls are used specifically for soccer due to the lightweight bladder that allows for great air retention and a quilted casing to give great control for players.
Q: How hard should a soccer ball feel?
A: While it can differ from ball to ball, the air pressure within a soccer ball is between 8.7 and 11.6 PSI. Soccer balls rely more on air pressure, rather than just the amount of air.
Q: What are four goals in soccer called?
A: Four goals are called a haul. A glut is five goals, six goals are called a double hat-trick, and seven goals is called a haul-trick.
Q: How long does a soccer ball last?
A: Just like most other things that you own, the longevity of a soccer ball will depend on how you take care of it and how often it's used. If taken care of properly, a soccer ball could last you several years. If not taken care of properly or used excessively, a soccer ball may not last through a season.
Q: Can I use an indoor soccer ball outdoors?
A: Can you? Yes. Should you? No. Indoor soccer balls are specifically designed for the surfaces indoors and won't work as well outdoors. You are also much more likely to damage the ball by using it in a location that it's not designed for. Having multiple options never hurt anybody. Feel free to get a ball for indoor use and one for outdoor use.
Q: Is it possible for a soccer ball to pop during inflation?
A: Yes. Just like any other sports ball, a soccer ball can pop while being inflated. There are a few things you can do to prevent this from happening. Don't push too hard when inserting the needle into the valve. Pushing too hard can puncture the bladder and ruin the ball. Be sure to inflate the soccer ball slowly and stop within the proper range.
Q: How do you clean a soccer ball?
A: Properly cleaning a soccer ball is a step that you can take to help extend the life of the ball. You don't want to use a hose or any harsh cleaning supplies or chemicals while doing so. It's rather easy to clean a soccer ball. You just need to wipe off the ball with a damp cloth.
After this, allow it to dry and look around for specific marks or scuffs that you want to take care of. You can then use either hand soap or bleach-free dish soap mixed with warm water. Dip a washcloth or sponge into the soapy mixture and lightly clean the ball. Rinse and dry the ball off before you use it again.
Final Thoughts
Out of the five soccer balls reviewed today, I have to give the top choice to the adidas Capitano soccer ball. It comes in a variety of different colors and designs. It is built using high-quality materials and should last for several games in a row. It's a great option for players of all ages, just remember to have inflating needles as it doesn't come inflated.
If you're not the biggest fan of that soccer ball, second place would have to go to the Wilson Traditional soccer ball. While this soccer ball may not help you if you're stranded on a desert island, it will help you when you're out on the pitch. It has a classic design and comes in a variety of different sizes.
Whichever soccer ball you choose, I hope that this guide helps you when you're shopping around for your next soccer ball. Whether you're looking for one to use in your backyard with your kiddos or your teenager needs one during practice for their school's soccer league, having a high-quality product is crucial. Remember to keep in mind the materials the ball is made out of and that you're buying a soccer ball that is meant to be used in the environment you play in. Have fun and happy shopping!