When you're a beginning airsoft enthusiast, you're likely looking to get as much bang for your buck as is possible! To help you navigate this world, I've put together this quick guide to help you find the best starter airsoft gun for your needs. There's a whole range of beginner pieces out there—I've tried my best to balance value with budget to make sure that you get a good feel for the craft with these airsoft guns. Let's dive right in!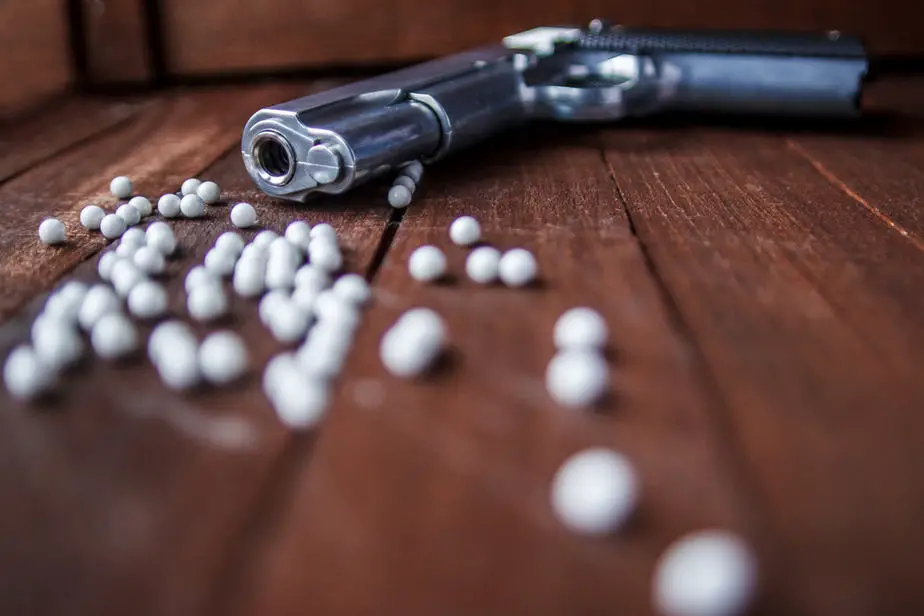 In a Hurry? Here's Our Top Picks…
1. G&G CM16 Raider
Last update on 2023-09-29 / Affiliate links / Images from Amazon Product Advertising API
This is the classic beginning airsoft gun—you've probably seen it before! As a great budgetary option, the CM16 Raider comes from a reputable company and consistently gets high reviews. Even though it's on the lower end of the price spectrum, players report being able to hold their own against owners of much more pricey guns.
It's light, but it's got some heft to it—it definitely won't slow you down, and it's made of a very high-grade plastic which should last for a very long time. This durability's important—when you're just starting out learning how to use an airsoft gun, your guns usually take a pretty large beating!
The magazine contains 450 rounds (great for players who like to spray the field) and the gun itself is fully modifiable if you feel like throwing it any upgrades as you become more familiar with what you're doing. A pro and a con in one: Stores don't tend to stock this one for very long, as it flies off the shelves—and if there's a sale on this gun, due to its popularity, it can sell out in minutes.
Things we like:
The price
The material feel of this gun (so real!)
The huge magazine—no need to reload frequently
Things we don't like:
How hard this gun can be to find due to its immense popularity
Check Price and Reviews on Amazon
---
2. FN Soft Air Scar
No products found.
At an even more attractive price point than the CM16 Raider, the FN Soft Air Scar features a more streamlined silhouette (and color choices, if aesthetics is your thing). Note before you buy that this airsoft gun does require one thing that isn't included to work properly—one AA battery. That battery should power the gun for a long time, according to reviews, but you should know that upfront so you aren't frustrated when you open the package.
A full-size gun made entirely of a lightweight but durable polymer and plastic, this airsoft gun takes 12g pellets and shoots them rapidly with a realistic kick-back that most reviewers say isn't too bad! The magazine holds 350 pellets, so you'll be able to have a good amount of time between reloads.
This gun comes with a few customizations that you can perform right on the gun, such as folding down the sights and adding or removing a foregrip. This is great because it means that as you 'level up' as an airsoft enthusiast, you can easily customize your shooting experience to be exactly what you want it to be. While this isn't the highest quality gun on the market, it is a perfect gateway to the sport—most users report being very happy for it as a father and son playing with it in their backyard, but advise that it wouldn't hold up in an airsoft competition. This isn't a bad thing, though—you just have to know what you're going to want to do with your airsoft gun!
Things we like:
The beautiful silhouette and shape of this gun
Customizations make your game more accessible
Low price
Things we don't like:
That a battery is required that isn't included
Check Price and Reviews on Amazon
---
3. BBTac Airsoft Sniper Rifle M61
BBTac Airsoft Sniper Rifle M61 - Bolt Action Powerful Spring Airsoft Gun, Extreme Power Accurate Sniping with .20g 6mm BBS Ammo
POWERFUL SPRING LOADED - Highlt Detailed Airsoft Sniper Rifle and Shooting Powerfully at 420-475 Fps with .2g BBs
HIGH QUALITY BUILT - Airsoft gun replicas with detailed finish and ABS polymer construction to reinforce platform
PRECISION MADE - Precision machine made shooting longer distance with added stability and precision
FAST LOADING - Airsoft guns using Clip for fast and simple reload for quick turn around
BOLT ACTION- Highly realistic bolt action to load and release on shooting with real feeling for authenticity
Last update on 2023-09-29 / Affiliate links / Images from Amazon Product Advertising API
For a different type of shooting experience, consider this powerful airsoft sniper rifle with great reviews at a slightly higher investment. It's worth the extra pennies, though—this is an airsoft gun which purports itself to be a real and accurate replica of the sniper rifles it's imitating. It's made of hard, long-lasting ABS polymer, so it also has a similar heft, comparable to the real thing.
This is a precision machine. Again, you have to know what you're going to want to do with the airsoft gun: this isn't a "spray and pray" kind of machine, but more the kind of gun that you'd use to pick people off from afar. You can only fire one shot at a time—which makes sense, as a sniper—but the reload time is incredibly fast; certainly faster than any of the larger guns with magazines. It does come with the option to purchase a small magazine to clip on, however, which would hold about 20-25 bullets. Still, multiple shots at once are not the priority with this gun—and that's okay!
The real selling point of this airsoft gun is the bolt action, which was expertly engineered to be as realistic as possible. Reviews consistently state that using this gun really feels like you're using the real thing! Also, because it's a lighter gun, people do report that it can be really affected by the wind—just something you want to know when you're working with it!
Things we like:
The quality ABS polymer that the body is made of
The extreme accuracy
The ability to purchase a magazine to streamline shooting
Things we don't like:
This is a lighter machine which tends to sway around in the wind.
Check Price and Reviews on Amazon
---
4. Benjamin Armada BTAP17SX PCP-Powered Multi-Shot Bolt Action
Benjamin Armada BTAP25SX .25- Caliber Pellet PCP Hunting/ Target Air Rifle And Scope, Black
PCP-POWERED .25-CALIBER AIR GUN – Great for target shooting and medium-sized game hunting
REVERSIBLE BOLT-ACTION - For right and left-handed sportsmen.
MODULAR DESIGN WITH RIFLED BARREL - Quiet and versatile with on-board air pressure gauge.
8-ROUND ROTARY CLIP MAGAZINE - Multi-shot capable, delivers speeds up to 900 fps
4-16X50 mm RIFLESCOPE - With a multi-coated lens for accuracy downrange
Last update on 2023-09-29 / Affiliate links / Images from Amazon Product Advertising API
This one's a bit more of an investment, but it's worth it—this is a great entry into borderline professional airsoft guns. With a real heft to it that most people report say make it feel like a real gun, this airsoft piece is so accurate and powerful that some people actually use it to hunt real game or for home defense.
Filling the air tank is a breeze, the gun itself is made of a metal casing which both looks great and will last for years to come, and people report that the reload time is very low and the accuracy of this machine is high. If you're looking for the sweet spot between accuracy and the spraying feel of a classic machine gun, this airsoft gun is a good compromise.
Another perk—this gun is extremely easy and quiet to operate, making it simultaneously a good entry point for beginners and a great weapon for stealth maneuvers. Filling the tank with the included air pump does take some muscle, but you can easily consider that just part of the associate works out! This is one of the most popular airsoft guns on the market, which means that if you buy it you'll easily be able to find other people who can help you know how to use it in person, and any repairs, accessories, or replacement parts will be readily available.
Things we like:
The real feel of it!
The quiet operation
The high level of accuracy for a machine gun
Things we don't like:
The relatively higher cost
Check Price and Reviews on Amazon
---
5. Glock 19 Gen3 .177 Caliber BB Gun Air Pistol
Sale
UMaREX Glock 19 Gen3 .177 Caliber BB Gun Air Pistol
15-Shot, .177 Caliber Bb Air Pistol
Powered By A 12-Gram Co2 Cartridge (Co2 Not Included)
Shoots .177 Caliber Steel Bbs At Up To 410 Fps
Integrated Weaver Rail For Easy Mounting Of Accessories
Fixed Glock-Style Sights And Officially Licensed Glock Markings
Last update on 2023-09-19 / Affiliate links / Images from Amazon Product Advertising API
We've saved the best for last! As a pistol coming from a classic name in the business, this Glock air pistol definitely delivers in that thrilling name-recognition way. It comes with the classic Glock sights that you know and love as well as licensed and official Glock markings on its sidings. It also delivers on quality: it's got an on-the-side Weaver rail which can help with accessories, it's powered by 12 grams of CO2, and it's capable of shooting .177 caliber BBs at 410 FPS.
This airsoft gun is such an accurate replica of a Glock that people report using it to practice for the real thing with great effects. Reviews state that it's great for target practice, and it's definitely up to the task — this gun can last for years, taking lots of heavy use before it requires any kind of repair. The combat sights that it comes with feeling like something right out of a video game, and definitely ups the 'cool' and 'fun' factor that comes with owning an airsoft Glock. A great compromise between budgetary airsoft guns and higher-end versions, this Glock airsoft does a great job for a low price and includes all the thrills of guns many times the price.
Things we like:
The classic Glock name recognition
The speed (410 FPS!)
The power—people report this is very similar to actually using a Glock
Things we don't like:
Check Price and Reviews on Amazon
---
What You Need to Know Before Buying an Airsoft Gun
Now that we've gone through several great options for airsoft guns, I thought it'd be a good idea to delve into a few of the reasons why people buy airsoft guns—and what you should be looking for. Let's start with a basic one:
What do people use airsoft guns for?
Well, the short answer is—whatever they want! However, there are two main camps, here: people use airsoft guns for fun, and people use airsoft guns as practice. Many airsoft guns are replicas of popular 'real' guns that allow the shooter to figure out the basic accessories and feel of the gun without having to invest in the real gun, which is usually more expensive (and in some cases, are banned regionally).
Sometimes, depending on the power of the airsoft gun, you'll be able to use it to shoot small game or even use it for basic home security.
However, at the beginning level, you'll most likely just be using this for fun! At the lower price points, you'll be more likely to get guns which are more just fun for running around in the backyard with, that'll have more of a feel of a paintball gun. They'll still be good for games of cops and robbers or for basic target practice!
Ultimately, this is a good thing—you have a low entry cost for an entry weapon, and as you become more of an enthusiast you have the opportunity to level up.
What are the different types of airsoft guns?
There are almost as many different types of airsoft guns as there are regular guns, as regular gun manufacturers can make an airsoft version of their gun with pretty low overhead (which is one reason that we've got the Glock featured above). However, here's a brief bulleted rundown of the different types of airsoft guns:
Assault rifles
Sniper rifles
Machine guns
Pistols
Shotguns
Another way to differentiate different types of airsoft guns isn't so much the model of a real gun that they're made to emulate, but the way that the airsoft gun is powered. There are three main ways to differentiate airsoft guns in this regard:
Spring Powered (most entry-level and common form of power; also the 'original' airsoft mechanism, wherein mechanical power via a cock and fire motion is required to trigger your gun)
Gas Powered (more powerful, although you do have to work with tanks of CO2 in order to make your gun work—but generally considered an upgrade over spring-powered mechanisms)
Automatic Electric (most popular, as the automatic feature is the one most popularly banned in real guns; this gives people a chance to try it out in a legal manner)
Ultimately, the type of gun you invest in will be based on what you want to do with it; for example, if you're just planning on playing with it in your backyard or with friends, you likely don't need more than a spring-powered gun. If, however, you're looking to compete or use this as a genuine practice weapon, you might need to go for one of the more higher powered options.
What should you know before you use an airsoft gun for the first time?
Before you use an airsoft gun for the first time, you need to think about how it's going to be used—and you need to think about safety. Especially if you're a parent buying an airsoft gun for your kid, there are some considerations you're going to want to take into account.
When you're buying an airsoft gun to use for playing with family and friends, you do need to enforce a strict code of conduct. These aren't 'real' guns in that they don't shoot fatal bullets—but they do launch projectiles with extreme force, and that can do harm. Therefore, you really do need to establish rules such as 'don't shoot each other in the face'—you could be looking at eye injuries and broken noses within minutes.
For this reason, it's generally advised to purchase significant protective gear, such as face masks and chest plates, before you start using your airsoft gun. If you're going out hunting, this definitely isn't a bad idea, either!
The other basic thing to know is FPS. FPS refers to 'feet per second', and is a handy measure for how fast a projectile is going to come launching out of your gun. If you don't remember anything else from this article and you need a basic way to remember what ramps up the force in a gun, remember this: the higher the FPS, the higher the power.
If you decide you want a little more target practice and need a comfortable place to lay down while shooting, consider some of these best shootings mats.
Best Beginner Airsoft Gun Brands
Here's a quick rundown of each of the brands we mentioned above:
G&G Armament has been around since 1986 and is known for building tools that are engineered to replicate the guns they're replicating with finesse and quality. They test each of their guns before they go on the market—these guys are all about the details.
Coming from overseas, FN stands for Fabrique Nationale d'Herstal; they make each of their guns in Belgium.
Known as an industrial innovator of airsoft guns, BBTac has been committed to providing quality guns for years. They pride themselves on focusing on their market and their process.
Benjamin Armada
This company licensed the first MLOK-equipped interface and build this gun around that! It's the first gun that closely mirrors what's available in AR—a huge selling point.
As the company whose name is synonymous with great guns, Glock has been around since 1963 and is now a worldwide business. Mr. Glock famously invented the modern pistol!
FAQ
Q: Can airsoft guns kill?
A: The short answer is—yes! Any gun can kill if you point it in the right direction and you give it the right amount of force. Airsoft guns are often purchased with the express intention of hunting smaller game, especially at the higher price point. The point is, you definitely want to treat these guns like weapons, not just toys—because, if you're not careful, you can definitely find yourself in an extremely regrettable situation.
Q: Which airsoft gun should I get?
A: This depends a lot on what you plan on doing with it! If you're just planning on playing with it in your backyard, you probably don't have to splurge on a top-end model. If you're buying it to practice shooting with an airsoft before you level up to the real thing, you should probably look at the reasons you'll be trying to shoot a real gun, and then get airsoft that most closely mirrors the gun you plan on purchasing later. Planning on using it for defense or for light hunting? You'll likely want to purchase higher-end airsoft with more power.
Q: How can I be safe with an airsoft gun?
A: The most fundamental rule with any gun, whether it's real or it's airsoft, is never to point it in a direction that you wouldn't want to shoot it in. The next best tip is to use them in open areas, to let everyone in the nearby vicinity know what you're doing, and to wear some kind of protective gear. Finally, make sure to use proper safety equipment like an airsoft mask.
Wrap Up
And that's that—all you need to know about the best starter airsoft guns on the market, as well as some details which might help you figure out the best gun to buy for your specific situation. I included some safety tips, too, because that's never a bad thing to focus on when you're discussing gun purchasing and usage!
Ultimately, my favorite pick for this category is never not going to be the Glock. It's a classic for a reason, and in this case, you can't beat the hand-feel and the licensing markings of this airsoft: it's a crazily good dupe for the real thing, and whether you plan on using it for fun or for practice, it's well-priced and well-enough powered to be good for both purposes.
When you're looking at airsoft guns to purchase, think about what you'll be using it for. Do you want to practice accuracy? Then maybe go for the airsoft rifle we linked above: that'll give you a great machine to improve your sighting and shooting techniques. Remember to always be safe when you're working with your new airsoft gun!