Airsoft is an excellent game to play in your backyard if you have a dedicated group of friends willing to shoot one another in the name of sport and camaraderie. Airsoft is similar to paintball but utilizes powered guns that fire plastic or metal pellets instead of hardened balls of colored paint. Before purchasing your airsoft pistol, you want to find a brand and model you enjoy. One of the best ways to go is to find a replica of a real weapon style such as a Glock, which incorporates realistic sites and grips. If you are interested in a high-quality airsoft Glock pistol, consider these top options.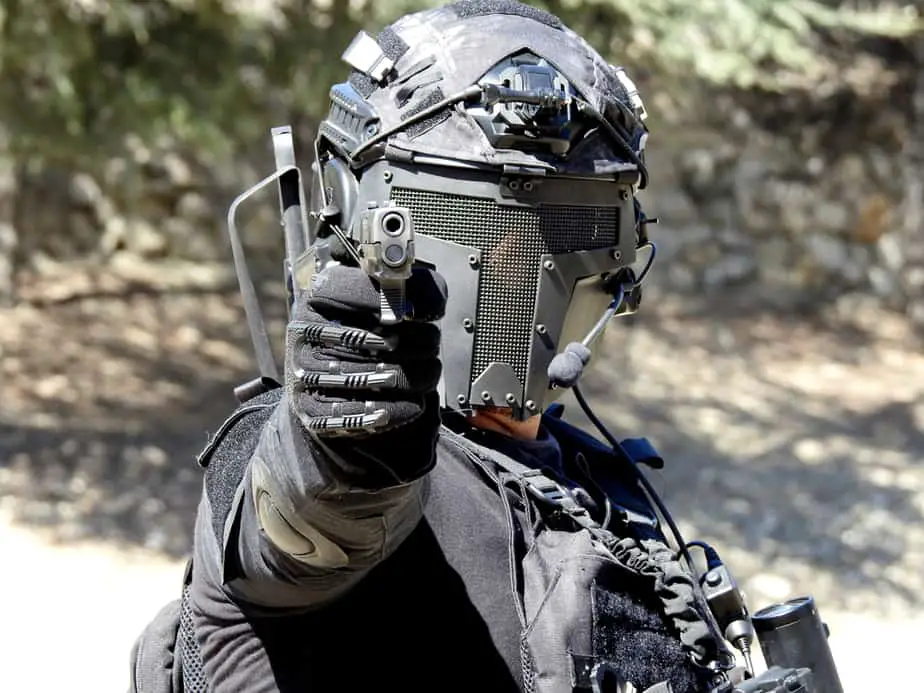 In a Hurry? Here's Our Top Picks…
1. Elite Force Glock 19 Gen3
GLOCK 19 Gen3 6mm BB Pistol Airsoft Gun, Standard
The GLOCK 19 is a compact version of the GLOCK 17; Both the grip and slide of the G19 are shorter, making for quick handling and easy carrying
Features the same ergonomics, function, and handling as the original; Powered by a 12-gram CO2 cartridge (CO2 NOT included)
Shooters will appreciate the familiar ergonomics, take-down procedure, metal slide, drop-free mag, and the smooth action
Shoots 6mm plastic airsoft BBs at up to 350 fps.Non blowback design.
Great for use in airsoft play, target shooting, and as a training tool
Last update on 2020-12-14 / Affiliate links / Images from Amazon Product Advertising API
Elite Force is one of the most well-known manufacturers of Glock because the company has access to legitimate blueprints and purchased some limited copyrights to create realistic models. The Glock 19 is a compact version of the original Glock 17. This airsoft model is designed with a shorter grip and slide that is easier for beginners to manage and is made from a combination of durable plastic polymers and reinforced steel.
One of the advantages of the Elite Force Glock 19 is the incorporation of realistic blowback. It is powered by a 12 gram compressed CO2 cartridge and has a metal slide, drop out magazine, and smooth reloading action. It holds around 11 pellets in the basic magazine and includes front and rear sites for better aiming. If you are a beginner and are still learning how to shoot accurately, this is a great gun for you.
This model shoots 6 mm plastic pellets and should not be used with metal ammo. It shoots at 350 FPS, which is a great mid-range speed for an airsoft pistol. It weighs less than 2 lbs., making it great for rapid movement, tactical maneuvers, and action-packed backyard shenanigans.
What We Liked
Affordable
Easy to reload
Accurate aim
Gas-powered blowback action
Lightweight and easy to aim
What We Didn't Like
Does not fit in actual Glock holsters
The safety is awkward to use
Check Price and Reviews on Amazon
---
2. Elite Force Glock 17 Gen4
Umarex Glock 17 Gen4 GBB Airsoft, Black
Black Glock 17 Gen4 airsoft pistols
Action: single/power source: gas airsoft
Power source: gas airsoft/caliber/ammo: 6mm BBs
Capacity: 20 rounds/Velocity (FPS): 290/sights: fixed/safety: trigger
Danger distance: 220Yds/weight: 1.45lbs/overall length: 9 inches/barrel length: 3.75 inches
Last update on 2020-12-11 / Affiliate links / Images from Amazon Product Advertising API
If you do not like the Elite Force Glock 19, there is the Glock 17. This is a more recent adaption by the manufacturer, which worked to emulate many of the popular features of the original Glock 17. This model incorporates a steady and solid grip made from reinforced polymers. Although plastic, the outer shell is durable and reliable in action-packed games.
This model once again shoots 6 mm plastic airsoft pellets and should not be used with metal ammo, although it can be tempting. The magazine is easy to drop out and reload and holds around 12 pellets. Plus, this is another gas-powered model. However, it uses environmentally friendly compressed carbon dioxide which is harvested and compressed in a safe manner. The canisters are easy to replace as well.
The Elite Force Glock 17 has a metal slide for realistic blowback action and shoots around 290 FPS, a realistic mid-range speed.
What We Liked
Affordable
Ergonomic
Easy to reload
Realistic blowback
Environmentally friendly construction
Includes a manufacturer warranty
What We Didn't Like
Does not work with real Glock holsters
The gas cartridge can leak if reloaded poorly
Check Price and Reviews on Amazon
---
3. Umarex Glock 19X GBB Blowback
Umarex Glock 19X GBB Blowback 6mm BB Pistol Airsoft Gun, Glock 19X Airsoft Gun (2276328)
Lightweight and rugged injection molded polymer frame with durable aluminum alloy slide; Fully licensed by GLOCK with complete rollmarks on the slide and logos molded to the frame
Features the same ergonomics, function, and handling as the original; Powered by economical airsoft green gas (green gas NOT included)
Features realistic blowback action, traditional GLOCK sights, and a GLOCK Gen4 style frame with finger grooves removed
Shoots 6mm plastic airsoft BBs at up to 300 fps
Great for use in airsoft play, target shooting, and as a training tool
Last update on 2020-12-10 / Affiliate links / Images from Amazon Product Advertising API
The Umarex Glock 19X GBB Blowback airsoft pistol is made by the parent company of Elite Force and includes many more realistic details from the original Glock 19. This model is fired with ergonomic compressed green gas cartridges which are unfortunately not included. It has realistic blowback action and real Glock sites to improve your aim whether you are a beginner or expert.
This Umarex Glock 19X GBB has a Gen. 4 style frame without finger grooves on the grip. Instead, the grip is raised and textured plastic to improve stability and accuracy while aiming. The weapon itself is primarily made with durable polymers but includes some significant metal features, including the slide to create the realistic blowback.
Like the other Glock models, this Umarex 19X fires 6 mm plastic pellets at a rate of 320 FPS, a great mid-range speed that is suitable for beginners and advanced players alike. The magazine holds 23 rounds and is easy to drop out and replace while in the midst of the action.
What We Liked
Ergonomic
Affordable
Modeled after the gen. 4 line
Stable grip
Easy to reload
Highly accurate
What We Didn't Like
Full magazines might jam at first
Primarily plastic instead of metal
Check Price and Reviews on Amazon
---
4. Umarex Glock 17 Blowback Airsoft Pistol
Last update on 2020-12-21 / Affiliate links / Images from Amazon Product Advertising API
Finally, one of the best Glock models is the Umarex Glock 17 Blowback Airsoft Pistol. This is one of the most realistic models and actually does not include the traditional orange ring meant to designate toys from real weapons. It has a full metal slide, a metal drop out magazine, and realistic controls with a functional two-step safety for improved protection and defense when not on the field.
The Umarex Glock 17 has an 18 shot magazine and fires .117 metal BBs instead of the traditional plastic pellets seen with replica Glocks. For this reason, it is suitable for advanced players and those who would like to improve their accuracy and aiming skills with a heavier weapon. There are fixed Glock-style sites and an extra under rail to attach accessories like different sites or some lights for improved customization.
Plus, this model is one of the only ones which actually fits into real Glock holsters, so you can use a standard model on the battlefield. It fires at 365 FPS, making it one of the fastest Glock models currently on the market.
What We Liked
Accurate
Realistic
Fires metal pellets
Fits into Glock holsters
Has authentic sites
Includes a rail for accessories
What We Didn't Like
Difficult for beginners to utilize
Check Price and Reviews on Amazon
---
Buying Guide
Although many of these airsoft pistols are modeled after real Glocks, there are still a couple of differences between each one. After all, their chief unifying feature is the traditional Glock barrel and sites, which are then incorporated with a variety of grips, weights, and even firing speeds.
So, if you are unsure of what to get, you will discover there are actually numerous differences between each of these models. These differences could be varying methods of firing, different shooting speeds, and a broad range of grips and central materials.
Before choosing the weapon for you, take a look at this buying guide to learn more about the most essential features.
Firing Mechanism
Airsoft pistols use a variety of firing mechanisms to generate the force and energy necessary to send your pellets firing at the opposing team. Most weapons will fall into one of three categories: powered by springs, compressed gas, or electricity stored in batteries. While you might not be able to access the springs in your airsoft pistol, you will need to regularly interact with gas canisters and batteries if you choose those methods above the others.
Springs
The most traditional type of airsoft pistol uses springs as the internal mechanism. These utilize mechanical power. The spring is cocked back and then launches a BB once you pull the trigger. As the simplest power, springs can be found in most affordable pistols and often require the least maintenance and skill to use. Naturally, there are some significant pros and cons.
Pros
Most affordable
Lightweight
Versatile in different weather
Easy to reload
Cons
Very little blowback
Often made with plastic
Rare semi or fully automatic firing
Must cock before firing
Gas
Unlike a spring airsoft pistol, one powered by a gas is utilizing the force of pressurized cylinders of substances like propane, methane, or CO2 to generate force. The cylinders of gas are typically inserted into a special chamber in the handle of the pistol, where the gas is then slowly released when you pull the trigger.
The pros and cons of this method are as follows.
Pros
High blowback
Realistic weight and feel
Can be semi or fully automatic
Great in most weather conditions
Require minimal reloading
Cons
Must carry multiple gas canisters during matches
The gas can freeze in cold climates
Noisier than other models
Must be cleaned and maintained like a life fire pistol
Electric
The final style of airsoft pistol is electric. An electric gun is one that is powered by batteries or a central rechargeable unit. These are popular among individuals who like a semi or fully automatic guns with a moderate amount of blowback. The one downside is you might need to bring extra batteries on the field.
Pros
Reasonable blowback
Often semi or fully automatic
Moderate weight
Affordable
Easy to charge
Cons
Can't be used in wet weather conditions
Might require charging on the field
Often made of breakable plastic
FPS
FPS is one of the most significant acronyms you will encounter when playing airsoft. It stands for "feet per second" and refers to how fast your weapon fires pellets. In general, the majority of Glock pistols will have a speed between 250 and 350 FPS, which is considered mid-range for airsoft weaponry.
If you are willing to spend extra money, you might be able to get a pistol that fires at 400 FPS. However, these are rare under the Glock name.
Comfort
If you are interested in an airsoft Glock pistol, you need to consider what makes you comfortable. While you may be a fan of the aesthetics of the Glock, you want to make sure you are able to grip the pistol correctly and fire without pain or discomfort. After all, most airsoft Glocks are designed to replicate the blowback of the original models, and this can be painful if you are unfamiliar with the recoil of actual guns.
Besides the comfort of the blowback, make sure the grip feels comfortable in your hands and is not too large or too small. This makes a big difference in terms of your accuracy and can affect how much you enjoy the game.
What Is a Glock?
If you are specifically on the market for an airsoft Glock, then chances are you already know a fair amount about this model. However, there are quite a few people out there who might not see the benefits of investing in a replica of a top-notch weapon.
Glock is a weapons manufacturer based in Austria which produces many well-known European handguns. They began making their signature line in 1982 and include some crucial features like short recoil, a tilting barrel, and comfortable grips that make their handguns stand out when compared to the competition.
Since Umarex and Elite Force managed to obtain the right to make models of Glocks, they were able to copy the designs down to the most minute of details, making these replicas some of the best on the market. This also means the Umarex and Elite Force, which are branches of the same large manufacturing conglomerate, are the best brands to purchase from when finding this type of gun on the market.
Best Airsoft Brands
It can be difficult to locate a trustworthy airsoft brand when shopping online, so this guide does the hard work for you. If you want to find a top-notch Glock replica that you can use in your backyard, there are two central brands to trust: Umarex and Elite Force.
Umarex
Own the Yard recommends Umarex a lot, and with good reason. The full name of this manufacturer is Umarex Sportwaffen GmbH & Co. It is a German-based company that focuses on the creation and development of sports weaponry like airsoft and paintball guns.
Umarex produces high-quality weapons and is affiliated with Glock. They have access to the original blueprints and can sell their airsoft pistols in Europe and the United States. The one downside you might encounter is that Umarex prefers to use high-quality plastic polymers instead of steel. While plastic can be durable, it is still more likely to be broken than top-notch metal.
Elite Force
Elite Force is an offshoot of Umarex and is based in the United States rather than Europe. This is ideal for American players, as the airsoft rules do vary across continents. Elite Force is one of the best manufacturers of Glocks because they have access to the original blueprints and are able to make some of the most realistic models currently on the market. Similar to Umarex, they also have great customer service.
FAQs
Q: Can I modify my airsoft pistol?
A: In general, you will be unable to make major modifications to your airsoft pistol. You can, however, make minor adjustments like changing the sites or adding accessories like lights.
Q: Can I remove the orange ring from my airsoft pistol?
A: Do NOT remove the ring from your airsoft pistol. While you might find it annoying, the orange ring is mandatory in the United States because it denotes the gun as a toy and not a real weapon. Removing it can result in you incurring large fines or can get you in trouble with the law.
Q: Can I use different sized BBs in my pistol?
A: It is common for people to try to use a variety of ammo sizes in their airsoft weapons, but this is a bad idea. Unfortunately, the majority of pistols are designed to accommodate only a couple of ammo sizes. Trying to cram ammo that is too large into your weapon can damage the magazine, barrel, and other pieces of the weapon.
If you want to experiment with a different ammo size, consider borrowing a weapon from a friend or investing in more than one gun so you can experience the difference in weight and accuracy.
Q: Are airsoft pistols accurate?
A: In general, airsoft pistols are the most accurate style of an airsoft weapon. These guns are smaller, more lightweight, and easier for beginner players to manage.
If you want to improve the accuracy of your game, consider investing in heavier ammo and spending some time practicing at a range before joining a legitimate match. You and your friends can even get a target for your backyard and take turns trying to take the best shot while you become used to your airsoft Glock.
Wrap-Up
Out of all of these models, the best one is the Umarex Glock 17 Blowback Airsoft Pistol. It is the most realistic, is the best to load and fire, and is also the most accurate. Plus, it fires metal pellets and is more durable than other options on the market.
Of course, all of the other Glocks on this list are still top-notch and would make great additions to any airsoft game.
If you intend to play, it is a good idea to invest in other equipment like a helmet to protect yourself. While you might play other active sports like soccer or pickleball without safety equipment, you can be seriously injured by airsoft pellets. Thus, you should protect your cranium while still having fun on the field.
Now get out there and own that yard!