Airsoft is an enjoyable backyard game for many people because you get to enjoy the thrill of combat with a reduced risk of injury. Central to the game is having the right weapon for you. The majority of players use the basic pistol because it is easy to control, has reasonable accuracy, and can also be carried as a secondary weapon if you want to experiment with a larger gun like a rifle. To help you find the right CO2 airsoft pistol for you, take a look at our top picks. These models are powered by compressed gas and are great for beginners and advanced players alike.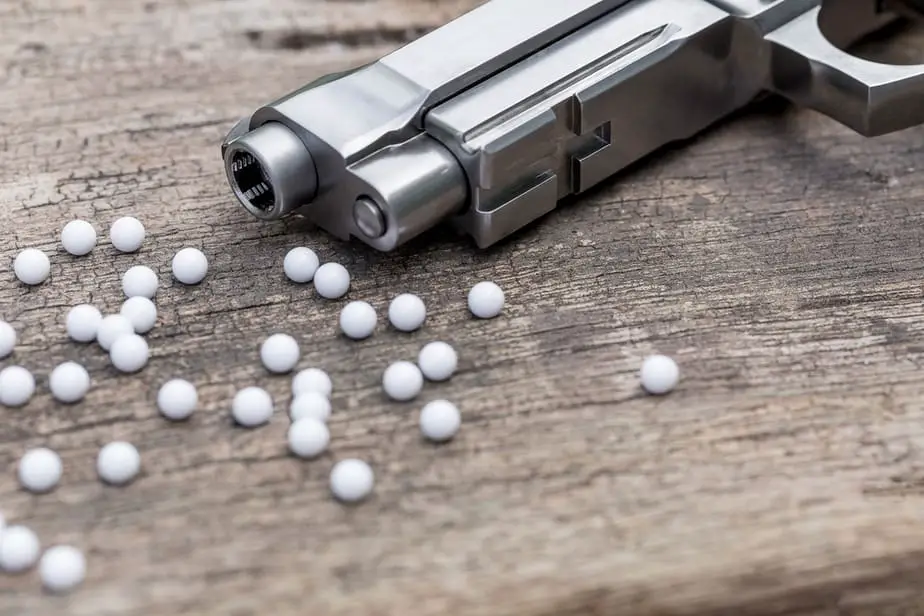 In a Hurry? Here's Our Top Picks…
1. WG U.S. Combat 1911 CO2 Airsoft Pistol
Last update on 2023-11-10 / Affiliate links / Images from Amazon Product Advertising API
The 1911 is one of the most popular pistol models in the United States, so it should come as no surprise that there are multiple airsoft counterparts of it. One of the most reliable and affordable is the WG U.S. Combat 1911, which is made from a combination of plastic and metal. It has a metal slide and ABS frame which produces a realistic blowback.
There is an adjustable rear sight for better aiming and accuracy. Functional safety is included, making it great for someone who is just learning airsoft. This model weighs 2 lbs. and has a working hammer in addition to realistic trigger sensitivity and a rail system.
What We Liked
Realistic blowback
Realistic sites
Functioning safety and hammer
Realistic weight
What We Didn't Like
The magazine is a little hard to remove
Check Price and Reviews on Amazon
---
2. Umarex Walther P99 Blowback
Sale
ELITE Walther P99 Blowback CO2 Powered 6mm BB Pistol Airsoft Gun, Walther P99 Airsoft Gun
Metal slide blows back creating a realistic kick
Built-in hop-up system
Shoots 6mm plastic airsoft BBs at up to 320 fps
Includes 15-round drop out mag
Powered by a 12-gram CO2 cartridge housed in the grip (CO2 NOT included. To ensure a proper seal and for best performance, Umarex-brand CO2 is recommended.); Compatible with spare magazine part number: 2262024
Last update on 2023-11-10 / Affiliate links / Images from Amazon Product Advertising API
For individuals seeking an airsoft pistol modeled after a real weapon, the Umarex Walther P99 Blowback is a great choice. It is made from a combination of plastic polymers and metal and incorporates many of the most beloved features, including realistic blowback and a metal slide which kicks.
This Umarex Walther P99 has an easy to remove and load magazine which holds 15 BBs. The CO2 cartridge is housed in the grip and is also simple to take out and replace as needed. The weapon shoots 6 mm. BBs at a rate of 320 FPS. 320 FPS is a decent speed, although not the fastest on the market. However, the gun is highly accurate and easy to use for beginners in addition to having a professional appearance.
The full length of this airsoft pistol is 10.9 in. and it weighs 1.6 lbs., which is easy to carry for players of all ages.
What We Liked
Realistic appearance
Realistic blowback and kick
Great accuracy
Easy to reload and replace cartridges
What We Didn't Like
A small pin near the top of the frame has a tendency to loosen and pop free
The seal on the magazine wears down quickly
Check Price and Reviews on Amazon
---
3. Daisy 985415-242 Hunting Air Pistol
Sale
Daisy Powerline 415 Pistol Air Gun Kit
177 cal. BB Pistol with a smooth bore steel barrel
21-Shot built-in BB magazine
500 fps max velocity
CO2 powered semi-automatic
Kit includes shooting glasses, targets, 350 ct. BB tube and three CO2 cylinders
Last update on 2023-11-10 / Affiliate links / Images from Amazon Product Advertising API
The Daisy 985415-242 Hunting Air Pistol is an excellent choice for both beginners and advanced players alike. This model is designed for intensive use and can withstand a lot of punishment. It shoots at a maximum speed of 500 FPS, one of the highest rates seen in airsoft weaponry. It utilizes .177 caliber BBs and holds 12 grams of compressed CO2 in its canisters. Unlike the other airsoft pistols on this list, the Daisy 985415-242 comes with three gas canisters.
In addition to these stats, the Daisy 985415-242 is semi-automatic and has a magazine capable of holding 21 BBs. This is an impressive number since the average pistol magazine is only designed for 12 or 13. Ordering this pistol comes with the addition of 350 BBs, several paper targets, and instructions on how to use the weapon and replace the magazine and gas canisters.
The full length of the gun is 8.6 in. It is made from a combination of dense polymers and metal and has a bore steel barrel. There are fiber optic front sites and fixed rear sites along with a manual trigger block.
Overall, this is one of the best backyard airsoft pistols and is also highly accurate, making it great for practice, as a primary weapon, or even as a sidearm in regular matches.
What We Liked
High capacity magazine
Realistic blowback
Steel barrel
Front and rear sites
Includes multiple CO2 canisters
Highly accurate
What We Didn't Like
The canister seal can come loose
Much louder than average
Check Price and Reviews on Amazon
---
4. Bear River Boa BB Pistol
Bear River Boa BB Gun, CO2 Powered Semi Auto Air Gun, BB Pistol, Guns for Adults, BB Guns, Metal Magazine, 177 Caliber Pistols, 4.5mm Ammo, 410 FPS, Safety Switch
FEEL THE POWER OF A CO2 POWERED BB GUN: Don't settle for a spring action air gun when you can have power in your hands with a CO2 BB pellet gun pistol.
LONG RANGE FAST: Get your ammo to your target faster with 410 FPS. CO2 powered air pistols deliver a much stronger blast of air to accelerate your BB pellets even further, as opposed to other low powered air guns.
FAST ACTION: With flawless semi-automatic action, this beauty of a BB gun will fire pistols as fast as you can pull that trigger, never jams, and keeps you shooting all day and beyond.
20-ROUND MAGAZINE: With a 20 round metal magazine, you'll never get caught empty handed. The high capacity magazine of this air gun will allow you to load more bb gun pistols and shoot all day long without any interruption.
CUSTOMIZE YOUR BB GUN: The picatinny rail under the barrel of the bb pistol gives you the option to add gun accessories such as flashlights or lasers to light up your target.
Last update on 2023-11-10 / Affiliate links / Images from Amazon Product Advertising API
The Bear River Boa BB Pistol is one of the most powerful CO2 airsoft pistols currently on the market. When it fires, it clocks in at 417 FPS and has a flawless semi-automatic system to increase the rate of fire. Its magazine is also one of the most impressive, holding a total of 20 pellets. The magazine is easy to remove and refill, which is great for beginners or someone who knows they intend to shoot from the hip a lot during play.
The Bear River Boa has a bottom picatinny rail to mount accessories and a molded grip. Rear iron sites provide better accuracy for the user, and there is an effective safety switch on the side to stop pellets from firing at the wrong times. The gun weighs less than a pound and is made from a combination of reinforced polymers and metal.
This pistol does have some blowback and is one of the most accurate for the price.
What We Liked
Realistic blowback
Room for accessories like laser sites
High FPS for an airsoft pistol
The large magazine for BBs
What We Didn't Like
Reduced accuracy
Sluggish trigger
Check Price and Reviews on Amazon
---
5. Taurus Soft Air PT92 CO2 Airsoft Pistol
Last update on 2023-11-10 / Affiliate links / Images from Amazon Product Advertising API
The Taurus Soft Air PT92 is an airsoft pistol based off of a real model and an excellent choice for someone seeking a lightweight, practical pistol. It weighs slightly more than a pound and features a 13 round magazine. It has excellent stats, being able to fire at 377 FPS with front and rear sites for accuracy and a removable lower rail. The lower rail is a great place for accessories.
This particular CO2 model is non-blowback, meaning it does not have the recoil seen in other gas-powered models. It is affordable, often costing less than $30 and coming with a filled CO2 cartridge. For better safety, there is a fully functioning thumb safety.
The Taurus Soft Air PT92 uses .20G BBs and is made from heavyweight polymer plastic. This means it is simple and easy to carry but could shatter if it suffers a hard impact.
What We Liked
No blowback
Excellent FPS for a CO2 pistol
Front and rear sites
Great for beginners
What We Didn't Like
It is difficult to load because the magazine sometimes clicks but does not lock
Sometimes jams when firing
Check Price and Reviews on Amazon
---
Buying Guide
You might think all airsoft pistols are the same, but nothing could be further from the truth. Even though this guide focuses on CO2 models, there is still some stats that can vary significantly between guns. Before choosing any weapon, consider the following factors.
It is best to go shopping with a model in mind before investing in any single gun.
What You Need to Know about CO2 Models
First, you need to understand what a CO2 airsoft pistol is. These weapons use a propulsion system powered by compressed carbon dioxide canisters. The pressure of the released gas can sound pellets astonishing speeds and makes for a fast weapon for close combat.
The downside to a CO2 pistol is you need to monitor how much gas remains in your weapon during play. If you allow the canister to empty, you will be unable to shoot and can be taken out of the match. Replenishing the gas can be difficult. You will either need to find a location that allows you to refill or you will need to purchase brand new canisters.
Here are some other pros and cons to this style of weaponry:
Pros
Semi-automatic firing
Realistic and versatile
Realistic blowback
Small size
More affordable than automatic electric weapons
More reliable than spring-based weapons
Cons
The gas can freeze and malfunction
CO2 refills can be expensive
Multiple canisters are required for long matches
An escaped gas cloud can alert other players to your location
As you can see, CO2 airsoft pistols are a unique breed. Once you know how to play with one, you might never go back to traditional springs or fancy electric guns.
Cost
A common concern for players is just how much money they need to spend to get a high-quality weapon. Pistols are some of the least expensive airsoft guns, making them a popular choice among beginners and those seeking a backup or sidearm.
A cheap pistol can cost less than $50 and be serviceable. A medium-range model might cost $100, and some of the most expensive options can be $200 or more. When you pay a higher price, you often get a pistol that is meant to be more durable and long-lasting. Most of the money is spent on getting high-quality materials that will be able to withstand drops or accidentally being knocked against the terrain.
However, if you are just starting out and want something affordable, stick to a pistol under $50. Your wallet will thank you and you'll get some great games for cheap.
Capacity
The one downside to playing airsoft with a pistol is the low capacity magazines. You will most likely only have 12 or 13 prepared pellets, so you'll always want to bring extras for rapid reloading. Occasionally you will come across a pistol with an upgrade and high capacity magazine, but these will cost more.
FPS
FPS is the most important acronym you need. It means "feet per second."
Your FPS determines how fast your pistol is able to launch pellets at the enemy, and can also play a role in how much ground is covered per shot. Most pistols will be able to shoot at least 200 FPS. More expensive models with more CO2 pressure can sometimes reach speeds of 300 FPS, but these are rare.
Appearance
While the appearance of your pistol won't affect how well you play, it is often the key deciding factor in choosing a weapon. Some people believe the look of their pistol defines them, while others just want to have the coolest weapon possible while playing with their friends.
When it comes to CO2 airsoft pistols, there is a limited number of appearances to choose from. The key deciding factor will be whether or not you want a pistol that looks like a real gun or if you are more comfortable with something cartoonish.
It should be noted that the more realistic your pistol, the more careful you must be when carrying the weapon in public. Not all guns will have the obligatory orange ring on the barrel alerting others to the fake, and the last thing you want is to be mistaken for an active shooter.
So, choose the appearance you prefer but exercise caution.
Comfort
One final factor that can affect your pistol decision is how comfortable the weapon feels in your hands. Most pistols are intended to be lightweight and should weigh no more than a pound. If you want a more realistic gun, though, you will want a heavier weapon made of metal. There are no particular advantages to this, but it could make you more comfortable on the field.
Best Airsoft Brands
Here are 2 of the most popular airsoft brands.
The full name of the manufacturer is Umarex Sportwaffen GmbH & Co. KG and they are a German-based creator of a broad range of sports weaponry, including guns for airsoft and paintball. Umarex creates weapons modeled after real pistols but also makes a few unique models specifically for airsoft. Overall, their designs focus on comfort and functionality, making them great for beginners.
You may know Sig Sauer of a manufacturer of real firearms. However, this brand enjoys making airsoft replicas of their popular firearm models. They apply the same craftsmanship and attention to detail to their airsoft models.
FAQs
Q: Can I modify my airsoft pistol?
A: The majority of basic airsoft pistols will come with the ability to make minor modifications such as adding or changing out the rails. However, because pistols are small, there are few other changes that can be made without affecting the function of the weapon.
Q: Can I remove the orange ring from my airsoft pistol?
A: This is not recommended. The orange ring is considered mandatory in the United States because it denotes the gun as a toy and not a real weapon. Removing it can incur fines in some counties and could get you mistaken for an actual shooter. Exercise caution when carrying your weapon off of the field and practice good safety.
Q: Can I use different sized BBs in my pistol?
A: The majority of airsoft guns are designed to only be compatible with one or two BB sizes. It is unwise to use ammo that is too large or too small as it will not carry the proper amount of force and could jam or break the gun.
If you are trying to improve your accuracy and would like to use heavier ammo, switch to a different pistol or weapon style instead of trying to modify your current gun.
Q: Are airsoft pistols accurate?
A: If you are just starting out in the sport, a pistol is one of the most accurate weapons. It is easier for the average person to aim and often has less recoil and blowback, meaning you can maintain your grip and will be subjected to less force.
If you are uncomfortable using your gun, try practicing at a range before becoming involved in a match. This way, you gain experience with your weapon and can aim and shoot more effectively.
Wrap-Up
Out of all of these models, the personal favorite is the Daisy 985415-242 Hunting Air Pistol. It is a great combination of realistic qualities and simplified warfare which shoots far, has great accuracy, and includes some necessary tools for beginners.
However, all of the other pistols on this list are also excellent choices. Just remember to wear the proper protection like a helmet and stay away from locations where other people might be enjoying games like soccer. The last thing you want is to accidentally catch someone in the crossfire while having fun!