Finding the best airsoft shotgun for accuracy, realism, and that fits within your budget can seem like a real challenge. Luckily, in this article, we'll be reviewing five of the top options for airsoft shotguns and providing you with a helpful buying guide to set you on your way.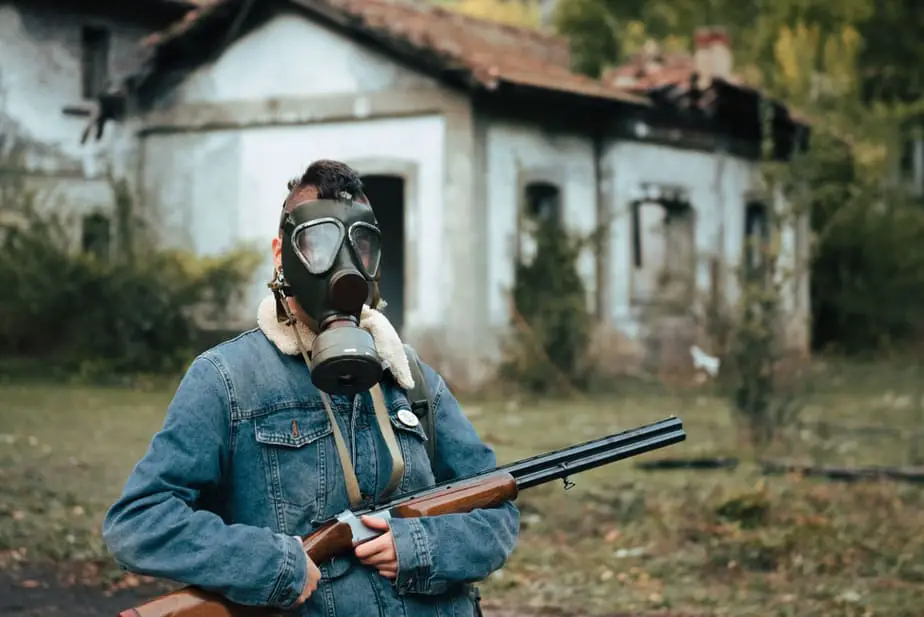 Without any further ado, let's jump right in!
In a Hurry? Here's Our Top Picks…
| Image | Title | Price | Buy |
| --- | --- | --- | --- |
| | High Velocity 400 FPS Sawed Off Pump Shotgun P1799 Spring Power Airsoft Gun | | CHECK ON AMAZON |
| Top | Double Eagles m58b Metal Tactical Shotgun Airsoft Gun 350-fps(Airsoft Gun) | | CHECK ON AMAZON |
| | Airsoft M500 Tactical Full Stock Pump Action Spring Shotgun | | CHECK ON AMAZON |
Product prices and availability are accurate as of the date/time indicated and are subject to change. Any price and availability information displayed on [relevant Amazon Site(s), as applicable] at the time of purchase will apply to the purchase of this product.
Prices pulled from the Amazon Product Advertising API on:
1. DE M58A
Last update on 2023-11-01 / Affiliate links / Images from Amazon Product Advertising API
The DE M58A provides a full tactical look at a ridiculously low price. The folks at Double Eagle managed to put a gun on the market for such a low price without skipping out on any of the high-quality features they're so known for.
This pump-action shotgun has all-metal internals that almost guarantees that you won't experience technical difficulties or jams. It also comes with a fully adjustable hop-up so you can make this gun whatever you want it to be.
It shoots up to 380 feet-per-second. Double Eagle also doesn't leave you lacking the type of power that can be the difference in winning and losing in your next match.
This is a great choice regardless of your experience level in airsoft. Both seasoned players and newbies love the M500.
Things we liked:
​Extremely affordable for a high-quality shotgun quality (Best Bang for the Buck)
​Includes speedloader (quicker reload)
​Great Reliability and FPS
Things we didn't like:
​Low Magazine Capacity
​Only supports single shot
Check Price and Reviews on Amazon
---
2. AGM M500
Last update on 2023-11-01 / Affiliate links / Images from Amazon Product Advertising API
The 4 x 30 round magazines make sure that you will not waste any time hiding to reload when you're in the middle of a heated match. The fully adjustable hop-up and 350 FPS (although some users indicate they've seen it go up to 390 FPS) capabilities make this a bargain buy for a gun that will get the job done in the middle of a competition.
The easy pump action boasts an incredible accuracy level which will leave you able to perform well in a competition without having to spend a small fortune to be successful producing one round per pump.
In addition to the above perks, the M500 uses an external shell holder that mounts perfectly onto the stock. This allows you to free up room in your gear belt. It is a lightweight yet highly durable shotgun and that is why it is a solid choice despite your experience level.
Things we liked:
​Very Affordable Option
Decent fps
Easy to use pump action
Things we didn't like:
​Very popular – (sometimes you may need to search multiple stores to find it in stock)
​Only supports single shot
Check Price and Reviews on Amazon
---
3. UTG Sport Multi-Burst M4/90 Combat Shotgun
No products found.
This combat airsoft shotgun is able to fire off 3 BBs in simultaneous fashion and it can do this with good force and solid accuracy. There's an elevation/windage adjustable ghost ring sight which is great for quick aiming in CQB/combat applications. There's a loaded telescopic stock that's twistable. An airsoft shotgun grip, front/rear sights, and tactical rail that are low profile.
It also enables users to pump and fire complete combat loads to execute serious missions or airsoft skirmishes. The gun is made using polymer construction that's high quality combined with a Matte Black non-glare finish.
This M4/90 has a large 10 round 30 capacity magazine/cartridge, though watch out, you'll get through it quickly.
Things we liked:
Triple the Firing Fun-3 BBs Simultaneously with Pinpoint Accuracy and Great Power
Elevation/Windage Adjustable Ghost Ring Sight to guarantee Rapid Aiming under Combat/CQB Applications
Fully Loaded with Airsoft shotgun Grip, Low Profile Tactical Rail, Front/Rear Sights and Twistable Telescopic Stock
Fire and Pump Full Power Combat Loads to Carry out Airsoft Skirmish or Critical Missions
Muscle Spring Action with Most Dominant Force, Matte Black Non-glare Finish with High-quality Polymer construction with.
Things we didn't like:
Check Price and Reviews on Amazon
---
4. Double Eagle M58B Metal Tactical Airsoft Shotgun 350- FPS
Last update on 2023-11-01 / Affiliate links / Images from Amazon Product Advertising API
This is a great value gun and an ideal sidearm for close-quarter combat. Pump and spring-loaded the Double Eagle M58B packs in a punch. It comes with a muzzle velocity between 340 and 400fps. For accuracy the hop-up can be adjusted, so with a little practice, you'll get a decent shot out of this airsoft gun.
It's surprisingly durable and has a good range. One of the disadvantages is with a marginally small magazine capacity, about 14 rounds, the shotgun frequently needs refilling. Some of the features you can expect to get are rear sling swivels, a full stock as well as a replica heat shield.
Things we liked:
Quality durable build, offering a good bang for your buck.
With 0.12g BBs a velocity of up to 400fps
Good sidearm at 1:1 realistic scale
Things we didn't like:
Small magazine size, likely to need a spare
It's good to have a sling, though it's not the highest quality
Check Price and Reviews on Amazon
---
5. BBTac Airsoft Pump Action Shotgun 400 fps
Last update on 2023-11-01 / Affiliate links / Images from Amazon Product Advertising API
The BBTac Shotgun is a solid pump action option with 375-400 FPS capability. The look is very realistic and it's created using mostly metal alloy as well as hard ABS plastic.
Because of this, it has a proper weighty feel to it. They come with a free spring as well as a free speed loader. It has a 14 round magazine capacity.
It has a very nice airsoft shotgun grip and it doesn't take too much to cock it back either, even though it has a high FPS. Accuracy can easily be improved with an adjustable hop-up.
Things we liked:
Good gun weight with Good quality strong builds.
Very powerful and accurate.
All metal gun frame.
0.25g BBs can be used for damage/improved accuracy.
Things we didn't like:
Spare or additional would benefit because the magazine capacity is 14 rounds.
A replacement BB speed loader would benefit.
Check Price and Reviews on Amazon
---
Airsoft Shotgun Education
It can be a little disorienting finding the product that is right for you if you're new to airsoft. The next few sections are intended to help guide you towards finding the airsoft shotgun that's best for you.
Types of Guns
Spring
They are cocked by hand and fire one shot at a time. They employ a few moving parts which make them very durable and dependable. You have to make every shot count because the downside has a slow rate of fire.
These guns are generally the least expensive, thus this is what most airsoft players begin with. Many high power airsoft shotguns are also spring powered. They are operated by a bolt action lever that simultaneously charges the spring and loads the next BB.
They shoot as high as 450 FPS or higher using 0.20g BBs. At those velocities, heavier BBs are usually recommended to maintain accuracy.
Electric (AEG)
They are battery powered and usually feature both semi and full-auto functions. An electric motor turns a gear in a gearbox which in turn powers the firing mechanism. Auto mode AEG's will pump out BBs for as long as you hold down the trigger when the battery is fully charged.
In semi-auto mode, the gun fires one shot each time you press the trigger. Cocking is not required. Most airsoft rifles are AEG's. They refer to airsoft guns with a full metal gearbox. Low powered electric guns that use plastic gears are usually known as LPEGS.
Gas
The most popular gas for airsoft shotguns is green gas and CO2. Green gas is the form of compressed propane gas that is injected in the shotgun. When you pull the trigger a burst of gas is released and is used to propel each shot. Most green gas is semi-auto only but a few come in a full/semi-auto version as well.
CO2 airsoft shotguns operate similarly, but they instead use cartridges of compressed CO2. Blowback is a feature found in most higher-end gas airsoft shotguns.
They have a slide that moves back and forth when the gun is fired, just like a real semi-automatic airsoft shotgun. The blowback action adds a small amount of recoil which increases the realism of these airsoft guns.
Terms You Should Know
Airsoft
It is a type of gun that fires 6mm plastic BBs. It's also referred to as "soft air" guns. Most airsoft shotguns are made to look like real firearms and are usually used for training. Airsoft games are held all over the world and the sport is becoming more and more popular.
BBs
BBs are used as ammunition for airsoft guns and are usually 6 mm. They come in several different grades which are separated by weight.0.12gBBs weigh 0.12g each, 0.20g BBs weigh 0.20g each, and so on. For more powerful guns heavier BBs are used.
Blow Back
This feature is in many airsoft shotguns. It ensures the slide will shoot back whenever a shot is you fire a shot. The whole point is to add realism allowing you to experience the "kick" that is similar to what you would feel if fired a real shotgun.
High Capacity (aka Hi-Cap) Magazine
It's a type of magazine for airsoft guns that holds a large number of BBs. A small wheel at the bottom of the magazine is turned to force more BBs into the firing mechanism of the airsoft shotgun.
It allows the user to carry many rounds with just a few magazines. The disadvantage is the magazine has to be wound up after 30-70 shots.
CQB
It is used to refer to "Close Quarters Battle". This is a type of battle where the participants are fighting at a very close range. In airsoft, it's played using airsoft shotguns which are made for close quarter airsoft games. They have a high rate of fire and are shorter to allow better maneuverability. Most CQB fields enforce a limit of around 350 FPS with 0.20g BBs, so if you plan on playing CQB it is an important factor to keep in mind.
Gear Box
The sequence of gears connected to the motor of an electric airsoft gun takes the rotational energy provided by the motor and transfers it to the spring mechanism which fires the BBs. It's an integral part of every AEG, the higher quality the gearbox the higher the quality gun.
Hop-Up
It's a feature in most airsoft guns which allows the user to adjust the backspin put on the BB as it exits the rifle. The backspin allows the BBs to fly straighter and farther.
FPS
It stands for "Feet per Second" and is the velocity at which BBs exit the gun. The FPS refers to the power of airsoft shotguns. The higher the FPS the more energy the BB gets as it exits the barrel.
FPS is measured with a 0.20gBBs. It makes it easier to compare the FPS of different types of guns. Heavier BBs lower the FPS but tend to increase accuracy.
Airsoft shotgun Grip
Refers to any gun which has an airsoft shotgun-style grip.
Pump-Action
It refers to a shotgun-style airsoft gun in which the handgrip is pumped back and forth to load the spring and ready the gun for firing. It needs to be pumped before each shot.
R.I.S
Refers to Rail Integration System. Airsoft shotguns guns with R.I.S will have a system of rails that will be mounted the front of the gun. They allow the airsoft gun to be customized with a variety of different accessories. They include sights, scopes, lasers, grenade launchers, and special grips.
What Is The Right Gun For You?
When making decision personal preference should play a big role. Since most guns are, for the most part, very similar internally, you should pick a gun that you think looks cool and fits the purpose for which you're buying it. There are many available shotguns in different levels of quality and styles to choose from.
Beginners
You should pay attention to both price and quality. It may not be wise to get the most expensive airsoft shotgun if you are new or just starting.
Some are quite expensive and if you find that airsoft is not just for you then you will probably end up being disappointed with your purchase. You also don't want to just buy the cheapest thing you can find.
Intermediate Players
If you have played airsoft several times, and maybe own one gun or a couple of airsoft guns, you're probably starting to consider getting a gun with a more kick. You should look for features such as a high capacity magazine and an FPS rating of 300 or higher.
You should also consider getting an extra magazine or two. As far as rifles go you will want one that has a metal gearbox and an AEG. If you are thinking of an airsoft shotgun we recommend getting a non-blowback green gas airsoft shotgun. It shoots hard and is relatively inexpensive!
Experienced Players
Those who have been playing for a while have had sufficient experience to know what features they need and the type of shotgun they are looking for. If you find it a challenge finding what you need on the internet, use our above guide to help you with the process.
Airsoft Shotgun Best 3 Brands
Evike
This is the company in charge of manufacturing the Double Eagle M58A and M58B. Evike has been known to offer its consumers the perfect experience.
To achieve their vision, they have vowed to be the most respected and successful business in America. Evike is the leader in the paintball and airsoft smoke grenade industry due to their hard work, willingness to invest back into the industry, vision, integrity, thirst for perfection, and dedication to their customers.
For more than ten years, the company has been the global developer, innovator, leading distributor, and most trusted brand of airsoft equipment. They are also the exclusive maker, service center, and representation of many of the premier airsoft brands in commercial, training, and sports markets.
At Evike's core, a personal touch, safety, innovation, and passion for quality in customer support makes them second to none.
The company has an international array of strategic partners that spans the globe. Countries included are South America, Europe, Japan, Taiwan, China, Hong Kong, and the United States. They are proud to have the largest showroom, airsoft convention, warehouse, high-end airsoft distribution network, and largest staff.
Leapers (UTG)
Headquartered in Michigan, United States, Leapers Inc. is the company responsible for the manufacture of UTG airsoft shotguns. It has been in the business of supplying outdoor, hunting, and shooting gear since 1992.
They have set-up extremely high standards in all their business operations. The company's goal is to provide a total solution for any products they offer.
With this in mind, Leapers pay close attention to customer feedback and industry trends. Additionally, they focus on making the best niche products for outdoor, shooting, and hunting enthusiasts.
In 2009, they made an important decision to begin their manufacturing operation dubbed "Made-In-the-USA". With a full commitment to serve more clients in the market using 922R compliant products, they have started making unique polymer stocks and mounting systems. This is done under the UTG PRO brand in Michigan.
By 2011, with great determination and excitement, Leapers Inc. was able to complete its expansion into a 40,000 square feet facility within 14 days. They have vowed to continue their vision for the U.S. made products. They also vow to offer their customers the highest value and quality products at the most market competitive rates.
BBTac
It provides one of the highest quality airsoft accessories and BBs in the market. This is why BBTac is also good at manufacturing airsoft shotguns. They continue to bring in high-quality products with innovation.
BBTac is a process-centered, market-focused organization that delivers and develops innovative solutions and products to its customers. This is why they consistently outperform their peers.
Airsoft Shotgun FAQs
Q: What do GBB and EBB mean?
A: It is when air is pushed and expanded to push the bullet forward while the bolt was pushed to the rear due to triggering. As the bolt travels to the rear the empty cartridge is ejected. For the bolt to be in the original position the compressed action springs and drives it.
GBB: Use compressed gas to simulate the blowback action.
EBB: Use electricity to simulate the blowback action.
Q: What does fully Automatic mean?
A: Meaning that the trigger is depressed and held the gun will keep firing until the trigger releases.
Q: What does Semi-Auto mean?
A: Semi-Automatic. Meaning that the trigger pulls the gun to fire once.
Q: What do the numbers mean on the BB's?
A: The weight of the BBs is the numbers in grams. It affects the trajectory and how much energy is needed to fire the BBs out of the barrel of the BBs.
The manufactory of each product depends on the recommended BB's weight.
Q: What is a Hi-Cap magazine?
A: From 10 to 30 BBs is the holding of a standard magazine. Hi-cap which are high capacity magazines holds about 100 to 600 rounds BBs.
To draw the BBs up into the "ready" tube by rotating manually, these magazines usually have a wheel at the bottom. When fired BBs in the ready tube are drawn into the gun. For BBs to be fired, the user will need to spin the wheel occasionally making the BBs inside to bounce around thus the Hi-cap will make more noise. During a game, you may need 2 or 3 BBs because standard magazines hold much less but they don't make noise. The hi-cap magazines are a better choice for the cost or airsoft players who do not like reloading.
Q: What are "EBB"/"AEG"/"GBB"/"AEP" etc.?
EBB=Electric Blowback Guns
AEG=Automatic Electric Guns (Electric Powered Airsoft Guns)
GBB=Gas Blowback Guns
AEP=Automatic Electric Airsoft shotguns
EBR=Enhanced Battle Rifle
USP=Universal Self-loading Airsoft shotgun
SMG=Submachine Guns
SPG=Spring Powered Gun / Air-cocking Guns
LMG=Light Machine Guns
ACP=Automatic Colt Airsoft shotgun
Remarks: Among full Automatic AEGs usually change, safety/single semi-automatic operations.
Q: What is free-float?
A: Designed in a way that they don't make contact with your rifle's barrel are free-float (or for short "floating") hang guards. Secured to the upper is where they attach directly to a barrel allowing the handguard to "float" or "hover" above your barrel.
The less chance there is for the angle of your barrel to be slightly altered, the less chance there is for the handguard to make contact with the barrel. What makes your accuracy suffer is the bending which is also known as warping.
Due to their floating nature, free float handguards, on the other hand, don't have this issue. In the range of 5-75 Minutes of Angle (MOA) are known to increase your accuracy.
Airsoft Shotgun Wrap-Up
Getting the right airsoft shotgun should not be a hassle. All you need is a guide to help you know how to choose one that will meet your needs. Use our above guide to gather the information you need to know about airsoft shotguns. It explains everything you need to know about airsoft and shotguns.
If you are a beginner, we recommend that you go for the Double Eagle M58A. It is a reliable shotgun with great FPS. Additionally, it is extremely affordable making it a good option for someone using an airsoft shotgun for the first time. A plus is the inclusion of a speedloader for quick reloads.
If the M58 A does not work for you, the other option would be the AGM M500. It has an easy to use pump action which is great for beginners. It is also an affordable option if you are working with a low budget. Lastly, it has a decent FPS. Unfortunately, it only supports single shots.
For more experienced airsoft players, the UTG M4/90 shotgun is the preferred choice. It can fire 3 BBs simultaneously. The gun uses muscle spring action giving it dominant force and high FPS. Rapid aiming under close-quarter battles is guaranteed by the use of elevation and Windage adjustable ghost ring sight. It also comes with twistable telescopic stock and front/rear sights.
All of the above products are good depending on how you want to use them. Look at the features of each before you make a decision.
We have done thorough research to ensure you get the best airsoft shotgun on the market. You can use it to choose one of the options provided or to help you get the best alternative.