An airsoft SAW (Squad Automatic Weapon) is a crucial part of any airsoft battle. If you want to enhance your airsoft game, then finding a good airsoft SAW is one of the best ways to do that.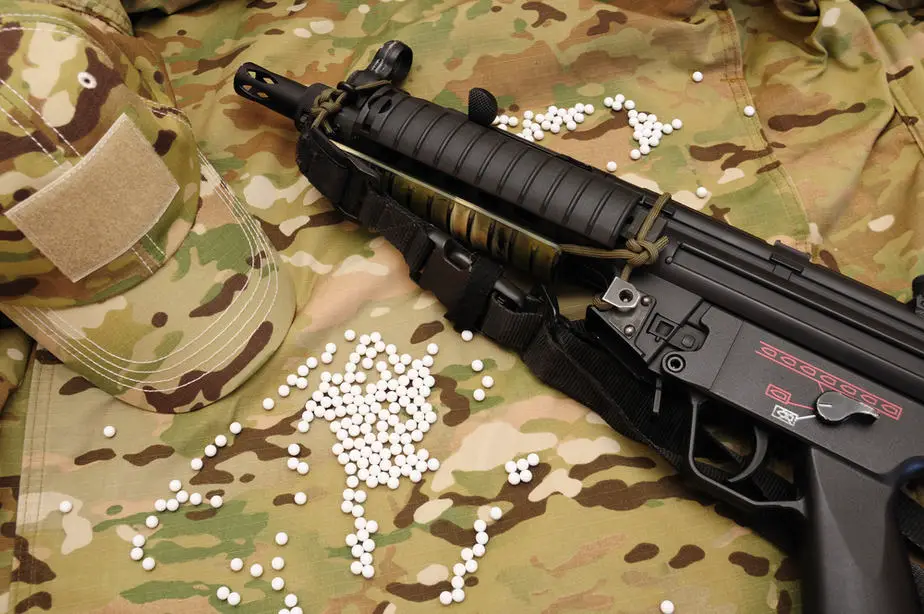 In this article, we'll be reviewing 5 of the top airsoft SAWs and providing you with a buying guide to set you on the right path.
Let's get started!
In a Hurry? Here's Our Top Picks…
| Image | Title | Price | Buy |
| --- | --- | --- | --- |
| | Soft Air Thompson 1928 Electric Powered Airsoft Gun with Adjustable Hop-Up, 400-450 FPS | | CHECK ON AMAZON |
| | LT-15T M4 SD Metal Gear Airsoft Rifle Gun AEG Full/Semi Automatic Tan 400 FPS | | CHECK ON AMAZON |
| Top | GameFace ASRGTH GFSMG Airsoft Submachine Gun | | CHECK ON AMAZON |
| | FN Scar-L Spring Powered Airsoft Rifle, Tan, 300 FPS | | CHECK ON AMAZON |
| | Evike Airsoft - Cybergun FN Licensed M249 para Featherweight Airsoft Machine Gun (Model: Standard) | | CHECK ON AMAZON |
Product prices and availability are accurate as of the date/time indicated and are subject to change. Any price and availability information displayed on [relevant Amazon Site(s), as applicable] at the time of purchase will apply to the purchase of this product.
Prices pulled from the Amazon Product Advertising API on:
1. GameFace GFSMG Airsoft Submachine Gun
Sale
Game Face ASRGTH Electric Full/Semi-Auto Airsoft Submachine Gun
FULL SIZE, DUAL ACTION - Durable synthetic design and up to 300 rounds per minute
ELECTRIC-POWERED - Delivers speeds up to 320 fps
800-ROUND DRUM MAGAZINE - Compatible with 6mm airsoft BBs (BBs not included)
HISTORICAL DESIGN - Durable synthetic stock and foregrip with Picatinny rail
INCLUDES RECHARGEABLE BATTERY AND BATTERY CHARGER
Last update on 2023-10-31 / Affiliate links / Images from Amazon Product Advertising API
The GFSMG Airsoft Submachine Gun from GameFace is an electric airsoft SAW. The design includes a drum magazine providing you with an extra-realistic experience.
When you look at the design, it closely resembles the SAWs that were used in Vietnam. You can easily notice the drum magazine.
Take note you should be careful when you consider buying this SAW. The drum mag cannot be changed to a straight mag. If holding it will give you problems, look for another option.
If you're aiming for a timeless design, then this is one of the choices you should consider. It's a light gun weighing slightly more than 3 pounds. This makes it easy to carry and use in tight spaces.
Since it's an airsoft SAW, it uses an 8.4-volt battery. You can choose either full-auto or semi-auto. These options allow you to enjoy the sensation of a real machine gun.
The magazine capacity is approximately 800 rounds. Compared to other SAWs this is quite a high number. However, you will blow through them fast if you fire at full-auto.
This particular simulation weapon is capable of firing at 300 rounds per minute. This means you can go through 800 rounds in approximately 5 minutes depending on how you're firing.
What We Like:
To reduce both recoils and wear it has a shock-absorbing end cap
Shoots up to 320 FPS
Can shoot 300 rounds in a minute
High capacity magazine (800 rounds)
Full-auto and semi-auto firing modes
What We Don't Like:
Drum mag cannot be switched for a straight mag
Check Price and Reviews on Amazon
---
2.
Soft Air Thompson 1928 Electric Powered Airsoft Gun
Sale
Last update on 2023-10-31 / Affiliate links / Images from Amazon Product Advertising API
A high-quality, realistic replica, this Air Thompson Airsoft Gun is reminiscent of a 1928 military weapon.
This airsoft gun is made with heavy-duty polymer and metal materials, giving it an ultra-realistic feel and making it weigh in at a little over 10 pounds. It's definitely a heavier option, and may not be the best airsoft gun to lug around in an hours-long airsoft game; but it would be a wonderful choice for the history lover who likes to get as close to the real thing as possible.
The Soft Air Thompson is a powerful electric SAW containing a 9.6v NiMH battery and shoots at a rate of 400 to 450 FPS. You can use this airsoft gun in semi or full-automatic and holds up to 450 rounds of 6 mm ammo.
While this is an overall awesome airsoft SAW, it's recommended that you use the highest quality BBs possible, as some users have complained that cheap BBs get stuck or don't feed as smoothly.
What We Like:
Beautiful construction
Made with heavy-duty materials (polymer and metals)
Weighs a little over 10 pounds — around the same weight as the real gun
Ultra-realistic
Fast; shoots at 400-450 FPS
Holds up to 450 rounds of 6mm ammo
Powerful electric option — contains a 9.6v rechargeable battery
What We Don't Like:
Cheap BBs may not feed through the drum as smoothly. We recommend buying a high-quality option to avoid potential sticking
Check Price and Reviews on Amazon
---
3.
LT-15T M4 SD Metal Gear Airsoft Rifle Gun
Lancer Tactical Gen 2 M4 SD Electric Airsoft AEG Rifle Full/Semi Auto -Available in Metal & Polymer-Nylon Polymer/Brown
Built-in Lancer Fast Trigger with Mosfet to regulate electric flow and protect trigger contacts, and fire cutoff system Mosfet that helps regulate electric flow and protects the trigger contacts from battery damages (Only in Metal & Metal Rail)
The ball bearing spring guide is designed to withstand higher stress from gearbox cycle, ensuring durability and longevity
Polished 6.03 mm tight bore inner barrel improves air seal and accuracy, giving players an edge in accuracy during gameplay.
One-piece outer barrel provides stability and zero wobble, ensuring every shot is on target.
Features a full metal Version 2 rear-wired gearbox that provides easy battery access and ample space.
Last update on 2023-10-31 / Affiliate links / Images from Amazon Product Advertising API
With a velocity of 360-400 FPS, the LT-15T M4 SD Airsoft Rifle Gun is a fast, reliable option for the dedicated airsoft player. It holds a capacity of 300 rounds and comes with 1000 0.20 gram rounds.
Weighing in at a tad over 4 pounds, this airsoft gun has a decently realistic look and feel to it and is made using durable polymer and metal materials. Both the front and rear sights are adjustable and this gun can be used as a semi or full-automatic.
It runs very smoothly and rarely – if ever – jams and is surprisingly accurate, even at long distances. This airsoft gun is constructed with a powerful electric, rechargeable battery and can provide players with hours of play without slowing down or halting.
What We Like:
Decent quality; made with durable polymer and metal materials
Sand/tan colored. Perfect for blending into a natural background
Has a velocity of 360-400 FPS
Has a capacity of 300 rounds of 6mm ammo
Front and rear sights are adjustable
Runs smoothly
Powerful battery for long-lasting use
Realistic feeling, but not too heavy
What We Don't Like:
Doesn't feel as authentic as some other options on our list
Check Price and Reviews on Amazon
---
4.
FN Scar-L Spring Powered Airsoft Rifle
Sale
SOFT AIR USA FN Scar-L Spring Airsoft Rifle, Tan, 400 FPS
Powerful spring: 300 FPS with 6 millimeter ammo
Ready to play: Shoots 6 millimeter ammo in a single shot. Includes 100 starter BBs
Replica: Made with high strength ABS polymer for a realistic feel. Weighs 4 pounds
Easy to load: Magazine holds 50 rounds
Features: Folding/collapsible stock and flip-up front and rear sights
Last update on 2023-10-31 / Affiliate links / Images from Amazon Product Advertising API
Firing at a rate of 300 FPS, the FN Scar-L Spring Powered Airsoft Rifle is a gun you don't wanna miss. It has good precision and shoots fast, making it great for long-distance shots.
For a very affordable airsoft gun, it has some pretty good features including an adjustable and foldable buttstock and holds some 300 BBs in the hopper.
On the downside, the sight isn't adjustable and many users have complained that removing the magazine always leads to 2 or 3 BBs falling on the ground; which is a waste and frustrating. Overall, it also has a plastic feel to it, making it not the best option for those looking for a realistic airsoft gun.
This would be a good choice for someone looking for a budget buy that's still decent quality. For the price, you really can't go wrong with this airsoft SAW.
What We Like:
Great budget buy
Pretty good quality for the price
Has useful features like an adjustable and foldable buttstock
Holds around 300 BBs in the hopper
FPS of 300
Decent accuracy up to 50 or so feet
What We Don't Like:
Some users have reported that each time you remove the magazine, you lose 3 BBs
Sight isn't adjustable
Overall plastic feel. Not great for those looking for realism, but it's light enough to be a good choice for kids (or players who just want a lightweight, cheap option)
Check Price and Reviews on Amazon
---
5.
Evike Airsoft – Cybergun FN Licensed M249 para Featherweight Airsoft Machine Gun
Evike Airsoft - Cybergun FN Licensed Airsoft M.249 400FPS para Featherweight Airsoft AEG (Model: Basic Package)
Battery not included
Fully licensed by FN Herstal. Support licensed products. Your support directly benefits the original designer
Heavy duty design yet extremely lightweight for mobility and longevity in combat! Fiber-reinforced nylon polymer receiver, handguard, top cover, stock and bipod)
Quick change spring, lipoly ready internals, and Marui M4 system compatible for easy tune-up, repair, and upgrade
Rotary dial hopup provides precise adjustment
Last update on 2023-10-31 / Affiliate links / Images from Amazon Product Advertising API
Brought to you by one of the most renowned airsoft companies in the United States, Evike, the Cybergun Featherweight Airsoft Machine Gun is a force to be reckoned with.
This lightweight airsoft machine gun is the gun to get if you really want to pack a punch on the field. Compared to other heavy-duty airsoft machine guns, the Cybergun weighs in at a comfortable 8 pounds, cutting at least 50% of the weight of full-metal counterparts.
What this machine gun loses in weight it gains in durability. The receiver and chassis are made of lasting fiber-reinforced nylon materials to keep this gun going as long as you are!
What We Like:
Extremely lightweight for what this airsoft gun is and can do
Made with fiber-reinforced nylon materials for durability
Half the weight of other airsoft guns like it
From a reputable brand
What We Don't Like:
Doesn't come with the battery, but it does come with the bipod
Check Price and Reviews on Amazon
---
Airsoft SAW Education
In the next few sections, we'll be discussing what to consider when looking for the Best Airsoft SAW.
Consider the FPS
The speed at which an airsoft SAW can propel a pellet is described as FPS. If you plan on sniping, the higher the FPS the better, because a sniper rifle with a high PFS will shoot more accurately. If you're into CQB, however, a high FPS might not necessarily be a good thing because getting pegged at close distance by a sniper rifle or another high-FPS gun is anything but fun.
Don't Forget About Weight
It's important to consider the weight of an airsoft SAW. Although it may seem cool to run around with a fierce M60 or RPK, the weight of these beastly guns is way too much for most airsoft players to handle.
If you're built like a middle linebacker and have the strength to tote one of these bad boys around with you all over the place, more power to you. However, chances are you'll be much better off going with a versatile lightweight model.
Our airsoft SAW buying guide and in-depth reviews will certainly help you make up your mind. Think about these tips and check out the rest of the resources on this site to find the right airsoft SAW for you today!
Decide On a Type of Weapon
From M16s and MP5s to G36s and P90s, there are dozens of different types of airsoft SAWs made to resemble and shoot just like the real thing. After knowing your budget and the type of shooting activities you want to do, the role you'll play within your team if you go the competitive route, you need to decide which specific type of gun you want for your arsenal. It all depends on your needs, likes, and want out of your airsoft SAW because there's no right or wrong answer here.
Types of Guns
Electric (AEG)
They are battery powered and usually feature both semi and full-auto functions. An electric motor turns a gear in a gearbox which in turn powers the firing mechanism. Auto mode AEG's will pump out BBs for as long as you hold down the trigger when the battery is fully charged.
In semi-auto mode, the gun fires one shot each time you press the trigger. Cocking is not required. Most airsoft rifles are AEG's. They refer to airsoft guns with a full metal gearbox. Low powered electric guns that use plastic gears are usually known as LPEGS.
Gas
The most popular gas for airsoft SAWs is green gas and CO2. Green gas is the form of compressed propane gas that is injected in the shotgun. When you pull the trigger a burst of gas is released and is used to propel each shot. Most green gas is semi-auto only but a few come in a full/semi-auto version as well.
CO2 airsoft SAWs operate similarly, but they instead use cartridges of compressed CO2. Blowback is a feature found in most higher-end gas airsoft SAWs.
They have a slide that moves back and forth when the gun is fired, just like a real semi-automatic airsoft SAW. The blowback action adds a small amount of recoil which increases the realism of these airsoft guns.
Spring
They are cocked by hand and fire one shot at a time. They employ a few moving parts which make them very durable and dependable. You have to make every shot count because the downside has a slow rate of fire.
These guns are generally the least expensive, thus this is what most airsoft players begin with. Many high power airsoft SAWs are also spring powered. They are operated by a bolt action lever that simultaneously charges the spring and loads the next BB.
They shoot as high as 450 FPS or higher using 0.20g BBs. At those velocities, heavier BBs are usually recommended to maintain accuracy.
Airsoft HPA Guns
This is the fourth and the most powerful airsoft gun on the list. In these types of guns, you have an Air container on your back as those scuba divers have, and pipe from container goes into the gun. Pressurized air from the container causes very high-speed pellets to emit.
A very interesting thing about these guns is you can adjust FPS (velocity in feet per second), Trigger Response and many other things. These classifications make these guns superior to others. Since they cost a lot and require a lot of maintenance, they are not for beginners.
How to Choose an Airsoft SAW
There are two ways of choosing and buying an airsoft SAW.
1. Physically, Go to Store and Buy
2. Purchase Online
If you are fond of doing your stuff, it will be better, if you go to a store and find a gun yourself. In this case, you will test the gun by taking it in your hands and realizing How it feels. If you don't know the stores You can use Amazon to find shops near you.
The Other Option you could have is Buy a Gun online. You can see thousands of online products, go through specs, read reviews and make the ultimate decision to buy and Airsoft Gun. Some online stores you can visit to buy Airsoft Guns.
Normal Price Range For a Good Airsoft SAW
If you want to buy an electric airsoft pistol you can grab a good one at 50$.
While if you want a rifle, you should not spend more than 150-200$
Specs You Should See in an Airsoft SAW:
Grip
You are firing with a gun and if your grip is not satisfying you will not perform well. Consider this an important factor, because it determines your Performance in Game.
Length of Gun
The gun you're buying should have an adjustable length. So, you adjust to make a better grip.
Hop UP
They are among the additional used to increase the range of the gun. Make sure to buy a gun with an adjustable hop-up.
Gun Material and Weight
Consider the material when buying an airsoft gun. Don't go for too light guns if their material is low quality plastic.
Beginners should go with a gun made up of polymers. You can choose the weight of guns which you can find easy to carry.
Magazines
One additional thing many people see in a gun is whether the gun takes M4/M16 magazines. Since these magazines are common and Everyone in Airsoft Field uses the same, so you can also look for the same, but it is a minor thing to consider.
Airsoft SAW 2 Best Brands
H&K
Heckler & Koch GmbH is a defense manufacturing company based in Germany. It manufactures grenade launchers, submachine guns, handguns, and rifles. The company has subsidiaries in the United States, France, and the United Kingdom, although it is located in Oberndorf, Germany.
Evike
This is the company in charge of manufacturing many airsoft guns including airsoft SAWs. Evike has been known to offer its consumers the perfect experience.
To achieve their vision, they have vowed to be the most respected and successful business in America. Evike is the leader in the paintball and airsoft smoke grenade industry due to their hard work, willingness to invest back into the industry, vision, integrity, thirst for perfection, and dedication to their customers.
For more than ten years, the company has been the global developer, innovator, leading distributor, and most trusted brand of airsoft equipment. They are also the exclusive maker, service center, and representation of many of the premier airsoft brands in commercial, training, and sports markets.
At Evike's core, a personal touch, safety, innovation, and passion for quality in customer support makes them second to none.
Airsoft SAW FAQs
Q:  Should Kids Use Airsoft SAW Guns?
A: While playing airsoft games, your kids would be running around the field which is a great way to build their stamina and physical strength. Also, these games urge them to use their minds while building strategies for defeating their opponents. As for the guns, themselves, some SAWs may be too heavy for kids to lug around.
Q: What does fully Automatic mean?
A: Meaning that the trigger is depressed and held the gun will keep firing until the trigger releases.
Q: What does Semi-Auto mean?
A: Semi-Automatic. Meaning that the trigger pulls the gun to fire once.
Q: What do the numbers mean on the BB's?
A: The weight of the BBs is the numbers in grams. It affects the trajectory and how much energy is needed to fire the BBs out of the barrel of the BBs.
The manufactory of each product depends on the recommended BB's weight.
Q: What is a Hi-Cap magazine?
A: From 10 to 30 BBs is the holding of a standard magazine. Hi-cap which are high capacity magazines holds about 100 to 600 rounds BBs.
To draw the BBs up into the "ready" tube by rotating manually, these magazines usually have a wheel at the bottom. When fired BBs in the ready tube is drawn into the gun. For BBs to be fired, the user will need to spin the wheel occasionally making the BBs inside to bounce around thus the Hi-cap will make more noise.
During a game, you may need 2 or 3 BBs because standard magazines hold much less but they don't make noise. The hi-cap magazines are a better choice for the cost or airsoft players who do not like reloading.
Airsoft SAW Wrap-up
From the list of the best airsoft SAW above, we would recommend you use the GameFace GFSMG as your first option. For starters, it comes with a high capacity magazine at 800 rounds. Secondly, it is capable of shooting 300 rounds per minute.
If you are working on a budget, the best option is the FN Scar-L Spring Powered Airsoft Rifle. It performs well despite its low price.
Overall, all of the guns on our list would make great airsoft weapons for both beginners and the avid player.