Airsoft BBs come in an extra-wide range of colors, weights, and models. The market is flooded with brands, but only a few produce the best airsoft BBs.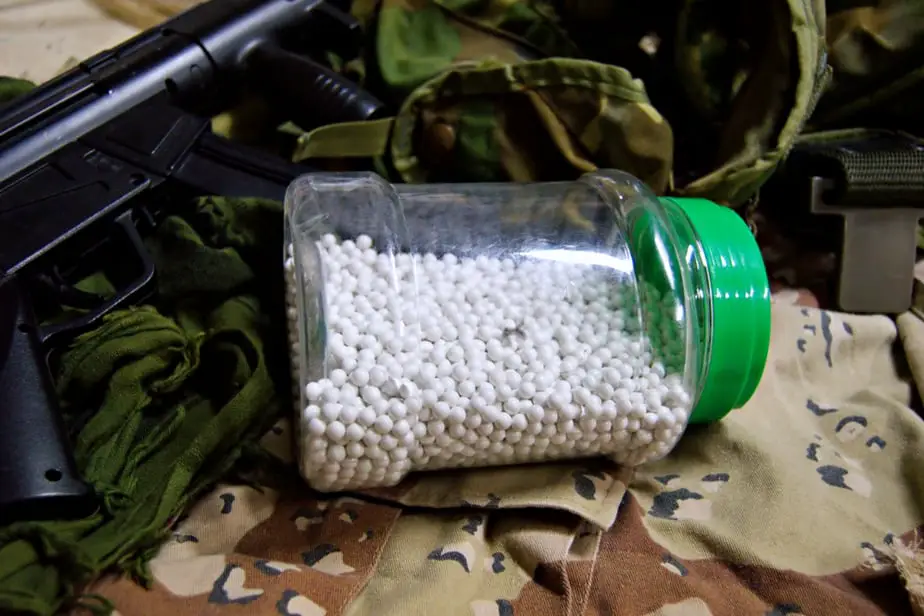 We've put together a guide that will help you understand the best BB ammo to fit your gun and provide you with top-notch performance.
Let's jump right in!
In a Hurry? Here's Our Top Picks…
| Image | Title | Price | Buy |
| --- | --- | --- | --- |
| | Valken Infinity Paintballs - 68cal - 2,000ct - Orange-Orange Fill | | CHECK ON AMAZON |
| Top | Elite Force MILSIM MAX BIO WHITE 0.32 gram 2700 ct Bottle | | CHECK ON AMAZON |
| | BBTac 1000 Bag .12g 6mm BBs for Airsoft Guns | | CHECK ON AMAZON |
| | Walther 6mm Airsoft BBs Special Ops Airsoft Ammo, .12 Grams, Blue, 5000 Count | | CHECK ON AMAZON |
Product prices and availability are accurate as of the date/time indicated and are subject to change. Any price and availability information displayed on [relevant Amazon Site(s), as applicable] at the time of purchase will apply to the purchase of this product.
Prices pulled from the Amazon Product Advertising API on:
1. Valken 0.36g Airsoft BBs (Best for Sniping)
Sale
Last update on 2023-10-30 / Affiliate links / Images from Amazon Product Advertising API
We recommend these BBs for airsoft sniper rifles.
For starters, they can beat ranges of more than 200 feet. The impressive 200+ feet range is achieved when you use the Vlaken Tactical .36g BBs and a high-quality sniper rifle. The range is a result of the airsoft BBs' perfectly polished surface and ball bearing quality design.
They have a tolerance of +0.01 and are 5.95 mm in diameter. Color is crucial for a sniper due to the fact that they don't want their targets to dodge the pellets at the last minute or their location to be discovered. A dark-colored pellet gives a sniper tactical advantage in the field.
Things We Liked
It's the market leader in weight of airsoft BBs used for sniping and other powerful weapons
Slick and accurate
Dark color makes them hard for opponents to see
Straight flight path
Things we didn't like
Cost more than other BBs
Work best with high quality and expensive weapons
Check Price and Reviews on Amazon
---
2. Elite Force .20g (Recommended for Airsoft Pistols)
Last update on 2023-10-30 / Affiliate links / Images from Amazon Product Advertising API
These airsoft BBs have a standard deviation of +- 0.01 and they weigh 0.20 g with a diameter of 5.95 mm. The Elite Force 0.20g BBs have features that make them the premium pellets for airsoft guns shooting between 280 FPS and 350 FPS using a six-millimeter barrel.
This means any entry rifle or pistol will work well with the Elite Force 0.20g BBs. Anything higher will need heavier BBs for range and accuracy. Professional players prefer these pellets because they always ensure they provide the finest performance on the battlefield.
The fact that they come in bottles means it is a lot easier to load and transport. It comes with a screw-on top which is convenient and allows you quick access to the pellets. The bottle is specially developed to assist you load the BBs in magazines without touching them.
Lastly, the cost of the bottle is not high especially when you consider the level of quality. Anyone who wants to up their game in the field should seriously consider these airsoft BBs. It is one of the best BBs in the market for anyone who wants to use their gun for a long time.
Things we liked
Designed to reach the best possible flight path stability and range
Slick and well-polished
Tested for various scenarios
High-quality
Great container that can load magazine and is easy top access
Things we didn't like
Costs more than most models in the market
Check Price and Reviews on Amazon
---
3. BBTac 1,000 Bag 0.12g 6mm Airsoft BBs
BBTac 1000 Bag .12g 6mm BBs for Airsoft Guns
High Grade Quality 6mm BBs Assorted Color BB's 1000 per Bag
High Quality 0.12 gram BB lightest weight Perfect Grade Polished for best accuracy and velocity Convenience
Perfect for Starter Airsoft Gun, Starter AEG Under 250 FPS
Made using the Highest Quality Material
BBTac The most trusted name in Airsoft, Accessories and Equipment
Last update on 2023-10-30 / Affiliate links / Images from Amazon Product Advertising API
The BBTac 0.12g BBs are colorful and provide you with a way to have fun and shoot the day away. They are also a good option for people who want to practice target shooting or beginners who do not want to spend money on expensive BBs.  These are the best since they have bright colors to show you where you are shooting.
If you are searching for something efficient and affordable, then these airsoft BBs are the perfect choice. They are also recommended for kids who want to learn how to play airsoft games.
The BBTac 0.12g airsoft BBs offer a straight, true shot and fit nicely inside the majority of airsoft guns in the market. You can use them with the majority of airsoft guns in the market.
Things we liked
Shoots straight
They are affordable
Colorful to help you see where you are shooting
Recommended for beginners or people who want to practice
Things we didn't like
The bag only comes with 1,000 BBs
Check Price and Reviews on Amazon
---
4. Umarex Airsoft BBs
Sale
Last update on 2023-10-30 / Affiliate links / Images from Amazon Product Advertising API
Affordable and high quality, the Umarex airsoft BBs provide you with everything you need to pack a punch with each shot you take. Take note they are not recommended for high-end airsoft guns. However, you can use them with a wide variety of guns on the market.
This means you can spread them out on your airsoft guns if you own more than one. This specific pack comes with 5,000 BBs to ensure the fun doesn't stop.
They are brightly colored and lightweight meaning you can easily find them if you need to shoot them further. The colors ensure you see where you have hit and whether or not you have missed your targets.
These are one of the highly recommended BBs for airsoft guns you can find in the market. They offer an accurate, true shot every time you use them with your airsoft gun. They are also easy to shoot and load.
Things we liked
Get a bargain for the price
Shoots and loads great
No damage or imperfections
Performs well in the field
Things we didn't like
Cannot be used by high-quality airsoft guns
Check Price and Reviews on Amazon
---
Best 4 Airsoft BBs Brands
BBTac
BBTac is one of the companies that manufacture airsoft BBs of high quality. They also make airsoft and paintball accessories of quality with innovation.
BBTac is a process-centered, market-focused organization that delivers and develops innovative solutions and products to their clients. They strive to consistently outperform their peers.
Valken Sports
This is the home of paintball and airsoft. Valken Sports is popular for the manufacture and distribution of high-quality lifestyle, outdoor, airsoft and paintball gear. Founded in 2007, the company works hard to ensure consumers get the best deals in the marketer, whether it is airsoft BBs, markers or guns.
Umarex
Umarex originally made real guns. They have developed a line of recreational guns with a powerful appeal to more than 10 million shooters.
Their air guns and blank firing guns can be purchased freely over the counter. The company is located in Germany where there was a new weapons act passed in 1972. It stated that people who purchase lethal weapons required a permit.
Elite Force
This is a branch of Umarex. Elite Force is a brand renowned for creating a world of adventure for hunters, recreational shooters, and sport shooters. They have high quality, high-performance airsoft models that allow you to train under highly realistic conditions.
You can also complete under the most extreme of skirmishes and realism. The majority of players who have used Elite Force airsoft BBs and guns say they made the right choice.
Airsoft BBs Education
Airsoft is a pretty "point and shoot" type of sport. For ammunition you need to start playing eye protection, airsoft gun, and a magazine full of airsoft BBs. Picking the right type of airsoft BB can help you play better on the airsoft field!
BB Size and Manufacturing
All standard airsoft size BBs are 6mm in size but others come in an 8mm size. The BB millimeter size is the approximate measurement of the diameter of the BB pellet.
They allow them to be shot out of most spring, automatic-electric-gun (AEG), or gas powered airsoft guns. Airsoft BBs are made using a plastic molding process.
In short, the BB manufacturing process is made up of material selection, sorting, melting, material injection, polishing, and packaging.
BB Size and Barrel Accuracy
It allows it to fit perfectly into airsoft gun barrels. The inner gun barrel diameter is just slightly bigger than the BB size. When a BB is fired, less air can escape around the BB and more air pushes the BB out of the barrel.
The foot per second (FPS) performance rate of BB is increased as a result. The term that tells how far airsoft guns shoot a BB is termed as FPS.
It's similar to RPM and RPS (Two other terms which are how many BBs a gun can shoot in a minute or second). Most fields have FPS limits, so be sure to check with field staff when playing airsoft.
They can also be upgraded with tighter barrels to increase the FPS. For example, many AEGs that shoot 6mm BBs usually come with a 6.08mm barrel. It can be upgraded to a 6.01mm or 6.03mm tight bore barrel for better tolerances and performances.
BB Weight
They come in a few standard weights. The most common are 0.12 gram and 0.20 gram BBs. Other common weights are 0.25 gram, 0.28 gram, 0.30 gram, and up to 0.40 gram BBs. Its weight affects how much force is needed to propel the BB out of the airsoft gun and direct its flight path after the BB is fired.
Lighter BBs, like 0.12 gram BBs, are designed for close range. Typically they are used in spring powered airsoft guns which fire them at about 250 FPS. They are hollow internally and are the most accurate at close ranges. Also not recommended for use in airsoft guns with higher FPS because they can shatter causing damage to the weapon and are almost completely ineffective at longer ranges.
Mid-range weights, like 0.20 gram to 0.28 gram BBs, are the middle of the road for airsoft BBs. They have the widest use range because they are light enough to be used in airsoft guns with lower FPS at close range and strong enough to be used in airsoft guns with higher FPS at longer ranges.
They are not as stable as heavier BBs for extreme long-range usage. Heavier BBs, like 0.30 gram to .40 gram BBs, are designed for the highest flight stability and longest range.
Mostly they are used in high powered AEGS and airsoft sniper rifles. More force is needed to fire these heavier BBs, and they are more stable and accurate during flight because of it.
BB Material and Quality
They are good as the material they are made of. There are lots of details about BB quality, so we decided to separate that topic into its own blog article. Be sure to keep an eye out for it! Common types of BB material available to airsoft players are non-biodegradable BBs and biodegradable BBs.
Non-biodegradable BBs are usually made from a plastic called Acrylonitrile Butadiene Styrene (ABS). ABS plastic is chemically constructed from a compound with a molecular formula of (C8H8.C4H6.C3H3N).
ABS BBs are the cheapest, do not significantly degrade over time, are not environmentally friendly, and are not water soluble. Many outdoor airsoft fields do not allow players to use them. ABS and BBs are suitable for indoor use or on private property with the owner's consent.
Biodegradable BBs are made from a plastic called polylactic acid or polylactide (PLA). PLA plastic is constructed from natural resources and renewable materials including corn products and certain starches with a molecular formula of (C3H4O2).
PLA BBs cost more than ABS BBs but are environmentally friendly, are more water soluble than ABS BBs, and break down into water and carbon dioxide in about 47 to 90 days in industrial recycling facilities or a bit longer under the right environmental conditions outdoors. Most of them require players to use these types of BBs.
BB Colors
They come in all kinds of colors. The color of the BB increases or decreases its visibility while in the air. It can increase a player's tactical advantage significantly, but there are some downsides.
The most popular are white and lighter colored BBs. They are fairly easy to see.
A downside is that targets can usually tell which direction the BBs are coming from. A few positives of using these BBs are that the shooters can easily place shots by visually tracking the BBs and airsoft field referees can call "dead" players out more easily. White and lighter colors are not recommended to use when you are a sniper.
Darker and black colored BBs are harder to see because their color blends into the surroundings more. A few downsides of these BBs are that the shooter may not be able to check his shot placement by sight and airsoft referees cannot see the BBs hit players. An advantage is that they are easily seen by targets.
Budget
You also need to consider the cost of airsoft BBs. In general, higher-quality BBs cost more. If you are a beginner or you want to practice, you should start with the most affordable in the market.
Take note that not all expensive airsoft BBs are of high quality. There are those that are averagely priced but have better quality than pricier ones.
Airsoft BBs FAQs
Q: What size BBs should I use?
A: Most standard airsoft guns use 6 millimeter BBs. This means your gun is likely to require 6 mm ammunition. If you are not sure, check your gun's model number and manual to see if it requires a different BB.
Q: Can I tell the quality of airsoft BBs?
A: One of the crucial factors to consider is the consistent and overall quality of your airsoft gun's ammunition. The majority of airsoft guns use tightbore barrels of 6.01mm. This means the BBs you use need to be manufactured precisely to prevent damage to your RIF.
Q: What is the best weight for pellets?
A: Ammunition for airsoft guns come in varying weights. They usually range from 0.20 grams to 0.45 grams.
Generally, a gun with feet per second speed of 200 – 375 should use airsoft BBs of 0.20 to 0.28 grams. RIFs with an FPS of 375 – 450 typically use BBs with a weight of 0.30 to 0.40 grams. Guns with more than 450 FPS need heavy BBs of more than 0.40 grams.
Airsoft BBs Wrap-up
There are a number of factors you need to consider when you buy airsoft BBs. For starters, you need to think about the weight of the BB and the gun you will use it on.
If you are a sniper, the Valken 0.36g airsoft BB is the best option. Apart from being sleek and accurate, these BBs are dark in color. This means they ensure your opponents cannot easily know from where you are shooting.
When you use airsoft pistols, the best airsoft BBs are the Elite Force 0.20g. They are designed to reach the best possible range and flight path stability. Additionally, these BBs come with a container that has easy top access and can be used to load the pistol's magazine.
The Elite Force 0.20g BBs are tested for various scenarios. The only downside is they cost more than the majority of models in the market.
BBTac also has good BBs for various uses. The 0.12 6 millimeters BB is used on a majority of airsoft guns. Apart from shooting straight, they are affordable and colorful. They are recommended for people who want to practice airsoft or those who are beginners. The only issue is the bag comes with 1,000 BBs. This is less than other bags that usually have 1,500 – 2,000 BBs.