If you are interested in airsoft, then chances are you have heard of the blowback pistol. This style of gun mimics the natural recoil of regular guns, making it great for hardcore players who want a realistic playing style. To help you choose the perfect pistol for you, we've outlined five of the best blowback airsoft pistols available on the modern market.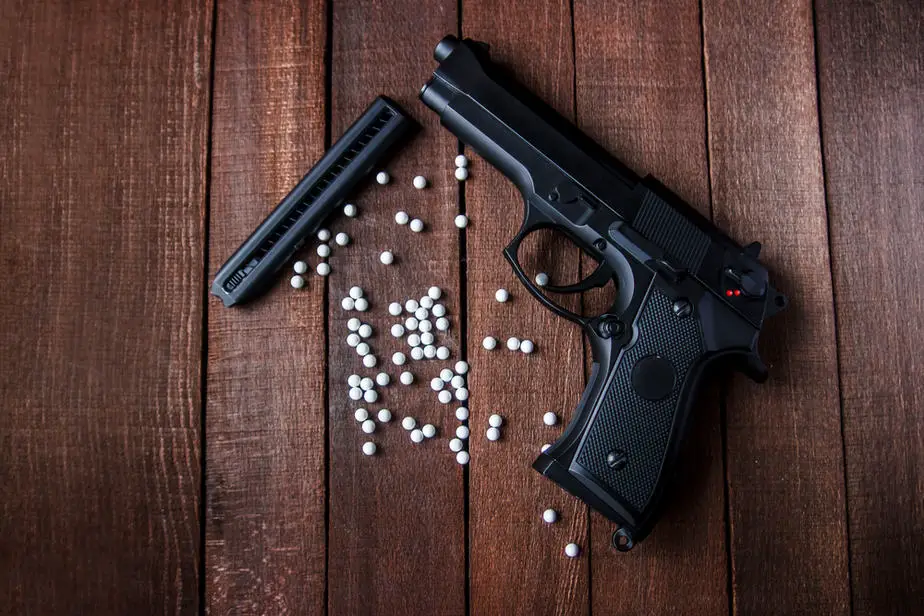 In a Hurry? Here's Our Top Picks…
1. Colt 1911 Rail Pistol Co2 Full Metal Blowback
Colt 1911 CO2 Full Metal Airsoft Pistol with Adjustable Hop-Up and Blowback, 380-390 FPS, Black
POWERFUL CO2: 380-390 FPS with 0.20g ammo
READY TO PLAY: Semi-automatic shoots 6mm ammo. Magazine holds 14 rounds. Includes 100 starter BBs
REPLICA: made with full metal for a realistic feel with authentic size and weight. Weighs 1.9lbs
ADJUSTABLE HOP-UP: creates a back-spin effect on ammo to provide longer shooting distance
BLOWBACK ACTION: provides a realistic, satisfying kick. Great for training or simulation purposes
Last update on 2023-04-30 / Affiliate links / Images from Amazon Product Advertising API
One of the advantages of the Colt 1911 Rail Pistol is the full metal construction, which provides a realistic weight, grip, appearance, and blowback to this model. It is designed to replicate the famous Colt 1911, one of the most popular pistols in history. It is gas-powered, using canisters of compressed CO2 to generate an immense amount of force and a great recoil.
This airsoft pistol is one of the few created and manufactured by a real weapons designer, being licensed by Colt. One of the key features is the solid metal rail and the inclusion of a 20 mm tactical under rail which is ideal for the addition of accessories for customization. There are dark OD green clips, basic sights, standard trigger action, and a two-stage safety like a real firearm.
The magazine clips are easy to remove, refill, and insert. This airsoft Colt 1911 uses 6 mm BBs and weighs around 2 lbs., making it lightweight yet solid.
What We Liked
Affordable
Reliable
Moderate weight
Realistic blowback
Solid metal
What We Didn't Like
The CO2 cartridges are not included
The seal around the magazine wears down quickly
Check Price and Reviews on Amazon
---
2. WG M9 Beretta Blowback Air Pistol
Last update on 2023-04-30 / Affiliate links / Images from Amazon Product Advertising API
The WG M9 Beretta is modeled after a real Beretta and includes many of the most well-liked features, including a strong blowback and solid grip to improve stability. This is a rare model that uses a revolutionized compressed gas blowback system to create a more realistic recoil with every shot. This model is a favorite of many because it is affordable while shooting at 450 to 500 FPS.
The WG M9 Beretta includes a solid metal rail to attach accessories like additional sites or even decorations to improve the personalization of the weapon. The main material is an ergonomic polymer (plastic) instead of metal, but it is still durable and able to withstand impact if dropped. Some of the tactical features included in this model are adjustable rear sites, integrated glow sites, and basic safety.
Most users find this model to be highly accurate at 50 to 75 yards.
What We Liked
Affordable
Tactical
Improved stability
High FPS
Durable design
Multiple sites
What We Didn't Like
Easy to damage the CO2 canister
Made with plastic and not metal
Check Price and Reviews on Amazon
---
3. Elite Force HK Heckler & Koch P30
Sale
Last update on 2023-04-30 / Affiliate links / Images from Amazon Product Advertising API
The Elite Force HK Heckler & Koch P30 is one of the few electric blowback models on the market and is great for individuals who dislike the fuss and overbearing force of basic gas airsoft pistols. This Elite Force HK fires 6 mm BBs and includes semi-auto and fully automatic firing modes. It is also powered by batteries instead of needing to be recharged, so it is easy to bring spare power to the battlefield without getting bogged down by equipment.
The Elite Force HK has an easy drop out a magazine which can be loaded with 16 shots, an improvement over the basic 12 shot model. The gun has fixed front and rear sites for better aiming, an accessory rail, and includes a backup magazine for simple reloading while under fire.
Overall, this is a great kickback model for the price and a good choice for beginners and more experienced players alike.
What We Liked
Tactical sites
Includes multiple magazines
Electric
Simple to reload
Easy to aim
Affordable
What We Didn't Like
Interior plastic gears
The batteries can become jammed
Check Price and Reviews on Amazon
---
4. Umarex Smith & Wesson M&P 40
Smith & Wesson M&P 40 .177 Caliber BB Gun Air Pistol, Black, Blowback Action
Realistic blowback action and controls allow for realistic training; Great for practicing holster work and the basics of accuracy
Metal slide and slide catch work like the original; Features adjustable sights
Comes with replaceable backstraps to match your hand shape and size
15-shot drop-out mag is weighted to feel like the original; Integrated rail allows addition of lights, lasers or other accessories
Shoots .177 caliber steel BBs at up to 300 fps
Last update on 2023-04-30 / Affiliate links / Images from Amazon Product Advertising API
The Umarex Smith & Wesson M&P 40 is one of the more expensive blowback airsoft pistols, but you get the quality you pay for. This pistol has realistic blowback action and is made from a combination of solid steel and durable polymers to improve stability and reliability. The grip is molded and designed to fit well in a holster. The aim is impeccable, making this a favorite for practice and competitive play alike.
This Umarex Smith & Wesson shoots .177 caliber steel BBs at up to 300 fps, making it a powerful option. It has a weighted 15 shot magazine that drops out and is simple to replace. There is an integrated rail where you can attach accessories, including lights, extra sites, and even decorations to personalize your weapon. Plus, there are replaceable back straps to better suit different hand sizes.
This gun has fixed front and rear sites and has a full barrel length of 3.5 in. This airsoft pistol weighs less than 2 lbs., making it easy to carry and use while running and ducking from your friends. As a final note, this model is gas-powered and does come with a filled CO2 cartridge to get you started.
Because this model shoots metal pellets, it is ideal for practice or advanced players who are willing to take a hit for the sake of extra fun.
What We Liked
Realistic blowback action
High-quality rail
Large magazine
Multiple accessories included
Durable and reliable
What We Didn't Like
Sometimes the slide lock jams
The CO2 cartridge can knock the magazine out of place
Check Price and Reviews on Amazon
---
Buying Guide
Not all blowback airsoft pistols are made the same. The key similarity is a functional recoil which subjects the shooter to a small amount of force when firing. This mimics the action of a real gun and is great for players who are either used to handling real weapons or who would like to make their airsoft experience as realistic as possible.
Because there is only one uniting feature, there are actually numerous differences between blowback pistols. These can be varying methods of firing, different FPS's, and even a broad range of extra features like functioning safeties or laser sites.
Before choosing the weapon for you, take a look at this buying guide to learn more about the most essential features.
Firing Mechanism
The central element to any airsoft pistol is how it fires pellets at the opposing team. Since airsoft does not utilize gunpowder, you need to rely on three different scientific principles: Springs, gas, and electricity.
Springs
The most traditional type of blowback pistol uses springs as the internal mechanism. These utilize mechanical power. The spring is cocked back and then launches a BB once you pull the trigger. As the simplest power, springs can be found in most affordable pistols and often require the least maintenance and skill to use. Naturally, there are some significant pros and cons.
Pros
Most affordable
Lightweight
Versatile in different weather
Easy to reload
Cons
Very little blowback
Often made with plastic
Rare semi or fully automatic firing
Must cock before firing
Gas
Unlike a spring airsoft pistol, one powered by a gas is utilizing the force of pressurized cylinders of substances like propane, methane, or CO2 to generate force. These guns are operated by inserting full canisters in a slot built into the handle and then firing like a regular weapon. Each time you pull the trigger, a small amount of compressed gas is released to send your pellets flying.
The pros and cons of this method are as follows.
Pros
High blowback
Realistic weight and feel
Can be semi or fully automatic
Great in most weather conditions
Require minimal reloading
Cons
Must carry multiple gas canisters during matches
The gas can freeze in cold climates
Noisier than other models
Must be cleaned and maintained like a life fire pistol
Electric
The final style of airsoft pistol is the electric gun. These weapons are powered by batteries which can either be charged or replaced during a match. Most pistols will be considered low-end electric weapons because they require very little power to function well on the field.
Pros
Reasonable blowback
Often semi or fully automatic
Moderate weight
Affordable
Easy to charge
Cons
Can't be used in wet weather conditions
Might require charging on the field
Often made of breakable plastic
FPS
For many players, the FPS is one of the most significant stats a pistol can have. FPS stands for "feet per second" and is how fast and far your weapon is able to fire. For most pistols, you should expect to achieve at least 300 FPS. Anything under this number will be too weak for active gameplay.
If you are willing to spend a moderate amount on quality, you should be able to get between 300 and 400 FPS. Some high-quality blowback airsoft guns will have over 400 and into 500 FPS, but you can expect to spend more money on these rates.
Comfort
If you are interested in a blowback pistol, you need to consider your own comfort and abilities. Not everyone can handle a strong recoil as it launches the arm and shoulder back. If you are too tense or unsure of how to hold your weapon, you can injure yourself or misfire frequently.
Before purchasing any pistol, you should try a couple of models to ensure you are comfortable using your choice. It is also a good idea to practice before joining a match.
Besides handling the blowback, comfort could also relate to how the weapon feels in your hands. Some players like more realistic guns and will seek out heavier metal models to get a more intense game. Others will prefer light plastic options because they are easier to carry and fire for long periods of time. Determine which weight feels best in your hands.
Best Airsoft Brands
One complication for many people trying to find the best blowback airsoft pistol online is encountering brands they don't recognize. Savvy shoppers have learned to be wary of sellers that reveal little information about themselves because it is easy to be trapped with a substandard product.
When searching for an airsoft pistol with excellent blowback action, the following brands are the best bets.
Umarex
Own the Yard recommends Umarex a lot, and with good reason. The full name of this manufacturer is Umarex Sportwaffen GmbH & Co. It is a German-based company that focuses on the creation and development of sports weaponry like airsoft and paintball guns.
One advantage of ordering a Umarex is receiving a high-quality weapon, but it is also possible to find excellent models of real guns that have been translated to airsoft specifications. Plus, the manufacturer is easy to contact with questions and concerns and has great customer service. All of the stats of their airsoft pistols are listed online, and you get what you pay for, nothing more and nothing less.
Elite Force
Another reliable brand is Elite Force, the American branch of Umarex. While it operates independently of the main German company, it continues to produce top-notch models of real airsoft pistols and stringently tests the blowback quality of its weapons so they match realistic standards. Elite Force is best known for its replicas and has access to the blueprints of numerous weapons manufacturers, including Berette, Glock, and Ruger.
Personal Preference
Beyond these significant players in the field, the best airsoft brand for you will be the creator of your favorite gun. It is important to test out a couple of models before making a final decision, especially if you have never played before and remain ambiguous about your abilities and preferences.
FAQs
Q: Can I modify my airsoft pistol?
A: The majority of basic airsoft pistols will come with the ability to make minor modifications such as adding or changing out the rails. However, because pistols are small, there are few other changes that can be made without affecting the function of the weapon.
Q: Can I remove the orange ring from my airsoft pistol?
A: This is not recommended. The orange ring is mandatory in numerous states within the United States because it identifies your pistol as a toy for a game and not a real weapon. Removing it can incur fines in some counties and could get you mistaken for an actual shooter. The best thing you can do is exercise caution when carrying your pistol off of the field. Consider carrying it in your bag for improved safety.
Q: Can I use different sized BBs in my pistol?
A: It is common for individuals to try to use a broad range of BB and pellet sizes in their airsoft pistols, but this is not a good idea. When airsoft guns are designed, the magazines and barrels are meant to accommodate only a select few sizes. Trying to size up or down when choosing ammo can result in permanent damage to your weapon as well as lowered force.
If you want to improve your accuracy and are therefore trying to practice with larger or heavier ammo, it is better to get a different weapon than try to make your current pistol more accommodating. Plus, this way, you can experience more weapon types while still enjoying your airsoft games.
Q: Are airsoft pistols accurate?
A: If you are just starting out in the sport, a pistol is one of the most accurate weapons. It is easier for the average person to aim and often has less recoil and blowback, meaning you can maintain your grip and will be subjected to less force.
If you are uncomfortable using your gun, try practicing at a range before becoming involved in a match. This way, you gain experience with your weapon and can aim and shoot more effectively.
Wrap-Up
Out of all of the models reviewed here, my personal favorite is the Umarex Smith & Wesson M&P 40. While many airsoft pistols claim to have realistic blowback, it is this model that is the closest to the recoil from a real gun. Plus, the combination of polymers and steel is durable and able to take being hit or dropped during intense gameplay. All around, it is a great option and quite affordable for most backyard players.
If you don't like our top pick, the other pistols on this list would also make excellent additions to any backyard game. Just remember to suit up and wear gear like a helmet to protect yourself, and also avoid people engrossed in other games like soccer. Although airsoft pellets are designed to bounce off of the skin, they can still pack a wallop when unprepared.