Today we're going to talk about some of the best electric airsoft pistols on the market.  We scoured the internet and I've decided that these offer some of the best performance you can get.  It doesn't hurt that they're very well priced, too.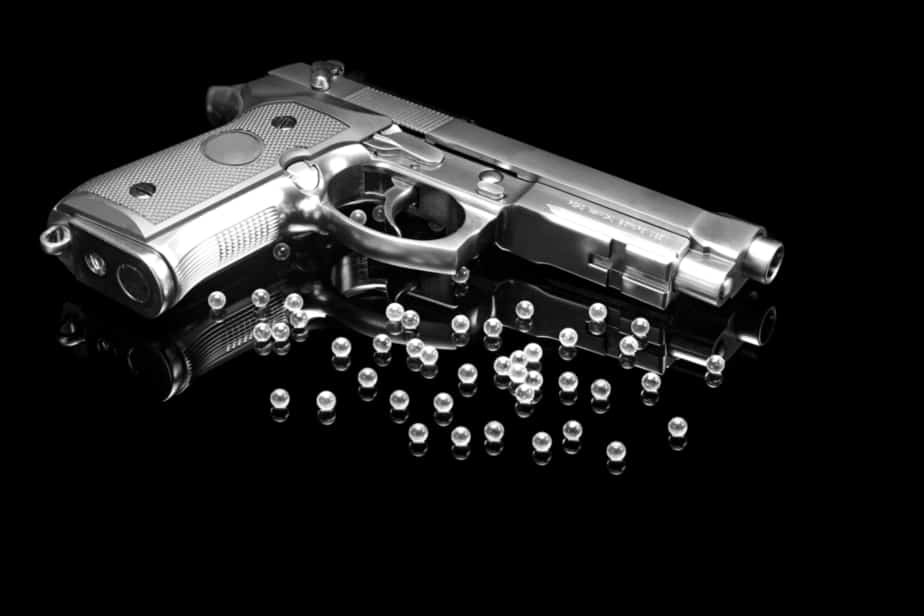 If you are new to electric airsoft pistols, we encourage you to read through our helpful guide after you have read our reviews. This will give you a better understanding of how they work, what they're used for, and where best to use them.
We will also discuss some of the benefits of owning an electric Airsoft pistol. There is a wealth of information available online, so be sure to look at other resources. This will ensure that you are well-informed and better prepared to make a buying decision.
If you already own gas-powered airsoft guns and use them regularly, you might be surprised at what an electric Airsoft pistol can do for your arsenal. They are lighter and easier to handle, and they make a great backup weapon in the event that your main gun runs out of ammunition.
If you use CO2 predominantly, an electric Airsoft pistol can save you money on expensive CO2 cartridges.  Be sure that you read our section on the types of batteries that electric Airsoft guns use. This can help you in your buying decision and save you a lot of money in the long run.
In a Hurry? Here's Our Top Picks…
1. HK Heckler & Koch P30 Electric Blowback
Sale
Last update on 2023-09-20 / Affiliate links / Images from Amazon Product Advertising API
A great choice for those who want to throw down for some serious airsoft war games. Although this gun works on four AAA batteries, it features realistic blowback as you'd find on a real gun.
It has both semi-auto fire and full-auto shooting capabilities. It uses plastic 6mm airsoft BBs and fires them up to 180 FPS.
The magazine is a 16-shot drop-out replica which houses the BBs. It has a built-in hop-up system that allows you to adjust your firing trajectory.
An extra magazine is included for even more ammunition in your war games.
Things We Like
Great replica
Affordable
Lightweight
Things We Don't Like
Check Price and Reviews on Amazon
---
2. Game Face AEG Airsoft Pistol
Game Face GFAP13 AEG Electric Full/Semi-Auto Airsoft Pistol Kit
AEG ELECTRIC FULL/SEMI-AUTO AIRSOFT PISTOL - Durable heavy-weight metal/synthetic design
DELIVERS SPEEDS UP TO 250 FPS
30-ROUND MAGAZINE WITH SPEEDLOADER - Compatible with 6mm airsoft BBs
PICATINNY RAIL - Add accessories for your style of play
INCLUDES - Rechargeable battery, battery charger and 6mm airsoft BBs
Last update on 2023-09-20 / Affiliate links / Images from Amazon Product Advertising API
Game Face's AEG Airsoft pistol features both an electric and battery-powered gearbox. You get the battery and charger included with the gun, as well as a 30-round magazine.
I must say, this pistol is pretty powerful. It is capable of firing 6mm Airsoft plastic BBs up to 250 FPS. It packs a pretty nice kick when you fire it and has really good accuracy.
If you are familiar with airsoft guns at all, you will most certainly enjoy the realism that this model provides.
With its tough plastic body and metal barrel, this unit weighs 1 1/2 pounds and has great balance. The body of this pistol is made in a way that feels good to hold and it's a pleasure to wield.
Its weight seems to be just right. So whether you're new to the sport or have years of experience, this is a well-rounded gun that should serve you well.
The included battery should last you anywhere between 2 and 3 hours before needing a recharge.  once the battery is completely depleted, it should take about 4 hours to get a complete recharge.
I like that this gun comes with both the battery and charger.  Sadly, it is becoming more frequent for Airsoft gun manufacturers to make you purchase these necessary components separately. For those of you who live in New York, it should be noted that this product cannot be shipped there.
Things We Like
Well balanced
Great build quality
Durable
Things We Don't Like
Check Price and Reviews on Amazon
---
3. Elite Force Beretta 92 FS 6mm BB Pistol Airsoft Gun
No products found.
Elite Force delivers a great replica of the Beretta. This battery-powered Airsoft gun is semi-automatic and capable of 150 FPS.
The Beretta 92 FS requires four AA batteries to operate. It uses 6mm airsoft BBs and is completely electric powered.
While most of the body is plastic, the barrel is made of metal. This gives some added weight to the pistol. Depending on your preference, you may prefer its 2.2-pound total weight.
The magazine is drop-free and holds up to 16 rounds. When you purchase this gun you get a hundred BB's included.
The total FPS isn't very high when compared to others on our list, which makes this unit a great option for practicing. Beginners may prefer its lighter power but may be turned off by its heavier weight.
But if you are well experienced in using these types of guns, you will most likely find the weight to be just right. It provides great feedback and response, giving you the perfect level of control and balance.
Things We Like
Great for practice
Metal barrel
Nice replica
Things We Don't Like
Check Price and Reviews on Amazon
---
4. Evike 1911
Evike Airsoft - CYMA New Gen. Tokyo Marui AEP Heavy Weight 19.11 Airsoft Electric P.istol w/Metal Gearbox - (PID: 50256)
◙ Airsoft only. Optics, batteries, charger, and other accessories NOT INCLUDED by default unless stated clearly in b.ulletpoints or description. Do not assume they come included. Please check ALL b.ulletpoints AND the description before purchasing. Blaze Orange tips are preinstalled to meet 15 C.F.R. Part 272 requirements and may differ from the images. Airsoft g.uns cannot be sold into certain jurisdictions, including (but not limited to) CT, IN, DC, DE, NJ, NY, & PA. Assembly may be required.
FPS: 190 - 210
Model: Black
Heavy weight, metal construction (Hefty, larger than 1:1 scale design)
Electric power requires no gas and no need to rack the s.lide
Last update on 2023-09-20 / Affiliate links / Images from Amazon Product Advertising API
At close to three pounds, the Evike 1911 airsoft pistol is one of the heavier units on our list. You should expect to get around 190 to 210 FPS.
The 1911 features the safety on its frame, making it easy to push off and on. An adjustable hop-up system allows you to set your desired velocity.
The frame of the Evike 1911 has rails to allow you to add lights, lasers, or other attachments. The included magazine is completely detachable, and the safety is built into the frame.
As mentioned, this gun is heavy. If you're just getting started, you may want to choose a lighter model until you get more comfortable with handling this type of gun.
Things We Like
Things We Don't Like
Not very accurate
Too heavy for some users
Check Price and Reviews on Amazon
---
5. Evike H&K Electric Pistol
Game Face GFAP13 AEG Electric Full/Semi-Auto Airsoft Pistol Kit
AEG ELECTRIC FULL/SEMI-AUTO AIRSOFT PISTOL - Durable heavy-weight metal/synthetic design
DELIVERS SPEEDS UP TO 250 FPS
30-ROUND MAGAZINE WITH SPEEDLOADER - Compatible with 6mm airsoft BBs
PICATINNY RAIL - Add accessories for your style of play
INCLUDES - Rechargeable battery, battery charger and 6mm airsoft BBs
Last update on 2023-09-20 / Affiliate links / Images from Amazon Product Advertising API
Evike finishes out our reviews with a fully licensed H&K electric pistol. The build quality is fantastic, as it is made with a polymer frame and an all-metal slide.
This pistol features an adjustable hop-up and a high-performance motor to give you between 190 and 210 FPS.
I like the fact that the magazine's slide-release is ambidextrous. This allows you to trigger it on either side of the gun.
It fires standard 6mm airsoft plastic BBs and is powered by a 7.2-volt AEP battery.
The biggest bummer with this pistol is that it does not include the required battery. Nor does it include the required charger for charging the battery.  Both are a separate purchase, serving to add even more to its total cost.
Things We Like
Things We Don't Lik
Battery and charger sold separately
Check Price and Reviews on Amazon
---
What to Look for in an Electric Airsoft Pistol
Let's discuss some of the basics that go into buying an electric airsoft pistol. If you've never owned an airsoft pistol, that's okay. We will give you some useful information to help point you in the right direction.
If you're already pretty familiar with electric airsoft guns, we will discuss some of the benefits of adding an electric pistol to your arsenal.
Weight and FPS
The total weight of the airsoft pistol largely depends on your level of experience.  If you are young and/or just starting out, you may want to go with a lighter model so you have an easier time all around. You don't want to get something really heavy that you're going to be uncomfortable with.
This could negatively impact your performance and even result in injury to yourself or others.  Some electric models have blowback just like a real gun.  If you aren't familiar with this function, it could greatly interfere with your accuracy and performance.
Most electric pistols weigh anywhere between 1 and 3 pounds.  Why this may not sound like a lot in writing, that can change quickly once you get the gun in your hands.  After you've had it for a while and fired several shots, believe me, you will quickly take notice of the weight.
Next up is FPS. This is the rate of speed at which the BB travels. As a beginner, it may be best to start at a lower FPS.  As you become more comfortable with shooting an electric air gun, you can slowly work your way up to a pistol with greater FPS.
This will ensure that you have a safer time while you're practicing. While it's natural to want the most powerful, until you are comfortable firing a gun of any type, you should lean toward the side of caution.  Think about it this way:  when you're just learning to ride a bike, you don't immediately jump on a motorcycle.  You first begin with a bicycle, possibly one with training wheels.
The more comfortable you become, the more confident you will be, as well.  And once you are confident with your model, you can advance to the next stage in owning an electric airsoft gun.
Choosing the right trigger
There are so many different types of triggers across the board. Which one you go with will largely depend on you. Some require quite a bit of strength to engage them, as where others do not.
If you're just getting into using electric airsoft guns, it is recommended that you start out with an easy trigger and work your way up.
This is another step that you will need to familiarize yourself with before jumping right into playing war games. Some may find that they need to acclimate themselves with lower-powered pistols before advancing. Conversely, there are many to prefer this style over all others, at it more closely mimics real-life sidearms.
Adding to your arsenal
If you already own an airsoft rifle, whether CO2 or otherwise, you may want to consider adding a pistol to your arsenal.  Even if you own a CO2 pistol,  it may be beneficial to add an electric pistol.
If you're heavy into war games or any type of Airsoft game, having a pistol at your side can make the difference in winning or losing.  Most especially in any type of competitive Airsoft game, a pistol is always going to be easier to handle, faster to fire, and they make a great backup in case your rifle runs out of ammunition.
And if you already have a CO2 pistol, an electric airsoft gun serves as a great backup. Batteries on most electric airsoft guns should last you a few hours of use.
Choosing the right kind of battery
Since electric airsoft guns run on batteries, it's important that you know what kind they use before you buy. Some electric guns run on AA or AAA batteries, while others use rechargeable batteries.
When considering a gun that runs on rechargeable batteries, make sure that you pay close attention to the description. Find out whether the gun includes the required charger and battery, as this may be a separate purchase for both items.
If it does not include these necessary components, depending on your budget, this may help you and your ultimate decision.
There are some pros and cons to standard batteries and rechargeable batteries.  Standard batteries are going to be cheaper up-front, but they may end up costing you more in the long run.
Rechargeable batteries don't need to be replaced nearly as often as regular batteries. They will, however, cost much more than their regular counterparts in the event that they need to be replaced.
The Best Paintball Tank Regulator Brands
Elite Force is a brand of Umarex and has been around since 1972.  Along with their parent company, Elite Force makes more official replicas than nearly any other Airsoft manufacturer in the world.
Umarex has been around for decades. They create weapons for hunters, recreational use, and in professional sports. Their products are of high quality and high performance. Many agencies use their vast arsenal of weapons for professional training purposes.
Their airsoft replicas closely match their real-life counterparts due to agreements that Umarex has with official firearm manufacturers. Founded in 1972 and located in Germany, Umarex makes a huge selection of guns, airsoft guns, and replicas. They are behind many popular guns, such as Walther, Smith & Wesson, Ruger, Glock, and more.
Evike has been making airsoft guns and equipment for over a decade. They are one of the most trusted manufacturers in the industry. Their Airsoft guns are used for training purposes and sporting events alike.
They have a global reach that stretches from the United States to Hong Kong. They strive to become the most trusted and respected business in America.
FAQs
Q: Why choose Airsoft?
A: Starting out with an airsoft gun is a great way to get your foot in the door to operating a firearm.  It is wise to first begin with an airsoft gun so that you become comfortable with the way a gun handles.
Reflecting on our bicycle analogy above, it's going to be the safest route.  Once you become familiar and feel confident handling an airsoft gun, you may then graduate to the real deal.
Gun safety is of prime importance. There are over 36,000 deaths each year involving a firearm.  You can help reduce this number by practicing gun safety to the letter.
Q: Where can I use my new electric Airsoft pistol?
A: If playing in a public space, like an airsoft field, it is important that you find out their velocity limits. While your electric Airsoft pistol will most likely be well under their limit, it is still important that you know ahead of time.
There are three main choices when it comes to using your new electric airsoft gun: indoor, outdoor, and plinking. You are typically going to see lower limits with indoor fields. On average, they allow somewhere between 350 and 380 FPS.
Outdoor fields are usually higher. They often allow between 400 and 450 FPS. If your arsenal includes rifles, you'll be better suited to outdoor fields than you would with indoor ones.
When using your electric airsoft gun for plinking, all bets are off. If you aren't familiar with the term, plinking is when you go to your backyard or other private property to unload on various targets from afar. Like shooting cans or stationary targets. Just always be sure you're shooting away from people and traffic.
Conclusion
We hope that you found our reviews and guide helpful. Always practice safety, regardless of the type of gun you are using. This will ensure that you and those around you are safe and less likely to get injured or have an accident.
As always, be sure to have fun. If you are interested in looking at more of the best electric Airsoft pistols, check out some of our valuable resources here. This will help in expanding your arsenal and giving you practice with a greater variety of weaponry.