Taking part in airsoft war games is an experience unlike any other. Knowing you can't be injured (badly, anyway) turns war into blissful fun. If you're planning on getting into this growing activity, it's important you get yourself properly armed with the best gas airsoft guns.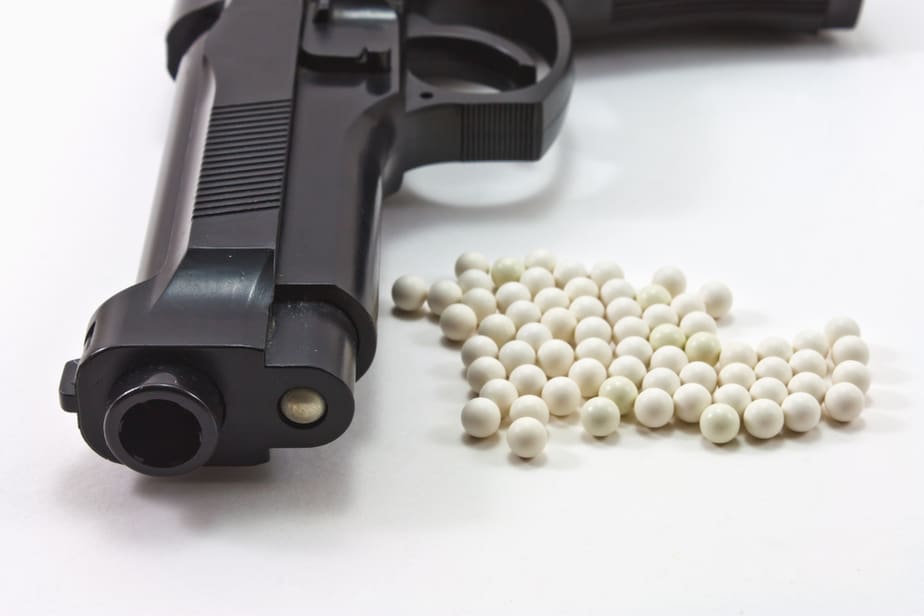 That's where we come in. We've put together a great resource to help you choose the best one. They make a great addition to your arsenal and give you more distance and power than their gasless counterparts.
We stuck to pistols in our reviews, as they make the perfect stepping-stone to greater artillery later on. You'll want to begin with something you know you can easily wield before you go hog wild. A handgun makes a great companion piece if you're going to be playing competitively.
After you've read our reviews, scroll down below for some in-depth discussion on what makes a great gas airsoft gun. This will help you know what to look for in your quest to find the right fit for your needs.
In a Hurry? Here's Our Top Picks…
1. Umarex Combat Zone Enforcer
Last update on 2023-09-02 / Affiliate links / Images from Amazon Product Advertising API
The Combat Zone Enforcer is one slick gun. It's a semi-auto and has a 15-round magazine. It's actually a replica of the XDM 3.8 Compact.
Speaking of which, the first thing you'll notice is just how compact it is. Your hands wrap around it nicely, giving you great control of it. It weighs just a fuzz under a pound at 0.95 pounds.
Loading is pretty simple. You press a button on the side of the gun to release its clip. The clip has a small indention where you insert the BBs. A spring-loaded slide keeps them in the track until they're ready to fire.
What I really like about this gun is its hatch that houses the CO2 cartridge. A lot of models use a slide-out hatch that tends to come off pretty easily. This one feels great and molds more naturally to your hand. Once the cartridge is in place, a twist-screw tightens it in place.
When fired, the Enforcer has some pretty nice blowback to it. The biggest issue you'll likely notice is the trigger. It feels like it's longer than it needs to be, and your finger will definitely feel some strain after long use.
Things We Like
Affordable
Compact
Efficient
Rails for accessories
Things We Don't Like
Mostly plastic
Long trigger
Check Price and Reviews on Amazon
---
2. Colt 1911 Rail Pistol
Colt 1911 CO2 Full Metal Airsoft Pistol with Adjustable Hop-Up and Blowback, 380-390 FPS, Black
POWERFUL CO2: 380-390 FPS with 0.20g ammo
READY TO PLAY: Semi-automatic shoots 6mm ammo. Magazine holds 14 rounds. Includes 100 starter BBs
REPLICA: made with full metal for a realistic feel with authentic size and weight. Weighs 1.9lbs
ADJUSTABLE HOP-UP: creates a back-spin effect on ammo to provide longer shooting distance
BLOWBACK ACTION: provides a realistic, satisfying kick. Great for training or simulation purposes
Last update on 2023-09-02 / Affiliate links / Images from Amazon Product Advertising API
If you're looking for a heavy-duty gun with some kick, Colt has you covered. The 1911 is an all-metal gun with nice engraving. It's classy, stylish, and sharp. Aside from the orange plastic tip, this thing looks like the real deal.
Colt added some really cool features that make the 1911 Rail Pistol stand out. For one thing, the sights have bright white dots painted on them. This makes it easy to look into and line up your shots even better.
The handle alone is incredible. It's not black like the lower portion of the gun. Colt used a brushed brown tint that looks absolutely beautiful. You get a skeleton trigger that suits the model well. Your finger will feel right at home against it.
The magazine releases with the press of a button. It houses the CO2 cartridge and the BBs, too. This is a really unique and clever way to make use of the magazine.
There's a safety lock on both sides of the handle. This is a nice addition you don't find on many airsoft guns, either. Most have the safety trigger on only one side. And like all 1911s, there's a safety trigger built into the handle when you grip the gun. If this isn't pressed in, the gun won't fire.
The hammer is metal and sturdy. A slide release makes breakdown a cinch. You just don't see this very often, so it's a big plus.
The 1911 can hold up to 19 rounds at a time. It can be a bit cumbersome trying to load BBs, especially once you get a dozen or more in. The spring is powerful and you have to fight to get rounds in.
Things We Like
Attractive design
Heavy-duty
Feels great
Things We Don't Like
Loading BBs kind of finicky
Check Price and Reviews on Amazon
---
3. Umarex Glock 19X
Sale
Umarex Glock 19X Blowback 6mm BB Pistol Airsoft Gun, Glock 19X GBB
Lightweight and rugged injection molded polymer frame with durable aluminum alloy slide; Fully licensed by GLOCK with complete rollmarks on the slide and logos molded to the frame
Features the same ergonomics, function, and handling as the original; Powered by economical airsoft green gas (green gas NOT included)
Features realistic blowback action, traditional GLOCK sights, and a GLOCK Gen4 style frame with finger grooves removed
Shoots 6mm plastic airsoft BBs at up to 300 fps
Great for use in airsoft play, target shooting, and as a training tool
Last update on 2023-09-02 / Affiliate links / Images from Amazon Product Advertising API
I'm really digging the 19X. The first thing you'll notice is its unique color. It has an awesome tan paint job that makes it different from most others. It's got a military-grade look to it.
The magazine has been upgraded from previous models, giving you room for more gas and more rounds. The slide is a bit shorter, which I like. It makes it a thick and sturdy sidearm.
The mag release is made so you can set for left- or right-handed use. It holds up to 18 rounds of ammunition and houses both the ammo and the CO2 cartridge.
It's big and bulky and feels great releasing and inserting the magazine. It has a really good weight to it and doesn't feel cheap like some of the other magazines out there.
It looks and feels like Umarex powder-coated the grip, which is a very cool addition. Outside, everything down to the trigger is polymer, giving it a light but sturdy feel. Internally, you get heavy-duty metal.
The trigger is a bit harder to pull, but it has short travel, so it's not that big of a deal. It has plenty of rails for add-ons and accessories, too.
When you're firing the gun, you get a really smooth kickback. It feels great to hold and even better to shoot. It has a wonderfully snappy feel with each shot fired. Everything feels sharp and precise.
The blowback is pretty powerful, so if you're just getting started, this may be a bit too much for you. You might want to begin with something a little less powerful and work your way up to the Glock 19X.
Things We Like
Excellent design
Nice kickback
Great balance
Things We Don't Like
Trigger takes some strength
Check Price and Reviews on Amazon
---
4. Walther P99 Blowback
Sale
Last update on 2023-09-02 / Affiliate links / Images from Amazon Product Advertising API
Umarex is back with its Walther P99 Blowback airsoft pistol. It's a near-perfect replica of the true Walther P99.
The body is all plastic, but the drop-out magazine is metal. It's able to hold up to 15 rounds at a time. The total weight of this gun is 1.5 pounds. This weight feels really comfy to hold, as it gives the gun great balance. It is a double-action pistol, meaning it cocks and drops the hammer.
Umarex claims 380 FPS on the P99. The reality is you can expect anywhere between 320 and 330. Its handle is nicely textured and shaped so your hand comfortably grips around it.
The frame is made of polymer, with the trigger, slide release, and mag release being metal. The mag release is ambidextrous, which I really appreciate.
The stick mag feels nice and sturdy. It's easy to load, too. There's a slide-down catch and a hole to insert the BBs. There's no fighting to load like on some other spring-loaded models.
You get both front and rear sights to help you better line up your sights, too. The CO2 is hidden in the grip. You'll like how it easily ejects the old cartridge when you're ready to throw in a new one.
Things We Like
Affordable
Decent blowback
Accurate
Great magazine
Things We Don't Like
Cartridge cumbersome to change
Trigger takes getting used to
Check Price and Reviews on Amazon
---
5. Elite Force Glock 19 Gen3
Elite Force Glock 19 Gen3 GBB 6mm BB Pistol Airsoft Gun
The GLOCK 19 is a compact version of the GLOCK 17; Both the grip and slide of the G19 are shorter, making for quick handling and easy carrying
Features the same ergonomics, function, and handling as the original; Powered by economical airsoft green gas (green gas NOT included)
Shooters will appreiate the familiar ergonomics, take-down procedure, metal slide, drop-free mag, and the realistic blowback action
Shoots 6mm plastic airsoft BBs at up to 290 fps
Great for use in airsoft play, target shooting, and as a training tool
Last update on 2023-09-02 / Affiliate links / Images from Amazon Product Advertising API
Umarex delivers an excellent replica of the Glock 19 Gen 3. Everything is just spot-on. Aside from the plastic orange tip, you'd be hard-pressed to tell them apart.
The trigger has a built-in safety that requires you to apply just the right amount of pressure to get it to fire. When firing, the slide kicks back really nicely and the gun just feels great to shoot. The slide does hang up quite a bit when you pull it back but seemed to loosen up over time.
The magazine is really something to behold. It looks perfect and has some really nice weight to it. It houses both the ammunition and the gas.
The total FPS is a bit on the low side at 290, but it's certainly adequate. When testing, it topped out at around 280. Close enough, I suppose.
The sighting has nice white painting to help you line up your shots. This is a nice addition that I really like seeing with these Airsoft guns.
The overall ergonomics of the Glock 19 are fantastic. This makes it an absolute pleasure to hold. It's got a really nice balance, just like its real-life counterpart.
This model makes a perfect entry-level choice for those just getting started. It's great for learning the ropes and won't overwhelm you like more advanced guns on the market. Give it a go. It makes a great investment and should last you a good while.
Things We Like
Great recoil
Great for training
Nice replica
Durable
Things We Don't Like
Check Price and Reviews on Amazon
---
What to Look for in a Gas Airsoft Gun
Getting your hands on a quality gas airsoft gun has never been easier. With so many choices available, it can be a bit intimidating if you don't know what you're looking at. Here, we'll cover the basics so you can have a much easier buying experience.
Blowback
Blowback style airsoft guns function the most like a real gun. With each shot fired, the slide kicks back just as you would see on a real handgun. Once the magazine is empty, it will slide all the way back and lock in place. Most of the airsoft pistols you see on the market are going to be blowback.
Non-blowback
These will have either a revolver design or a fixed slide. There are fewer moving parts, and this usually makes these types of guns less expensive. This also serves to make the gun more reliable.
The triggers on non-blowback pistols are typically longer and often look less realistic when compared to their blowback counterparts.
A word of caution: non-blowback guns are really powerful. It might be a bad idea to use these in war games, as they can cause a lot more damage and injury.
Trigger
This is important. There are so many different types of triggers across the board. Which one you go with will largely depend on you. Some require quite a bit of strength to engage them, as where others do not. If you're just getting into using airsoft guns, it is recommended that you start out with an easy trigger and work your way up.
Many triggers have safety features built right into them. This requires you to apply just the right amount of pressure to get the gun to fire.
This is another step that you will need to familiarize yourself with before jumping right into playing war games. Some may find it to be cumbersome to use and more of an aggravation. Conversely, there are many to prefer this style over all others, at it more closely mimics real-life sidearms.
Style
We covered handguns here, but you can get many rifles, too. Check out our guide to some of the best rifles here. If you already have a rifle, you may want to consider getting a pistol to keep at your side if you're playing war games. This is handy for rapidly transitioning between guns in the heat of battle.
Airsoft rifles are a bit on the slow side, leaving the handgun a quick and easy option when you're on the run. Furthermore, many players prefer to play with only handguns. You certainly can't do yourself any harm by having one in your inventory.
Types
There are different types of gases used in gas airsoft guns. The most common is CO2. These come in small canisters and are relatively inexpensive.
Compressed propane mixed with silicone oil is what gives you the greatest blowback. This works by releasing the gas through a series of valves once you pull the trigger. It will then propel the BB through the chamber.
The Best Paintball Hopper Brands
Founded in 1972 and located in Germany, Umarex makes a huge selection of guns, airsoft guns, and replicas. They are behind many popular guns, such as Walther, Smith & Wesson, Ruger, Glock, and more.
CYBERGUN has been in the game since 1983, albeit under a different name. They officially became CYBERGUN in 1999 and continue to provide consumers with some of the best airsoft guns on the market.
This Hong Kong-based company is responsible for some incredible replica airsoft guns. They often use real metal parts to more closely emulate their real-life counterparts.
FAQs
Where Do You Plan to Use Your Gas Airsoft Gun?
This is highly important. Your gun may be able to shoot farther than the area or facility allows. If you plan on playing in a public space, you need to find out their velocity limits before you go barreling in with gun a-blazin'.
There are three main choices when it comes to using your new gas airsoft gun: indoor, outdoor, and plinking. You are typically going to see lower limits with indoor fields. On average, they allow somewhere between 350 and 380 FPS.
Outdoor fields are commonly higher. They usually allow between 400 and 450 FPS. So if your arsenal includes rifles, you'll be better suited to outdoor fields than you would with indoor ones.
When using your airsoft gun for plinking, all bets are off. If you aren't familiar with the term, plinking is when you go to your backyard or other private property to unload on various targets from afar. Like shooting cans or stationary targets. Just always be sure you're shooting away from people and traffic.
Now, it is possible to increase your gun's velocity on your own by changing your gun's spring. Unfortunately, this is much easier said than done. This will usually require you to take the entire gun apart, but it can be done. It's a pretty in-depth process, so here's a guide that should tell you all you need to know to adjust your FPS.
Conclusion
Now that you know what to look for, you should have a much easier time selecting your gas airsoft gun. If you're a beginner, it's best to start out with something less complex and work your way up. Don't go all out and get the biggest and baddest gun you can find.
Get familiar with something you can easily hold and shoot. Once you're comfortable with it, you can advance to the next stage. The best gas airsoft guns are built well and should give you years of enjoyment. We hope our guide was helpful. Have fun and be safe!