If you live in an area that gets frequent snow, you know how much of a hassle it is to clear your drive so that you can get to work of the store. Regular snowblowers work well—as long as the area isn't too large. That's when you may find it helpful to read ATV snowblower attachment reviews to weigh the pros and cons of making this purchase.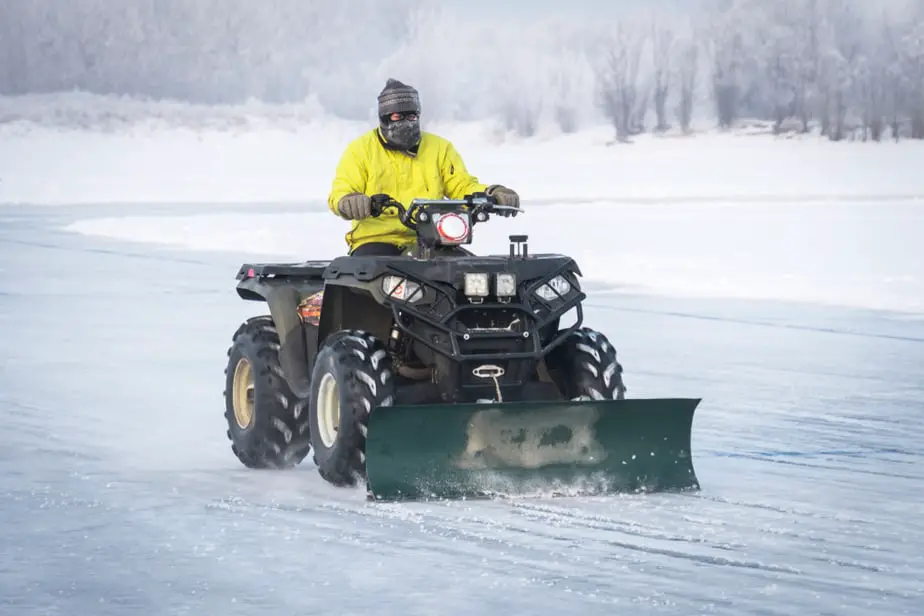 Fortunately, you'll find a slew of products that can fit most ATVs without a lot of hassle. You'll also see them in a wide range of price points with a varying number of features. Therefore, it pays to figure out what you need from an attachment, along with an assessment of your budget. Depending on the size of the job, the necessary accessories can run well north of $1,000.
Our guide will walk you through the process of choosing an ATV snowblower attachment from determining what you need through protecting your purchase. We'll discuss the features you should look for to ensure that you get a suitable product for your situation. You may even find that this unpleasant winter chore is more fun with the right equipment for the job.
In a Hurry? Here's Our Top Picks…
1. Bercomac Versatile Plus Off-Road Snowblower
No products found.
The Bercomac Versatile Plus Off-Road Snowblower proves why this manufacturer is one of the industry leaders. This model is a beast with a 48-inch attachment and bigger, more rugged wheels for any type of snow. It is 21 inches high to handle heavy snowfalls. It has a universal mount that makes using it easier. The product is well-balanced with motor placement in the middle.
The attachment maneuvers smoothly. While the motor jacks up the price considerably, you can use a third-party one. Bear in mind that you'll need a silencer if you go with a two-stroke model. The manufacturer backs up the product with a one-year warranty for residential use and 90 days for commercial.
Pros:
The installation and mounting are a piece of cake and fit most ATV models.
It has a shear-bolt safety system.
You can engage the clutch, adjust the chute, and turn off the engine with the included electric control box.
Cons:
The motor is a separate and spendy purchase.
Check Price and Reviews on Amazon
---
2. Arnold MTD 3-Stage Snow Thrower
Arnold 19A40024OEM MTD Genuine Parts 3-Stage Snow Thrower, 42"
Compatible with Troy-Bilt Super Bronco XP riding lawn mower 2015 and newer with innovative three-stage technology that clears snow up to 25-Percent faster than a traditional two-stage snow thrower
High volume accelerator cuts and chops snow to quickly and easily remove 18-Inch of snow
Robust steel high arch chute provides optimal snow throwing; includes adjustable replaceable skid shoes and scraper blade
490-900-M059 suitcase weight also recommended to function correctly
1,100 service dealers coast to coast with bilingual customer support and easy-to-find replacement parts
Last update on 2023-09-23 / Affiliate links / Images from Amazon Product Advertising API
The Arnold MTD 3-Stage Snow Thrower is an excellent option if you have a compatible riding lawnmower. It is less expensive than comparable models for ATV use. The motor uses the more powerful three-stage technology with an 18-inch high attachment to get through heavy snowfalls. However, the attachment is weightier at 283 pounds.
The thrower has adjustable skid plates, which we always like to see with these items. It is well-made and backed by a manufacturer warranty that covers repairs. Replacement parts and accessories are readily available too if you want to customize it. The attachment is 42 inches long with a chute rotation of 180 degrees. The operation is smooth and easy to handle.
Pros:
The motor is powerful to handle heavy loads.
You can use this attachment with a broad range of products.
It comes with a two-year, limited warranty.
Cons:
The compatibility is limited to a small number of mowers.
Check Price and Reviews on Amazon
---
The Quick Snow-Away ATV – ATV PTO Snowblower is a powerful attachment that will make fast work of clearing a driveway. It 48 inches long and 18 inches wide. The motor is 14 horsepower and packs plenty of oomph. The chute rotates a full 360 degrees and can chuck snow up to 20 feet away. It weighs in at 245 pounds.
The model has the features we'd expect such as adjustable skid plates and a shear-bolt safety system. It has a 12-inch auger with four blades. The attachment even has a slick design that is eyecatching. It comes with a 12-month warranty against defects for a free replacement.
Pros:
The attachment is easy to install.
The engine is powerful with a heavy-duty auger to handle heavier and deeper snowfalls.
Your purchase includes a 12-month warranty.
Cons:
You must only deal with the manufacturer for repairs or risk voiding your warranty.
---
The Erskine ATV Snowblower ticks off a lot of the boxes we like to see in an ATV snowblower attachment. It measures 48 inches long by 18 inches high with a weight of 245 pounds. It has a 12-inch auger with four blades to tackle deep snow efficiently. The chute rotates 360 degrees and can cast snow up to 20 feet away with its 14-horsepower engine. It has a universal mount for easy installation.
We like the fact that the attachment is made by a USA company using parts from this country. The product is well made, following the ISO 9001:2015 quality control standards. Overall, it delivers the right amount of power for smaller ATVs.
Pros:
The company is USA-based and uses USA-sourced steel.
The manufacturer goes the extra mile to ensure top-notch quality control.
The construction is durable and built to last.
Cons:
The attachment works best with only smaller ATVs.
---
5. Massimo Universal UTV Snow Blower
No products found.
The Massimo Universal UTV Snow Blower is an excellent choice if you need to haul out the big guns. It has a 60-inch attachment for handling large driveways or parking areas with its 20-inch clearing depth. It has a four-stroke, 13-horsepower engine with an electric start and recoil. You can use it on any compatible ATV or UTV, thanks to its universal mounting plate.
The attachment includes some extra safety features, such as a strobe light to warn bystanders when the auger is moving. It also has adjustable skid plates to protect surfaces. It comes with a one-year limited warranty on the engine, suspension, exhaust, and drivetrain. The manufacturer also covers the wire harness and clutch/CVT for 180 days.
Pros:
The 420 cc-engine is powerful for larger jobs.
It is easy to install.
The manufacturer is transparent about what the warranty covers and its conditions.
Cons:
There are occasional quality control issues.
Check Price and Reviews on Amazon
---
Buying Guide for ATV Snowblower Attachments
Purchasing a quad snowblower attachment often is a significant investment in addition to the ATV you already own. However, the benefits of using one will soon recoup your investment in both time and money. Doing your homework before you buy is another way to get a quality product that matches your needs without overpaying.
The first thing you need to do is assess your situation. As you'll soon learn from browsing ATV snowblower attachment reviews, you have many options from which to choose. Therefore, begin by considering your average winter. What amount of snowfall do you typically get? Also, think about how much and how often it snows. An attachment makes it quicker to clear your drive than a snowblower.
Finally, there is the space you need to clear. Combine that with the specs of your ATV to see what you'll need to get the job done quickly and efficiently. Consider your comfort while at work on the driveway too. If you don't have a cabin, you might look into getting one for your rig so that you can stay dry while plowing.
There are also several features you should consider with an ATV snowblower attachment.
They include:
Engine and Gearbox
Installation and Mounting
Clearing Width
Attachment Height
Operation
Guarantee and Warranty
Engine and Gearbox
While most models run on their own power, make sure that the motor is included with your purchase. It's a major selling point, so you'll usually see it in the product description. Also, check the horsepower spec. It may run anywhere from 11 to 24, depending on the size of the auger it will run. The two go hand-in-hand. Here is where your particular weather patterns matter.
If your typical snowfall is on the light side, a smaller horsepower engine running a 12-inch auger should suffice. However, the heavier or greater amount you get will require an equally well-powered attachment. All the while, you must keep in mind what ATV can handle. A bigger snowblower can add considerably to the weight. An electric start is a must-have for making your job easier.
Installation and Mounting
This factor requires some research on your part. Compatibility is always an issue whenever you look into any kind of attachment. Some models may require an additional kit to work for your rig. Fit also involves the weight of it. Most have their own engine, so it will take the brunt from your ATV. That's your first task.
The other thing to consider is the ease of installation. Of course, you're using your ATV for more than just moving snow, so you need something you can attach quickly. The winch on your rig will do the heavy lifting. We like models that work with a universal mount to make it even easier. Some systems will allow you to transfer some of it to the suspension that will improve your control over it.
Many manufacturers have videos on their site or YouTube.com that will show you how to install the attachment. It usually involves several steps, including attaching the sub-frame to the hitch on your ATV for a secure fit. We recommend watching a few before you buy to see how it's done and to learn what to expect.
Clearing Width
The clearing width is a function of the length of the attachment. You'll typically see it expressed in inches. Popular choices are 48, 52, 56, or 60 inches. The best option depends on your space. A longer width can make quicker work of plowing the drive. However, that also means more weight, which can push the bounds on what your ATV can handle.
Attachment Height
This spec falls right in line with the last one. Think about it. One of the main advantages you'll see in ATV snowblower attachments reviews is the speed at which you can clear an area. It becomes a major selling point if your location typically gets double-digit snowfall so that you can get the majority of it done with only one pass. Heights usually range between 18 and 20 inches, which will cover most situations.
Operation
We'd also suggest looking for some other features that can affect the safety and ease of operation. Things like adjustable skid plates or wheels are a godsend for maneuverability and protecting your driveway. We prefer products that have heavy-duty tires for better control. You'll also see some additional bells and whistles like strobe lights when the device is working.
You can operate the attachment via an electronic control in your ATV in most cases. Make sure to check the rotation of the chute. Some will go 180 degrees, whereas others give you full reign at 360 degrees. It's also a smart idea to check how far it will chuck the snow too. Another feature to look for is a shear-bolt safety system. It will be a lifesaver if you run into large objects like landscaping boulders.
Guarantee and Warranty
Reputable manufacturers will back up their products both with a guarantee that the attachment works and a warranty to cover defects. The latter is typically one year, although some will cover their products for a longer time or give you the option to buy coverage on it. Be sure to read the fine print. You may find that the coverage will vary for residential or commercial use. It may specify certain parts too.
We'd also suggest making another investment in safety for your rig. A snowblower attachment will add a lot of weight to the setup on your ATV. You'll find it helpful to also outfit your vehicle with chains or snow tires to allow it to plow through the snow easier and faster. After all, the last thing you'd want is for your best ATV snowblower to get stuck.
Top 3 Brands
Bercomac
Bercomac manufactures products both for the recreational gardener to the larger agricultural operation. The company is a global leader in producing machinery designed with a mission for "transforming chores into moments of pleasure."
Erskine Attachments
Erskine Attachments manufactures a full line of attachments for tractors and ATVs. The company is ISO 9001:2015-certified to ensure quality products. The Minnesota-based business got its start in 1948 and has been an industry leader since.
Massimo Motor
Massimo Motor is a Texas-based company, specializing in a broad range of transportation and accessory solutions. Their motto, "Good Price, Good Quality and Good Service" speaks to their emphasis on producing excellent on-road vehicles, backed by responsive customer service.
Frequently Asked Questions
Q: How does a snowblower attachment work?
A: An ATV snowblower attachment has its own engine that operates an auger to gather and direct the snow away from the area that you're clearing. You manage everything through an electronic control as you drive your rig. They offer an excellent alternative to a conventional snowblower or snowthrower because they can work quickly to get the job done and keep you dry while doing it.
Q: What's the difference between an ATV and a UTV?
A: Both an ATV and UTV are similar in that they can navigate over uneven terrain. The former can serve both utilitarian and recreational purposes because of their smaller size and handling. The latter, on the other hand, is more of a work vehicle. The ATV maneuvers like a bicycle or motorcycle, whereas a UTV is more like a car. You'll see ATV snowblower attachment reviews for both types of vehicles.
Q: Can you use a riding mower to plow snow?
A: Your riding mower is best suited for that job, alone. Adding a snowblower attachment will likely stress the engine and transmission unduly because of the weight of both the accessory and the snow. You'll probably also void any warranty on the product. Unless your mower is built for these extra jobs, you're best off using your ATV, instead.
Final Thoughts
If you have a long driveway, making this investment makes sense, given the cost of contracting someone to do the job for you. It gives you the freedom to make sure it's cleared when you need to use your driveway and avoid waiting for someone else to get to your house. ATV snowblower attachment reviews are an excellent place to start to get the most bang for your buck.