If you live somewhere that experiences heavy snowfall in the winter, you know all too well how much work it takes to shovel. Thankfully, there are snowblowers that make the job much easier, but it can be hard to tell which one is worth your money. Today we're going to talk a little bit about an electric vs gas snowblower, give you our top five picks, and address some frequently asked questions.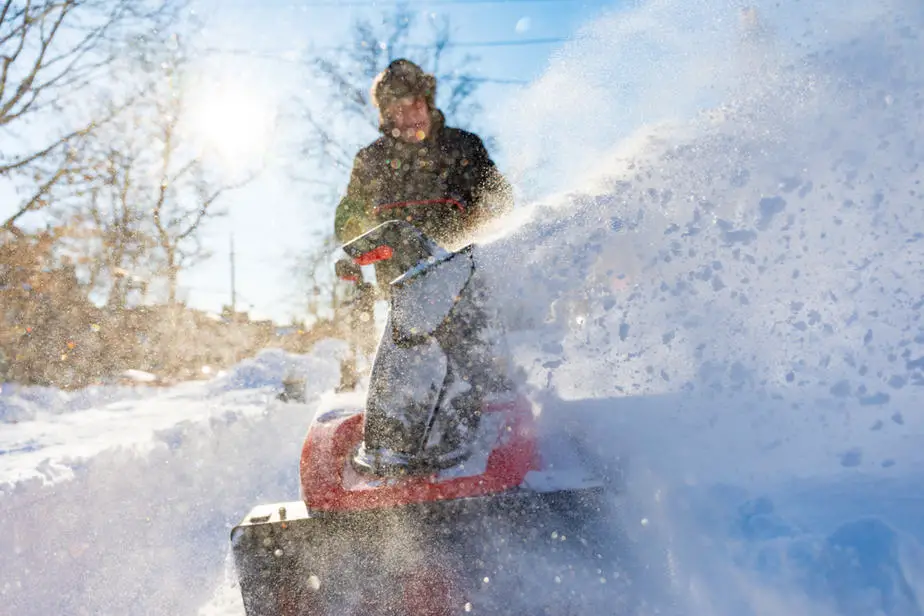 Below you'll read in-depth reviews about the five best snow blowers on the market right now. We've included three gas snow blowers and two electric snowblowers. They are also available at a wide variety of price points, making it easy to find a snowblower that works for you. Let's start off by talking about the gas-powered machines.
In a Hurry? Here's Our Top Picks…
1. Briggs & Stratton Snow Thrower 1696715
No products found.
Starting us off is a gas-powered snowblower from Briggs and Stratton. This incredibly powerful machine has a 208cc engine. The controls for the engine are oversized which is incredibly convenient if you're wearing thick gloves or mittens. The engine can easily be started with a push of a button thanks to the electric start feature. This machine will start without issues when it's incredibly cold out, even down to -20°F. There is a unique rubber-edged auger that is not only wear-resistant, but it helps the machine to clear away snow all the way down to the pavement.
What are the coolest features about this gas-powered snow blower is that you can easily switch the direction of the chute with an easy to reach the handle. This is great for if you have many different areas to use the snowblower in. While we're talking about the chute, you may also like that you can change the height of which snow is being thrown thanks to the quick deflector. You will get a clearing width of 22-inches, making snow plowing your driveway a quick and easy task.
There is a snow intake height of 12 ½ inches. The snowblower can clear wet snow, heavy snow, light snow, and anything in between. While it is a single-stage snowblower, people who have already used it say that the Briggs and Stratton 1696715 performs like a two-stage machine.
Things we like:
We love the electric start feature of the snowblower. It makes it an easy and no fuss task to get the machine going, even on the coldest of days.
The adjustable and easy to maneuver chute is a huge plus as well. It gives you more control to decide where the snow ends up.
Things we don't:
The choke is made up of a plastic knob that has four positions. This can be a little weak when used on several inches of snow.
If the surface you're using the snowblower on has an incline, you experience the machine becoming a bit heavier on your way back up the driveway or whatever surface you're snowplowing.
Check Price and Reviews on Amazon
---
2. PowerSmart DB7624E
PowerSmart DB7624E 24 in. 212cc 2-Stage Electric Start Gas Snow Blower
212cc PowerSmart engine offers powerful snow-clearing action
Push button electric start or manual starter
Blower allows a snow clearing width of 24 in. and a clearing depth of 21 in. making it a perfect choice for regions receiving heavy snowfall.
Versatile drive system allows 4-forward and 2-backward speed variations for enhanced driving convenience
13 in. inflatable tires deep snow tread bites into slippery terrain
Last update on 2023-09-18 / Affiliate links / Images from Amazon Product Advertising API
The PowerSmart DB7624E is one of the best snowblowers on the market. The engine packs quite a punch and the 212cc's make it clear snow with ease. There is a convenient push-button electric start that makes getting the machine going incredibly easy, but there is also a manual starter built-in to this machine. With a snow clearing width of 24 inches and a clearing depth of 21 inches, this snowplow can clear an incredible amount of snow in a very short time.
There are a total of six different speed variations, two for backward motions and four to use on forward motions. The tires are 13 inches, inflatable, and have a deep snow tread that prevents the machine from slipping on wet snow or ice. It has a throwing distance of up to 40 feet and is guaranteed to work in weather as cold as -20°F. Unlike other snowblowers on the market, this one has a high-quality and durable steel frame and auger system. This practically guarantees several years of use out of this PowerSmart machine.
Things we like:
The handles on the snowblower are incredibly comfortable and make it easier to maneuver the machine.
If you're looking to clear snow quickly, we hope you love the clearing depth and width as much as we do.
Another great thing about this snowblower is that it comes with both electric start and manual start.
Things we don't:
One of the only cons of this machine is the price tag. While it's not the cheapest or the most expensive, it's still a little steep for a lot of people.
To say that the snowblower is heavy would be an understatement. It weighs 180 pounds which can be hard to push for some individuals.
Check Price and Reviews on Amazon
---
3. Husqvarna ST224P
No products found.
The Husqvarna 224 is an amazing gas-powered snowblower. It has a powerful motor that makes it incredibly easy to throw hundreds of pounds of snow to the side every minute. It is known for its durability and how long-lasting it is. There are two-stage systems that make plowing snow as efficient as possible. If you're looking for a snowblower to use on a residential facility, this is a great choice.
It has a 208cc engine that brings all the power needed to clear driveways, sidewalks, patios, and more. One of the more unique things about the snowblower is that it has LED headlights. This can be perfect if your schedule causes you to need to clear out snow late at night. There's also a convenient and ergonomic adjustable handle that makes it transform into a snowblower that anyone could use, no matter your size.
Things we like:
The 208cc engine makes this machine incredibly powerful and if treated properly could last a lifetime.
It has a 24-inch clearing path which makes the process of clearing snow a lot faster and easier.
The LED headlights and adjustable handle make this snowblower a machine that anybody could use, at any time of day or night.
Things we don't:
One of the only things we don't like about this snowblower is that it is incredibly expensive. Even though the machine will likely last for several years, the price is a bit steep for the average person.
Not entirely related to the product, but a few people have reported that if they encounter an issue, Husqvarna's customer service isn't all that attentive.
Check Price and Reviews on Amazon
---
4. TACKLIFE snowblower
No products found.
Tacklife is a well-known name that people trust. This snowblower has a powerful and durable 15 amp motor. This allows the machine to easily plow through thick or heavy snow. It has a clearing path with 20 inches, which allows you to get the job done in less time. The auger on this machine is made of steel. It can handle just about any type of snow you come across. There is an instant start and safety switch conveniently located right under the handle. This makes these buttons easy to hit in a moment when you'll need the most.
Speaking of the handle, it is built to withstand extremely cold temperatures and has an anti-freezing feature. The chute is not only adjustable in height, but can be rotated up to 180°. This bad boy can throw snow up to 25 feet away allowing for quick and easy snow clearance. Since it is electric, it is better for the environment and doesn't require much maintenance. It also is rather quiet and won't produce any pollution near your home. This snowblower is incredibly lightweight, weighing in at under 30 pounds. This makes it incredibly easy for just about anyone to use this machine.
Things we like:
For starters, the price tag is rather impressive. If you're on a budget and looking for a high-quality electric snowblower, this is a great choice.
As you've just read, this machine is lightweight and easy to maneuver for anyone who uses it.
Thanks to the steel auger, it can move up to 800 pounds of snow per minute. This will shorten the amount of time you're out in the cold clearing your driveway or walkway.
Things we don't:
Some people experience a lack of control when they're using a lighter weight snowblower. Wireless may bother a few people, the heavy-duty motor and ergonomic handle makes it easy to control for the most part.
Occasionally, wet snow will adhere to the inside of the machine and clog it. This will cause you to manually remove the snow from inside the snowblower.
Check Price and Reviews on Amazon
---
Buyer's Guide
Below you will find a detailed buyers guide to teach you what is most important when shopping around for a snowblower. We will also talk a bit about the differences between electric vs gas snowblowers, along with some tips to make your experience using a snowblower as pleasant as possible.
Range of Motion
When it comes to electric vs gas snowblowers, one is not necessarily better than the other. It's mostly based on preference, but they both have strengths and weaknesses. One of the main differences is the range of motion you get with the machine.
Gas snowblowers
When you have a gas-powered snowblower, your range of motion is pretty endless since you're not tied down to a power source. Just like a car, you will be able to go as far as the gas tank will take you.
Electric snowblowers
When you're using an electric snowblower, your range of motion will depend on how long the power cord is. It may be a good idea to invest in an extra-long extension cord if you plan on buying an electric snowblower.
Moving Snow
Gas snowblowers
When it comes to moving heavy loads of snow, gas-powered snowblowers come out on top. This is usually because they have a more powerful motor and are available in three different stages. There are gas snowblowers out there with the capability to clear several feet of snow with ease.
Electric snowblowers
Electric snowblowers are great for moving heavy snow as well. They may not be available in different stages like gas snowblowers are, but they get the job done. It may just take a little more work than using a gas snowblower.
It's important to mention that the machine's ability to move the snow is highly reliant on how easy it is to maneuver. If you buy a snowblower that doesn't smoothly turn or can't back up properly, it will struggle with the ability to move snow. This applies to all types of snowblowers, including both electric and gas.
Clearing Path
Gas snowblowers
gas-powered snowblowers are known for having large clearing capabilities. There are gas-powered snowblowers that have a clearing with of over 40 inches, tackling nearly 4 feet of snow in just seconds. gas-powered can also handle deep snow and ice as well.
Electric snowblowers
If you're looking into getting a snowblower to help clear sidewalks or walkways, and electric subfloor is a great choice. They currently have a clearing width of around 24 inches. These machines are perfect for smaller jobs or in locations where it doesn't snow a lot at once.
Starting Methods
Gas snowblowers
gas-powered machines often have something called electric start. This can be incredibly convenient during extreme temperatures as it will still start the machine when it is as cold as -20°F. This is often where they are compared with battery-powered snowblowers as well.
Electric snowblowers
One of the biggest selling points when it comes to electric snowblowers is the fact that they start up with ease thanks to a no-cord pull start. This can prevent fatigue on your arms and back.
Cost
Gas snowblowers
Gas-powered snowblowers can get quite expensive. On the low end, you will see them available for around $400. On the opposite end of things, you could spend up to $4,000 on one of these bad boys. This cost is usually due to the machines being made of more durable material such as steel.
Electric snowblowers
If you're looking to save money, electric snowblowers are much more cost-efficient. The most expensive models will cost you around $1,000. This is for the best of the best electric snowblower. There are plenty of affordable options that the average person can purchase without breaking the bank.
Maintenance
Gas snowblowers
If you have some spare time on your hands, you might not mind the maintenance of a gas snowblower. You'll need to change the oil, stabilize the gasoline, replace spark plugs, change out the filters, and more.
Electric snowblowers
Easily one of the best things about electric snowblowers is they require little to no maintenance. You don't have to worry about changing out oil or gasoline, but you may occasionally need to wipe down the machine to get dirt and salt off of it.
Tips and Tricks
Buy in late summer or early fall for an average discount of 15% off snowblowers.
Make sure you keep in mind the terrain you will be using it on and incorporate that into which product you choose. You wouldn't want to push a heavy snowblower up a steep driveway.
Using a snowblower with power steering will prevent fatigue on your back and arms.
Plastic chutes are actually better than steel chutes because plastic doesn't rust.
Getting a snowblower with a headlight might come in handy down the road.
Airless tires will be much easier to work with and help to keep the snowblower moving in a forward motion.
Best snowblower Brands
Tacklife has been around for several decades and makes a variety of different hand and power tools. They are known for developing high-quality products at an affordable price that customers enjoy.
Toro is a Minnesota company that has made over $2.5 billion in 2017 alone. They are best known for their durable lawn care equipment and for having one of the most purchased snowblowers out of any other brand.
PowerSmart is a company that focuses on outdoor power equipment and replacement parts. They are known for their educated and knowledgeable staff who are dependable when customers need the most.
Briggs and Stratton is a Wisconsin company that is one of the American Fortune 1000 manufacturers of gasoline engines. They focus on lawnmowers, snowblowers, and engine parts.
Husqvarna is named after an area in Sweden and was established in 1689. They produce everything from chainsaws to sewing machines.
FAQ
Q: Do electric snowblowers need to be plugged in?
A: A common misconception is that electric snowblowers need to be plugged in the entire time you're using one. While it depends on the specific machine, some need to be plugged in the entire time, while others only need to be plugged in when started. Don't confuse electric snowblowers for battery-powered snow blowers. You don't need to leave it plugged in between uses, as there is nothing to charge
Q: What is the difference between stage two and stage three snowblower?
A: The stages of a gas-powered snowblower are in relation to the number of augurs the machine has. A stage one has one auger, stage two has two, and so on. The higher the stage of the snowblower, the faster it can clear snow. It's important to mention that often times when a snowblower has more augers, it may cost more.
Q: What is the difference between a snow blower and a snow thrower?
A: A snow thrower is a single-stage snow removal machine. It will easily collect the snow and remove it in one fluid motion. A snowblower is usually a machine that is a two-stage or three-stage snow removal machine. snowblowers work much quicker than snow throwers.
Q: When is the best time to buy a snowblower?
A: If you're looking to save money, buying a snowblower in August or September will be your best bet. They tend to go on sale at the end of summer and beginning of fall.
Q: How long will a snowblower last?
A: There are a lot of factors that go into the durability of a snowblower. The majority of snowblowers that were manufactured before 1980 will last between 40 and 50 years. On average people who take care of their snowblowers properly usually have them for around 20 years.
The better you take care of the machine, the longer I can last. You can have two people who buy the same snowblower and if John Doe doesn't take care of it, it may last five years. If Jane Doe does take care of it, it could last up to 50 years.
Q: Can I use a snowblower on wet snow?
A: It depends on how durable and heavy-duty your snowblower is. If you're using a gas-powered snowblower, you most likely will be able to use it in wet snow. Electric Machines are usually more lightweight and are made with plastic instead of steel. This may make it a bit difficult to plow through wet snow.
Q: Does gas go bad in a snowblower?
A: It is very important for the health of a snowblower that gasoline doesn't sit in the machine for more than 90 days without activity. It doesn't matter if it has or doesn't have a stabilizer. The gas will deteriorate and could cause starting issues, running issues, and even damage to the fuel tank. To help make sure your snowblower lasts for as many years as possible, be sure to clean out the gas tank if you don't plan on using it within the next three months.
Wrap Up
By now you should have a better idea of which type of snowblower it will work best for you and your needs. Even though we talked about electric versus gas snow blowers, there are also battery-operated machines as well. By now you should have a better idea of which type of snowblower it will work best for you and your needs. Even though we talked about electric versus gas snow blowers, there are also battery-operated machines as well.
Out of the five listed above, we have to give the crown to the PowerSmart DB7624E. This machine has an incredibly powerful engine, can move hundreds of pounds of snow in a minute, has power curve technology that prevents the snowblower from becoming clogged, and isn't outrageously expensive. If for any reason you're not interested in that machine, our runner up is the TACKLIFE Snowblower.
Hopefully, in the buyer's guide, you learned a few things about which features are best on each type of snowblower. Keep in mind your preferences for a range of motion, cost, maintenance upkeep, and the path clearing width. Well there you have it, now you are practically an expert on electric vs gas snowblowers. Well there you have it, now you are practically an expert on electric versus gas snowblowers. We hope that you found a machine that will work for you and that falls within your budget. Now bundle up and get shopping!