Nobody likes shoveling snow, especially after a heavy snowstorm. There's really no point in shoveling, either, if you invest some money in a snowblower. If you're not sure where to start on finding the right snowblower, we've made a list of the five best cheap gas snowblowers in 2019 right here.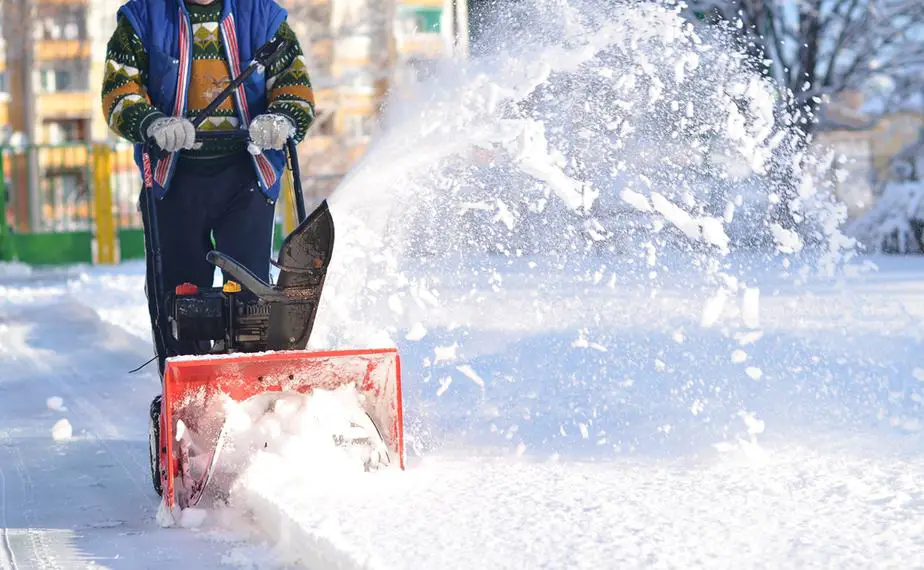 In a Hurry? Here's Our Top Picks…
1. Toro Power Clear 518 Ze 99cc Single-Stage Snowblower
No products found.
If you live outside of an area that receives particularly
heavy snowfall
each year but still wants a decent snowblower, Toro's Power Clear is our favorite. It's great for smaller sized driveways that don't see more than 2- to 9-inches of snowfall at a time and makes clearing them an easy feat.
This snowblower is a balance of power, efficiency, and great design. It has a pull-start if you prefer that method, but it also can be started with an electric start button. It's easily stored in any shed or garage due to its compact design, and it's easy to maneuver due to its light weight.
Additionally, it comes with one of the best warranties for snowblowers in its price range. Toro will back up this, and any of their other products, with a full 2-year warranty. No limits, no fine print – your snowblower will be covered for repair or replacement if necessary.
What We Liked:
Has an easy-to-use electric start button for easy operation. Alternatively, you can pull-start it easily as well.
This snowblower is perfect for smaller or medium-sized driveways, as well as sidewalks and parking spaces
Great for shallow to moderate snowfall, operating best in 2- to 9-inch depths
This snowblower is easy to store and has a compact design, and weighs under 60 pounds.
This snowblower is very easy to assemble and requires a minimal amount of work.
Gas and oil chambers are separate – no pre-mixing required.
It comes with Toro's two-year, full warranty, not just limited coverage.
What We Didn't Like:
The engine might be a little more noisy when handling larger volumes of snow. But if you work slowly, this snowblower handles the job just fine.
The electrical plug for powered the electric start is in an inconvenient spot.
Check Price and Reviews on Amazon
---
2. Briggs & Stratton 24" Dual-Stage Snowblower
Last update on 2023-11-18 / Affiliate links / Images from Amazon Product Advertising API
If you need to clear a lot of snow in a short time, this snowblower can help! It can clear up to a two-foot width in one pass and has an intake height of 20 inches. If you live in a place with a lot of snowfall, you know that 20 inches are nothing to scoff at.
You don't have to exert a lot of extra effort to push this snowblower through all that snow, either. It has 9.5-foot-pounds of torque, and that kind of power will make even heavier, wetter snow a breeze to work through.
It has six speeds going forward and two for going backward. No matter what direction you're going in, you'll have a full range of control with this snowblower.
What We Liked:
This snowblower has an impressive 20-inch intake height
Comes with a simple electric start for convenience and ease of operation
Comes with a 3-year limited equipment and engine warranty
The steel frame and reversible skid shoes guarantee that it's built to last and will survive years of use
The chute is rotatable up to 200 degrees from left to right.
What We Didn't Like:
There's no oil filter on this snowblower, so you need to remember to regularly check and change the oil.
The carburetor isn't easily accessible for shutting the blower off, but the fuel cut off is.
The assembly instructions might be a bit hard to understand.
Check Price and Reviews on Amazon
---
3. Troy-Bilt Squall 21" 208cc Single-Stage Snowblower
No products found.
This snowblower is fantastic for clearing snowfall with very little effort or time involved. If you have about a half-foot of accumulated snow or less, the Troy-Built Squall is perfect for tossing it up to twenty feet out of the way.
It has a wide chute that can be easily adjusted to change the direction of the snow it's discharging. This makes it great for sidewalks and driveways, especially.
It has an easy electric start, just push a button when you're ready to get going! When you're done and the snowblower has cooled down, this piece of equipment has a foldable handle and a compact size that'll make it a breeze to story in any shed or garage.
What We Liked:
This snowblower has a powerful 4-cycle engine. Never worry about mixing oil and gas again.
It's incredibly compact and has an ergonomic folding handle.
This blower has an electric push-button start for easy, hassle-free use.
Simple assembly even without instructions
This blower comes with a two-year limited warranty.
What We Didn't Like:
This snowblower isn't ideal for particularly deep snow – it works best in snow depths of about 6 or 7 inches.
The manual covers multiple models of the Squall and can be confusing to some as a result.
Check Price and Reviews on Amazon
---
4. YARDMAX YB5765 Two-Stage Snowblower
No products found.
Do you need to clear smaller tracks of snow? Larger? It doesn't matter with the YARDMAX Two-Stage snowblower, because you can get it in a petite 22-inch width or a larger 26-inches.
With seven total different speeds – five forward and two reverse – you have an impressive amount of control on how this blower operates. Plus, it has an easy-to-reach gas shut off valve for when it's time to put it away, or if anything clogs it up.
This snowblower doesn't come with an electric start, unfortunately. That means you'll have to start it the old-fashioned way. But if that doesn't bother you, then this is still a great snowblower to handle your yearly snow removal needs.
What We Liked:
Comes in 22", 24", and 26" sizes so you can choose which fits your space best
The gas shut off valve is in an easy to reach, convenient location
This snowblower is fairly lightweight and throws snow farther than expected
Has multiple speeds available for the self-propelled drive – five forward and two in reverse
Easy to assemble. This blower can be assembled out of the box in as little as 30 minutes!
What We Didn't Like:
This snowblower doesn't come with an electric start, which might make it more difficult for some people to use.
The shear pins in this snowblower can break easily, so it's a good idea to have extras on-hand.
Check Price and Reviews on Amazon
---
5. Craftsman 179cc Electric Start Single-Stage Snowblower
No products found.
Craftsman has always made great products, and this snowblower is no exception. It does have some mixed reviews, some of which are about the packaging of the product rather than the product itself, so keep that in mind.
This is another gas-engine snowblower with a convenient electric start. The 4-cycle engine is powerful and offers high performance and durability in even heavy, wet snow conditions. It'll clear snow that's up to 13-inches deep, so you'll get a lot of use out of it.
Working on all this snow means you need to have wheels on this blower that you can rely on. 8-inch treaded tires make pushing this snowblower through dense snow an effortless task. If anything happens, Craftsman backs this snowblower up with a 2-year limited warranty.
What We Liked:
Can clear snow up to 13-inches deep which is great in areas where it's likely to snow each year.
Has both an electric and recoil-pull start, so if you can't plug it in to start it you have a fall-back plan.
The rubber auger helps to scrape the ground cleaner while also helping to push the blower forward.
Craftsman customer service is incredibly responsive and professional.
It comes with a two-year limited warranty for any manufacturer defects or operational troubles.
What We Didn't Like:
This snowblower isn't self-propelled at all, meaning you will have to push and guide it everywhere along your cleaning route.
Some people had units that came damaged after shipping, so when yours arrives be sure to check all the parts before assembly and use.
Check Price and Reviews on Amazon
---
Education
Before you choose a snowblower, there are some things you need to know and consider. We're going to go over some of those things here.
Safety: How to Operate a Snowblower
Dress Snugly
You don't have to wear skin-tight clothing, but your clothes shouldn't be billowing in the wind, either. Baggy pant legs or sleeves, loose and dangling scarves, and other loose clothing can easily be caught in the moving parts of your snowblower. This can be not only hazardous but is also potentially fatal.
It's also a good idea to wear slip-resistant boots or shoes. You don't want to slip and fall while trying to clear your driveway, sidewalk, or street, right?
Pick Up Debris, Items, etc. Before the Snow Arrives
If you have a heads-up that a heavy snowstorm is coming, use the information wisely. Remove anything from the ground that could cause a clog or, worse, be launched. Anywhere you plan to clear with the blower, you want to check.
Remove items like branches, shovels, toys, rocks, decorations, and anything else. Everything you don't want to be damaged should be out of your clearing space, and everything that could cause damage should be removed as well. If you do this before the snow comes, you won't run the risk of running it over with the snowblower.
Wear Protection – Namely for Your Ears
One of the downsides of using a snowblower is that they're loud. Particularly the gas-powered blowers. They can reach around 100db, and that's enough to cause some substantial damage.
As a result, one of the best safety tips we can give you is to wear proper ear protection while you're operating your snowblower. Over-the-ear protective earmuffs are usually the best option for this. They not only protect your ears from the noise but also from the cold.
Keep Children Away From Equipment
This is probably pretty obvious, but don't let the kids play with the snowblower. Your snowblower is a tool, not a toy, and many children, especially younger children, may not have a healthy respect for the spinning blades and moving parts in the blower.
In the same vein, keep pets away from the snowblower as well. Pets can be just as curious as children, and a curious nose in the auger won't do anyone any good.
Operate Outside
Especially when using a gas-powered snowblower, you should only ever operate it outdoors. Not in your garage, not in your home, not in a shed. This applies even with any doors and windows open.
Why? The exhaust fumes contain significant levels of carbon monoxide. This can be extremely dangerous. Any build-up of carbon monoxide can be deadly when the machine is operated or even started indoors, so be safe.
Beware of Clogs
Never put your hands near the auger or chute of your snowblower while it's running. That may seem like common sense, but when clogs happen and you're actively operating the machine, some people try to save time by unclogging their snowblower while it's still running.
You need to completely shut the engine off before unclogging the blower, whether snow or debris has caused the clog. Use your clearing tool to break up the clog. When it's clear, you can safely get back to work.
Engine Cooling and Refueling
Forget to top off the gas before you got started? Or is the space you're trying to clear just that large? Whatever the reason, you may run out of gas before you've finished working, and that's okay.
If you do need to refill, though, make sure you shut off your snowblower and give it ample time to fully cool down. Trying to refill a hot tank may cause nasty results, such as burns.
Pace Yourself
Whether you're excited to use your new snowblower or are just trying to get the job done quickly, we understand. Nobody wants to spend their entire day clearing snow from their driveway or sidewalk.
But, you shouldn't overwork yourself, either. Especially if you have any health problems like diabetes, high blood pressure, or heart problems. Take breaks as needed and rehydrate often.
Snowblowers vs Snow Throwers
Sometimes, you'll see the term snowblower used interchangeably with the term snow thrower. But, only snowblowers that are single-stage engines are technically snow throwers.
Single-stage blowers don't actually blow the snow at all. Instead, they rely on the auger to scoop and throw the snow out of the chute.
Two- and three-stage blowers have a built-in impeller that helps to blow the snow out of the chute, instead.
Electric Snowblowers vs Gas-Powered Snowblowers
There are already a lot of options on the table for snowblowers, but you may not have known that there are different types to choose from. Mainly, these fall into the categories of electric snowblowers and gas-powered snowblowers. So what are the differences between them?
Electric Snowblowers
Most electric snowblowers are single-stage and aren't as powerful as the gas-powered alternatives. They're usually smaller and have a narrow clearing path. Additionally, you'll be relying either on a long wire cord or a charged battery.
That's not to say electric snowblowers don't have their uses, though. Live somewhere with light snowfall that you don't want to shovel? Or don't you have much space or depth to clear? An electric snowblower would still benefit you.
Additionally, the smaller size of the electric blowers usually means they're lighter and easier to handle and store. They also tend to be considerably cheaper than gas-powered snowblowers.
Gas-Powered Snowblowers
On the other hand, maybe you have a lot of driveways to clear out before it ices over beneath the snow. Or maybe you live somewhere with remarkably heavy snowfall – deep, heavy, sometimes wet snow.
Gas snowblowers provide a lot more power with a greater range of sizes available to choose from. Even the smallest gas snowblower will compare equal to the top end of the electric options available.
You won't have to worry about running a long cord or charging a battery, but you will have to fill the tank with gas. You'll have a freer range at any distance, but you'll be paying a bit more to enjoy that as far as cost goes.
Optional Features
These additional features can be found most often on higher-end snowblower models, but you may see them on some of the more budget-friendly machines as well.
Cup Holders
Cup holders are great for keeping a warm drink or water bottle close by while you're working, as long as it's in a sealed container just in case of any bumps or uneven ground. It's not a necessity by any means but is definitely convenient.
Headlights
Headlights are pretty common on most snowblowers, but some of the less expensive models may not have them. Honestly, unless you're going out before the sun fully rises or you find yourself having to operate your snowblower at night, this isn't a necessary feature.
Heated Hand Grips
Heated hand grips are often found on higher-end snowblower models. This might seem self-explanatory, but these are hand grips that warm up when you power on your snowblower. They help to keep your hands from going numb or getting too cold while you're dealing with the snow on your property.
Best Snowblower Brands
Toro
For over 100 years, Toro has brought a wide variety of products to the table, from mowers to blowers. Toro is a leading provider of innovative outdoor solutions including turf maintenance, construction equipment, snow and ice management, and more. They even produce mower blades.
Troy-Bilt
Troy-Bilt revolutionized the rototiller in 1937 and hasn't stopped since. Headquartered in Ohio, they continue to bring innovative, quality products to the table for all of your home and yard maintenance needs.
Craftsman
If you've ever shopped for a tool, toolbox, or piece of heavy-duty equipment in your life, you've definitely come across the Craftsman brand. Craftsman has been providing high-quality tools and equipment for over 90 years and continues to be a headliner in the market.
Briggs & Stratton
Briggs & Stratton has been around for over 110 years, providing high-quality products and tools to over 100 countries on six continents. They're a leading designer and manufacturer of multiple product categories, both commercially and for private use.
YARDMAX
YARDMAX is a new brand – the company isn't even five years old yet, as a matter of fact. But it is a joint venture partnership with a leading equipment manufacturer, and that quality shines through in their products.
FAQ
How do you choose between a single-stage, two-stage, and three-stage snowblower?
The decision of which kind of snow blow to choose boils down to your needs. Single-stage blowers work in one motion, where they scoop and throw the snow using the auger and chute.
Two-stage snowblowers have an impeller fan built-in in addition to the auger, and that helps to propel the snow out of the chute. This increases the clearing power and throwing distance of the snow.
Three-stage snowblowers have the most power. Along with the impeller fan, these have an accelerator. This means faster snow removal, greater clearing capacity, and longer throwing distances.
How do you properly store a gas snowblower between seasons?
Proper storage is important when it comes to a gas-powered snowblower. This is because gas can corrode and cause build-up that will ultimately damage your blower. You'll want to drain the gas tank before storing it for however many months you need to.
Alternatively, you can add a fuel stabilizer to the tank. This will prevent the gas from breaking down over time.
Most importantly, you want to follow the manufacturer's instructions and guidelines for storing and preserving your snowblower.
Why would a gas snowblower have an electric start?
The short answer is that it's easier. The only part of the snowblower that is electric is the starter, which is convenient and easier to get going. With the push of a button or switch, your snowblower will be ready to get to work.
Electric starts are generally easier for people with carpal tunnel or arthritis, elderly users, and others that may not be able to pull-start a snowblower.
Wrap-Up
So now you have a better idea of the best cheap gas snowblowers of 2019. You know what to look for, how gas snowblowers differ from electric models, and how to be safe while operating your snowblower. We also answered some of the most frequently asked questions, like how to prepare to store your gas snowblower for off-seasons.
Our favorite gas snowblower here is the Toro Power Clear, which performs exceptionally well. Just remember it can get loud, so try not to use it really early or late in the day so that your neighbors aren't bothered.
It's our top pick for its ability to handle light-to-moderate amounts of snow, which is what most people deal with during the winter months. Also, Toro's two-year, full-coverage warranty simply can't be beaten. If you're dreading having to manually shovel snow this year, trust us and give the Toro Power Clear a try.