If you live somewhere where it snows a lot, using a shovel isn't a realistic way to clear your driveway anymore, so snow blowers are necessary. If your driveway isn't paved, you are probably wondering about the best snow blower for a gravel driveway. You may be surprised to hear that not all snow blowers are fit to be used on gravel driveways. We've done plenty of research and put several products to the test to find the five best options. We wanted to share with you in-depth reviews for which products made the list, a helpful buyer's guide to make shopping for your next snow blower easy, and much more. Let's get right into the reviews.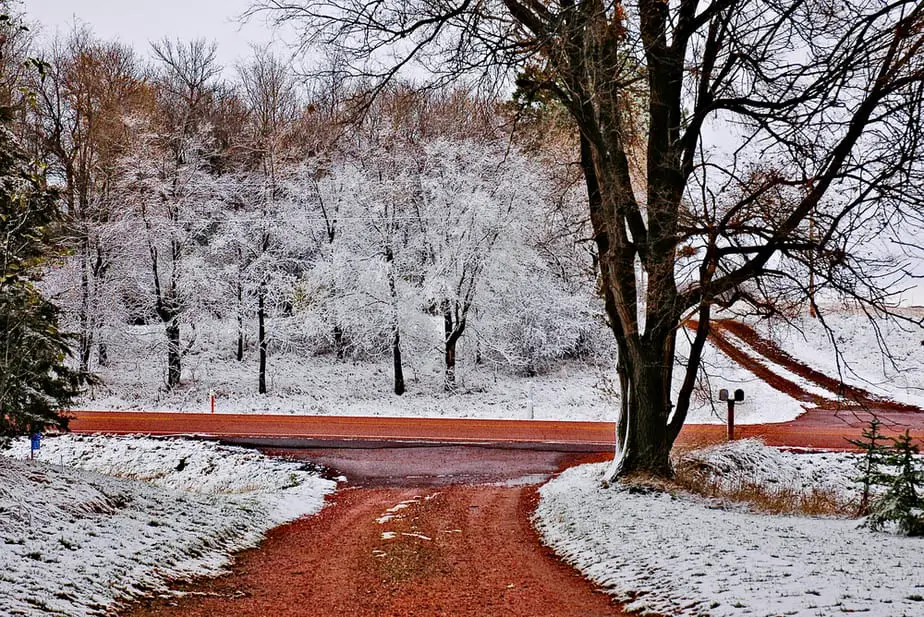 In a Hurry? Here's Our Top Picks…
1. Husqvarna ST227P Two-Stage Gas Snow Blower
No products found.
The Husqvarna ST227P is a two-stage snow blower system. This high-quality snow blower has power steering thanks to the easy to reach trigger control system. It makes it incredibly easy to maneuver even in deep snow. Speaking of convenience, there is also an LED headlight built-in, making it easy to use this machine at any time of day or night.
There is an electric start button that will start up the machine in just seconds! One thing that makes the Husqvarna ST227P unique is the fact that it has heated handle grips. Your hands will stay warm the entire time you're using the snow blower. There is a heavy-duty auger that can easily pick up snow, even when it's wet and compact. Lastly, this snow blower has a remote chute deflector that you can control via a lever.
Things We Like:
There is a working width of 21 inches.
The LED headlight comes in handy since the sunsets so early during the winter.
Heated handle grips make a massive difference in cold temperatures.
Things We Don't Like:
It weighs nearly 100 pounds, which can make it hard to maneuver.
The price point is high for many consumers.
---
2. Snow Joe SJ625E Electric Single Stage Snow Blower
Sale
Last update on 2022-09-06 / Affiliate links / Images from Amazon Product Advertising API
The Snow Joe SJ625E is a cost-efficient option that just about anyone can afford. It is equipped with a powerful 15 amp motor that can move 800 pounds of snow per minute with ease. This snow blower also has an LED light that allows for use even after the sun goes down. There is a steel auger that has two rubber blades, which helps the machine to clear snow with one pass.
It also has a 180° adjustable chute that can throw snow up to 20 feet away. The snow blower is also relatively lightweight. It weighs less than 34 pounds, making it easy to maneuver. Lastly, because this is an electric snow blower, you won't have to worry about the maintenance and upkeep that a gas snow blower comes with.
Things We Like:
The snow blower can be used on driveways and walkways.
It cost less than $200 and comes with a two-year warranty.
It clears the snow with just one pass which saves you a lot of time.
Things We Don't Like:
There isn't much not to like about this snow blower, it's a solid choice for everyone!
---
3. Briggs & Stratton 1022ER Single Stage Snow Blower
Briggs & Stratton 1022ER 22-Inch Single-Stage Snow Blower with Push Button Electric Start and Remote Chute Rotation Crank
Briggs & Stratton 950 Snow Series Engine specially Designed to start strong and Power through in the toughest winter conditions
Push button electric start offers quick and Easy starting, down to 20 degrees below Zero
Handle mounted remote chute rotation handle allows for Easy chute direction changes on the go
Quick adjust deflector allows for an Easy change of the height and distance snow is thrown with a Simple Squeeze of the chute mounted handle
Wear resistant rubber edged auger clears snow down to the pavement and helps propel the snow blower forward
Last update on 2022-09-06 / Affiliate links / Images from Amazon Product Advertising API
Briggs and Stratton are known for making great products and their 1022ER snow blower is proof of that. It has a push-button electric start that will quickly power on the snow blower in weather as cold as -20°. The chute has a handle and trigger which makes it easy to rotate on the fly. The auger has a wear-resistant rubber that helps the machine stay durable for as long as possible.
Though it weighs nearly 100 pounds, it is fairly compact and easy to control. Briggs and Stratton are known for their powerful engines. This snow blower has an engine that is accompanied by extra-large buttons to make it easy to control even with your winter gloves on. Near the handle, there is a crank that allows you to easily adjust the chute direction. Speaking of, the chute can throw snow up to 30 feet in any direction.
Things We Like:
What are the best things about the snow blower is the electric start that will power the machine on in frigid weather.
It's surprisingly compact for how heavy duty it is which helps it to take up less space in the garage or shed.
The chute direction crank is incredibly convenient.
Things We Don't Like:
It is designed for use on light to moderate snow. This can be inconvenient if there is a lot of heavy and wet snow on your driveway.
The intake height could be a bit higher. On this model, it is 12 ½ inches tall, but Briggs and Stratton have a Dual Stage model that also works on gravel and has an intake height of 20 inches!
---
4. Honda Power Equipment HSS1332AAT Snow Blower
Last update on 2022-09-06 / Affiliate links / Images from Amazon Product Advertising API
Honda is likely a name that you're familiar with. This company made a two-stage gas snow blower. It has a 32-inch wide clearance, allowing you to get more done in less time. It can snow blow an impressive 2,750 pounds of snow per minute. The nearly vertical chute can throw snow up to 56 feet. This is an incredibly heavy-duty and durable machine. It weighs nearly 300 pounds and has continuous track wheels.
This wheel type makes it as easy as possible to maneuver this heavy machine and tackle steep inclines! All the handles, controls, and levers are incredibly easy to reach. Because this is a gas-powered snow blower, you won't have to worry about being attached to a cord the whole time you're using it or needing to charge a battery. Like others on this list, the Honda HSS1332AAT has an electric start that makes it easy to even on the coldest days!
Things We Like:
This machine can blow through snow faster than almost any other snow blower on the market. You'll have your driveway clear in no time.
It's heavy-duty and if taken care of properly should last for decades.
Things We Don't Like:
The main disadvantage that this snow blower has is the price tag. At over $3,000, this is not something that the majority of people can afford.
---
5. Earthwise SN74018 Cordless Electric Snow Blower
Last update on 2022-09-06 / Affiliate links / Images from Amazon Product Advertising API
Earthwise makes an appearance with its SN74018 cordless electric snow blower. This is another relatively affordable option for people looking to clear the snow off their gravel driveway. It has an 18-inch clearing with, 12-inch clearing depth, and 30-foot snow throwing distance. I can move an impressive 500 pounds of snow every 60 seconds. It has a 40 V brushless motor that packs quite a punch.
This motor gives the snow blower extra power without adding a lot of sounds. Brushless motors also last much longer. The snow blower has two convenient LED spotlights that allow you to easily use the machine whenever needed. The chute can be adjusted up to 180°, which is convenient when you're snow blowing a larger area. You may also enjoy that it is easy to assemble and doesn't require any tools. It's also fairly lightweight, weighing less than 40 pounds.
Things We Like:
This snow blower is incredibly easy to maneuver thanks to the weight and the ergonomic cushion handle.
All controls are easy to reach and have large buttons for ultimate convenience.
It has everything you need in a snow blower for an affordable price.
Things We Don't Like:
Because it's battery-powered it does require charging time.
Not necessarily a negative thing, but some people may dislike the bright lime green color.
---
Snow Blower Education
We understand that not every snow blower is the same. It can quickly become complicated and frustrating when shopping around for a new product. To make the process a little easier, we want to share with you a little about snow blower education. Consider this a buyer's guide to make comparing products a breeze!
Clearance
One of the first things you need to be aware of when shopping around for your next snow blower is the different clearance sizes. For starters, there is a snow blowers clearance width. This is how many inches the machine plows through horizontally in one pass. For example, if you're using a snow blower on a 36-inch wide sidewalk, it would be in your best interest to find a snow blower that has a clearance width closest to 36 inches.
It makes the job of snow blowing a lot less work and helps to get the job done quicker. Snow blowers also have a clearance height. This is simply how tall the auger is that picks up snow. It is measured from the ground to the top of the auger. Usually, the larger this number, the more snow it can pick up and chute out in less time. There is also the amount a snow blower can pick up in a minute.
This can range quite a bit from one snow blower to the next. For example, there is a product we reviewed above that can clear nearly 3,000 pounds of snow in a minute. There is also a snow blower that clears around 500 pounds in a minute. This is quite a difference. If you live somewhere that has heavy and compact snow, you'll want a machine that can pick up more in less time.
Gas vs. Electric
Another thing that you need to consider is whether or not you'd like a gas or electric snow blower. When it comes to finding the best snow blower for gravel driveways, one isn't necessarily better than the other. Gas-powered snow blowers tend to require a bit more upkeep than electric ones. You'll also have to spend more money on fuel or oil. They are best known for being able to start without any issues, no matter how cold it is.
On the other hand, with an electric-powered snow blower, you will save money on fuel and it requires little to no upkeep. Electric snow blowers may also be equipped with brushless motors. This type of motor helps the machine run quietly and prolongs the life of the snow blower. Again, one isn't necessarily better than the other, but it's important to know the differences.
Cost
Just like with any other purchase you make, cost plays a part. snow blowers can range in price quite a bit. There are some available for under $200, while others will cost you closer to $5,000.
There are a few things that play a role in how much a snow blower will cost you. For starters, the brand. If you're wanting a snow blower from well-known brands such as Honda or Toro, you will likely end up paying more than if you were to get a lesser-known brand snow blower.
Another thing that plays a part in the cost is the material that the snow blower is made out of. If you're going to buy a heavy-duty machine that is made mostly of steel, you will likely spend much more than if you were to buy a snow blower that was made out of durable plastic.
Lastly, the features play a big role in the price. A snow blower with fewer features is more likely to be cost-efficient compared to one that has all the latest gadgets and gizmos. That being said, there are plenty of budget snow blowers but have all of the features that you need to get the job done.
Range of Motion
The range of motion plays a big part when it comes to finding the perfect snow blower for your needs. The range of motion is more of a preference than a requirement. When you're using a gas-powered snow blower, you will have a larger range of motion than if you were to use an electric non-battery powered snow blower.
Think of a gas snow blower like a car; you can go as far as the gas will take you. On the other hand, electric snow blowers have a smaller range of motion. Some are battery-powered and some plugged into a power source. Battery-powered ones have a bit larger range of motion than plug in options.
Wheels vs. Tracks
We wanted to include a little bit about wheels and tracks due to having products with both that made the list. Most of the snow blowers on the market have wheels no matter what stage model they are. The wheels make it easier to maneuver and control the snow blower.
However, two and three-stage snow blowers have the ability to use tracks. Tracks are the same thing that you would see on an army tank or large construction vehicles. How do you know which one you need? Well, if you have a fairly flat driveway, wheels will be fine. If you have a hilly or steep driveway, you may want to look into a snow blower that has tracks as they make it easy to keep traction and work well on steep inclines.
Extra Features
We touched on it when we talked about cost, but the extra features are something that you need to consider when shopping around for a snow blower. One of the main features that can benefit you the most is having a snow blower with LED lights.
In the winter, the sun tends to set no later than 4:30 PM. If you work a 9-to-5 job, this leaves you to snow blow your gravel driveway in the dark. When you're using a snow blower with LED lights, this will no longer be a hindrance or concern.
There are other great features such as having a crank or lever to control the direction of the chute. Some snow blowers have this lever right near the handle. This makes it easy to maneuver while using the machine.
You may also want to look for a snow blower that has extra-large controls. If you're wearing thick gloves or mittens, this will make it much easier to change controls without needing to take off your gloves.
Best of the Brands
Honda is best known for its vehicles, but they have also been making snow blowers and other power equipment since the fall of 1948.
Earthwise has been around for 120 years. So they first started by making lawnmowers that were used at fairgrounds, they now make a variety of different products.
Briggs and Stratton is an American Fortune 1000 manufacturer based out of Wisconsin. They are best known for snow blowers, engine parts, and lawnmowers.
Snow Joe was founded in 2004 and has been making high-quality equipment ever since. They are best known for an electric snow shovel that they created!
Husqvarna is a unique company that was established in 1689. They sell a variety of different products including snow blowers, chainsaws, and sewing machines.
FAQ
When's the best time to buy a snow blower?
Many people are surprised to hear that the best time to buy a snow blower is towards the end of August or the beginning of September. This is when the prices are lowest and you'll likely find the best deals.
What is the most reliable snow blower brand?
While one brand isn't necessarily more reliable than another, any of the snow blowers reviewed above are incredibly reliable.
We also added a handful of other brands that make incredible snow blowers above. Find one that works within your budget, take good care of it, and you'll have a reliable snow blower on your hands.
How long do snow blowers last?
There are a lot of factors that go into how long a snow blower is good for. For people who take good care of their snow blowers, they usually last around 20 years. If you don't take care of it, it may not even last two years. Some of the best built and well taken care of snow blowers have lasted for 50 years.
How often should I change snow blower oil?
Unlike your vehicle, a snow blower doesn't need the oil changed every three months. It's actually a lot less work than your car. You should change the oil in your snow blower after you use it for the last time for the season. This will help your snow blower to have a long life!
Does gas go bad in a snow blower?
If you're using a gas-powered snow blower, it is important to not let gasoline sit in the tank for more than 90 days at a time between uses. This could cause running issues to the snow blower and could even damage the fuel tank. At the end of the season, make sure you empty out the gas to ensure that it will work well come wintertime.
Bottom Line
Getting a snow blower is a great way to clear a lot of snow in a short amount of time. When you have a gravel driveway, it is important to find a snow blower that works well and won't be damaged by any of the gravel. If we had to choose an overall winner, we'd go with the Earthwise snow blower. It has everything you need and doesn't cost a fortune.
Remember to keep in mind things such as clearance, range of motion, and of course, the price. Consider whether or not you'd get more use out of an electric or gas-powered snow blower. Gone are the days of spending hours shoveling your driveway. With any one of the snow blowers listed above, you will have a clear driveway without getting sore muscles in no time! We hope that this in-depth guide helps you find one of the best snow blowers for gravel driveway is on the market.