Don't get cold feet about landscaping this winter.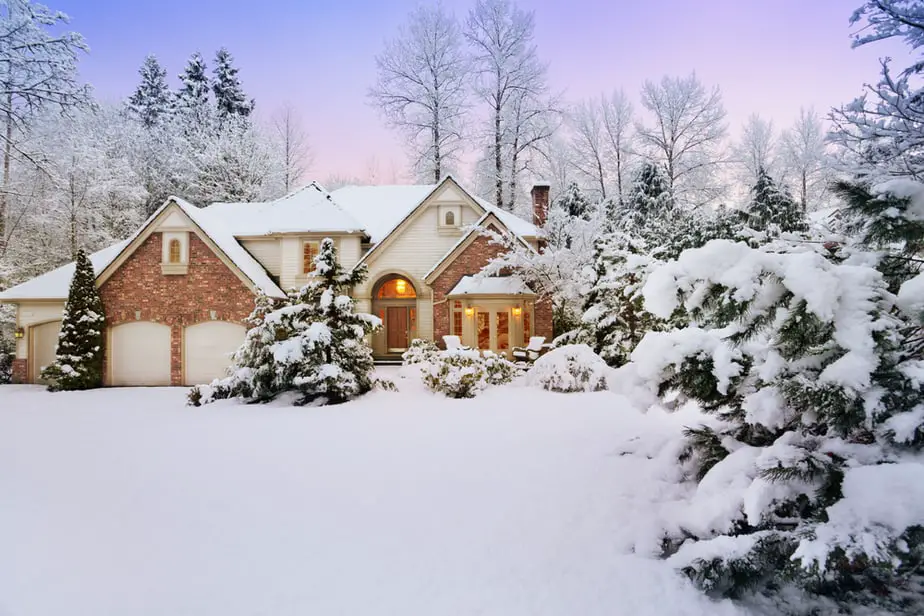 Keeping your yard from looking like a wintery wasteland isn't as difficult as it may seem. From flowers that bloom when the snow falls to tips on how to keep your yard tidy, we cover all of the best winter landscaping ideas to spruce up your home!
Let's get started!
Add Winter Plants to Your Yard
One of the simplest ways to keep your landscape gorgeous during the winter is by planting evergreen vegetation. Plants that stay green all year round or bloom during the winter are great for avoiding a scraggly, barren yard appearance by adding color and texture.
In this section, we'll be going over a few of our favorite winter gardening ideas!
1. Evergreen Bush Garden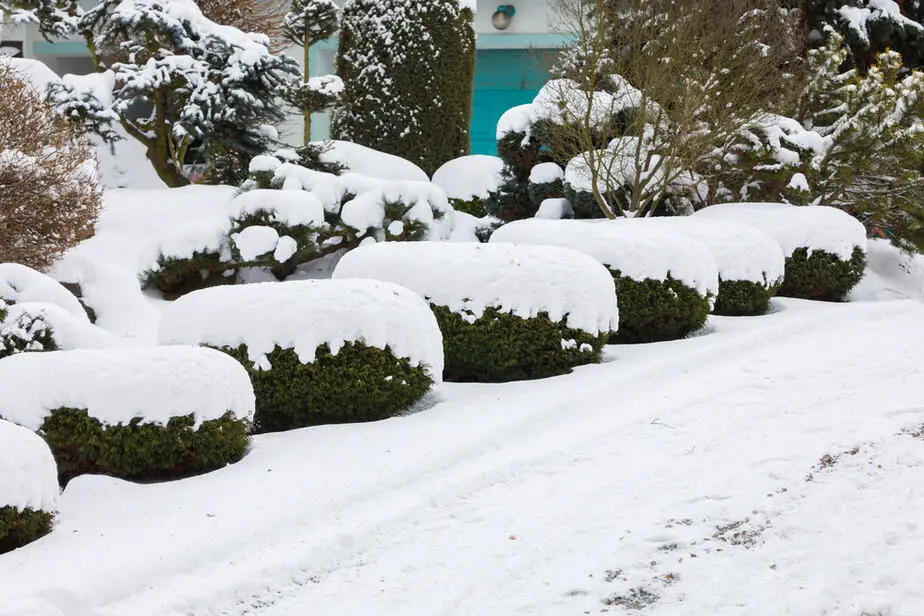 Rather than having a yard full of bone-dry trees and sticks, evergreen bushes give you a springtime landscape through every season. When properly trimmed, these bushes can provide a uniform appearance, giving your lawn an overall healthy, well-manicured aura.
Evergreen shrubs are fast-growing, easy to maintain, and are the perfect fillers and companion plants for your winter gardens.
You can find evergreen shrubs at your local plant nursery or online through Amazon.com.
Winter Gem Boxwood - 10 Live Plants - 2" Pot Size - Buxus Microphylla Japonica - Fast Growing Cold Hardy Formal Evergreen Shrub
Grown, packaged and shipped exclusively by Florida Foliage. An excellent evergreen shrub for small hedges. Among the hardiest of the small-leaved boxwoods, the rich green foliage can acquire a golden bronze hue in cold winter zones, but is one of the first to become green again in spring. Makes a wonderful addition to formal gardens, providing year-round interest.
This is the classic hedge plant. Its dense, evergreen growth makes it perfect for shearing into a small, formal hedge. Ideal for defining different spaces in the garden or for a tidy foundation cover-up. It is especially lovely against red brick. Use as a partition to divide your front yard or driveway from your neighbor's. Also beautiful as background foliage. Creates lovely topiaries, particularly in cone shapes if planted where it snows. An excellent plant for parterres and hedge mazes
Winter Gem is a round-shaped cultivar that is relatively vigorous. It tolerates a wide range of sites and uses. New foliage emerges a lime-green color and transitions to a deep, glossy green. It has a tendency to bronze when exposed to direct winter sun but the bronzing will quickly disappear in spring as temperatures rise and as new growth emerges. 'Winter Gem' is very similar to the cultivars 'Wintergreen' or 'Faulkner'. Deer resistant.
Winter Gem Boxwood should be pruned each year in late winter to early spring to maintain desired shape. Use hand pruners or shears. Additional lighter prunings may be necessary in early to mid-summer, depending on the desired look and vigor of the plant. 'Winter Gem' tolerates more radical pruning if the plant has outgrown its desired size. Thinning is not necessary on this cultivar. 'Winter Gem' is very resistant to boxwood leafminer and very tolerant to boxwood blight.
Winter Gem Korean Boxwood is the 'go-to' boxwood for colder areas of the country. Much more hardy than other boxwoods, it will stay fresh and green all winter, even with temperatures falling to minus 20. If you want boxwood hedges, balls and other clipped shapes, or just want a naturally-dense and rounded evergreen shrub, this reliable plant will give you what you want.
Last update on 2023-09-28 / Affiliate links / Images from Amazon Product Advertising API
---
2. Holly and Holly Berries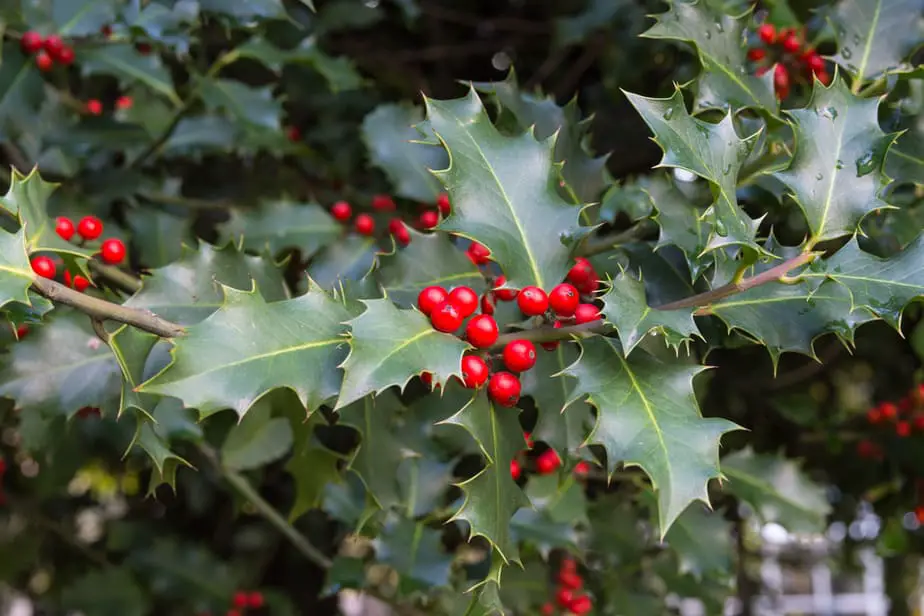 Hollyberry bushes are the quintessential winter plant. Whether you're looking to have a Holly Jolly Christmas, or just want to add a bit of color to your yard when the weather turns sour, Hollyberry's got your back.
These bushes do incredibly well in extreme environments. Melted snow? It's no problem for these wet soil loving plants. And even while some varieties are not evergreen, these plants never shed their clusters of bright red berries – so expect magnificent color in your yard this winter.
You can find Hollyberry Bushes at your local plant nursery or online through Amazon.com.
Ilex X meserveae 'Blue Princess' (Blue Holly) Evergreen, #2 - Size Container
It is fully rooted in the soil and can be planted immediately upon arrival, weather permitting. Planting and how-to-care instructions will arrive with shipment.
For Best results, plant in used zones 5-8. Mature Height is 12ft, mature spread is 9ft.
Red berries arrive in late fall/early winter. Dark Green, evergreen foliage provides a nice contrast to the Red berries. Male pollinator is necessary for Berry production.
Grows well in full sun or partial shade.
Last update on 2023-09-28 / Affiliate links / Images from Amazon Product Advertising API
---
3. Pansies
Despite their delicate appearance, Pansies are no joke.
These low-lying flowers bloom throughout the winter, even during snowfall, turning your plain white landscape into a serene, colorful ocean of blooms. Their colors range from purples and blues to yellows and whites (and everything in between) so there's really no limit to what you can do to your landscape with these little flowers!
You can purchase Pansies at your local plant nursery or online through Amazon.
Last update on 2023-09-28 / Affiliate links / Images from Amazon Product Advertising API
---
4. Snowdrops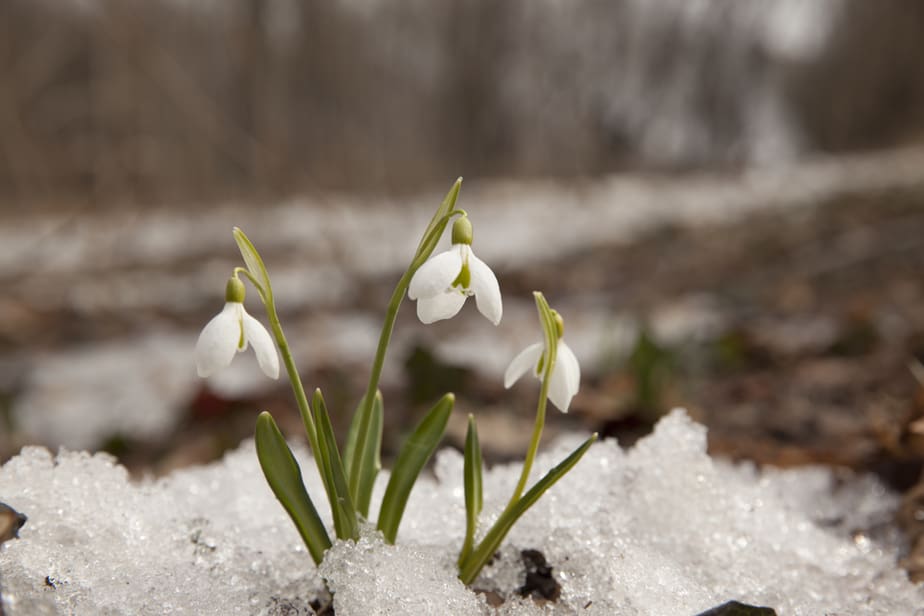 Snowdrops bloom… well… in the snow. These wintery wonders are perfect for the serious wintertime gardener.
They're small, sure – but they are mighty. Surviving through frost and snowfall, Snowdrops are a must-have for your December landscape. Planting dozens of these little guys in their very own space will give your yard a dainty, but sophisticated look that is sure to make your landscape the envy of the gardening club.
You can find Snowdrops at your local gardening center or online through Amazon.com.
No products found.
---
5. Winter Honeysuckles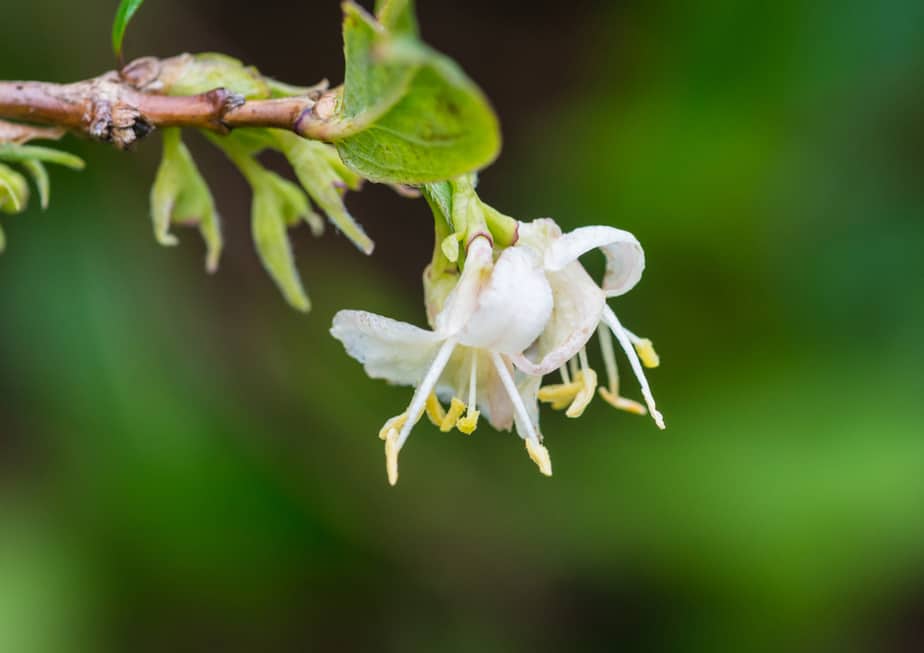 Blooming from November through April, Winter Honeysuckles would make a lovely addition to any winter landscapes. And not only would their blooms add to the scenery, but their lemony scent would, too.
Though other flowers have sweet scents, the scent of the Winter Honeysuckle is quite strong, wafting through yards and bringing a magical feel to an already sparkling landscape.
You can find Winter Honeysuckles at your local gardening center or online through Amazon.
Last update on 2023-09-28 / Affiliate links / Images from Amazon Product Advertising API
---
Use Wildlife to Enhance Your Landscape
When animals are either hibernating or off searching for food, your yard can become quite barren without their fuzzy and playful presence. Fortunately, there are ways in which you can make your landscape more inviting to winter-enduring critters…
6. Bird Feeders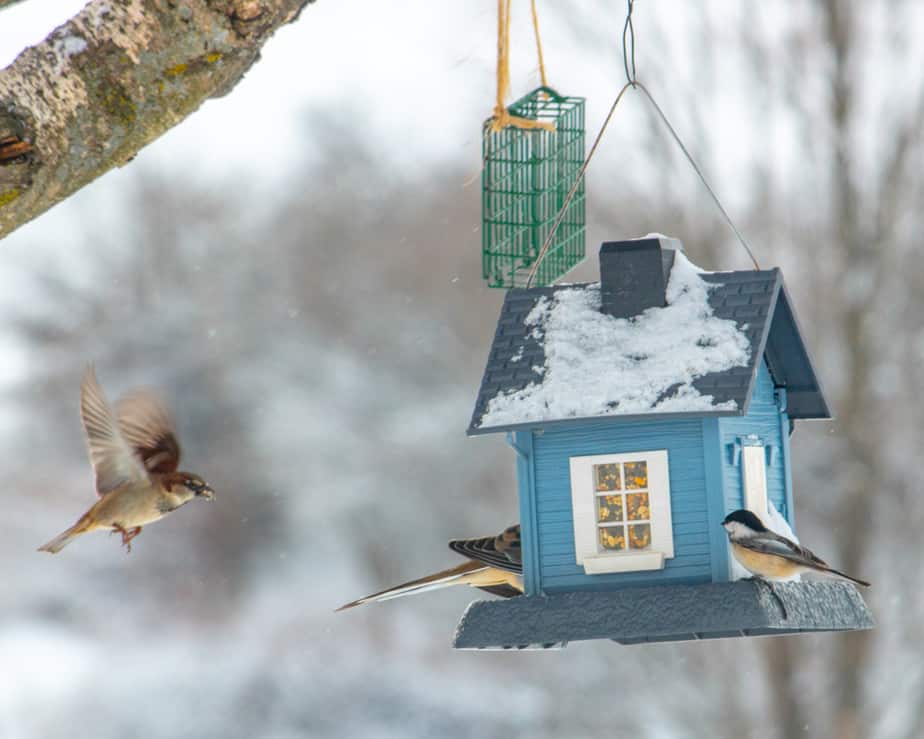 Birds are quite possibly the most popular wildlife used to bring color and liveliness to a landscape. Their flittering movements, beautiful feathers, and happy songs are enough to make any gray winter day bright and sunny.
Hanging a bird feeder in your yard is a great way to attract common winter birds, such as Cardinals or Black-Capped Chickadees (shown in the photo). You can birdwatch from the warmth of your own home – and give the birds the food they lack during colder months.
You can find bird feeders at your local gardening center or online through Amazon.
We love this squirrel-proof feeder:
Sale
Droll Yankees YF-M Yankee Flipper Squirrel-Proof Wild Bird Feeder With Weight Activated Rotating Perch - 5Lbs Seed Capacity
100% SQUIRREL PROOF* – The feeder's weight-activated spinning perch gently tosses squirrels off when they try to access the ports, but allows even large birds to feed
FEED MULTIPLE BIRDS – Four feeding ports allow multiple birds, including cardinals, chickadees, finches, grosbeaks, jays, juncos, nuthatches, and more, to dine at the same time
SUPERIOR DURABILITY – This feeder is made with heavy-duty metal components that have been powder coated, so the feeder can be reused for many birding seasons
SAVES SEED – The feeder's squirrel-proof design ensures less seed waste, which means birds can enjoy more seed, while you save money and deal with fewer messes on the ground
EASY TO CLEAN & FILL – The Yankee Flipper features a lift-off lid and wide-mouth seed reservoir to allow for easy filling and cleaning. The reservoir holds up to 5 lb of black-oil sunflower seed or mixed seed
Last update on 2023-09-28 / Affiliate links / Images from Amazon Product Advertising API
---
7. Squirrel Feeders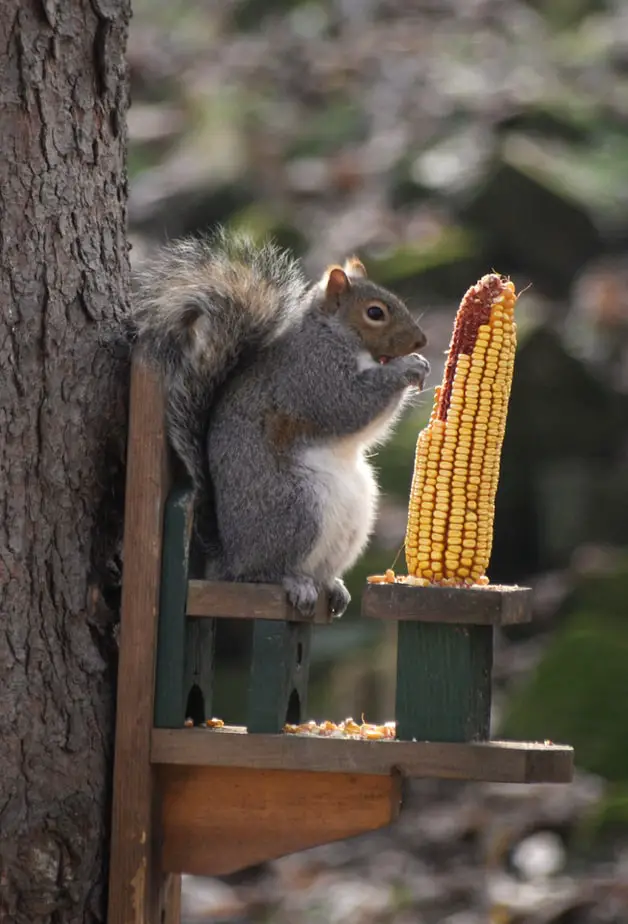 While squirrels do spend the Fall gathering and storing nuts, they often forget where they buried or stowed them, making squirrel feeders a worthwhile investment for you, your landscape, and the animals.
Plus, those chubby little furballs you see climbing your trees and running across your lawn can be fluffy-tailed thieves when not given their own winter food supply.
Often, squirrels will raid and destroy bird feeders in an attempt to retrieve the seeds inside. So, if you want to keep squirrels from getting into your bird feeders, you can add a simple squirrel feeder, like the one above, to a tree in your yard.
There are plenty of options available on Amazon, like this adorable picnic table squirrel feeder:
Picnic Table Squirrel Feeder
Start Your Day With a Smile by Watching the Squirrels Play on This Cute Picnic Table Feeder. Proudly made in the USA!
A Wonderful Gift For Nature Lovers and Backyard Enthusiasts. You Will Love This Feeder From the Moment You Open it Up and Smell the Freshly Cut Cedar.
Great For Deterring Squirrels From Bird Feeders! (Corn is NOT Included). Nice Additional Product to Go Along with Your Squirrel Proof Bird Feeder.
Feeding Squirrels is a Great Way to Have More Fun With the Wildlife in Your Yard. Watch the Squirrels Chase Each Other in Circles While They Take Turns Sitting on the Benches.
Our Feeders Are Made by Hand in Our Small Shop in Baton Rouge, Louisiana. We Are Certain That You Will Love This Feeder and Offer an Unconditional Money Back Guarantee. The Feeders are Made From Naturally Decay Resistant Cedar and Will Age Beautifully in Your Yard.
Last update on 2023-09-28 / Affiliate links / Images from Amazon Product Advertising API
And, if online shopping isn't your thing, you can find a squirrel feeder at your local gardening center.
No matter what feeder you choose, this is one of the many winter landscaping ideas that are sure to bring adorable life to your yard come frost or snow.
---
8. Deer Feeders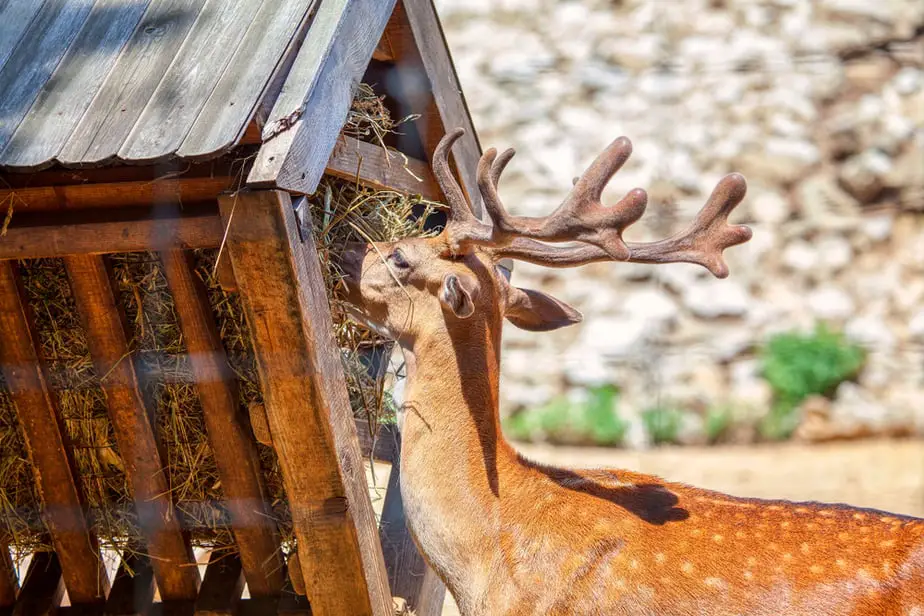 If you live in a rural area, placing a deer feeder in your yard will allow you and your family to observe the deer from the comfort and exclusion of a home environment, keeping your family – and the animals – safe and sound. And not only will you be rewarded with an awesome visual experience, but the deer will also more readily survive the winter.
Deer feeders like the one in the photo have a rustic appearance and may not keep hay (or other feed options) dry throughout the winter. Luckily, you can find more efficient choices online through Amazon or at your local hunting or game shop.
Last update on 2023-09-28 / Affiliate links / Images from Amazon Product Advertising API
---
Inanimate Winter Landscaping Ideas
If keeping up with plants or welcoming furry creatures into your snowy yard isn't your cup of tea, consider adding these non-living winter landscaping ideas!
9. Sculptures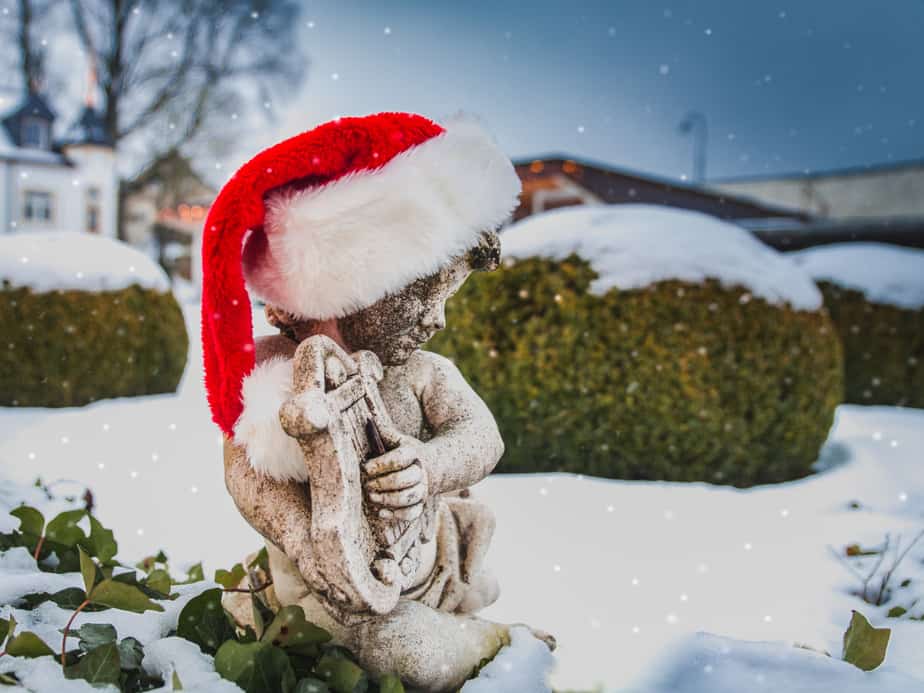 Garden sculptures, like the cherub in the photo, are known for intensifying the appearance of gardens with their unique shapes, telling human-like features, and timeless workmanship. Cue sparkling white snow and your home automatically turns into a serene, sophisticated landscape that's hard to beat.
You can find similar garden statues online through Amazon or at your local gardening center.
Grasslands Road Cherub with Dog, 7-Inch, Gift Boxed
Cement with resin blended in to enhance details of texture and relief for indoor or outdoor use not exposed to extreme elements
Figurine stands 7.25" tall and 5.75" wide
Figurine is securely packaged in 9.3 x 7.3 x 6.7 inch Kraft paper gift box for shipping
A beautiful home, deck, gazebo or garden accessory
See all charming cherub figurines in Grasslands Road collection
Last update on 2023-09-28 / Affiliate links / Images from Amazon Product Advertising API
---
10. Flattering Christmas Lights

Of course, the first thing most of us think of when considering winter landscaping ideas is Christmas. And with Christmas comes glowing wreaths, warmly lit entryways, and inviting holiday lights scattered across the yard and on the roof. As you know, adding Christmas lights to your landscape creates a festive, joyful aura – and this is one winter landscaping idea that we'll never be able to get enough of!
11. General Outdoor Lights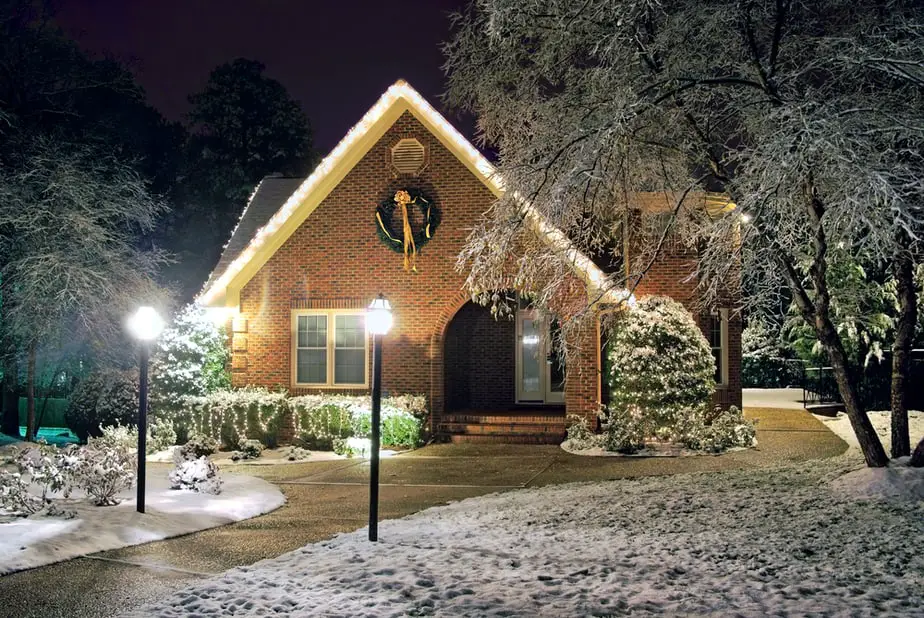 Though, if it's too early for (or passed) the Holidays, you can add some general landscape lighting to illuminate shady areas around your home and give your snow-carpeted lawn an extra-magical sheen.
The two vintage-style lamposts in the photo remind us of the entrance to a quaint wintery village and the warm, light-wrapped evergreens simply reinforce our sentiment.
12. Landscape-Enhancing Seating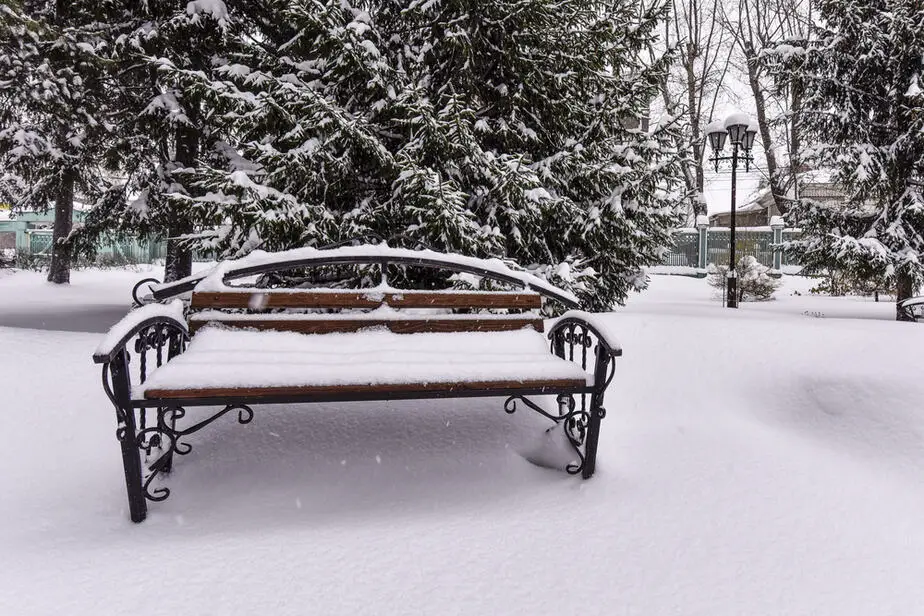 Wooden benches with intricate iron detailing, like the one in the photo, look striking against a washed-out, glacial background. Benches can be placed in various corners of your property to make your landscape appear less barren and bring some contrast of color.
You can find gorgeous iron benches on Amazon.com or at your local home furniture store:
Best Choice Products 2-Person Aluminum Garden Bench Patio Furniture w/Rose Detail Lattice Backrest and Seat, Bronze
VERSATILE USAGE: Use it as a 2-person seat for leisurely activities like reading a book or bird watching or as an addition to a table for outdoor dining
OUTDOOR ACCENT: Place it on the front porch or in the middle of a garden for a beautiful outdoor decoration that is sure to catch attention
CHARMING DESIGN: Elaborate cross-weave, lattice patterns and appealing rose detailing give any outdoor space a delicate, stylish touch
BUILT-TO-LAST: Frame and finish built to endure various weather conditions and resist aging processes like corrosion and rusting
PORTABLE DCOR: Lightweight design makes it easy to relocate and liven up any space; Overall Dimensions: 42.5"(L) x 24"(W) x 33"(H); Weight Capacity: 500 lbs.
Last update on 2023-09-28 / Affiliate links / Images from Amazon Product Advertising API
---
13. Covered Bridge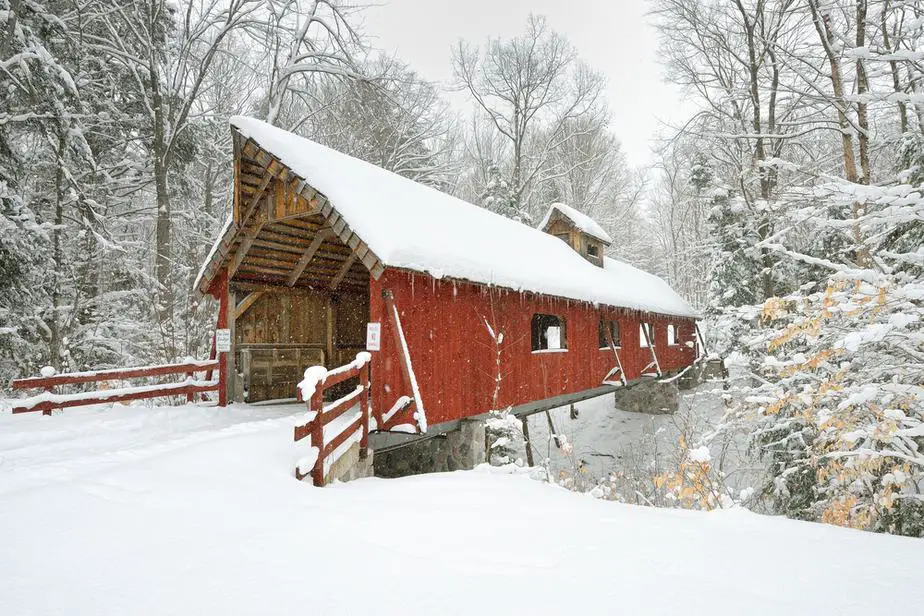 If you happen to have a large creek on your property (and the money and time), you could consider adding a covered bridge. Covered bridges are extremely common in the Northernmost part of the United States and are usually painted with notable red or rustic tones. They are some of the most prominent winter landscaping ideas and are often associated with Christmas themes in movies, Christmas decor, and other Holiday favorites.
Of course, building a huge covered bridge may not be possible for some, but scaling the structure down to even replica size could make an adorable addition to an icy landscape.
15. Petite Creek Bridge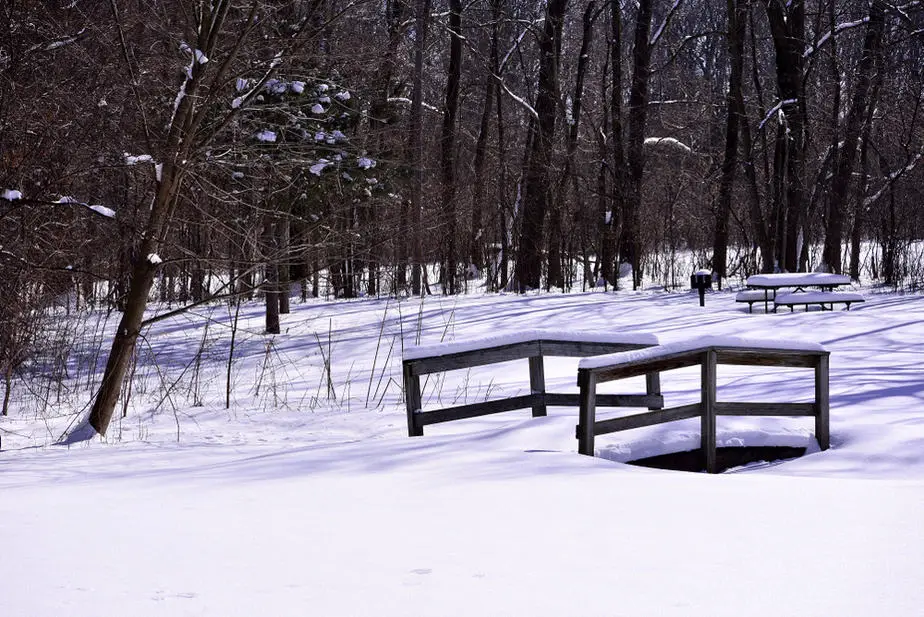 If a covered bridge is out of the question, you could consider a simple wooden bridge placed over a creek – or even over a do-it-yourself dry river bed. There's nothing like bridges covered in snow, and even miniature bridges are a frosty sight to behold.
Small bridges are also great for if you have a large ditch on your property that needs conquering. Rather than tripping in a ditch every day, you could simply have this cutesy means of crossing instead.
We love Outsunny's 5-foot Rustic Decorative Garden Bridge:
Sale
Outsunny 5 ft Wooden Garden Bridge Arc Footbridge with Railings for Your Backyard, Natural Wood
Enhance Your Garden: Place Outsunny's backyard wood bridge over a small stream or garden walkway and add a decorative touch to your outdoor surroundings.
Complementary Beauty: The elegant arched garden bridge frame adds an instant and classic charm with its traditionally designed walkway.
Security Design: There are curved side rails with three posts on each side of the bridge kit for added security and convenience. This means the footbridge is as secured as it is beautiful.
Solid Construction: The wood of this bridge has a natural finish that is weather-resistant to prevent rot, cracking, and splitting.
Strong Weight Capacity: The durable fir wood construction of this garden bridge is designed to hold up to 400 pounds of weight.
Last update on 2023-09-28 / Affiliate links / Images from Amazon Product Advertising API
---
16. Garden Arbor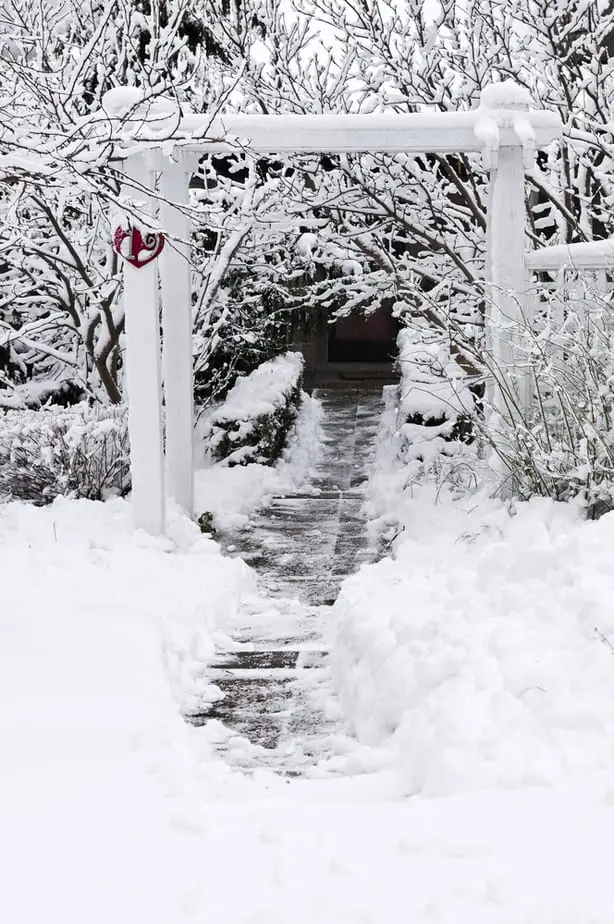 One of the most beloved winter landscaping ideas (and landscaping ideas in general) garden arbors are wonderful for enhancing a garden scene. Their subtle presence adds just a touch of human structure to an otherwise natural area, and their fine details create close-up intrigue. An arbor placed in a wintery garden or at front entrance walkways can tie an uncomplete landscape together with a pretty, red bow.
You can purchase a garden arbor through Amazon or find one at your local gardening center:
Dura-Trel 11178 Providence Arbor, White
20 Year Warranty; 100-percent maintenance free; PVC vinyl will not crack, fade, peel or discolor
Easy to Assemble; pre-cut and pre-drilled holes with all hardware included
Easy to Install; 16-inch steel ground anchors included
Inside dimension:42 in. W x 78 in. H x 22 in. D; Outside dimension 64 in. W x 85 in. H x 28 in. D
2 by 2-Inch posts with pergola style arbor top
Last update on 2023-09-28 / Affiliate links / Images from Amazon Product Advertising API
---
Keep Your Landscape Neat
During the winter when most plants become dormant, landscapes often become messy and littered with debris. In this section, we're going to go over some winter landscaping ideas that can help you can keep your landscape looking spiffy.
Pick up fallen sticks and branches. When large sticks or branches fall onto a snowcovered landscape (and aren't removed) they can create dull, yellow and brown patches that ruin your grass. By the time Spring rolls around, you'll have quite the mess on your hands – best to nip it in the bud!
Trim your bushes and trees. Well-manicured evergreen shrubs are a great way to keep your yard looking clean and professional, no matter how dreary and gray the winter days are. And even though your trees are likely dormant, cutting away any broken or scraggly limbs will add to the overall tidiness of your yard.
Clear your walkways and stairs of snow. Not only will clearing your front walkways of snow save you from having to drudge through a cold sea of white, but it will also make your yard look less messy. Plus, you'll avoid slipping and falling on any black ice!
Keep your driveway clear of snow and ice. Like your front walkways, keeping your driveway clear will save you from future headaches. Clear driveways are easier to get in and out of, safer for walking, and look much better than a snow-covered mess.
Snow and winter plants are beautiful – but not when they're smothering the aesthetics of your home. That's why we feel that it's important to implement these seemingly trivial tasks into your winter landscaping routine to avoid having a messy yard.
Final Thoughts
When it comes to winter landscaping ideas, it can be tricky to determine what's beneficial to the aesthetics of your yard, and what isn't. There are quite a few ways in which you can keep your landscape looking great: vegetation, small structures, and overall tidiness.
Because winters can be harsh, particularly in Northern regions, keeping your garden lively can only be done with plants that tolerate extreme cold and snowy conditions. Additionally, snow is an expert at blotting out your home and making everything look dreary – which is where garden structures come into play to bring contrasting color and visual intrigue. And lastly, scraggly bushes and trees and snow-suffocated walkways never do a landscape justice; so it's always best to keep things neat.
We hope we were able to give you some insight into our favorite winter landscaping ideas so that you can enhance the appearance of your yard this upcoming season!