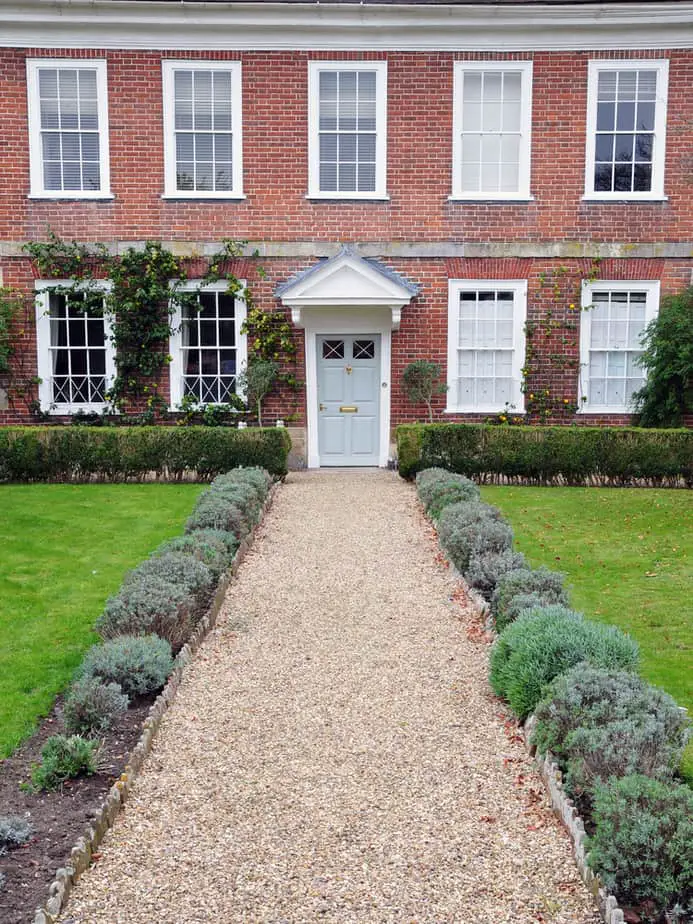 A house's front walkway gives you the first impression about it. It's where you welcome guests, invite family and friends, and do outdoor activities. That's why you should take your time exploring options of flooring, plants, and accessories.
A walkway organizes your landscape and helps you create a flow from the gate to the main entrance of your house. It's common that houses with better front walkways sell better and faster, so don't underestimate its importance.
Complementing or replicating your house's architectural style can help you build the exterior of your dreams. Material options are endless, starting from gravel, pebbles and crushed stones to flagstone, cobblestone, mosaic and marble.
This list of walkways compiled here is not only aesthetically appealing but most importantly, it's the ultimate welcome gesture to your guests.
Throughout this article, we will be guiding you through different front walkway design ideas, you don't have to mimic them. You take the features you like as a base to build on something customized for your home.
Front Walkway Dimensions
One of the important things to consider when planning your walkway is its dimensions; namely length and width. The length is probably easy to determine depending on the distance between the gate and the entrance.
What you have to think thoroughly about is its width. Are people going to walk individually or side by side? What about kids' safety? Some modern designs are not uniform and might be dangerous for kids. The same applies to the elderly, they'd favor a simple walkway over a distributed stepping stones for example.
Front Walkway Materials
In this section, we will be reviewing the most common materials used to make a walkway. Alongside with the pros & cons of each of them.
Before buying material make sure to check neighborhood or local buildings codes in order not to violate any.
Gravel
This is a basic cheap option. It's easy to install and looks good. The thing is that it's not always comfortable to walk over. That's why choosing small stones over large ones might be the smart option here.
If you need large ones for your design, it's okay. You might mix it with smaller ones or integrate another material in your design for rich scenery.
Bricks
For an old-style house or farmhouse, a brick walkway is a nice choice. It will complement the old age look and radiates elegance. They never get out of style and are available in red, brown and orange hues. You can choose whichever that suits your landscape better.
It's worth noting that bricks are durable, easy to maintain and have good permeability, so they perform well when exposed to rain or moisture.
Stones produce the most beautiful and artistic results. They come in a multitude of types like cobblestone, flagstone, and slate.
The astonishing look comes at a cost, they're not easy to install and might crack when exposed to moisture. So, if you decide on stone, you should think of a good sealing or isolation mechanism.
Interlocking Concrete
This is a medium option, it balances cost and appearance well. The most important feature here is that they're modular. Meaning they're highly flexible and customizable. You can adjust them as you desire, creating endless options.
1. Stone Walkway
A colored stone walkway gives an impression of elegance and simplicity. The grey background with blue tones is a pleasure to see.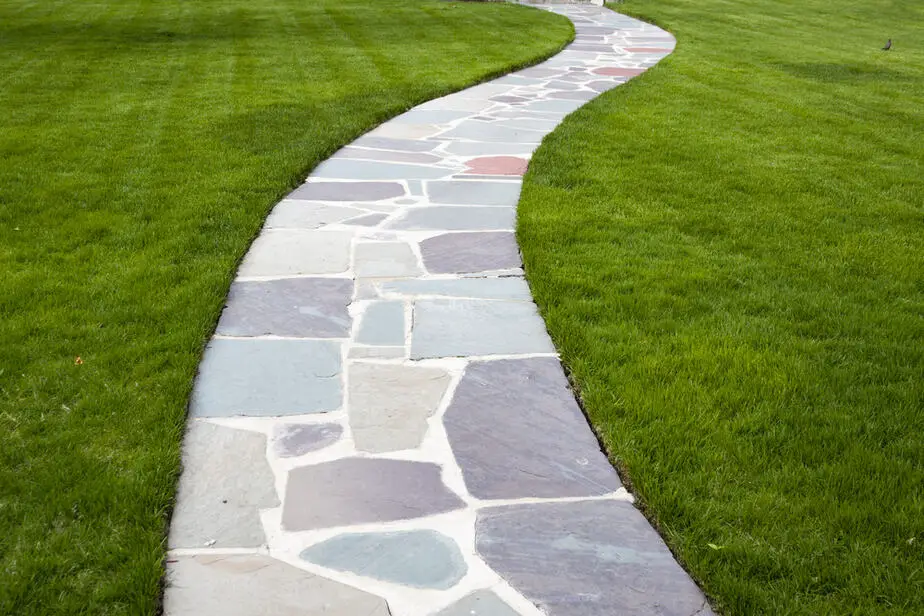 2. Stepping Stones
Despite being a standard walkway design, the stepping-stones never get out of style. They serve as a part of the whole landscape. Especially when being matched with the building itself or made of the same architectural theme.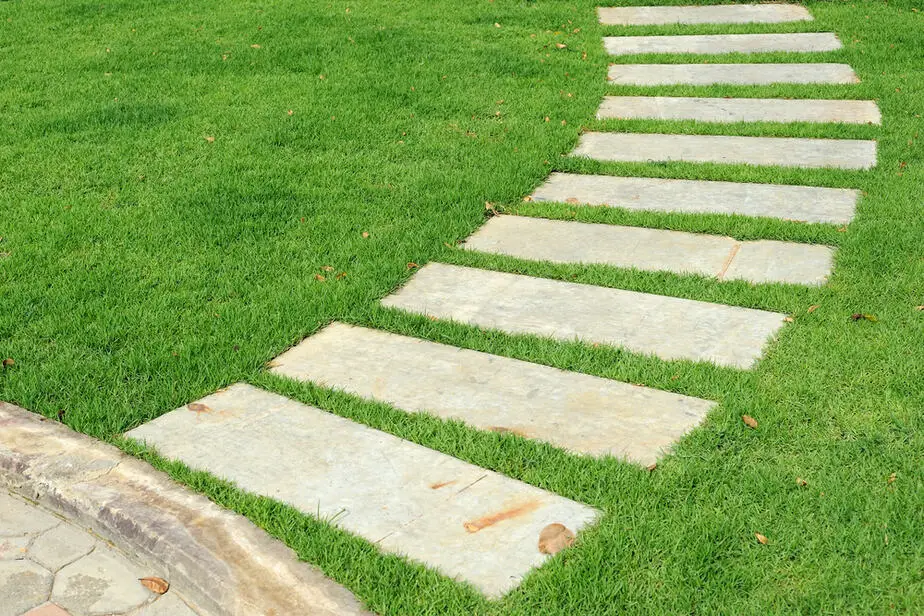 3. The Colorful Way
Walkways don't have to be lame black and white or grey stones. These colorful small-sized ceramics will make your walkway look joyful. It can be executed with either a full range of rainbow colors or 3 complementary colors for a more minimal look.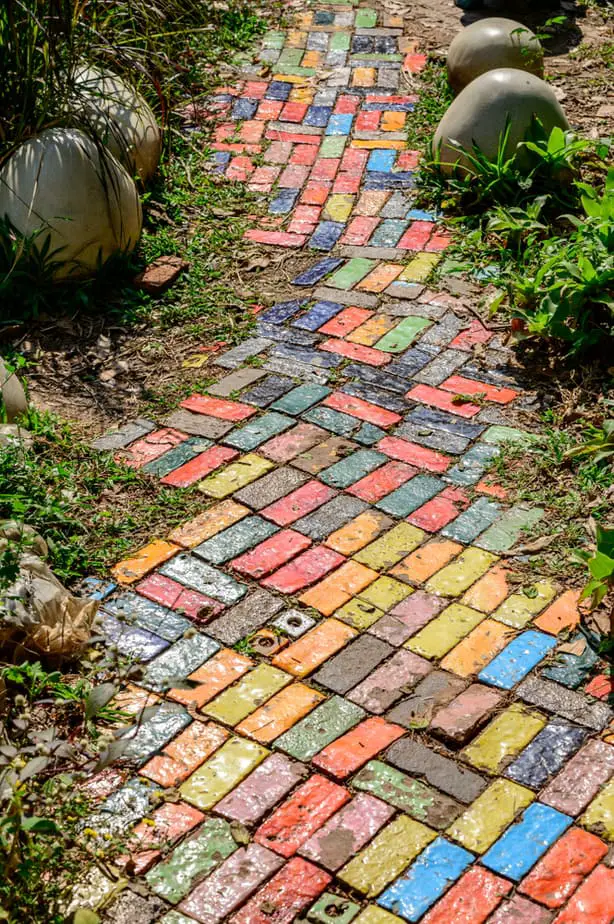 4. Brick Texture
This style uses multicolored bricks to create a texture with an abstract architecture that looks sophisticated. It's not the easiest thing to implement, but the results are satisfying. Colored bricks have a good advantage over other colored options, as they always look clean.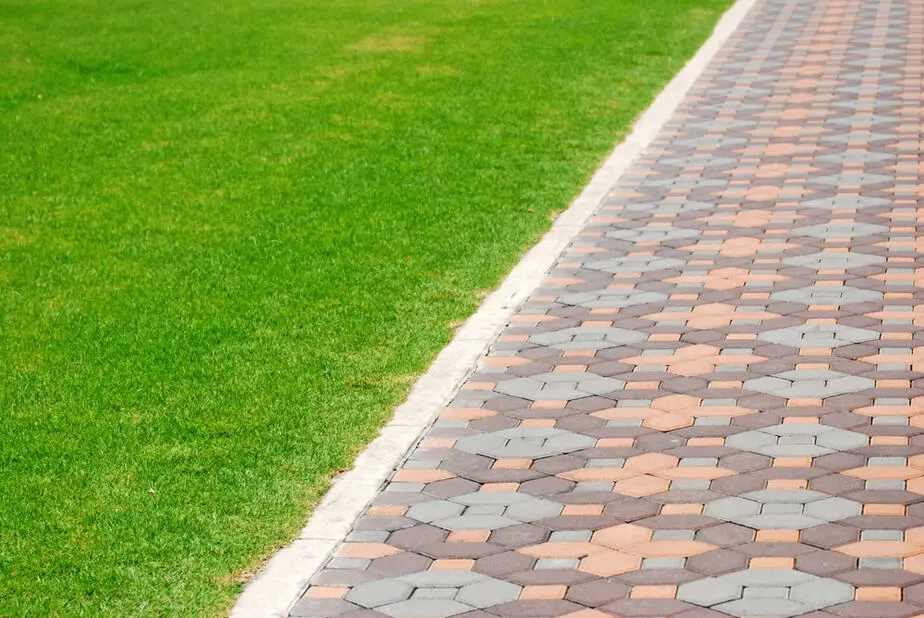 5. Concrete through Grass
Making use of nature for your own benefit might be a smart move to make a fresh-looking design. These wood-like concrete steps form a pathway through the grass. You can implement it in a variety of ways without paying much effort.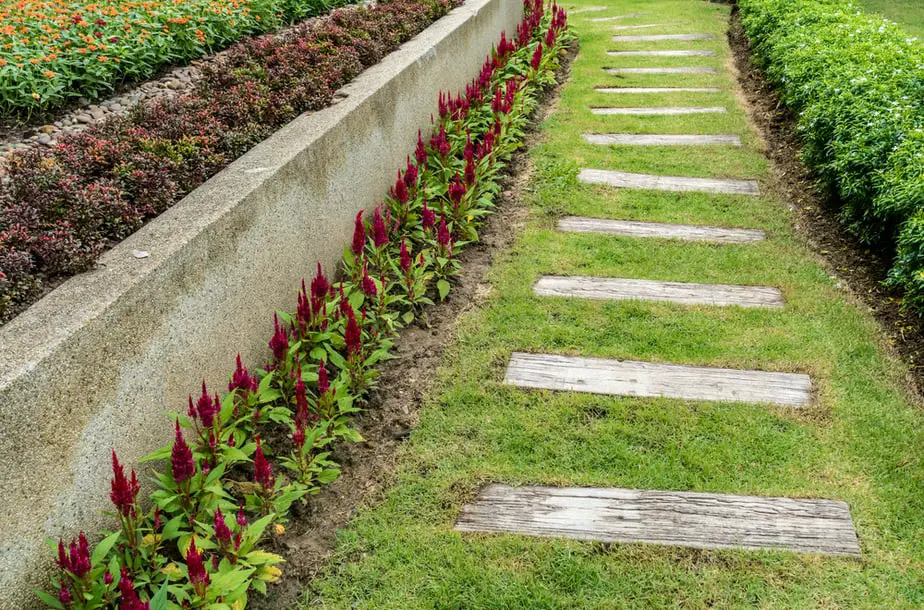 6. Stone & Pebble Combo
Playing with different materials always produces unique results. Integrating pebbles between wide spaced stones grants you both the practicality of stepping-stones and the exotic feel of pebbles. For a decorative touch, this design uses stones that have ornamental pebbles embedded in them.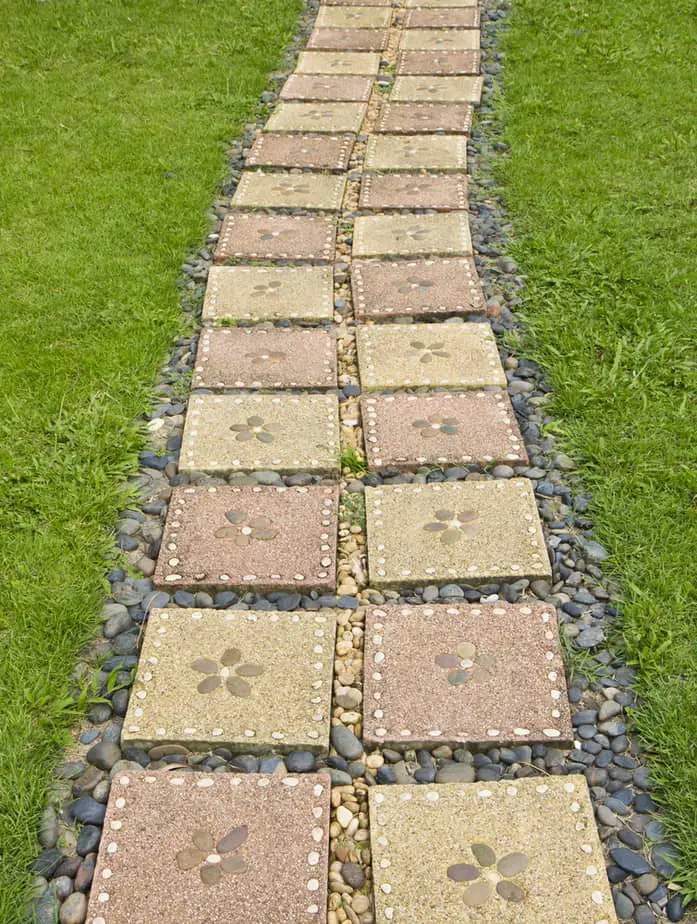 7. Chess
You can achieve a modern look using these tilted black and white mosaics forming a chessboard. They're bold and a bit cold. This is why installing this walkway through a garden or planting on its sides can be a good idea.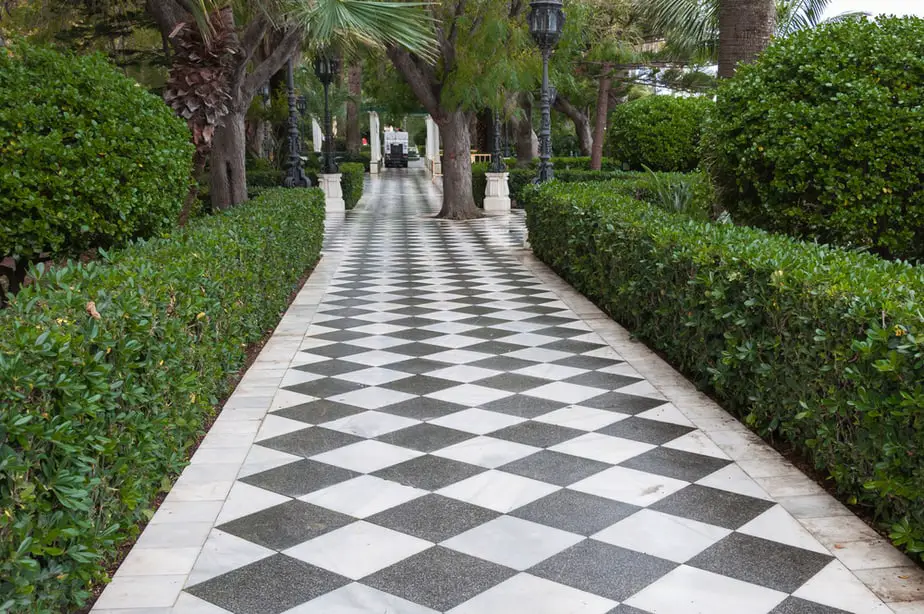 8. Wooden Bridge
Ever dreamed of living on an exotic island inside a small hut placed between the trees? This dream might come true if you build this wooden bridge-like walkway to your front door. Wood gives these exotic vibes. Besides, it's inexpensive and lightweight. Nature lovers, this one is for you.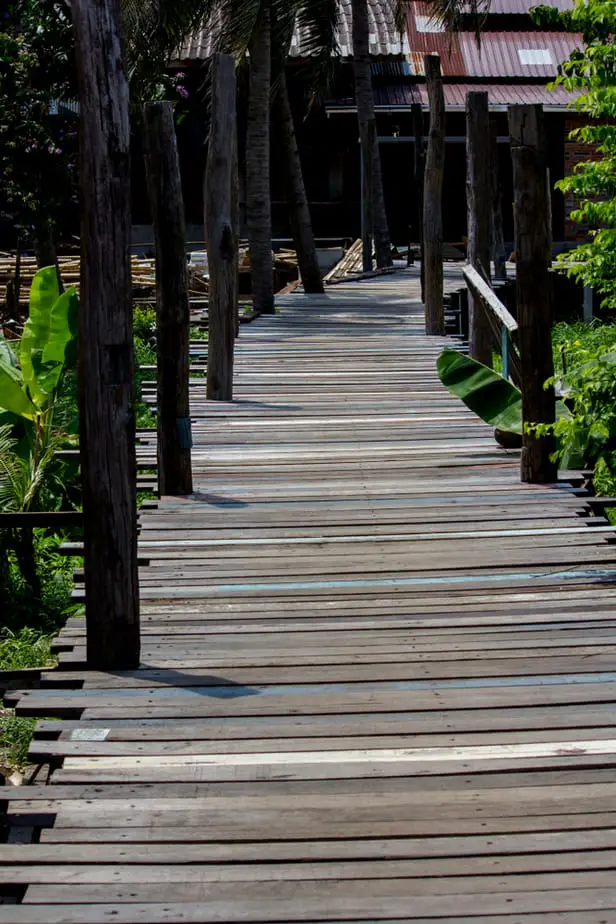 9. Wooden Stump Path
These wooden stumps stairs consist of cross sections of tree stems. The inside of a tree, which is the surface of each stair step, gives an ancient feel. Bunches of flowers planted on both sides of the staircase brings over peaceful vibes.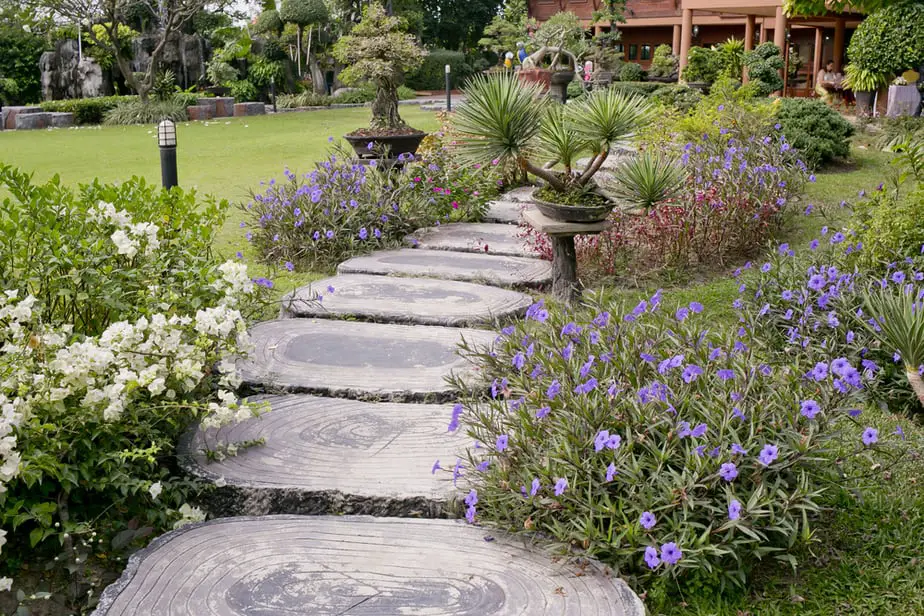 10. Cold Stone
The white stone represents luxury and sophistication. This design is a mix of a curved separated steps path with a following regular stone path to the entrance. It looks really simple but as they say: simplicity is the ultimate form of sophistication.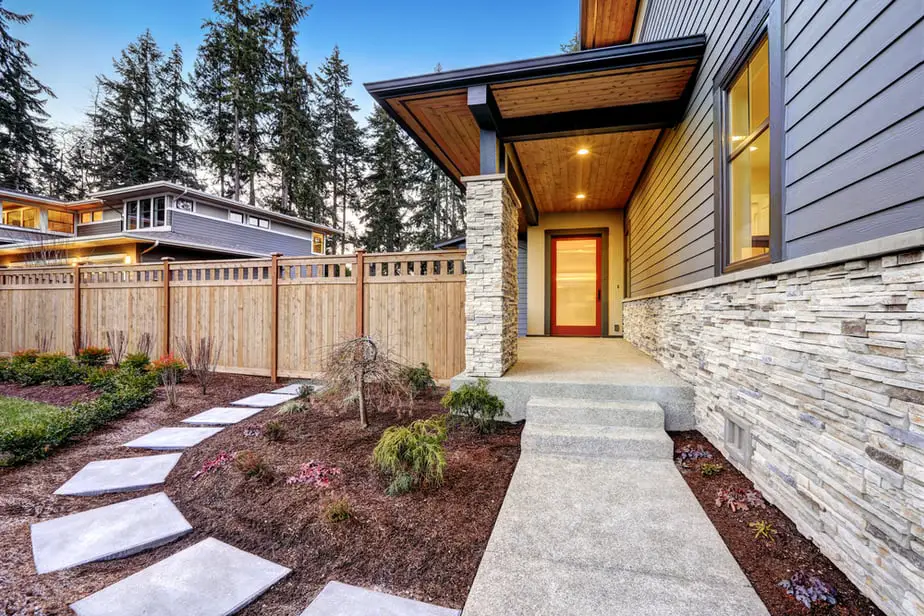 11. Floating Steps
Not the easiest to step on, not the most practical. Yet, this walkway is a piece of art in itself. Wooden tree stumps are placed irregularly inside white pebbles and surrounded by green space. Walking through them would be an entertaining activity by itself.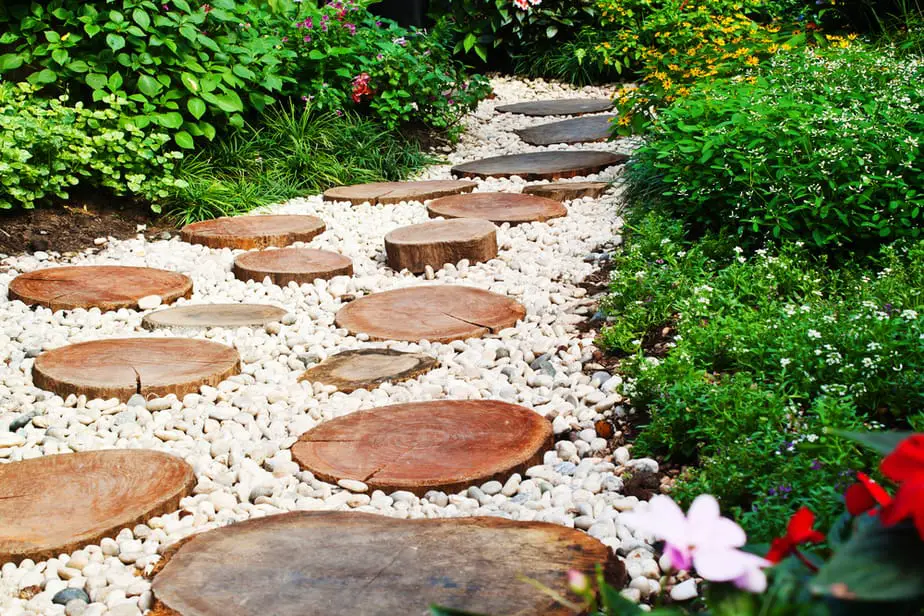 12. Primitive
A gravel path is both low budget and easy to install. If you despise fancy decorations, you might love this option. A simple narrow gravel walkway with a simple stone border. As always, planting on the sideways would be a nice gesture that completes the look.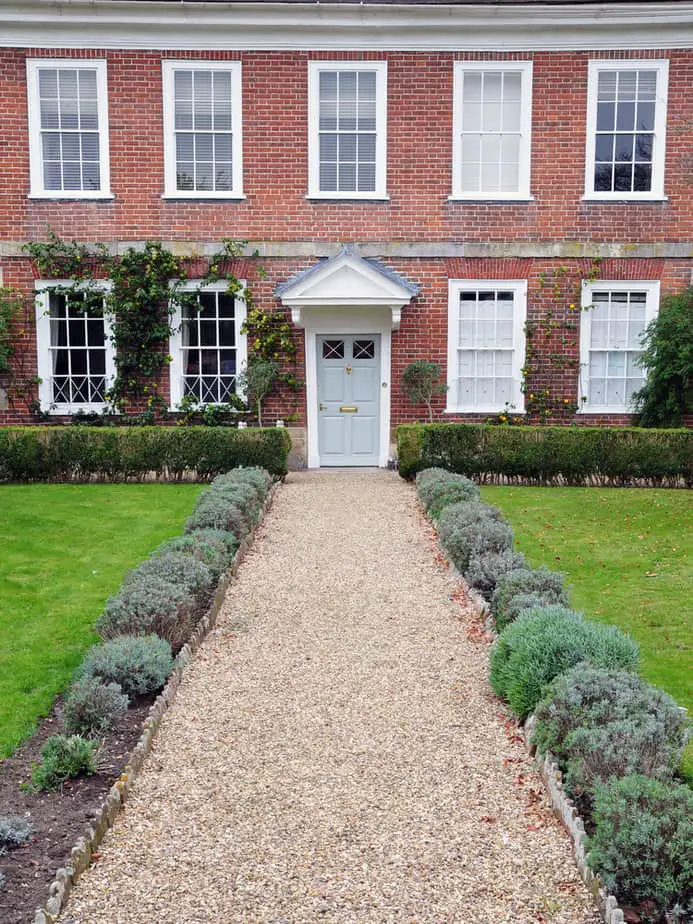 13. Stones over Gravel
If you still want to use gravel but to achieve a more advanced style. You should follow this Japanese style. These black stones are placed over gravel forming a path to your front door. It's tricky to set up as you want to make sure everything is steady and in place, but the results are worth the effort.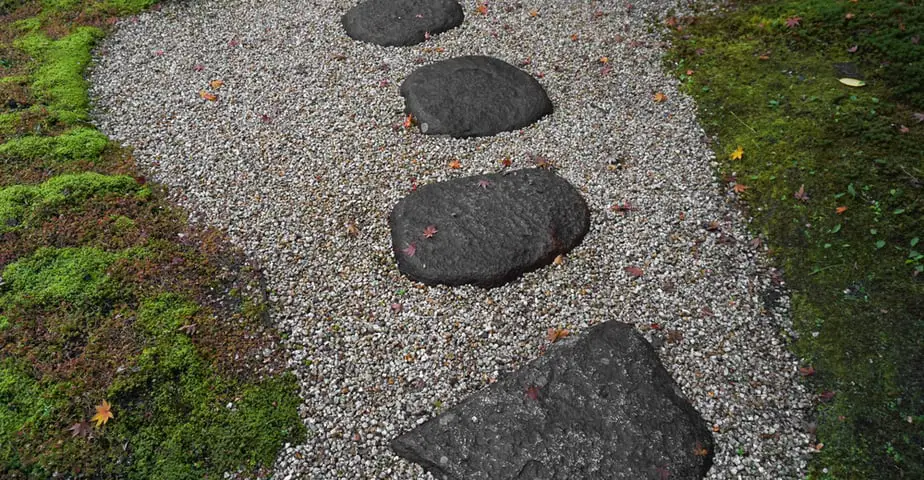 14. Flagstone
Flagstone is a popular outdoor flooring option for a reason. It comes in a variety of shapes, it's not expensive and can be laid directly in soil or a sand bed. If chosen right, a walkway made of flagstone can take your home entrance to the next level!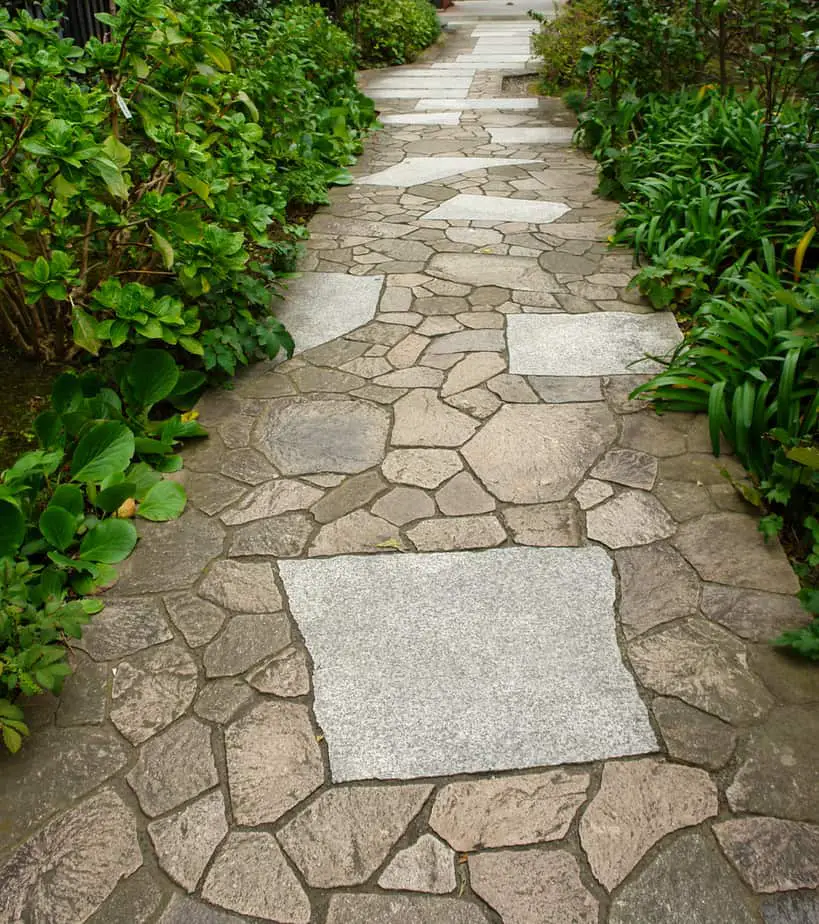 15. Cobblestone
Cobblestone brick is another well-known flooring option. It looks messier and more natural than flagstone. Installing this paver is not complicated and does not take time. Just beware that grass will be growing in between those bricks.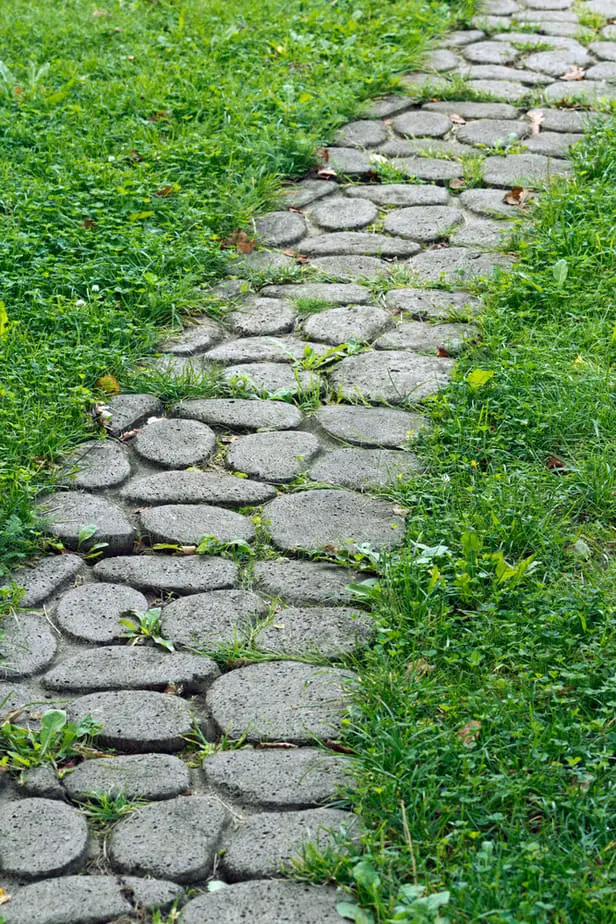 16. Grand Design
For luxury lovers out there, who want a state of the art to blow their visitors away. This is the one for you. Mixing pebbles with mosaic produces magnificent results, combining ancient classical patterns with texture will give you the extravagant look you're looking for.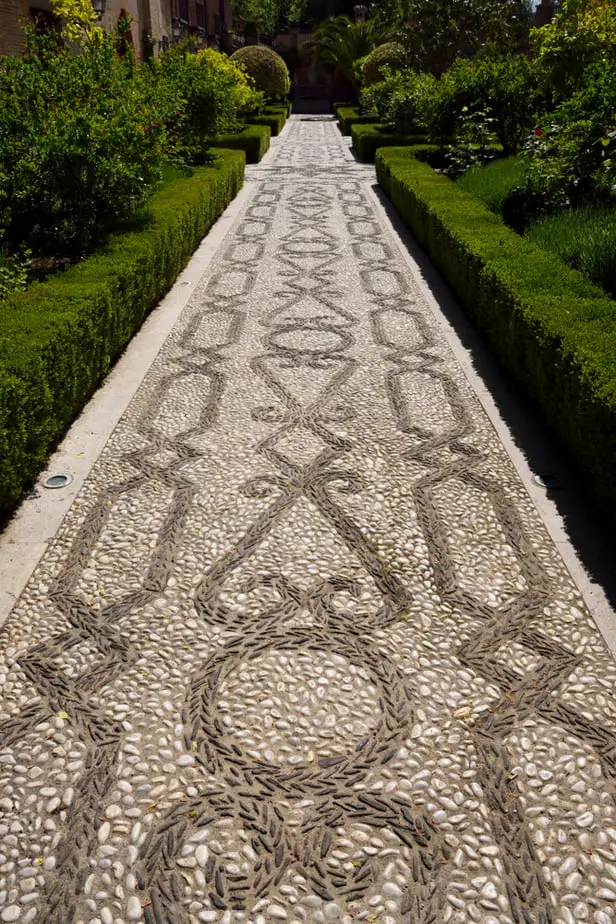 17. Modern
A distinct palette of mosaic cobblestone can do a lot. This modern design integrated colored tilted mosaic bricks with a white-marble lining that gives a trendy modernistic look. This walkway will give your house entrance the ambiance it deserves.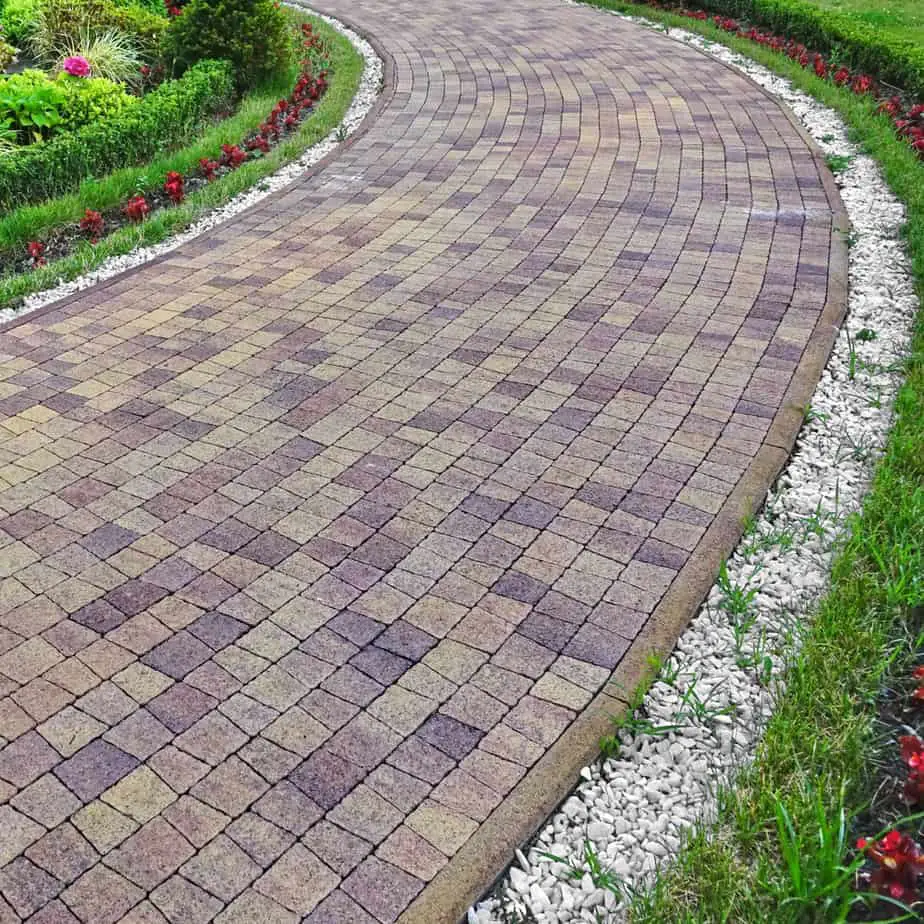 18. Ground Cover
This looks like these irregular stones have just emerged from earth to the surface, not the other way round. They give an eccentric natural look and their setup is a bliss.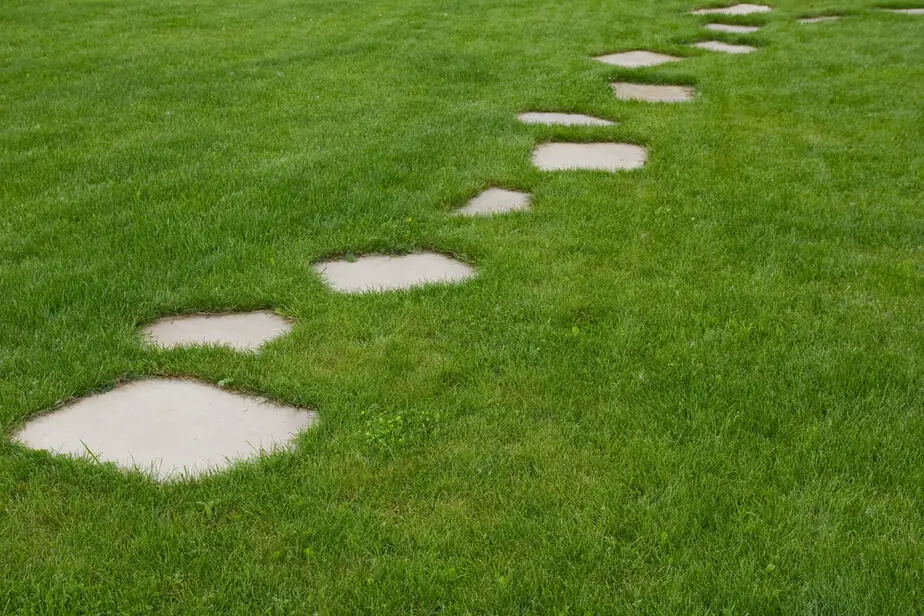 19. Back to Black
Polished black stones are placed systematically over a white pebbles surface drawing a pathway through the garden. The smoothness and elegance of black are to die for.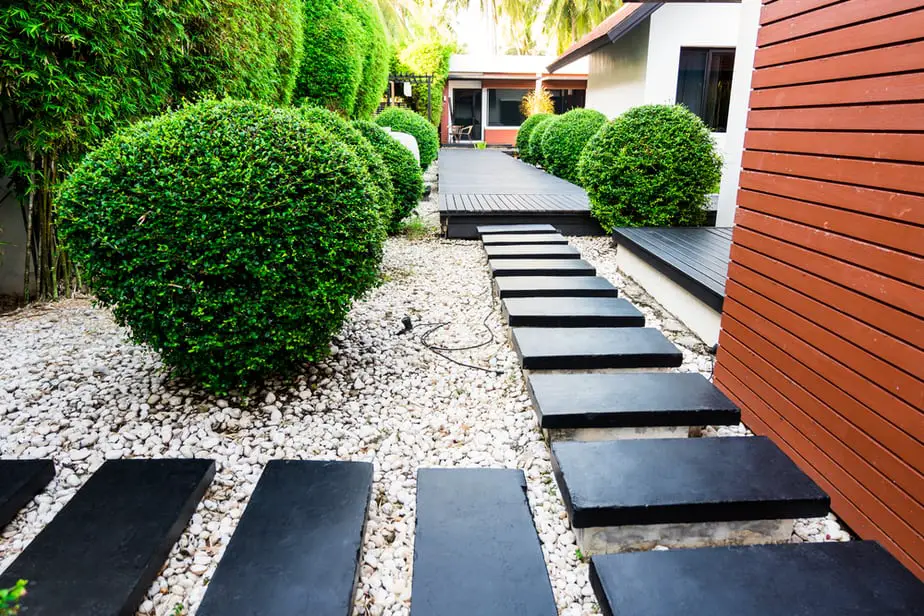 20. Geometrical
A well-structured geometrical walkway with white, beige and violet stones. Lined with regular bricks, this pathway has a minimalist design but the material contrast catches the eye immediately.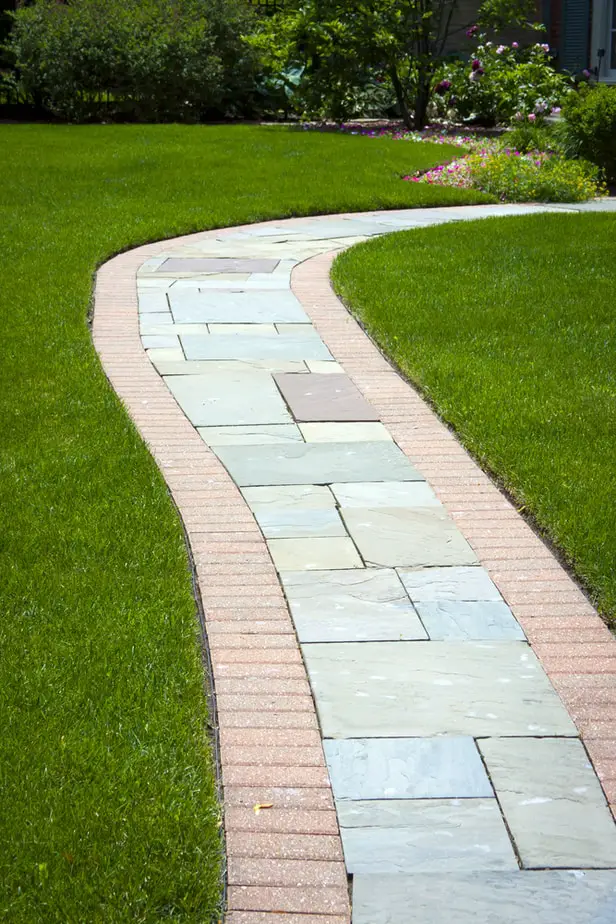 21. Interlocking
This one looks like image illusions; it won't be the first choice for many. Yet, it'd be a suitable fit for those who love to stand out. The interleaving geometrical shapes form a black, grey, and white pattern that looks like a painting. Installing such a walkway would drastically change how your landscape looks.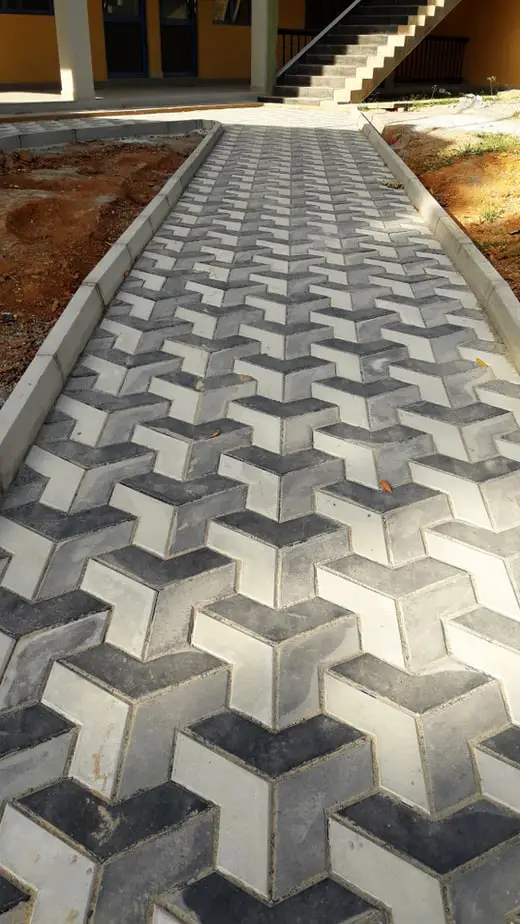 Front Walkways Tips & Tricks
Here is some advice that might help you adjust the designs you like to match reality.
Recommended Size
As we've mentioned before, the dimensions are important. A rule of thumb is that you set the size to include 2 people walking side by side. Obviously, this suits larger houses more. A one-person walkway can suffice for a small house.
Weather
When choosing suitable material, you should put the weather conditions into your consideration. For rainy or snowy places for example; pebbles and aggregate would be a bad choice. As they'll become too slippery. The same goes to hot places, as bricks might radiate heat and a choice like ceramic will help keep it cool.
Straight or Curved?
Straight walkways look simple and are easy to install. While curved ones are more interesting, sophisticated and will take some effort to be set up well. The choice is yours. However, if you have a small yard we recommend a straight walkway that leads directly to your door, to optimize the use of space.
Stairways
Integrating stairways with walkways is common practice. It usually looks nice but not always comfortable. If your walkway is long, try to combine different surfaces to ease the process. Meaning you can start with a direct path then add some wide step stairs or vice versa.
However, using stairs with short pathways is not recommended as they can limit space and make it look smaller than it actually is.
Safety Considerations
Make sure you're able to see the whole walkway from the inside, to protect your house from intruders. Lighting is extremely important, it's not only ornamental. Also, ensure that steps are not too steep nor too high.
You should separate landscape from the walkway using a mulched bed. It has numerous benefits beyond being good looking. They help prevent soil erosion and isolate plants roots from the walkway. It helps control weed spreading as well.
Noticing insects or buds in your mulch during spring and summer is normal, you don't have to worry about it though.
Walkway Basics
You have to make sure that the walkway is well lit, for both safety and appearance. As mentioned before, adding curves or twists improves the shape and makes the path more interesting.
Many rocks and stones have 2 non-identical sides, a glossy one and a dull one. Try to examine each one carefully to place it on the right side. If you're creative, you might make use of this contrast to produce something new.
Whenever you have the chance to incorporate plants in your design, do it. They look nice, give a warming welcome to your guests and of course they're environmentally friendly.
Make sure to lay out fabric below the walkway to avoid weeds growing up your path. Sand is the most common material used for that purpose.
Wrap Up
Choosing a convenient front walkway is essential for designing an appealing landscape. From gravel to stone, it's hard to pick just one. You might try to mix and match several front walkway ideas to come up with the perfect one for your house.
Always remember to take the factors we've mentioned before into your consideration. A good choice is not only good-looking, but it also has to be practical as well.