How cool do you think your patio, garden, or walkway will look if you use rocks to decorate their landscapes? Pretty cool, of course.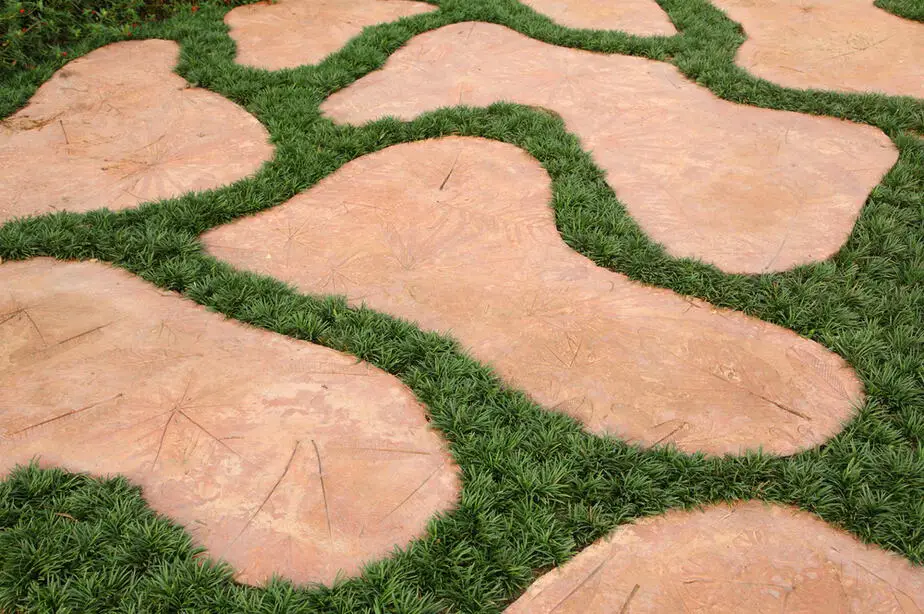 Using landscaping rocks is a valuable addition to the outdoor area of any house. You must take as good care of your outdoor decoration as you do of your interior design. Whether you're looking forward to renewing your old property or installing a new landscape from scratch, stones can come to the rescue.
Rocks are a good choice too if you aren't into investing much time and effort looking after and maintaining your outdoor landscape, and if you're after adding contrast and diversity to your garden, too.
Outdoor decoration is not only about plants: be it flowers, trees, or bushes. It's also about adding other elements of nature in use: rocks, stones, pebbles, wood, …etc.
Before we start, you may want to bear in mind that it's of crucial importance to choose the right landscaping rock; it is mostly the cornerstone for the harmony of the rest of the elements in use.
If you think your yard is shady and you seek to add some brightness, then bright-colored marble, usually white, is the answer you're looking for. Whilst if you're after warming up a given area, you can always count on river rocks or beach pebbles. For a modern landscape, black rocks, especially lava ones, won't let you down.
We'll be glad to help you through with some ideas. You should also consider whether you'll go for a DIY idea or you'll have a pro do it for you; this is an important decision you should make before you start with anything that has to do with actual implementation.
In this post, we'll show you around some cool rock landscaping ideas for the outdoor area of your house, be it a walkway, a backyard, a flower garden, a patio, or even the yard's fence.
So, let's see what we've got here:
Dry Creek Bed

You can use light-colored small beach pebbles to decorate your garden's walkway. Place the pebbles between the non-planted spots in your soil to fill the void between your green spots.
Around Your Swimming Pool's Walkway

You can also surround the walkway to your pool with little greyish-white rocks to add a beach-like look to your backyard swimming pool. Try mixing the white rocks with blue ones, it can make it look more lively and colorful.
Rock Tiles

Wooden bars are perfect for ground tile decoration outdoors, let alone adding rocks to them. Plan your walkway, or whatever area you would like to decorate this way, into square tiles. Cut your wooden bars to form the tile frames. Fix them to the ground, then fill each tile up with rocks in the color of your choice.
Pro tip: yellowish-grey is always a good choice, and a 50cm square tile is usually the most convenient tile size outdoors.
In your decorated garden walkway

If you have a decorated flower garden and you're looking for an upgrade to your walkway through, then decorated rock tiles with beach pebbles are what you should look for. Get enough oval rock tiles to cover along your walkway, and paint them in whatever patterns or drawings you would prefer. Leave from 15-20 cm between every other tile, and fill the gaps in tiny white and brick-red pebbles.
Patio Cascade Waterfall

For luxurious patios, a cascade waterfall is never a bad call. Use relatively larger pieces of rock to decorate your patio floor along with your outdoor ceramic tiles. Just make sure the colors are matching. For an upgrade, you can install water taps down from your patio ceiling to add a hint of a tropical setting to your garden. When it comes to decorating your backyard outside the patio, you can use as many rocks as you want around your plant pots. You can also use grey bricks for inside and outside the patio for color consistency and ultimate comfort.
Alongside Your Walkway

Bricks, wooden tiles, and medium pebbles, the perfect combo! At any rounded area paved with bricks, cover the area around with wooden tiles. And for the gap between them, fill it up with medium pebbles on the soil with a matching color of your choice.
Pro tip: leave some tiny uncovered spots: make room for some flowers to bloom in there.
Leaf Print Pavement

You can also integrate some rock panels into your green grass for a creative upgrade to your grass-covered backyard. This is a very good choice for large outdoor areas covered only in green grass without any other kind of plant, not trees, not flower pots, not anything, only green grass.
Around Your Garden Pond

For the jungle lovers, this is your jackpot. Create your own pond with a rock bottom, surround it with medium/ large stones of various colors, then add plants of your choice to the outer surrounding of your pond.
Bonus tip: get some freshwater fish to add more life to your pond in your backyard, and enhance your tropical jungle experience.
Wall Stone Marble Pool

We've shown you before how to decorate the walkway to your pool. Now it's time for a full upgrade: decorate the whole surrounding. For the pool tank itself, you can use cement-like looking tiles, and for the surrounding, pave it around using marble tiles with 10-15 cm between every other tile. Fill the spaces in using colored beach pebbles afterwards. You can replace the marble tiles with dark-colored ceramic ones. It's all up to you and your budget.
In your backyard, divide it into sections

For the lazybones out there, you can use large blocks of rock to divide your backyard into sections in a creative way. Plan the sections into which you wish to divide your backyard first. Then place the blocks in a random order within the outline of the section division planned.
This can be the perfect choice for large outdoor backyards with not much-planted areas that you would like to decorate with the minimum effort possible.
Garden walkway

If you don't want to cover your whole backyard in green grass, then you may want to consider using green grass within hollow cement casts for your backyard. You can also add colored flower pots and bushes at the sides if you want to. Cactus is always a good choice, too.
With long cement slabs

For a walkway to your decorated garden, here is a super-easy way to upgrade it: cement slabs. You can even make them on your own if you're a DIY type of person. Pour the mold into rectangular casts to make your slabs with any number you prefer. You can add any color of your choice to the mold, too. Leave 20-30 cm between every other slab, and fill the gaps using small colored beach pebbles. Just make sure the pebbles are not at a higher level than the slabs.
Large Boulder with Flowers

Use large boulder rocks for a boho look at your backyard. A perfect area would be 3m*3m with a lot of red leaves and some thick branches. Use as much red as you can: the more, the merrier.
Stone Pathway on the lawn

This is a gold mine for the wild spirits out there: you can use any size of tiles to pave your walkway. As you can see in this image, tiles of several sizes have been used in the walkway, from small to large tiles, with all irregular shapes and cuts, glued together with cement mix. And for the sides, small black rocks were used for some contrast.
Stone Pathway on the lawn II

Perfectionists, assemble!
This one's for those who are willing to invest some more time and effort paving their pathway. Bricks of different shades are used for contrast, different tile orientation between the center and side tiles, too. Just make sure you maw the lawn frequently, you don't want to mess with that perfect scenery.
Decoration in The Garden

Your backyard doesn't have to be all covered in green grass. You can have only one green corner with rock decoration. You're going to need a clay jar, brick clay molds, wooden planks, and some bamboo branches, not to forget some medium beach pebbles, too. Make an L shape with the wooden planks with perpendicular orientations. Place your clay jar in the middle of some large green leaves, then surround the sides with the bamboo branches. Using the brick clay, make 10-12 square tiles, place them at 10-15 cm from one another. Then- yes, you got it right- fill in the gaps using the beach pebbles.
Pro tip: Try to use as many colors as you want.
Footprint cement decorations

Honeycomb cement cast is a very good choice, too. Pave your walkway using that cast. But before you do, walk it up and down a couple of times to mark up your favorite route. After you've marked it up, pick up some stones, large and small with the ratio 1:5 respectively. Using one large stone and 5 small ones at a time, put them together in the shape of a bare foot. Repeat along the walkway to get a footprint cement path. Then place your honeycomb cast around it
Bonus tip: use some white pebbles and a hint of green grass to add some life to your walkway.
Cement floor flower foliage

For all the miniature lovers out there, you'll love this one. All it takes is a marble plank, some white pebbles, and colored plastic pieces for the flower petals and leaves. Repeat this unit for as many times as you feel convenient. This can be pretty convenient for a little girl's room overlooking the backyard.
Patio: Backyard with a Fire Pit

A large backyard with an open patio can't say no to a fire pit addition. To make the most of it, install it using rock, clay, and stones. Separate it from the green area in the backyard using pebbles, lots of them, and some marble slabs.
Large rocks In your outdoor garden pond

Yet another idea for jungle lovers, a small pond with large rocks around it. Here, your first choice should be boulder rocks: for their large structure and brownish-red color, and that's more than enough to decorate around your man-made pond. Spread some lily leaves on the water for a fairytale touch. For the outer side of the rocks, use tiny beach pebbles to fill in the gap between the pond and the green grass of the garden.
Beach Pebbles on Your Walkway

Use dark grey pebbles alongside your walkway when it's colorful enough elsewhere. For example, in this image, the marble slabs chosen are bright-colored and closely placed to one another, hardly leaving any room for green spaces in between, and the sides have colorful-leafed bushes all along. So it's only convenient to use a darker tone of grey at the sides, also in order to draw one's attention the center of the walkway if that's what you're after in the first place.
Limited-area Garden Step Lawn

Here, we're only using cement with green grass installations due to area limitations. As you can see, stones are used on the sidewalls, not on the steps. Leveling your garden can add much more space and a cool unique appearance as well.
Bonus tip: you can use graffiti to brighten up the steps a bit, either by yourself or by a pro artist.
Backyard Wood Fence

Who said you can't maintain your privacy in style?
Glue up some colored clay pots to your wooden fence bars, and add some medium yellow pebbles in front of the fence. Some empty pots and a couple of bushes can be a good addition, as well.
Now that we've taken you through a tour for some of the most trending rock landscaping ideas, which one did you like most? And what will you go for: a DIY or getting things done by a pro?