The joy of sitting around a fire with friends and family is an experience people won't soon forget. There's just something about the warm crackling and dancing orange flames of a fire that brings our minds at ease and our hearts aglow. In this article, we'll be going over 12 of our favorite in-ground fire pit ideas to enhance the appearance and functionality of your backyard – and keep you and your loved ones warm when the days are cold.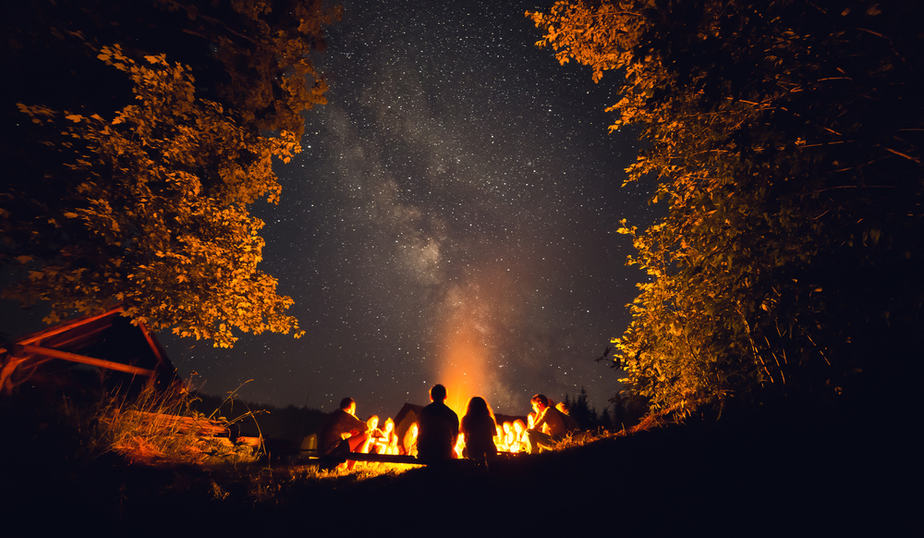 If you find that in-ground fire pits aren't really your thing, take a look at our Outdoor Fire Pits article for more ideas!
1. Brick and Stone-Lined In-Ground Fire Pit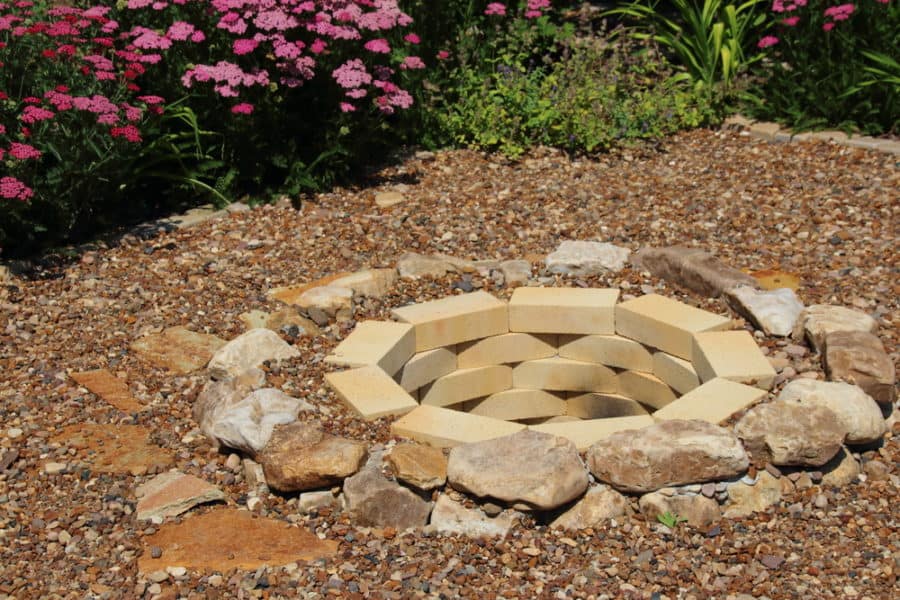 This beautiful brick and stone-lined in-ground fire pit is perfect for creating a rustic look in your backyard. The pit is deep enough to keep splintered wood from scattering on the ground, and the gravel walkway surrounding the fire pit adds additional safety and less potential for plants or grass to catch fire. The large stones lining the top of the pit adds an eye-catching contrast and acts as somewhat of a barrier between the open fire and the ground.
2. In-Ground Fire Pit with Stone Benches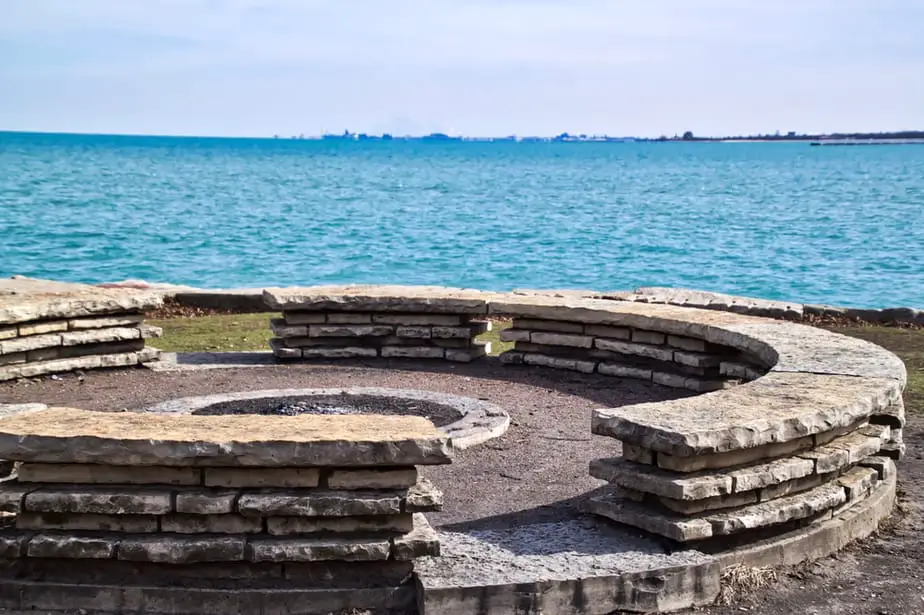 This stone fire pit complete with large rock benches is an ideal addition to the yard of a conversationalist. If you love gathering with your friends in the comfort of your own backyard, you might want to consider this style of an in-ground fire pit. Not only will the open fire be beautiful under the starlit night, but the stone seating area would definitely catch glances and be the talk of the party.
3. In-Ground Paver Fire Pit with Paver Patio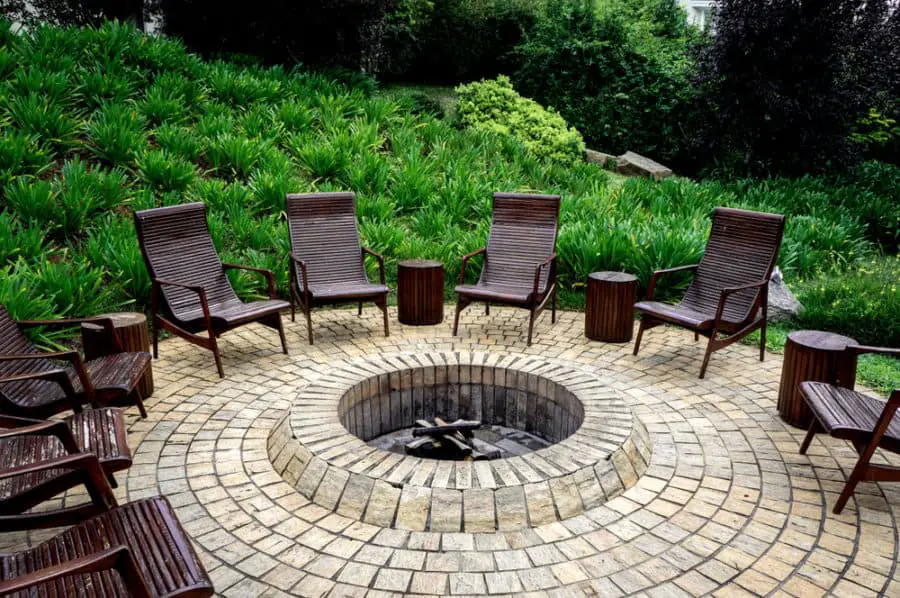 Paver patios are already extremely practical and visually appealing, but a paver patio with an in-ground fire pit really takes the cake! The functionality of a patio like this goes far beyond an easy-to-clean seating area. This lounge space is not only simple to keep tidy, but it's also roomy enough for seating and side tables with the added benefit of the warmth and use of a fire pit.
The in-ground fire pit has raised paver stone edges to act as a barrier between you and your quests and the crackling fire below. This style of fire pit would be a wonderful choice for anyone who doesn't have a seating area in their backyard.
4. Dug-Out Campfire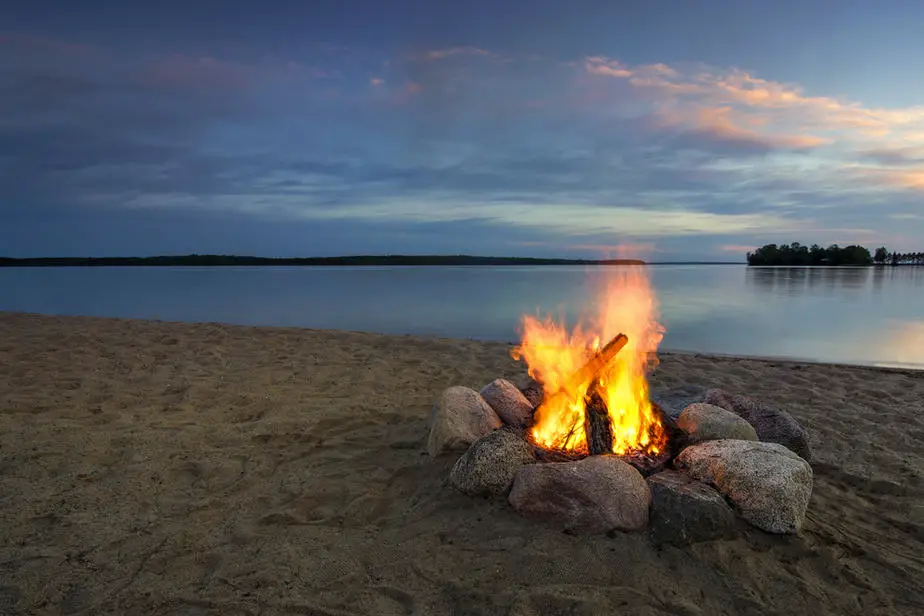 An in-ground fire pit made from digging a lowered space in the sand is a practical and easy way to enjoy a fire without the commitment of a permanent in-ground pit. These fire pits are a traditional, nostalgic way to warm up your evenings with s'mores and the appearance of glorious orange flames.
The large rocks situated around the perimeter of the fire keeps the logs stationary so that they're less likely to fall over once they begin to weaken and splinter. Not to mention, the rocks really add to the old-school appearance of the fire pit.
5. Fire Pit in Table
Although this fire pit isn't in-ground, it's still embedded inside a table (so we thought we'd include it in our list). Fire pits built inside tables are an aesthetically pleasing piece for any backyard lounge area and are a wonderful way to keep you toasty on cool evenings. You can have a fire-lit dinner or simply a relaxing time around the soft glow of the flames as you talk with your loved ones.
Either way, you can't go wrong with this detailed centerpiece.
6. Iron Basin In-Ground Fire Pit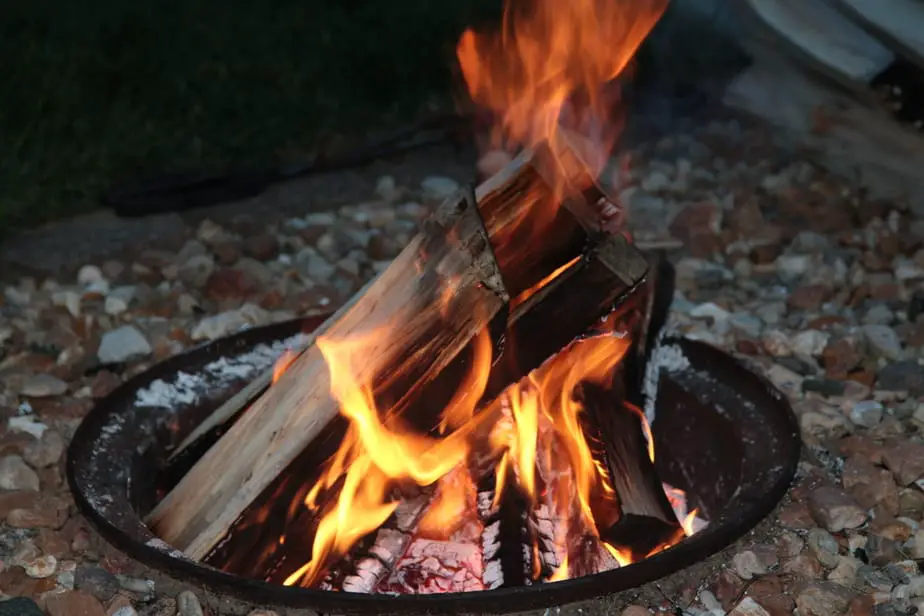 This iron basin in-ground fire pit is simple to install without the dedication to a more permanent fire pit. It seems that a hole large enough to fit the basin snuggly was dug and the pit was placed inside. This type of in-ground fire pit is an easy-to-do project that's safe and keeps fire logs contained – and if you ever get tired of it, you can simply dig the fire pit up, fill the hole, and it'll be like it was never there.
7. Square-Shaped In-Ground Fire Pit with Log Claws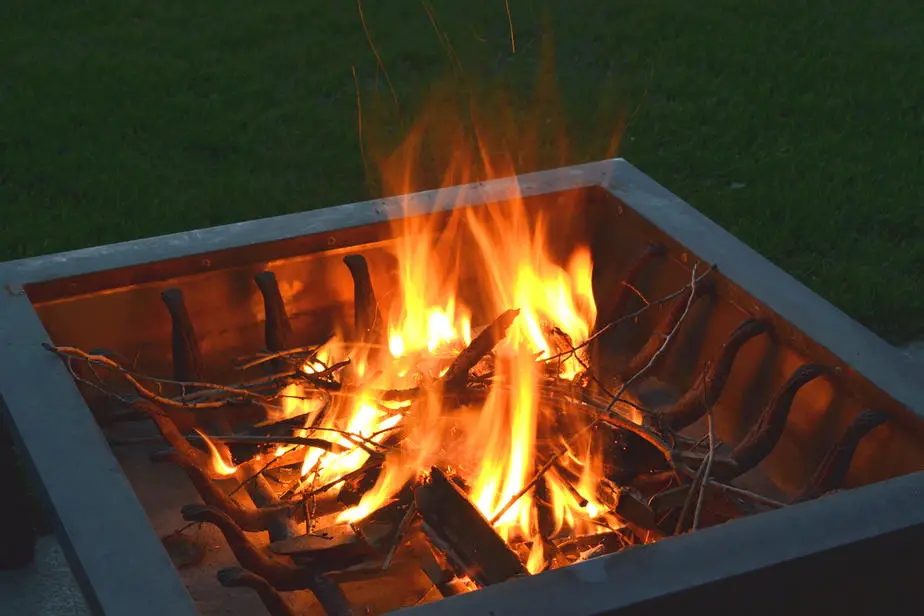 Monotonous, plain square home aesthetics are a rising trend in our modern society and this square fire pit is no exception. Though the modern style is quite flat, this style of fire pit would make the perfect addition to a busy outdoor space.
This fire pit is chic enough with its fancy log claws and sleek, edged design to not downgrade the look of your outside area, yet simple enough as to not take away from any major focal points.
8. In-Ground Fire Pit with Barbeque Rack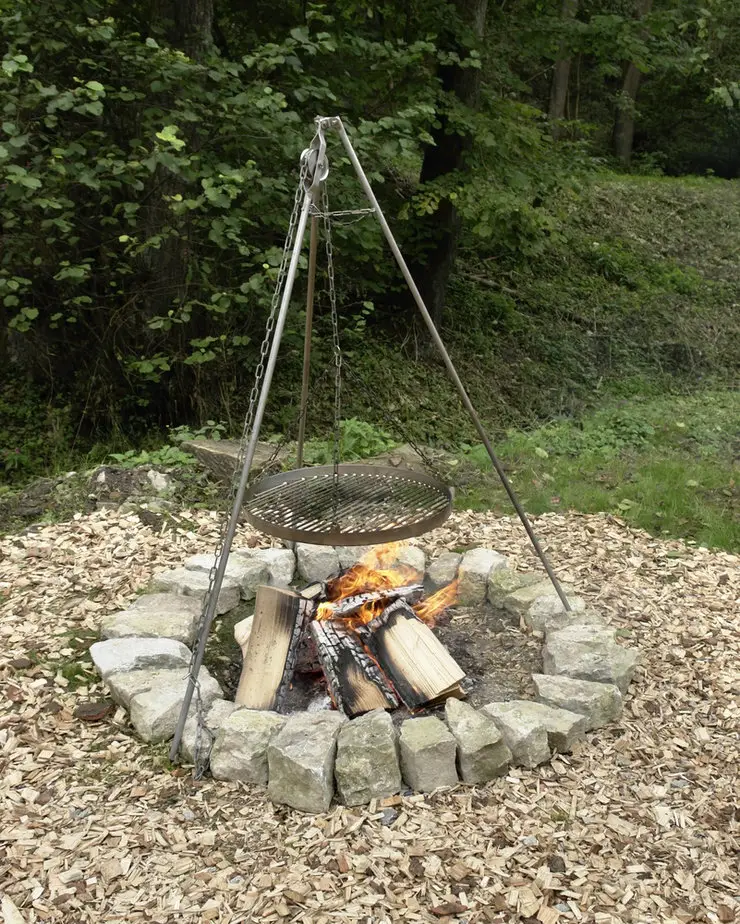 This in-ground fire pit is far more practical and useful than it is easy on the eyes (unless you like the rustic, outdoorsy look and feel). But for those who enjoy cooking, it's a known fact that food cooked above the flames of a fire just tastes better… and smokey.
This teepee style barbeque rack is perfect for cooking your dinner just right without getting it too close to the fire. Not to mention the stones surrounding the fire pit is always a nice touch.
9. In-Ground Fire Pit Grill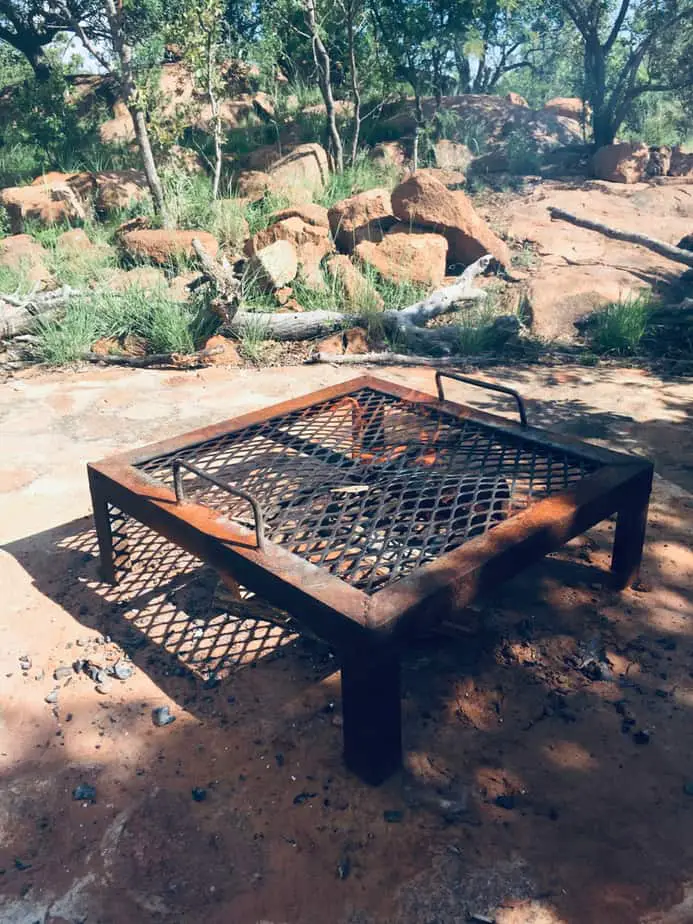 Another practical in-ground fire pit, this fire pit with a large grill would be perfect for the home chef. Like we mentioned before, there's no better taste than fire-smoked food, and this useful fire grill is sure to flavor your recipes.
Though it's not the prettiest thing to look at, this is a great fire pit grill that is easy to set up and you'll get tons of use out of it!
10. In-Ground Washing Machine Drum Fire Pit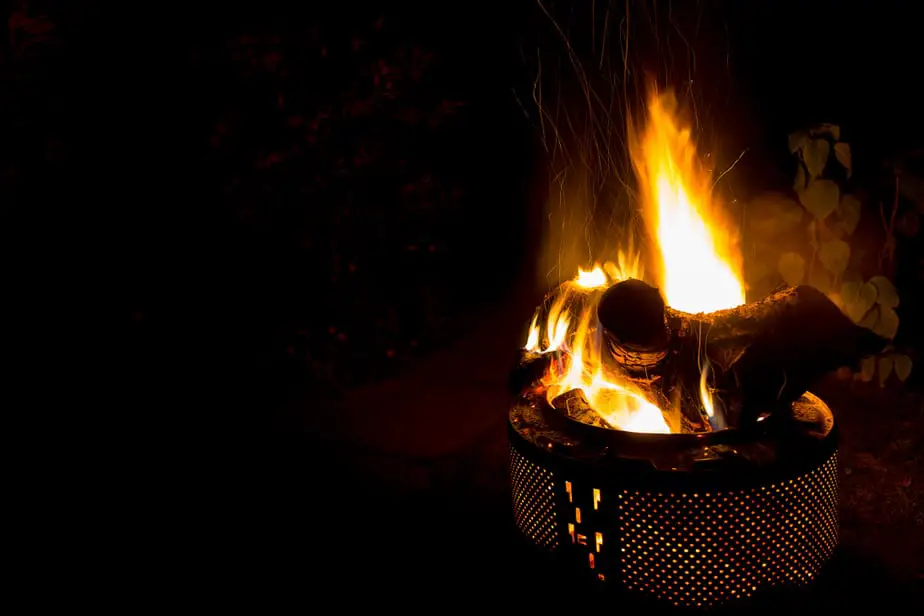 A simple DIY project, this washing machine drum fire pit not only looks cool, but it's easy to assemble. All you need is a washing machine drum, a few logs, and fire starter and voila – you have yourself an interesting in-ground fire pit.
The multiple small holes in the side of the drum give off a beautiful glow, as well, and you're sure to enjoy chilly nights with this inexpensive fire pit option.
11. Rustic In-Ground Fire Pit with Wagon Wheels and Horseshoe Shapes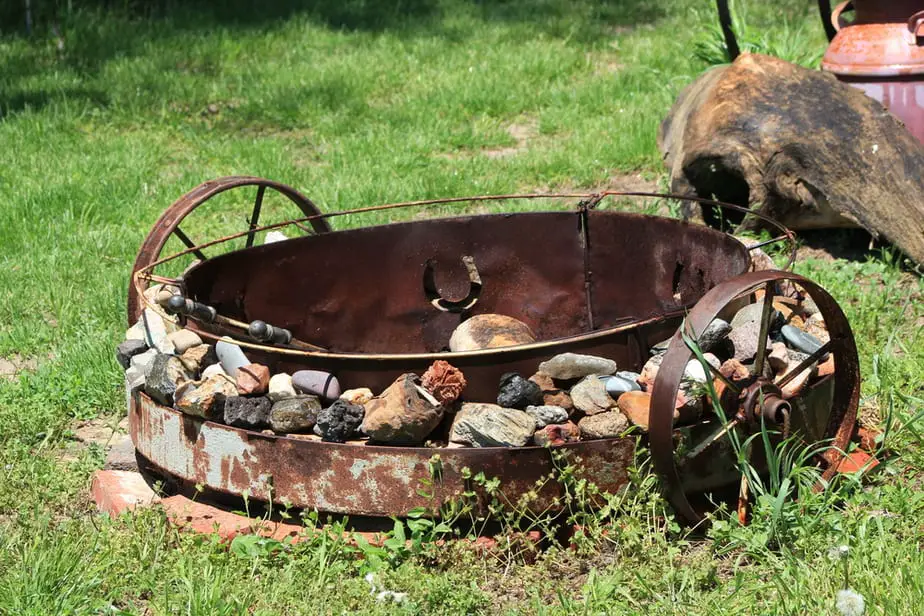 For those who love the western, rustic decor, this metal in-ground fire pit would be the perfect addition to your property. The charming wagon wheels and horseshoe shapes add character to the pit and are sure to be the talk of the night. Here are more ideas for a Western-style fire pit, if you're interested.
12. Red Brick Fire Pit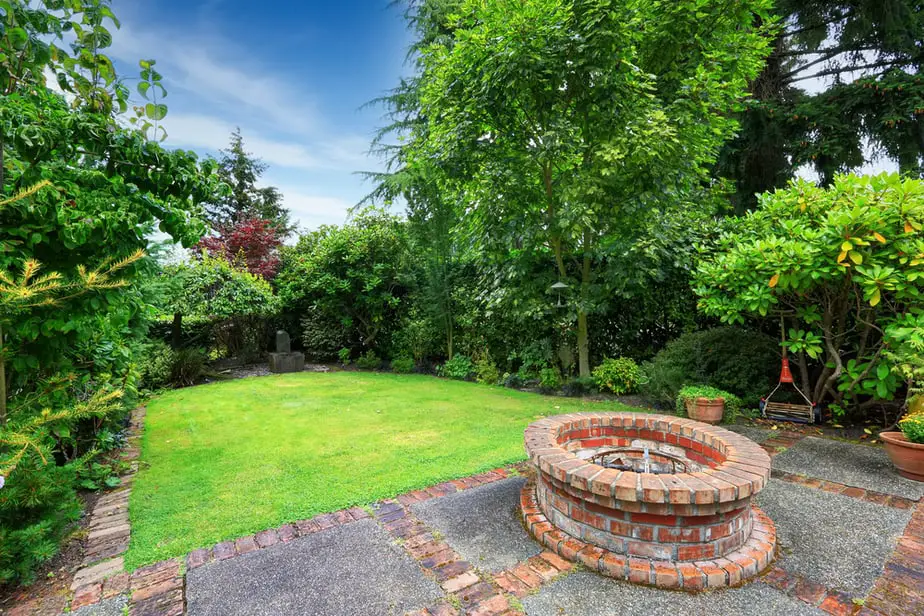 Brick is a timeless building feature that has been around for centuries. The rustic reds and oranges are hard to match and this beautifully crafted red brick in-ground fire pit is no exception to that rule. Not only is gorgeous and sure to add to the sophistication of your home, but it's also incredibly durable and long-lasting so this fire pit will give you warmth for years to come.
To Conclude
In-ground fire pits are a great way to add a unique focal point and hang-out area to your backyard space. They can be inexpensive if you prefer the "do it yourself" appearance of washing machine drum or campfire styled fire pits, and you'll likely save money on the weekends spending your time lounging around a fire than going out. The soothing sound and warmth of a crackling fire are hard to beat and we're sure you're going to love your in-ground fire pit! We hope you enjoyed our article covering our favorite in-ground fire pit ideas! Happy decorating!