Cold weather doesn't have to keep you indoors! Transforming your outdoor space from an icy wonderland to cozy hideaway has never been easier – all you need is a patio heater!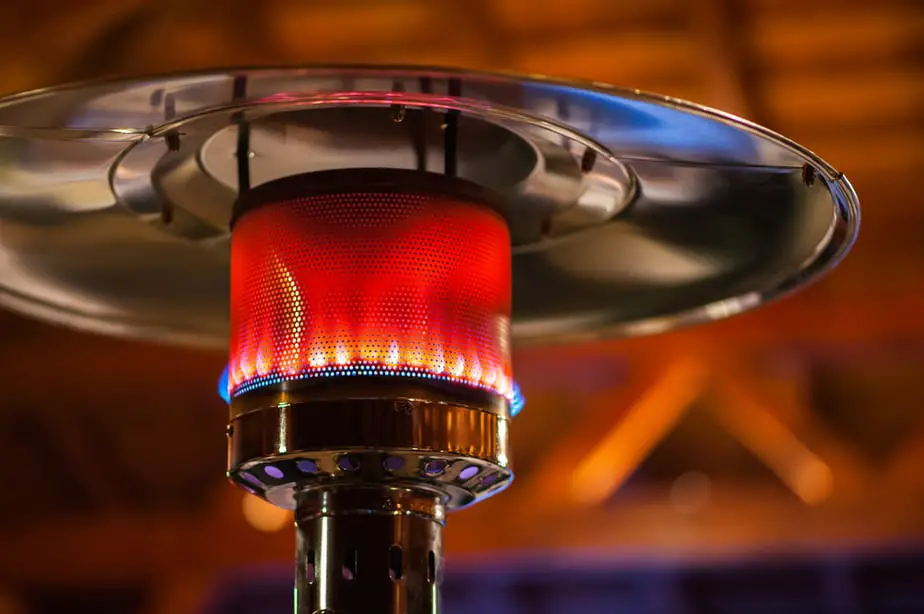 Patio heaters come in many different styles and types. It's easy to find one that fits your outdoor aesthetic and meets your heating needs so you can enjoy your outdoor living space when the temperature drops.
There are lots of different heating options out there, so we've put together a comprehensive buying guide to make sure you find the best patio heater for you. Whether you're looking for a powerful heater with a strong heating output or a functional centerpiece for your outdoor area, we'll be covering the best of each!
Pst. Need more ideas for your patio? Check out our Back Patio Ideas and Brick Patio Ideas articles!
In a Hurry? Here's Our Top Picks…
AZ Patio Heaters Electric Patio Heater
Last update on 2023-11-22 / Affiliate links / Images from Amazon Product Advertising API
This electric patio heater is designed like a fan, with three arms outfitted with heating elements that can be controlled separately to provide you with up to 1500 watts. Using their variable temperature controls, you can adjust the heater's output by choosing how many arms you want to be active. It's like getting three heaters in one!
This stylish heater is designed to fit underneath a patio umbrella, though with a little bit of innovation it can also be mounted on a ceiling so long as you make sure to leave a safe amount of space between the heater itself and the ceiling. The central hole through which you can place your umbrella post has an adjustable diameter of up to 2 ¼ inches, so it should be able to work with any outdoor umbrella or parasol you have.
With all three arms working, this heater can heat an area of 15 square feet. While it can be installed without an umbrella, it's more effective heat-wise in a space with some defense against the wind. It also has a higher light output than some of your other heating options, but if that doesn't bother you, it's a great choice!
In terms of safety, this heater has the CSA and ETL seals of approval in addition to an IP waterproof rating. It also includes a safety anti-tilt switch. Your AZ Electric Patio Heater comes with a one-year warranty against defects, during which you get free replacements of any pieces that might malfunction. Many customers have commented on their positive customer service experiences!
Things We Like:
CSA, ETL, and IP certified to ensure safety of users
Variable temperature control allows you to control how much or how little heat you want
Unique design fits comfortably beneath any patio umbrella with adjustable central hole size
Safety-tilt switch to defend against unfortunate accidents
Check Price and Reviews on Amazon
---
SURJUNY Patio Heater
Last update on 2023-11-23 / Affiliate links / Images from Amazon Product Advertising API
This electric patio heater is wall-mounted and designed for both indoor and outdoor use. It runs cleanly, without burning anything for fuel, and its user-friendly design is easy to use and starts warming your space as soon as it's turned on. The carbon tube radiant heating system mimics the sun and uses UVs to heat the objects it encounters, rather than heating the air itself, which makes it better for outdoor use.
Like the AZ umbrella heater, this heater is designed to put out 1500 watts. It requires a partial assembly on arrival, but with a few short minutes and a little ingenuity, you'll have heat available at the push of a button. The carbon tubes have a lifetime of over 5000 hours of warmth. It features a remote for easy control and a timer system, so you can set it to run for a certain amount of time before turning off on its own. This mechanism keeps you safe without you having to remember to turn it off at the end of the night.
This product is CE and ETL certified for safety and has an IP 34 rating, so it's both dust-proof and water resistant, making it ideal for outdoor use on your patio!
Another bonus of this heater is its one-year manufacturer warranty, with a 30-day money back guarantee. Their customer service is also super responsive, promising to answer any claims within 24 hours.
Things We Like:
CE and ETL certified for safety
Runs safely both indoors and out
Remote controlled timer system eases worries about forgetting to turn your heater off at the end of the night
Check Price and Reviews on Amazon
---
Fire Sense Tabletop Patio Heater
Sale
Fire Sense 61322 Portable Patio Heater Outdoor Tabletop Lightweight Propane 10,000 BTU Auto-Shutoff Valve ODS Compliant - Hammer Tone Bronze
PATIO PORTABLE HEATER: This outdoor patio heater spreads the heat in a 100 square feet area so that you can easily enjoy being outdoors even during chilly weather. It will effortlessly keep you and your loved ones warm and toasty.
ONE STEP IGNITION: The heater features a one step Piezo ignition system that will turn on the heater in an instant so that you do not have to wait around for the air around you to be heated. Also, this way you only use the fuel you need.
PROPANE HEATER: This propane heater uses a 1lb LP gas cylinder (not included in the purchase) that fits inside the heater. The heater produces an adjustable output of 10, 000 BTU. The consumption rate for the full tank is approximately 3 hours.
LIGHTWEIGHT AND PORTABLE: This outdoor propane heater for patio has a beautiful hammer tone bronze finish and stainless steel burners and heating grids which make the heater very lightweight and easy to carry.
IDEAL FOR OUTDOOR SPACES: This propane patio heater is the perfect solution for any outdoor gatherings you want to have during the winter. With built in safety features and strong, durable construction, this heater will last you for years to come.
Last update on 2023-11-22 / Affiliate links / Images from Amazon Product Advertising API
This little heater packs a punch, pumping out 10,000 BTUs and heating up a 7-foot radius. If your outdoor space includes a table that you and your friends like to gather around, this is a great option as a centerpiece. From the middle of the table, it will keep everyone toasty.
It's made with a hammertone bronze finish and features a reliable piezo electronic push button igniter. The Fire Sense Tabletop Patio Heater is designed to run on a 1-pound propane tank (not included) that is stored inside of the heater's base to keep it out of sight. If you want it to last longer, adapters are available to modify it to work with a 20-pound tank as well.
In terms of safety, this heater features a safety guard grill to help prevent people from accidentally brushing up against the heating element, plus a weighted bottom to help keep it from blowing over in the wind. It also comes with an auto-off tilt switch, so if it does blow over, it will automatically turn itself off to keep you and your home safe. It's also CSA approved for compliance with safety standards.
The Fire Sense Tabletop Patio Heater is super convenient and portable. You can bring it with you wherever you go to stay warm when the nights get cool.
Things We Like:
CSA certified for compliance with safety standards
Lightweight and super portable for use anywhere
Piezo electronic push-button ignition is easy to use and highly durable
Auto-off tilt switch and grill guard are designed to keep users safe
Check Price and Reviews on Amazon
---
AZ Patio Heaters HLDS01-GTSS Quartz Glass Tube Patio Heater
Sale
Last update on 2023-11-22 / Affiliate links / Images from Amazon Product Advertising API
This heater is as much a work of art as it is a functional heater and users love what it adds to their outdoor atmosphere. This heater has a beautiful base with a quartz glass tube for heating behind a stainless steel mesh for safety. It also features a small hood to reflect the heat back down towards you and your guests.
One of the great benefits of using a glass tube standing patio heater is that you can see the flame clearly, making it a beautiful focal piece for your yard and with an output of 40,000 BTUs, it definitely will keep you warm too! If you want to see what this heater looks like in action, there are lots of pictures in the Amazon review section.
The enclosed bottom is designed to keep the 20-pound propane tank on which it runs (which is not included in your purchase) out of sight. It's easy to remove for refills, as well.
This CSA-approved heater features a safety auto shut-off tilt valve, so if you were to knock over your heater (or if the wind got too strong suddenly) it will turn off automatically when it detects itself tipping over. Since standing patio heaters tend to be a little top heavy, this is a super useful feature! As always, your AZ Electric Patio Heater comes with a one year warranty against defects, during which you get free replacements of any pieces that might malfunction. Many customers have commented on their positive customer service experiences!
Things We Like:
CSA certified to meet safety standards
Automatic shut-off tilt valve protects you against heater issues if an accident occurs and the heater is knocked over
Beautiful design looks amazing when it's lit and adds an aesthetic touch to your outdoor living space
Check Price and Reviews on Amazon
---
Fire Sense Patio Heater
PAMAPIC Patio Heater, 48000 BTU Commercial Propane Outdoor Heater - 88 Inches Tall Standing Patio Heater With Cover, Bronze
[Easy to operate & move] Simple ignition system to start. The one-step Pulse ignition system allows the operator to light the heater by pressing a button. The bottom of the heater is equipped with durable smooth wheels, which can be easily moved to any place.
[Safety & Stable] The patio heater uses a 20-pound propane tank (not included), which increases the weight of the gas patio heater base and provides much-needed stability and safety in high wind conditions. When the heater is tilted, the device will be automatically turned off to prevent danger.
[48000 BTU Outdoor Gas Heater] 88-inch patio heater with a 32 inch reflector, the maximum heat range of heat generated by propane is 18 feet in diameter, and the output is 48000 BTU per circle.
This outdoor patio heater is highly versatile and can be used on various occasions. It is perfect for your terrace, restaurant, garden, pool deck, or even for parties, weddings, and other outdoor activities. You can also enjoy outdoor fun time in cold weather with this heater.
OUTDOOR PATIO COVER: Guaranteed to fit round, stand-up patio heaters with 32" diameter dome x 18" diameter base x 88" high. Zips open and closed with ease.
Last update on 2023-11-22 / Affiliate links / Images from Amazon Product Advertising API
The Fire Sense Patio Heater is well known as one of the best patio heaters on the market in terms of both heat output and quality. It's also tall, with a full height of over seven feet and an overall weight of 51 pounds. This puppy puts out 46,000 BTUs of heat or enough to comfortably warm an 18-foot diameter space. You'd be hard pressed to find a heater with a larger heat output on the market.
This heater is made from stainless steel with a powder coating to prevent rust. The Fire Sense Patio Heater comes in a variety of colors, from a sleek matte black to a bright aqua, so you're sure to find a model that matches your patio style.
It features an aluminum reflector hood to direct and enhance its heat output, plus a piezo electronic ignition so that starting it requires only the hassle-free push of a button and should stay that way through years of regular use.
It's designed to run on a 20-pound propane tank, which isn't included in your purchase. On a full tank, you should get about ten hours of solid run time. It comes with a heavy-duty set of wheels to make maneuvering it easy, even over rugged backyard terrain.
Unfortunately, this heater is a little top heavy. If you're using it in an area that sees a lot of wind, you may want to consider a different style of heater, or you can add weights to the bottom to help stabilize it.
Additionally, some people have complained about the sheer size of this heater, but you can find tips for modifying it to be a more manageable height if you're trying to use this heater in a space that has a roof. Remember that since this heater runs on propane, it's important that you don't use it in an enclosed space!
Things We Like:
46,000 BTU output heats a large space effectively
Ten-hour run time on a full tank of propane will keep your outdoor living space cozy all night long
Aluminum reflector hood redirects heat downwards and towards you and your friends
Piezo electronic ignition is super easy and reliable
Check Price and Reviews on Amazon
---
Outland Living Series 401 Outdoor Propane Fire Pit Table
Outland Living 401 Series - 44-Inch Outdoor Propane Gas Fire Table, Espresso Brown/Rectangle
Perfect addition of functionality and style for your backyard patio fire pits. This stunning rectangular fire Table creates a truly unique fire feature that perfectly compliments any outdoor space that will draw the attention of your family and guests
Product dimensions – 44" L x 32" W x 24" H | Max heat – 50,000 BTU/HR | Tank (not included) size – Standard 20 lb | Clearance – (Top) 80" / (Sides) 36" | Install on (or over) non-combustible floors only, in a well ventilated space and not in any enclosed area
The push button spark ignition system provides simple and convenient control when lighting | Chrome manual control valve allows 100% smoke free variable flame height
Includes pre-attached 3-ft hose with regulator, 8 mm black tempered glass tabletop and 15.5 lb. Arctic ice decorative glass rock set | Sit back and admire the reflection of the dancing flames while keeping warm and cozy
The coffee colored UV HDPE (Ultraviolet Light High Density Polyethylene) wicker is a reliable all weather resistant material that will last | Meanwhile our powder-coated aluminum frame construction offers a strong and sturdy base
Last update on 2023-11-22 / Affiliate links / Images from Amazon Product Advertising API
This patio heater is in a whole different category from the others on our list. It distinguishes itself both in price and in quality. This Outland Living Series patio heater costs a lot, but if you're looking for something that will be the centerpiece of your outdoor living space for years to come, this is the heater for you. It's an International Design Awards winner and hands down the best, and most stylish, propane fire pit table on the market.
This beautiful table is made from weather-resistant, colored UV HDPE wicker around a powder coated aluminum frame. It features an 8mm black tempered glass tabletop with a 15.5 pound Arctic Ice decorative glass rock set. The image of a fire burning over ice is striking and gorgeous.
The heater itself has a stainless steel burner and is CSA approved for safety. It's rated 35,000 BTUs, so you'll stay warm while admiring your new centerpiece. It comes with an easy, push-button spark ignition system with a chrome manual control valve to allow for 100% smoke-free variable flame height.
The table is built to conceal the 20-pound propane tank which it uses as its power source, with easy access panels on either side. The tank is not included and, since you're burning propane, the table shouldn't be used in an enclosed space.
Outland Living also includes a one-year limited warranty with its products and has great customer service. If there are any issues with your table, you can count on them to be responsive and get the problem taken care of in a timely and painless manner.
This patio heater receives rave reviews from its users and if you are skeptical, take a quick cruise down their Amazon reviews, including a ton of video reviews showing it in action. Its users love it – understandably! Another great feature of this table is that you can pick up a natural gas conversion kit if you have access to natural gas as a power source in your home.
Things We Like:
Incredibly beautiful and durable design will make this a talked-about centerpiece for your outdoor living space
CSA certified for safety
International Design Awards winner
Patio heater doubles as a useful table when out of use and are designed to fit with many styles of patio furniture
One year limited warranty and great customer service to help you get the most out of your purchase
Check Price and Reviews on Amazon
---
Choosing the Best Patio Heater for You
There are a surprising number of variables to consider when you're picking out your dream patio heater. They come in a variety of different styles, run on different energy sources, and have different safety standards and additional features. Here's a video to help walk you through the different things to consider and following is our detailed breakdown of everything you need to know to choose the best patio heater for you!
Location
Obviously, one of the most important things to take into account when picking out the patio heater of your dreams is its location. What kind of outdoor space are you looking at? Are you heating an entirely outdoor area where there can be a lot of wind? Or do you have an enclosed or semi-enclosed patio space you want to keep warm?
To pick the right heater, consider how much space you need to heat, whether you want to actually warm up an area or just keep the people in it feeling comfortable. This will help you determine whether you need a large or small heater, and which type of heating element will be most effective. Wayfair has a great chart in this article to help you figure what size heater will heat your space!
You also need to make sure that you have a space that's safe for using a heating device. If you're using a standing heater, you want to make sure you have at least three feet of space on every side to reduce the fire hazard, in addition to a reasonable amount of ceiling clearance if you're using it in a roofed patio or gazebo.
Types of Patio Heaters
Patio heaters come in four main types, with each one suited for different needs. Take a look at the outdoor space you want to heat. Does it have a low roof, a sturdy ceiling or another point where a heater could be safely mounted? Each space will have its own perfect heating option, and we're about to go over a few:
Standing Patio Heater
Free-standing or floor patio heaters tend to be the best option for heating large spaces. You see them a lot in restaurants, cafes, and bars because they're sleek and take up very little space while outputting a whole lot of heat. Most standing patio heaters have an output of around 40,000 BTUs and you're unlikely to find another type that has an equal output.
These heaters tend to be pretty tall, so you'll want to make sure if you're putting it in a space with a roof that there's enough space between the top of the heater and the ceiling to avoid fire hazards. Because of their long design, you also want to make sure that you get one that has a sturdy base to prevent it from tipping over.
Tabletop
Tabletop patio heaters are super convenient to use because they're small and portable versions of standing patio heaters. Of course, with a decrease in size comes a decrease in heat output. You'll rarely find one that has an output of above 20,000 BTUs, which makes them a better choice for warming smaller spaces.
Tabletop heaters tend to be quite stylish and make great centerpieces for a table, keeping your outdoor space both warm and beautiful. For the most part, they run on electricity, but you can also find tabletop heaters that are propane-powered if that's what you prefer.
Hanging
Hanging patio heaters are a more permanent option if you have an outdoor space that has a sturdy roof, like a gazebo. Since they hang above you, you get an even heat distribution with zero effort on your part after the installation. No adjustments are necessary.
This type of heater has an average range of between 10,000 – 30,000 BTUs, depending on the model. They tend to be electric, rather than gas or propane-powered.
Wall-Mounted
Wall-mounted patio heaters, as the name implies, are mounted to the wall, which makes them a great choice if you're looking to heat an area where space is at a premium. You'll have to install them, but typically wall-mounted heaters are sold with the brackets you will need for the installation.
They tend to heat a space evenly, although not as well as a standing heater because of their reduced BTU output.
So, What are BTUs?
When you're looking to heat or cool outdoor spaces, the measurement used is generally BTUs or British Thermal Units. It's the approximate amount of energy needed to heat a pound of water by one degree Fahrenheit. The more BTUs a heater is capable of outputting, the higher its capacity to heat a space is.
Here's a handy calculator to see how many BTUs you need to heat your space plus a more detailed breakdown of BTUs.
Patio Heater Energy Sources
The kind of energy source you want to use and have access to is another thing to consider when picking out your new patio heater. Some types of fuel require more active upkeep than others. The cost-effectiveness of the different energy options varies by location as well. This video has a great breakdown of the three most common fuel types.
Propane
Propane heaters are the most common heaters out there. They offer several notable benefits: they're more mobile than the other types because the heating source doesn't need to be connected to walls or wires, and typically has a built-in place to store your propane tank. In order to run them, you'll have to make sure to keep your propane tank topped up. There's nothing worse than running out of fuel on a cold evening!
Another benefit of propane is that it's widely available, whereas you may live in a place where natural gas may not be available as an energy source. You can get propane at most gas stations. Plus, it requires no professional installation. You buy your tank and you're good to go.
There are a couple of downsides though. While propane used to be the cheapest way to stay warm, prices have gone up and now it's on the more expensive end of the spectrum. If you have an especially enclosed outdoor space you should consider other options, as well. Propane heaters should only be used in well-ventilated areas.
If you want to get a little more technical, here's a breakdown of the components of a propane heater.
Electric
Electric heaters are popular because they're so easy to use and safe for use in both indoor and outdoor spaces. As long as you have access to an outlet, or have an extension cord handy, they're reasonably mobile as well. These heaters heat up very quickly and run hot, so they're ready to go almost as soon as you are.
Electric heaters tend to be cheaper to purchase than propane or natural gas heaters and you never have to worry about refueling them. Instead of purchasing separate fuel, the cost of operating your electric heater goes into your electricity bill. One of the biggest benefits to using an electric heater is that you can use it in an enclosed space without any worries. With electricity, nothing is being burnt that could be toxic if it builds up.
The downside is that they aren't as mobile as a propane tank. You do have to worry about having an accessible plug and stray wires can be dangerous if they get underfoot. Depending on the model, electric heaters may be more vulnerable to weather conditions than a propane or natural gas heater would be, as well.
Natural Gas
If you already have access to a natural gas line in your home, this is one of the best options in terms of both cost efficiency and environmental friendliness. Natural gas heaters run cleaner and cost less than both propane and electric. You don't have to worry about refilling them either, as they are connected to a permanent supply of power.
The downside here is that they're less mobile, since they have to be plugged into your natural gas line, and they tend to require professional installation. Some options have an easy disconnect option, so you can have several outlets set up around your outdoor space to move it around. Like propane heaters, these shouldn't be used indoors or in enclosed spaces. You need a well-ventilated space to make sure you're both warm and safe.
If you're thinking about installing a natural gas heater, but haven't got your home connected to a natural gas line yet, you should be aware that the costs to get the whole thing set up can be pretty high, though you'll definitely see a drop in overall cost once everything is done.
Convection vs Radiant Heaters
Pretty much all heaters fall into one of these two categories and they're each better suited for heating a different environment. Convection heaters do their job indirectly, by warming the air around them. They pull air through the heating elements to release it warmed up. This makes them great for heating enclosed spaces and not so great if they're trying to singlehandedly raise the temperature of the great outdoors.
Radiant heaters, on the other hand, use infrared rays, like the sun, to heat the objects that they come into contact with. So instead of warming the air, they warm the people their rays land on. In terms of open outdoor spaces, that makes them a much better option.
Safety
Making sure that you have a patio heater that is certified by one or several of the most common safety institutions is important because it helps you ensure you're not buying something that is more likely to malfunction and put you or your home in a dangerous situation. The most common certifications are CSA and ETL.
CSA
CSA Group is the number one tester and certifier of gas appliances in North America, so they take a look at gas products, like patio heaters, to make sure they comply with all safety standards. You can familiarize yourself with their certification marks and what they mean.
ETL
ETL certification comes from a company called Intertek. Similar to the CSA group, they test for compliance with safety standards. Here's what their approval mark means.
IP
IP ratings, or Ingress Protection ratings, is mostly discussed in terms of its measurement of water resistance, but it's also a measurement of how dust resistant a product is. You can get a more detailed breakdown here.
Caring for Your Patio Heater
As long as you perform regular maintenance and store your patio heater properly, it's an investment that could last you many warm and cozy years. They don't need a lot of upkeep, but since patio heaters tend to spend a large part of the year in storage, it's important to make sure they're taken care of appropriately.
When it's time to pack away the heater at the end of the season or break it out for the next, the first step is to make sure that the gas or power is disconnected.
Give it a dusting to remove any debris that may have fallen inside. You can also use compressed air for this!
If the exterior of your heater is powder coated, clean it gently with a soapy detergent. If it's stainless, you can use any stainless steel cleaner. Make sure that none of your cleaning product comes in contact with the heating element though!
Store your heater in a dry and covered area where it's safe from the elements to prevent rusting or other malfunctions. It's a good idea to pick up a cover to keep it even safer.
Best Brands
AZ Patio Heaters
AZ Patio Heaters has been manufacturing high-quality patio heaters since 2002. They're the only manufacturer in the US which maintains a complete line of replacement parts that are available to customers for all of their products.
SURJUNY
SURJUNY is another company devoted to making the best patio heaters they can. Their focus is on electric heaters and providing an excellent customer service experience to all of their clients.
Fire Sense
Fire Sense is one of the best brands for outdoor heating products. They're based in the United States and stay on the cutting edge of outdoor heating tech.
Outland Living
Outland Living is famous for its outdoor lifestyle products, ranging from propane fire pits to vertical gardens and wasp detergent. Their goal is to produce innovative and high-quality products and we definitely think they're succeeding on that front!
FAQ
Q: Can patio heaters be used indoors?
A: If you have an electric heater, it can be moved between the indoors and the outdoors with no safety concerns beyond making sure you have a safe outlet to use. If you're using a propane or natural gas heater – basically any model that makes heat by actually burning something – these absolutely should not be used indoors. In spite of the fact that they burn relatively cleanly, it's still unsafe to use them in an area without proper ventilation and could result in serious harm.
If your outdoor space is partially enclosed, like a gazebo or a screened area, you should be okay to use your heater because there is proper ventilation, but you know your space best. Use common sense and be safe.
Q: Can patio heaters get wet?
A: Yes and no. Water resistance varies by model. Because they're designed for outdoor use, many patio heaters are built to be able to handle a little bit of moisture or a small amount of splashing. You can get weather-resistant heaters that can stand up to a bit of rain as well. Take a look at heaters with a high IP rating if you live in an especially wet area.
No matter what, we wouldn't recommend using your heater in any conditions where your outdoor heater is likely to get soaked, but your owners' manual will have the specifics for your model, so be sure to consult that.
Q: Will a patio heater melt snow?
A: It will, but you don't want to be using your patio heater to clear your driveway. In fact, if you're using it in a snowy area, make sure to clear any snow off of it and clear the area directly around it as well. Yes, it will melt snow, but you don't want your heater to get too wet, especially if it's electric.
Q: How long will a patio heater run?
A: If you're using propane, a 20-pound tank will typically last between 9-15 hours depending on the model and the settings you're running it on. With electric and natural gas you have as much energy as you need, so they could theoretically stay running for quite some time, but it's best to only run your heater for 2-3 hours at a time, no matter what energy source you're using.
Wrap Up
No matter what your outdoor heating needs are, there's a heater out there for you! If you're trying to heat a large space, you should look towards the standing heaters, like the Fire Sense Patio Heater, which is easily our pick for best patio heater overall. For smaller spaces, you may want to look at one of the mounted heaters or tabletops. They have a smaller heat output but are convenient and portable to use.
No matter which patio heater you choose, don't let the cold keep you from enjoying the outdoors!