If your home is like over 90 percent American houses, you have some type of outdoor feature, whether it's a patio, deck, or both. These spaces are morphing into new living quarters that we embrace wholeheartedly with 70 percent of adults owning a grill. If you're outside when it's chilly, you may about the differences between an outdoor heater and electric vs propane.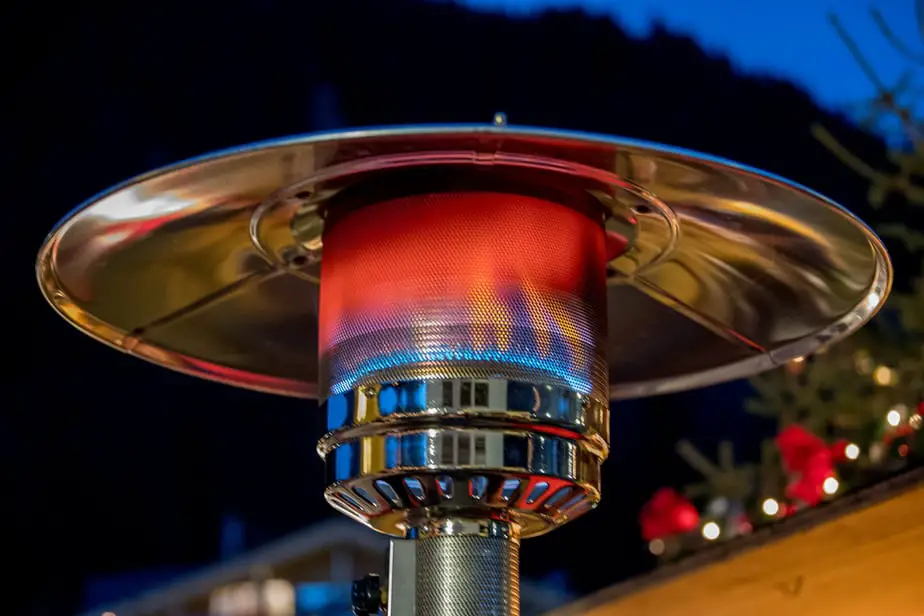 In a Hurry? Here's Our Top Picks…
1. Outland Firebowl
Sale
Outland Living 870 Premium Auto-Ignition Smokeless Outdoor Portable Propane Fire Pit with Cover & Carry Kit, 19-inch 58,000 BTU, Black
✓ PERFECT NO MESS CAMPFIRE: Say goodbye to dirty ash, expensive firewood, and bothersome smoke and enjoy a clean realistic propane campfire. The perfect outdoor centerpiece for camping trips, RV travels, tailgating get-togethers, beach parties, and family evenings on the backyard patio.
✓ COMPACT AND EASY TO TRANSPORT: Travel size fire pit is lightweight and portable; easily set up in minutes with no tools required. Matchless auto-ignition feature ensures a fast and simple start-up; all weather fire bowl delivers a clean and smokeless flame with cozy warmth and beautiful evening ambiance. Measures L 19" x W 19" x H 11" with total output of 58,000 BTU/HR.
✓ BEAT THE CAMPFIRE BAN: CSA approved fire pit is safe to use during most campfire bans; always check with the current fire restrictions in your area. Spark free propane campfire helps protect campgrounds and forested areas with a safer easy-to-use fire option. No assembly required
✓ COMPLETE FIRE PIT KIT: Includes Cover & Carry Kit, pre-attached 10-Ft hose to keep your standard 20-Lb propane tank cylinder (not included) safely out of sight, fully adjustable regulator with chrome valve knob for varying flame height, and 4.4-Lb natural lava rock set designed to enhance flickering effect. Optional accessories of CSA approved Natural Gas Conversion Kit 785 and Standard Carry Bag 760 available separately.
✓ SIGNATURE OUTLAND LIVING QUALITY: Durable high quality steel construction with protective enamel finish for dependable longevity; superior stainless steel burner, fasteners and contemporary decorative belt. Outland Living has outdoor living perfected so you can create the perfect ambiance to share stories and good times. Make new memories with family and friends, in comfort and style anywhere outdoors, with the Outland Firebowl Premium propane fire pit.
Last update on 2023-11-02 / Affiliate links / Images from Amazon Product Advertising API
There's a lot to like about the Outland Firebowl. The company's story is interesting, for a start. The unit is both lightweight and compact. It measures 19 inches long by 19 inches wide by 11 inches high. Yet, its output is a toasty 58,000 BTUs. You can adjust the flame on the propane heater to your desired level. Overall, the product is well-made.
Pros
The Firebowl is CSA-approved.
The heater has an authentic campfire look.
The heat output is impressive.
Cons
The open flame is a risk factor for children and pets.
Clean-up is messy.
Check Price and Reviews on Amazon
---
2. Lasko Designer Oscillating Heater
Sale
Lasko Oscillating Ceramic Designer Series Space Heater for Home with Adjustable Thermostat, Timer and 2-Speeds, 16 Inches, 1500W, Beige, 6405 , Gold
✅【BLENDS INTO YOUR DECOR】With a stylish body and finish this space heater looks more like a piece of art than a space heater. Standing 16" high, 10" wide and weighing less than 6 pounds, this electric space heater is easy to move from room to room. This heater is ideal for the bedroom, home office and more
✅【2 HEAT SETTINGS & ADJUSTABLE THERMOSTAT】Use the top-mounted electronic controls to select from 2 heat settings to customize your warmth. The adjustable thermostat allows you to adjust the heater's 1500 watt ceramic heating element. With easy to read LED temperature settings you can select temperatures from 60F to 85F or select max heat for maximum warmth
✅【ADJUSTABLE TIMER】The auto-off timer can be programmed from 1 hour to 7 hours. Simply press the timer button on the digital control panel to easily program the timer in 1 hour intervals. Once the timer is set the heater will automatically shut off after the programmed time
✅【BUILT-IN SAFETY FEATURES】Overheat protection ensures the space heater does not overheat even if left on for an extended amount of time. While a cool touch exterior keeps the heater cool to the touch even after running for hours
✅【FULLY ASSEMBLED】This portable space heater comes fully assembled and ready to use. Simply take it out of the box and having it working in minutes. Plug the heater into a wall outlet, adjust the thermostat, and enjoy the warmth from your new Lasko space heater
Last update on 2023-11-02 / Affiliate links / Images from Amazon Product Advertising API
The Lasko Designer Oscillating Heater is an attractive choice if you want heat without the risks of an open flame. We love the look of it. It reminds us of a mini chimera. It measures 7.2 long by 7.2 inches wide by 16.18 tall for use on a table or on the ground next to your feet.
Pros
The design is functional and aesthetically pleasing.
The heater has an automatic shut-off timer.
The heat output is decent.
Cons
The heater doesn't have a remote control.
It only has a high or low setting.
Check Price and Reviews on Amazon
---
3. TRUSTECH Patio Heater
No products found.
The TRUSTECH Patio Heater is an ideal choice if you need an overhead heat source. Unlike many products we reviewed, this one is waterproof. The design is attractive, making it a welcome addition to your outdoor space.
Pros
The product has a two-year warranty and lifetime support.
The design is pleasing.
The heat output adapts to the ambient conditions.
Cons
It doesn't have a fan to circulate the heat.
The heater won't heat open areas well.
Check Price and Reviews on Amazon
---
4. Hiland Pyramid Patio Propane Heater
Last update on 2023-11-02 / Affiliate links / Images from Amazon Product Advertising API
The Hiland Pyramid Patio Propane Heater is a wise choice if you need to heat a larger area. The output is a respectable 40,000 BTUs. It is CSA-approved and measures 87 inches tall. It lights up with an electric igniter. The attractive design will match any landscaping theme.
Pros
The heater has wheels for portability.
It has an auto shut-off switch.
The manufacturer provides a one-year warranty.
Cons
The heat output is best closest to the unit.
Check Price and Reviews on Amazon
---
5. HomeLabs Gas Patio Heater
No products found.
The hOmeLabs Gas Patio Heater is an excellent choice for entertaining on your deck or patio. The heat output is decent. The drink shelf is a welcome feature. You can fill the base with sand or other material to keep it stable, which we loved.
Pros
The heater has a push-button igniter.
The top directs heat downward.
It has a drink shelf
Cons
Check Price and Reviews on Amazon
---
Buying Guide and Comparison
The chances are that you first saw an outdoor heater at your favorite restaurant or watering hole as a courtesy for smokers. Business owners often place them outside to keep their patrons comfortable outdoors as more and more states have outlawed smoking inside public buildings.
The factors to consider when buying one for your home include:
Propane or Electric
Type
Size
Safety Features
Propane Outdoor Heaters
Propane outdoor heaters offer several advantages. First, they heat up fast so that you and your guests will get warm quickly. That edge often puts this type in the dealmaker category. The other factor in its favor is its portability.  You can set one up wherever you need it.
On the downside, you can only use propane outdoor heaters in open spaces with plenty of ventilation. You also must take care of where you place them. After all, there is a potential fire hazard if you put them near anything inflammable. Changing the tank occasionally isn't a dealbreaker, especially since most Americans use a gas grill, anyway.
Electric Outdoor Heaters
Electric outdoor heaters are an excellent alternative if you don't want to deal with the risks of an open flame. They also light quickly to keep the party going even if the temperature has dropped. You can also use them on a screened-in gazebo or porch.
The disadvantages involve the power cord. That limits where you can put them. It also poses its own tripping hazard. That's something you must consider, given that you're likely going to use the heater most often at dusk or night.
Type of Outdoor Heater
The other factor you need to think about is the kind of unit. The fact remains that we are hard-wired to enjoy a fire and the warmth it provides. It many ways an outside heat source is replacing our TVs. Therefore, your outdoor heater can do double-duty as a focal point for your landscaping. You'll find many products that are not only functional but aesthetically pleasing too.
Your options include:
Tabletop models
Wall-mounted units
Standalone outdoor heaters
The type you choose often depends on the next thing to consider.
Size of Outdoor Space
If you want to heat a small space, your choice of an outdoor heater and electric vs propane is often a done deal. Small groups on a patio will get plenty of heat from a tabletop unit or a small, free-standing one. You'll find a wide range of styles from retro models to mini fireplaces.
If your outdoor space is larger, taller, standalone heaters are an excellent option that will provide ambient heat in all directions. Look at the BTU  or coverage spec for comparing your choices. For example, a product delivering 5,000 BTUs is sufficient to heat a 150 square foot area.
Safety Features
Safety, of course, is a vital consideration whenever you're dealing with heat or flames. We strongly urge you to find out what each product offers before deciding on your pick for an outdoor heater and electric vs propane. Two features that we think are imperative are a kill switch if the unit tips over and an automatic shut-off if it gets too hot.
Children and pets add to the mix of other desirable features. If you opt for a standing model, a weighted base is a must-have. Likewise, the cool-to-the-touch glass will protect little fingers from burns.
Other Factors
When choosing an outdoor heater and electric vs propane, be sure to take into account other things that can affect your enjoyment, such as its placement and weather conditions. It's one thing to stay warm on a cool summer night than when tailgating for the Big Game. You might even consider getting two units or adding a chimera to make sure everyone is cozy and comfortable.
Best 3 Brands
Outland Living
Outland Living is the vision of Frank Fan and Willie Fisher in 2010. They found a niche by bringing a safe alternative to the traditional campfire with their Outland Firebowl.  As they say, "Campfire Ban? Bust it!"
HomeLabs
hOmeLabs produces a broad spectrum of products related to temperature control. Their line includes icemakers, refrigerators, and, of course, outdoor heaters. The company prides itself on quality and affordability.
AZ Patio Heaters
AZ Patio Heaters got its start in 2002, specializing in a full line of heating products including its Hiland models. They manufacturer units for both residential and commercial use.
Frequently Asked Questions
Q: Which is better, electric or propane?
A: The answer depends on your heating needs and space. An electric heater is ideal for a small area that has access to an outlet. If you have a larger venue, it's hard to beat the convenience of a propane model.
Q: Can you use an electric heater outside?
A: Yes, as long as it's is labeled for outdoor use. Most products are not waterproof, so you must ensure that they are protected from the elements.
Final Thoughts
The good news about an outdoor heater and electric vs propane is that you have many choices that will add an attractive design element to your landscaping. Now, you can enjoy your patio or deck year-round without cold temperatures driving you indoors.