Choosing to buy hardtop gazebo for your yard is a big decision…and a big investment. While a new lawnmower, shed, or chainsaw might set you back a few hundred bucks, equipping your yard with one of the best hardtop gazebos out there could put as much as a $2-5k-shaped hole in your savings account.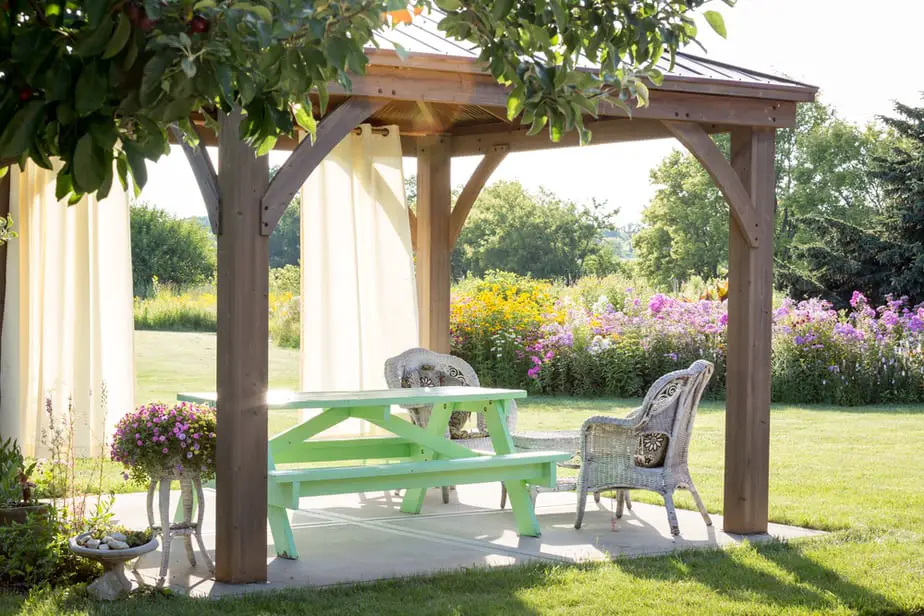 Given that a wise choice will buy you a gem of a gazebo that will be a feature of your yard for decades to come and a less wise one something that may well be fit for the scrap heap just a few months down the line, taking extra care with your pre-purchase research is undoubtedly the way to go.
To that end, below we've compiled a list of the best hardtop gazebos for 2020 along with a detailed buyer's guide to help you choose the best model for your yard.
In a Hurry? Here's Our Top Picks…
Our Top 5 Picks
1. Sojag Messina Gazebo Sun Shelter
Sojag Messina Hard Top Sun Shelter, 12' by 16', Charcoal
Charcoal colored rustproof aluminum frame
Galvanized steel roof
PVC-coated mosquito netting
No need to store the roof away for the winter (snow should always be removed from the shelter)
Replacement parts and accessories available ($$$)
Last update on 2023-11-25 / Affiliate links / Images from Amazon Product Advertising API
The Sojag Messina Gazebo Sun Shelter is a hardtop gazebo that ticks just about every box the would-be buyer could ask for: it's stylish and elegant, offers a total of 192 square feet of space, is easy to set up, and has a robust, highly durable build.
This 12×16-foot gazebo is spacious enough to accommodate a large, 6-person dining table with a little room left over to spare for a lounge chair or two and/or a sofa. And for such a large piece of equipment, it's also remarkably easy to set up.
This gazebo's charcoal finish makes it a winner in terms of aesthetics and easy to match with other furnishings, whether these be floral curtains, pastille sofas, or rustic wood dining sets.
Other nice features in the Messina include the large ventilation panels in the roof that help keep things cool in warmer conditions, a slanted roof design that sheds rainwater instead of allowing it to pool in the roof panels, and integrated mosquito curtains that let you create a bug-free oasis in your yard even when the skeeters' are rampant.
While some of the joins between panels and gutters may be prone to leaks over time, this problem can be easily fixed with a silicone sealant.
The bottom line? This gazebo performs well in every aspect and is a great option for those seeking a more spacious sheltered enclosure in their yard without having to hire help for installation, and also those who prioritize style as much as they do durability.
What We Like
Stylish charcoal tone
Rustproof aluminum materials
Integrated mosquito netting
Very spacious (196 square feet; 12×16 ft.)
Easy to set up
What We Don't Like
Roof panels prone to (easily repairable) leaks over time
Quite pricey
Check Price and Reviews on Amazon
---
2. Sunjoy Chatham Steel Gazebo
No products found.
Buyers in the market for an affordable, smaller gazebo that scores high on construction quality and appearance would do well to throw the Sunjoy Chatham Steel Gazebo in somewhere very near the top of their shortlist.
This 10×12-foot gazebo may lack some of the bells and whistles featured on some of its pricier competitors, but offers a simple, elegant yard shelter that includes all of the components required to let you customize its appearance with your own add-ons.
In terms of appearance, the Chatham boasts clean lines, low-key detail, and classic features in a muted charcoal color that makes it suitable for matching with furnishings of all shades and styles.
What we like most about this gazebo, however, are its confidence-inspiring, sturdy, galvanized steel construction and its versatility, boasting a built-in, dual-hanging rod system that lets you hang both mosquito netting and privacy curtains simultaneously, and a hanging hook in the roof for lighting fixtures.
Finally, the Chatham is a good bet for those with taller family members owing to the fact that it boasts much higher clearance than most of its competitors, measuring just under 8 feet from floor to roof (as much as a foot more than many other 10'x12' gazebos). While this may entail a slightly trickier setup, in the long run that extra headroom is well worth having.
What We Like
Reasonably priced
Can withstand winds of up to 50 mph with correct installation
Rust-proof materials
Galvanized steel construction is very sturdy
Hight head clearance
What We Don't Like
Quite tricky to assemble owing to weight of steel frame
Color can fade after a year or two due to exposure to sunlight
Check Price and Reviews on Amazon
---
3. Sunjoy Bellevue Grilling Hardtop Gazebo
COOS Bay 8x5 BBQ Grill Gazebo Outdoor Backyard Steel Frame Double-Tier Polycarbonate Top Canopy with Shelves Serving Tables
MULTIPURPOSE OUTDOOR USE: This sturdy steel structure is perfect for both commercial and recreational outdoor use. This structure will protect from the elements while you grill or work outside while maintaining ventilation.
CONVENIENT SHELVES: The frame features two convenient shelves to place food items, tableware, cutlery, or grilling accessories while you're working underneath the canopy frame. With headroom to spare, enjoy full visibility while you work.
DOUBLE POLYCARBONATE TOP: The double-tier hardtop gazebo blocks 99% of harmful UV rays while allowing for proper ventilation, stability, and sunlight to filter through as lighting. The all-weather use, double polycarbonate top is both sleek and fade resistant, unlike many other polyester canopy top designs.
EXCEPTIONAL QUALITY: The durable steel frame construction and protective powder-coated finish makes this structure sturdy and rust-resistant, perfect for weather resistance outdoors. With dimensions of 8 ft x 5 ft x 7.55 ft, this gazebo fits most grilling setups with room to spare for food or your grilling materials.
COOS BAY COMMITMENT: COOS BAY offers a 1-year limited after sale protection from the original date of purchase. If you have any other questions, please do not hesitate to contact us. Our professional service team is always available to provide superior service to you.
Last update on 2023-11-25 / Affiliate links / Images from Amazon Product Advertising API
This wildcard entry on our list merits inclusion on account of its suitability for smaller yards.
Billed as a "grilling" gazebo, this 8.1×5.2-foot gazebo lacks the spacious coverage of the other entries on our list but is ideal for those in the market for a gazebo that provides a sheltered area for barbecuing, for a couple of armchairs and a small coffee table, or who have less space to work with in their yard.
Beyond its more streamlined dimensions, the Bellevue has a lot more going for it. The most important features included in this tidy little gazebo include a well-ventilated design that allows smoke and fumes to escape if used as a grilling shelter, shelves that let you store all of your cooking utensils and accessories within easy reach, and a very durable and sturdy steel frame.
Finally, owing to its smaller size and lower weight, the Bellevue is also much easier to set up and could feasibly be installed by one person on their lonesome (with, granted, a bit of effort and the odd cuss word along the way…!).
While not an out-and-out lounging gazebo, the Bellevue is still big enough to accommodate two chairs for those who want to mix up their grill-time with a little bit of downtime, making it a highly versatile option and maybe a better bet for couples seeking gazebo what won't overwhelm their yard.
What We Like
Easy to set up
Compact design makes it unobtrusive and ideally suited to smaller yards
Sturdy steel construction
Good ventilation
Integrated shelves for drinks and/or cooking utensils
What We Don't Like
A little on the small side for entertaining guests (8.2×5.2 feet)
Check Price and Reviews on Amazon
---
4. Yardistry Cedar Wood Gazebo
Last update on 2023-11-25 / Affiliate links / Images from Amazon Product Advertising API
The Yardistry Cedar Wood Gazebo is one for the aesthetes: with its classy, rustic cedar frame and low-key aluminum roofing, very few gazebos on the market can come even close to matching this one in terms of appearance.
But this gazebo has a lot more going for it than looks alone…
Measuring in at 12x 12 feet, the size of this gazebo makes it the perfect happy medium for those who wish to entertain guests in their yard but don't plan on inviting over an entire football team or care to have a gazebo that dominates their yard excessively.
In terms of functionality, this classy gazebo is also a winner, using incredibly sturdy supporting beams, a 14×12-foot peaked aluminum roof that offers effective ventilation and sheds rainwater easily, and very durable, hard-wearing materials throughout.
In short, if we were buying on the grounds of quality alone, this gazebo would be the winner all day long. And while its rustic appearance and bronze-tinted roof might not appeal to everyone's tastes, this gazebo's more subdued tones and natural-looking materials make it ideal for those who want a model that blends in with the existing features of their yard.
The only downside to this gazebo is how difficult it is to install. Owing to the weight of the roof and frame, setting up this shelter will require a few pairs of helping hands and may take a day or two to complete.
What We Like
Spacious enough for all the family
More wind-resistant than aluminum or steel models
Stylish rustic appearance
Pre-drilled holes assist with assembly
Well-ventilated roof
Very durable materials
What We Don't Like
Difficult to set up
Mosquito netting must be purchased separately
Not the cheapest option out there
Check Price and Reviews on Amazon
---
5. Sojag Sedona Metal Top Gazebo Sun Shelter
Last update on 2023-11-25 / Affiliate links / Images from Amazon Product Advertising API
If you're unsure about what size of gazebo is best for your yard or have found a handful of contenders that weren't a good fit size-wise, the Sojag Sedona Hard Top Sun Shelter might just be the gazebo you're looking for.
While similar to the Sunjoy Chatham in terms of appearance, this attractive, powder-coated aluminum gazebo comes in three sizes—a 10' x 12′, 12′ x 16′, and 12′ x 14′, thereby giving you the chance to buy a more "custom" fit for the space you have available.
The design on the Sedona is very simple, lacking the decorative features, detail, and two-tiered roof of the Chatham and other comparable models of gazebo, but its clean lines and understated dark-brown finish will probably appeal to those looking for a more low-key shelter.
The Sedona also comes with a PVC-coated mosquito screen that allows you to keep the interior bug-free, a second track that allows you to hang curtains, and a trio of interior roof hooks that allow you to hang lights and decorations or otherwise add a bit of a personal touch.
The only downsides to this gazebo are its use of polycarbonate roof panels instead of galvanized steel and lack of rain gutters.
Polycarbonate panels are not as strong or durable as steel. However, those polycarbonate panels do have one small benefit that may go some way towards offsetting the sturdiness and durability issue, namely that they allow some natural light to filter through—a definite bonus at dusk or in wintertime when using the shelter with curtains.
Although the roof on the Sedona offers great ventilation, the lack of a rain gutter system means it loses a few points on its competitors. While the other items in our review use gutters that direct rain to the corners of the roof, the Sedona simply lets rainwater drip over the edges of the roof, meaning you'll be more likely to have a few puddles around the gazebo perimeter and are likely to cop a few drips on the dome when moving in and out of the sheltered area in the rain.
What We Like
Reasonably priced
Rustproof aluminum frame
UV-protected, tinted polycarbonate roof panels
PVC-coated polyester mosquito netting
Well-ventilated roof
What We Don't Like
Ceiling height of 6'4" a little low for some users
Polycarbonate roof lacks durability and weather resistance
No gutter means rain falls over sides instead of being directed to corners
Check Price and Reviews on Amazon
---
How to Choose the Best Hardtop Gazebos
Hardtop of Softtop Gazebo?
Both soft top and hardtop gazebos have certain qualities that will make them more or less appealing to different buyers.
To help simplify the choice for you, we've added a shortlist of the advantages and disadvantages of both types of a gazebo.
Soft Top Pros
Typically a lot lighter than hardtops
More portable—can be moved to different positions in the yard with ease
Canopy fabric can be changed if color fades you fancy a change
Easy to install/set up
Much more affordable
Soft Top Cons
Have to be taken down in high winds
Less sturdy and stable
Canopy fabric can fade due to weather exposure
Less durable than hardtops
Hardtop Pros
Most models can be left out year-round
Very sturdy and stable
More durable and likely to last a lifetime if cared for properly
Better weather resistance
Typically look better than soft tops
Hardtop Cons
Can be very expensive
More difficult to install
Require more maintenance
Type of Gazebo for Different Uses
Absolutely. While the fact that all hardtop gazebos create a semi-permanent sheltered space means that you can choose how to fill that space, certain characteristics and attributes make some models better for certain uses than others.
An Outdoor Den
If you only plan to throw a sofa or a few armchairs under your gazebo to provide a sheltered outdoor seating area, then just about any model with enough space to cover your furniture will do the trick.
In this case, the only important pre-purchase considerations are the size and the gazebo's inclusion (or lack) of a few desirable features like privacy curtains or mosquito mesh.
Dining
If you wish to use your gazebo for al fresco dining, again the most important consideration is size. While drawing up your shortlist of potential purchases, be sure to ask yourself a few questions to make sure the items on said list will be suitable:
How big is the dining table?
Am I likely to be entertaining lots of guests?
Would I like room for a few armchairs or a BBQ grill in addition to the dining table and chairs?
Hot Tub Hangout
Placing a gazebo over your hot tub is a nice way to ensure the tub remains usable even when raining and can help to keep the tub clean by keeping out leaves and debris.
While it's important to choose a gazebo that will cover your hot tub and also leave a little room for a "poolside" chair or two, the material and design of the gazebo should also be considered carefully. The two most important features to look for are excellent ventilation and rust-resistant materials. Effective ventilation in the roof will allow the steam from the hot tub to escape and limit the risk of damaging the panels if these are made of materials that are not (or are less) rustproof. And while treated wood is sure to fend off the elements if treated regularly, the heat and steam emitted by your hot tub might cause the waterproof seal to wear off much more quickly and thus leave the wood exposed to weather damage
Barbecuing
One of the main advantages of a hardtop gazebo over a soft top is that hardtops are suitable for use as a barbecue or smoking shelter. While some debate remains over the safety of cooking in a semi-enclosed space, as long as you leave off any side panels or curtains while cooking and the roof in your gazebo has adequate ventilation, barbecuing under a gazebo is perfectly safe.
A few additional features that make a gazebo ideal for grilling are shelves for cooking utensils and a lower roof. While the first of these is self-explanatory, the second is worth considering because it will be easier to clean accumulations of grease left by the fumes from all the tasty grub you'll be grilling!
Size of Gazebos
Hardtop gazebos typically range from around 10×10 feet to 14×18 feet. The best size for your yard will, of course, depend on what you intend on putting under it and how much space you have to spare.
If you plan on creating a sheltered space for entertaining guests or using the gazebo to shelter a hot tub, then choosing a model at the larger end of the scale will be the way to go; if it's just you and your partner or pooch, then a 10'x10' or even 8'x8' model will more than suffice.
To give you an idea of scale, a 12×12-foot gazebo is usually amply large to accommodate a six-person dining table with a little room to spare.
Best Materials for Hardtop Gazebos
The three most common materials used in the construction of hardtop gazebos are aluminum, steel, and wood. Each material has various pros and cons and characteristics that will appeal to some buyers more than others.
Aluminum: This material is the most common of the three and offers a good balance between durability, stability, and a lighter weight that makes setup less problematic. Many aluminum models also use steel parts in the frame for added strength and stability and are often powder coated or galvanized to increase their resistance to rust.
Steel: Gazebos made entirely of steel are not as common as aluminum models, but boast the advantage of offering far greatest stability and strength, both of which are important attributes if you happen to live in an area that experiences frequent high winds. On the downside, steel gazebos weight a proverbial ton and setting one up may require enlisting the services of half your neighborhood, never mind just a few strong-shouldered friends!
Wood: Wooden hardtop gazebos appeal to many buyers owing to their sturdy, chunky frames and traditional, rustic, natural appearance. In most cases, wood gazebos are also very durable, though this may depend on the type of wood used and how much effort you're willing to put into maintenance over the years. On the downside, wood gazebos may require annual repainting or reproofing, are tricky to set up or install, and are likely to cost significantly more than similarly sized aluminum models.
Gazebo Shapes
The shape of gazebo you choose for your yard will ultimately come down to personal preference and the only significant difference between different configurations lies in how easy they are to install.
As a general rule, square and rectangular models are the best hardtop gazebos for those who aren't keen on putting in days of hard work before their shelter is good to go, primarily because these models typically only use four supporting beams (one at each corner) to anchor to decking or paving or sink into the turf of your lawn. Hexagonal or octagonal varieties, on the other hand, will use six or eight beams/posts respectively.
Gazebo Sides
Many models of gazebo are sold with some form of side paneling or curtains, whether it be mesh mosquito curtains, decorative privacy curtains, or hard or soft panels. In many cases, these are sold as optional extras and the gazebo frame will have tracks for curtains or attachment points for panels.
Curtains and paneling are very handy accessories for a number of reasons, but particularly if you happen to have nosey neighbors or plan on using your gazebo in winter or the shoulder seasons when temps are a little lower and some protection from drafts is much needed.
Mesh mosquito curtains are also a great add-on to have for those who live in areas where 'skeeters are a problem and haven't yet gotten around to spraying their yard with mosquito repellent.
Is the Appearance Important?
Yes! With such a dizzying array of options out there, there really is no need to choose a gazebo that ticks all the functionality boxes but is a let-down in terms of aesthetics.
What looks good to you is, of course, largely subjective, but as a general rule it's best to opt for a gazebo that complements the existing style and coloring in your yard. A glass or metal model, for example, may appear garish or out of place if your yard's other furnishing are all rustic wood and a wooden gazebo, likewise, may appear at odds with an ultra-modern house or sleeker furnishings.
Important Gazebo Features
Some of the most important features included in the best hardtop gazebos out there include the following:
Vented roof
In addition to providing a means of egress for fumes from a barbecue or steam from a hot tub, a ventilated roofs is a very handy feature in hotter temps as it allows hot air to escape enhances airflow within the shelter, which is especially important if you happen to be using mosquito mesh of curtains to provide shade from the sun.
Decor attachment points
For most of us, the addition of a little bit of personalized "bling" can transform a gazebo from a stolid, ho-hum affair into a focal point of our yard. If embellishing your shelter sounds like something you're likely to do, make sure the model you plan on buying has tracks for curtains, shelves, and/or plenty of hooks or hanging points that will let you add lights, pictures, or anything else that might give the space a little more of a personal touch.
Rain gutters
While far from a deal-maker or dealbreaker, this handy feature channels rainwater to one corner of the gazebo and saves drips entering the sheltered area around the periphery.
Shelving
As mentioned above, shelving is particularly important if you plan on using your gazebo as a shelter for barbecuing or as an outdoor dining area as shelves can be used for utensils, pots, pans, and dirty plates. Even if you just plan on using your gazebo as an outdoor lounge area, then somewhere to put your drink is always a welcome addition.
Best Hardtop Gazebos: The Top Brands
Sunjoy: This California-based brand specializes in outdoor fixtures and furnishings, ranging from gazebos, canopy replacements, bistro sets, couches and settees to outdoor dining sets and other garden or yard accessories. Sunjoy offers excellent customer service and put each part of their product through exhaustively pre-sale testing.
Sojag: Sojag is another California-based brand with a 26-year history of producing high-quality but affordable sun shelters, solariums, and outdoor furniture.
Yardistry: This Ontario-based brand makes exceptionally high-quality wooden gazebos that incorporate modern touches to enhance performance and functionality.
FAQs
Q: How hard is it to install a hardtop gazebo?
A: One of the main downsides to choosing a hardtop gazebo over a soft top is how hard hardtops are to install. In addition to their far greater weight, most hardtop models also need to be "anchored" to the ground—that is, attached with bolts or even cement. This, of course, requires a lot more installation time, manual effort, and perhaps even cost if you have to hire outside help to do the job for you.
As a general rule, wood gazebos are the most difficult to install and aluminum models the easiest.
Q: Where should I put my gazebo in my yard?
A: Deciding where to put your hardtop gazebo in the yard can lead to lengthy deliberation, not to mention a fair amount of marital strife is your idea happens to be at odds with that of your partner! Luckily, a few placement pointers can help to make the decision easier.
First up, it is well worth bearing in mind that hardtop gazebos are semi-permanent structures, meaning they are, for the most part, bolted or cemented into the ground. This means, of course, that relocating them once installed is likely to be both messy and highly time-consuming.
Also, it's wise to choose an area of the yard where there will be plenty of space around the gazebo to let you walk around the outside and so the unit won't dwarf or overwhelm other features in the area and upset the spatial balance of your yard.
The most important considerations beyond size and space are related to the weather. If you want your gazebo to be a suntrap, then select a spot where it will have plenty of exposure to the south; if you want protection from the sun, then opt for a location where it will be sheltered by trees or your home and/or only catch the sun at certain times of day.
Finally, bear in mind when buying that the measurements listed in product descriptions refer to the footprint of the base, not the roof, which usually extends at least a few inches on all four sides—something that could result in disputes with your neighbors if you plan on placing the gazebo against a dividing wall or fence, or mean a very tight squeeze or sloppy-looking fit if you plan on positioning the gazebo against the wall of your home.
Q: Do hardtop gazebos require maintenance?
A: In a word, yes. Whether you buy a wood, aluminum, or steel gazebo, some amount of TLC will be required to keep your yard's new addition continues to look new in the longer term. One of the main differences between these materials, however, is the amount of maintenance required.
While rustproof aluminum and steel models are only likely to require a little rubdown from time to time and maybe the odd reseal where panels have warped with weather exposure, with wooden models you should be penciling in a repaint every two to three years and would also be wise to boost the wood's weather protection at least once a year by reproofing.
Conclusion
As mentioned in our introduction, buying a hardtop gazebo for your yard is a big investment and the decision on which model to choose, therefore, not one that should be taken lightly.
While all of the models featured in our review offer something a little bit different and will appeal to yard owners with different tastes, styles, and sizes of the yard, one gazebo, in particular, caught our eye and was a standout amongst its peers.
Take a bow, the Yardistry 12' x 12' Cedar Wood Gazebo!
This gazebo wins our vote for many reasons, but most importantly on account of its simply stunning, charming appearance, superior robustness and strength, and ability to blend in with the furnishings in just about any yard. It might be pricey and take a while to set up, but if you want a gazebo that will last a lifetime and make your neighbors' models look like sketchy DIY jobs, this superbly elegant unit is the gazebo for you.