Gazebos have long been a favorite structure among flower gardens. They provide shade, shelter, and an intriguing detail piece for parks, yards, and ornate gardens alike. Though often built out of wood, tiles, stone, and a shingled roof, metal gazebos are also built – and their roofs are some of the most beautiful among gazebos. In this article, we're bringing you 17 gorgeous metal gazebo roof ideas!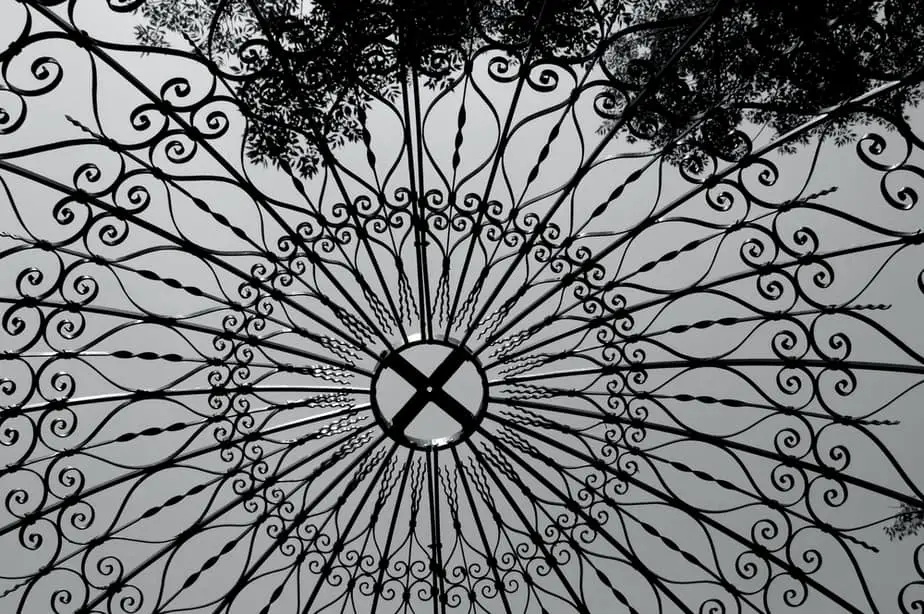 1. Twisted Ivory Roof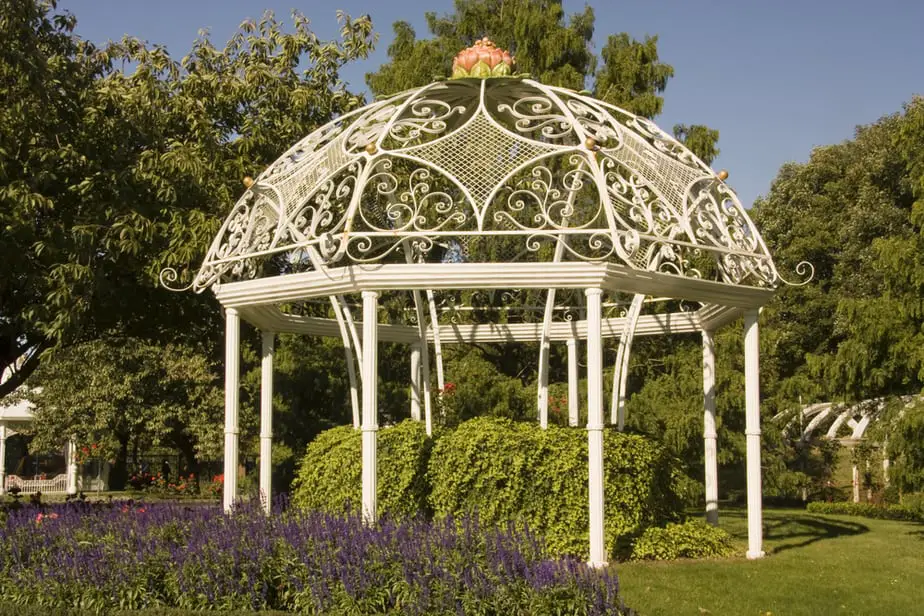 If you're going for a fantasy, romantic garden appearance, this gazebo roof may be just what you've been dreaming of. From the gorgeous ivory coloring to the softly-colored pink flower up top, this gazebo roof – reminiscent of Cinderella's Carriage – would look beautiful in a quaint rose garden.
A common theme throughout our list, this gazebo roof is openwork, allowing for sunlight to shine through and cast intricate shadows on the ground.
2. Victorian Cast Iron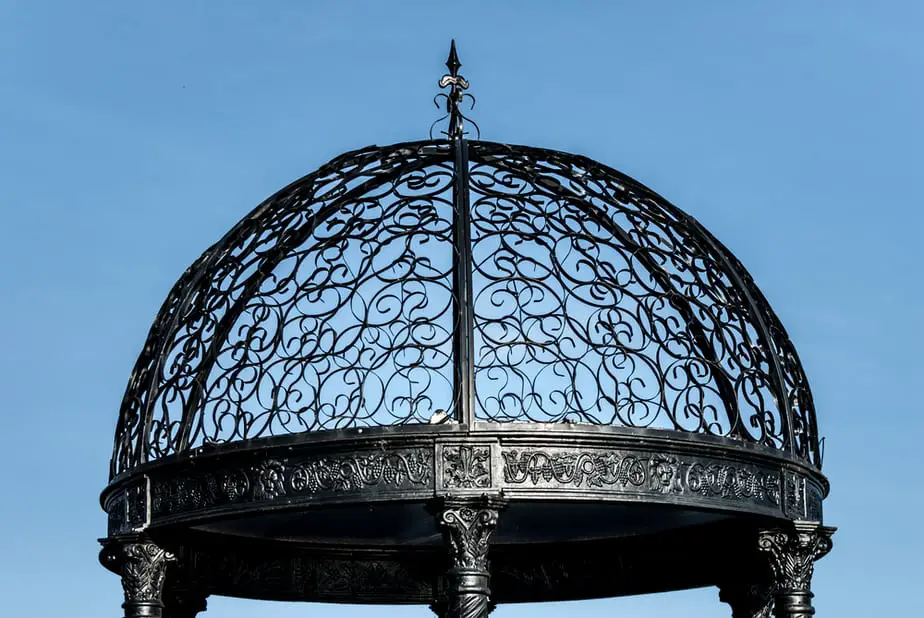 To bring a more victorian appeal to your garden, this deep black cast iron gazebo roof would do just the trick. The petite, intricate detail is the embodiment of the era of gothic architecture and the dark coloring would look astounding in a garden filled with bright florals.
Or, if you're into deeper colors, it would also look stunning in a garden filled with dark florals such as deep red roses, Queen of the Night Tulips, Purple Lilies or Black Pansies.
Below is our favorite darkly colored flower. You can find Black Pansies (and other dim flowers) online through places like Amazon or at your local garden center.
Seed Needs, Clear Crystals Black Pansy (Viola x wittrockiana) Twin Pack of 600 Seeds Each
All seed packets by Seed Needs are intended for the current and the following growing seasons.
Plants grow to a mature height of around 4 to 6 inches tall.
Produces black colored flowers through the Summer months.
Annuals that grow quickly, flower profusely and seed later in the Fall.
All packets by Seed Needs display a beautiful illustration on the front side, as well as detailed seed sowing information on the reverse side.
Last update on 2021-09-23 / Affiliate links / Images from Amazon Product Advertising API
---
3. Embellished Gothic Gazebo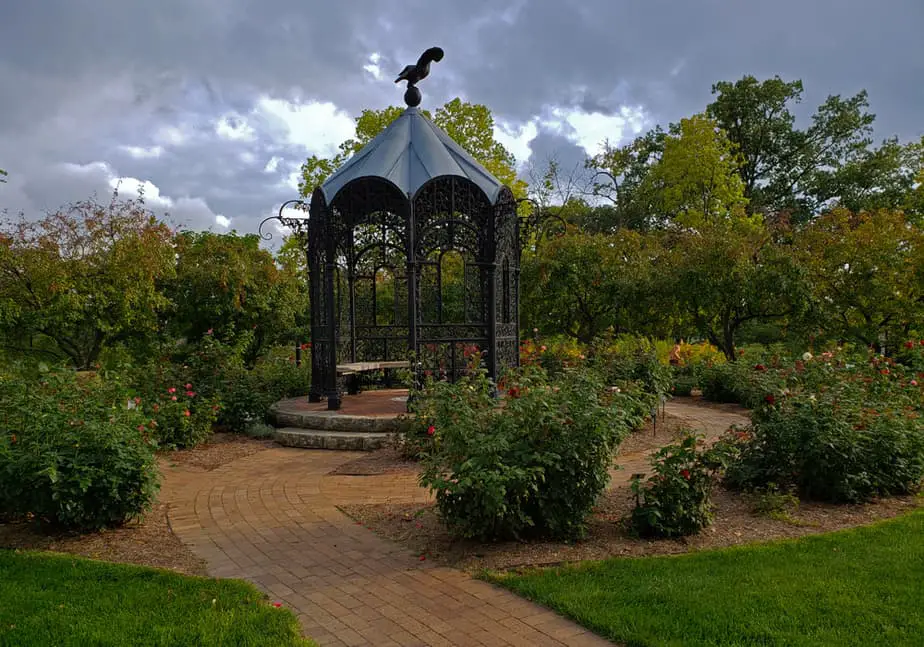 Yet another metal gazebo roof that makes us reminisce of the victorian era, this gothic roof contains harsh lines along a sleekly-textured roof. Unlike the previous ideas, this metal gazebo roof is completely enclosed, making it perfect for days in which the weather isn't so sunny.
The gothic structure atop the roof makes for an interesting focal point that would surely stand out in any flower garden, but especially in gardens filled with deep red, purple, or dark green plants.
4. Indian Ornate Gazebo Roof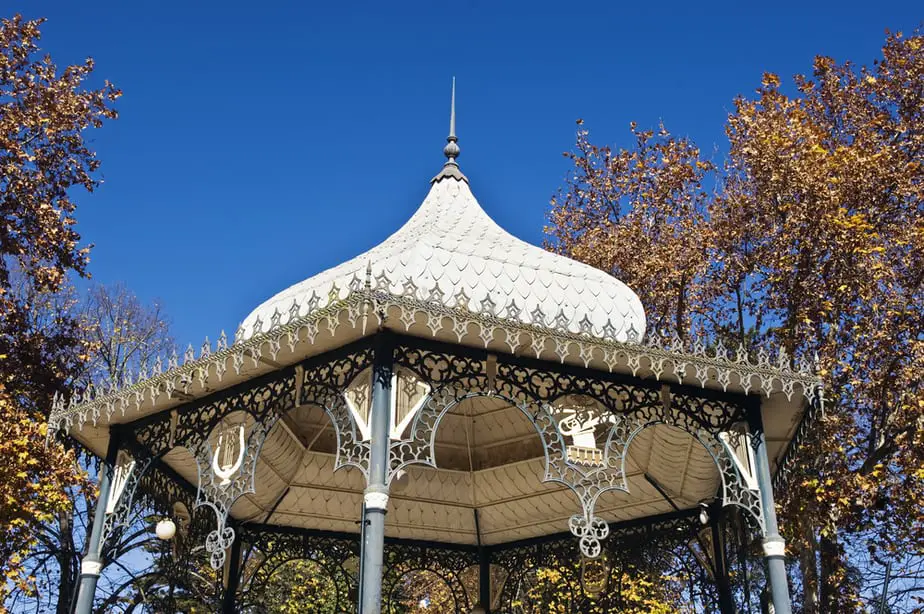 A lovely garden structure that hints at Indian architecture, this metal gazebo roof is adorned with flared peaks and detailed barbs. The contrast between the darker and lighter metals makes for an intriguing color scheme that would look great when surrounded by gardens of oranges, golds, reds, and other exotic tones.
5. Natural Leaf Design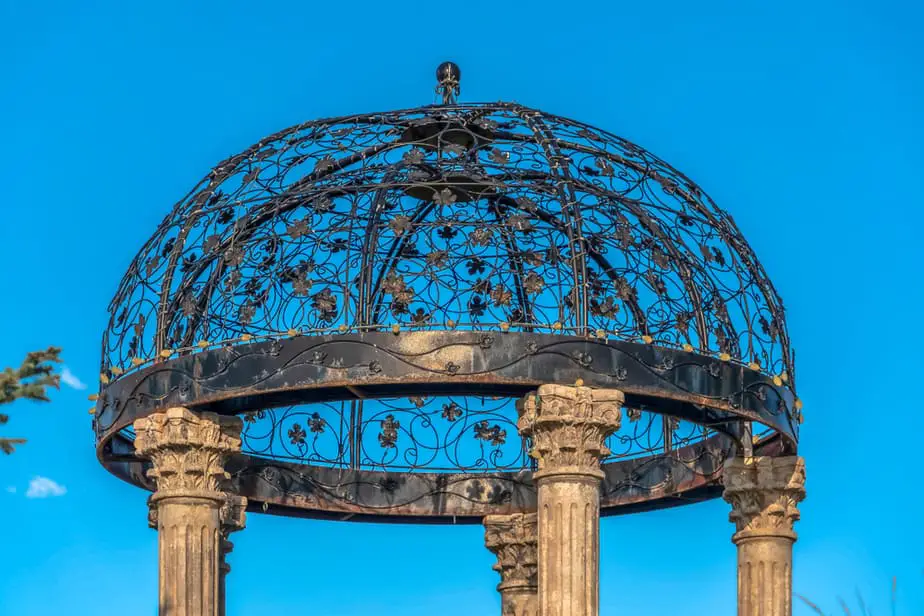 If you like the sights of nature even in manmade architecture, this leaf design may be right up your alley. This openwork metal gazebo roof is domed-shaped and sits atop Roman or Grecian-style pillars. The detailed wiring is dainty, making the entire roof appear similar to the grapevine architectural appearance found in the old countries.
6. Flared Gazebo Roof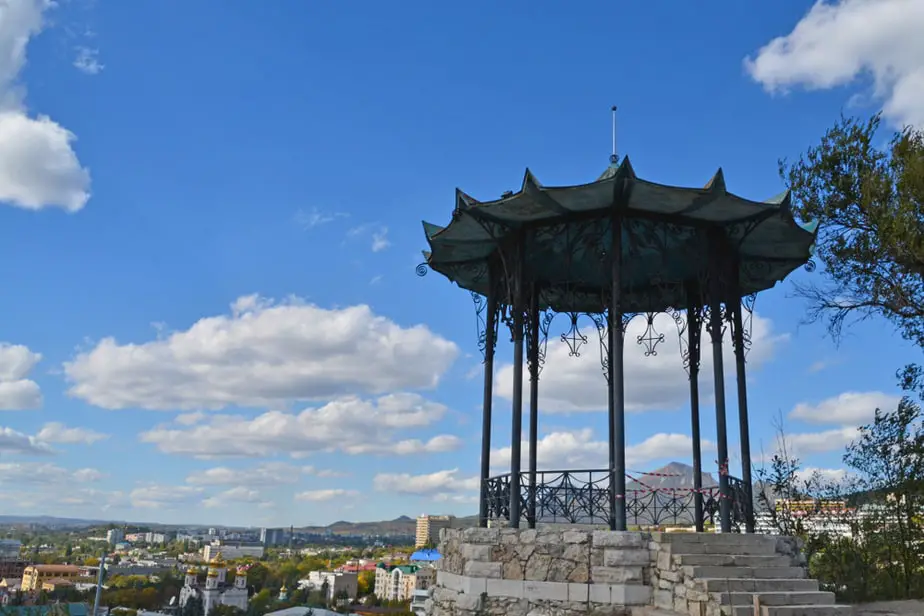 Paying homage to both Asian and Gothic culture, this flared metal gazebo roof is highly intricate and perfect for the yard of an eccentric. It consists of a dozen individual peaks and umbrellas out past the beams holding it in place. You can see gorgeous twisted iron creeping down the perimeter of the gazebo.
7. Unusual Gothic Roof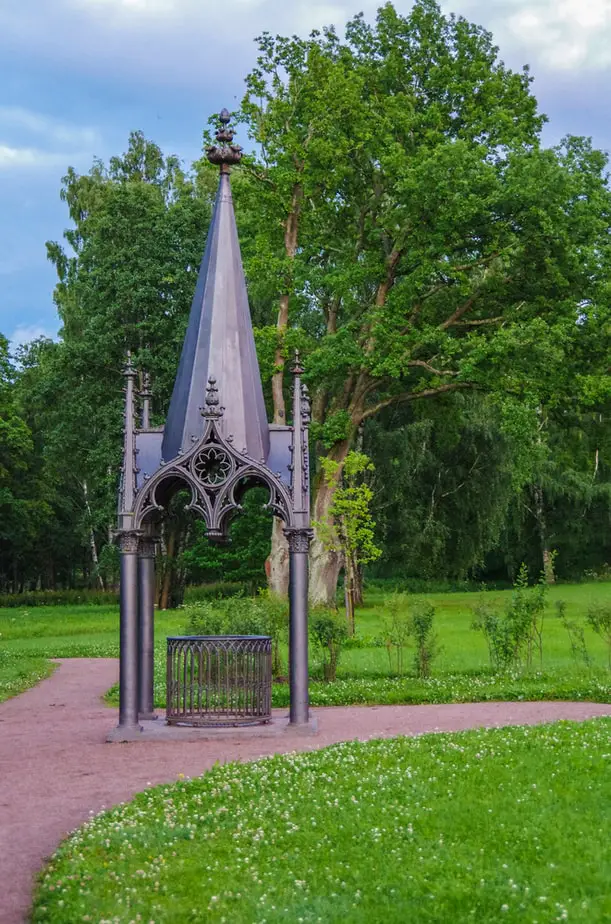 The final gothic metal gazebo roof on our list, this roof has all the characteristics of Victorian architecture. From the steep center peak and the dark color to the fine detailing and erect side features, this would make for an intriguing garden addition.
8. Honeycomb Iron Roof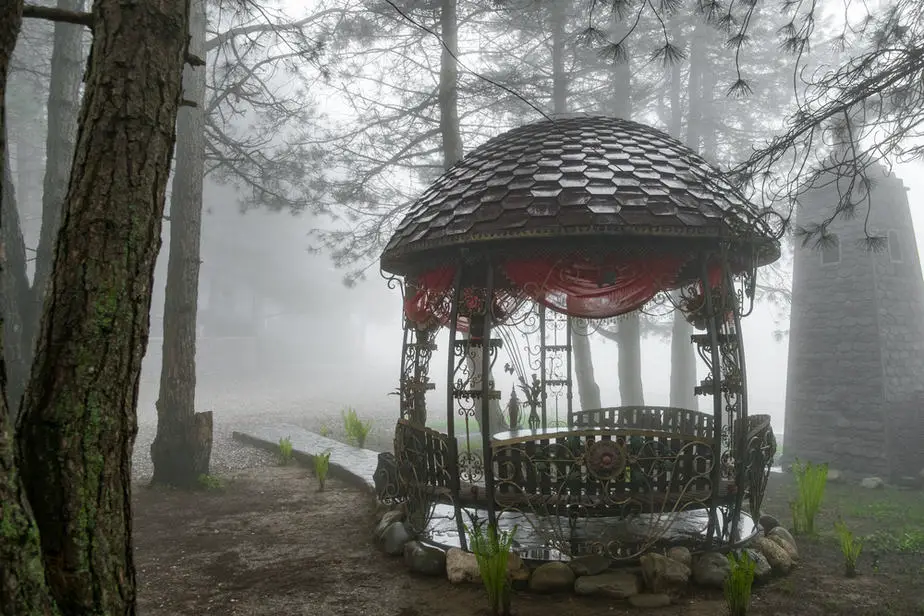 Bees are some of nature's most astounding architects, and if you're a fan of these buzzing little busybodies, then this honeycomb-shaped metal gazebo roof is a great option. The cells on the roof make for interesting detailing that is sure to draw the eye to a center point of your garden. Additionally, the benches and swirled appearance of the architecture adds a fantasy element to this gazebo idea; great for a fairy garden.
9. Birdcage Gazebo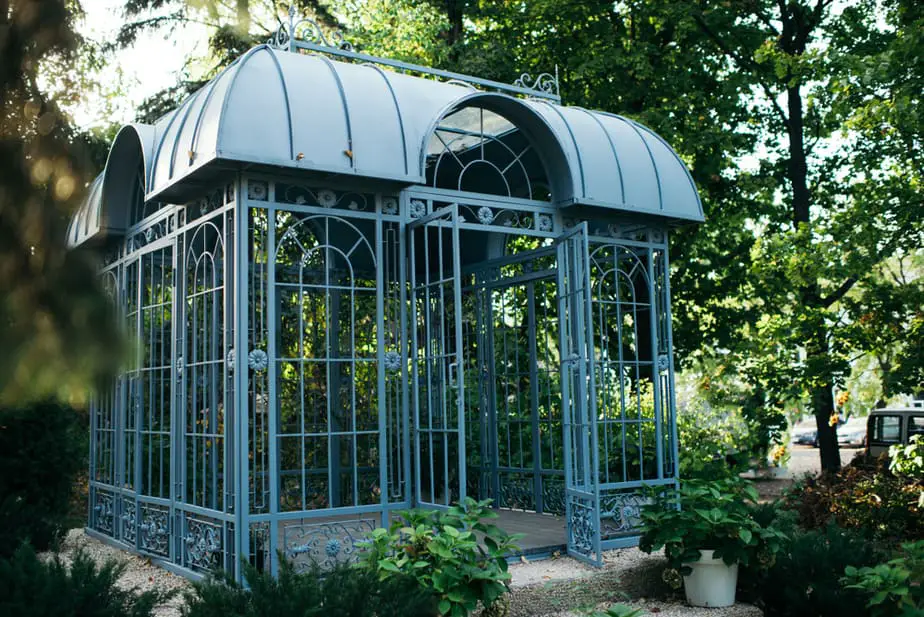 Typical of garden scenery, birds are an adorable staple in the quaint backyard. So why not add a gazebo roof reminiscent to that of an old-fashioned metal birdcage? Unlike some metal gazebo roofs, types like the one shown in the photo above are perfect for lounging under on a rainy day thanks to its enclosed frame.
10. Stained Glass Detailing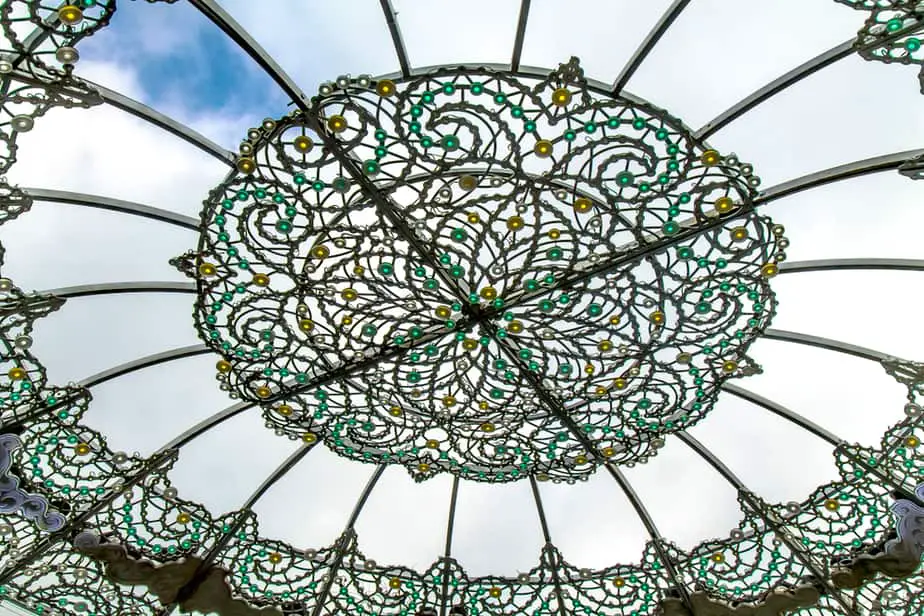 For a more colorful metal gazebo roof, consider adding some stained glass elements. Stained glass looks beautiful when the sun passes through it, and would certainly cast some color onto the foundation of your gazebo. This look reminds us of a cathedral with all of its tiny, focused detailing and astounding coloring.
11. Flower-Covered Gazebo Roof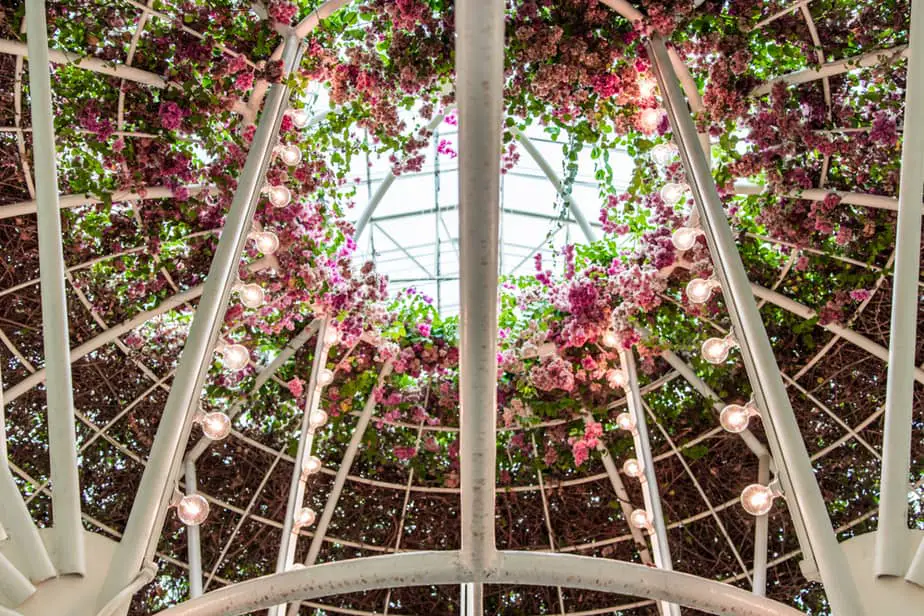 For a natural covering, placing a metal gazebo near a viny, climbing plant like roses, ivy, trumpet vines, or honeysuckles would make for a gorgeous addition to any backyard or flower garden. Open metal gazebo roofs are great for plants to cling on to and, over time, you should have a lush floral awning.
Trumpet Vines (though quite a pain to care or if you don't want them spreading all over the place), are our favorite climbing plants. Their bright tones would look gorgeous engulfing a metal gazebo. You can find them online through places like Amazon or at your local garden center or plant nursery.
Seed Needs, Swiss Giants Pansy (Viola wittrockiana) Twin Pack of 600 Seeds Each
Quality Pansy seeds packaged by Seed Needs. Intended for the current and the following growing season. Packets are 3.25" wide by 4.50" tall and come with a full colored illustration on the front side, as well as detailed sowing instructions on the reverse.
Swiss Giants Mixture produces 3 inch, paper like blooms in shades of red, pink, purple, white, blue and yellow.
Pansy, Swiss Giants Mixture grows to a mature height of roughly 6 to 8 inches tall, making them perfect for pots & containers.
Categorized as an annual flowering plant, Pansies will grow quickly from fresh flower seeds, grow quickly through the warm months of Spring and summer, and later die with the first killing frost.
All Pansy seeds sold by Seed Needs are Non-GMO based seed products and are intended for the current & the following growing season. All seeds are produced from open pollinated plants, stored in a temperature controlled facility and constantly moved out due to popularity.
Last update on 2021-09-23 / Affiliate links / Images from Amazon Product Advertising API
---
12. Intricate New Zealand Pattern

Found on a vibrant New Zealand estate, this metal gazebo roof is adorned with a gorgeous patterned glass of greens and yellows. Atop the roof is a large centerpiece that catches and draws the eye to the detailing alongside the gazebo. Like in the photo, a metal gazebo roof like this would best be placed in the middle of a garden or open ground to avoid too much visual clutter.
13. Butterfly-Friendly Gazebo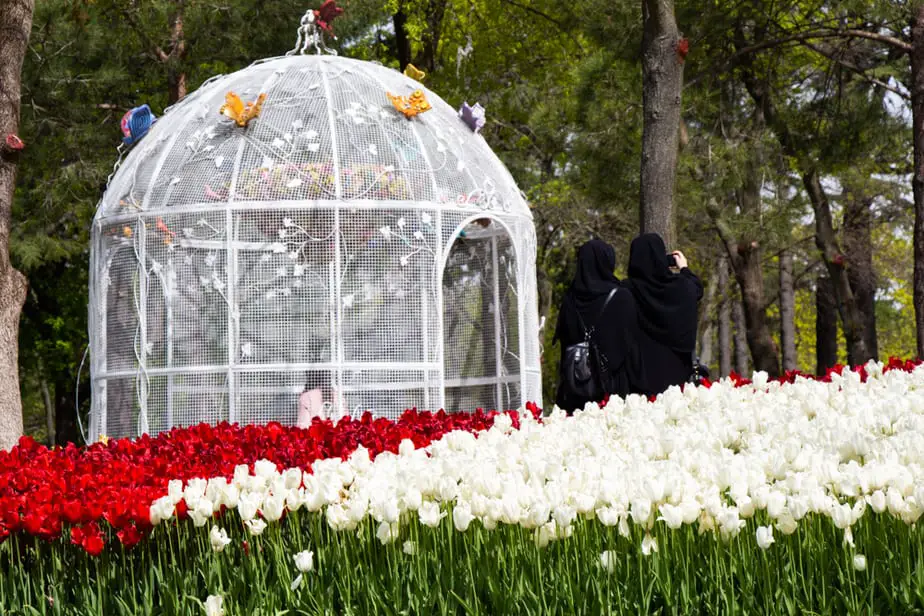 For the garden filled with fragrant flowers, this butterfly-friendly metal gazebo roof would be a perfect way to attract wildlife to your yard. With the small metal netting surrounding the gazebo, butterflies and other insects can easily cling onto it, giving you and your family an experience otherwise only found at an insectarium.
You can find flowers that butterflies love either online through Amazon or locally at a garden center or plant nursery. Below is a collection of seeds that work especially well at attracting the Monarch Butterfly.
Sale
Monarch Butterfly Rescue Wildflower Seeds Bulk Open-Pollinated Wildflower Seed Packet, No Fillers, Annual, Perennial Milkweed Seeds for Monarch Butterfly 1oz
HIGH QUALITY SEEDS and EXPERT GUIDANCE: Experience the quality seed difference. We are committed to providing the highest quality, open-pollinated, non-GMO/non-GE seeds to our customers, guaranteed. A trusted source of high quality seeds since 1985.
ATTRACT MORE MONARCHS: We know seeds and we know pollinators! Our expertly crafted botanical garden seed mixes contain a wide variety of both perennials and annuals that are specifically designed to attract pollinators. Attract more Monarchs and Butterflies in general. Gardener tested, pollinator approved!
All Of Our Wildflower Varieties Are 100% Pure Seed, They come with complete planting instructions. Compare and see the quality value.
This Wildflower Seed Mix will make the perfect Christmas gifts for those gardeners in your life.
Last update on 2021-09-23 / Affiliate links / Images from Amazon Product Advertising API
---
14. Copper Roofing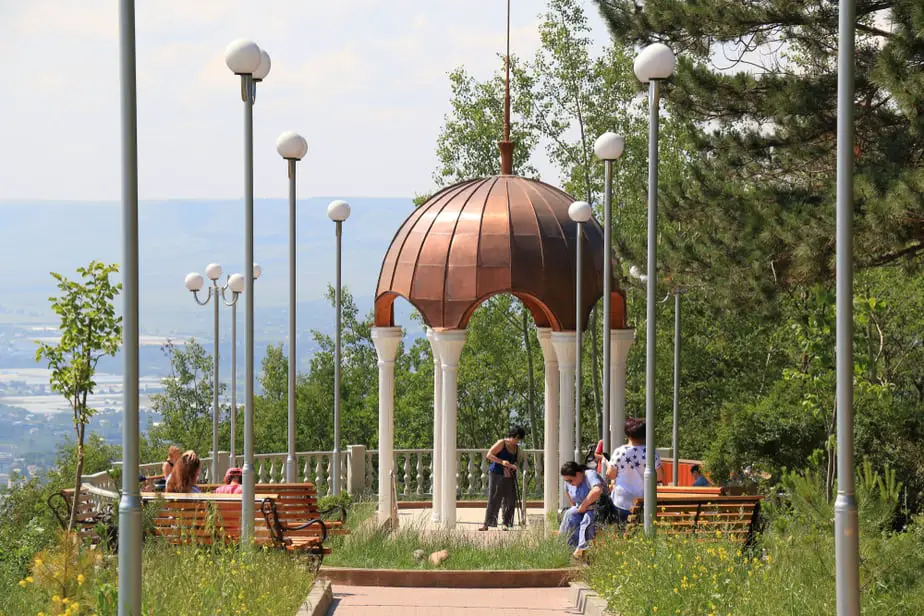 Copper metal gazebo roofs, like shown in the photo above, would look gorgeous during the evenings as it reflects the sinking sunlight; making lush gardens glow with awe-inspiring fiery color tones. Copper is also an elegant metal to place next to extravagant garden features such as sculptures or fountains.
15. Ukrainian Gazebo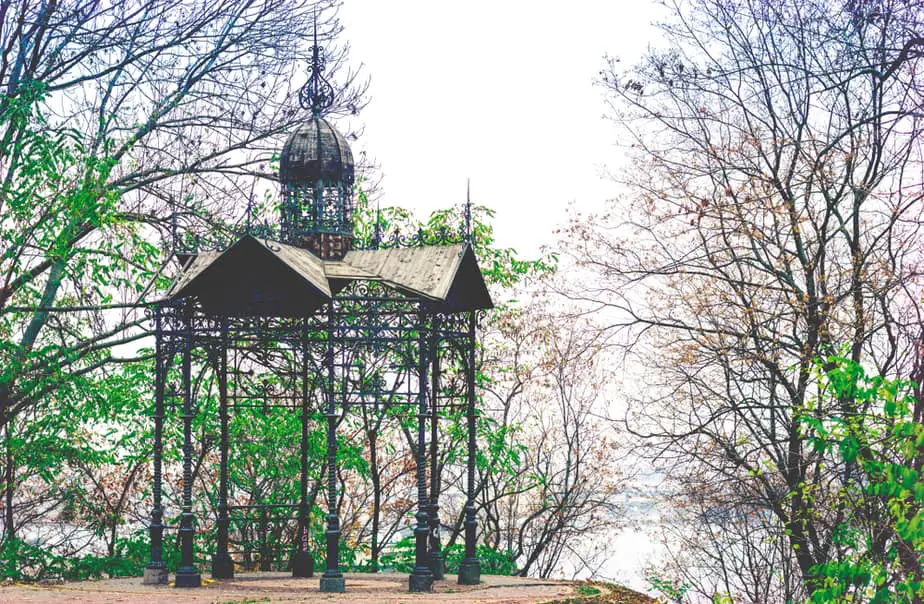 Located in the deep forests of Ukraine is this extravagant, gothic-style gazebo. From the birdcage feature in the center of the roof to the sharp peaks on every side, this is just about as refined as they come.
16. Heart-Shaped Metal Gazebo Roof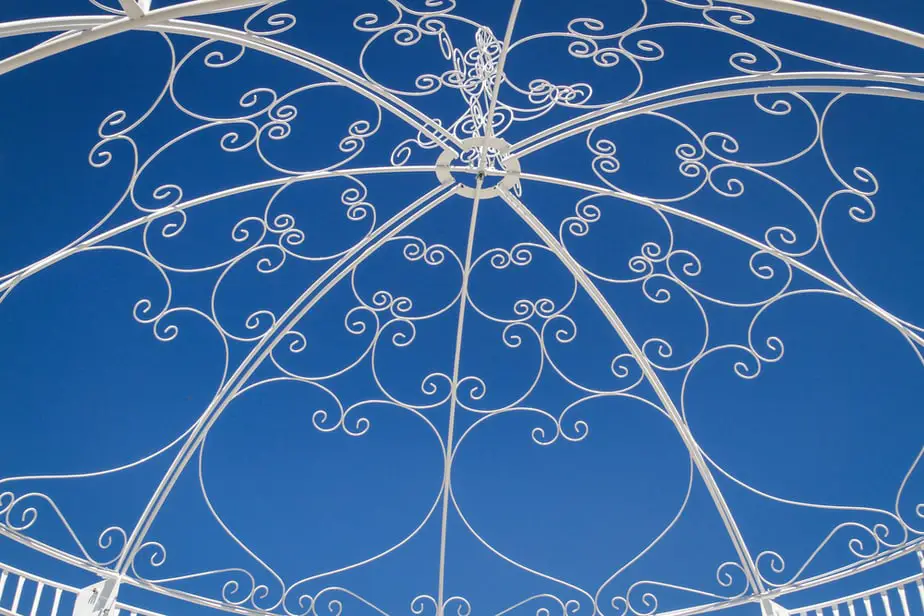 Love is in the air (literally).
This metal gazebo roof idea places large, swirling hearts in the skies above. For the romantic in you, this could make for an adorable garden addition. Surround this gazebo with bright pink roses, sweet-smelling Forget-Me-Nots, and dainty Daffodils and you're all set for a breathtaking afternoon with your sweetheart.
You can find romantic flowers like the ones below on Amazon or at your local plant nursery.
50 Daffodil Mixture - Narcissus Large Cupped Giant Mixture
Each mix is unique and promises to provide the bright cheery spring colors everyone loves so much!
Narcissus are easy to grow in well-drained soil in full sun to partial shade and are well known to be deer resistant!
12"-16" Tall
Zone 2-10
Plant in the fall or early winter for spring flowers!
Last update on 2021-09-23 / Affiliate links / Images from Amazon Product Advertising API
---
Sale
Last update on 2021-09-23 / Affiliate links / Images from Amazon Product Advertising API
---
17. Dome Metal Gazebo Roof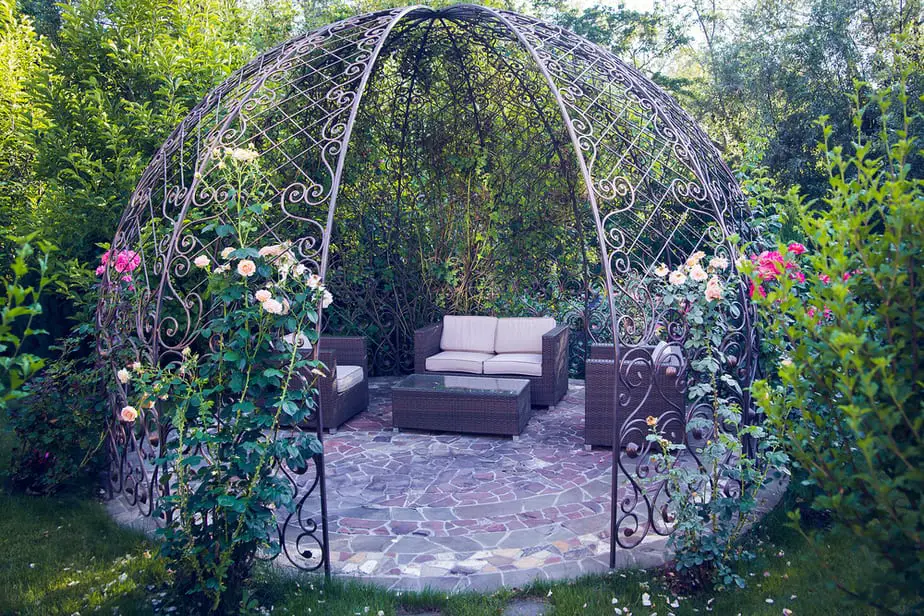 For a less traditional metal gazebo roof idea, this domed gazebo creates a feeling similar to that of an outdoor lounge while still being open to the air and detailed enough to pique interest in your guests. The ironwork would make it easy for climbing plants to cling on to, as well, which could eventually provide a lovely, fragrant natural covering.
Final Thoughts
No matter which metal gazebo roof idea you go with, it's sure to make your yard feel more inviting and look more incredible. Metal gazebos are a great, long-lasting garden addition that accentuates the beauty of a flower garden, adds a touch of class to a typical suburban backyard, and brings out the best in our homes.
Happy decorating!