Do you love spending time outdoors, while watching a flurry of activity from the wildlife in your yard? Does the thought of creating an ecologically-sustainable wildlife habitat interest you? If so, you'll love our tips to enhance your landscape with wildlife!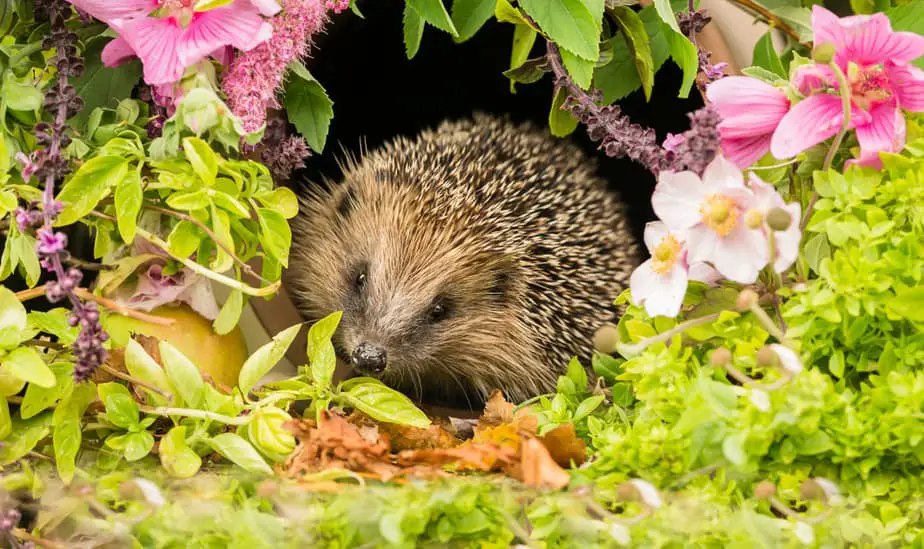 Below, we'll be sharing ideas for attracting all kinds of creatures, from the usual suspects, likes birds and bees, to other animals, such as chipmunks, deer, and quail. Read on for our tips to encourage critters to take up residence in your own backyard.
Utilize Bird Feeders
Bird-feeders are probably the quickest and easiest way to attract birds to your yard. The type of bird-feeder that you choose depends on the type of seeds you plan on putting into it, which in turn depends on the bird species that you're hoping to attract. For example, if you're going for chickadees, use black oil sunflower seeds.
Today, there are excellent options for bird-feeders on the market, whether you choose a solar-powered feeder, a classic wooden hut-style feeder, or an octagonal feeder with a panoramic view.
Here's a couple of our favorites:
Bolite Panorama Birdfeeder in Copper Tones
BOLITE 18009 Bird Feeder Panorama Wild Bird Feeders, Weather Proof Hanging Tube Feeder, 3 lbs, Copper
Retro Design - Classic tube bird feeder features a vintage decor to your garden, which makes it a great gift idea. Rust resistant metal with copper finish and circular clear PVC tube are sure to last long
Large Capacity - Holds up to 3 lbs seeds. The steel wire rope on the top of the wild bird feeder has a strong bearing capacity, rust proof and durable. Clear PVC tube helps you control the refill times and also attracts birds to feed
Effective Design - 6 Feeding Ports. The internal baffle disperses seeds evenly to all ports. This bird feeder for outside have 4 perches and a metal tray, which allow to feed birds simultaneously
Functional Design - Easy to fill and clean. Built for weather proof design, hanging tube bird feeder has drain holes on the tray, which keep the seeds fresh and dry. Sure-Lock lid helps to keep squirrels out
Attractive Design - This panorama bird feeder is sure to attract many birds to your backyard, providing you with plenty of enjoyment as birds congregate on it
Last update on 2023-09-22 / Affiliate links / Images from Amazon Product Advertising API
Perky-Pet Mountain Chapel Birdfeeder
No products found.
---
Attract Songbirds to Your Yard
It's been well-noted by ecologists that the presence of songbirds indicates a healthy eco-system. Songbirds such as swallows, nightingales, wrens, larks, and starlings, have long been praised in literature and art. Other popular and beloved songbirds include catbirds, cardinals, chickadees, goldfinches, and sparrows.
Give songbirds something to sing about by inviting birds into your yard with a selection of flowering plants chosen just for them. According to the National Audubon Society, here are some of the best plants for songbirds:
Daisies (Bellis perennis)
Marigolds
Asters
Black-eyed Susan (Rudbeckia)
Sunflowers (Helianthus)
Virginia Creeper
Purple Coneflower (Echinacea)
Birdhouses for Your Backyard
Next to bird-feeders, birdhouses are one of the best-known ways to enhance your yard with wildlife. They provide safe spaces for nesting, which allows fledgling birds to flourish in the protection of an enclosed house until they're ready to fly.
These days, there are many functional and charming birdhouses to choose from. Whether you prefer a rustic or refined look, there are several beautiful handcrafted options (as well as more economical birdhouses that have a handcrafted appearance).
Here are a few of our favorites:
Handcrafted Amish Birdhouse Copper Roof
Last update on 2023-09-22 / Affiliate links / Images from Amazon Product Advertising API
Beautiful Original Pine Birdhouse
Tenforie Bird House for Outside, Hanging Natural Bird Nest, Resting Place for Birds, Bluebird House Handcrafted Hut - Pinecone
HANDCRAFTED & BIRD FRIENDLY - The hanging birdhouses is made of the environmentally friendly resin, which is very waterproof and durable. The bird house for outside can be safely hung with strong chains without fear of falling,to ensure that birds to have a comfortable and security home in any weather.
HIGH QUALITY - Covered with high-grade coating, the special process makes it waterproof and difficult to corrode or fade. The top of the birdhouse has a rope for hanging. To hang the birdhouse, simply attach the ring rope to a desired location (tree, house, banner, etc.) with rope or hook.
EASY TO INSTALL AND CLEAN - Removable clean-out plug on the bottom is no longer uses a rubber plug that is easily deformed. We use the newly designed rotary removable clean-out plug, which is very strong and does not deform. If you choose to use this as a functional birdhouse, it should be cleaned out once per season to make room for the next house guest.
FASHION DESIGH - 8 x 6 1/4 x 6 inch. The bird house are fully functional and intended for outdoor use and is hand crafted. New arts and crafts bird house, novel in shape, meticulous workmanship, colorful style can attract more birds.
DECORATIVE BIRD HOUSE - Delightful garden accessory for adding style to your patio or garden area. There are many animals around your garden that are a danger for little birds, the birdhouse provides a safe hideaway for birds who are escaping predators.
Last update on 2023-09-22 / Affiliate links / Images from Amazon Product Advertising API
---
Attract Hummingbirds to Your Yard
If the presence of hummingbirds are what you're after, the National Audubon Society recommends planting penstemons to attract native hummingbirds. Sow the seeds of these tubular red or pink blooms, and they will continue to draw hummingbirds to their flowers for years to come. Other top plants for hummingbirds include:
Trumpet honeysuckle
Sage
Beebalm
Lobelia
Or, you can simply purchase a hummingbird feeder, which is a sure-fire way to attract these creatures to your yard. Filling up the feeder with sugar water will serve as a supplement for flower-based sources of nectar.
Wild Bird and Critter Food
If you live in a wooded setting or have a more naturalized landscape, you might want to encourage furry friends such as chipmunks, rabbits, and squirrels to your yard, as well as medium-sized birds like jays, quail, crows, and woodpeckers. While some people with well-manicured lawns or gardens understandably prefer to keep such animals out, others enjoy seeing these kinds of creatures scurrying across their yard.
One of the easiest ways to attract furry and feathered wildlife to your yard is with a seed-based critter food. Critter Crunch is a popular American-grown brand. Instead of a feeder, you can sprinkle it directly on the ground or platform where animals will be able to see it.
In addition to black oil sunflower seeds, critter food can also include peanuts and corn. You can purchase a large bag of shelled, unsalted peanuts for attracting animals like blue jays, squirrels, and chipmunks. Peanuts are a high-protein and high-fat food, packed with energy.
Below are our favorites:
Wild Bird and Critter Food
Audubon Park 12243 Critter Crunch Wild Bird and Critter Food, 15-Pounds
Specially blended for backyard wildlife
Attracts chipmunks, squirrels, rabbits, deer, jays, quail, woodpeckers and chickadees
An all natural blend of corn, black oil sunflower seeds, peanuts and whole peanuts
For use in platform or table feeders
Family owned, American made
Last update on 2023-09-22 / Affiliate links / Images from Amazon Product Advertising API
Shelled, Unsalted Peanuts
Sale
Kaytee Peanuts in Shell for Squirrels, Woodpeckers, Nuthatches, Jays, Towhees, Cardinals, Indigo Buntings, and Other Wild Birds, 5 Pound
Attracts Woodpeckers, Nuthatches, Jays, Towhees, Cardinals, Indigo Buntings & More
Kaytee Peanuts provide high levels of fat and protein, which are important to the diets of many backyard birds
Nutritious high fat for added energy
High protein to promote growth and good overall health
Rich in vitamins and minerals
Last update on 2023-09-22 / Affiliate links / Images from Amazon Product Advertising API
---
Plants to Attract Deer
If attracting deer is what you're after, consider planting flowering fruit trees, such as apples, plums, pears, and pomegranates. They will also go for plants like clover and chicory, as well as nuts such as acorns and chestnuts. In addition, deer love the sweet scent of brightly-colored flowers such as petunias, clematis, hydrangeas, and impatiens.
By using plants, shrubs, and trees to create a naturalized landscape, you can create the feeling of a deer's natural habitat to draw them to your yard. Lastly, deer will also come looking for water. Adding a pond or other similar water feature (such as a water garden) to your yard will definitely be a big draw for deer.
Beneficial Bugs, Worms and Beetles
If you like ladybugs, you're in luck when it comes to our next tip.
Encouraging beneficial bugs, worms, and beetles is a great way to increase the presence of other animals in your yard. Though ladybugs are a food source for other creatures, you can take pride in knowing that you're helping to create an ecological habitat right in your own backyard.
Meanwhile, ladybugs are marvelous for eating aphids off your plants. Aphids are a pesky insect that would otherwise devour your garden. You can order live ladybugs online, and then have them delivered to your door in a matter of days.
To get started, the best way to attract beneficial bugs to your yard is to offer them a diverse selection of plants.
Try planting the following:
Spearmint
Caraway
Cosmos
Coreopsis
Coriander
Parsley
Queen Anne's lace
Sweet Alyssum
Fennel
Yarrow
Shrubs for Edible Landscapes
Edible shrubs such as blueberries, strawberries, raspberries, elderberries, and blackberries produce some of the most delectable fruits on the planet. We, humans, love to harvest them for all kinds of things, from pies and cobblers to smoothies and shakes. But you can also add edible berry bushes to your landscape as a way to attract wildlife.
The simplest and easiest way to turn your landscape into an instantly edible wonderland is to purchase potted berry-producing shrubs. Plant them in the ground, and you'll have your yard bearing fruit in no time. Before long, wildlife will also begin coming around your yard to have a look and enjoy a nibble.
You can find shrubs at your local plant nursery or online through Amazon:
Bushel and Berry™ - Vaccinium x Jelly Bean (Blueberry) Edible-Shrub, , #2 - Size Container
It is fully rooted in the soil and can be planted immediately upon arrival, weather permitting. Planting and how-to-care instructions will arrive with shipment.
For Best results, plant in used zones 4-8. Mature Height is 1-2ft, mature spread is 1-2ft.
Dark blue, incredibly tasty blueberries ripen in July and early August. Plant is not guaranteed to arrive with fruit. In fall, the foliage transitions to Green with Red margins for a nice look.
Grows well in full sun.
Plant will be dormant (no leaves) late fall through the winter months, this is normal. It will leaf out in spring.
Last update on 2023-09-22 / Affiliate links / Images from Amazon Product Advertising API
Bushel and Berry™ - Rubus Raspberry Shortcake (Thornless Raspberry) Edible-rubus, Red Raspberry, #2 - Size Container
It is fully rooted in the soil and can be planted immediately upon arrival, weather permitting. Planting and how-to-care instructions will arrive with shipment.
For Best results, plant in used zones 5-9. Mature Height is 2-3ft, mature spread is 3-4ft.
Thornless Raspberry bush that can produce quality fruit in mid summer. Plant is not guaranteed to arrive with fruit on it.
Grows well in full sun.
Plant will be dormant (no leaves) late fall through the winter months, this is normal. It will leaf out in spring.
Last update on 2023-09-22 / Affiliate links / Images from Amazon Product Advertising API
---
Create a Pond or Water Garden
Creating a pond or water garden in your yard can provide access to water for larger animals such as deer. Plus, you can also enjoy seeing critters like frogs and dragonflies. And by selecting some of the best plants for water gardens, you can draw a wide variety of creatures into your landscape from birds to bunnies.
All creatures need water to survive, and given the lack of natural habitat for many animals, the options for water can be limited. Birdbaths are an easy way to provide water for avian creatures, as long as you keep your birdbath clean by changing the water every few days.
Beneficial bugs will need shallow basins of water for drinking. Granite birdbaths are ideal for this purpose because the water will naturally collect in the tiny ridges within the rock around the edges of the birdbath. This allows beetles and other winged insects to walk around the edge without risk of falling in.
Plant a Butterfly Garden
Who doesn't love butterflies? Many flowering shrubs and perennials will attract butterflies to your garden. You can purchase a butterfly bush in a pot, then plant it in your yard so it instantly attracts butterflies as soon as it flowers. Or, you can purchase the seeds and start your butterfly garden from scratch. Either way, butterflies will love the incredible scent and colorful blooms.
Nowadays, it's easier than ever to create an entire butterfly garden by simply selecting a wildflower seed mix that's tailored to attract butterflies. Alternatively, you can select the wildflowers one by one (either as seeds or seedlings) if you prefer to design your own assortment of flowering plants.
The best wildflowers for butterflies include:
Bergamot ("Bee Balm")
Yellow Coneflower
Asclepias tuberosa ("butterfly weed")
New England aster
Purple coneflower
Meadow Blazing Star
If you want to specifically attract monarch butterflies to your yard, then consider these particular plants:
Sweet alyssum
Siberian Wallflower
Purple coneflower
Zinnia
Lavender hyssop
False sunflower
Goldenrod
Joe Pye Weed
In addition to monarch butterflies, you'll also draw swallowtails, fritillaries, and painted lady butterflies with these plants. If you want to attract butterflies to your garden, be sure to also provide the proper plants for butterfly larvae. Caterpillars in the regions of the Midwest and Northeast regions of the U.S.A., as well as regions west of the Rocky Mountains, will need to feed on common milkweed or swamp milkweed. It's important to offer these food sources so that the caterpillars will eventually be able to transform into beautiful butterflies.
Our favorite butterfly bushes:
Sale
Last update on 2023-09-22 / Affiliate links / Images from Amazon Product Advertising API
Last update on 2023-09-22 / Affiliate links / Images from Amazon Product Advertising API
---
Become a Beekeeper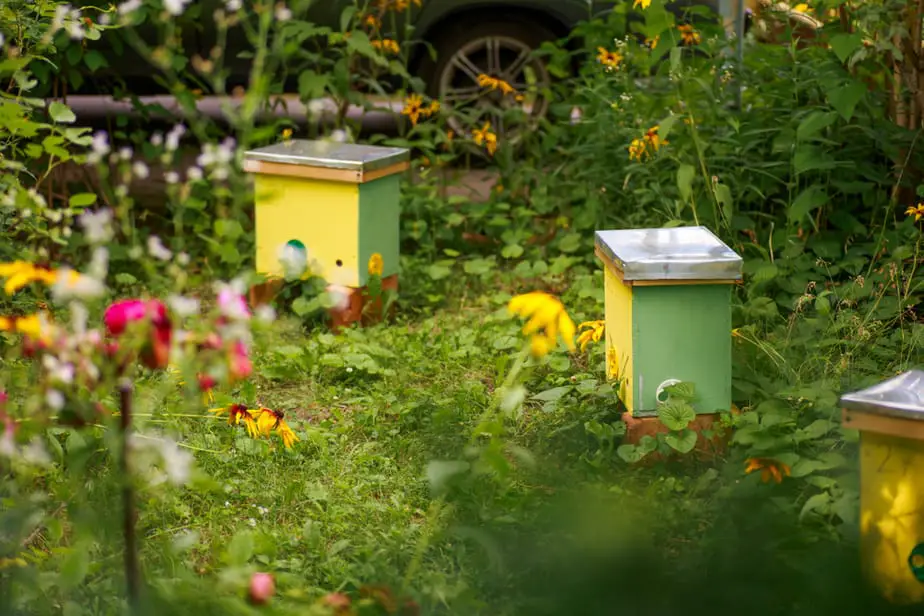 Place a bee box in your garden near the flowering plants bees feed upon for nectar, such as colorful pink and yellow lupins. Along with birds and butterflies, you can plant a pollinator garden filled with flowering herbs and other perennials to attract bees.
Try planting the following shrubs and trees especially for bees:
Marjoram
Linden
Buckeye
Bottlebrush
Eastern redbud
Flowering crabapple
Dogwood
Dwarf fothergilla
Hydrangea
Clethra
Our favorite honey kit:
Complete Honey Super Kit, Painted, Assembled, 10-Frame, Made in The USA
READY TO USE: Includes one painted 10-frame 6-5/8" assembled honey super, ten 6-1/4" assembled wood frames with beeswax-coated plastic foundation, and bottom board; Complete Honey Super Kit measures 19-7/8" L x 16-1/4" W x 6-5/8" H
FASTER RESULTS & HONEY FLOW: Natural wax coating complements bees' installation; 10-frame design offers more space for brood; Beeswax-coated plastic foundation helps bees produce honeycombs faster and increases honey production
EXTRA PROTECTION: Bottom board keeps predators out; Plastic foundation resists rodents and wax moths; Sturdy pinewood provides a stable structure; Honey super has sturdy finger joints and is stapled for added strength
CUSTOMIZABLE BEEKEEPING SYSTEM: Start with this kit and add our individual components for full customization; Choose between other kits or standalone brood boxes as your colony grows
FOR ALL BEEKEEPING LEVELS: Bee Hive Kit comes assembled for instant use–without extra time and effort; Start or expand your colony whether you're a new-bee or professional beekeeper
Last update on 2023-09-22 / Affiliate links / Images from Amazon Product Advertising API
---
Add an Insect Hotel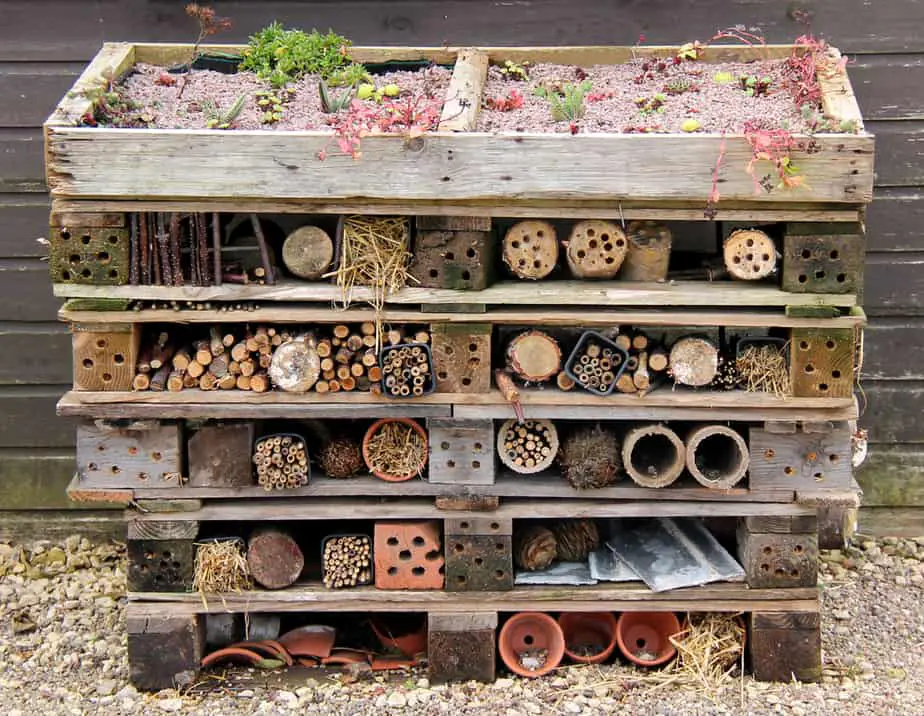 Why not go all-out and add a special shelter in your garden just for insects? Some insect houses are designed specifically for mason bees. These bees are distinct from their honeybee relatives because they don't live in a hive. Instead, they live separately in compartments. The good news is that they are even more effective pollinators. They will pollinate up to a hundred times beyond that of regular honeybees. An insect hotel will also provide homes to other beneficial bugs, which, in turn, serve as food for other animals.
Our favorite bug huts:
PINVNBY Wooden Insect Hotel Bee House Habitat for Ladybugs(Ladybirds), lacewings, Butterfly, Mason
The house dimensions of 8.3(L) x 1.6(H) x 13.8(W) Inches,Perfect for ladybugs(ladybirds), lacewings, butterfly and other beneficial insects. Help increase pollinators insects that will help boost productivity in your garden and flower beds. Ideal home for Mason and Solitary bees.
Provide a safe environment where it can shelter, hibernate and lay their eggs.Help boost the population of bees in your yard.
Made from naturally timber and Insects are naturally attracted to bright colors. Colorful Red entrance helps attract and draw more insects to your yard or outdoor garden.
Six compartments carefully sorted with natural bamboo canes, wood shavings, and pre-drilled wood blocks provides wide variety of nesting options that encourage insects to hibernate and lay eggs.
If you only have a balcony or yard, the insect house is ideal as it provides a choice of suitable habitats in a small area.
Last update on 2023-09-22 / Affiliate links / Images from Amazon Product Advertising API
Last update on 2023-09-22 / Affiliate links / Images from Amazon Product Advertising API
---
Native Plants and Drought-Tolerant Landscapes
If you live in a drought-prone region, you'll want to follow a specific planting scheme to attract wildlife to your landscape. Here are some of the best native plants for drought-tolerant landscapes:
Yarrow
Coneflower (Echinacea)
Portulaca
Lantana
Agastache
Catmint
Salvia
Lavender
Russian Sage
California Poppy
Veronica
Artemisia
Licorice Plant
Add an Edible Hedge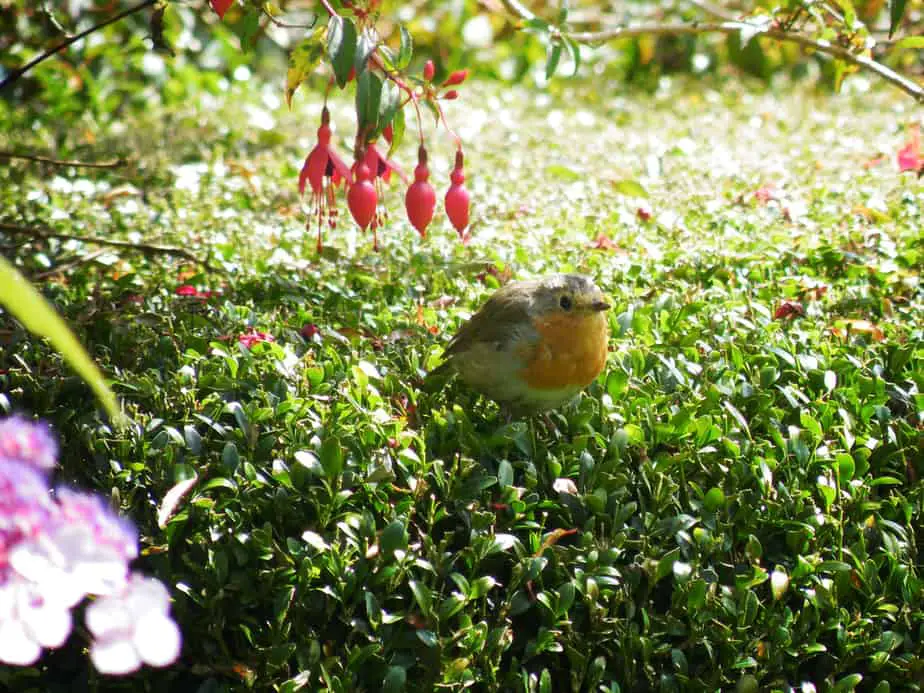 Planting an edible hedge on your property is the perfect alternative to adding a fence. Select native plants, which will provide natural food sources for birds and other animals. The benefits of hedges for wildlife are numerous. Hedges provide shade, create a resting stop between higher trees and your garden, and they can also serve as a wind-break. Common hedges include privet, holly, and hawthorn.
If you prune your hedge too frequently, they won't be able to bear flowers and berries, which serve as food sources for birds and other pollinating species. However, even a well-trimmed hedge will serve as a buffer zone that offers birds a nesting place, shade, protection from wind and heavy storms, and shelter from predators.
Here are some of the best plants and trees for hedges:
Holly
Hawthorn
Hornbeam
Blackthorn
Beech
Ivy
Clematis
Viburnum
In addition, you can include rambling plants, which will enhance your hedge. These plants will weave their way throughout the nooks and crannies of your hedge (creating additional food sources for birds and insects) while accenting your hedge and making it look even prettier.
Here are a few rambling plants to accent your hedge:
Honeysuckle
Sweet Briar Rose (Eglantine)
Dog-rose
Bramble
When to Plant and Prune Your Hedge
November through March is the ideal time for planting a hedge. This will give your hedge enough time to acclimate and take hold in its new home so that it's ready to flourish come springtime. You'll want to avoid planting if the ground is snowed over, icy, frozen, or waterlogged. These conditions can stunt the roots of your plant, which need enough space and air within the soil to thrive.
It's good to mix a few types of plants within your hedge since this mirrors nature's own way of doing things. However, it's best to plant at least three of a kind in groups. You'll want to space each root ball a few feet apart. Their branches will grow towards each other and eventually intermingle.
We recommend waiting until late winter or spring to prune your hedge. This way, birds will have a chance to nibble at hedge fruits (berries) during the cold weather. Plus, they can also peck at any insects which may be overwintering in the hedge. Just before spring, you can trim the hedge back to approximately one-and-a-half to two feet above the ground. It will help keep your hedge strong, while also nudging it along to produce further growth.
Depending on your seasonal climate, the worst time to trim a hedge is usually April through August. This is prime bird nesting season. Pruning a hedge during the spring and summer months will risk disturbing the birds or their fledglings. This is an important time when baby birds are learning to fly. They need all of the sustenance, safety, and protection they can get!
Attract Hedgehogs to Your Yard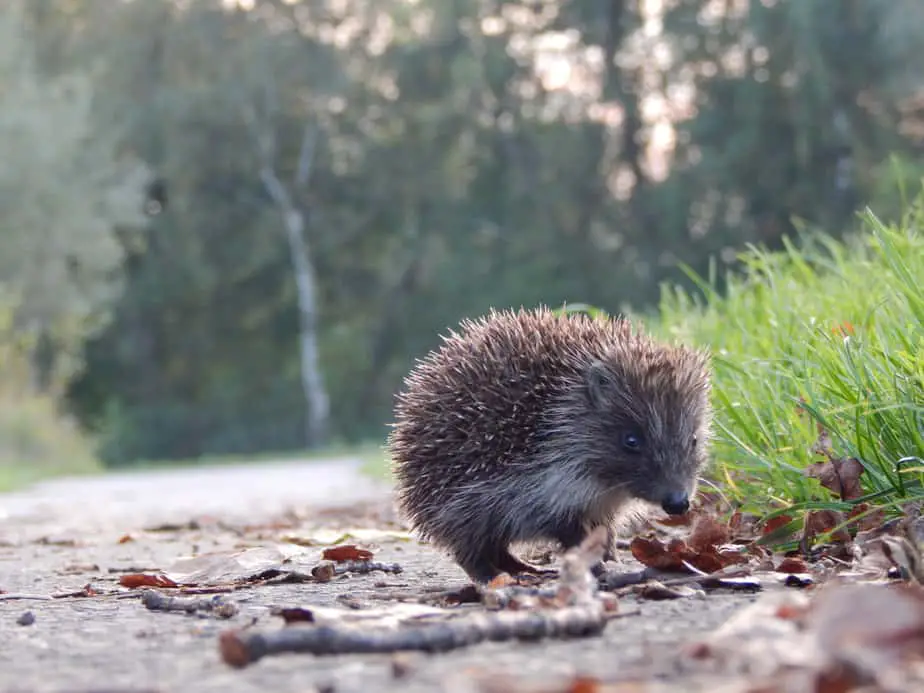 Despite their prickly exterior, hedgehogs are cute, harmless, and they really need our help! Their numbers are falling rapidly due to loss of habitat and food sources. In Britain, things have even gotten so bad that Hedgehog Awareness Week has been implemented to help people understand the importance of these creatures.
Here are a few tips for attracting hedgehogs to your yard:
Create "hedgehog houses" by piling leaves and branches in your yard
Make sure your yard has water sources, such as ground-level birdbaths, fountains, or ponds
Let hedgehogs hibernate in peace!
Avoid putting mesh netting on garden plants, as this will harm hedgehogs
Check your lawn carefully for hedgehogs before mowing
Be wary of building bonfires: make sure no hedgehogs are hiding near your woodpile or fire-pit
Build a Bat-House to Invite Bats to Your Yard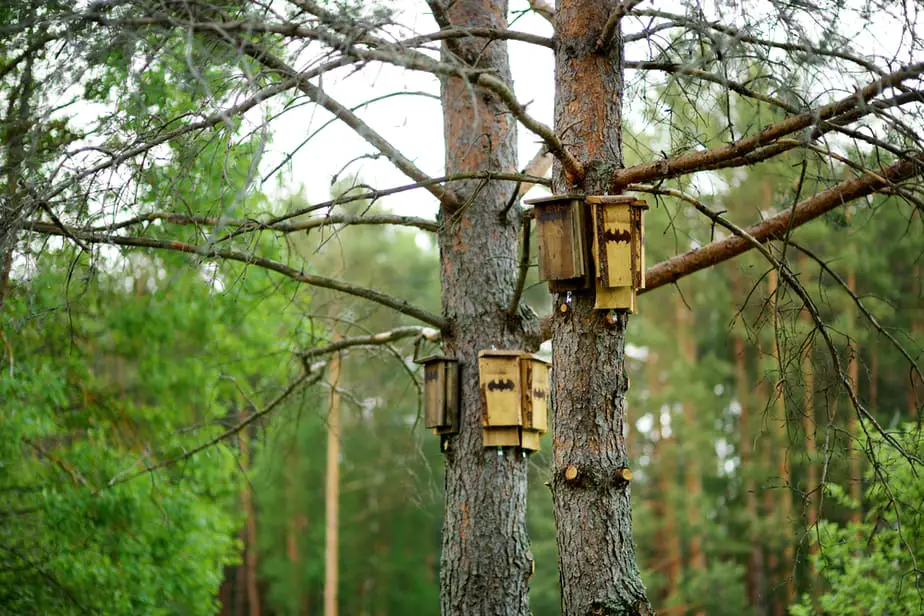 Consider adding a bat-house or bat-box to one or more of the trees in your yard. Although bats have a "spooky" reputation, they're actually one of the most beneficial pollinating animals around.
If you want to invite bats to your garden, then you need to first attract the critters that they feed upon, namely moths. We realize that the idea of attracting bats to your yard by first drawing the moths that they feed upon might seem paradoxical. Why encourage one critter, only to have it consumed by another? The whole idea is to create an ecologically sustainable landscape, where each type of creature will be able to find a home by providing a habitat in your yard that mimics wilder landscapes.
Like bats, which are nocturnal creatures, moths feed mainly in the evening. Bats are drawn to flowers with strong, sweet scents, and especially to white or light-colored blooms that show up well at night. To attract moths (and therefore bats), try planting the following plants in your yard:
Honeysuckle
Evening Primrose
Butterfly Bush
Common Jasmine
Eryngium giganteum (a.k.a. "Miss Willmott's Ghost")
Sweet Rocket
Vervain
Globe Artichoke
Eliminate Pesticides
If you want wildlife to enhance your landscape, be sure to keep your yard pesticide-free – free of any insecticides and herbicides. Instead, plant naturally repellant types of plants, including herbs such as fennel and dill. You can also try planting clover, citronella grass, and common lantana.
In addition, be sure to banish bug zappers from your yard. Bug zappers discourage beneficial bugs from sticking around, which is the opposite of what we're going for here.
Create Leaf Piles and Brush Shelters
Raking fallen leaves into piles for jumping in is one of the most fun autumn activities ever invented. After you're done jumping into piles of autumn leaves, you can put all of that raking effort to extra good use by creating leaf piles as places for wildlife to hang out or hide from predators.
By incorporating logs and branches, you can even create a brush shelter for small mammals and other species, such as amphibians, as well as insects, lichen, and fungi. Small mammals that you might find hiding in a brush shelter include foxes, chipmunks, rabbits, squirrels, and possums.
Other Things to Consider
A healthy ecosystem in your garden will naturally attract predators. For example, the presence of birds of prey, such as owls and hawks, as well as animals such as foxes or coyote, means that your yard is effectively operating as an ecological habitat for creatures throughout the food chain. The songbirds and other small creatures that you have taken such effort to attract to your garden are now serving as food sources for slightly larger animals.
If you adore songbirds, this might be a tough thought to swallow. Knowing that your efforts to attract songbirds to your garden has resulted in them being plucked off by a hawk hovering above your yard can certainly be upsetting. Remember, many other animals, such as hawks, foxes, and coyotes, also lack adequate habitat and are struggling to find food sources. The lovely songbird you were admiring in your garden this morning might have become a hawk's only good meal all week. It's the circle of life.
Make Your Garden a Certified Wildlife Habitat
The National Wildlife Federation offers a certification that you can obtain if you make your landscape sufficiently wildlife-friendly. What's great about this option is that it can pertain to any size landscape or garden space. This even includes container gardens on patios, decks, and balconies. And your garden can be counted towards the Million Pollinator Garden Challenge.
If you'd like your garden to be considered, you can visit the website for the National Wildlife Federation. Through this certification, you're making a commitment to sustainable practices that help support communities of birds, amphibians, and other species. This includes giving them places to raise their young.
If you decide to turn your garden into a Certified Wildlife Habitat, you'll need to meet certain criteria regarding your provision of food, water, and shelter for wildlife. This can pertain to birds, bees, butterflies, and amphibians within your specific location, as well as along the pathways where these creatures normally travel when they migrate. These migratory corridors are also currently recognized as especially vital for plant-pollinating species, such as monarch butterflies.
Wrap Up
As you can see, there are countless ways to enhance your landscape with wildlife. From feeding and nesting to playing, the lively activities of wildlife in your yard will bring you additional joy and enhance your outdoor experience. You'll also be doing your part to make this earth a more hospitable place to live for its various creatures.
Once you decide to enhance your landscape with wildlife, there will be a whole ecological niche waiting for you in your backyard. We have a feeling that the results will continue to surprise and delight you. The effort is worth the reward!